Mysterious Polaroids discovered in boxes in recent years can now be seen in a new exhibition and book. Oliver Lunn explores what they say about the person who took them.
A
April Dawn Alison didn't achieve recognition as a photographer in her own lifetime. No exhibitions; no books; no interviews. Before she died in 2008, no one – not even her family – knew that April had taken over 9,000 self-portraits, spanning more than three decades. They didn't know because April lived in the world as a man called Alan Schaefer. Schaefer worked as a commercial photographer. He loved playing tennis, listening to jazz records and was known to his friends, family and neighbours as 'Al'. They never knew April Dawn Alison.
More like this:
- Why is this photo a mystery?
- The enigma behind the camera
- The Instagram artist who fooled thousands
April existed only in the walls of her apartment in Oakland, California. Behind closed doors, after work and on weekends, she would take Polaroids. Lots of Polaroids. She would dress up as housewives; movie stars; all kinds of feminine archetypes. She would don wigs, high heels, lay her make-up on thick like a character from a John Waters movie. Sometimes she would wear bondage gear; sometimes maids' uniforms. Sometimes she would peer into the lens plaintively; other times she would turn her back on it.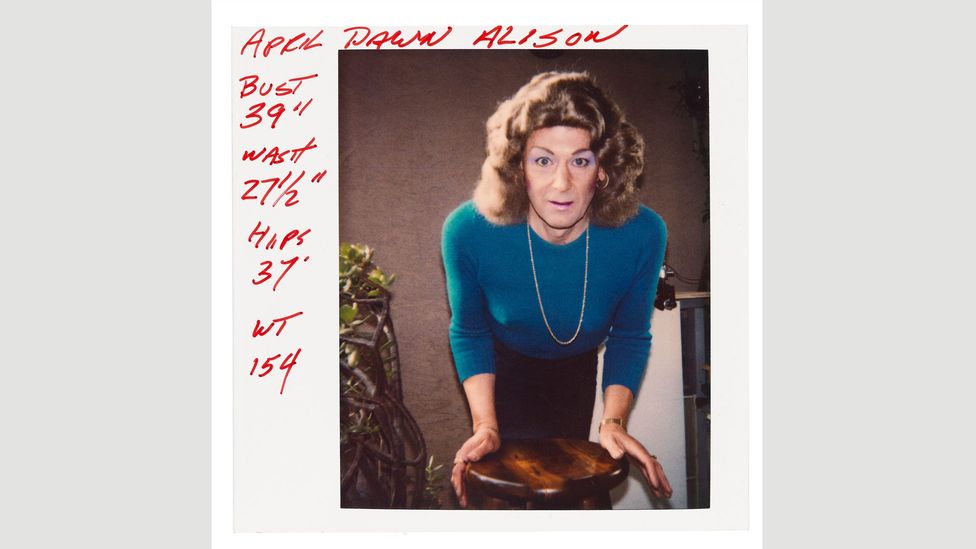 (Credit: San Francisco Museum of Modern art and and MACK, gift of Andrew Masullo)
Over the decades, this body of work became an obsessive examination of her non-public self. Her name, her work, her hidden identity, were only discovered after her death, when an estate liquidator found the pictures packed into boxes and thought they might have some value. But who was this glamorous person in the Polaroids? The answer lay scrawled in red ink on the border of some pictures: April Dawn Alison. It was the first time the Schaefer family had heard the name.
The art of the reveal
The Polaroids – which are now being made public for the first time in a new book, April Dawn Alison, and exhibition at the San Francisco Museum of Modern Art – eventually found their way into the hands of Erin O'Toole, the book's editor and show's curator. What struck O'Toole when she first saw the pictures, she tells BBC Culture, was the quantity and the quality. The curator is well versed in vernacular photography, or snapshots that appear amateurish. These were not that, she says. "They were done by a professional photographer; they were well lit, beautifully composed, with this attention to colour. They were Polaroids but they were done by an artist."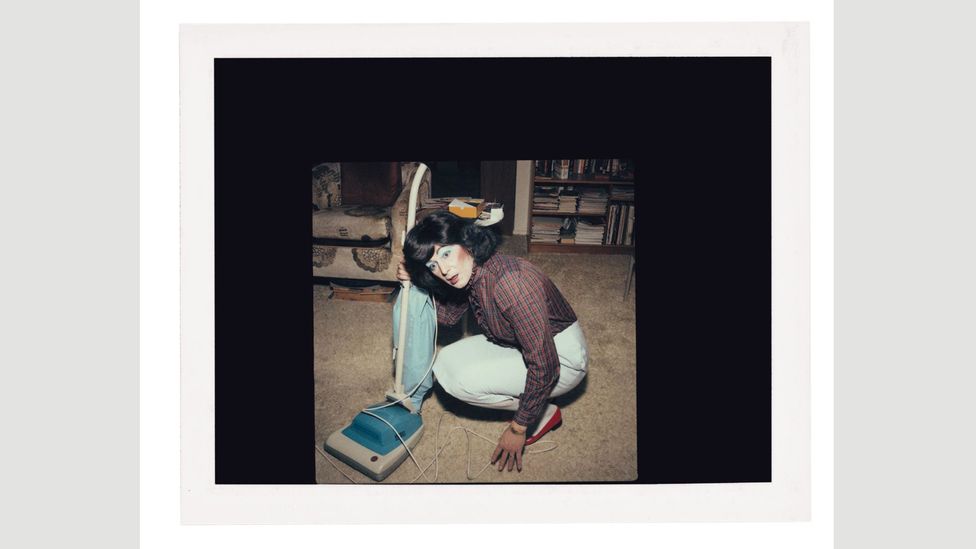 (Credit: San Francisco Museum of Modern art and and MACK, gift of Andrew Masullo)
Why was April taking these photos? Why did she keep it a secret? Much of her life remains shrouded in mystery. "It would all be speculation because we don't know," admits O'Toole, though she is confident that this was a form of self-expression for April. "When you make pictures like this, you're reaffirming your sense of yourself and seeing yourself as the person that you believe yourself to be, or you want to be, or who you fantasise that you could be."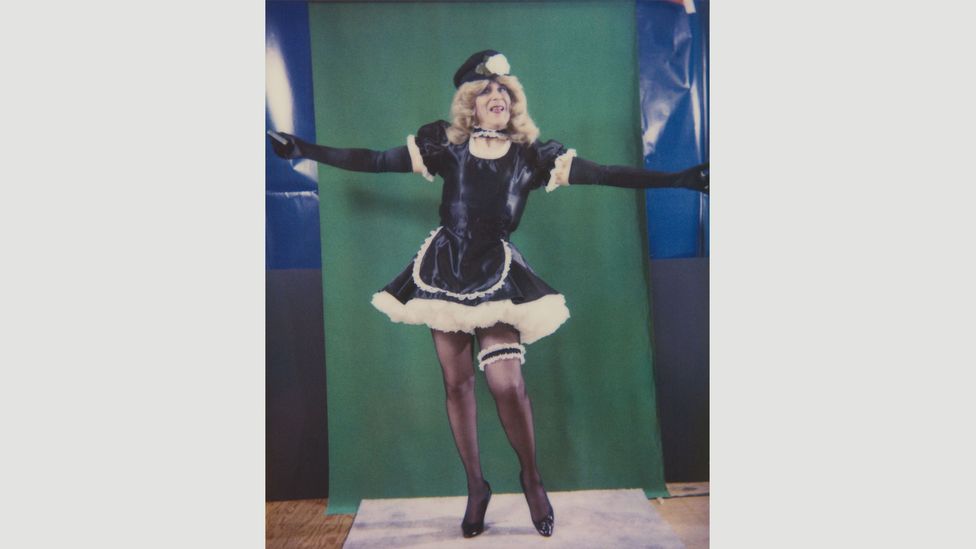 (Credit: San Francisco Museum of Modern art and and MACK, gift of Andrew Masullo)
That April kept her life secret, even in the traditionally liberal Bay Area, doesn't surprise O'Toole, who has spoken to many people in the trans community about the subject. She points out, too, that we don't know whether or not she identified as trans; we don't know what pronouns she would have wanted us to use. "The trans women that I talked to here said it was not surprising to them that she could potentially not be out, even in the Bay Area, where it's never been totally safe."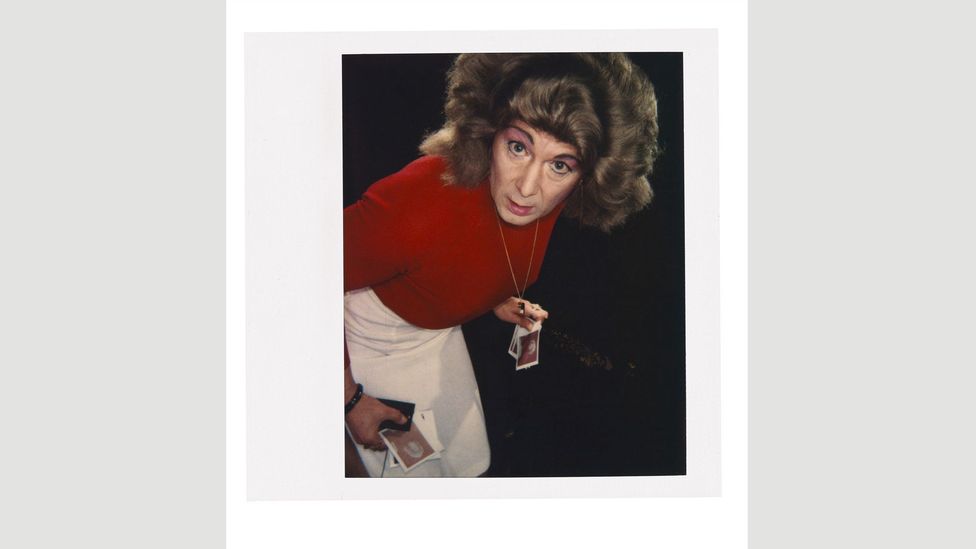 (Credit: San Francisco Museum of Modern art and and MACK, gift of Andrew Masullo)
With the mystery surrounding April's private life, it's hard not to raise a magnifying glass to the Polaroids and search for clues. Is she telling us anywhere, 'This is the real me, this is who I am?' It's tricky to tell when the work invites multiple interpretations. You could note her wild humour and her exuberant characters who sometimes stick their tongues out. You could note the supressed identity that the outside world never knew. Or you could embrace the coexistence of all these things, the complexity of the work that's equal parts hilarious and haunting.
"There's this range of emotion [in the work]," as O'Toole put it. "There's sadness; some of the pictures are very plaintive in the way she looks into the camera. Others are just downright campy and fun."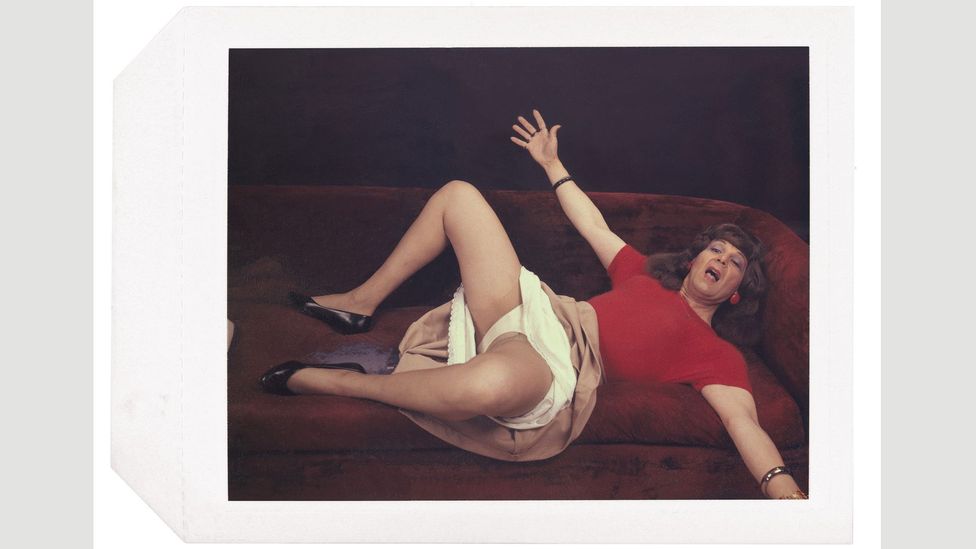 (Credit: San Francisco Museum of Modern art and and MACK, gift of Andrew Masullo)
One thing is clear about the work, for O'Toole. This was not simply a hobby. After all, you don't spend three-plus decades shooting thousands and thousands of self-portraits – all meticulously shot and stored – just to kill boredom on a Sunday. A couple of clues confirmed this. When O'Toole examined the background of pictures, she spotted an Ansel Adams book on a shelf; she also found a box of Polaroids on which April had written 'April Dawn Avedon', a nod to fashion photographer Richard Avedon. "She's playfully equating herself with the most famous editorial photographer of her day," explains O'Toole.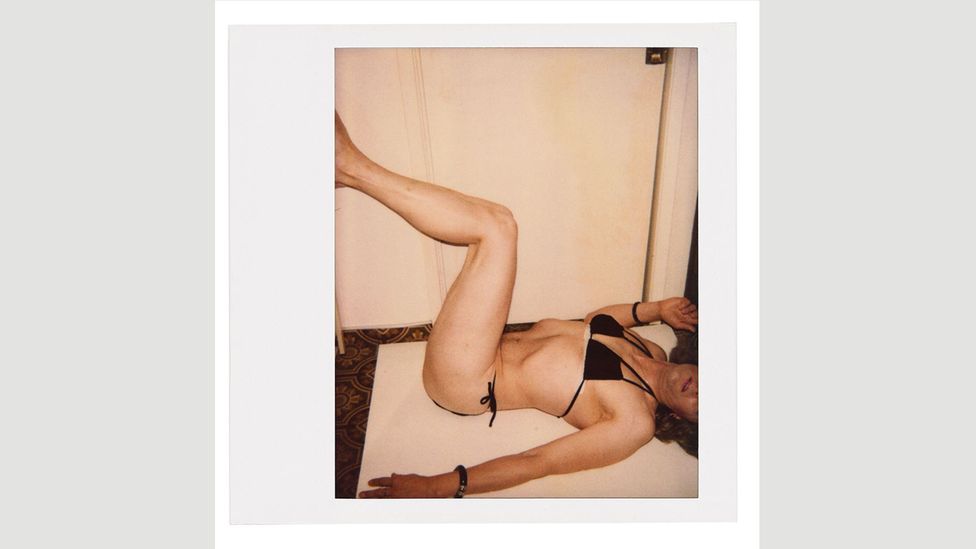 (Credit: San Francisco Museum of Modern art and and MACK, gift of Andrew Masullo)
Piecing the evidence together confirmed what O'Toole had suspected: here was a prolific photographer who was artistically minded and had a keen awareness of photography's rich history. For the curator, the work is comparable to Cindy Sherman's Untitled Film Stills, and Yasumasa Morimura's self-portraits in which he cross-dressed and played female characters. "April was definitely aware of the history of photography and practitioners, I just don't know who. Did she know who Cindy Sherman was? It's entirely possible."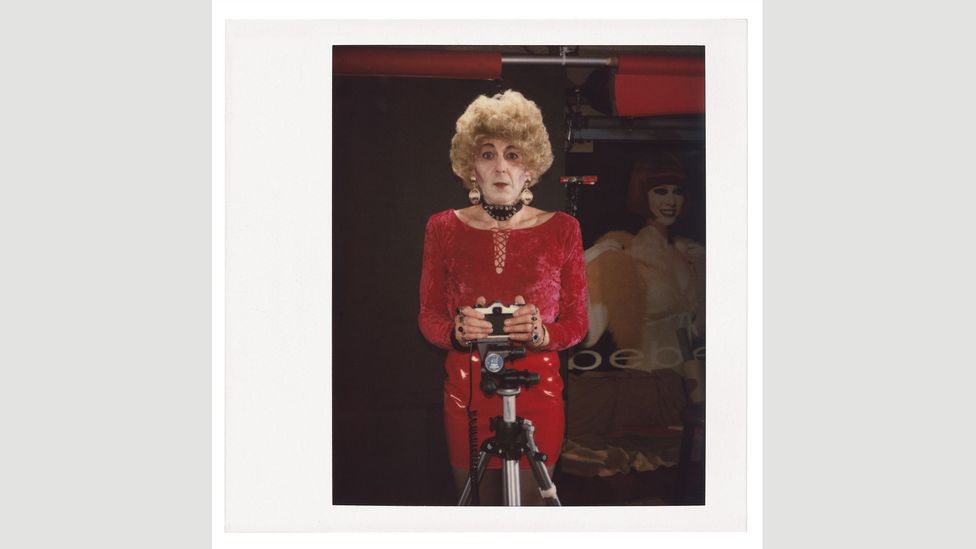 (Credit: San Francisco Museum of Modern art and and MACK, gift of Andrew Masullo)
The show at SFMOMA is the first time the Polaroids have been made public, and O'Toole didn't take the responsibility lightly. Given the ethical questions – is this what April would have wanted? Is it the right thing to do? – O'Toole knew she had to reach out to some people and handle the project with great sensitivity. "Before showing the pictures, before publishing the book, I spent quite a bit of time speaking with people in the LGBTQ community here in the Bay Area," she explains, "showing the pictures to people, talking to them about it, and then trying to find people who knew the artist, and family members." In the end, she says, "the unanimous view was that the pictures were so incredible that they just had to be shown. The question became how you presented them, not if."
I like a little bit of mystery. I like the fact that we don't know everything about her intentions – Erin O'Toole
Though the unanswered questions about April's mysterious life and work add to the allure of the Polaroids, O'Toole argues that the pictures offer a lot in themselves. "I think all the personal aspects are really interesting and that's what makes [the work] such an interesting story. But to me the pictures themselves offer so much that," she pauses, realising what compels her most. "I like a little bit of mystery. I don't necessarily need all those things to be answered for it to be meaningful to me. I like the fact that we don't know everything about her intentions."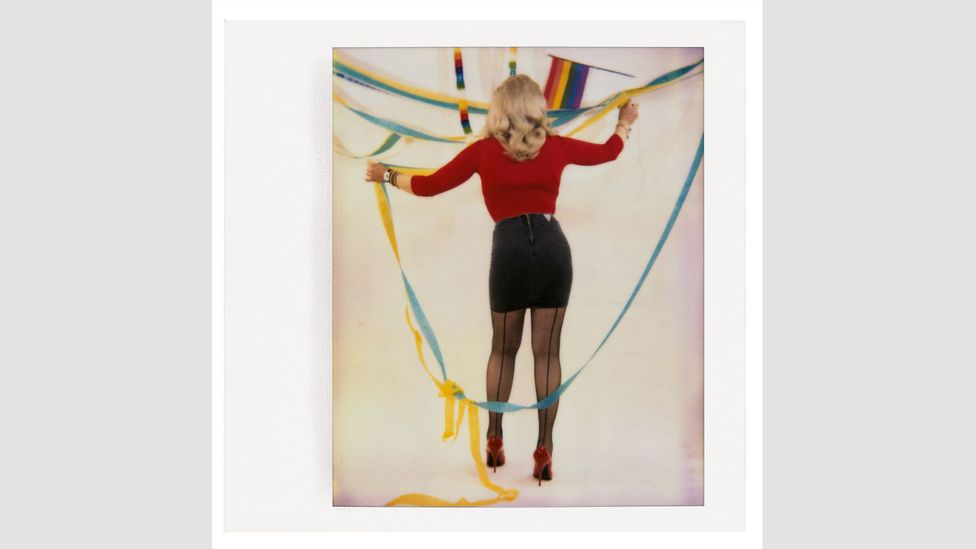 (Credit: San Francisco Museum of Modern art and and MACK, gift of Andrew Masullo)
April's story, in some respects, recalls that of Vivian Maier, the nanny who led a secret life as a street photographer and whose work was discovered only after she died. No one knew her intentions, either. But virtually everyone agreed that her work stood alongside the best in the genre. The discovery of her work meant that the history of street photography might even need a rewrite.
What, then, does the discovery of April's prolific output mean? Does O'Toole think the work stands up alongside Sherman and similar artists cemented in the history books? "I do," she says. "I think it's very different to a lot of that work so it's hard to compare her one-to-one. But I think it's incredible work, I think it's very strong work. I find it to be endlessly interesting and I don't get bored of looking at these pictures. I find new things in them every time I go back to them."
April Dawn Alison (2019) by Erin O'Toole is out now, published by MACK.
If you would like to comment on this story or anything else you have seen on BBC Culture, head over to our Facebook page or message us on Twitter.
And if you liked this story, sign up for the weekly bbc.com features newsletter, called The Essential List. A handpicked selection of stories from BBC Future, Culture, Capital and Travel, delivered to your inbox every Friday.