A pair of new exhibitions looks at how Spiritualism influenced modern art, and how its followers believed they could contact the dead, writes Kelly Grovier.
E
Every age invents the language that it needs. Posterity will determine what it says about our own era that we have felt compelled to craft such words and phrases as 'defriended', 'photobomb', 'flash mob', 'happy slapping' and 'selfie'. When our forebears in the 1850s found themselves at a loss for a term to describe the new cultural phenomenon of holding seances to summon souls from the great beyond, it was a little-known writer, John Dix, who recorded the emergence of a fresh coinage: "Every two or three years," Dix wrote in 1853, "the Americans have a paroxysm of humbug … at the present time it is Spiritual-ism".
More like this:
- The enigmatic vision of a mystic
- The greatest visionary in 200 years
- The artist revealing our ghosts
According to the Oxford English Dictionary, Dix's comment is the first published use of the word 'Spiritualism', in the sense of channelling voices and visions from an invisible realm. Despite Dix's suggestion that Spiritualism was likely a fleeting fad ("a paroxysm of humbug"), the modern psyche had well and truly been bitten by the bug. Before long, the existence of spirits with whom it was possible to communicate in the here-and-now was being passionately investigated as plausible by everyone from the leading evolutionary scientist Alfred Russel Wallace (who was eventually convinced) to the celebrated novelist and champion of empirical deduction, Arthur Conan Doyle (who needed little persuading).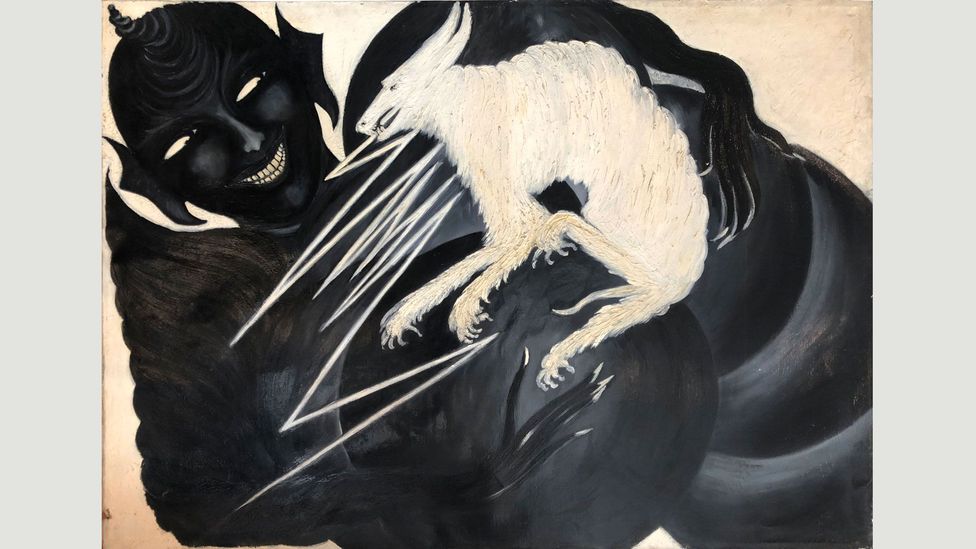 Thunder and lightning, c 1938, by Marian Spore Bush (Credit: The Gallery of Everything)
Over the course of the ensuing century, Spiritualism blossomed into a formidable force that shaped countless milestones of cultural expression: from the 'automatic writings' of the Irish poet William Butler Yeats to the so-called 'New Music' of the avant-garde US-Austrian composer Arnold Schoenberg. In the visual arts, the spiritualist dimensions of certain painters is well established. Piet Mondrian once confessed that he "got everything" from the occultist writings of Madame Helena Blavatsky, founder of the mystical Theosophical Society, and Wassily Kandinsky published the seminal aesthetic treatise Concerning the Spiritual in Art in 1911.
Modern life is spiritual
It is the aim of a pair of new exhibitions, however, to reveal an even more profound and pervasive influence of Spiritualism on artistic consciousness than has previously been appreciated. "At the turn of the century," says James Brett, founder of The Museum of Everything in London and curator of The Medium's Medium, "modern artists and modernists were all into versions of spiritualism, all of them – architects, designers, artists – were touching it, looking at it. So spiritual art had a huge impact on what became modernism and therefore art today."
Blake is probably the spiritual godfather of much of this material – James Brett
The parallel displays – held concurrently at the museum and its booth at Frieze Masters art fair – feature paintings and drawings by more than three dozen artists working in the closing years of the 19th Century and in the first half of the 20th. Among the most alluring of the works on show is a mysterious watercolour by the Swedish artist Hilma af Klint, who created in secret an enormous body of abstract paintings beginning in 1906 – several years before her more celebrated male contemporaries (including Mondrian and Kandinsky) had started to experiment with non-figurative compositions. A believer in the spirit world and a regular attendee of seances, Af Klint associated herself with de Fem (or The Five), a group of like-minded female artists committed to transcribing the universal truths they believed were communicated to them by spirits through a psychograph.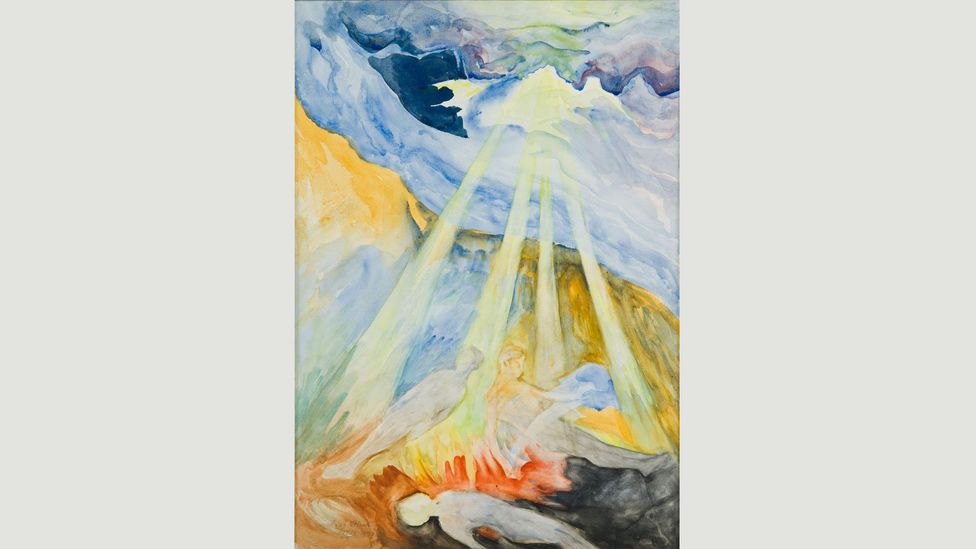 Untitled, 1934, by Hilma af Klint (Credit: The Gallery of Everything)
Though the watercolour is not itself from this seminal series of abstract works, the untitled work (dated 1934) clearly issues from this same mystical wellspring. With broad prismatic strokes of splendour, the resplendent painting suspends in mid rapture a levitation of souls summoned heavenward by a burst of ethereal light. Though recognised as a gifted landscape artist in her day, Af Klint believed the world was not prepared for her more visionary works and was content to keep them away from a public that may have been sceptical both of their mystical veracity as well as their claim to being art at all.
"We think a lot about the charlatans of that area," Brett tells me of the context in which artists like Af Klint would have been working. "But these are people who really did believe. They did not necessarily consider it art. They were not out there pushing their wares. Certainly Hilma af Klint is the best example of this. She was a trained artist. So she knew about art and she had this moment of enlightenment, makes this incredible body of work, which now the world knows about. But she said this can't be shown. The world is not ready. She invested great meaning in that material."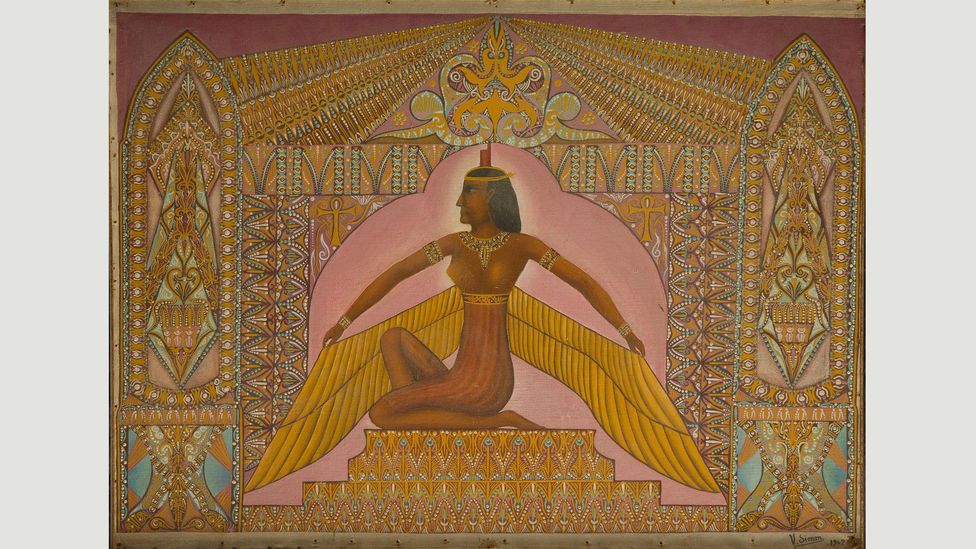 Isis, 1942, by Victor Simon (Credit: The Gallery of Everything)
The tone, texture, and spiritual temperament of Af Klint's work is everywhere reminiscent of designs by the British Romantic painter and poet William Blake (himself the subject of a major exhibition across London at Tate Britain), whose watercolours likewise seek to melt together the properties of this world and those of one we cannot see. "Blake is probably the spiritual godfather of much of this material," Brett says. "Artists at the time all refer to Blake, who was definitely a hero."
A hint of that indebtedness to the Romantic visionary is discernible in one of the earliest works on show, a watercolour-and-pen portrait by the Swedish artist Ernst Josephson of an Orpheus-like figure plucking the strings of a lyre, at what could be the moment that the universe came into being. The seated strummer and the radiating orb that burns behind him are both described in an almost vaporous, diaphanous blue, as if the elements that comprise creation – water and earth, wind and fire – have yet to be separated.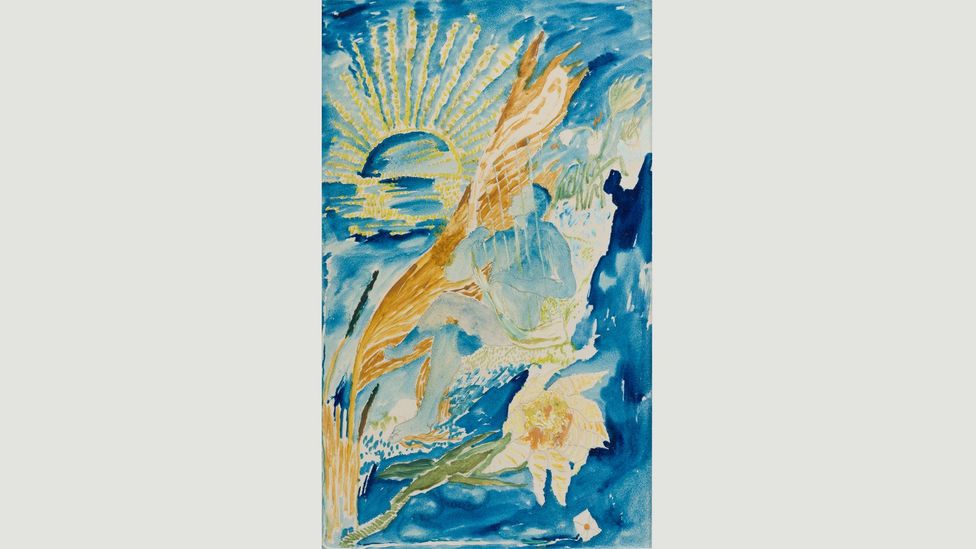 Untitled, 1895, by Ernst Josephson (Credit: The Gallery of Everything)
In tune with the prophecies of Blake, Josephson's spontaneous brushwork appears to herald a new cosmology of pure feeling, where the imagination is forever vibrating forth fresh spiritual realities. "Artists who are making work through feeling, through the spirit, are improvising," Brett says of his own fascination with the visions he's assembled. "They are letting themselves get taken hold of, and I was quite interested in the relationship between a creative light bulb and a spiritual light bulb."
Creating a buzz
It is true that a strange electricity pulses through the spiritual circuitry of several of the works on show. An untitled pencil-and-crayon geometric drawing by the Swiss healer and naturopath Emma Kunz, who never received formal artistic training, has all the magic of an ancient alchemist's doodle for distilling the philosopher's stone. Entering a kind of trance-like telepathic state, Kunz would pull all-nighters interrogating spirits and channelling their responses through a swaying pendulum. The result were esoteric trigonometries that resemble the orphic flowcharts of medieval Kabbalists.
It really was quite a radical thing to say that there is life after death, and we will communicate with those who are gone – Brett
Works by the French coal-miner-turned-spiritual-artist Augustin Lesage offer an even more elaborate motherboard of mystical wiring. Convinced that the soul of his sister, who had died when she was a child, was instructing him to take up painting from the darkness of the mine where he worked, Lesage began creating extremely intricate abstract designs that he believed were charged with energy from the spirit world.
Composition, 1935, by Augustin Lesage (Credit: The Gallery of Everything)
Accustomed to encountering such freewheeling patterns in exhibitions of modern and contemporary art, our eyes may need reminding just how experimental this work was at the time it was created in the first half of the last century. "It really was quite a radical thing," explains Brett, "to say that there is life after death, and we will communicate with those who are gone."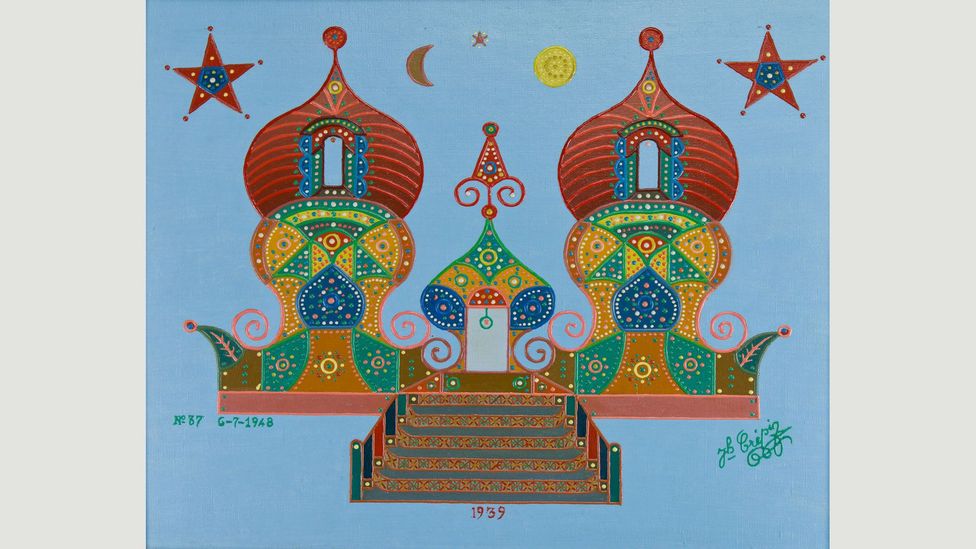 No37, 1939, by Fleury Joseph Crépin (Credit: The Gallery of Everything)
In addition to the more abstract compositions of Kunz and Lesage, a range of representational work by artists as diverse in outlook and upbringing as Fleury Joseph Crépin, a French plumber and roofer, and Madge Gill, a British outsider artist whose hand was guided, she believed, by a spirit she called 'Myrninerest', enrich the exhibition. Among the chief aims of the show is to demonstrate that Spiritualism affected all genres of artistic expression beyond merely inspiring abstraction.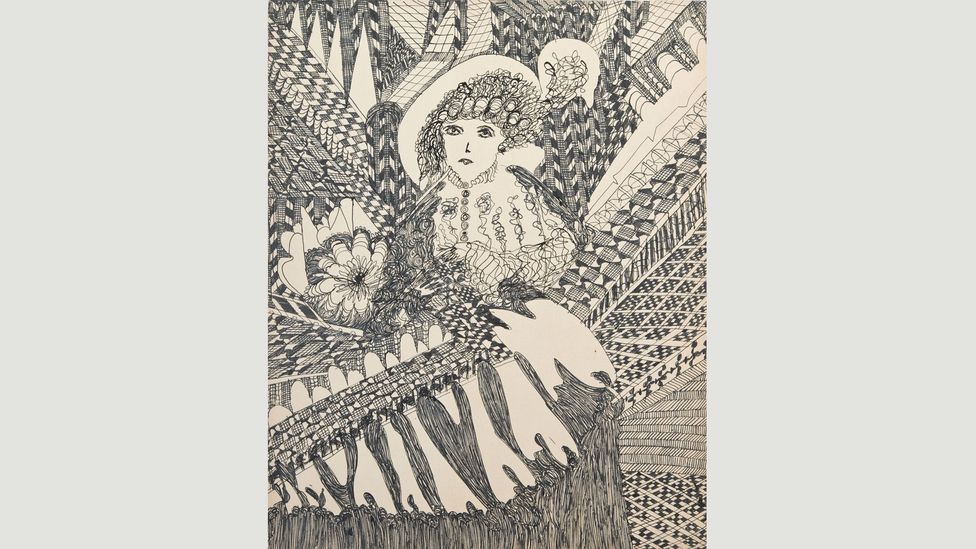 Untitled ink on paper by Madge Gill (Credit: The Gallery of Everything)
The diversity of visions on display – from the haunting surrealism of the self-taught US painter (and pioneering dentist) Marian Spore Bush to the imaginary portraits of the German artist Margarethe Held (who created hundreds of likenesses in a matter of months at the instruction of the Hindu deity Shiva) – demonstrates just how far and wide the mystical impulse pulsated.
Why stage such a show now? "The short answer to your question," Brett explains, "is Spiritualism has not been taken seriously. And therefore, spiritualist art has not been taken seriously. I think it's a really good time to think about art in terms of its spiritual content. I think we're ready because our eyes are wider open. Because contemporary art can be incredibly cynical… because it's often very focused on the market." He is keen to point out that "art is not simply commodity". Whether our era, so fixated on sales over substance, money over meaning, will eventually swing back to the soulfulness of the age of the spiritualism from which these works emerged is another thing posterity will determine.
The medium's medium is at the Gallery of Everything, London until 24 November 2019.
Did you enjoy this story? Then we have a favour to ask. Join your fellow readers and vote for us in the Lovie Awards! We're nominated for Best Website - Television & Film and Best Overall Social Presence. It only takes a minute and helps support original, in-depth journalism. Thank you!
If you would like to comment on this story or anything else you have seen on BBC Culture, head over to our Facebook page or message us on Twitter.
And if you liked this story, sign up for the weekly bbc.com features newsletter, called The Essential List. A handpicked selection of stories from BBC Future, Culture, Worklife and Travel, delivered to your inbox every Friday.