Once considered an 'immoral' figure, the ballerina has since become the epitome of elegance and refinement – and a significant style muse. Cath Pound explores balletic influence.
W
With their mutual love of beauty, elegance and performance, fashion and ballet have long seemed perfect partners. But, until the early 20th Century, the relationship was decidedly one-sided. Although ballerinas have come to be seen by many as the epitome of style and refinement, they were, for a long time, tainted with an image of immorality. It was not until the early 1930s when balletomania took hold that couturiers allowed themselves to be influenced by the newly respectable art form, designing luscious tutu-inspired gowns that reached their apogée in the divine creations of couturiers such as Christian Dior and Jacques Fath.
More like this:
-        The fairytale world of Tim Walker
-        What makes the perfect dress?
Ballet's lengthy relationship with fashion is examined in the Kunstmuseum exhibition in The Hague, Let's Dance!, and is also the subject of a new book, Ballerina: Fashion's Modern Muse by Patricia Mears, deputy director of the Fashion Institute of Technology in New York. An exhibition will follow in February 2020.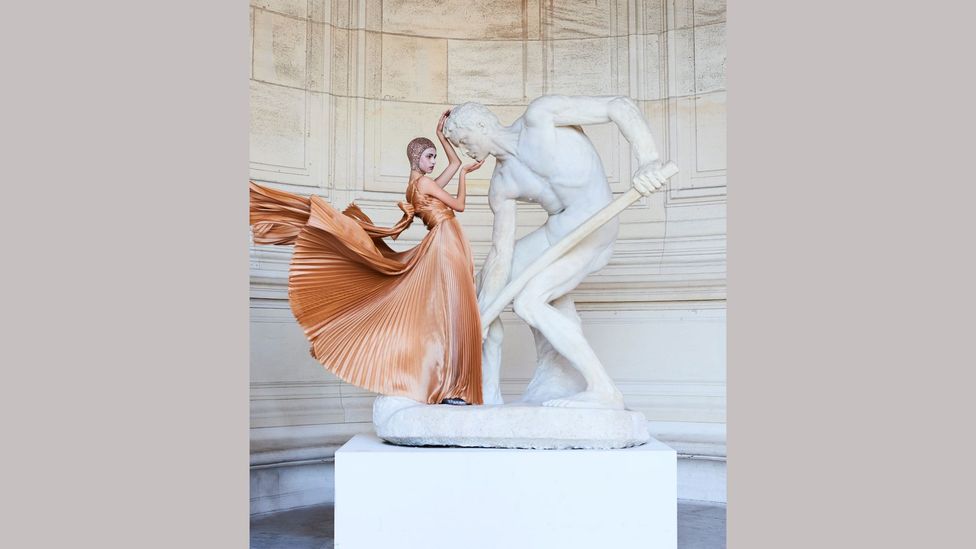 The symbiotic relationship between ballet and fashion is explored in the exhibition Let's Dance! (Credit: Jasper Abels)
It may come as a surprise that an artform that has had such an enduring impact on women's fashion was originally performed almost exclusively by male aristocrats, who danced in elaborate adaptations of court dress. It was only as ballet became professionalised and popularised throughout the 18th and early 19th Centuries that it came to be dominated by women.
During this period, costumes closely mirrored contemporary women's fashions, but were adapted to allow for freedom of movement and for the audience to appreciate a dancer's footwork. As these amendments frequently entailed raised hemlines or lighter fabrics that emphasised the form of the body, they did little to alter the perception that a respectable woman would never appear on stage. They were certainly not styles to be emulated by women in society.
The re-staging of The Sleeping Beauty in 1921 was the major turning point in fashion's relationship with ballet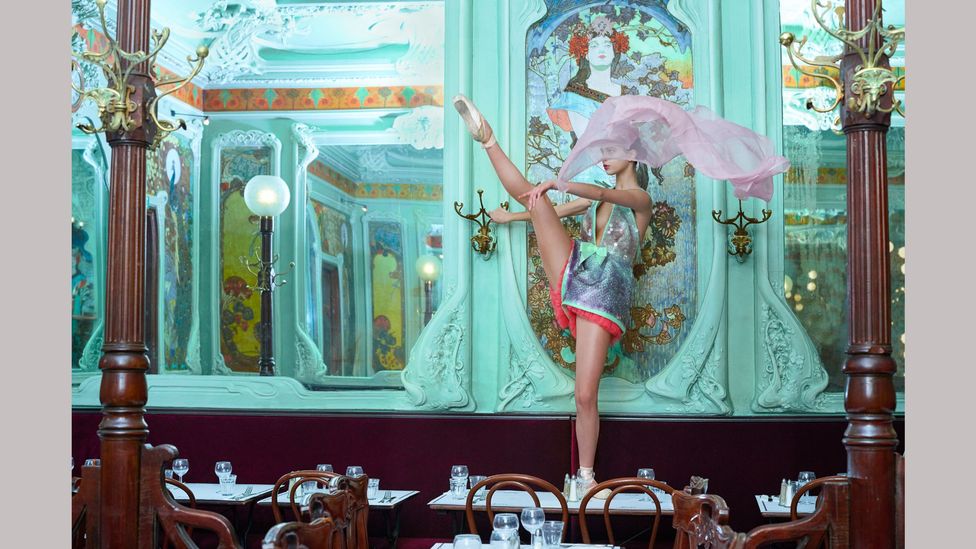 A ballet-inspired look by Schiaparelli haute couture, spring/summer 2019 (Credit: Jasper Abels)
That ballet was elevated to a respectable art form in the 1830s and 40s owes much to the most celebrated ballerina of the era, Marie Taglioni, whose ladylike image and indisputable talent won her legions of female fans. It was also Taglioni who created the archetypal image of the ballerina. In her role in La Sylphide she wore a white fitted bodice and diaphanous calf-length tulle skirt which "was a shorter version of the fashion gown of the 1830s", explains the Kunstmuseum's Madelief Hohé. Accessorised with satin pumps laced around the calf, also based on fashionable evening wear of the era, it would, with minor adjustments, remain the standard costume for romantic ballerinas from then on.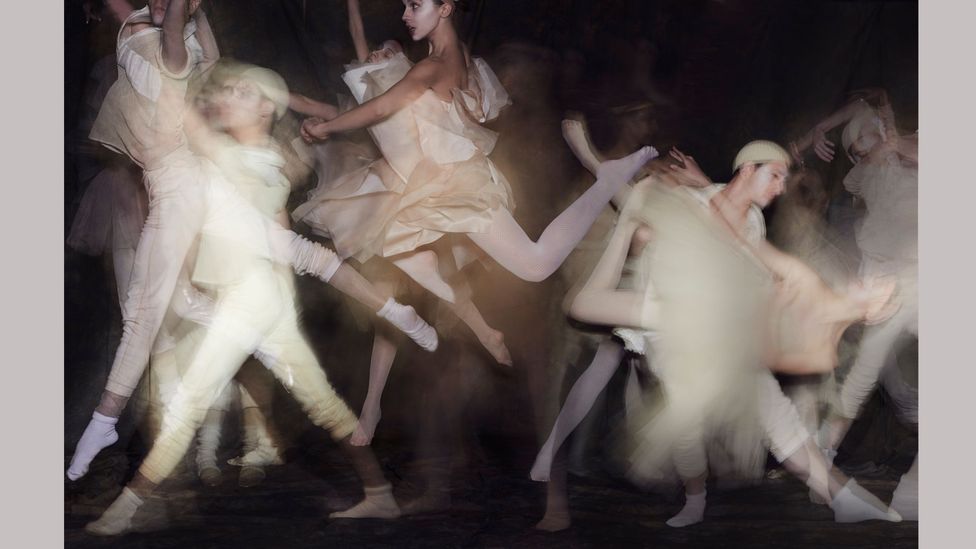 The elegance of ballet dancers make them inspiring figures for fashion designers (Credit: Kunstmuseum den Haag)
But this respectability was to prove short lived. Taglioni would no doubt have been horrified that the tutu she popularised gained its name from a derivation of the vulgar slang term cucu, meaning the bottom – part of the dancer's anatomy that patrons in the cheap seats of the Paris Opéra could often observe.
Ballet's transformation into a revered art form beloved of fashion designers began with the arrival of Sergei Diaghilev's Ballets Russes in 1909. "They were so influential when they came, integrating the best artists, the best musicians and composers," Patricia Mears tells BBC Designed. Their Orientalist aesthetic proved hugely influential to a generation of pre-war designers, including Paul Poiret who began designing harem skirts and trousers in an array of bold, jewel-like colours.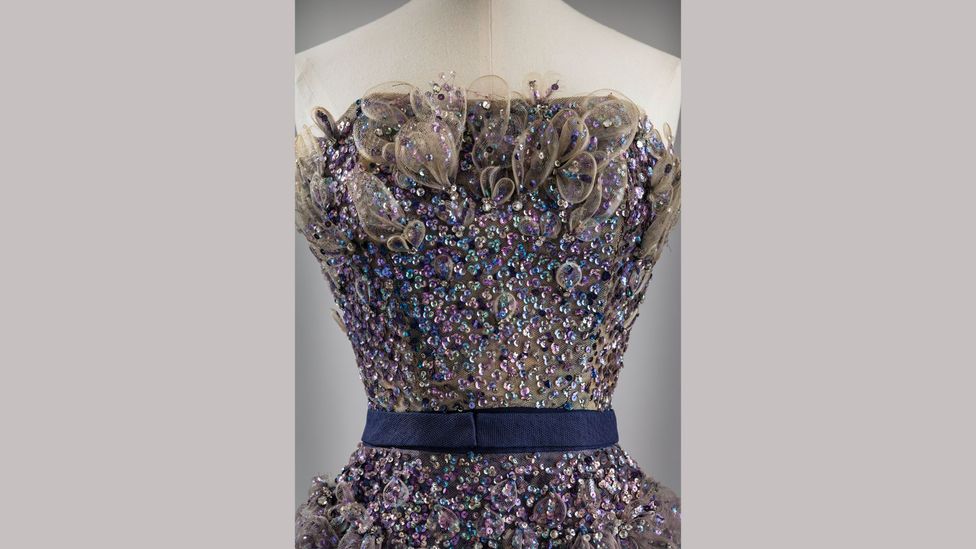 The bodice of an embroidered gown by Christian Dior, 1950, worn by prima ballerina Margot Fonteyn (Credit: William Palmer, Fashion Museum of Bath)
But Mears sees Diaghilev's re-staging of The Sleeping Beauty in 1921 as the major turning point in fashion's relationship with ballet. "I don't think it was until the classics were starting to be performed that you really started to see fashion absorbing it," she says.
By the mid-1920s, Jeanne Lanvin was creating romantic full-skirted dresses in marked contrast to the sleek sheaths and tunics that were in vogue at the time. Even the avowed modernist Madeleine Vionnet took on board the influence of the ballet, going so far as to title a dress from her autumn/ winter 1924/5 collection 'Ballerina.'
Romantic ideal
Ballet was soon garnering serious attention in the fashion press, with a 1932 issue of Vogue devoting eight pages of coverage to the Ballets Russes de Monte Carlo's production of Cotillon. The production's costumes, designed by the French artist Christian Bérard and executed by costumer Barbara Karinska, showed how ideas floated between the two art forms.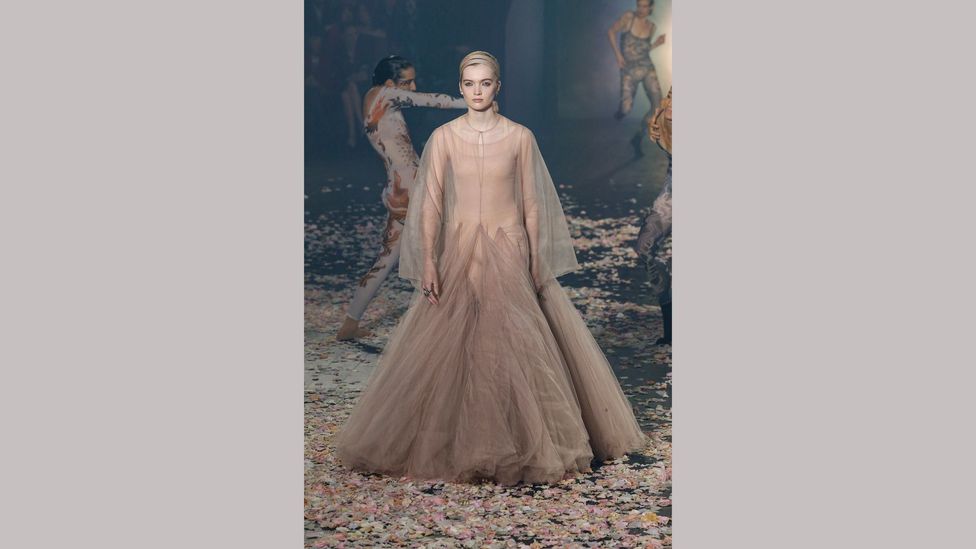 Dior is one of the prominent fashion houses that has a long-standing relationship with ballet (Credit: Kunstmuseum den Haag)
Karinska, who would go on to be chief designer for the New York City Ballet and also have her own couture line, "was one of the pioneers of making tulle costume in layers of different colours, which you then see Charles James experimenting with", says Mears.
Bérard was a close friend of Coco Chanel's, and the influence of his star-adorned costumes can be seen in a glittering, sequin-embellished gown that she created a few years later. More significantly, Bérard mentored the young Christian Dior, the designer who, more than any other, is associated with the classical ballet-inspired fashions that dominated French couture throughout the 1940s and 50s. When his New Look exploded on to the scene in 1947, it was "very clear where the influence came from", says Mears.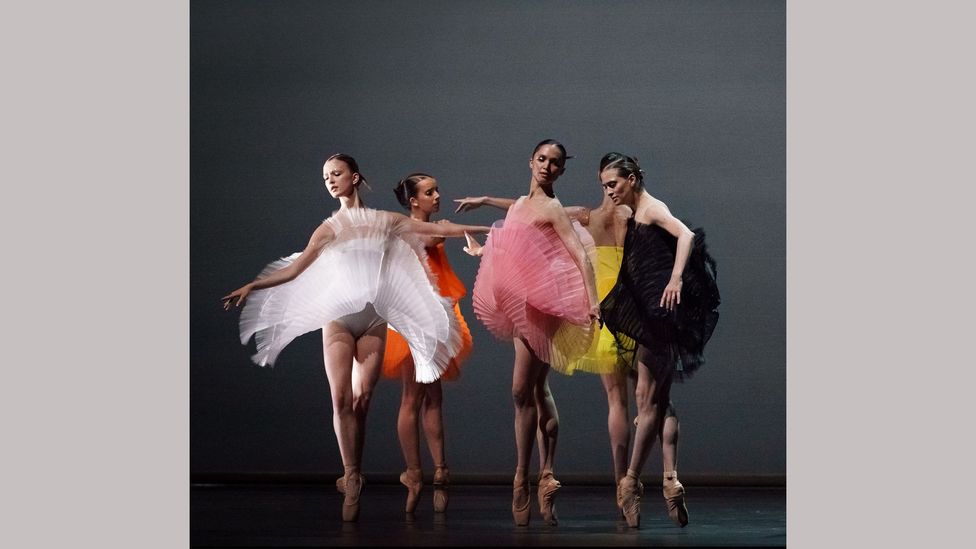 A collaboration between designer David Laport and the Dutch National Ballet for the 2018 Young Patrons Gala (Credit: David Laport/ Kunstmuseum den Haag)
Dior's unique understanding of ballet meant that leading ballerinas such as Margot Fonteyn were instantly drawn to his work. His post-war styles, themselves evocative of the 19th-Century romantic ideal, perfectly suited her elegant body and posture, and she remained loyal to Dior's creations until his death.
If you look at the latest collections from this year it's one big explosion of tulle – Madelief Hohé
The correlation between ballerina and haute couture was further highlighted by the costumes Jacques Fath designed for Moira Shearer in The Red Shoes, a film that helped fuel the enthusiasm for ballet style.
A gown by Giambattista Valli, summer 2019, reflects haute couture's love of balletic style (Credit: Team Peter Stigter)
Although in a few short decades ballerinas had shifted from being on the margins of society to aspirational figures of glamour, beauty and artistry, their appeal was not to last. By the 1970s the ballerina was simply not "the archetype that the next generation of women fighting for equality were looking for", says Mears.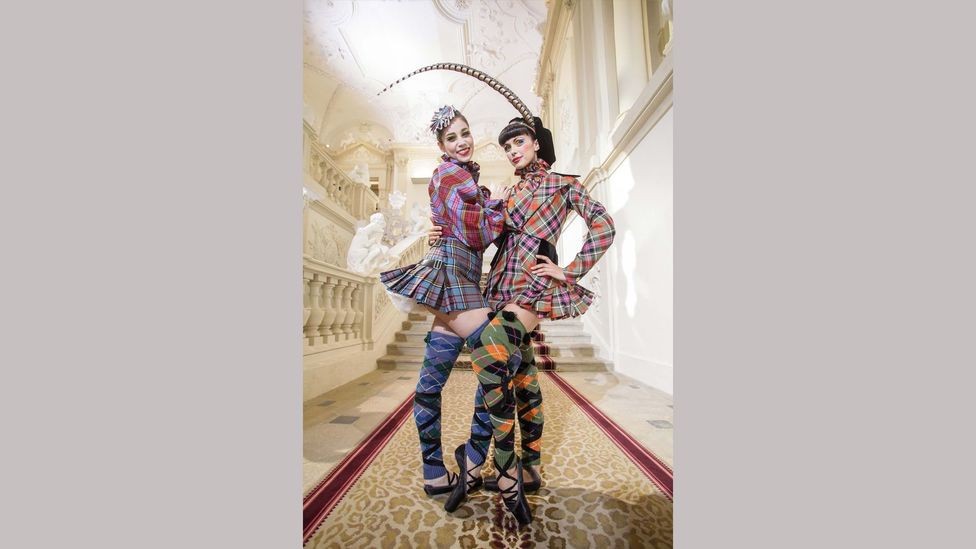 Vivienne Westwood designed costumes for the Vienna State Ballet in 2014 (Credit: ORF/Günther Pichlkostner)
Fashion designers, however, lost none of their enthusiasm for ballet, and instead turned to costume design. Designers as diverse as Christian Lacroix, Vivienne Westwood, Valentino and Viktor and Rolf have all brought their own unique style to ballet costumes. Since 2012, The New York City Ballet has teamed new choreographers with leading fashion designers, such as Iris Van Herpen, in their annual autumn gala. Marc Happel, the head of costume, works tirelessly to hone radical fashion concepts to meet the needs of dancers and choreographers alike.
But fashion has always been cyclical, and in recent years the ballet aesthetic has made a return to the catwalk. "If you look at the latest collections from this year or the year before it's one big explosion of tulle," says Hohé.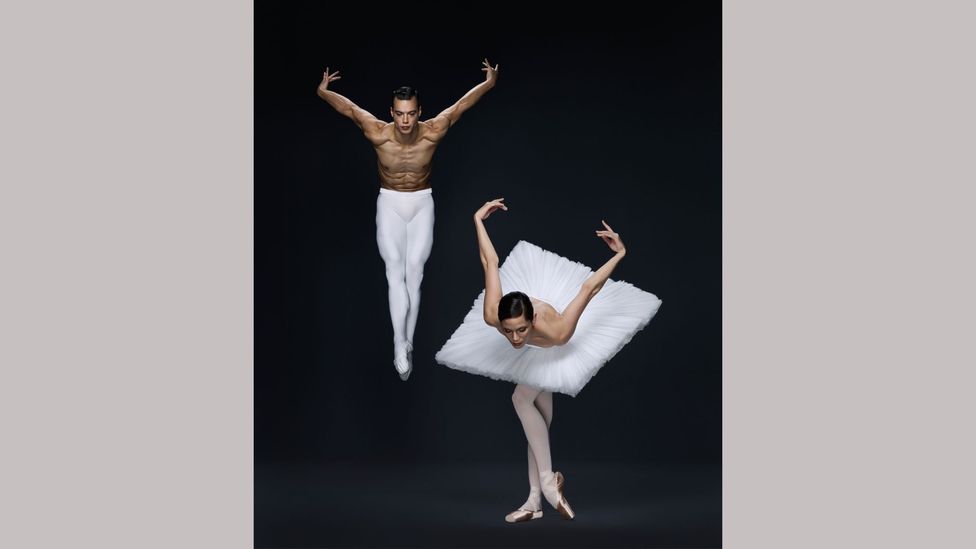 Viktor & Rolf designed tutus for the Dutch National Ballet in 2014 (Credit: Erwin Olaf/ Dutch National Ballet)
The reasons for this are many, but Mears believes that Misty Copeland, the first African-American principal dancer, whose curvy, muscular body is in contrast to the willowy  stereotype, has had a very positive impact on the image of ballet. She also thinks "younger women are not bothered about a desire to exert overt femininity".
Phoebe Waller-Bridge certainly proved that you can look feminine and effortlessly cool in the Monique Lhuillier gown she donned to collect her Emmys, which paired yards of tulle with a daring décolletage. She also chose to dress her murderess anti-heroine Villanelle in a pink organza gown designed by Molly Goddard, who has been working the bad-ballerina look for a few years now.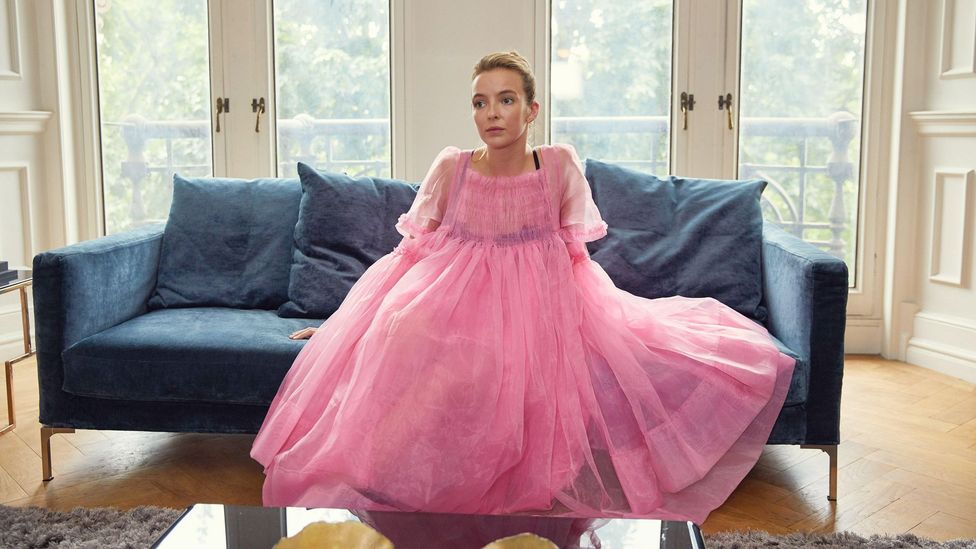 Villanelle (Jodie Comer), the anti-heroine of TV drama Killing Eve, famously wore a pink tulle Molly Goddard gown in the series (Credit: BBC)
Judging by the almost universal adoration of those two gowns, it seems like this re-invigorated ballerina style is going to be around for a while yet.
Let's Dance! is at the Kunstmuseum Den Haag until 12 January 2020. Ballerina: Fashion's Modern Muse by Patricia Mears is published by Vendome Press.
If you would like to comment on this story or anything else you have seen on BBC Culture, head over to our Facebook page or message us on Twitter.
And if you liked this story, sign up for the weekly bbc.com features newsletter, called "If You Only Read 6 Things This Week". A handpicked selection of stories from BBC Future, Culture, Worklife and Travel, delivered to your inbox every Friday.