OG Keemo is a Sudanese-German rapper who has caused controversy by holding a mirror up to the racism that still exists in Europe's most powerful economy.
O
On 5 September, the day that German rapper OG Keemo released his new single 216, his Twitter timeline was headed by a retweet of one of his idols, American MC Earl Sweatshirt: "I guess this the part where white people call me racist for being pro black," followed by the shrug emoji. A self-fulfilling prophecy, as it turned out.
For the next five days, in which Keemo's song and its accompanying, brutal visuals sent ripples through the German rap scene, his notoriously funny Twitter feed kept quiet. Apparently, the track's explicit imagery of everyday racism, black pride, self-hatred, and racial profiling left some feeling personally attacked. 
"I wish I wasn't the type of guy to read YouTube comments," OG Keemo says, laughing. "People think because those themes don't directly affect them, they simply don't exist. I knew some people would get upset. But I never thought I would get called a full-blown racist for addressing their inherent racism."  
Since appearing on the scene in 2017, OG Keemo has been somewhat of an outlier in the current German rap landscape. The son of a Sudanese man who came to Germany in 1990, the 26-year-old is heralded as the future, mixing his thoughtful lyrics with street sensibilities. Growing up in the mid-90s between the southwestern cities of Mainz, Heidelberg and Mannheim (where he still resides today), Keemo was raised on a diet of Sade, Nelly, Coltrane and 50 Cent's Get Rich or Die Tryin'.
Stoic cool
Stylistically, he is an MC of the post-everything ilk who has mastered rap as a native language in itself; the kind that makes you wonder how people could have ever struggled to hold a beat or find clean, multi-syllabic rhymes for every curse word in the dictionary. His musical tastes and his rapping abilities are truly advanced.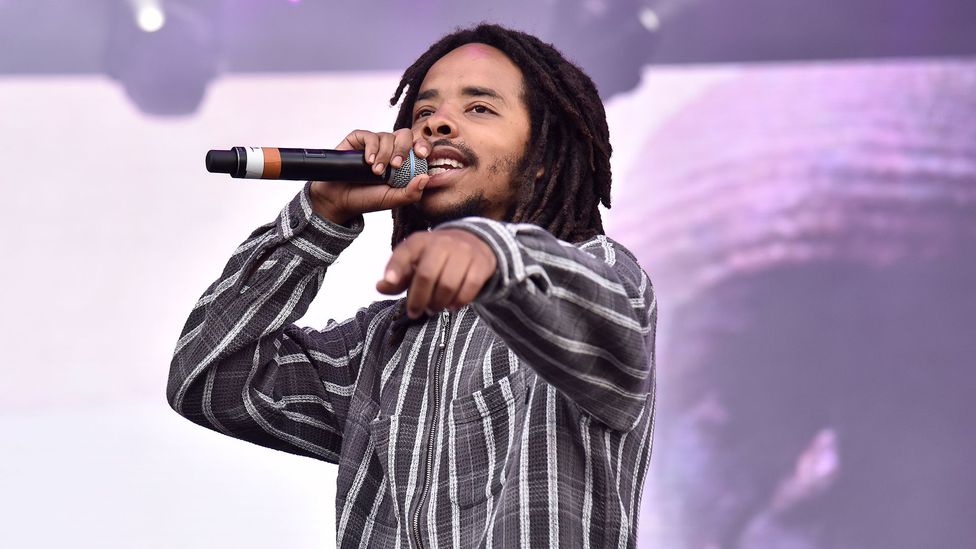 OG Keemo quoted his inspiration, rapper Earl Sweatshirt, as his track 216 took off (Credit: Getty Images)
On his three latest releases Neptun, Skalp, and Otello, Keemo's biggest trick has been to perform his raps with the stoic cool of an unfazed, post-game NFL player.
This knack for code-switching became most apparent in Vorwort, his breakout song that defined the early stages of his career. In it, he moved effortlessly from punchlines about "gliding through the streets like a manta ray" to discussing his mother's passing mere days before signing his record deal; all wrapped up in one, hook-free stream of thought. In interviews and on his tracks, he's outspoken about his first and second passions in life being visual art and stealing stuff (he still engages in the former via his Joel Novelle Instagram account).
The 26-year-old is heralded as the future, mixing his thoughtful lyrics with street sensibilities
Mix that with an infectious sense of humour, and you have an MC persona as complex as the times he tries to make sense of in the track 216. 
For 216, OG Keemo tried a different writing approach. Instead of jotting down the lyrics in one go, the song consists of various lines he's written about different experiences of daily racism throughout his life. It's all held together by a recurring reference to his father who raised him on a 'by any means' ideology, urging him to "never turn the other cheek". The song culminates in the gripping depiction of an encounter with a racist policeman struggling to accept that his grandchildren are, in fact, mixed race. 
Ghost notes
Sonically, 216 is as radio- and club-unfriendly as its lyrical content. The beat, as always provided by Keemo's producer and childhood friend Funkvater Frank, consists of little more than a few piano notes, rattling chains, scattered bits of sound design and some ghoulish screams at the song's peak. It's a fittingly odd choice for the lead-single of their upcoming debut album Geist (Ghost). This is particularly noteworthy since Geist will be released on Chimperator, a Stuttgart-based label still best known for initiating the rise of masked pop-rap star Cro.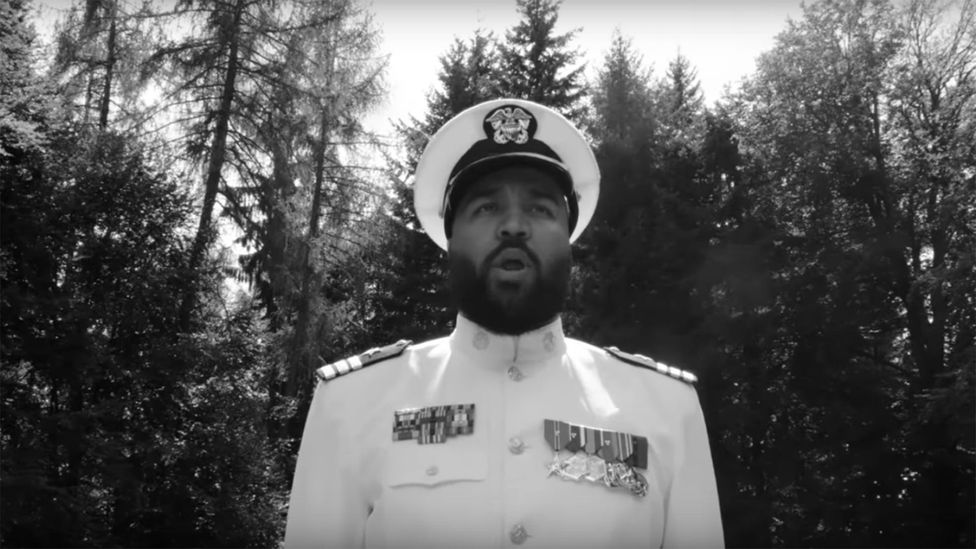 In the video for 216, OG Keemo wears a military uniform (Credit: Chimperator Productions)
"I guess people wouldn't have expected such a track from me, simply because I wasn't very political in my songs so far. To be perfectly honest, I was against dropping this first. I thought we should come out with a banger. But Frankie suggested that it would be a good idea to put this out as a first statement. Of course, 216 is one of the most poignant songs on the album, so he was completely right," says OG Keemo.
"I guess people wouldn't have expected such a track from me, simply because I wasn't very political in my songs so far" – OG Keemo
Presented without any further explanation, the title 216 had fans and critics wondering about its meaning. Most listeners speculated that the number in the title referred to a paragraph in the German Criminal Code concerned with "killing on request". Keemo is quick to debunk that theory – he'd rather leave it at that. However, one could see where this theory stems from; after all, it is Keemo, dressed up in the same white military uniform that he's wearing at the beginning of the clip, who kicks away the chair at his own hanging. 
It's this circular structure of every-day racism and self-destructive behaviour that Keemo finds most frustrating.
"I don't say we're to be blamed for what's happening. On the other hand, I also don't feel 'It's an us-against-them scenario'. The last thing I wanted to achieve with this song is create more division. But, my father came here around 1990 and I'm shocked when he tells me that nothing ever changed," he says. "One of the comments I saw most frequently was "this only applies to America, never to Germany". To me, this is evidence that people have no clue what is really going on here. Because we never address it."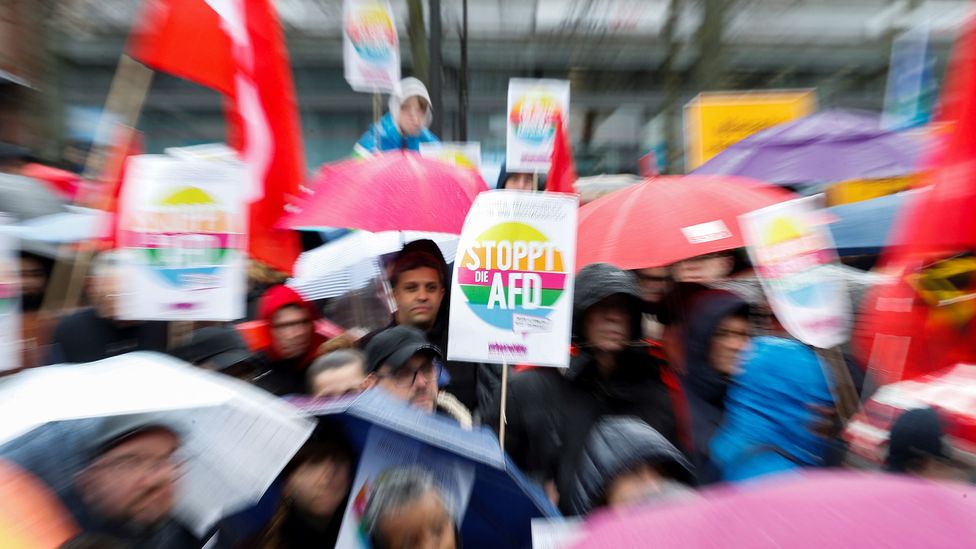 The far-right AFD has surged in recent elections, with many Germans fearful about the effect this may have on German society (Credit: Getty Images)
This unapologetic anger expressed in 216 couldn't be more timely. The single was released against the backdrop of the elections in Saxony and Brandenburg, in which the far-right AFD party surged in elections, and the results were mostly met with a collective sigh of relief about how it could it have been even worse. It's this form of apathy and ignorance towards the struggle of others that 216 counters with anger directed at everyone who still chooses to not listen, even when they're told loud and clear by those affected.  
"That is exactly what I don't understand", says Keemo. "For example, it would never occur to me say 'I don't get it, why are these women complaining all of a sudden? I never experienced sexism'. Do you know what I mean? Or, as a heterosexual man, I could never take on a position to tell a gay man that it's not that bad in Germany. That behaviour is the most absurd to me."
BBC Music's greatest hip-hop songs of all time:
The 25 greatest hip-hop songs of all time
What critics had to say about the top 10
Full list of critics who participated – and how they voted
Why Juicy is number one (not available in UK)
Trends and surprises in the poll (not available in UK)
Why are there so few women in hip-hop polls? (not available in UK)
Playlist of the top 25 songs (Spotify)
--
If you liked this story, sign up for the weekly bbc.com features newsletter, called The Essential List. A handpicked selection of stories from BBC Music, Culture, Capital, Future and Travel, delivered to your inbox every Friday.