The all-in-one garment went from utilitarian necessity to glamorous fashion staple. Bel Jacobs explores the wardrobe item that brings with it 'a sense of liberation'.
I
In the first episode of the British TV comedy Fleabag, season two, Phoebe Waller-Bridge's unnamed character attends an awkward family dinner to celebrate the upcoming nuptials between her father and his girlfriend. Waller-Bridge's character maintains an unusual reserve but frankly, she doesn't need to speak. She's looking drop-dead gorgeous in a black, keyhole-front, open-back jumpsuit that says it all: rebellion, rage, a barely-masked sexual appeal.
More like this:
-        Is it the end for high heels?
-        How fashion fell in love with ballet
-        The fairytale world of Tim Walker
The dinner is also the first time Fleabag meets the 'hot priest'. Why Andrew Scott's character doesn't ditch the dog collar right there is anyone's guess. Following the episode, global fashion search platform Lyst reported a 61 per cent spike in searches in the UK for jumpsuits. And earlier this year, shopping platform Liketoknow offered an even more staggering statistic: a whopping 945% increase in clicks to jumpsuits.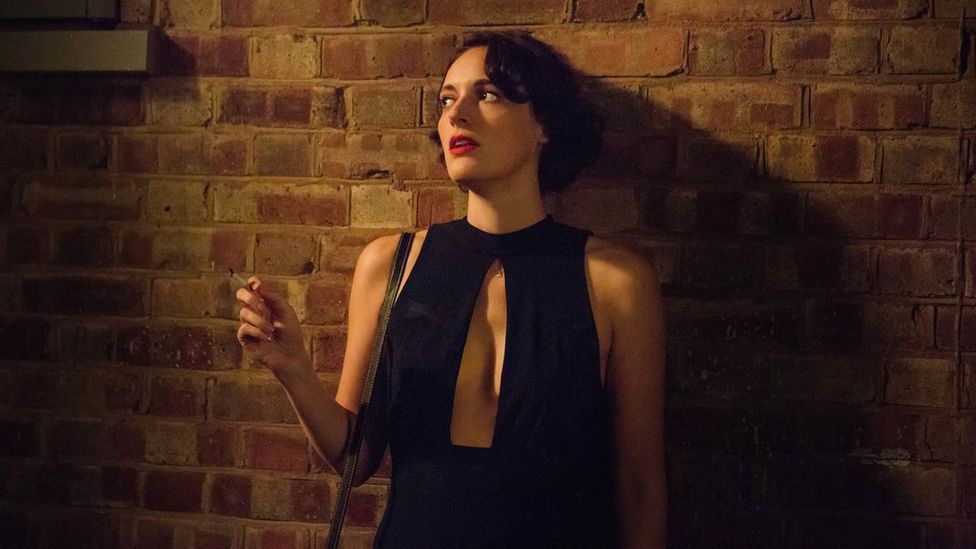 The protagonist of TV's Fleabag, played by Phoebe Waller-Bridge, wore a striking jumpsuit at the start of the second season (Credit: BBC)
Just why are they so popular? Well, they're convenient. Pull on a jumpsuit, and the hours usually spent agonising over separates can be used for more important matters. Plus, there's the versatility. Like white T-shirts and a black dress, jumpsuits create a blank canvas for the styling details that will, literally, turn an item from single-use to multi-functional.
But all this is less interesting than the garment's cultural and historical associations with the world wars, when global conflict finally freed women from the conventional roles they had occupied for centuries. While men fought on the frontlines, women were suddenly in demand for work as 'Land Girls', in transport, in hospitals, and most significantly, in industry and engineering – in shipbuilding and munitions. Not all of this could be achieved in corsets and skirts.
A 1917 lithograph by Paul Iribe is among the exhibits at the Bard Graduate Center exhibition (Credit: Association pour l'Histoire de la Mode)
Originally designed for parachuters and aviators, the jumpsuit became a clear choice for wartime chores. It took a while, though. "Women began working in factories from the onset of the war but it wasn't until 1915 they were allowed to wear jumpsuits," comments Maude Bass-Krueger,  co-curator of French Fashion, Women, and the First World War, an exhibition at New York's Bard Graduate Center Gallery.
Not all of them were happy about this. "Women wore them because they were doing dangerous work but many of them would have rather been wearing dresses and feeling more feminine," says Bass-Krueger. At least they didn't have to wear them outside work: "At the same time, a mandate for dressing rooms was created. So these women arrived to work in their dresses, changed into jumpsuits, and changed back out of them at the end of the day."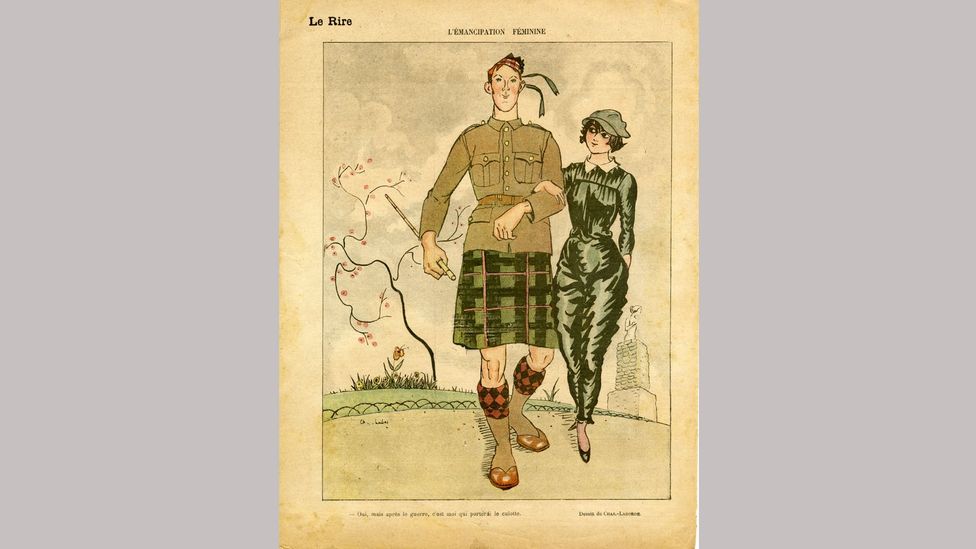 'L'Emancipation feminine', by Laborde, 1918, is on display at the exhibition French Fashion, Women and the First World War (Credit: Association pour l'Histoire de la Mode)
French Fashion, Women, and the First World War examines the intricate relationship between fashion, war, and gender politics in France during World War One, and looks at how fashion can be used to study the 'reconstruction' of gender at the time. "Wartime fashions were not emancipatory per se, but they signalled female emancipation for contemporary commentators," says Bass-Krueger. And, as with most seismic cultural shifts, the transition was rarely comfortable.
"Society held women to double standards when it came to getting dressed during the war," Bass-Krueger writes in the exhibition's catalogue. "They were told to be elegant, yet were disparaged for appearing frivolous. They were encouraged to consume, yet criticised for the financial independence their purchases suggested; they were told to look seductive in order to appeal to soldiers on leave, yet castigated for unfaithfulness or, worse, prostitution."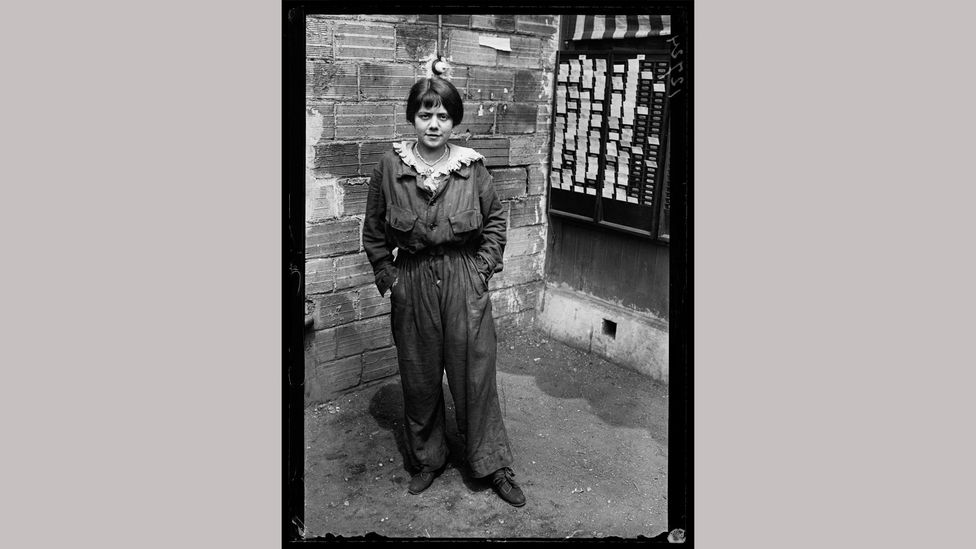 A 1917 photograph of a woman in work clothes, taken in Paris, is also among the exhibits (Credit: Excelsior-L'Equipe/ Roget-Viollet)
And few items of clothing would have been as challenging to the male gaze as the jumpsuit, with its provocatively split lower half, that alluring V. But history waits for no man – or woman. By the end of the wars, women's place in society had irrevocably changed. And, by the time Elvis started wearing white studded jumpsuits in the 1970s, its status as a uniform of rebellion was set.
Power and freedom
There is no shortage of jumpsuits in the history of music culture. All-in-ones were the go-to for Studio 54 regulars Diana Ross, Liza Minelli and Bianca Jagger; at 73, Cher is still a fan, belting out Abba's Waterloo on a recent episode of America's Got Talent in head-to-toe purple. And, speaking of Abba, rarely were the Swedish Fab Four out of their onesies, from flared to industrial.
And then there's Freddie Mercury, Mick Jagger, and David Bowie as Ziggy Stardust, demonstrating the appeal of the jumpsuit's anti-establishment iconography to gender-fluid, hyper-sexual men everywhere. Skip the hiatus in good taste that were the 1990s (think TLC and Salt-N-Pepa) and today's jumpsuit is a different affair, often sleek and tailored, but still redolent of past associations of power and freedom.
You can literally do anything in a jumpsuit: fix a car, climb a tree – Alice Wilby
In the fashion houses, Stella McCartney has long been a fan, but the pioneer for today's renaissance is arguably former Celine designer Phoebe Philo. When Philo wore a black tux-esque jumpsuit to the British Fashion Awards in 2009, and when, a few years later, actors Kristen Stewart and Jennifer Lawrence turned up on the red carpet in Cannes in all-in-ones, the message was clear: "I don't care about this as much as you think I should."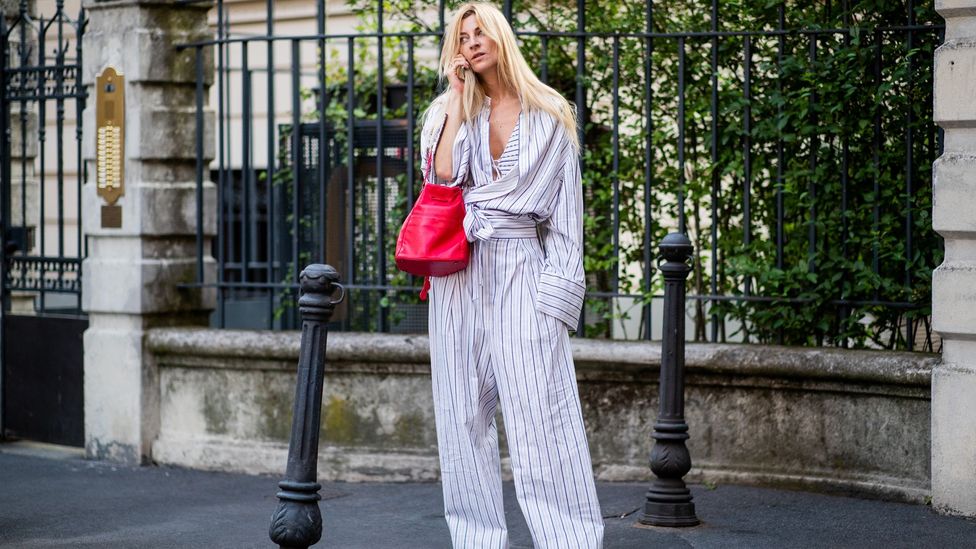 In recent years, the jumpsuit has become a staple in women's fashion (Credit: Getty Images)
"You feel a powerful sense of liberation wearing an all-in-one, a sense of safety that comes from knowing the wind won't flip your hemline and flash your knickers for a laugh," comments sustainability consultant Alice Wilby. "You can literally do anything in a jumpsuit: fix a car, climb a tree, straddle a bench at a communal dining table with aplomb. 
"A jumpsuit provides a freedom of movement not associated with any other item of clothing [and] the connotations of female empowerment, autonomy over our lives, careers and bodies, paired with an enduring love of utility style is a powerful one," she continues. "In an era when women have never been so objectified and scrutinised, donning a jumpsuit is a sartorial two fingers up at the patriarchy. It's an empowering piece of kit."
Garment of the future
That's certainly what visual artists Maura Brewer and Abigail Glaum-Lathbury, founders of the counter-fashion collective Rational Dress Society, have in mind when they posit the jumpsuit as the garment of the future during lectures and events. Together, they have produced JUMPSUIT, an "open-source, ungendered monogarment to replace all clothes in perpetuity."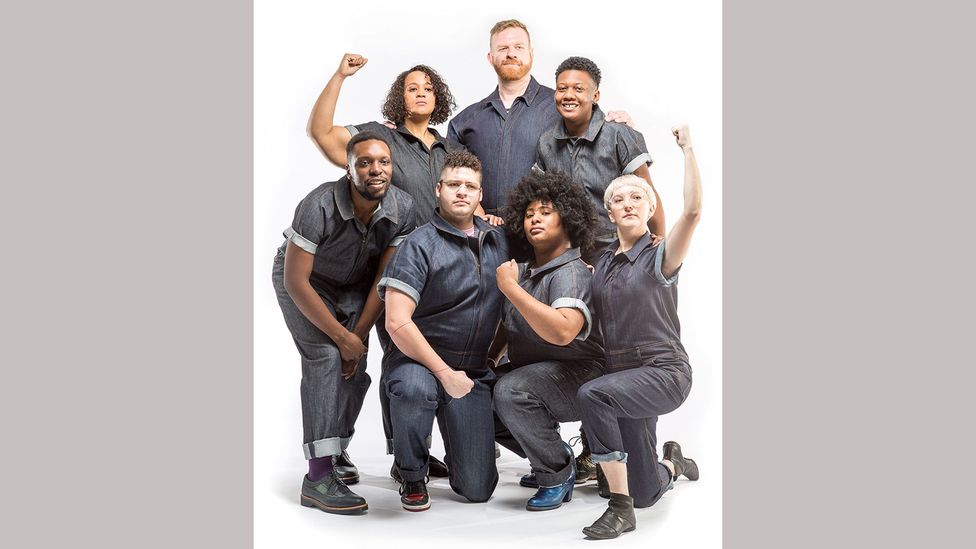 The Rational Dress Society endorses the jumpsuit as "the garment of the future" (Credit: Rational Dress Society)
The project aims to offer a concrete alternative to the industrialised system of production, consumption and waste that characterises today's fashion industry; to challenge current buying practices by pushing everyone to only wear one outfit made specifically for them. The Society organises make-your-own-JUMPSUIT workshops that feature debate around questions of fashion and identity.
"From the beginning, the jumpsuit was a sign of aviation, spaceships, and the promise of a more streamlined, rational future," says Brewer. "At the same time, the jumpsuit is a cover-all – a garment that suggests hard work, no-nonsense efficiency. So it combines utopian, sci-fi idealism with working-class practicality," she continues. "Of course, there are more dystopian connotations as well – prison uniforms, cults –  but being in a room of our comrades, each with different bodies, ages and genders, all wearing jumpsuits, is inspiring. The Rational Dress Society unequivocally endorses the jumpsuit as the garment of the future."   
Both Henry Holland and Roksanda showed pink editions on the spring/ summer 2020 catwalks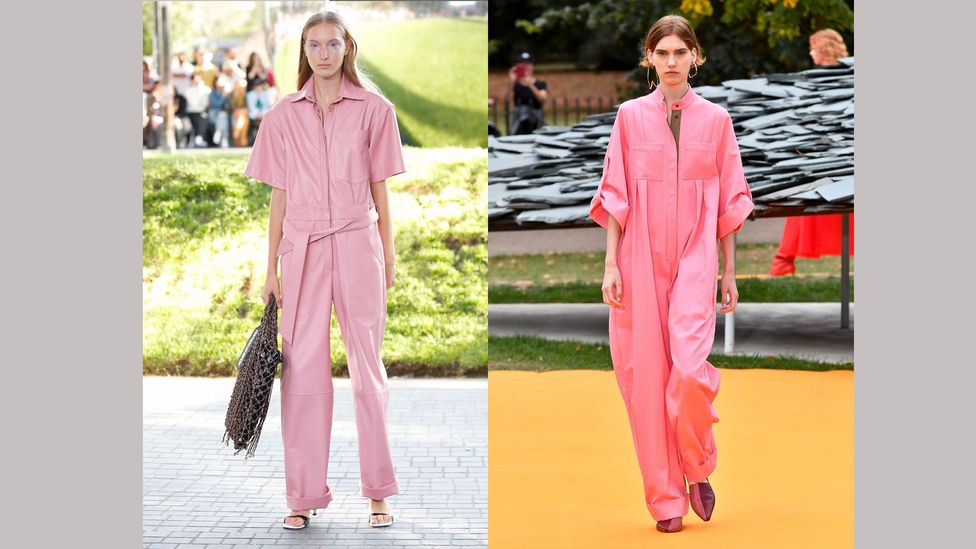 For spring/summer 2020, Henry Holland and Roksanda showed playful, pink jumpsuits in utilitarian silhouettes (Credit: Getty Images)
Jumpsuits appear again on spring/ summer 2020 catwalks. Both Henry Holland and Roksanda showed pink editions that blended sleekly utilitarian silhouettes with a colour redolent of play and frivolities. At Ports 1961, new creative director Karl Templer re-imagined traditional two-piece suits as glamorous one-pieces (with rodeo white piping and split trouser hems). Influential Amsterdam-based trendwatcher Linda Tol attended Paris Fashion Week in a black onesie .
More affordable options exist: Birdsong's lovely boiler-esque versions, Komodo jet-black wide-legged jumpsuits in tencel; Mayamiko's sweet romper suits in Africa prints. And one of the beauties of the perennial trend is the plethora of second-hand options that let you try the style without adding to the burden of new clothing crushing the planet. Why ape 1940s glam when the real thing is hanging on the rails at a local vintage store for £10.99?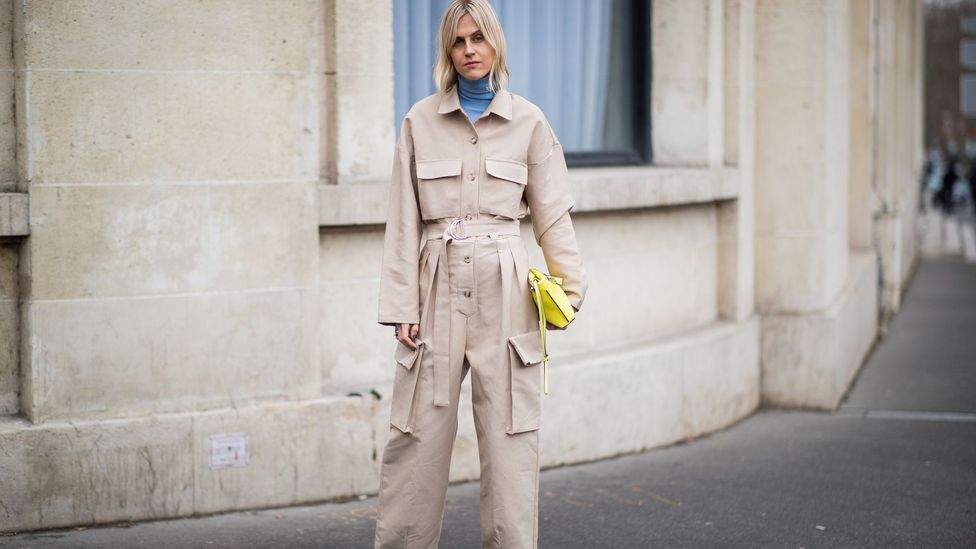 The all-in-one evokes a "powerful sense of liberation" (Credit: Getty Images)

What to look for? "Know your body type. Whilst jumpsuits have a powerful draw, they can be tricky to fit," advises Wilby. "And don't be afraid to make alterations." Belt a jumpsuit for a more pulled-together look or embrace the roominess of the boiler suit. Wear them with brogues or heels, up-dos or earrings. It's all possible. "I'm a mum of a small baby and when I was in New York recently I had zero time so I went and bought myself a jumpsuit," says Bass-Krueger.

"I wore it every day. It's a uniform that you can work and transition to social hours. It's utilitarian – very much so – but today's jumpsuit has also acquired an elegance that definitely was not part of the garment in the First World War. As a woman, I feel pulled in so many directions. Many women are paring down their wardrobes, and the jumpsuit fits in that."

French Fashion, Women, and the First World War is at New York's Bard Graduate Center Gallery, until 5 January 2020.

If you would like to comment on this story or anything else you have seen on BBC Culture, head over to our Facebook page or message us on Twitter.

And if you liked this story, sign up for the weekly bbc.com features newsletter, called "If You Only Read 6 Things This Week". A handpicked selection of stories from BBC Future, Culture, Worklife and Travel, delivered to your inbox every Friday.

;