The 1982 sci-fi film imagined a dystopian metropolis in November 2019. But, now we've caught up, to what extent did it really predict our present reality, asks David Barnett.
T
The city stretches as far as the eye can see; the lights in the packed-together buildings shine – unlike the stars which are invisible in the smog-filled night sky... Flames belch from gigantic industrial towers. A vehicle flies into the scene, then out again, heading towards two monstrous pyramids.
An increasingly anxious man undergoes a verbal test conducted by his supervisor at the Tyrell Corporation, housed in the vast ziggurats. It doesn't end well. We cut to another flying car, negotiating the narrow avenues of the city, framed against a digital hoarding, storeys-tall, featuring an Asian woman advertising snack foods. A booming voice cheerfully tells the unseen but presumably multitudinous denizens of this strange future world that a new life awaits them in the off-world colonies.
More like this:
-       The end of the gangster movie as we know it?
-       Last Christmas is a festive flop
-       What the Joker says about the world
Except, of course, it isn't the future, not any more. This is Blade Runner, the 1982 movie directed by Ridley Scott: (very loosely) based on Philip K Dick's 1968 novel Do Androids Dream of Electric Sheep?, and telling the story of Rick Deckard, a cop who works for the LAPD, tracking down and 'retiring' replicants – genetically-engineered, almost-human artificial people whose presence on Earth is illegal, following a replicant revolt on one of Earth's off-world colonies.
Blade Runner is no longer science fiction. It's a contemporary thriller
This may sound far-flung from our own reality, but as the opening credits tell us, the film is set in Los Angeles, November 2019. In that sense, Blade Runner is no longer science fiction. It's a contemporary thriller. The question is: in the 37 years between Blade Runner's release and its setting – our present – how close have we come to the future presented in the movie?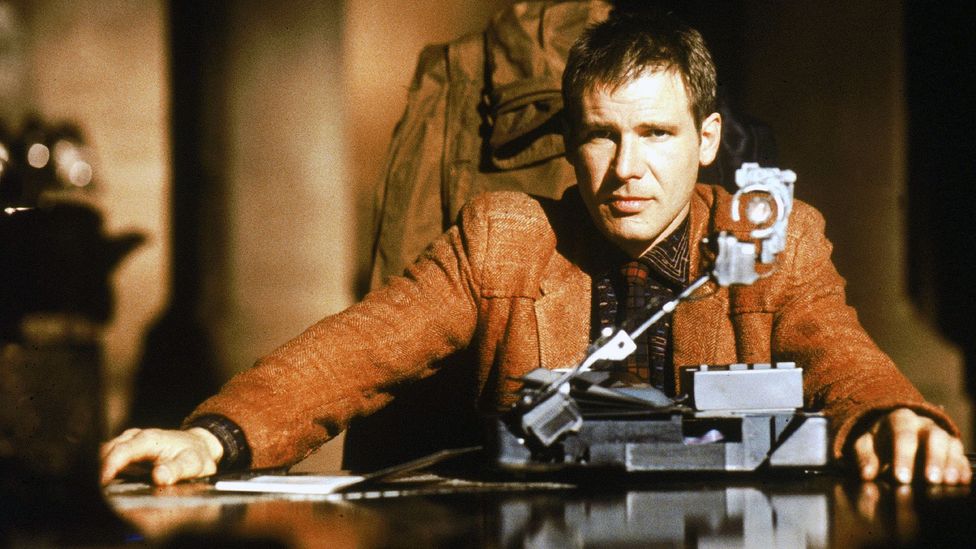 In the film, Deckard (Harrison Ford) performs the Voight-Kampff test – an examination designed to distinguish replicants from humans (Credit: Getty Images)
On one hand, there are parts of its vision of 2019 that feel jarringly old-fashioned. There is no internet, and when we first meet Deckard he's reading an actual newspaper, sheltering from the rain by the window of a shop that is selling bulky old cathode-ray television sets. Meanwhile when Deckard performs the Voight-Kampff test – an examination designed to distinguish replicants from humans via their emotional responses to verbal questioning  – on Sean Young's Rachael, the assistant of Eldon Tyrell, the boss of the company that makes replicants, she is smoking! A cigarette! In an office!
The world of Blade Runner is one in which the fictional Tyrell conglomerate dominates alongside other, real-life corporations, that feature on some of the film's massive neon advertising hoardings – tempting fate as to whether the businesses active in 1982 would still be going in 2019. Coca-Cola was a fairly safe bet, but PanAm, whose logo we glimpse in the opening scene, wasn't; the airline went out of business in 1991.
On the other hand, we are still catching up with much of its technology, of course – though some elements are now not far beyond the bounds of possibility. A German company, Lilium, announced last month that the flying car it is developing could be in use as a taxi service by the year 2025. We don't have artificial humans, but we have been making huge strides in gene-editing, causing concern in some quarters. And we don't need the Voight-Kampff test yet, but how many times have you been asked to mark all the traffic lights on a grid picture to prove you're not a robot, and gain access to a website?
What the film gets right
However, beyond particular components, Blade Runner arguably gets something much more fundamental right, which is the world's socio-political outlook in 2019 – and that isn't particularly welcome, according to Michi Trota, who is a media critic and the non-fiction editor of the science-fiction periodical, Uncanny Magazine.
"It's disappointing, to say the least, that what Blade Runner 'predicted' accurately is a dystopian landscape shaped by corporate influence and interests, mass industrialisation's detrimental effect on the environment, the police state, and the whims of the rich and powerful resulting in chaos and violence, suffered by the socially marginalised."
The environmental collapse the film so vividly depicts is not too far off from where we are today – Matthew Kressel
In the movie the replicants have a fail-safe programmed into them – a lifespan of just four years – to prevent a further revolution. Trota believes there is "something prescient in the replicants' frustration and rage at their shortened lifespans, resulting from corporate greed and indifference, that's echoed in the current state of US healthcare and globalised exploitation of workers." She adds: "I'd have vastly preferred the flying cars instead."
As for the devastating effects of pollution and climate change evident in Blade Runner, as well as its 2017 sequel Blade Runner 2049, "the environmental collapse the film so vividly depicts is not too far off from where we are today," says science-fiction writer and software developer Matthew Kressel, pointing to the infamous 2013 picture of the Beijing smog that looks like a cut frame from the film. "And we're currently undergoing the greatest mass extinction since the dinosaurs died out 65 million years ago. In addition, the film's depiction of haves and have-nots, those who are able to live comfortable lives, while the rest live in squalor, is remarkably parallel to the immense disparity in wealth between the world's richest and poorest today. In that sense, the film is quite accurate."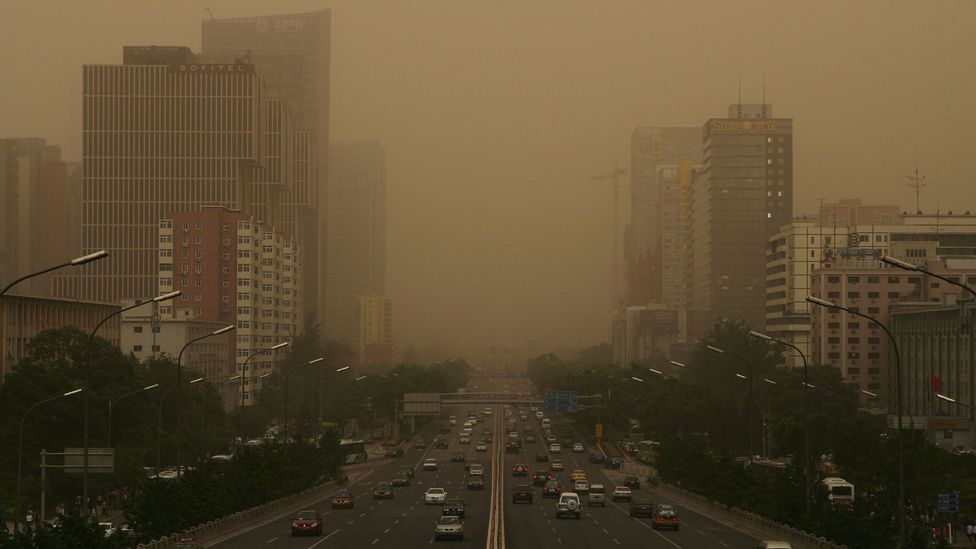 Comparisons have been drawn between Blade Runner's smog-filled cityscape and that of Beijing (Credit: Getty Images)
Accurate about where, though? Blade Runner's Los Angeles is a cultural melange, with heavy Eastern influences, and a street-level argot called Cityspeak that is a mish-mash of Japanese, Spanish, German, Korean, among other languages. Trota, who is Filipino-American, says the film is an example of "how pervasive the use of 'exotic Asian pastiche' is in science-fiction stories that seem to have no problem with taking the surface bits of non-European cultures to 'spice things up', while neglecting to include any significant characters of colour in those stories".
As in Kressel's comment above, Beijing has been a frequent reference point when discussing Blade Runner's metropolis – and that's where award-winning science-fiction author Mary Robinette Kowal has just returned from. Is the Chinese megacity more representative of the Blade Runner aesthetic than present-day LA, I wonder? "The smog was no joke, so in that respect, yes," says Kowal. "But in the parts of Beijing that I was in, I saw a significant overlap of the old and the new. Each seemed equally celebrated. Aside from the air quality, it was a clean, modern city, interwoven with historic areas."
What's the point of sci-fi?
Is the question of whether Blade Runner in 1982 correctly predicted the world of 2019 even a valid one, though? Is it science fiction's job to be predictive, or to just entertain? Or, perhaps, something more?
Kowal says she is less interested in the genre's literally predictive qualities than in the opportunities it offers as "a playground for thought experiments. It allows us to tip our world to the side and look at the interconnected tissues and then draw logical chains of causality into the future. The best SF remains relevant, not because of the technology in it, but because of the questions it forces us to ask. Blade Runner, for instance, is asking about the morality of creating sentient life for the purpose of enslaving it."
Trota agrees science fiction's real potency lies in the wider philosophical issues it explores. "It can often be about the future, it can be 'predictive' but those predictions are also very much reflective of our grappling with present day issues, as well as our past. If there's any 'job' that science fiction – and fantasy – has, to paraphrase authors Ijeoma Oluo and NK Jemisin, it's to help us imagine entirely new ways of being, to move beyond reflexively recreating our past so we can envision other ways of living outside the systems, oppressions, and societal defaults we've internalised and normalised."
We have fetishised Blade Runner's dystopian vision. Look at much art depicting the future and you will find echoes of the film – Matthew Kressel
Kowal's latest novels, The Calculating Stars and The Fated Sky, envisage an alternate-history US, where a woman mathematician and pilot leads humanity's mission to colonise other worlds, as an apocalyptic climate change bears down on the Earth. The author says that Blade Runner "shaped a lot of our ideas of what 'the future' looks like… If we think of broad strokes, I think it did surprisingly well. Pollution, talking to our computers, corporations running the country, and the ethical questions of who is considered a person. If we talk about specifics? Flying cars exist but are always going to be a terrible idea, so I'm fine with not having those in the mainstream."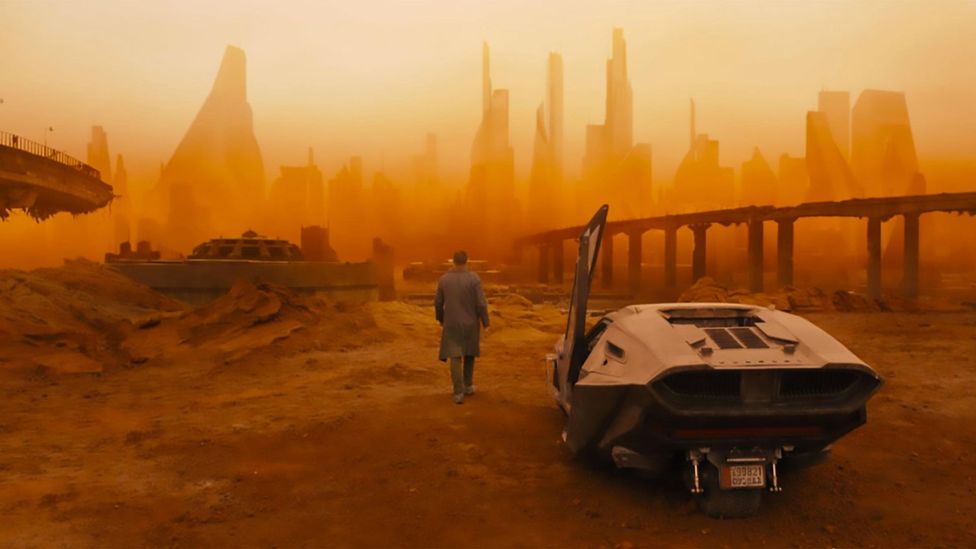 The devastating effects of climate change are covered in both Blade Runner and its sequel Blade Runner 2049 (pictured here) (Credit: Alamy)
If not necessarily predictive, science fiction can also prove to have a symbiotic relationship with the present. Kowal says, "So many people in STEM fields cite science-fiction films or books as their inspiration for an invention. Did Star Trek invent the flip phone, or cause it to come into being? Did 1984 predict the Big Brother state or prevent it from being pervasive?"
And it can also provide a warning for us to mend our ways. Nobody, surely, would want to live in the November 2019 depicted by Blade Runner, would they? Don't be too sure, says Kressel.
"In a way, Blade Runner can be thought of as the ultimate cautionary tale," he says. "Has there ever been a vision so totally bleak, one that shows how environmental degradation, dehumanisation and personal estrangement are so harmful to the future of the world?
"And yet, if anything, Blade Runner just shows the failure of the premise that cautionary tales actually work. Instead, we have fetishised Blade Runner's dystopian vision. Look at most art depicting the future across literature, film, visual art, and in almost all of them you will find echoes of Blade Runner's bleak dystopia.
"Blade Runner made dystopias 'cool', and so here we are, careening toward environmental collapse one burned hectare of rainforest at a time. If anything, I think we should be looking at why we failed to heed its warning."
Love film? Join BBC Culture Film Club on Facebook, a community for film fanatics all over the world.
If you would like to comment on this story or anything else you have seen on BBC Culture, head over to our Facebook page or message us on Twitter.
And if you liked this story, sign up for the weekly bbc.com features newsletter, called The Essential List. A handpicked selection of stories from BBC Future, Culture, Worklife and Travel, delivered to your inbox every Friday.