The sequel to the global smash hit is "a meandering psychedelic journey" with "fumbled twists" writes Nicholas Barber.
Disney has produced a few hit films in its time, but Frozen stands as one of the most staggering successes in the studio's nine-decade history. Released in November 2013, the animation became the highest-grossing film of the year – and that was just the beginning. In 2014, every car with children in the back seat – and some without – had the hit single Let It Go on the stereo.
Inevitably, a sequel was made. And, almost inevitably, it's nowhere near as good. Like the first film, this one is directed by Chris Buck and Jennifer Lee, scripted by Lee, and punctuated with songs by Robert Lopez and Kristen Anderson-Lopez. But the catchy Broadway show-stoppers have been replaced by thudding rock-opera power ballads; the glacial clarity of the coming-of-age theme has been replaced by a flurry of mythological codswallop; and the urgency of Anna's journey to bring her sister home has been replaced by the apathy of Elsa's wish to learn about her past.  
More like this:
- Last Christmas is a festive flop
- Three stars for Maleficent sequel
- Four stars for new Hitler comedy 
It takes an ice age for it to get going. In the early scenes, the film-makers' priority isn't to send Anna and Elsa off on an adventure, but to show off their Nordic haute couture. There are more costume changes in Frozen II than there are at a Beyoncé concert. Most Disney princess animations are intended to sell party dresses to children, but this is the first which is so obviously meant to launch a fashion line. 
The film opens with a flashback to the sisters as small children pretending to be in an enchanted forest. This is their father's cue to tell them about the enchanted forest he visited, and so we get another flashback in which a diplomatic party from Arendelle discover a distant land where the people have a magical connection to nature. Once we have swallowed that steaming bowl of exposition, the girls' mother serves up a dollop more – something to do with a mystic river. And then, at last, the film's title flashes on the screen.
The filmmakers manufacture some conflict by turning Anna into a co-dependent brat
In the present day, Anna (Kristen Bell) and Queen Elsa (Idina Menzel) are happily ruling the fjord-side kingdom of Arendelle, but they and their friends have some niggling problems. Kristoff (Jonathan Groff) wants to propose to Anna, but he isn't sure how. Olaf (Josh Gad), the sentient snowman, is fretting about the impermanence of all things, a concern which leads to a couple of endearing songs, but not much else. And Elsa is troubled by a mysterious psychic voice calling her to the far north. This leads to a song, too, in which she declares that she isn't going to answer the voice's siren call, but then changes her mind before the final chorus.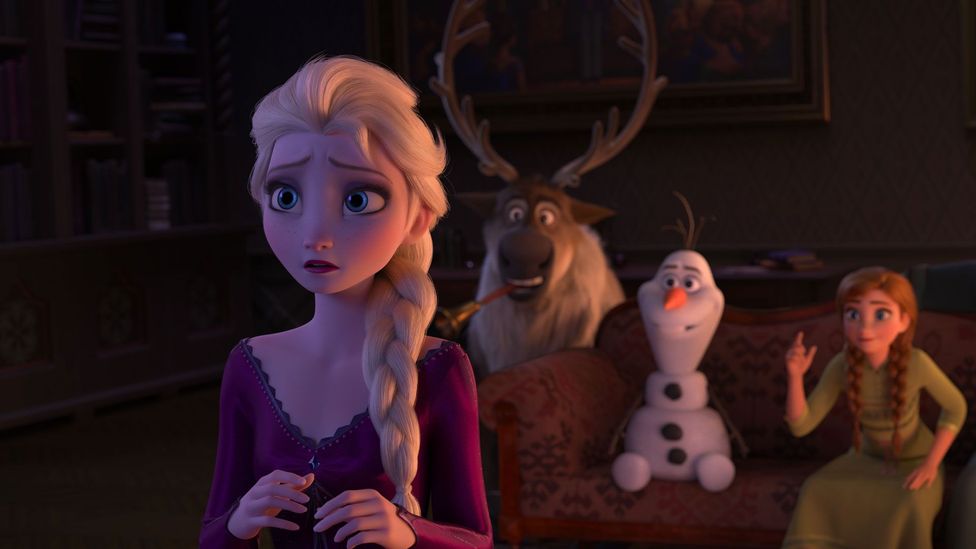 And so, for the vaguest of reasons, the gang sets off on another quest. Unfortunately, they don't encounter any sneaky villains or ravenous wolves, and so the filmmakers manufacture some conflict by turning Anna into a co-dependent brat who keeps snapping at Elsa and Kristoff. Was she this tetchy and judgemental in the last film? I doubt the others would have rushed to her aid in the finale if she had been.
Lacking any real jeopardy, Frozen II is a meandering psychedelic journey involving standing stones, elemental spirits, time-warping glaciers, the Dark Sea, and a supernatural fog reminiscent of Alex Garland's sci-fi horror movie, Annihilation. It's also reminiscent of a Tolkien fantasy saga, although its fixation on the characters' origins and their homeland's politics may bring back traumatic memories of the Star Wars prequels. The script tries to answer the questions raised in the first film, even though none of them needed answering, but its convoluted explanations are so perplexing that there may need to be a third film just to answer all the questions raised in this one. Strangely, one sequence comes very close to explaining why Kristoff had no parents in Frozen, just a reindeer and an adoptive family of trolls, but someone must have cut the sequence in which everything becomes clear.
Younger fans will either be covering their eyes in distress or scratching their heads in confusion
Narratively, Frozen II is a mess, an avalanche of half-formed ideas which might have been more suited to a spin-off novel or a video game, and which leaves us asking WTF, or What The Frozen? And yet, beyond its thicket of tangled concepts and subplots, there is nothing to it but one small revelation which astute viewers will have predicted after five minutes. Remember how we were all fooled into thinking that dastardly Prince Hans was the hero in Frozen? The twists in Frozen II are fumbled in comparison. When your story relies on snow statues coming to life at convenient moments and acting out arguments that took place 30 years earlier, that's probably a sign that your screenplay could do with another two or three drafts.
In a way, it's admirable that Buck and Lee didn't play it safe, and that instead of making a simple fairy-tale they attempted a world-building, mind-expanding epic. It certainly won't prompt many karaoke nights or repertory-cinema singalongs, but their barely comprehensible folly is so weird and bleak, and so full of magnificent, hallucinatory imagery, that it could be embraced by students as a midnight movie. Younger Elsa and Anna fans, on the other hand, will either be covering their eyes in distress or scratching their heads in confusion. Frozen II will leave them cold.
★★☆☆☆
Love film? Join BBC Culture Film Club on Facebook, a community for film fanatics all over the world.
If you would like to comment on this story or anything else you have seen on BBC Culture, head over to our Facebook page or message us on Twitter.
And if you liked this story, sign up for the weekly bbc.com features newsletter, called The Essential List. A handpicked selection of stories from BBC Future, Culture, Worklife and Travel, delivered to your inbox every Friday.