A candlelight painting recently rescued from obscurity shows two children absorbed in play. Kelly Grovier explores a history of wonder in art.
W
We should wonder more about wonder. It's the fire that burns behind every scientific discovery and every searching work of art. It's wonder that illuminates the minds of Caspar David Friedrich's Two Men Contemplating the Moon (1825-30) and ignites with lucent magic the mist of our imagination when it bends to the rainbow in John Constable's Salisbury Cathedral from the Meadows (1831).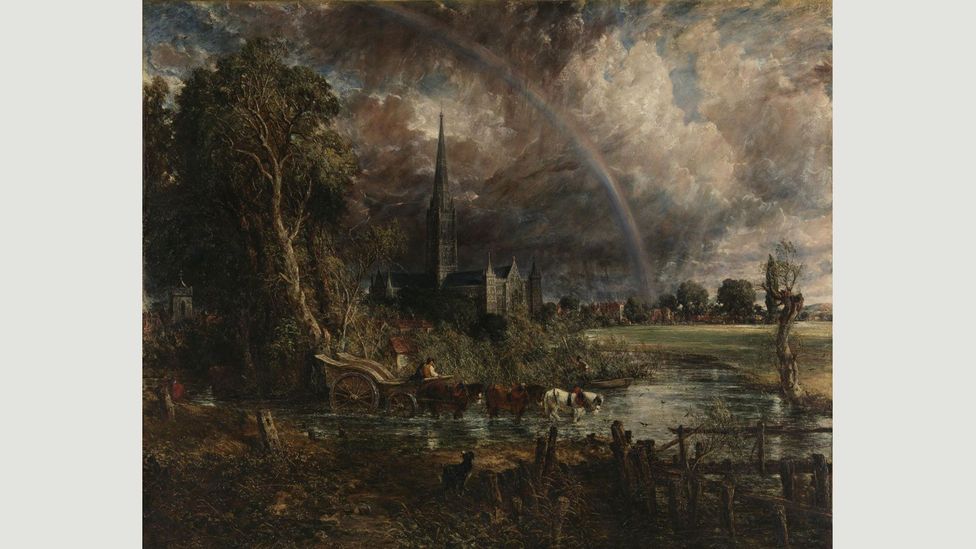 John Constable's Salisbury Cathedral from the Meadows was exhibited at the Royal Academy in 1831 but never found a buyer; it remained in his studio until his death in 1837
Wonder likewise likely played at least a small role in your pausing here on a platform devoted entirely to the wondrous wanderings of writers, musicians, filmmakers, designers, and artists. Anyone, according to Albert Einstein, "who can no longer pause to wonder and stand rapt in awe, is as good as dead; his eyes are closed". And yet, Einstein also believed that "the process of scientific discovery" – the very pursuit to which he dedicated his life –  "is, in effect, a continual flight from wonder". Wonder, in a sense, was a pendulating force that impelled and repelled him.
More like this:
- The most striking art of the 2010s
- What courage really means in art
- The images inspired by protest
Since antiquity, philosophers have been equally divided about the primacy of wonder as a prerequisite for profound thinking. While Plato famously insisted "philosophy begins in wonder" and saw the emotion as fundamental to thought, the French philosopher René Descartes believed astonishment and awe were obstacles to clear cogitation. "Although it is good to be born with some kind of inclination to this passion", he wrote in his final philosophical treatise The Passions of the Soul in 1649, "because it disposes us to the acquisition of sciences, yet we ought afterwards to endeavour as much as we can to be rid of it". For him, wonder is like a set of training wheels for deep understanding; it may get you moving in the right direction, but you don't want your friends to see you relying on it.
For the Canadian-American poet-scientist Rebecca Elson, who died, aged just 39, in 1999, wonder wasn't an impediment to knowledge but an intellectual obligation she took seriously. "We astronomers," she says at the outset of a poem by that same title, "are nomads… we breed enthusiasms,/Honour our responsibility to awe". Sometimes, however, Elson confesses, she loses sight of that duty to remain faithful to the soul-enriching power of wonder: "Starlight seems too sharp… I forget to ask questions/And only count things".
How do you keep the flame of childlike awe from being drowned out by the cold glare of seriousness?
From Plato to Elson, Descartes to Einstein, the challenge that wonder perennially poses is one of equilibrium: how do you keep the flame of childlike awe from being drowned out by the cold glare of seriousness? Nor is it just a conundrum for thinkers. Arguably the 'responsibility to awe' falls heaviest on the shoulders of artists and musicians, novelists and poets, filmmakers and designers. We rely on them to keep our fascination with the world endlessly rekindled. But we're picky. Though we may regard as unimpeachably authentic the wonder of a three-year-old, a painting or sculpture by a professional whose technical achievement smacks of a similarly-pegged toddler skill set elicits our exasperation not respect.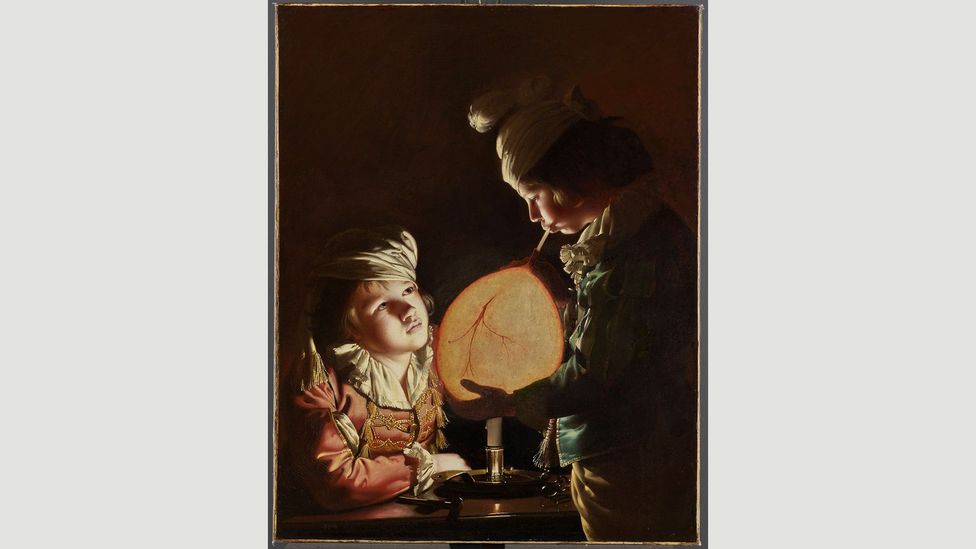 In Two Boys Blowing a Bladder by Candlelight, Joseph Wright of Derby captures the fascination with science in the 18th Century
Though wonder is doubtless the energy that pulses through the brush of every committed painter, in truth, only a rare few have managed successfully to capture its essence as a palpable property in their work. The recent rediscovery in 2019 of a work by the British Enlightenment artist Joseph Wright of Derby that was hitherto unknown to art historians, was itself a cause for awe, nicely echoing the very subject of the painting: two boys testing the volume of a luminous bladder, lit up by the flicker of an unseen flame guttering behind it.
Sheer lunacy
Wright of Derby was associated with the so-called Lunar Society – an illustrious gang of pioneering 18th-Century scientists and industrialists, whose moonlit soirees filled with chat and cutting-edge experiments attracted the company of everyone from the Scottish inventors of the steam engine James Watt and Matthew Boulton to the physicist Erasmus Darwin, from the legendary ceramicist Josiah Wedgwood to the polymath Joseph Priestley, who is credited with discovering several gases including oxygen.
Painted a decade before Priestley is thought to have isolated O2 (or what he clumsily called "dephlogisticated air"), Two Boys Blowing a Bladder by Candlelight captures the fascination of an age on the cusp of epoch-altering advances in scientific understanding of how the universe and our bodies work. The awe that echoes in the eyes of the two children as they test how far their own breath can push the resilience of the organ's tissue freezes the age's wonder just before it bursts into empirical knowing.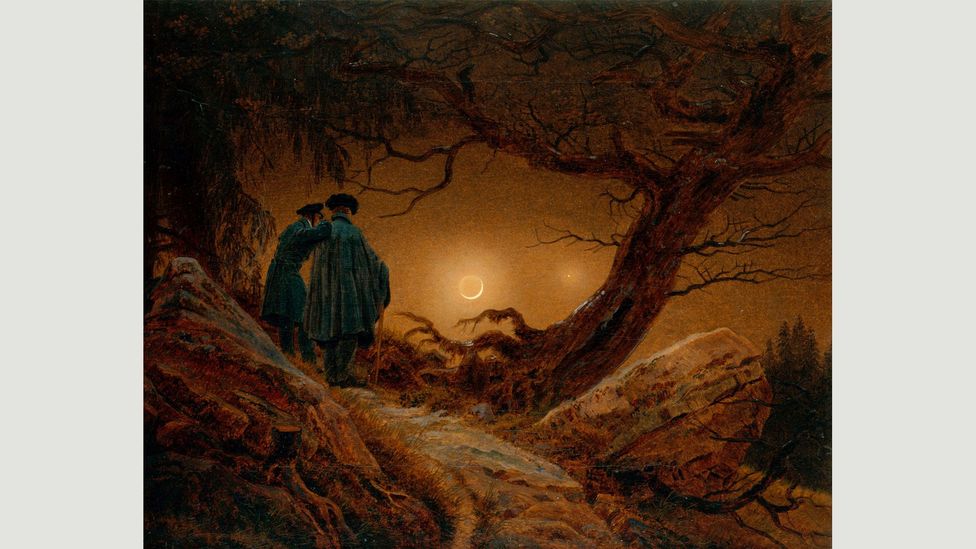 Caspar David Friedrich's Two Men Contemplating the Moon highlights spirituality in nature and the presence of the sublime
Executed exactly half a century after Wright of Derby's charming painting and embered by something of the same amber aura of inner awe, Caspar David Friedrich's Two Men Contemplating the Moon (1819-20) seems almost to catch up with the same pair of childhood chums approaching maturity – their sustained astonishment at the beauty of the world they share having been enriched by decades of intense discovery. Here, the orb that swells resplendently before their eyes might be, in literal terms, a waxing crescent moon rather than a bladder – but it's really just another glowing metaphor for their expanding spirit. A snarl of ragged roots and branches that flares from the swoon of a dead or dying tree beside them frames the pair and interjects a note of menace into the wondrous scene. The mind can probe, but mystery abides.
Or does it. A century before Einstein expressed his anxiety that science "is, in effect, a continual flight from wonder", the English poet John Keats complained that empirical reasoning "will clip an angel's wings" and "conquer all mysteries by rule and line". The sad result of such conquest, Keats said of science's impact, would be to kill wonder and to "empty the haunted air" and "unweave the rainbow" – to kill our questioning with the soulless task of counting. By dissecting its inexplicable beauty, Isaac Newton, Keats believed, became an undertaker of awe who "destroyed the poetry of the rainbow by reducing it to a prism".
Today, two centuries since Keats articulated his concerns about the demise of awe, one artist, the Zurich-born abstract painter Liliane Tomasko, is single-handedly reweaving wonder back into the fabric of the rainbow. Her recent series of exquisite works entitled Amygdala – which take their name from the almond-shaped bundle of neurons in the human brain that controls emotions (including happiness and fear, anxiety and awe) – are a tight tangle of edgy exuberance in the face of the world's beauties and dangers. Amygdala's sinuous bands of acrylic spray blur the boundary between internal and external worlds – between the surging byways of the brain that perceive the wondrous phenomena of the universe and the ribbons of rainbow-refracted light that, for example, elicit our awe. In Tomasko's misty and mystifying vision, the soul stops counting with its invisible fingers and merges with the mystery – meditates on how we fit into the magical weave of being here. Isn't that wonderful?
If you would like to comment on this story or anything else you have seen on BBC Culture, head over to our Facebook page or message us on Twitter.
And if you liked this story, sign up for the weekly bbc.com features newsletter, called The Essential List. A handpicked selection of stories from BBC Future, Culture, Worklife and Travel, delivered to your inbox every Friday.