From levitating basketball players to giant jellyfish, Kelly Grovier picks 12 photos that have shocked, inspired or gone viral, comparing them with classic artworks.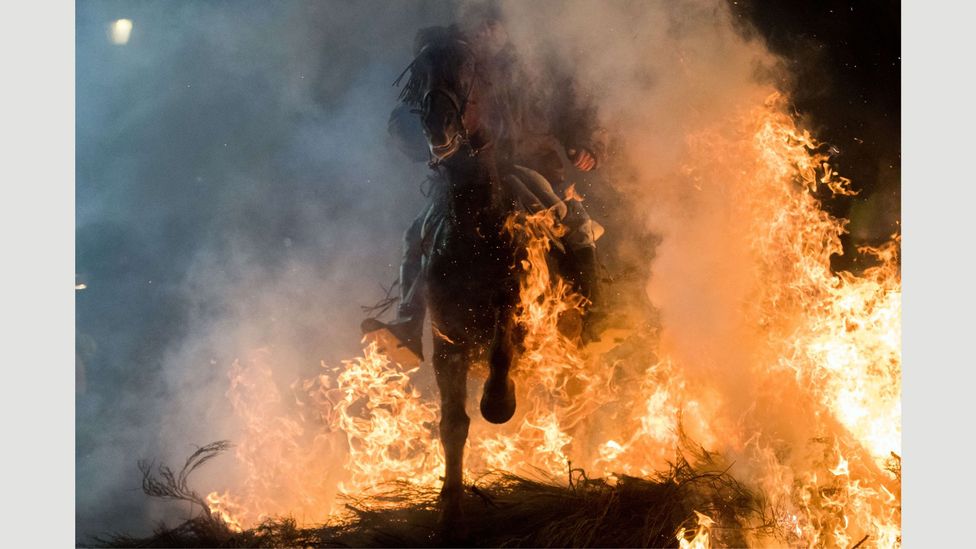 January
According to a centuries-old Spanish tradition, when a horse or other animal leaps across a burning bonfire, the smoke penetrated by the creature will protect it from harm for a year. Photos taken in January of participants in the so-called Luminarias ritual, which occurs annually in honour of St Anthony the Abbot (the patron saint of domestic animals) in the village of San Bartolomé de Pinares, Spain, were as striking visually as they were controversial. Opponents of the practice, including observers sent from Peta (People for the Ethical Treatment of Animals) to monitor the welfare of the animals forced to take part, are unpersuaded by the claim that the creatures invariably emerge unharmed from the ordeal.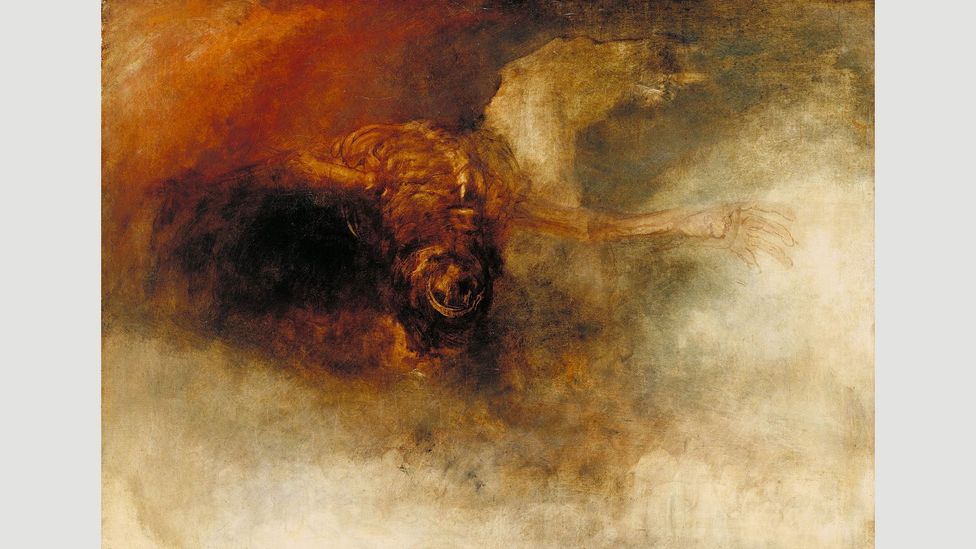 Putting the question of cruelty to one side, the custom forges from fire a fresh identity for rider and ridden alike – their bodies fusing into a terrifying avatar of silhouette and flame, as fearsome as JMW Turner's menacing vision of the mystical equestrian from the Book of Revelation, Death on a Pale Horse (1825).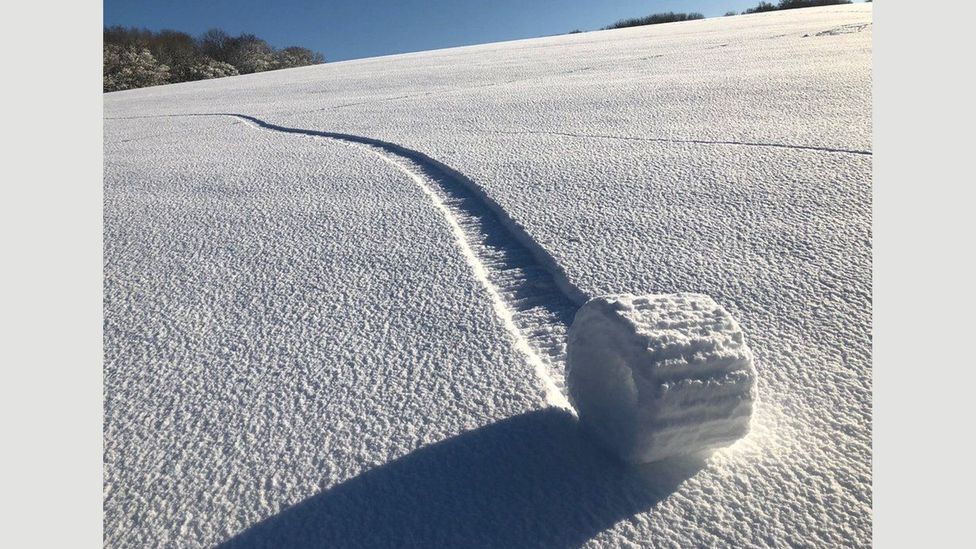 February
It takes the perfect combination of wind blowing at the right speed and in the right direction across a field of fresh snow, just powdery enough to be peeled off in a wide ribbon of glittery white and begin spooling itself like an icy sheet of pillowy paper as it scrolls and rolls across the landscape, to create a 'snow roller'. The extremely rare phenomenon, also known as 'snow bales', caught the British forester Brian Bayliss off guard when he stumbled across it on a crisp and cloudless February morning in Wiltshire.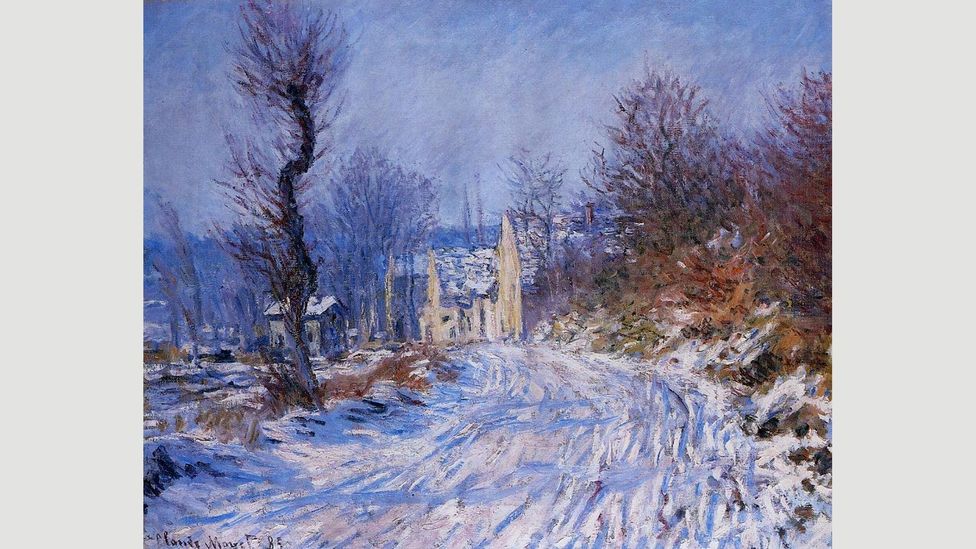 The strange path through a magically frigid world that Bayliss's photos reveal, uninterrupted by the breath or footprint of a single soul, echoes the icy insistence of the carpet of white that Claude Monet lays out for eyes in his glacially gorgeous painting Road to Giverny in Winter (1885).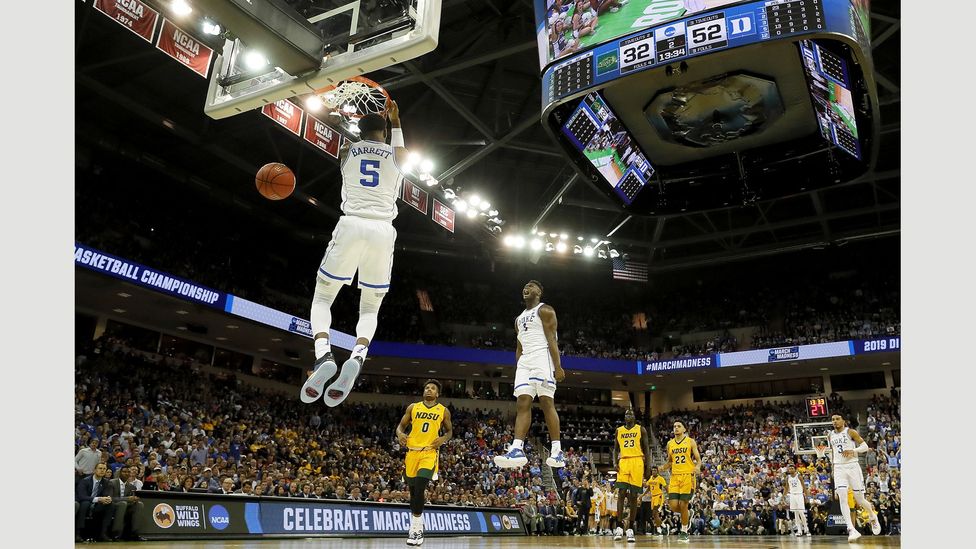 March
Everyone knows that photographs can deceive but sometimes the fibs they tell are truer than the truths they lie about. Such was the case with the surreal snap of two freshman basketball players for Duke University – R J Barrett and Zion Williamson – who were caught in gravity-defying jubilation during March Madness last spring after Barrett miraculously spun out a reverse dunk against North Dakota State. Photographer Kevin C Fox's masterful shutter work, synchronised to the apex of the players' weightless ascent, may have given an exaggerated impression of the elasticity of the laws of physics, but it captured perfectly the altitude of their shared elation.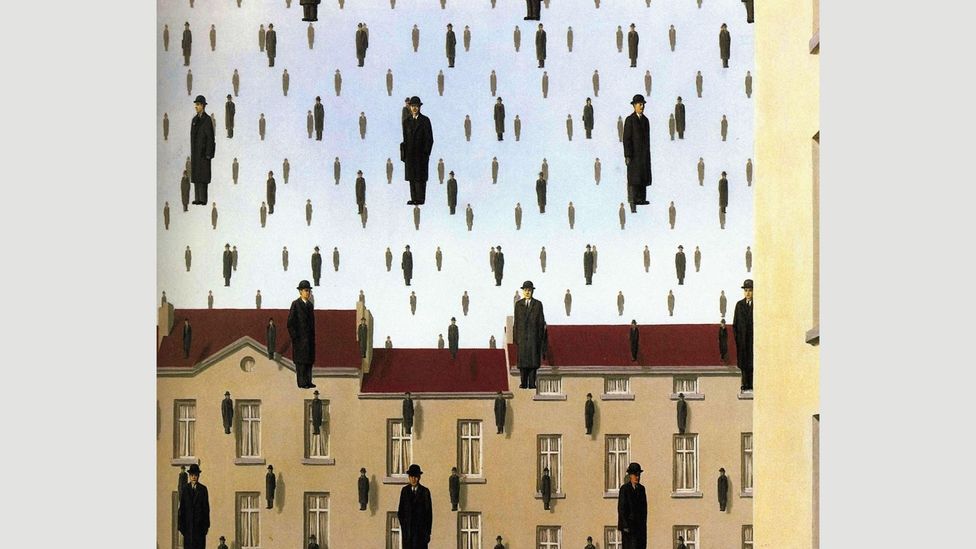 Not since Belgian surrealist René Magritte's 1953 vision of a mizzle of men dressed in dark overcoats and bowler hats, misting mystically against a clear blue sky, has an image of floating figures so beguiled popular imagination.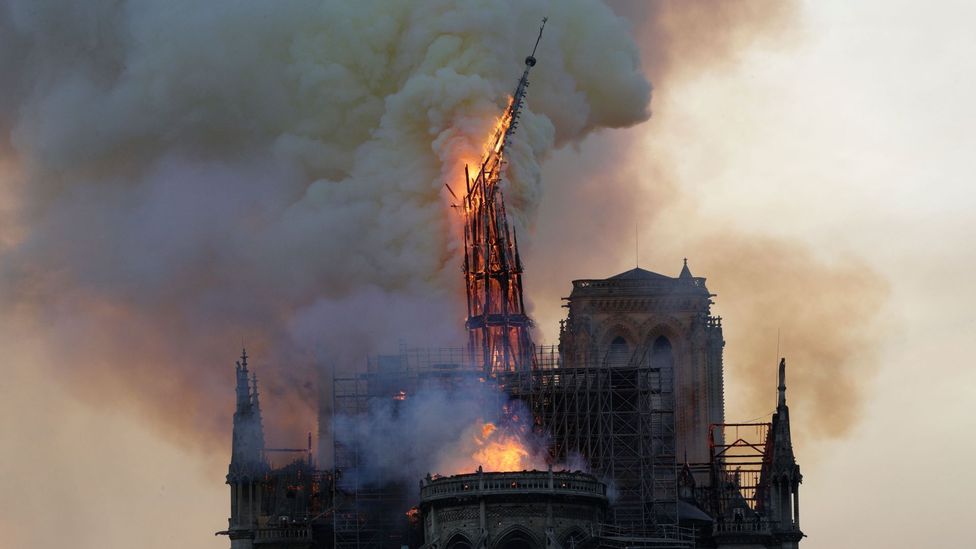 April
News of the devastating fire that ravaged Paris's Notre-Dame Cathedral in April stopped the world in its tracks. Rising above the River Seine, the iconic structure throbs like an elegant engine, its hulking towers pumping at the heart of the city like a pair of powerful pistons. Few edifices in history have become quite so synonymous with the spirit of a place, and artists from JMW Turner to Van Gogh to Matisse have attempted to capture its mystique.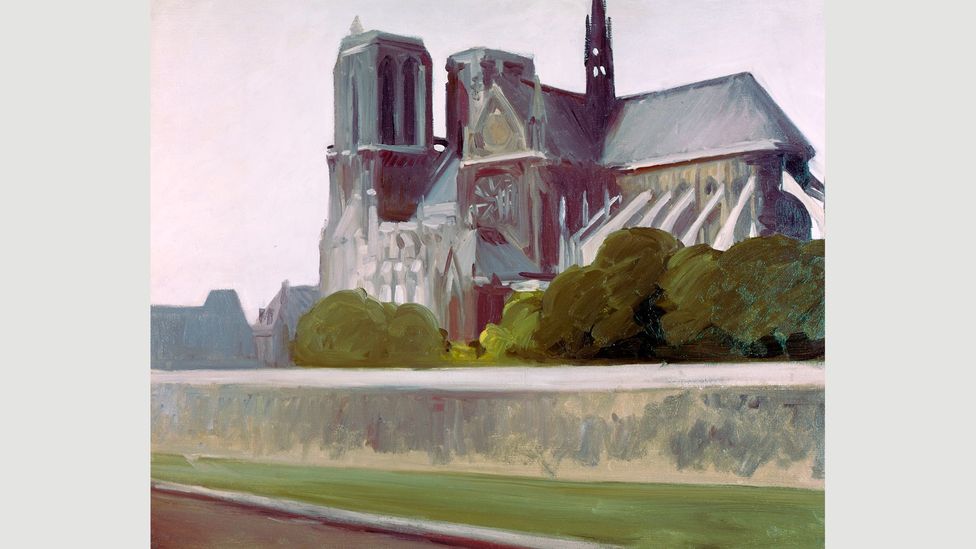 Years before the American realist painter Edward Hopper found his voice capturing the urban loneliness of brightly lit cafes, he too tried his hand at the challenge on one of his many visits to France. Like a terrible premonition of traumas to come, Hopper's painting, seen from the south-east side of the structure, has cropped the cathedral's soaring spire, snapping off its endless ascension.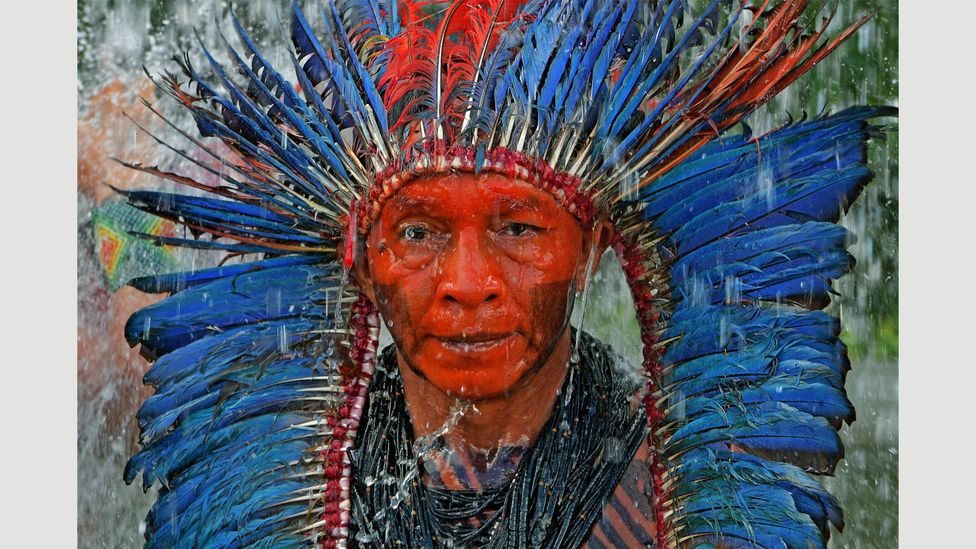 May
Demanding greater respect for territorial rights, a Brazilian man clad in indigenous ceremonial dress stands under a fountain during protests in the country's capital in May. The gentle cascade of water, glistening affectingly from the figure's heavily-painted face, transforms his expression into something that transcends the fleeting emotions tethered to the particularities of time and place.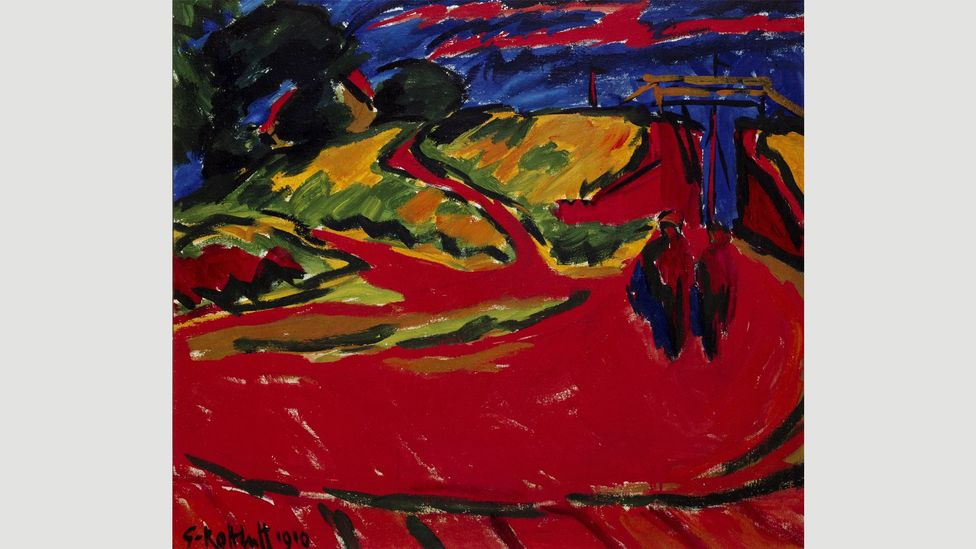 A soulful shatter of sombre reds and blues, his countenance and traditional garb find an unexpected visual echo in the pioneering aesthetic principles of the founders of the German Expressionist school Die Brücke, such as Karl Schmidt-Rottluff. Founded in Dresden in the early years of the 20th Century, its members saw colour as a vehicle for expressing emotion.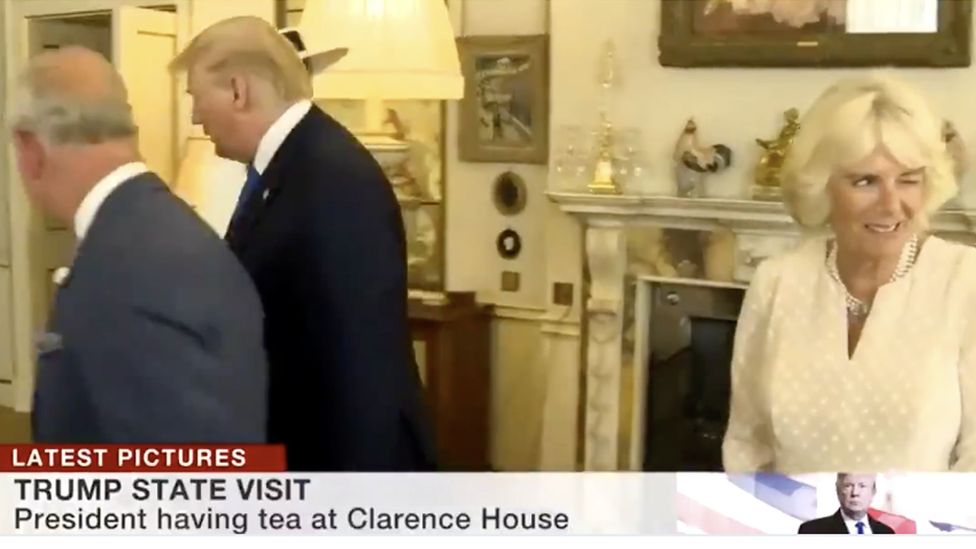 June
Get a wink right and you send a secret signal that flickers between flirtatiousness and embarrassment. Get it wrong and you look a little pervy. If you want to know how to pull off a perfect wink, the Duchess of Cornwall offered a free masterclass in ambiguous eyelash flashing in June during Donald Trump's official state visit to the UK. Walking behind the US President and First Lady as they left a photo shoot in Clarence House, Camilla unexpectedly discharged a rapid flex of her left eye's orbicularis oculi muscle in the direction of her security detail while the cameras were still rolling. It was a wink seen around the world.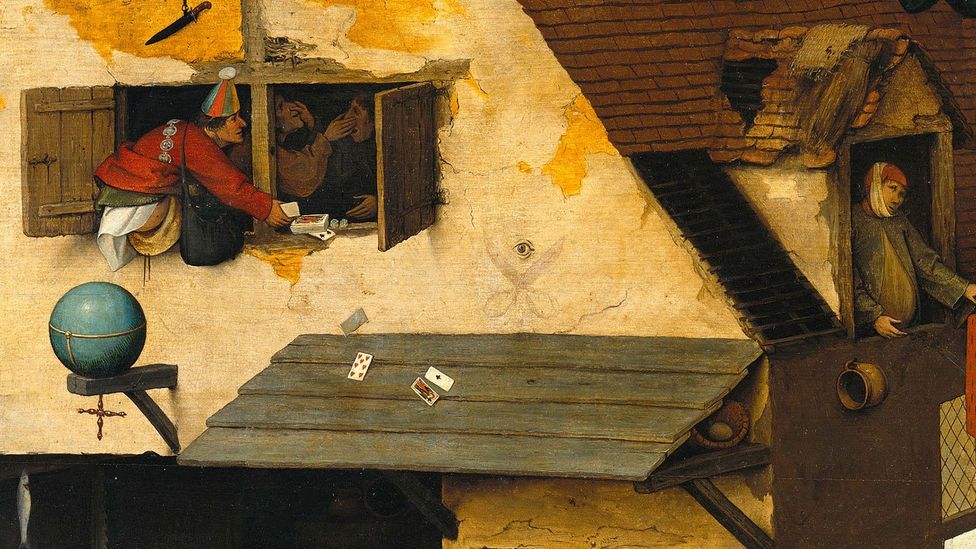 Not since Pieter Bruegel the Elder tucked a so-called 'snip eye' (a Renaissance emoji that his 16th-Century contemporaries would have understood as shorthand for the act of winking) in his chaotic painting Netherlandish Proverbs (c 1559), have people been so atwitter with speculation about what a wink might mean.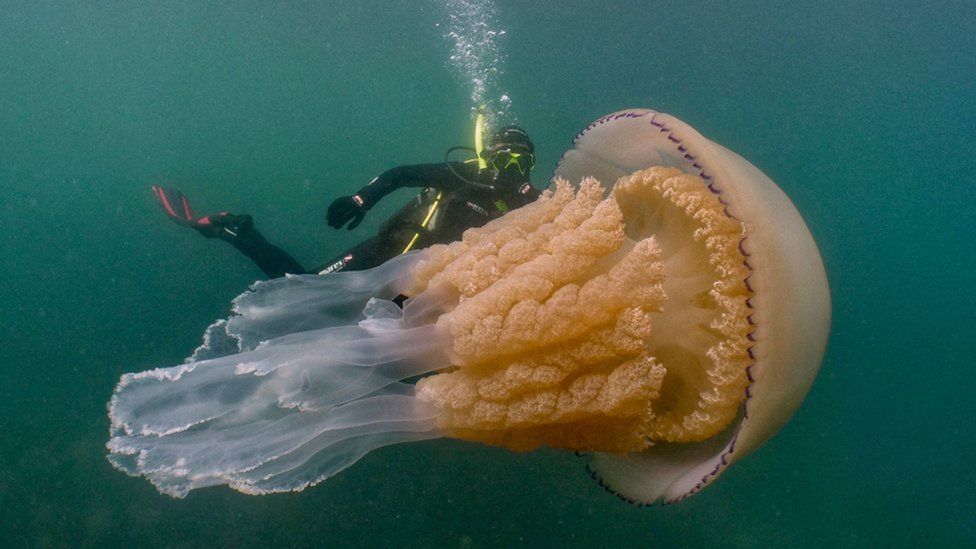 July
Nothing underscores the otherworldliness of the sea quite like the jellyfish. Balletic in its strange clench-and-flex propulsion through water, a jellyfish's alien parachute appears impervious to the laws of motion as it flits and glides. One can only imagine how dislocating it must have been for a pair of divers off the coast of Cornwall in the UK in July to turn suddenly from examining slippery fronds of kelp to find themselves floating face-to-face with a ginormous tentacled sea medusa.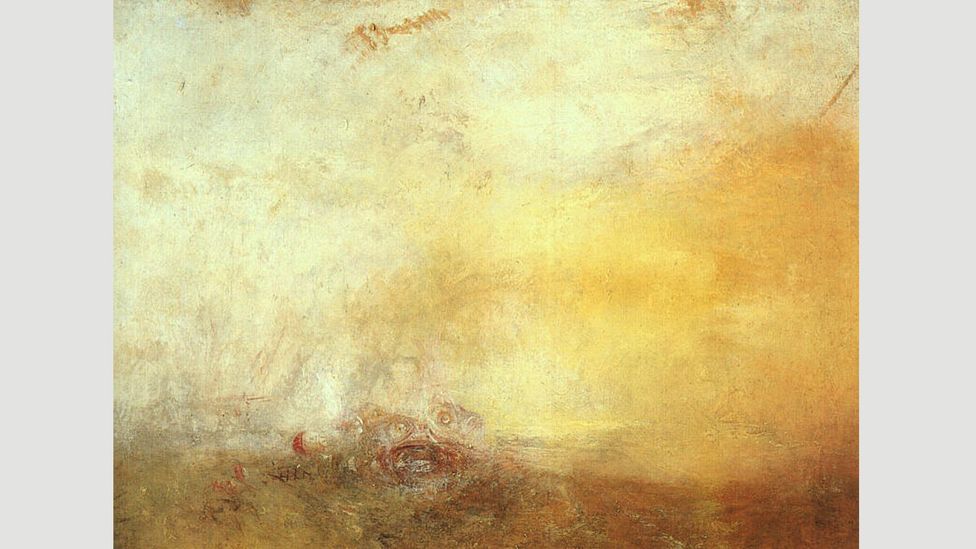 A photo of the encounter, taken by one of the divers, Dan Abbott, of the other, Lizzie Daly, recalls the power of a late painting by JMW Turner, Sunrise with Sea Monsters (1845) – a work unknown to scholars until half a century after Turner's death in 1851, when it was discovered by chance in the basement of London's National Gallery in 1906. The large portrait of an amorphous monster pulsates with the same pink golds and luminous peachiness that vibrate from the jumbo jellyfish Daly and Abbot encountered.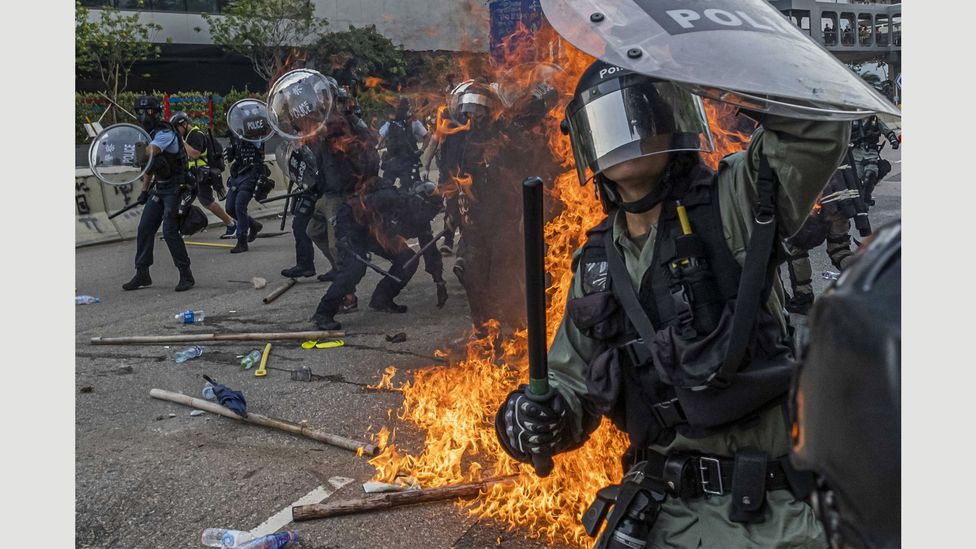 (Credit: Eye Vine for The New York Times)
August
Robust pro-democracy protests in Hong Kong – and frequently violent skirmishes with law enforcement that have gripped the region for six months – have yielded a steady stream of dramatic images captured by photojournalists covering the unrest.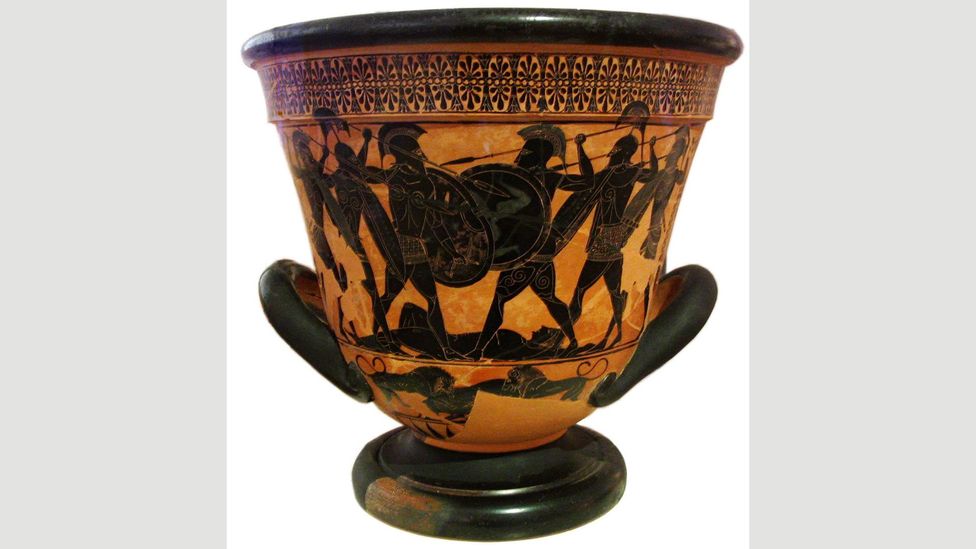 The fierce pageantry of raised batons and transparent shields with which the police have been forced to fend off projectiles and fire has at times seemed as epic and fearsome in its brutal choreography as any battle dreamt of by Ancient Greek ceramicists.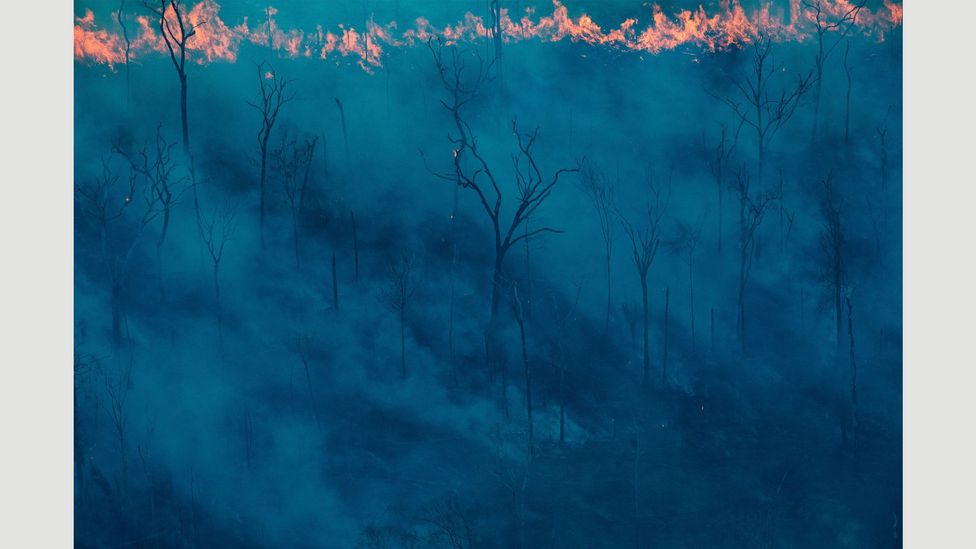 (Credit: Victor Moriyama for The New York Times)
September
The full scale of the charred and hellish hectares left behind by fires raging in the Amazon in September were difficult to comprehend against a backdrop of already-accelerating climate concerns vexing the world. For many, the fires were further evidence that a failure to combat illegal deforestation in the region was taking a catastrophic toll on the increasingly fragile ecosystem. Images such as this one, which helped raise international awareness of the urgency of the issue, are rarely captured by reporters as reprisals against them are often swift and brutal.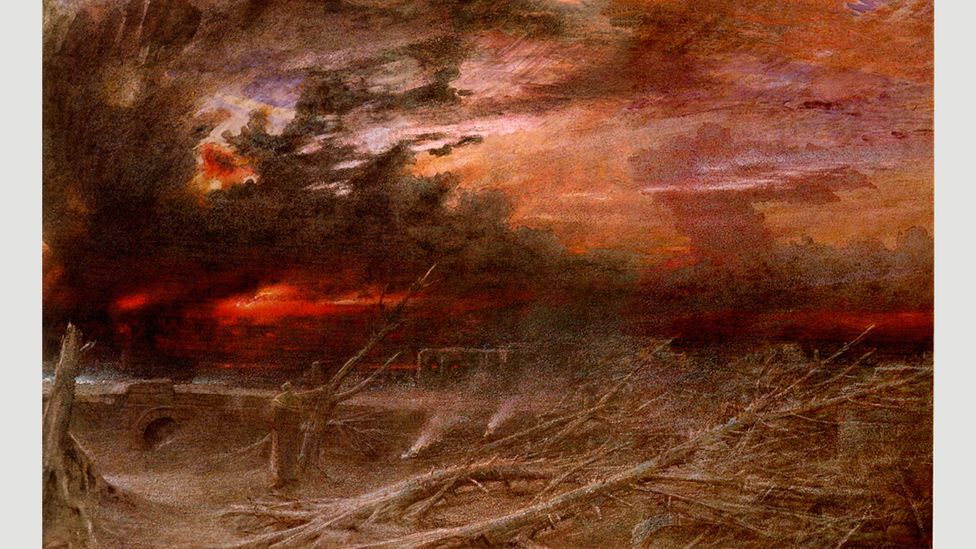 Courageously taken by Victor Moriyama, the image is as terrifying in its embering vision as any nightmare of apocalypse from the brushes of Albert Goodwin.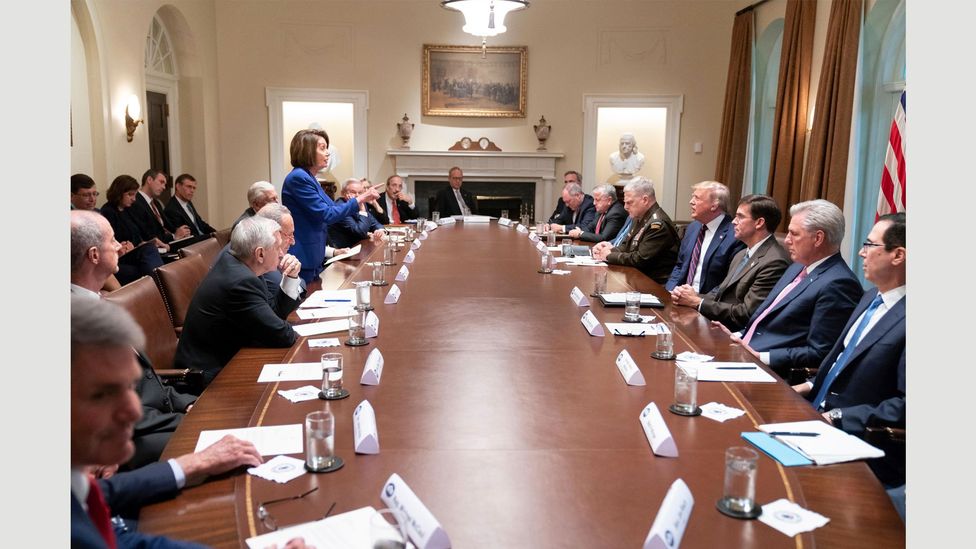 October
When President Donald Trump sought to embarrass his political nemesis, the US Speaker of the House of Representatives, Nancy Pelosi, by tweeting a photo of her standing across a table from him, thrusting an accusatory finger in his direction, Pelosi took the sting out the jab by openly embracing the image. She immediately adopted the photo as the official banner of her Twitter feed. Pelosi's gutsy swagger has routinely riled Trump, who is given to describing the power she wields as 'illegitimate' and 'dangerous', as though Pelosi has illegally stormed the ship of state.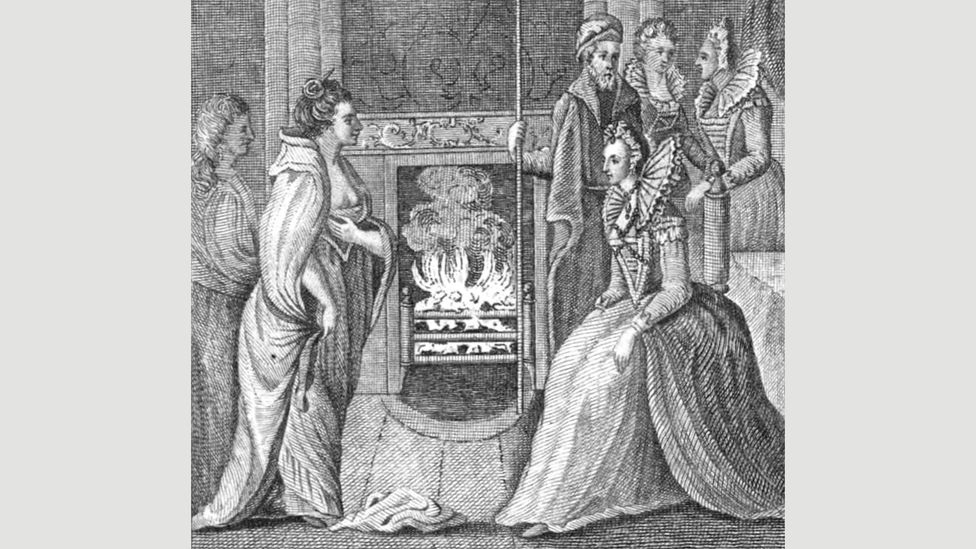 The firmness of Pelosi's perseverance and her willingness to stand toe-to-toe with a politically more powerful head of state calls to mind the posture, if not the personality or temperament, of the Irish folk heroine Grace O'Malley, who refused to bow before Queen Elizabeth I when the two met in 1593 to discuss a list of demands O'Malley had drawn up – a pointedly unapologetic encounter serially imagined by illustrators and engravers in the 17th and 18th Centuries.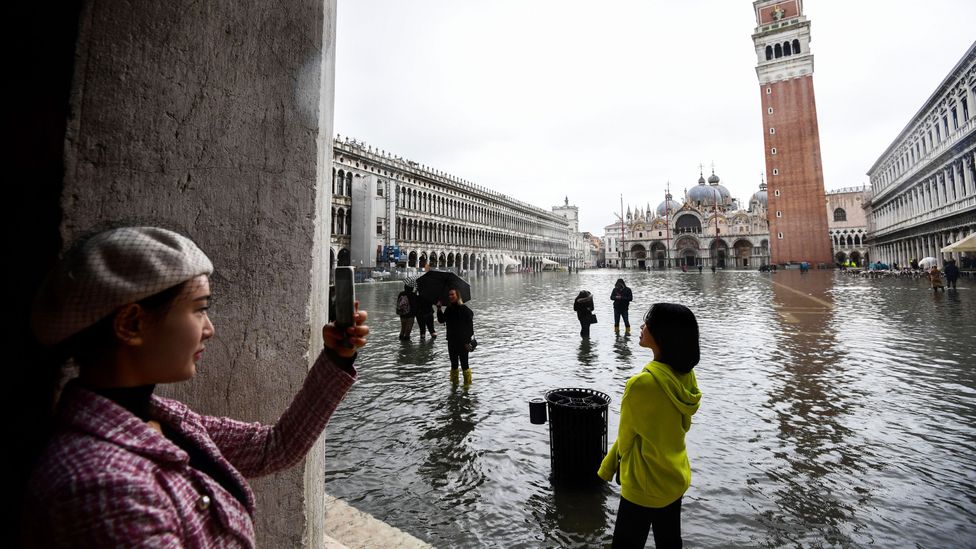 November
In November, severe flooding in Venice left the Unesco World Heritage site more than three-quarters submerged and countless cultural treasures at risk of catastrophic damage. Photos of tourists snapping selfies in Piazza San Marco, trying desperately to salvage something from their soggy autumn holiday in the artsy archipelago, floated through social media.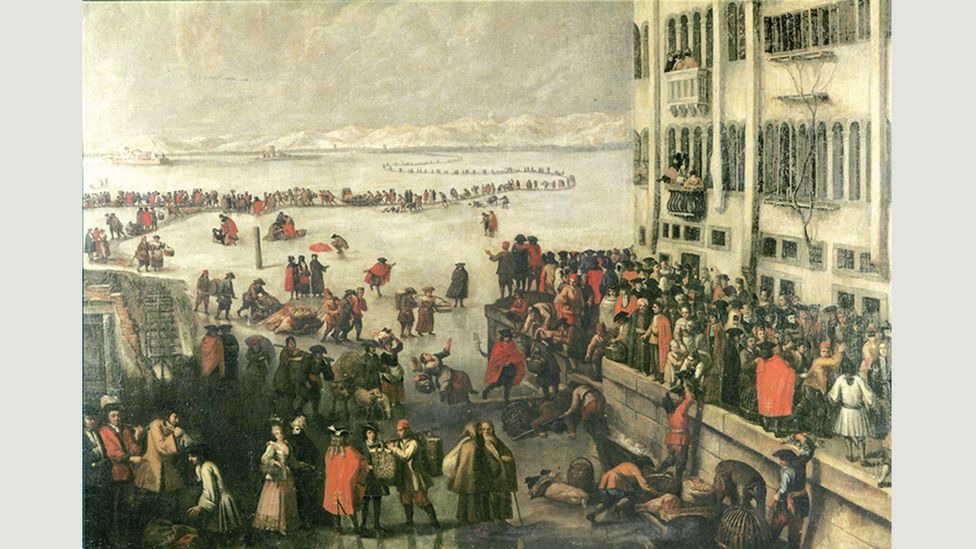 It isn't the first time in the ancient city's colourful history that extreme weather has challenged the resourcefulness of visitors. According to an anonymous painting from the late 18th Century, a freak cold snap in 1789 that turned the city's lagoons to sheets of ice forced traders and travellers alike to take their lives in their own hands testing the sturdiness of the frozen byways.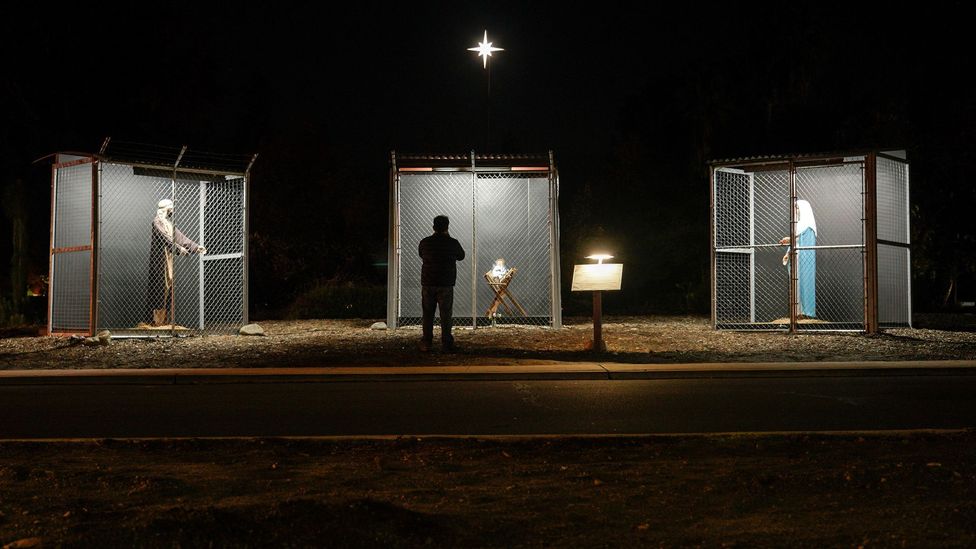 (Credit: Claremont United Methodist Church)
December
Occasionally – very occasionally – a work of art is so powerful that its very emergence in cultural consciousness is widely recognised as a newsworthy event. A nativity installed at the Claremont United Methodist church in California earlier this month belongs in that rare category. The work depicts the three principal figures of the Biblical tableaux – Jesus, Mary and Joseph – seen jarringly at a distance from one another and enshrined separately in bleak, barbed wire cages. Intended as a rebuke of the treatment of refugee families arriving at the southern border of the US, the unflinching display caused a stir on social media when it was unveiled. Supporters and opponents of America's controversial immigration tactics engaged in an exegetical debate over whether the newborn Jesus was or was not himself a refugee.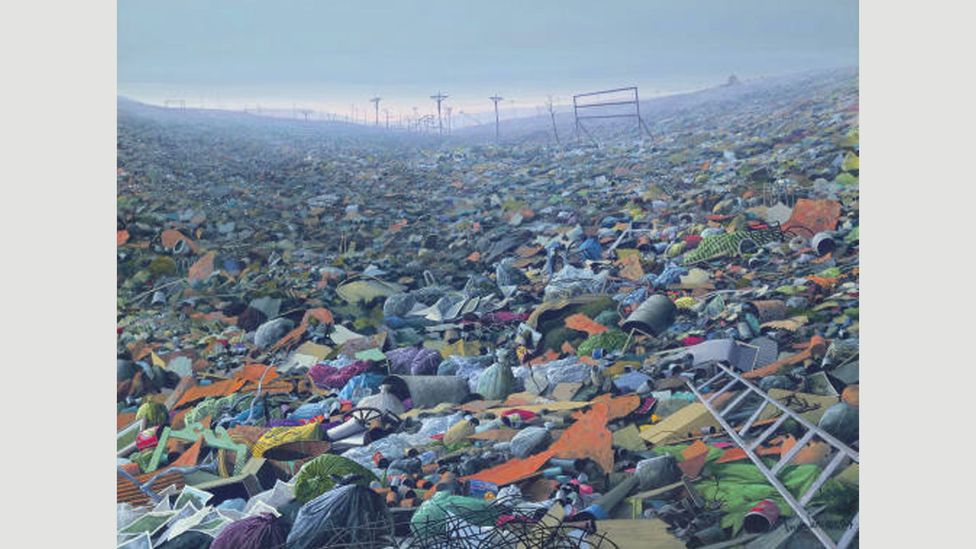 By dislocating the context of Christ's infancy to present-day America, the creators of the church display echoed the artistic strategy of the Cuban landscape artist Tomás Sánchez, whose powerful 1994 painting Al Sur del Calvario (or To the South of Calvary) relocates the site of Christ's crucifixion from 1st-Century Golgotha, just outside Jerusalem, to a modern-day garbage dump, and its slow glacial crush of unconscionable consumer waste.
If you would like to comment on this story or anything else you have seen on BBC Culture, head over to our Facebook page or message us on Twitter.
And if you liked this story, sign up for the weekly bbc.com features newsletter, called The Essential List. A handpicked selection of stories from BBC Future, Culture, Worklife and Travel, delivered to your inbox every Friday.