Now at the centre of the US impeachment drama, President Zelensky came to power after his role on Ukraine's hit TV series, Servant of the People. It was a case of life imitating art, writes Jennifer Keishin Armstrong.
T
The Ukrainian president's office has become a comedy of errors: in marches his newly appointed defence minister, who is an old friend in over his head and hysterical under the pressure of having to cut the military budget. As he screams about contending with the generals he's now in charge of, the president calmly offers him a swig of sedative and sends him on his way. Soon, his newly appointed finance minister – who is also his ex-wife – marches in, complaining about the problem she's facing: a bank has gone under, and she can't decide whether to give the patrons their money back. He offers her a swig of sedative and sends her on her way. Finally, his friend and minister of international relations charges in after botching a press conference on a Ugandan uprising. He gets the sedative treatment, too.
More like this:
-        The TV show that took China by storm
By the time a friend-turned-fourth minister arrives, the president has had it: "What the hell do you want from me?" he snaps. You can't blame him: after his surprise election to the highest office in Ukraine, this former history teacher has had to contend with friends, relatives and acquaintances begging him for jobs and special favours. Now that he's given a few of them some of the most powerful positions in the country, all they can do is complain.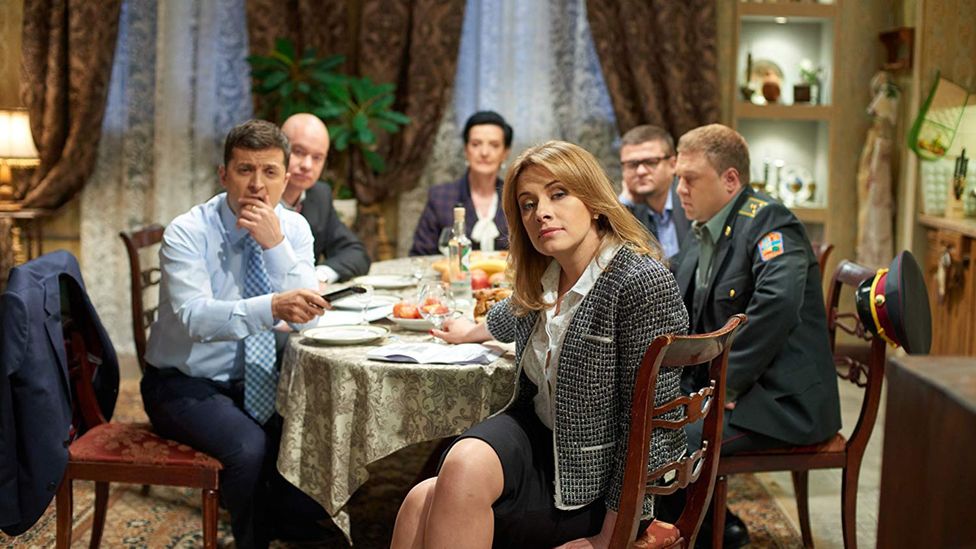 Servant of the People premiered in 2015 with Volodymyr Zelensky starring as a regular-guy-turned-president
This scene takes place during the first season of the Ukrainian political television dramedy Servant of the People, in which Volodymyr Zelensky plays a teacher who becomes president after a video of him ranting against government corruption goes viral. It's typical of the programme's slapstick take on the country's struggles with oligarchy and overindulgent bureaucrats during its 18 years as an independent, post-Soviet nation. But scenes like this one have taken on a new significance now that Zelensky has become the real president of Ukraine, thanks to his popularity as a fictional leader. And even more so now that he's been pulled into the centre of US politics with the infamous July phone call with Donald Trump, for which the US president has now been impeached.
Its first episode has now amassed 13.7 million views on YouTube
Watching the absurdly funny sedative sequence now, it's not hard to imagine the next scene of the television series going something like this: the office phone rings. The president of the United States is on the line. He needs a little favour, too. In fact, watching Servant of the People sheds some light on the other side of the call that has the potential to take down a US president. Since becoming an independent state in 1991 after the dissolution of the Soviet Union, Ukraine has fomented a political environment in which a request like Trump's is just another day at the office – although most of the time, such requests come from oligarchs much closer to home.
Servant of the People premiered in Ukraine in 2015, starring Zelensky – then known as a comic actor – as a regular guy-turned-president named Vasyl Petrovych Holoborodko. The show ran for three seasons on the country's 1+1 channel and is now available on Netflix in some countries as well as on YouTube. It was a hit in Ukraine, and its first episode has now amassed 13.7 million views on YouTube. (Even as of 2016, it had topped 9 million views, well before it became a matter of international political interest.) In 2018, its plot took a real-life twist when the Servant of the People political party was formed; its candidate, Zelensky, won the presidency in 2019.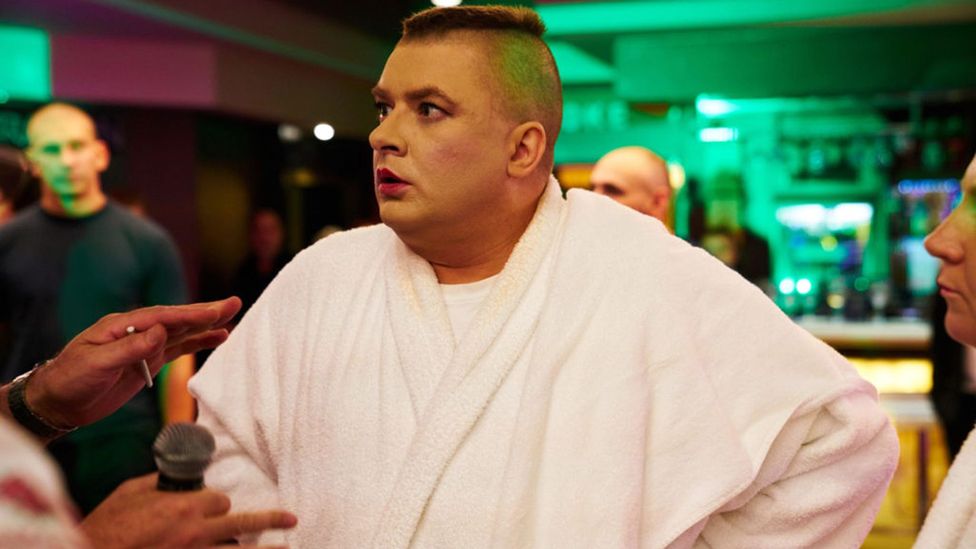 The comedy drama inspired a Servant of the People political party, which catapulted Zelensky to the presidency in May 2019
The success of Servant of the People and Zelensky's subsequent victory reflected Ukrainians' exhaustion with oligarchy-as-usual, according to the journalist Katherine Jacobsen, who has covered Russia and Ukraine and written about the series for Foreign Policy. "It's an important release for people there, to realise they're not alone in thinking that everything is out of whack," she tells BBC Culture. "They're able to laugh at it together. It's about what everyone thinks is going on behind the scenes, but no one can actually prove 100%."
The series is punctuated with scenes that feature oligarchs in plush surroundings, their faces obscured, plotting to control the government while feasting on caviar, fruit, and alcohol. (The sequences might seem absurdly fantastical to viewers outside Ukraine, and they're played for humour, but Jacobsen calls them "almost too realistic".) When the new president takes office, he's shocked by the lavish set-up at the presidential retreat known as the Mezhyhirya Residence, where (real) former President Viktor Yanukovych lived among expensive cars, an ostrich farm, and a helicopter pad, among other luxuries, before he fled the 2014 Ukrainian revolution. (It's now a museum, where the production shot on location.) Another plotline has the prime minister – a major character who represents the old ways – dispersing a protest by releasing false reports of an impending meteorite strike.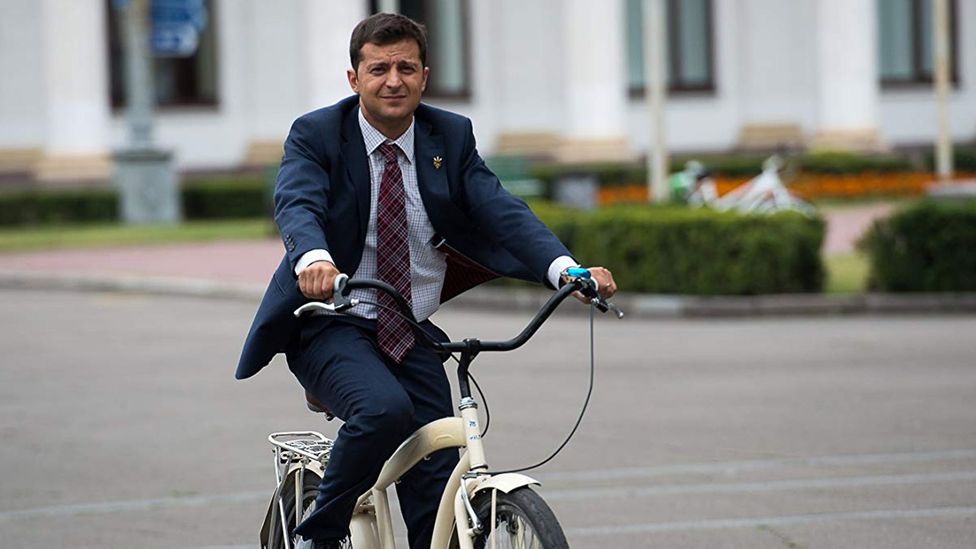 There are parallels between Zelensky's rise to power and that of Trump, who starred in The Apprentice, a reality-TV show
In terms of quality, Servant of the People holds its own against any internationally known prestige comedy, which likely contributed to its effectiveness in both pointing out such corruption and crowning a real president. It falls somewhere between Armando Iannucci's dark, cutting political satires, The Thick of It and Veep, and the sunny American take on local politics, Parks and Recreation. Servant of the People hits close to the bone at times, but offers a ray of hope too, packaged in smooth production, tight writing, fine performances, and laugh-out-loud sequences.
It's little wonder that such a series, coupled with Zelensky's winning performance as a smart, moral everyman, added up to a presidential victory that exceeded the show's fantasy version of election night: on Servant of the People, he won 67% of the vote; in real life, he won 73.2%. The charming opening credits play like the perfect campaign video: Zelensky rides his bike through the streets of Kyiv in a suit to a catchy, spare, guitar-and-vocals tune punctuated by bicycle bells. At the end, he dismounts his bike outside government buildings, a regular president off to another hard day of honest work. "Part of the reason people thought they could trust him was because they thought they saw inside of his head, and the problems he saw with government as articulated in the show," Jacobsen says. "That provided people [with] a sense of hope, in a way, that he understands how they feel."
A July 2019 phone call between Zelensky and Trump is at the centre of the US president's impeachment

Because he has been in office for less than a year, it remains to be seen whether Zelensky will live up to his appealing televisual counterpart. One hopeful sign came in October, when his administration took a stand against oligarch Ihor Kolomoisky's attempts to regain control of PrivatBank, which he had once co-owned but was taken over by the state after an embezzlement scheme caused it to collapse. Kolomoisky owns 1+1, which broadcast Servant of the People and ostensibly helped to bring Zelensky to power. President Zelensky emerged from the Trump call relatively unscathed: he was, according to The New York Times, considering Trump's entreaty, weighing up the importance of crucial US military aid in Ukraine's conflict with Russian-backed forces in the eastern part of the country – luck saved him from having to make that choice when the story went public.

Meanwhile, Zelensky's TV-star skills have indisputably served him well as he's been pulled into raucous US politics with his fellow made-by-TV president, one-time reality show star Trump. Zelensky tossed off one-liners and reaction shots at a joint press conference with the US president just after the House of Representatives launched its impeachment inquiry into their phone call, playing his impromptu leading role in the international drama to perfection.

The fourth season of Servant of the People – that is, Zelensky's first year as a real-life president – is shaping up to be its juiciest yet, far beyond anything even his writers could have dreamed.

Love TV? Join BBC Culture's TV fans on Facebook, a community for television fanatics all over the world.

If you would like to comment on this story or anything else you have seen on BBC Culture, head over to our Facebook page or message us on Twitter.

And if you liked this story, sign up for the weekly bbc.com features newsletter, called The Essential List. A handpicked selection of stories from BBC Future, Culture, Worklife and Travel, delivered to your inbox every Friday.

;