Once shocking and fetishistic, rubberwear has since been embraced by fashion on catwalks and the red carpet. It's been an eventful journey, writes Cassidy George.
F
For more than 50 years, fetishistic themes and iconography have been increasingly integrated into the changing face of fashion. But while high heels, corsets and leather have become par for the course, rubberwear retains its ability to turn heads and raise eyebrows. After migrating from battle trenches to fetish clubs, latex clothing now makes the most impact on catwalks and red carpets. 
More like this:
-        Is it the end for high heels?
-        How colours can bring happiness
-        Seven ways fashion has changed in the 2010s
Earlier this year, models in rubberwear squeaked down the autumn/winter catwalks of Gucci, Vivienne Westwood, Balmain, Thierry Mugler and Raf Simons, and the latex looks donned by Kim Kardashian at the Met Gala and Rachel Weisz at the Oscars remain some of the most talked-about ensembles of 2019. The Hadid and Jenner wardrobe staple is also beloved by musicians like Cardi B, Katy Perry, Ariana Grande and Nicki Minaj. Latex fashion has played a starring role in some of the most pivotal pop-culture moments of the decade, sported by Rihanna in her notorious S&M music video, by Miley Cyrus at her controversial 2013 VMA performance, and Lady Gaga, when she met the Queen. Countless headlines prove that the combination of latex and celebrity is still deemed newsworthy.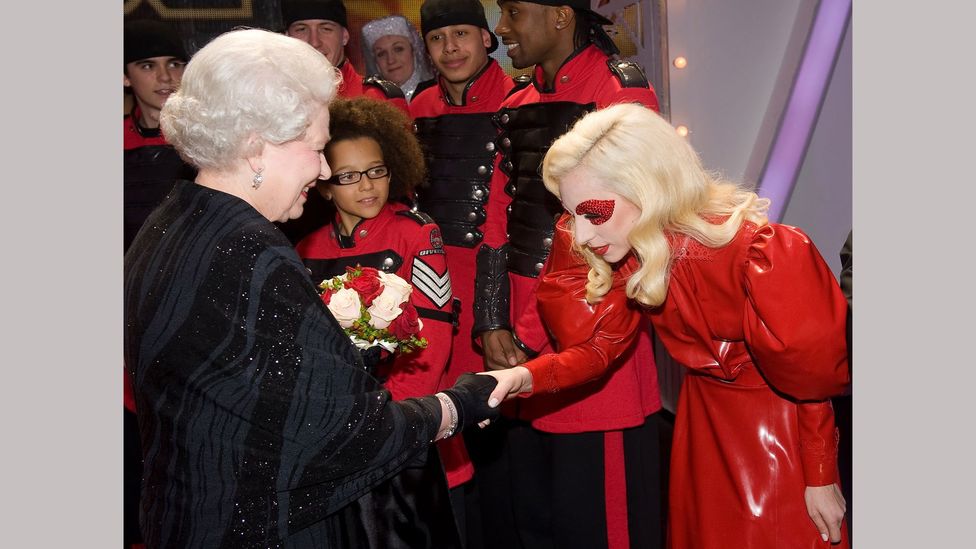 In 2009, Lady Gaga wore a red Atsuko Kudo latex dress when she met the Queen (Credit: Getty Images)
Latex, long seen as something that necessitated secrecy or censorship, is now celebrated with hypervisibility. Although rubberwear is in the middle of a media renaissance, its journey from Brazilian rainforests to secretive dungeons and now centre stage has been 200 years in the making. 
Though natural rubber latex has come to be associated with futurism and technology, its origins are ancient and organic. Latex is a milky fluid that oozes from over 20,000 plant species after tissue injury. The sap-like substance, which coagulates and hardens to form an elastic and waterproof mass, is tapped by making careful incisions with small blades. The New York-based latex designer known as The Baroness tells BBC Designed: "People often mistake latex for PVC, and think of it as shiny, tight, sexy and cheap. But natural rubber latex is completely vegan, sustainable, fragile and difficult to work with".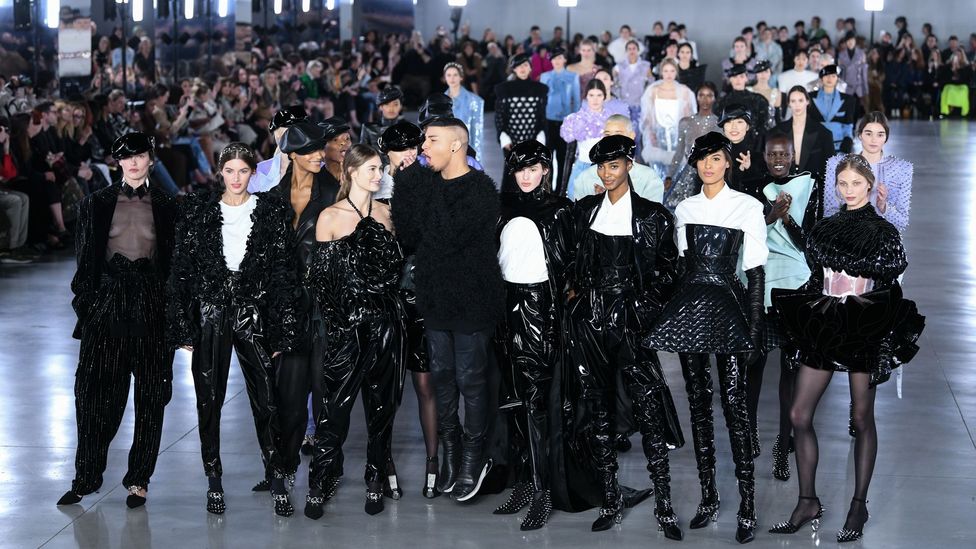 Olivier Rousteing's designs for the Balmain autumn/winter 2019 collection featured rubberwear (Credit: Getty Images)
Use of natural rubber dates back to Mesoamerica in 1600 BC, in the Maya, Aztec and Olmec cultures (Olmec is an Aztec word, meaning "rubber people"). South America remained the main source of latex until 1876, when Henry Wickham, in an act of botanical piracy, smuggled 70,000 Amazonian rubber tree seeds out of Brazil and into England. These seedlings eventually made their way to more compatible climates in India, Sri Lanka, Indonesia and Malaysia, countries that today rank among the largest producers of natural rubber. During the industrial revolution, latex became a hugely valuable colonial resource. To tap these vast reserves, horrifically violent techniques were imposed on forced labourers in the Brazilian Amazon and King Leopold's Congo, where failure to meet impossible quotas was punished with mutilation and sometimes death.  
Sex and power
Rubber's unique qualities made it ideal for use as protective clothing, particularly in medicine and warfare. Dress historian Fiona Jardine, from the Glasgow School of Art, explains its 19th-Century uses: "When it was bonded to pre-existent fabrics, rubber improved the functionality of overcoats, caps, gaiters and dress protectors, when travel, public congregation and urban life became more prevalent in the west". As rubber clothing increased in popularity, some wearers came to discover it was both pragmatic and sexually pleasurable. "It's the most sensual fabric there is", says The Baroness, "because it has a unique look, smell, taste, sound and feel."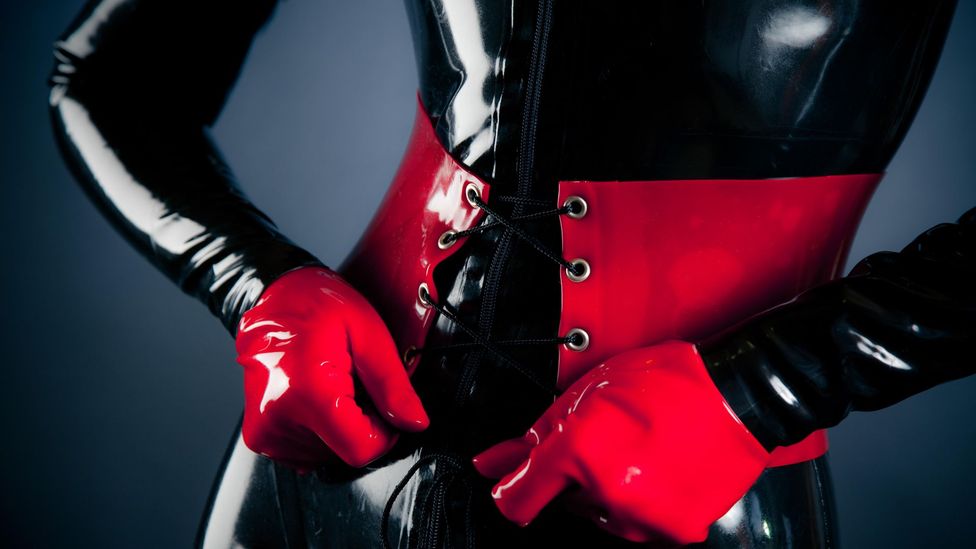 Latex still has a strong association with fetish wear (Credit: Alamy)
The invention of the Mackintosh raincoat in 1824 spawned a particularly loyal community of rubber lovers, whose letters of enthusiasm about the erotic "thrill of macking" (fetish slang for wearing the garment) were published in the periodical London Life as early as the 1920s. The devoted convened to found The Mackintosh Society, one of England's first modern fetish organisations. As membership in these circles grew and word of its 'perverse' uses spread, rubberwear's societal subtext became increasingly taboo. After World War Two, a wave of social conservatism forced fetishists underground. 
After years in hiding, latex fashion re-emerged in the late 1950s, thanks to the British designer John Sutcliffe, who created the world's first catsuit – the prototype rubber-fetish garment. Though his initial intention in launching the AtomAge brand was to make weather resistant clothing for bikers, it became increasingly obvious that his designs were coveted for private, rather than public use.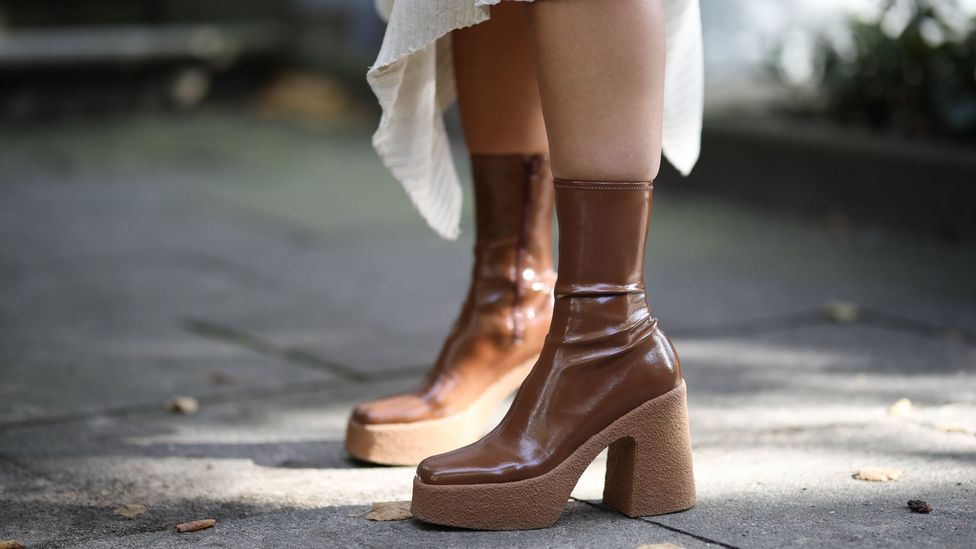 Designer Stella McCartney regularly uses latex – which is a vegan material – in the making of her accessories (Credit: Getty Images)
The 1960s British spy series The Avengers was monumental in bringing rubberwear to the masses. The show's feminist heroine, Emma Peel (played by Diana Rigg), was styled in a latex, Sutcliffe-inspired catsuit. With Peel as a media archetype, latex's second-skin look wasn't just sexy, it was superhuman. 
Sutcliffe capitalised on the obsession with his products, and founded AtomAge Magazine in 1972. The periodical, filled with artful and erotic bondage imagery, gained a huge following among fetishists, and made quite the splash on London's progressive fashion scene. 
Punk pioneers
This 'shocking' magazine garnered the attention of punk pioneers Vivienne Westwood and Malcolm McLaren, who owned a boutique called Let it Rock. Their notorious shopfront was renamed SEX in 1974, marked by a giant sign made of pink rubber. Latex garments were a signature of SEX, which catered to the established fetish crowd and a thriving subculture of youngsters.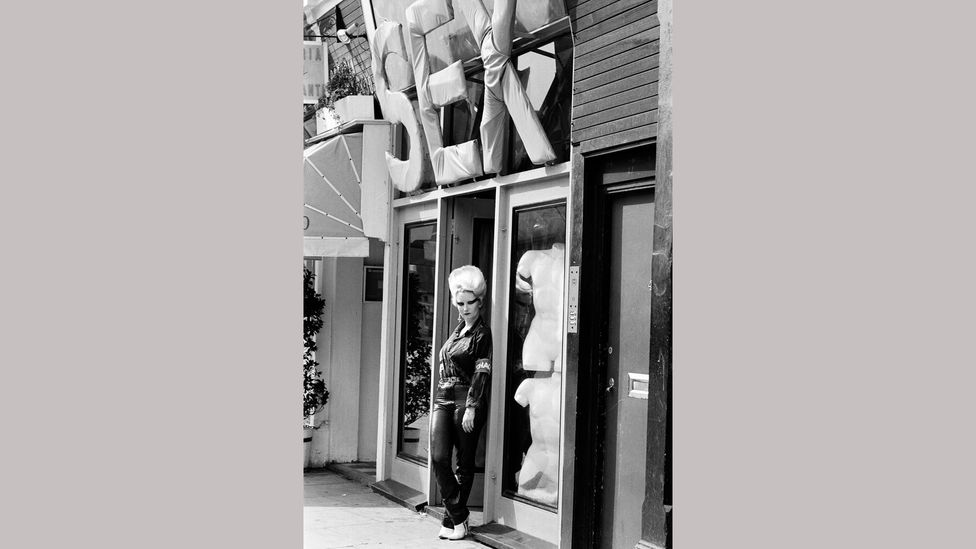 The 1970s boutique SEX in London specialised in punk clothing, including rubber and bondage gear (Credit: Getty Images)
Punks harnessed the power of rubber's forbidden discourse to revolt the masses and overthrow stylistic norms, and with Westwood leading the way, rubber and all of its socialised stigmas became a cornerstone of their antagonistic fashion agenda. Valerie Steele quotes Westwood in her 1996 book Fetish: Fashion, Sex & Power: "The bondage clothes were ostensibly restrictive, but when you put them on they give you a feeling of freedom." 
Latex says: I'm me, I do what I want, embrace who I am, and enjoy it – The Baroness
After being popularised by punks, rubberwear found its new home in 1980s nightlife, with club kids and performers. Its shock factor made it ideal stagewear for the era's icons like Siouxsie Sioux, and was later featured in the music videos for hit songs, like Billy Idol's White Wedding and Frankie Goes to Hollywood's Relax. At this time, Theresa Coburn began designing latex garments for the Kings Road store BOY, and bespoke pieces for the goth artist Johnny Slut (of the band Specimen).
"I was fascinated by John Sutcliffe and AtomAge, but I didn't want to go down the gas mask road. I wanted to use rubber in a way that was subversive as a material, but not in a fetish way. I wanted to make it daywear," Coburn explains. She recounts only being able to find poorly designed garments in dingy sex shops, and her desire to bring the material further above ground. "The idea of trying to get it out of clubs and on to the streets did feel quite radical at the time. But this was post punk and we were challenging things. We were trying to shock the general public and challenge their perceptions", she says.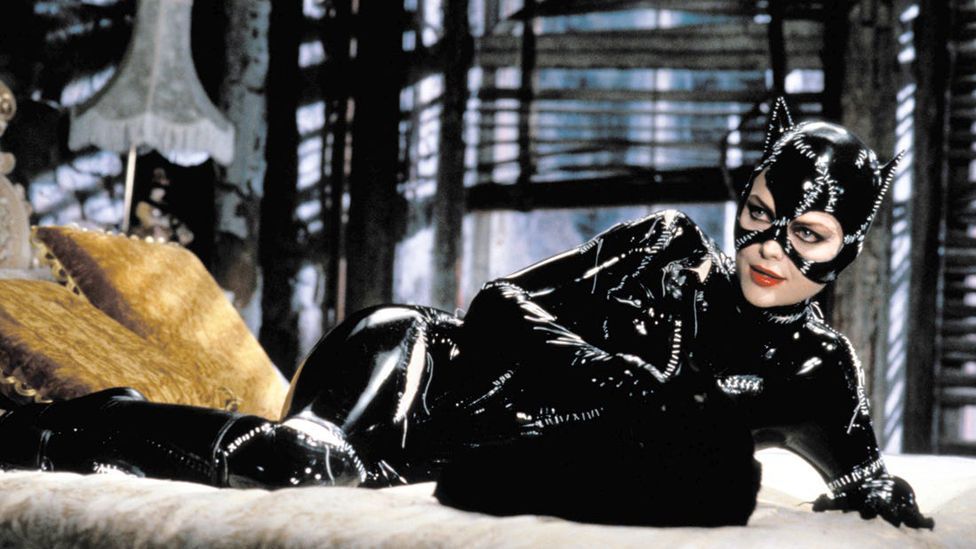 In the 1992 film Batman Returns Michelle Pfeiffer plays Catwoman, who wears a latex catsuit (Credit: Warner Brothers)
The 1990s sparked a revival of interest in The Avengers' Emma Peel "that was concurrent with a fashion for 60s Retro", according to Steele in Fetish: Fashion, Sex & Power. A number of female leads in action films like Batman Returns, Tomb Raider, The Matrix and Charlie's Angels followed suit. It similarly was used in the music videos and live shows of pop icons like Madonna, Janet Jackson, the Spice Girls and Britney Spears. 
As soon as I tried it on I felt like superwoman – Atsuko Kudo
Its emphatic embrace on screens was mirrored on runways. Over the course of the decade, latex graced the catwalks of Marc Jacobs, Chanel, Dolce and Gabbana, Valentino, Anna Sui, Jean-Paul Gaultier, Christian Lacroix and Alaïa, among others.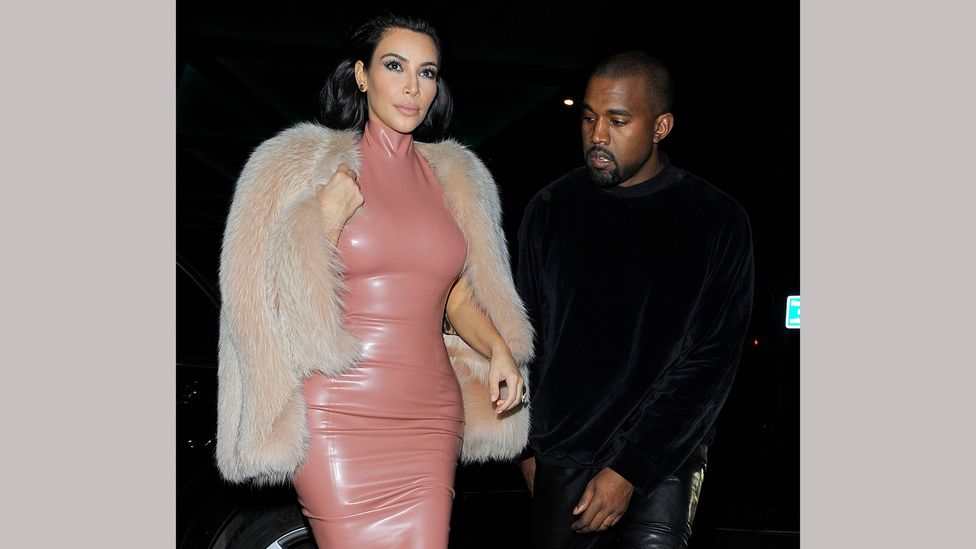 Kim Kardashian, seen here wearing a design by Atsuko Kudo, is among the celebrities who has popularised latex (Credit: Getty Images)
Rubberwear's subversive connotations have become increasingly replaced by associations with female empowerment and transformation in the 2000s. "As soon as I tried it on I felt like superwoman, and knew that I wanted to use this fabric to design clothes, as I thought other women might get the same feeling," says Atsuko Kudo, the Japanese-British fashion designer behind Gaga, Cyrus and Weisz's best-known latex looks. When asked what celebrities want to say to the world when they wear latex, The Baroness simply put her middle finger up. "Latex says: I'm me, I do what I want, embrace who I am, and enjoy it."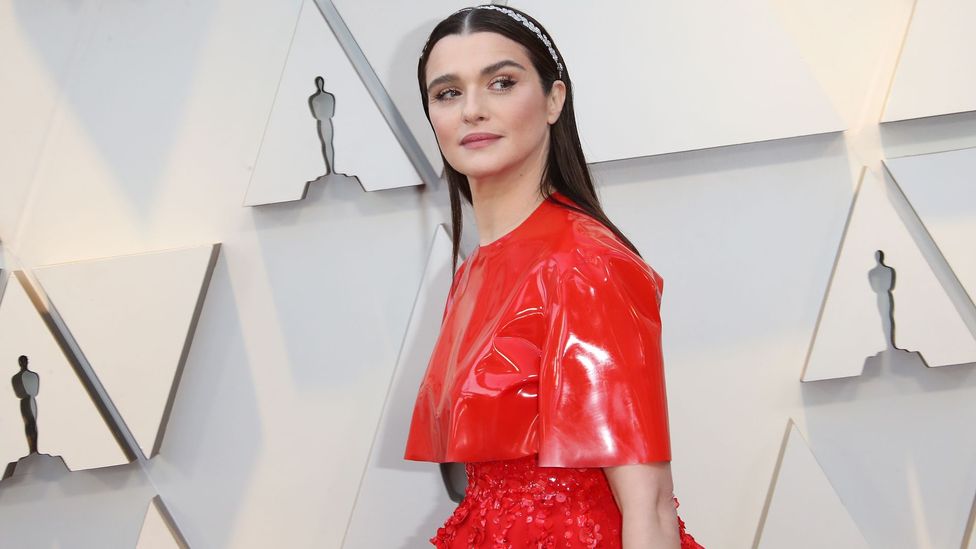 Rachel Weisz, in a dress by Atsuko Kudo for Givenchy, took latex on to the red carpet at the 2019 Oscars (Credit: Getty Images)

Though the trickle-down effect is inevitable, rubberwear is still a long way from commonplace or casual. "Other fabrics like wool, cotton and even leather do not have quite the same cache," says Kudo. It seems the ubiquitous use of latex in high fashion and pop culture hasn't eroded the material's ability to command attention. "It's embraced in high-profile environments, like stages, catwalks and ceremonies, not on the street. It's no longer taboo, but it still has the ability to shock," says Coburn.

If you would like to comment on this story or anything else you have seen on BBC Culture, head over to our Facebook page or message us on Twitter.

And if you liked this story, sign up for the weekly bbc.com features newsletter, called The Essential List, a handpicked selection of stories from BBC Future, Culture, Worklife and Travel, delivered to your inbox every Friday.

;