As the 2020 Oscar nominations snub female directors, Emma Jones looks at who gets to decide on the year's pick of the cinematic crop.
T
Ten years ago, a woman won the best directing Oscar for the first time in the history of the Academy Awards. Kathryn Bigelow was given the nod for The Hurt Locker, set in the Iraq war; the film also won the best picture category. Only five women have ever been nominated for best director.
And the content of the award-winners has been similarly skewed. Just one best-picture winner over the past decade has had a female protagonist – Guillermo del Toro's The Shape of Water, starring Sally Hawkins. The majority – including Green Book, Birdman, and indeed, The Hurt Locker – are set in a male universe.
More like this:
- The 100 greatest films directed by women
- Five stars for World War One epic
- 'Little Women is a triumph'
Now, in 2020, the awards season landscape hasn't dramatically altered. The films dominating the Oscars are 1917 (war), The Irishman (mafia), Ford vs Ferrari (cars) and Once Upon A Time in Hollywood (Tarantino). No women have been nominated for best director – which led the nominations co-host Issa Rae to say pointedly after making the announcement, "Congratulations to those men."
Greta Gerwig's Little Women, which did score a best picture nomination from the Academy, has not been nominated in the Globe, Bafta or Oscar directing category. Another box office success, The Farewell by Lulu Wang, got its star Awkafina a Golden Globe, but neither the film nor the actress featured in the Oscar nominations.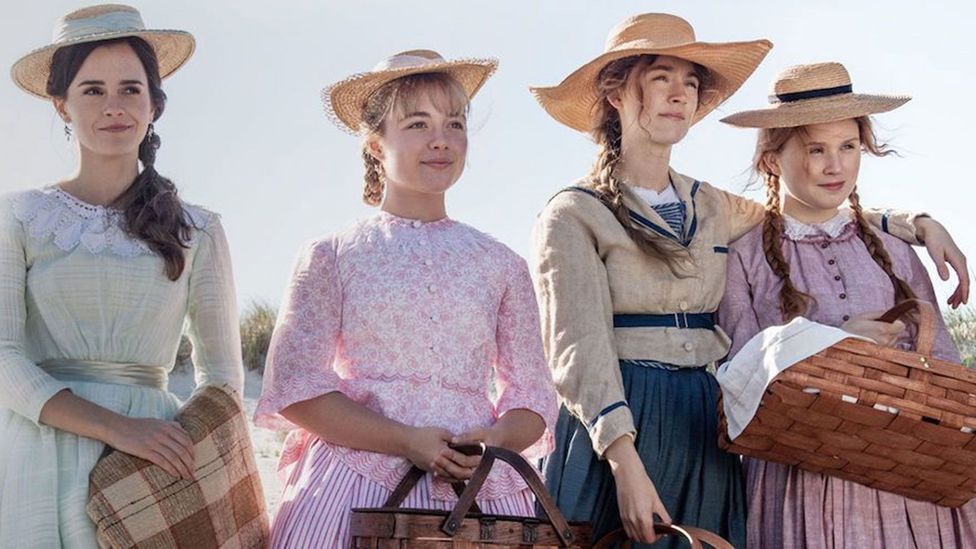 Some male awards-season voters skipped screenings of Little Women, thinking it wasn't for them (Credit: Sony Pictures)
Little Women producer Amy Pascal gave an interview to Vanity Fair magazine recently; the article suggested the gender ratio in screenings for Little Women attended by Academy voters was 2:1 in favour of women. According to Pascal, there was "a completely unconscious bias... I'm not sure men came to the screenings in droves… and I'm not sure when they got their (screener) DVDs that they watched them.
"It's a different bias," Pascal said. "[Voters think], these kinds of stories are important to me, and these kinds of stories are less important to me." Actor Tracy Letts, who appears in the film, added: "I just can't believe we're still having this… discussion where movies by men, and about men, and for men are considered default movies. And women's movies fall into this separate and unequal category," he added. "It's absurd."
Anna Smith, host of the feminist podcast Girls on Film, and chair of the London Film Critics' Circle, points out that Little Women is also a period drama. "There's something to do with that genre too, which is often done by women. I think there's a certain prejudice that a director's vision needs to be authoritative, and sometimes that's equated with masculine.
This year we have films called 'The Irishman' and 'Little Women' – and guess which one is going to do better? – Anna Smith
"It's weird this year we have films called 'The Irishman' and 'Little Women' – and guess which one is going to do better? I do wonder if many thousands of voters, deciding what to watch on their screeners or deciding which ones they go to, might have an unconscious reaction to gender in the title."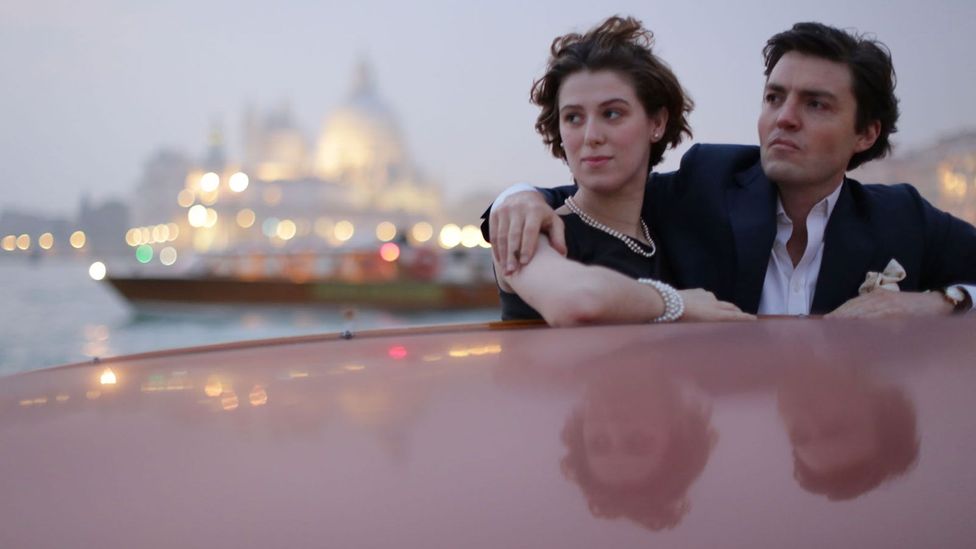 While The Souvenir leads the London Critics' Circle Film Awards nominations, it was snubbed by the Baftas (Credit: BBC Films)
Smith also points out that, by contrast, an arthouse British film directed by Joanna Hogg, The Souvenir, leads the London Critics' Circle Film Awards nominations. "There's about 140 of us and we have to see nearly everything that comes out, and that's why a film like that has done so well. Clearly, because critics got to see the film, the majority loved it."
Judge and jury
Is the seeming preference for 'male stories' determined by the demographic of award-season voters? The Hollywood Reporter says the Academy Awards brought in 2,000 new voters after the #oscarssowhite campaign three years ago, swelling the number of voters to around 8,000. Despite that, the percentage of female Oscar voters is put at around 28%, BAME voters at 13% – not a huge leap from the LA Times's study of 2012, which found that Oscar voters were 94% white, and 77% male.)
Most Oscar voters decide nominations by voting within their 'chapter' (for example, an actor will vote for the acting categories) but can choose between all eligible films released that year for best picture – although production companies need to ensure they're on a 'reminder' list the Academy sends out.
Bafta promised an immediate shake-up of its voters and its systems, after this year's nominations delivered an all-male directing and film shortlist and no nominations for BAME actors. It has 6,700 members around the world – a survey in 2016 found that 41% were female, 13% were from minority ethnic groups and the average age was 52. All its voting members get to decide on the main acting and best film nominations. Directing and screenplay nominations are decided by specialist chapters of members – which might have a different demographic.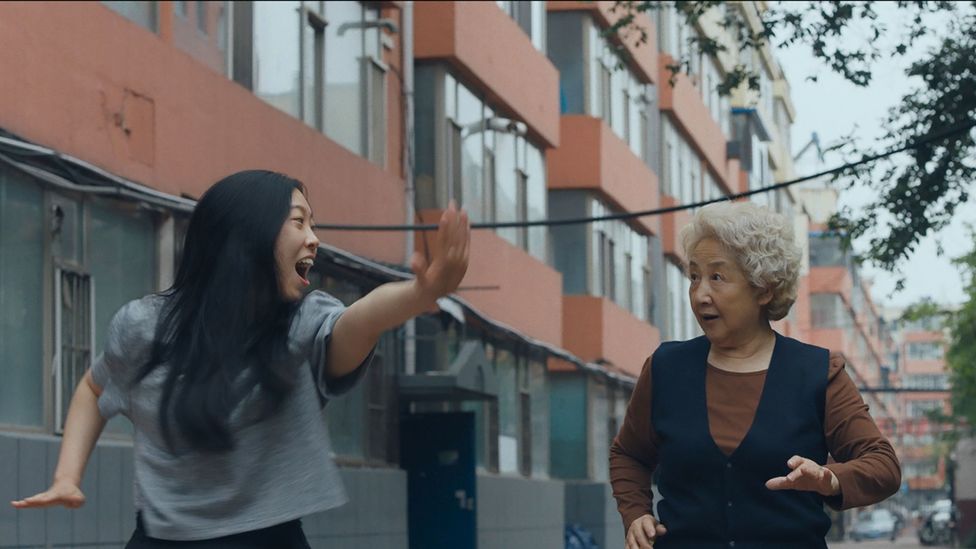 Filmed on a budget of $3m, The Farewell has made more than $20m at the box office worldwide (Credit: A24)
Dr Who screenwriter and Bafta member James Moran says the organisation asks members to confirm which films they've watched and to only select nominees from those films. "I'm very conscientious and I try to watch everything," he says. "It's hard though to watch each film, usually around December. Award-season films aren't always the most cheerful ones to watch around Christmas. It's also really hard to limit best film to five nominations. It's extremely difficult to pick your favourites, and this year was an embarrassment of riches. Which ones do you put forward – the ones most likely to succeed, or the ones that deserve a chance?"
Moran adds: "I absolutely loved Little Women, and I voted for it in so many categories" – but adds that the audience he sees at Bafta screenings are mainly "old, white, and male".
According to film critic and presenter Jason Solomons, "All the movies nominated this year are good, and I can't believe Bafta voters are inherently racist and misogynist, but the telling thing with lists is that they without doubt reflect the personality of the person or people compiling them.
It worries me that for a female filmmaker to break into the club, she has to make a war movie or give her take on preening masculinity – Jason Solomons
"And this year's list of nominations, looking at 1917 and The Irishman, they quite patently suggest the compilers' preoccupations are with the past and growing old. It worries me that for a female filmmaker to break into the club, she has to make a war movie or give her take on preening masculinity, as Kathryn Bigelow did in Hurt Locker and Point Break. It's a shame that equally emotional films about ways of being female in this world, like Little Women, haven't shouted as loudly."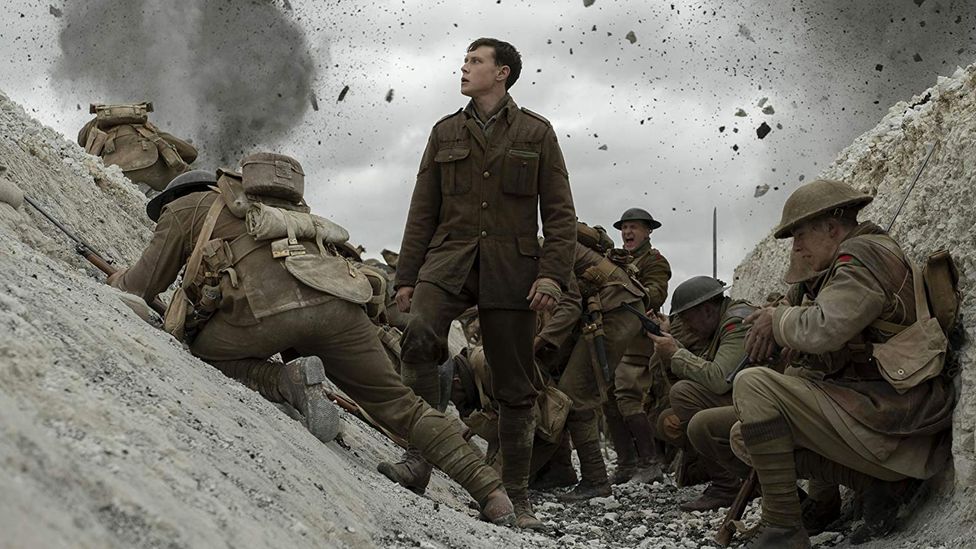 Directed by Sam Mendes, the war epic 1917 has toppled the latest Star Wars instalment at the US box office (Credit: Universal Pictures)
Yet if it was just down to unconscious gender bias of voters, the 'male tales' that have dominated seem at odds with the high ratio of female members at Bafta, if not the Academy. Steven Gaydos, the executive editor of trade magazine Variety, points out that a film like Little Women has been made many times, both in film and TV. "What if the exclusion factor is that Little Women is a remake of a popular story done many times before – and voters do not take remakes as seriously as they take originals?" he asks.
"Outside of our crazy bubble in Hollywood, people may not realise that marketing specialists are hired to run Oscar campaigns. Now what if, for example, your release timing is bad, or your strategy doesn't work? What if that's the reason? Little Women is doing $100m at the box office. Trust me, men are going to see it."
Ultimately, voters make a decision on the films presented to them. Bafta reports this year that 19% of submitted films were directed by women. According to the 2019 report by the Center for the Study of Women in Television and Film, out of the highest-grossing 250 Hollywood films, only 13% were directed by women.
Limited choice
Georgie Yukiko Donovan, a British-East Asian director, got her first film, Ama, funded by the Female Film Force initiative, but wonders whether the years of disappointment of female filmmakers failing to break through affect the number of awards-season submissions. 
"Unless there is real, actionable change, so many women won't make the effort to submit their films for consideration, because that can also cost money," she points out. "There's a practical need for awards. It's like a stamp of approval that gets you to the next level of filmmaking. Succeed with, say, an award at a film festival and it can be a gamechanger. But it takes money to launch a campaign, so it's all tied into gender, race, money and class."
Melissa Silverstein, founder of the website Women and Hollywood, has argued that in the event of future shortlists lacking any diversity, the award in that category should be withdrawn. "Something drastic needs to be done," she says. "I think it's also very important to look at how many women are completing and submitting films, and if not, why not?
"It's true that by working on superhero movies like Captain Marvel and Wonder Woman, women are now entering into some of the highest levels of the business. It's important to have a woman's vision into what's often been a violent-gratification narrative, and these have been predominant stories of our culture. Awards are what the press pay attention to.
"This is a fundamental fight, which isn't only happening in film, to say that white and male is no longer the default of our world. And so when women's experiences, and those of people of colour, are repeatedly invalidated in this way – it just becomes a joke."
Love film? Join BBC Culture Film Club on Facebook, a community for film fanatics all over the world.
If you would like to comment on this story or anything else you have seen on BBC Culture, head over to our Facebook page or message us on Twitter.
And if you liked this story, sign up for the weekly bbc.com features newsletter, called The Essential List. A handpicked selection of stories from BBC Future, Culture, Worklife and Travel, delivered to your inbox every Friday.