Robert Downey Jr's bizarre Welsh accent in the new Dr Dolittle film has been ridiculed. But how important is it for actors to get their intonation on point, asks Rachael Sigee.
A
At the ripe old age of 100, Dr Dolittle has been reincarnated in the form of Robert Downey Jr. In the latest screen version of the children's literature classic, Dolittle, released in the US today, he is also Welsh… or at least Wales-adjacent. Because whilst he's still able to talk to the animals, it would appear that Dr Dolittle is not so proficient in his new native voice.
More like this:
- The brilliant women the Oscars ignored
- What makes a Hollywood heartthrob?
- Will the Star Wars universe survive?
There was tantalisingly (and tellingly) little of Downey Jr speaking in the film's trailer but just enough to threaten a film already beset by production issues – a title change, reshoots, and a postponed release date – with the heavy burden of an infamously bad accent. And now reviews have confirmed that his pronunciation is wayward, to say the least, with Vulture's Bilge Ebiri describing it as "an ill-advised and half-hearted Welsh accent which occasionally (and I'm assuming inadvertently) slips into Irish, Indian and Jamaican intonations".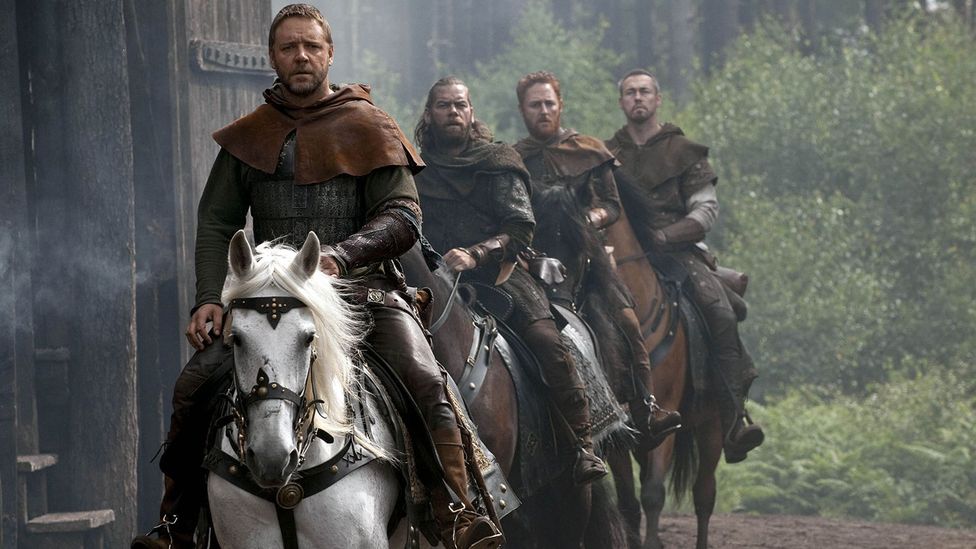 Russell Crowe's not-very-Nottinghamshire Robin Hood is one of the many notable entries in the dodgy-accent hall of fame (Credit: Alamy)
The Dodgy Accent Hall of Fame (ruled over, of course, by Dick van Dyke) is a busy place. Echoing through its chambers are Russell Crowe's not-very-Nottinghamshire Robin Hood, Anne Hathaway's clunky 'Yorkshire' twang in One Day, Don Cheadle's all-gone-Pete-Tong Cockney in the Ocean's Eleven franchise, and rather too many non-native Bostonians from The Departed cast.
Recently, almost the entire cast of BBC gangster drama Peaky Blinders has been inducted. No other production seems to have generated quite the onslaught of accent-based anger as the Shelby family and their compatriots bringing cod-Brummie to the masses. Even the Scottish and Northern Irish characters have been called out for missing the mark.
Our new accent fixation
It seems like we're more obsessed with analysing accents than ever before. Voice coach Erik Singer garners millions of views for his videos critiquing accents from Idris Elba to Daniel Day-Lewis to Cate Blanchett, while on the flip-side, there are some actors who assimilate so seamlessly, that the uproar comes when audiences hear them speak out of character. Killing Eve fans were shocked to hear Jodie Comer's Liverpudlian accent in real-life after getting to know her as that show's vocally chameleonic assassin Villanelle, who switches between Russian, French, Italian and German. And Christian Bale has played so many iconic roles using US accents – Patrick Bateman, Batman and Dick Cheney, to name a few – that audiences are often surprised to hear his own voice (he was born in Wales but grew up in England) when he gives interviews and awards speeches.
Also, when done right, putting on an accent definitely offers a little bump to your award-season chances, as demonstrated this year by the likes of Florence Pugh and Saoirse Ronan convincingly relocating their respective British and Irish accents to 19th-Century Massachusetts for Little Women, or native Aussie Margot Robbie turning American in Bombshell and Once Upon a Time… in Hollywood.
The key things to mastering an accent are courage, playfulness, a good ear, inventiveness, creativity and a real sensitivity – Joe Windley
For Rada lead voice tutor Joe Windley, the keys to mastering an accent successfully are "courage, playfulness, a good ear, inventiveness, creativity and a real sensitivity to the diverse range of sounds that can be used in any given speech system" (and for what it's worth, Jodie Comer is top of his list of most vocally-skilled stars). Meanwhile the real challenge for actors is being "able to manifest the speech in such a way that it serves clarity and maintains authenticity".
Classical acting training has traditionally focused on the voice being 'whole', meaning full of tone and fully articulate, but this is not how most people naturally speak. Recently, instead, there has been a contrasting obsession with authenticity, even though the specificity of an accent might only be noticeable to the community from which it comes. For example if the accents in Peaky Blinders sounded lightweight to locals, in the US they have proved convincingly alien enough that viewers have been switching on the subtitles. And trying to determine an 'authentic' accent for any particular country or region is not clear-cut: even when we speak in our own accent, it can vary significantly, as we code-switch depending on what context or to whom we are speaking.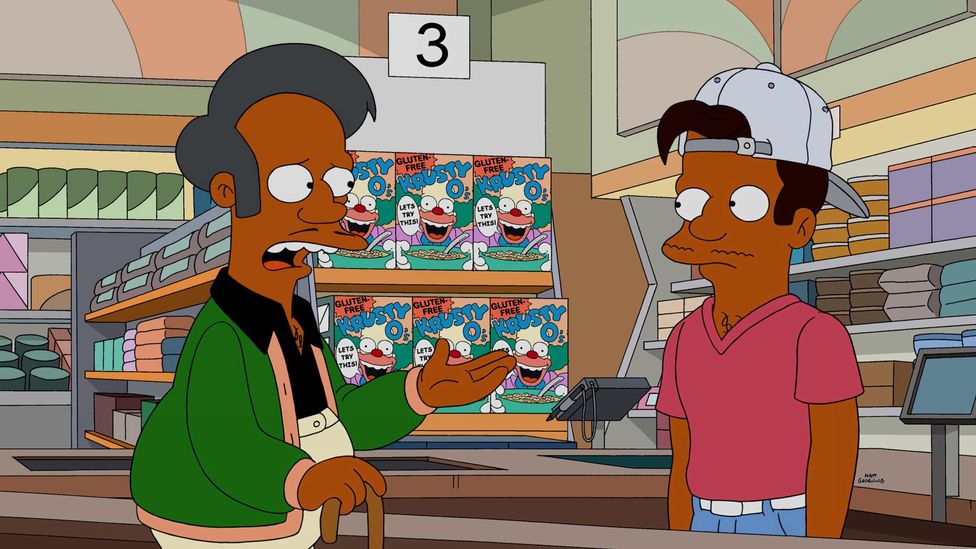 2017 documentary The Problem With Apu focussed on the Simpsons character Apu as a stereotypical portrayal of south Asians – including his voice (Credit: Alamy)
A truly bad accent has always had the capacity to derail a production, yanking audiences out of the moment as it becomes impossible to look – or should that be listen – past. But, more than that, dodgy accents can also be morally problematic, serving to reinforce stereotypes, as explored in Hari Kondabolu's 2017 documentary The Problem With Apu.
The days when English-speaking actors put on accents and told the world they were Russian or German or Swedish or Italian – those days are gone – Ralph Fiennes
The film looks at the Simpsons character of Apu Nahasapeemapetilon: one of the best-known (and only) representations of a south Asian person on mainstream television, but voiced by white actor Hank Azaria with a deliberately comic exaggeration that has increasingly been called out as racist. The problem of south Asian vocal caricaturing is also highlighted in Aziz Ansari's Netflix comedy Master of None which features an episode titled Indians on TV, and deals with south Asian actors being asked to do stereotypical 'Indian' accents at auditions.
No more 'funny voices'
Accents are absolutely part of the wider debate about representation in film and TV. The idea of an accent, particularly one of a different nationality to the actor, being just a 'funny voice' is increasingly unacceptable. When Ralph Fiennes was promoting The White Crow, his biopic of Rudolf Nureyev, he told BBC Radio 4's Today programme of his decision to cast predominantly Russian actors: "I feel the days when English-speaking actors put on accents and told the world they were Russian or German or Swedish or Italian – those days are gone. One has read quite a lot of critical responses to films that are still doing that, where people go, 'Haven't we had enough?' The landscape has shifted."
Additionally, the deployment of accents can still be reflective of classism, and domination by the middle-and-upper classes. As actress Rebecca Humphries points out, for example, regional British accents are still sometimes used as a punchline. Humphries, who has worked at the Donmar Warehouse, National Theatre Company and the Royal Shakespeare Company, is originally from Norfolk, and is currently filming a project playing an extremely posh character, with a dialect coach on set. As a working-class person, she is conscious not to mock the accent, but says that in Shakespeare, it can be the opposite, when a broad, regional, working-class accent is frequently used for comedic roles. "It does my utter head in," she says. "To make it 'funny'. It's because there's a class snobbery there that the thicker [accent you have], the funnier you are." 
These days, actors have more reason to worry about getting their character's chosen pronunciation right, however – for in 2020, film and television are not just available for consumption but for dissection. Screen-grabs and sound clips allow us to pore over performances for embarrassing mistakes, whether Quentin Tarantino's misguided effort at Australian in Django Unchained (highlighting the perils of directing yourself) or Nicholas Cage's Dolmio-esque Italian in Captain Corelli's Mandolin.
What we found very quickly is that actors will act accents. They will not act, they will act accents – Craig Mazin
Hence the increasingly great lengths actors go to in order to nail an accent down. Scot Martin Compston stays in his London accent throughout the four months it takes to film a series of BBC cop drama Line of Duty. Booksmart actress Beanie Feldstein worked in a Wolverhampton shop to hone the Black Country accent necessary for her lead role in the upcoming film adaptation of Caitlin Moran's best-selling novel How to Build a Girl. Meanwhile, for the forthcoming Ohio-set film Queen & Slim, London-born Daniel Kaluuya worked at a Costco in Cleveland. As Humphries puts it: "The thing about theatre is that that performance is then gone. But on screen, that performance is around forever, and it's within your interests not to f**k it up. People won't forget it."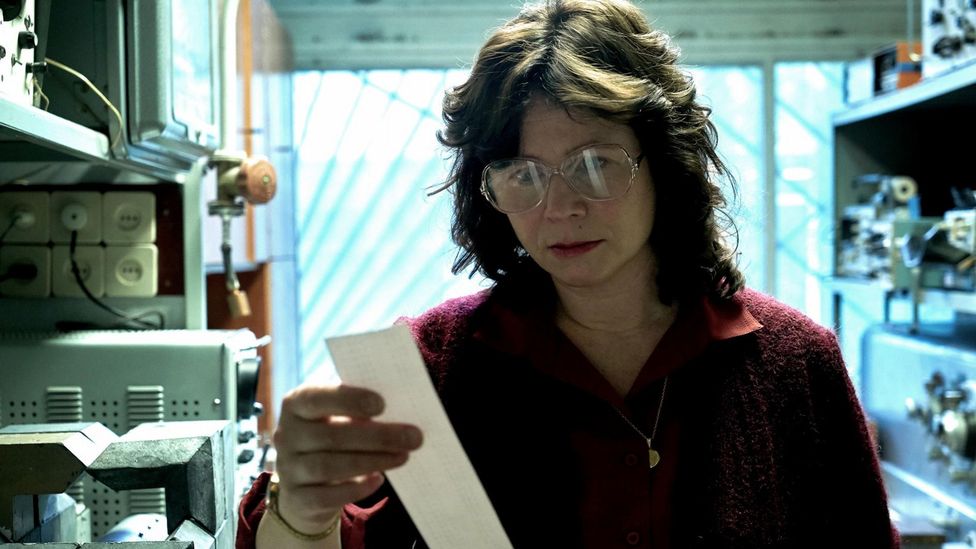 Last year's HBO drama Chernobyl featured a largely British cast speaking in their native accents (Credit: Alamy)
However, with all the scrutiny applied to getting accents right these days, another option that has crept in very recently is to forgo the challenge by ignoring 'authenticity' completely, and have actors simply perform in their native intonation. Such was the case with last year's critically-acclaimed HBO series Chernobyl, which told the story of the 1985 Soviet nuclear disaster with a largely British cast speaking in various different varieties of British accent. "What we found very quickly is that actors will act accents," said creator and script-writer Craig Mazin explaining the decision. "They will not act, they will act accents, and we were losing everything about these people that we loved... My hope is that the accent thing just fades away in seconds, and you stop caring about it."
What is 'authentic'?
Such a creative strategy may seem to offer a 'backlash' against authenticity, but perhaps it's more about the creators concentrating on being authentic to the essence of the story, rather than every tiny detail. Another example of this approach can be found in Armando Iannucci's The Death of Stalin, where Soviet officials have accents from Brooklyn, Yorkshire and the East End. Humphries says that this option of abandoning accuracy is also becoming more common in theatre: "For a really long time, things needed to be quite rigid and firmly in place, and now there's this real fluidity... If [the performance] is really good then the only people who are moaning about [accuracy] tend to be old-school purists and they're just quite boring."
You've got to pump yourself full of all this knowledge about how to stand, how to speak, so that once you're on set, with any luck, it'll be in your body and your voice – Rebecca Humphries
However if you are going to put a different voice on, in order to avoid Mazin's concern of "acting accents", Humphries says that the key is to get to a point of feeling physically at ease. "The idea being that you've got to pump yourself full of all this knowledge about how to stand, how to speak, so that once you're on set, with any luck, it'll be in your body and your voice so that you can do the acting and the reacting – the good stuff."
But that process is a luxury rarely afforded to many shows, when time is short and performers have tight schedules as they move between jobs. Actor Charlie Allen explains that in theatre, there is often more of an opportunity to perfect an accent. "If you're doing film and TV, you're essentially kind of on your own before you turn up on set, and you're not necessarily getting the feedback or guidance that you would do if you were in the theatre rehearsal room."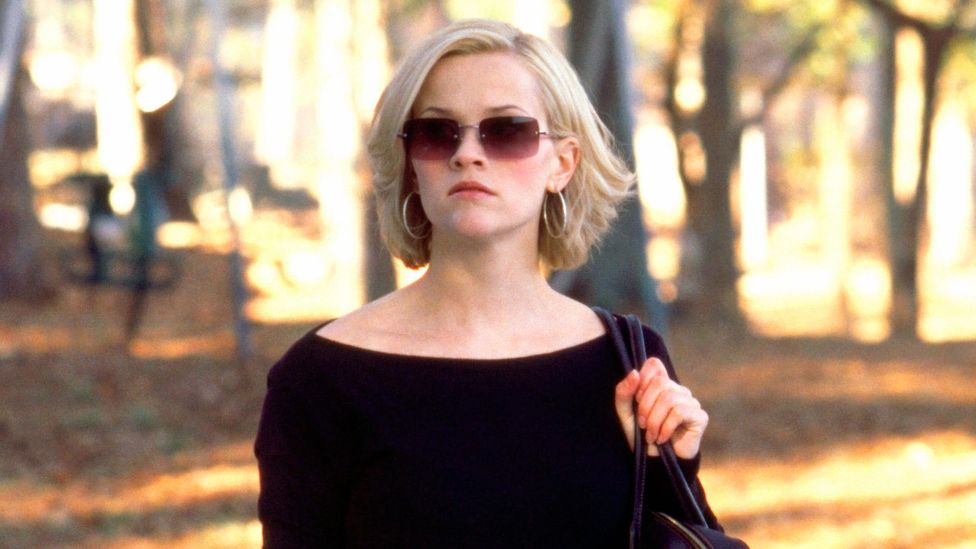 Reese Witherspoon in Sweet Home Alabama is one of many stars who have deployed a generic 'Deep South' accent, rather than one specific to any state (Credit: Alamy)
Brighton-born Allen has direct experience of this, facing the same challenge as the Peaky Blinders cast recently when playing a Brummie character in new play, Skin in the Game by Paul Westwood. Even more dauntingly, one performance actually took place in a community centre at the foot of the Birmingham high-rise block of flats in which the play is set. In contrast to Peaky Blinders, though, the accents went down well: "I think I cheated a little bit because I actually have family from Birmingham," Allen says. "Saying that, it's one thing speaking to your family and speaking in your own natural rhythm [and another] when you're picking up somebody's play script and all of a sudden you have very specific things to say. And it was quite easy to tip over into Liverpudlian or Scouse, which we hadn't even considered at all."
To fudge or not to fudge?
However, although people might profess to crave authenticity, meticulous accuracy isn't always helpful – or at least considered financially judicious. Often an accent can be historically accurate, while also being seen as alienating to a mass audience by the moneymen. For example, Chris Pine was mostly praised for his Scottish accent as Robert the Bruce in Netflix's Outlaw King, but in real life, the 14th-Century Scotsman would probably have been speaking French. It isn't surprising that producers decided to forgo the confusion that would inevitably have arisen from making him a Francophone. 
Sometimes, either the producers or the actors themselves decide that a fudged accent, resting loosely in the vicinity of the correct pronunciation, might be the sweetest, and certainly the safest, spot for the widest possible audience to understand. The US Deep South is particularly at risk: Reese Witherspoon in Sweet Home Alabama, Julia Roberts in Charlie Wilson's War and those of The Walking Dead cast who aren't originally from Georgia have all been called out for being generically Southern, rather than specific to the states in which they're set.
However Windley disagrees with such fudging. "If you're going to set it in a particular place, you really are duty bound, I think, to find the authenticity of that place," he says. "But that doesn't mean to say you can only cast actors who come from there." He prefers to talk about "speech systems" rather than accents or dialects, which he finds "problematic" terminology that fails to take in the diversity of human speech, or to acknowledge how voices are informed by age, gender, time and cultural context. The way we speak, he says, is "a living force. It's not an external piece of clothing that you stick on from the outside". 
Accents are not just about the voice. The accent can make you hold your head differently – Ania Marson
He continues: "If you just study a speech system without fully exploring the context, and then you put it over the top of a situation, it will come over as phoney." In short, getting an accent right is a lot more complicated, say, than simply shortening a few vowel sounds and calling everyone 'duckie'. An accent needs to be embedded into the context of the story, rather than floating around on top of the performance, connected to nothing.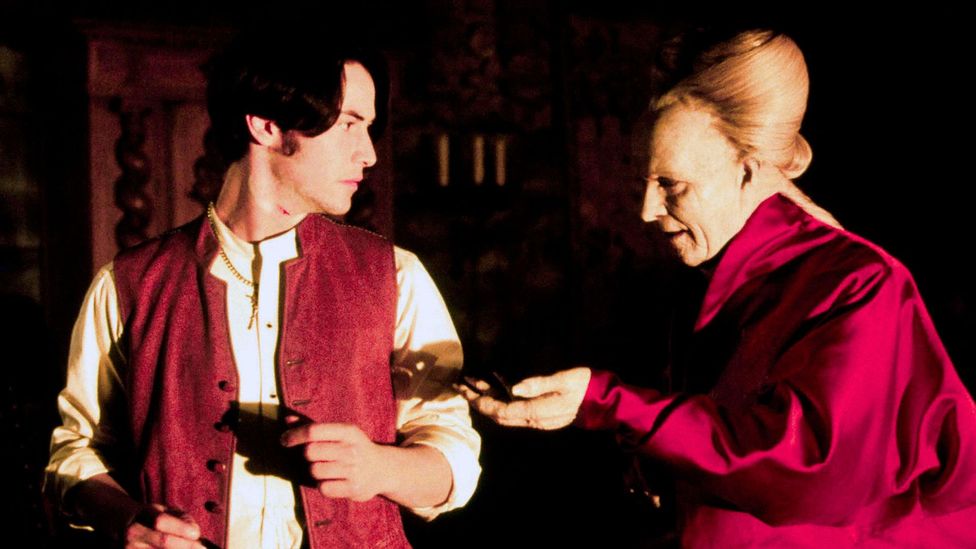 Keanu Reeves' attempt to sound like a posh Englishman in 1992 film Dracula led to one of the most derided accents in cinema history (Credit: Alamy)
Actress Ania Marson agrees. She has been acting for almost six decades, most recently appearing in Killing Eve, The Alienist and Britannia. "Accents are not just about the voice," she says. "The accent can make you hold your head differently. Your whole mouth changes in order to incorporate that, so there's a kind of physicality that takes over which is fascinating. If you're doing it in the right way, you sort of morph into a different person."
There are some accents in film and TV history that are almost unanimously accepted as terrible, whether because they wander like the critically panned Keanu Reeves in Bram Stoker's Dracula, whose attempt at a posh London accent does abominable things to vowels – or because the choice doesn't ring true, like Angelina Jolie opting for a Russian-ish inflection despite Alexander's Ancient Greek setting. Others are polarising: whether or not Robert Pattinson's Monty-Python-esque take on the Dauphin in Netflix's The King works probably depends on whether you thought his camply exaggerated French accent was hilarious or hideous.
But how we judge accents often comes down to a subjective decision about how important we think authenticity is in any particular instance. What is crucial is that we believe the stories we are watching, and that belief comes from somewhere considerably more inscrutable than what country, region or state a character sounds like they're from.
However, considering all the potential risks that come with attempting an accent, it does seem worth asking the question, is it absolutely necessary to try putting one on in the first place? Dr Dolittle is not, of course, a real person, and authenticity is probably not the most important element in a story about talking animals. Having said that, given that Robert Downey Jr's voice still seems to the least believable part of it, producers might be wishing that he'd stuck with his native New York tongue – or at least plumped for London, given his previous experience playing Sherlock Holmes.
Dolittle is released today in the US and 7 February in the UK and Ireland.
Love film? Join BBC Culture Film Club on Facebook, a community for film fanatics all over the world.
If you would like to comment on this story or anything else you have seen on BBC Culture, head over to our Facebook page or message us on Twitter.
And if you liked this story, sign up for the weekly bbc.com features newsletter, called The Essential List. A handpicked selection of stories from BBC Future, Culture, Worklife and Travel, delivered to your inbox every Friday.