Now that 21 films made by the legendary Japanese animation house are available to stream, David Barnett lists which films to watch, according to your mood.
F
For the first time, the animated output of Japan's Studio Ghibli is being made available on a streaming service, with Netflix beginning to serve up 21 of the movies in batches from 1 February. (Although they won't be available in the US, Canada and Japan, HBO Max will be showing them at some point.) There are two types of people – those who have never heard of Studio Ghibli, and those who love the movies with all their heart. If you have seen any of the films put out by the studio, founded in 1985 by Hayao Miyazaki and Isao Takahata, it would either have been in the cinema, on DVD or via their occasional appearance on TV, but the Netflix deal is certain to open them up to a whole new audience.
More like this:
- The brilliant women the Oscars ignored
- Five stars for World War One epic
- Films to look forward to in 2020
Japan, of course, is famous for its animated movies, or anime, but Ghibli (the name means 'desert wind' in Libyan, chosen by Miyazaki to signify that the venture was going to blow through the existing industry) is in a league of its own, and its gorgeous painted visions set the template for many more movies that came after its initial releases. But with more than 20 movies, all very different, to choose from when Netflix opens the Ghibli gates, where should you start?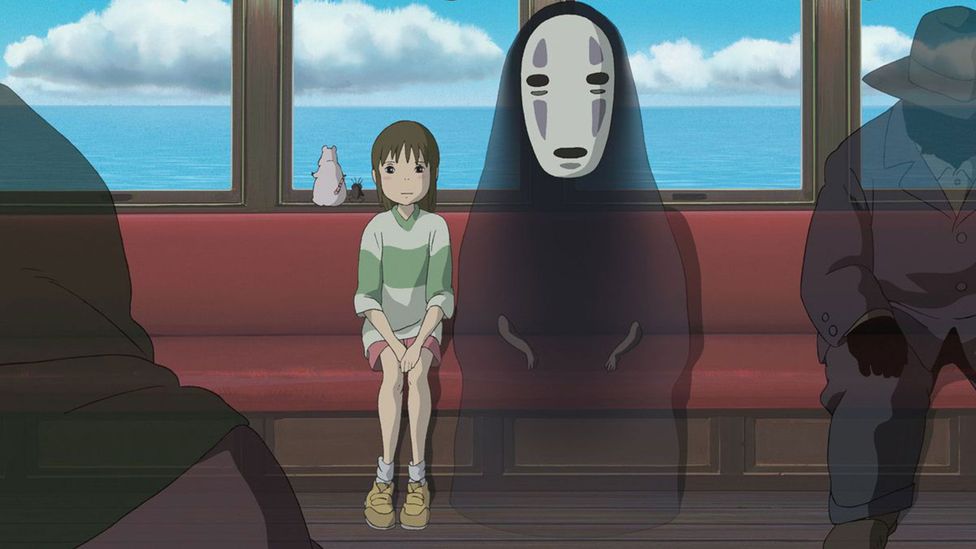 Spirited Away (Credit: Studio Ghibli)
If you want an Oscar winner…
Begin with Spirited Away (2001), which won the best animated feature trophy at the 2003 Academy Awards, and pretty much encapsulates the whole Ghibli ethos. Thanks to its high profile, this is often the movie that has introduced people to Ghibli. It's a stunningly-realised tale of a 10-year-old girl, Chihiro, who is travelling with her parents to her new home. When her father takes a shortcut, Chihiro ends up lost and alone in the spirit world, and has to navigate a dreamlike landscape, populated by increasingly grotesque characters, in order to save her parents.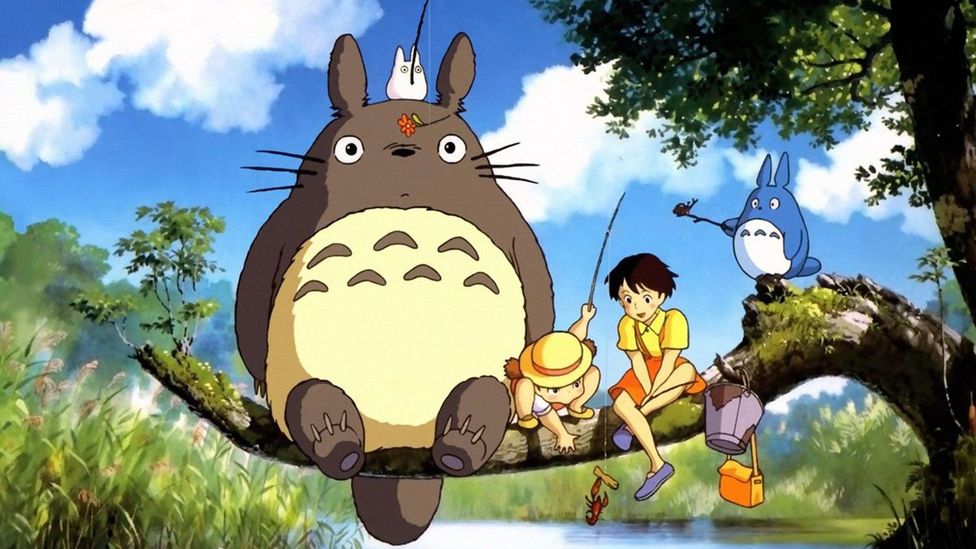 My Neighbour Totoro (Credit: Studio Ghibli)
If you want to feel unalloyed joy…
Then you need My Neighbour Totoro (1988) in your life. This is the movie that launched a million plush toys, and the titular wood spirit – a big, cuddly, furry monster – is the symbol of Studio Ghibli. Set in the 1950s against a beautiful, pastoral backdrop, it tells the story of two young girls and their father who move into a new country home to be near the hospital where their mother is recuperating. There they meet Totoro and his friends, notably the incredible Catbus. The plot is slight but it doesn't matter – it's just wonderful, for younger children and adults alike.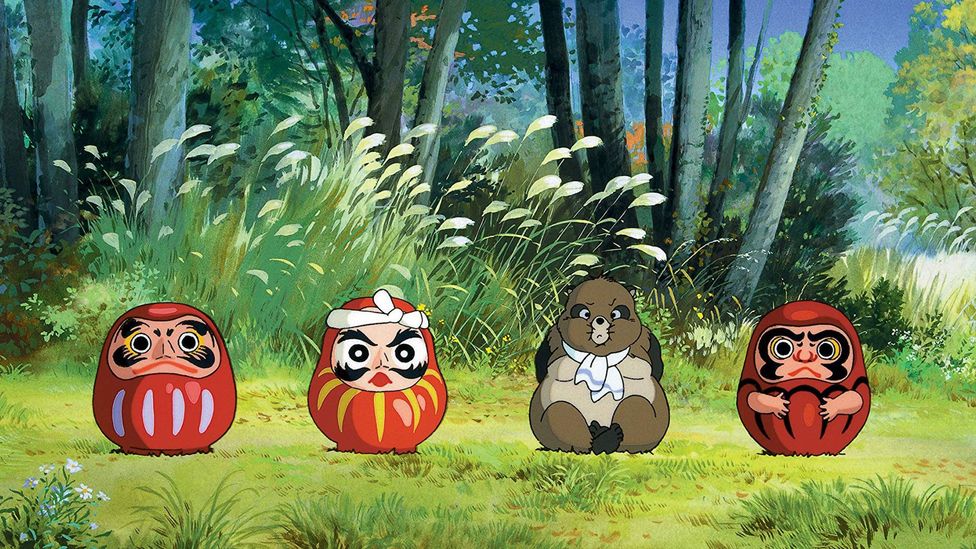 Pom Poko (Credit: Studio Ghibli)
If you want shapeshifting raccoons…
And let's face it, who doesn't? Especially when they use their scrotums to such comic effect. Pom Poko (1994) is like nothing you've ever seen before and you're just going to have to watch it. Like many Ghibli movies this has a strong environmental message, as a tribe of raccoons (prominent in Japanese folklore) have to settle their own differences to stop developers razing the wooded hillside where they live to make way for a housing development.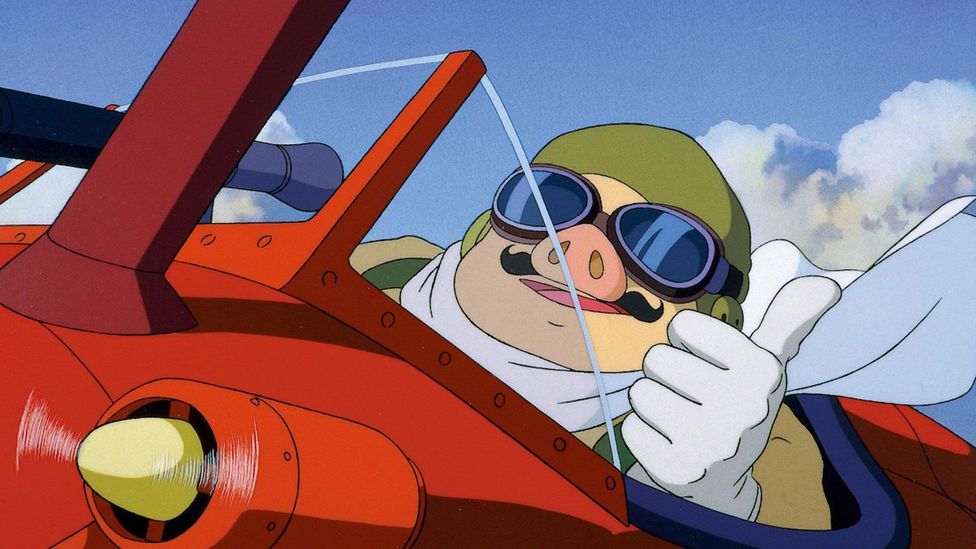 Porco Rosso (Credit: Studio Ghibli)
If you want rousing pulp adventure…
There's no shortage of thrills in Porco Rosso (1992), which like a lot of the studio's output has a European flavour rather than a Japanese one. Literally 'The Red Pig', Porco Rosso is an Italian World War One flying ace transformed by a curse into a humanoid pig, now working as a bounty hunter battling sky pirates over the Adriatic. It's got excitement, melodrama and a touching love story, and feels like the best rousing Golden Age Hollywood movie that never was.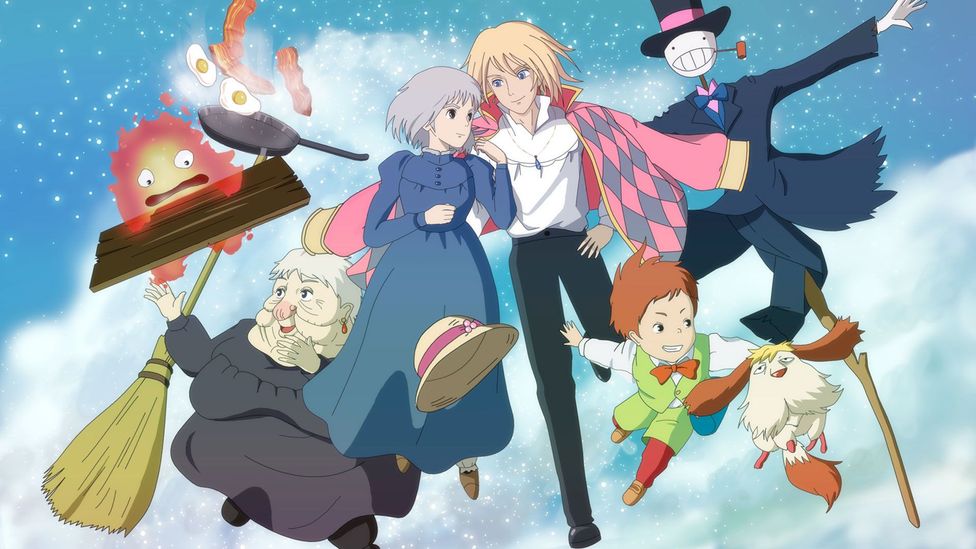 Howl's Moving Castle (Credit: Studio Ghibli)
If you want a fairytale fantasy…
That description doesn't really even touch the sides of Howl's Moving Castle (2004). Loosely based on the 1986 Diana Wynne Jones novel, it features a strong anti-war message (apparently fuelled by Miyazaki's opposition to the 2003 US invasion of Iraq) as two feuding kingdoms in a European-flavoured fantasy world go head-to-head, with the maverick magician Howl caught in the middle as his precarious castle on legs criss-crosses the war-torn territories. Young milliner Sophie is cursed by the Witch of the Waste and transformed into an old woman who gets caught up in Howl's fight to not be drafted into the devastating war. Utterly captivating and memorable.
Grave of the Fireflies (Credit: Studio Ghibli)
If you want to know the true cost of war…
(Note: This isn't going to be streamed on Netflix, but we thought it was still worth a mention.)
Grave of the Fireflies is not an easy watch but it is a necessary one. One of the earlier Ghibli features, released in 1988, it tells the story of Seita and his younger sister Setsuko, who are fighting to survive in Japan during the final days of World War Two. Unlike the more famous manga Barefoot Gen, which covers similar ground in comic-book form, Grave of the Fireflies does not focus on the atomic bombing of Japan, as Western audiences might expect, but on the blanket firebombing of cities such as Kobe. It is no less horrific for that – possibly more so, as it is a lesser-known tale. With their mother dead in a bombing raid and their father fighting with the Japanese Navy, the children are forced to fend for themselves. Be warned: it's distressing and powerful, and will leave you feeling a little shell-shocked.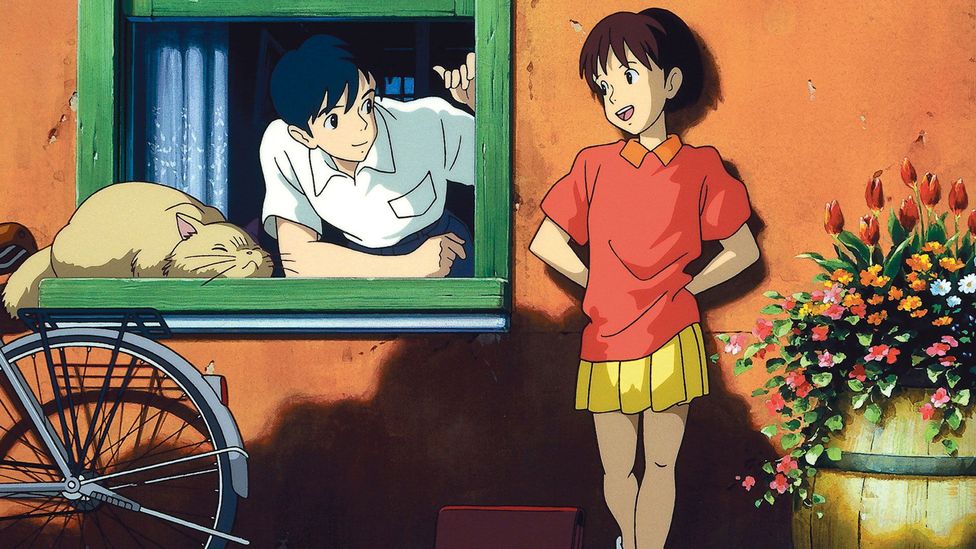 Whisper of the Heart (Credit: Studio Ghibli)
If you want contemporary drama…
Studio Ghibli has you well served with several movies. Whisper of the Heart (1995) is a coming-of-age story about a bookish girl, Shizuku, who finds that all the books she borrows from the library have been checked out by the same boy, and resolves to find him. Only Yesterday (1991) is a gentle slow-burner (with some rather upsetting scenes in flashback) about a 27-year-old woman looking back on her life and the choices she's made. From Up On Poppy Hill, from 2011, is directed by Miyazaki's son, Gorō, and frames the recurring Ghibli theme of supposed progress sweeping away tradition around two young people and their fight to save a school clubhouse from demolition.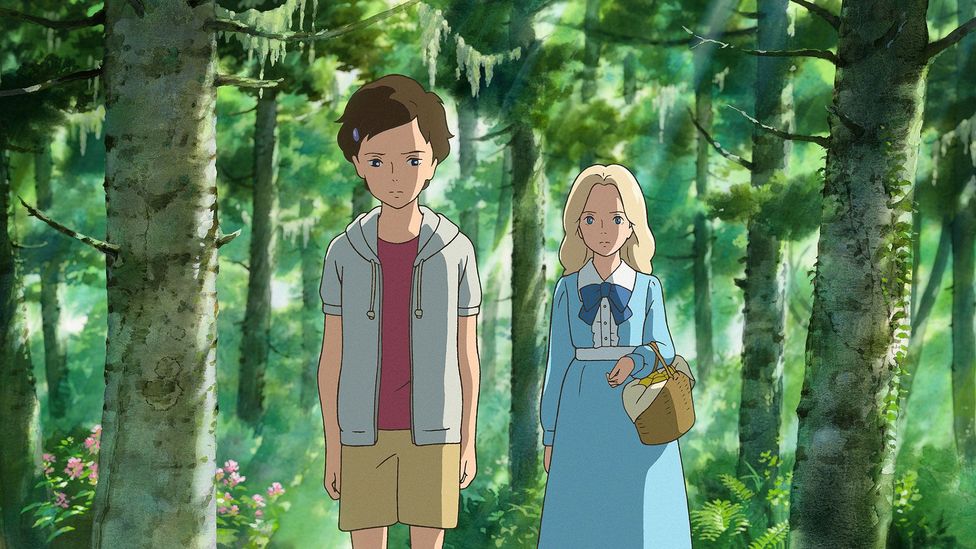 When Marnie Was There (Credit: Studio Ghibli)
If you want adaptations of much-loved books…
As well as Howl's Moving Castle, Ghibli has used several well-known novels as jumping-off points for its movies. One of the studio's most recent films, When Marnie Was There (2014), is based on Joan G Robinson's 1967 novel, and it's a moving, atmospheric tale of a 12-year-old girl who begins a friendship with the mysterious Marnie, who is not all she seems. Mary Norton's The Borrowers (1952) gets the Ghibli treatment in Arrietty (2010), which perhaps doesn't make everyone's list of favourites, mainly due to its familiarity. And Tales From Earthsea (2006) is extremely loosely based on Ursula K Le Guin's quartet of novels, and is not entirely successful as an adaptation, though it has its fans.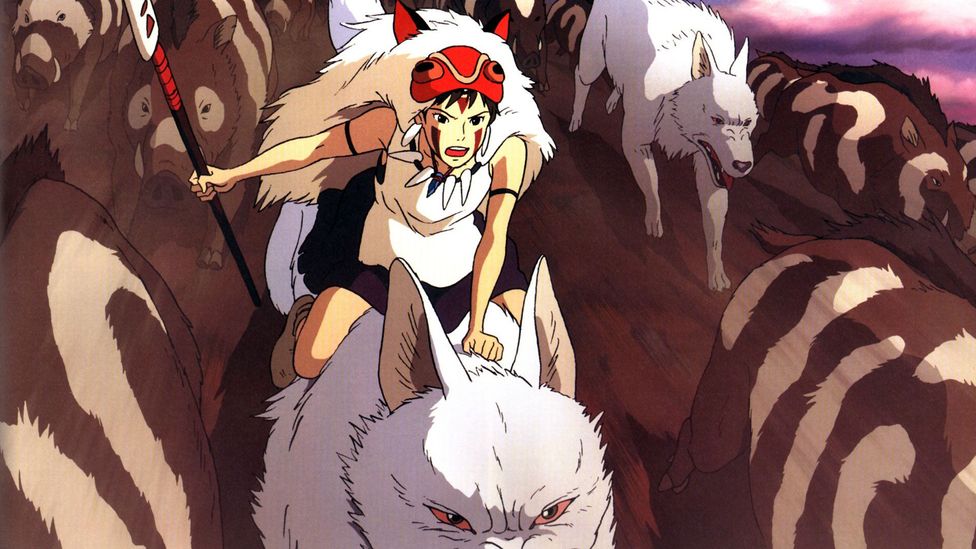 Princess Mononoke (Credit: Studio Ghibli)
If you want a fantasy with a strong environmental message…
Then Princess Mononoke is for you. Released in 1997, it was Ghibli's most successful movie until Spirited Away. It is set in a fanatical feudal Japan where a young prince is caught up in a conflict between the ecologically-rapacious denizens of an industrial town intent on clearing a huge forest to mine for iron, and the diverse spirits who live in the threatened woods. It's almost a companion piece to My Neighbour Totoro, with more battles and demons and rather unpleasant people.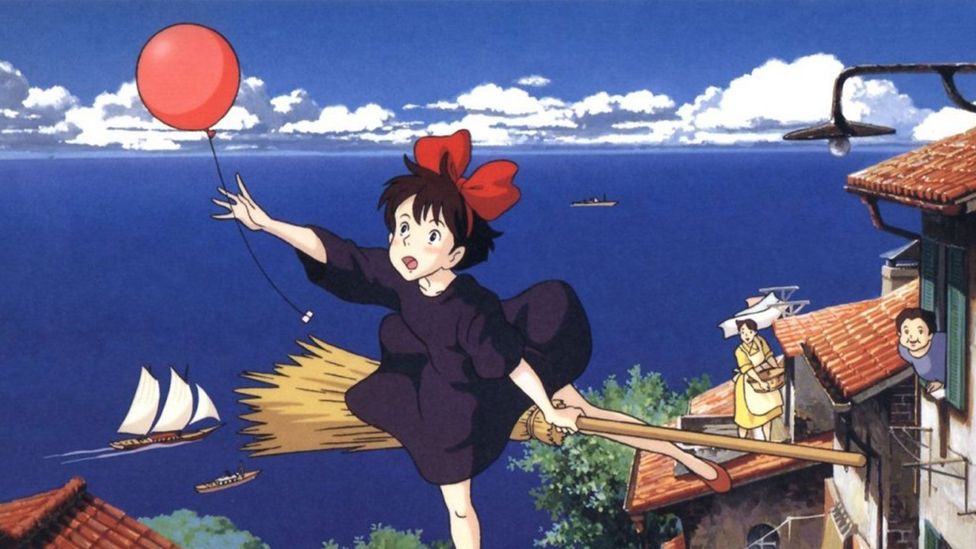 Kiki's Delivery Service (Credit: Studio Ghibli)
If you want some girl power…
Pretty much all Studio Ghibli movies feature strong female characters, but Kiki's Delivery Service (2003) is a joyous celebration of girls doing it for themselves, as young witch Kiki hops on her broomstick as soon as she turns 13 and heads off with her chatty cat Jiji to offer her witchy services to the citizens of a busy town. Things don't go according to plan, but that's the pleasure in this movie's message – watching a young girl gain her independence and learning from her mistakes, eventually gaining the confidence she needs to forge her own path in life.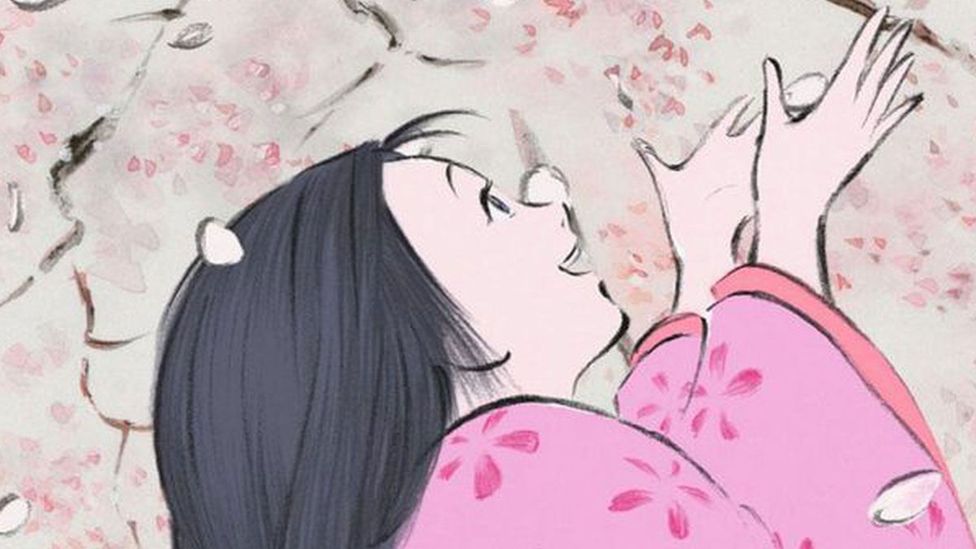 The Tale of Princess Kaguya (Credit: Studio Ghibli)
If you want something slightly different…
Well, all the Ghibli films are different, but two stand out as being animated in a completely different style to the studio's usual look. The Tale of Princess Kaguya is one of the more recent movies, released in 2013 and based on the folk story The Tale of the Bamboo Cutter. The final film directed by Takahata before his death in 2018, it's about a poor couple who find a tiny girl growing inside a bamboo shoot, and it is almost like an old painting come to life. Similarly, My Neighbours The Yamadas (1999) is a charming little tale that starts as a family comedy before heading into surreal territory, yet is always warm and happy, more like an animated comic strip.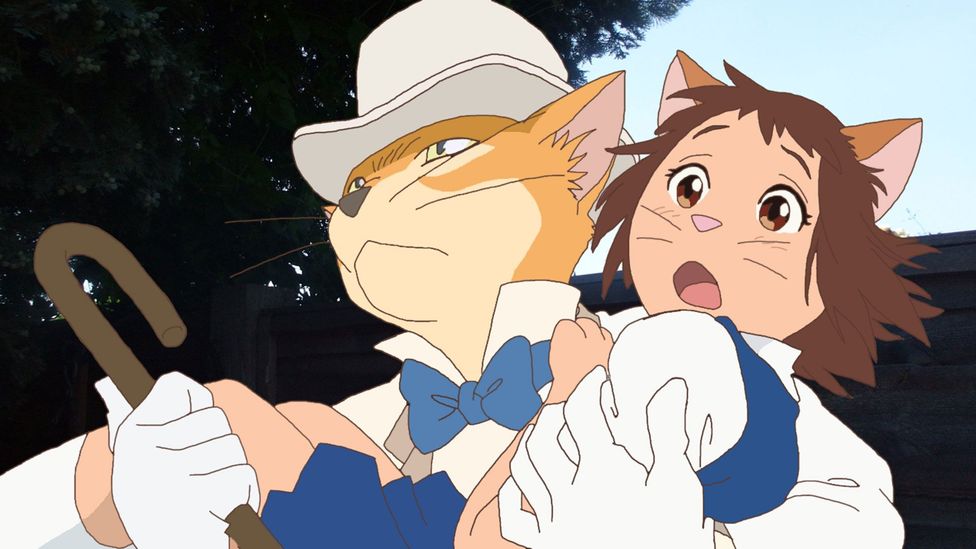 The Cat Returns (Credit: Studio Ghibli)
If you want something with cats…
And, let's face it, who doesn't? We've already mentioned Catbus, but The Cat Returns (2002) is the moggy's pyjamas for feline fans. It's a heartwarming fantasy about a young girl who can talk to cats, and after she saves what appears to be a street cat from being hit by a truck she gets inducted into the often perilous world of the Cat Kingdom. Pure escapism, and nothing wrong with that. And one character is a dapper puss called The Baron, a statuette who comes to life. In a rare Ghibli crossover, the Baron statue also appears in Whisper of the Heart.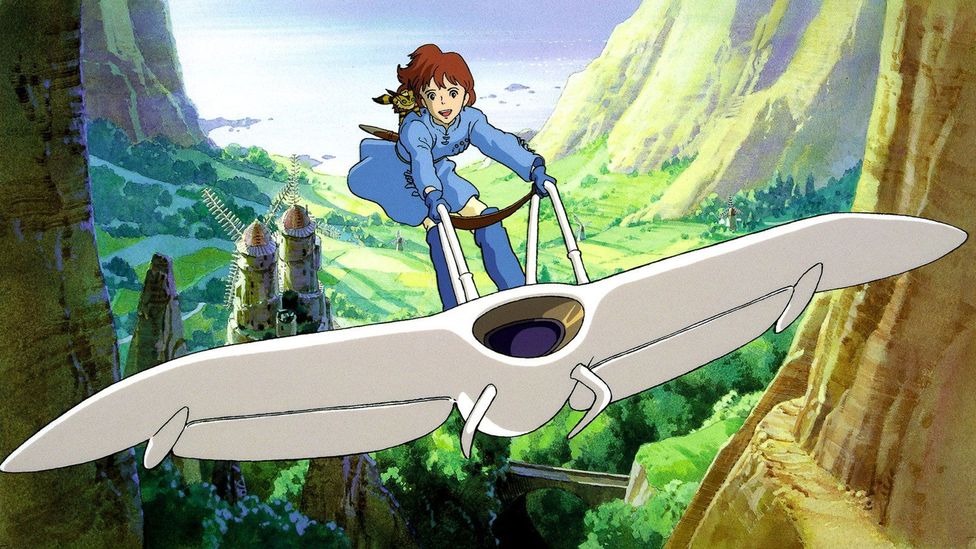 Nausicaä of the Valley of the Wind (Credit: Studio Ghibli)
If you want to watch the films chronologically…
You'll need to start with Nausicaä of the Valley of the Wind, the film Miyazaki made and released in 1984 and which led to the creation of Studio Ghibli. It takes place in a post-apocalyptic future with gigantic marauding insects, and has some of Miyazaki's nascent themes present, including his ecological bent as the story focuses on a young woman who hopes to find a way for humans to co-exist with the mutated insect creatures in the jungle.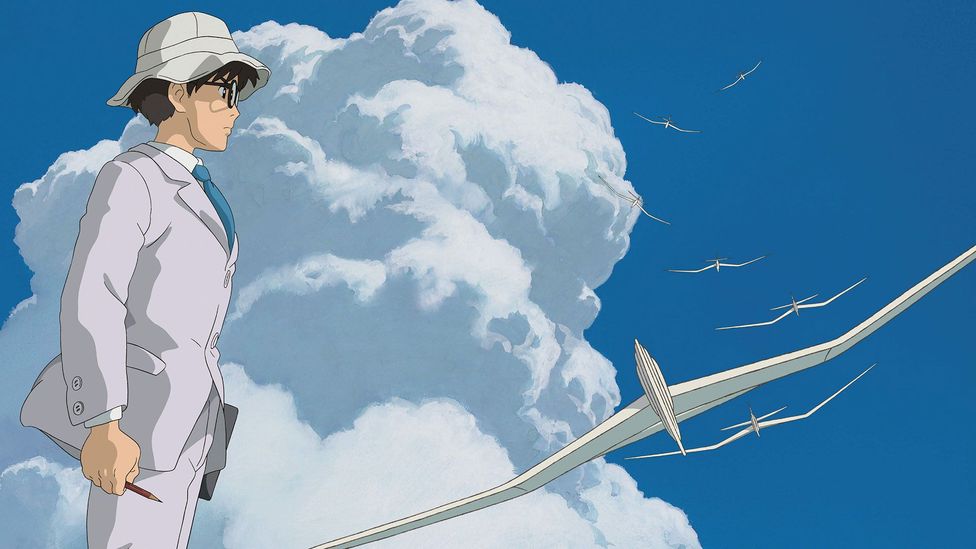 The Wind Rises (Credit: Studio Ghibli)
If you want a slice of reality…
Ghibli's only proper biopic is The Wind Rises, released in 2013 and telling a fictionalised life story of Jiro Horikoshi, the designer of the infamous Mitsubishi Zero that formed the basis of Japan's aerial might in World War Two. This being a Ghibli film, though, it's not some tub-thumping celebration of a gung-ho life. Horikoshi dreams of flying planes but his poor eyesight doesn't allow it, so he throws himself into engineering, and is devastated when his designs are used for war. This was Miyazaki's last film before his short-lived retirement, which he came out of in 2017 to direct the as-yet unreleased How Do You Live?.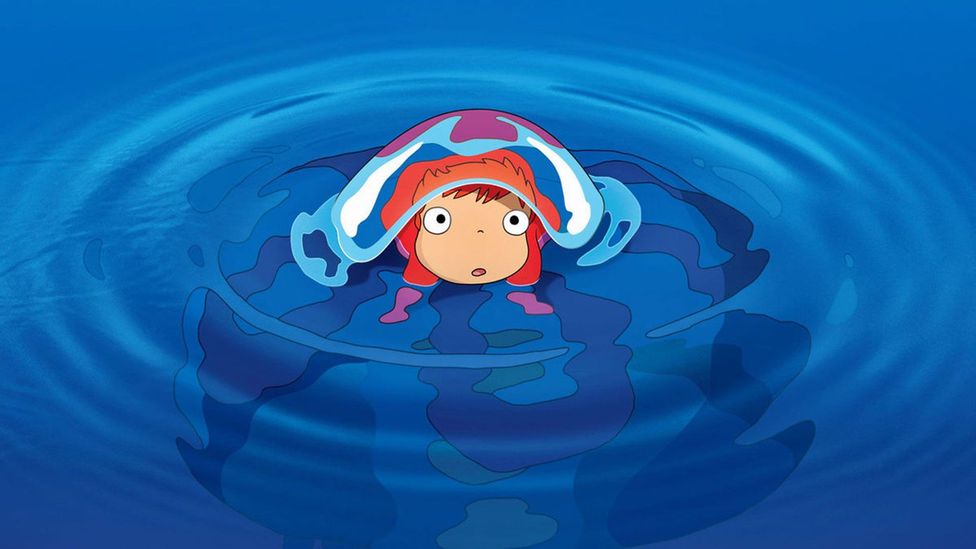 Ponyo (Credit: Studio Ghibli)
If you want to guarantee your kids ask you for a goldfish…
Watch the utterly charming and at times very exciting Ponyo (2008). That is the name given to a goldfish found by a young boy called Sōsuke, but in reality she is one of many shape-shifting siblings who live in an underwater community off Japan's coast. Her father fears she has been kidnapped, and launches an assault on the human world to get her back. There's an extremely tense tsunami scene and meditations on the true nature of friendship. Highly recommended.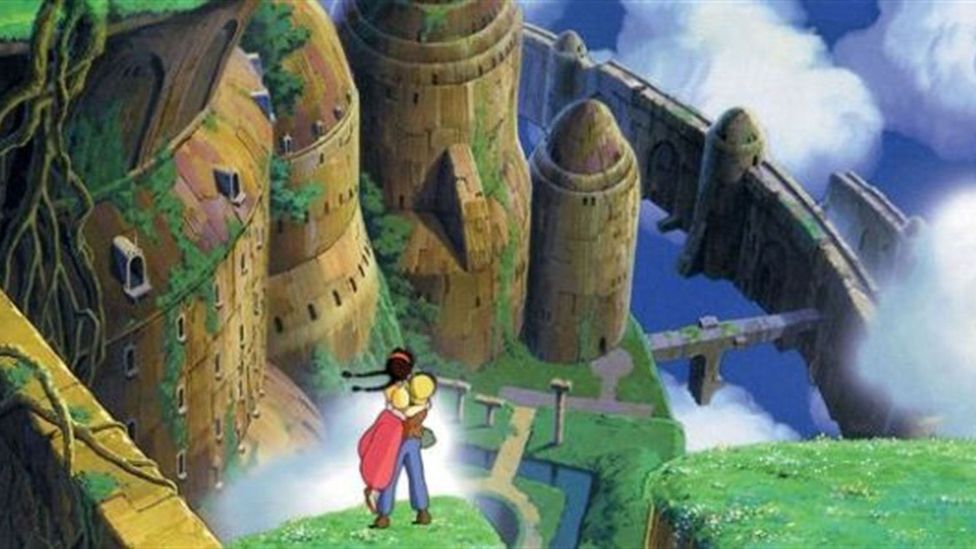 Laputa: Castle In The Sky (Credit: Studio Ghibli)
If you want big steampunk robots…
The first proper film under the Studio Ghibli banner was Laputa: Castle In The Sky, a rollicking adventure released in 1986 with a vast, aerial city, sky pirates, airships, a quest by two young heroes to protect a magic crystal, and, yes, big old steampunk robots.  Apparently some of the architecture in the film is inspired by Wales, which Miyazaki visited in 1984 when the miner's strike was in full flow.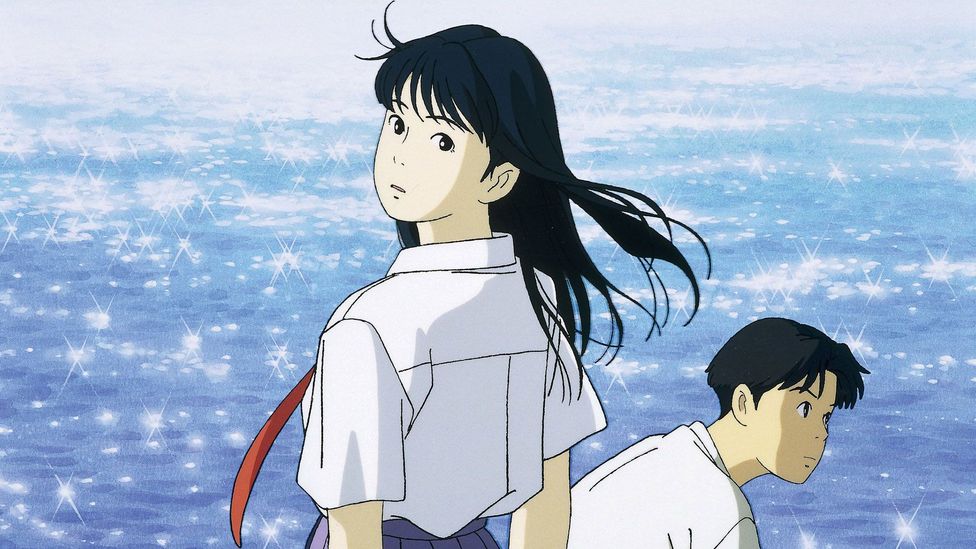 Ocean Waves (Credit: Studio Ghibli)
If you want to be an absolute completist…
There are two films that are not really considered part of the Studio Ghibli canon proper, yet are definitely worth your time, especially after you've exhausted the main movies. Ocean Waves (1993) was made for TV, and was a way for the studio to try out some of its younger animators, with the intention to make a romantic story to appeal to young people. It's a bit soapy in parts, but worth a look. And at the other end of the spectrum is The Castle of Cagliostro, a crime caper that was very pre-Ghibli with its 1979 release, but is notable for being Miyazaki's directorial debut, and is available on DVD.
Love film? Join BBC Culture Film Club on Facebook, a community for film fanatics all over the world.
If you would like to comment on this story or anything else you have seen on BBC Culture, head over to our Facebook page or message us on Twitter.
And if you liked this story, sign up for the weekly bbc.com features newsletter, called The Essential List. A handpicked selection of stories from BBC Future, Culture, Worklife and Travel, delivered to your inbox every Friday.