From skyscraper art, to a small-town girl made good, and a transformational Harlem tale, there are certain masterpieces that tell us something essential about the Big Apple.
A
A city and the cultural works it inspires are inextricably linked. Over time they become integral to that city's identity, part of its fabric and how it is perceived in the popular imagination. But while cultural works often have cities at their centre, the manner in which they can be explored in order to further our understanding of that city is often undervalued. Here, we take a book, a film and a visual artwork, and use them to look at a particular aspect of a city's identity at a particular time. The choices are in no way intended to be definitive but rather aim to breathe new life into both cities and artworks that we often think we know so well, and in doing so underline the value of culture in enhancing our appreciation of the world around us.
More like this:
-        The painter who captured America
-        Stunning photos of jazz greats
-        The writer who defined Gen X
New York is without doubt one of the most dynamic, diverse and creative cities in the world, a cultural centre of almost mythic proportions, celebrated by generations of artists for its unparalleled extremes of wealth and poverty, glamour and grime. From the glorious peaks of the Roaring Twenties to the squalor and destitution of the 1970s, it seems that no aspect of the city's life has gone unexplored by writers, painters or filmmakers.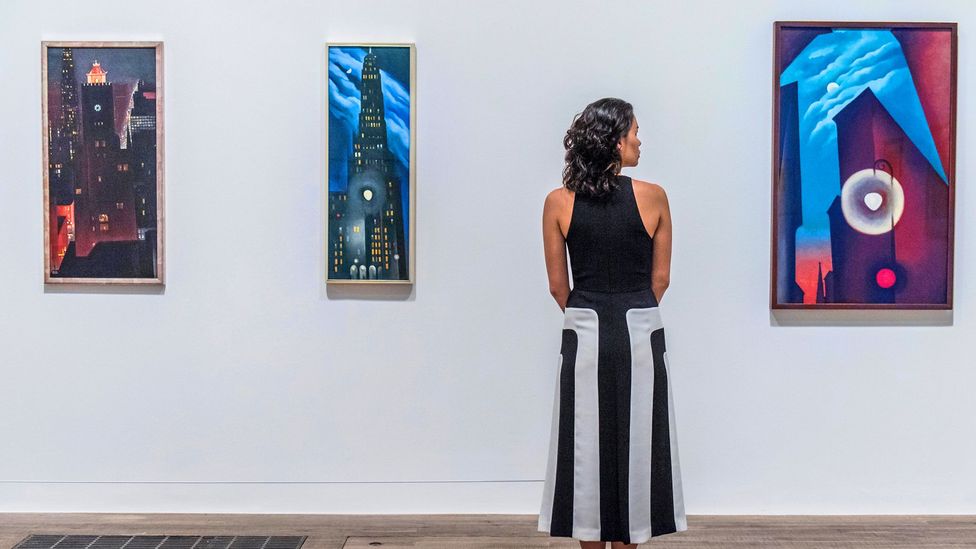 Georgia O'Keeffe's series of New York cityscapes captures the extraordinary majesty of the city's architecture (Credit: Alamy)
The passion lying just beneath the rigid surface of New York's Golden Age is devastatingly revealed in Edith Wharton's The Age of Innocence, while Tom Wolfe turns an equally scathing eye on ambition, greed and racism in 1980s New York in The Bonfire of the Vanities. Edward Hopper's austere street scenes and interiors, the most famous of which is undoubtedly Nighthawks, give a sense of the urban alienation present in any great metropolis. For Woody Allen the city is consistently a worldly metropolis, with Manhattan being nothing less than a love letter to the city he adores, while in Martin Scorcese's Taxi Driver and Hubert Selby Jnr's Last Exit to Brooklyn it is a chaotic urban jungle.
The soaring structures of O'Keeffe's skyscrapers are the architectural embodiment of reaching for the sky
The three works chosen here all date from the interwar years, a period that saw the city's enduring personality take hold. Georgia O'Keeffe encapsulates the ingenuity and ambition of New York in her series of skyscraper paintings, their soaring structures being the architectural embodiment of reaching for the sky. The lure of Broadway and the desire to make it big is gloriously described in the surprisingly gritty film 42nd Street. While the city as a haven for outsiders and a place in which one can truly find oneself, if one only has the courage, is eloquently examined in Wallace Thurman's classic novel of the Harlem Renaissance, The Blacker the Berry.
High life
Skyscrapers began to emerge in the US in the late 19th Century, predominantly in Chicago and New York, as technical improvements allowed for the development of steel framed buildings which could hit greater heights, without impractical thickness on the lower floors. Although Chicago initially led the way in skyscraper design, in 1892 the city banned construction of skyscrapers taller than 150 ft (45.7m).
This led the way for New York to dominate the field, and architects enthusiastically experimented with innovative and daring designs such as The Flatiron Building, completed in 1903, which gains its name from its distinctive wedge-shaped form, and remains a quintessential symbol of New York. 
The Woolworth Building, completed in 1912, was undoubtedly New York's shrine to drive and commercial ambition. The tallest building in the world, until the Chrysler stole its crown in 1930, the Woolworth has a neo-Gothic style which saw it referred to as the 'the Cathedral of Commerce'. Despite its height, the building, which combines a spectacular 30-storey spire atop its 30-storey base, retains an aerial delicacy which makes it an enduring icon of skyscraper design.
But not all skyscrapers were so elegant. The solid bulk of the Equitable Building, constructed only three years later, caused such alarm at the prospect of a sunless city that in 1916 New York's first zoning laws were introduced. These mandated setbacks at regular intervals in order to enable light and shade to reach the street below.
The first skyscraper to be constructed according to these new laws was the Shelton Tower Hotel in 1925 whose gracefully stepped-back form presented an entirely new vision of the cityscape. It was here that Georgia O'Keeffe came to stay with her new husband, the art dealer Alfred Stieglitz, in 1925, settling into an apartment on the 30th floor.
Although O'Keeffe had lived in New York since 1918, she had never before lived so high, and was so excited that she immediately began talking about trying to paint the city for the first time. "Of course, I was told that it was an impossible idea – even the men hadn't done too well with it," she later recalled.
Determined to prove her detractors wrong, O'Keeffe persisted. Her first attempt, New York Street with Moon (1925), has an eerie oppressiveness to it, the unrelenting solidity of the structures highlighting the reasons behind the zoning laws. Stieglitz disliked the painting, and refused to exhibit it in his Seven Americans exhibition. However, she insisted it be shown at her 1926 solo show, where it sold on the first day for $1200. "From then on they let me paint New York," she said.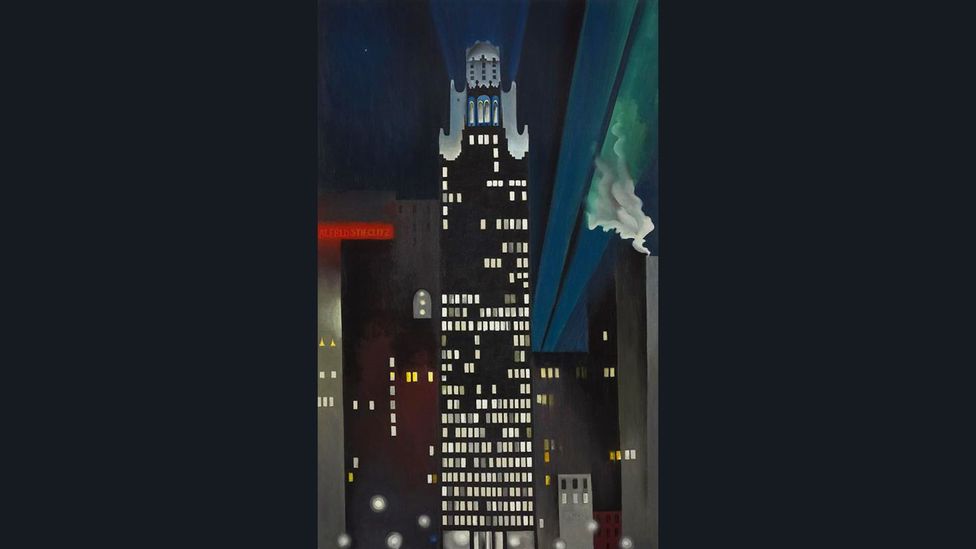 O'Keeffe's Radiator Building – Night, New York, 1927 is an homage to the city (Credit: Alfred Stieglitz Collection/ Fisk University/ Crystal Bridges Museum of American Art)
The following year she drew inspiration from her new home in the Shelton with Sunspots (1926).  She seems to glory in the building's majestic height, the glare of the sun making its upper storeys glow like a deity while undulating billows of smoke and steam rise in adoration at its side.
Although not evident in O'Keeffe's pared-down abstract composition, the Shelton's sculptured façade adorned with Romanesque ornament would have a major impact on the aesthetic development of the skyscraper. Later architects would wed the sculpturing with Art Deco motifs to create some of the most iconic skyscrapers of the 1920s and '30s.
Her most striking depiction of New York's rapidly changing skyline is undoubtedly Radiator Building – Night, New York (1927), painted only three years after the building's completion. The low viewpoint and central placement of the structure generates a sense of awe which is heightened by the spotlights that shine above it and to its side. O'Keeffe has playfully included Stieglitz's name in neon lights, then a relatively new technology that adds to the sense of New York's modernity, atop the building to the left.
However, in 1929, the appeal of the skyscrapers for O'Keeffe began to wane, in part due to  the Wall Street Crash, and she left New York. It must have been difficult to maintain enthusiasm for such extravagant structures when all around people were destitute.
The show must go on
While skyscrapers may embody the soaring ambitions of New York's business world, its showbusiness side has always been epitomised by Broadway. And the disaster which influenced O'Keeffe's departure ended up providing the backdrop for one of the greatest backstage musical films of all time, 42nd Street. 
In the film, having been left broke by the crash, director Julian Marsh agrees to direct a new musical, Pretty Lady, in the hope that it will reinvigorate his finances. But when leading lady Dorothy Brock breaks her ankle the night before opening it seems all is lost, until naive newcomer Peggy Sawyer, played by Ruby Keeler, is given her big break – and saves the show.
The classic tale of a small-town girl coming to New York to make it big is given added bite by the film's Depression-era setting
It is of course a classic tale of a small-town girl coming to New York to make it big, but it is given added bite by its Depression-era setting. Everyone needs this to be a success. Even Dorothy is forced to succumb to the attentions of the portly, ageing businessman Abner Dillon in order to secure financing for the show and therefore her own position. And it is clear that the chorus girls, including Ann 'Anytime Annie' Lowell, will do anything to win a part.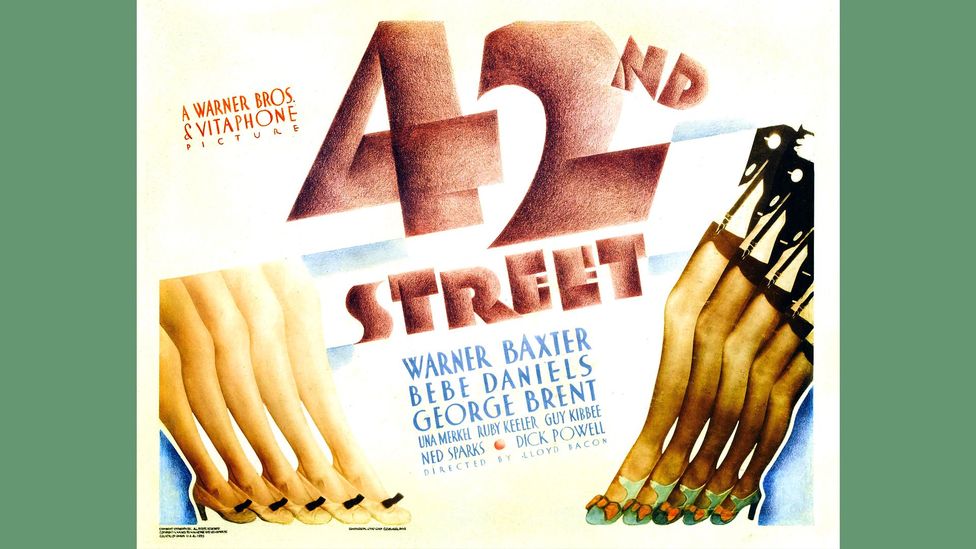 The archetypal story of a small-town girl making it big in the city is told in the exuberant musical film 42nd Street (Credit: Alamy)
Lowell is played by Ginger Rogers in her first successful supporting film role. Rogers herself had headed to New York from Kansas and had succeeded in making it big on Broadway, before landing a contract with Paramount.
What we now know as Broadway really came to into its own in the early 20th Century when theatres moved uptown from 14th Street to Times Square where Broadway crosses 42nd street.
Although many shows were trivial, unrealistic operettas and light musical entertainments, the legendary producer Florenz Ziegfeld raised the bar with his Follies, the first of whose annual performances was at the Liberty Theatre in 1907. He transformed chorus girls from static figures in stockings suitable for male-only audiences into rational, clockwork-perfect lines that seemed designed to enhance the economic drive of the businessmen who sat before them with their wives.
The chorus lines distilled in dance the excitement of the modern metropolis, which proved such a draw to all those seeking to find fame and fortune
Their kaleidoscopic forms distilled in dance the excitement of the modern metropolis which proved such a draw to all those seeking to find fame and fortune.  A fact which was perfectly highlighted in the opening number to the 1915 Follies, The Girl From My Home Town, in which girls from all over the US converge on New York.
Ziegfeld understood the dream of Broadway was so strong that in 1920 he created an entire extravaganza out of the idea. The eponymous Sally is an impoverished orphan who rises through the chorus to find fame, wealth and love. The show must have had an influence on the film 42nd Street. As, sadly, did Ziegfeld himself who lost most of his fortune in the Wall Street Crash and died in Hollywood in 1932, 1 million dollars in debt.
With an example like that, no wonder Marsh will go to any lengths to succeed. When he discovers that Dorothy is seeing an old beau, Pat Denning, which he knows will infuriate Abner and jeopardise funding for the show, he has a gangster friend of his rough Denning up and tell him to leave town.
Connections between the New York theatre world and mobsters were not a figment of the screenwriter's imagination. The misleadingly naive-looking Ruby Keeler, who began her career in New York's speakeasies, had to be enticed away from her gangster protector, Johnny 'Irish' Costello, by her future husband Al Jolson, star of the first talking picture, The Jazz Singer.
Marsh, is of course, thwarted when Dorothy has her accident. Having reluctantly been persuaded to give Peggy her big chance he relentlessly rehearses her, before uttering the immortal line "You're going out a youngster, but you've got to come back a star."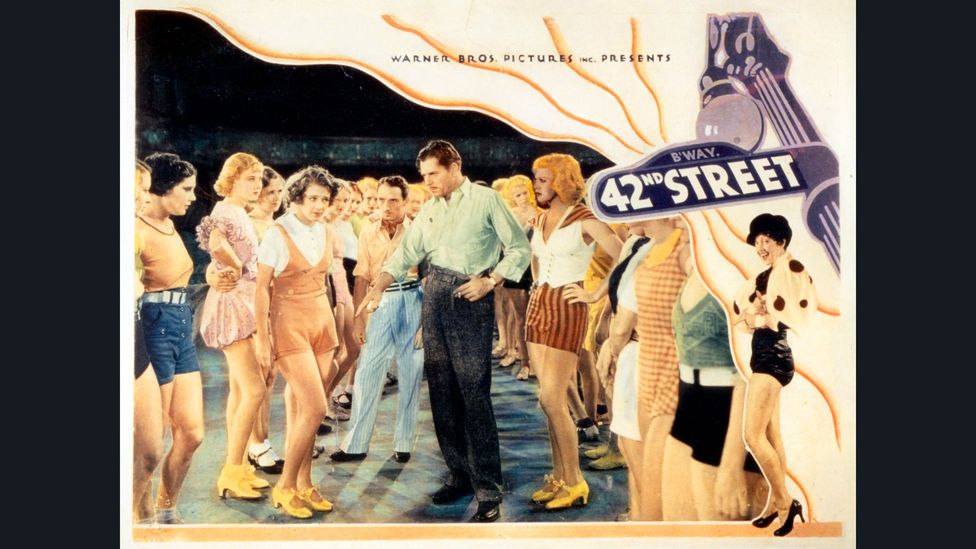 In the 1933 film the naive newcomer Peggy Sawyer is given a big break by the director (Credit: Getty Images)
There follows an exuberant series of dance numbers choreographed by Busby Berkeley which leave the audience in no doubt that she will do just that. The spectacular finale of the film's title song climaxes with the chorus turning their backs on to which placards are fixed in order to form an animated version of the New York skyline. When they part in the middle, a prone image of the Empire State Building is revealed, on which Peggy and her co-star sit atop waving.
The image of Peggy conquering New York is in truth wish fulfilment, as the show opens out of town in Philadelphia. But in 1980 the film 42nd Street was turned into a phenomenally successful stage musical which could almost have been designed to fulfil the film's myth. Peggy Sawyer makes it big on Broadway at last.
Renaissance woman
While many saw New York as the place to find wealth or fame, others saw it simply as a place to find a like-minded community. Emma Lou Morgan, the dark-skinned heroine of Wallace Thurman's 1929 novel The Blacker the Berry, grows up with the prejudice of the largely white community of her hometown but also that of her lighter-skinned family and friends.  She heads to the Harlem of the 1920s simply hoping to find acceptance.
'The Great Migration', which began during World War One, saw thousands of African-Americans travelling north to escape the Jim Crow laws and poor economic conditions of the Southern States. Many ended up in New York's Harlem neighbourhood, and by the 1920s two thirds of the city's black community were living there.
"Where else could one see so many types of Negroes? Where else could one view such a heterogeneous ensemble of mellow colours, glorified by the night?" muses Emma Lou dreamily.
But even in Harlem, Emma Lou is subject to prejudice within her own community. She is humiliated when she is turned down for a job because of her colour, and mocked on the street by a group of men who loudly declare that they 'don't haul no coal'.
The novel partly mirrors Thurman's own experience. He too was a dark-skinned westerner. Born in Salt Lake City, he was the only black student in school. But Thurman knew discrimination affected black women to a far greater extent, and for him New York was "heaven compared to the rest of the country".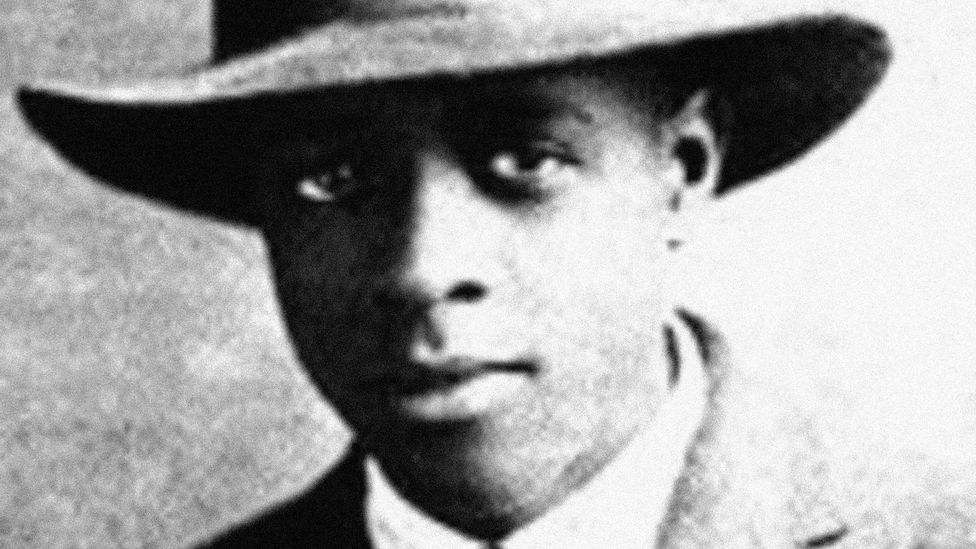 The author Wallace Thurman was a key member of the Harlem Renaissance (Credit: Alamy)
Having moved to Harlem in the 1920s, he soon became a leading and legendary figure in what was to be known as the Harlem Renaissance, an era of cultural, social and artistic expression that sought to push against racist stereotypes. Thurman's crowd, who gathered at the home he shared with his friend, the queer writer and artist Richard Bruce Nugent, were defiantly bohemian. They flirted with avant-garde aesthetic forms and sexually dissident lifestyles which were at odds with the social and political concerns of the early Harlem Renaissance.  
The transformational allure of Harlem fascinated Wallace Thurman – he saw it as an area of revolutionary social and personal possibilities
In 1926 Thurman founded the journal Fire! with other leading members of the movement, including Langston Hughes, Zora Neale Hurston and Aaron Douglas, who would later design a memorable jazz-infused cover for The Blacker the Berry. Fire! was a bold, innovative publication that encouraged the work of younger artists, but was disliked by the black middle classes for its candid portrayals of black life.
Thurman never shied away from the reality of black experience, and while The Blacker the Berry was one of the most widely read works of the Harlem Renaissance it was also one of the most controversial, being the first novel to openly address prejudice among black Americans.
He was equally critical of the white obsession with black Harlem, which saw numerous clubs and cabarets, generally owned by whites, offering exoticised portrayals of black life to pander to white clientele.
In the novel, the college-educated Emma Lou, unable to find what she terms "congenial" work, ends up taking a job as maid to the white actress Arline Strange, who nightly darkens her skin to play a 'mulatto Carmen', in an alleged drama of Harlem nightlife. Emma Lou is persuaded to accompany Arline and her brother to a cabaret, as they assume she knows the 'real' Harlem.
The club they attend is is as stereotypical as Arline's performance.. Once again, Emma Lou's dark skin makes her stand out although the lighter skinned Alva takes pity on her and dances with her.
The novel's great tragedy is that Emma Lou, having absorbed her family's values, is guilty of the same discrimination that she is victim to. As a result, she falls deeply for Alva, in reality a huckster who blatantly exploits her and takes her money.
Alva does, however, introduce her to the raucous world of Harlem rent parties, or house parties.  These evenings, which were defined by illegal liquor (this being the era of Prohibition), music and dancing, literally paid the host's rent via a small entrance fee, and were a world away from the sanitised clubs frequented by white people.
For many people New York was, quite literally, the gateway to the New World
Emma Lou eventually loses patience with Alva, and finds acceptance among a new group of 'respectable' friends, including the light-brown-skinned Gwendolyn, who in a misguided attempt to show her support constantly puts down lighter skinned people. Gwendolyn fails to appreciate how much Emma Lou hates her own colouring, and longs for the paler tones she criticises. Much to her new friend's disgust Emma Lou returns to Alva.
Thurman presents Emma Lou's troubles as the result of her own self-hatred. It is only when she finally understands that until she learns to accept herself, nobody else can either, and acknowledge that she herself has been discriminatory, that she is able to find the strength to leave Alva for good, and start anew.
The transformational allure of Harlem fascinated Thurman. He saw it as an area of considerable, even revolutionary social and personal possibilities. And while Emma Lou's future journey will no doubt not be easy, by the novel's end she has advanced from white actress's maid to a qualified teacher.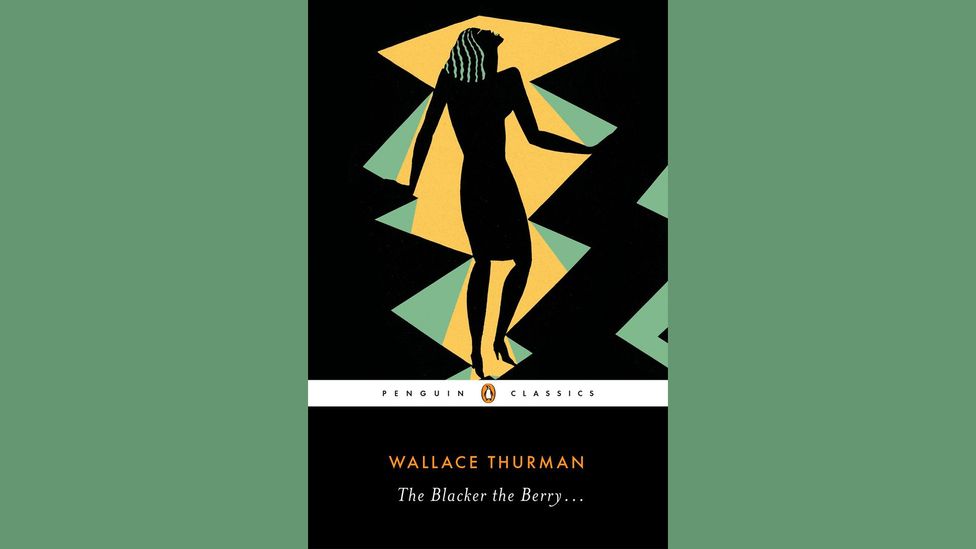 Thurman's classic novel The Blacker the Berry is set in Harlem, and still resonates today (Credit: Penguin)
The novel was lauded by Thurman's peers, including Langston Hughes, and its lasting impact is evidenced by the fact that more recently it gave its name to a song by the Pulitzer Prize-winning rapper Kendrick Lamar. Lamar's lyrics are defiantly full of pride.
Although these three works are very different in format and character, they all have one thing in common. They were created by, or have as their main character, non-native New Yorkers. O'Keeffe was born in Sun Prairie, Wisconsin and grew up in Williamsburg, Virginia; Peggy Sawyer travels from Pennsylvania for the chance for her big break; Thurman was born in Salt Lake City, Utah, and Emma Lou hails from Boise, Idaho.
For many people New York was, quite literally, the gateway to the New World, and the city's unique identity has been formed by the generations of immigrants who have flowed through, or settled in, the city. And clearly even for Americans from other parts of the US, it has always represented a new world, a place where one comes to start afresh, create a new identity, and, perhaps, achieve success. Above all, it seems, New York's culture is testament to the reinvigorating effects of a diverse, multi-cultural population.
If you would like to comment on this story or anything else you have seen on BBC Culture, head over to our Facebook page or message us on Twitter.
And if you liked this story, sign up for the weekly bbc.com features newsletter, called The Essential List. A handpicked selection of stories from BBC Future, Culture, Worklife and Travel, delivered to your inbox every Friday.