As a major same-sex rom-com is released – starring Ayushmann Khurrana – it seems that progress is being made. So how is the industry changing, and is it enough, asks Meher Mirza.
C
Change is afoot in Bollywood. Early this year, Indian screens were hit by trailers of the latest blockbuster, ripe with lavish costumes, songs and dances, and a love story. Matinee idol Ayushmann Khurrana stars in it. And yet, the new film Shubh Mangal Zyada Saavdhan (Be Extra Cautious of Marriage) is different – Khurrana plays a man in love with another man.
More like this:
-        Shah Rukh Kahn: 'Bollywood is here to stay'
-        Leila: The Indian Handmaid's Tale
Meanwhile writer and director Faraz Arif Ansari's latest film, Sheer Qorma, although not a big-ticket film release, stars Bollywood actors Shabana Azmi, Swara Bhaskar and Divya Dutta in a gentle, Muslim, same-sex love story. Other recent releases include Ek Ladki ko Dekha And Aligarh (The Way I Felt When I Saw Her), a lesbian love story, and Aligarth, a nuanced, sensitive film about a gay professor propelled into a horrifying university investigation. Is Bollywood's traditional approach to relationships gently fraying?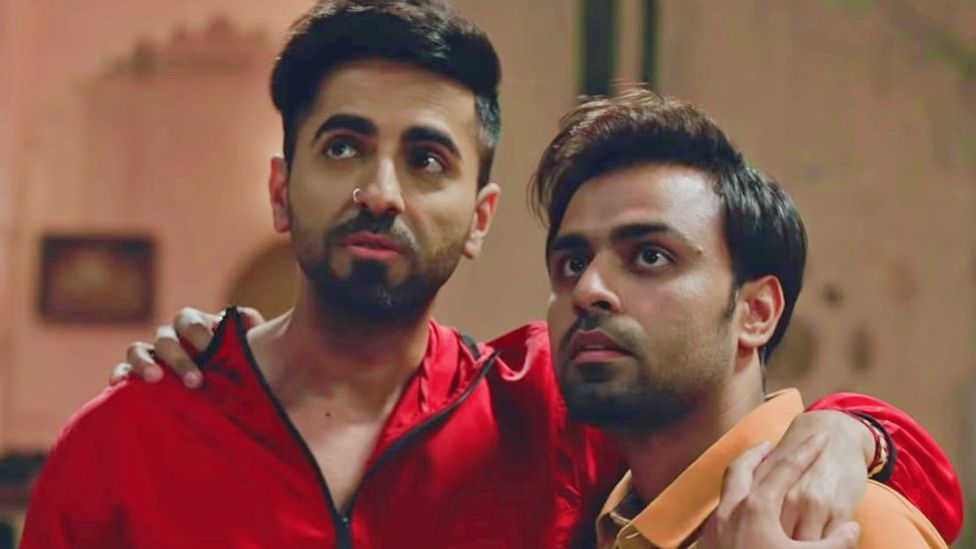 Bollywood star Ayushmann Khurrana stars in a new rom com about a man who falls in love with another man
Anna M M Vetticad, film critic and author of The Adventures of an Intrepid Film Critic, tells BBC Culture: "From historically, routinely using LGBT+ characters as targets of contempt or sources of amusement, Bollywood has come to a stage when, although there are very few representations, those that we do get are usually less othered and less caricatured than in earlier times." She points to Onir's My Brother Nikhil (2005) and I Am (2011) as examples of films that have treated the subject sensitively.
"Dostana (2008) broke the mould in the comedy genre," she says. "It featured a conservative Indian mother, blessing her son's relationship with a man she thinks is his boyfriend. This was followed by the normalisation that came with the 2016 film Dishoom, in which a star as popular as Akshay Kumar had a cameo as a gangster, whose attraction for men is not treated as his defining characteristic. And last year's Ek Ladki Ko Dekha Toh Aisa Laga (How I Felt when I Saw that Girl) took the unprecedented step of featuring a glamorous female star, Sonam Kapoor Ahuja, as a lesbian."  
Parmesh Shahani is the author of upcoming book Queeristan as well as head of the Godrej India Culture Lab. Shahani finds something positive even in somewhat problematic movies like Dostana (Friendship), which was produced by Karan Johar, who identifies as queer. In it, the apparent queerness in the movie is finally revealed as a pretext for wooing a woman. Shahani says: "Dostana, at a text level, is obviously homophobic, and had a lot of issues. On the other hand, (the mother) Kirron Kher's journey was a masterful stroke; it was a fully fleshed-out narrative. Importantly, the film was used by the queer community to come out to our families –we did't have the language for it before that."
I'm still receiving emails from people about how this film has changed their life – Shelly Chopra Dhar
Rapid urbanisation, cheap mobile phones, mobile internet, and streaming services are helping to break down traditional barriers, not just in big cities but crucially also in smaller towns. Shelly Chopra Dhar, director of 2019's Ek Ladki ko Dekha Toh Aisa Laga (The Way I Felt When I Saw Her), touches on this, while acknowledging the tremendous impact her film had. "It has been a year but the film is still resonating with people," she tells BBC Culture. "The University of Virginia used this film as an example in their film class and the students spent a semester studying the nuances of this storytelling. I am still receiving emails from people about how this film has changed their life."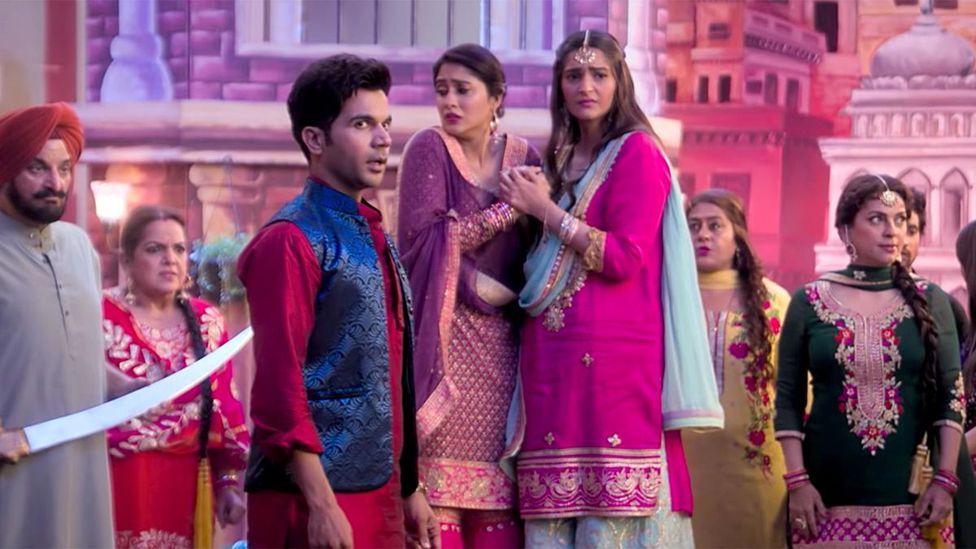 In the latest film directed by Shelly Chopra Dhar, the star Sonam Kapoor Ahuja plays a lesbian character
Still, questions remain. Is Bollywood telling the right stories? Whose stories are these? And who should be telling them? These questions have been asked before, but the repeal last year of Section 377, a colonial-era law that criminalised 'unnatural (homosexual) offences', has highlighted  these questions again. After all, one of Bollywood's most egregious flaws has been the near-erasure of queer people, except, with a few exceptions, as limp-wristed subjects of ridicule and mockery. And Dream Girl, the previous film starring Khurrana, was tinged with elements of homophobia. As author Shahani points out: "In Dream Girl, (his character) tells the lesbian character that she was rejected by three men, and that's why she has become lesbian."
For outsiders elbowing their way in, finding funding is almost impossible. Then there are more immediate physical dangers too. Director Ansari, who identifies as gender neutral, recounts a particularly harrowing tale. "I am a minority squared [Muslim and queer]," says Ansari. "When Sisak [Stifled Sob, Ansari's previous film about two gay men and India's first silent LGBTQ+ film] was released, I was on the front page of the Delhi Times. A man at Delhi airport must have seen the report and recognised me. He came over with a hot cup of coffee and splashed it straight onto my face, saying that people like me should be killed. And I remember going to the cops and reporting it, and they kept asking, 'but did he harm you? But nothing happened, right?'"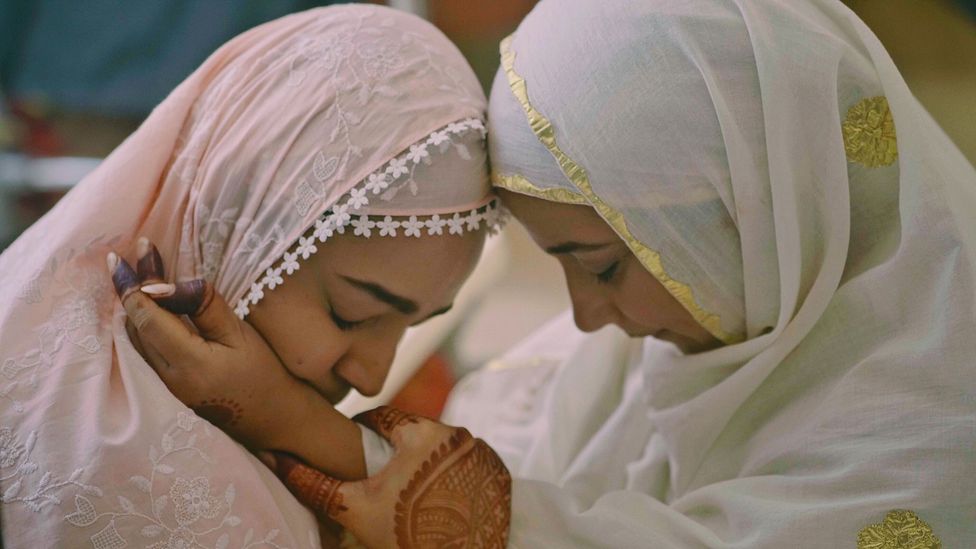 Faraz Arif Ansari's film Sheer Qorma is a gentle love story, and stars big Bollywood names
There is also a lack of representation of a variety of classes and castes. Sisak won 59 awards worldwide; Ansari points to his minority status as the reason for not winning a single award in India.
So what could jolt Bollywood out of its inertia? One way to help is by broadening LGBTQ+ representation within the industry. For instance, the screenplay of Ek Ladki Ko Dekha was scripted by Gazal Dhaliwal (she identifies as a trans woman). As a result, the movie is full of nuance. In Sheer Qorma, not only has Ansari cast a trans person as a cishet (cisgender and heterosexual) woman, but almost the entire cast and crew were women: "From my producer, to my editor, to my costume designer, to my production designer, to my line producer, to my associate director, to my assistant director." And Shahani points out that sometimes even the bare minimum, such as a one-day sensitivity consultation, may help lessen the stereotypes that still plague the film industry.
Ansari has gone even further. Frustrated by an inability to find a trans person to star in their upcoming film, and aghast at the squandered talent and antagonism levelled at them, Ansari held free acting workshops for trans people across the country.  
Beyond Bollywood
And progress is being made away from Bollywood, in other sectors of the Indian film industry. The film Naanu Avanalla... Avalu (I Am Not 'He', I Am 'She') was made in 2015, and is a Kannada production, a Dravidian language spoken in Southern India. Although it struggled to get a theatrical release, the film earned actor Sanchari Vijay a National Award for his performance as an individual who starts life as the boy Madesha, and later asserts a female identity as Vidya.
As the critic Vetticad puts it: "Lost in the disproportionate amount of media coverage given to Bollywood is the comparative progressiveness and initiative shown by India's other film industries in the matter of LGBT+ representation. Just last year in Super Deluxe, Vijay Sethupathi – a major star of Kollywood [the Tamil film industry] – played a trans woman who returns to a family abandoned years earlier. Mollywood [the Malayalam film industry, based in Kerala] produced Njan Marykkutty [I Am Marykkutty] in 2018, in which the popular star Jayasurya plays a trans woman coping with life after gender reassignment surgery." 
These films are significant because they are star-studded affairs designed as mainstream commercial projects, rather than niche ventures – Anna M M Vetticad
These films were significant, says Vetticad, because they were "star-studded affairs designed as mainstream commercial projects, rather than niche ventures, which is where you would traditionally find sensitivity in Indian cinema. The final frontier in LGBT+ representation, though, is when a film sector starts casting trans actors to play trans characters. Mollywood took that step with the comparatively low-profile Aabhaasam in 2018, in which trans artiste Sheetal Shyam had a prominent role. Such films are still not routine, but they do indicate an increased willingness on the part of these film industries to look beyond gender conformism."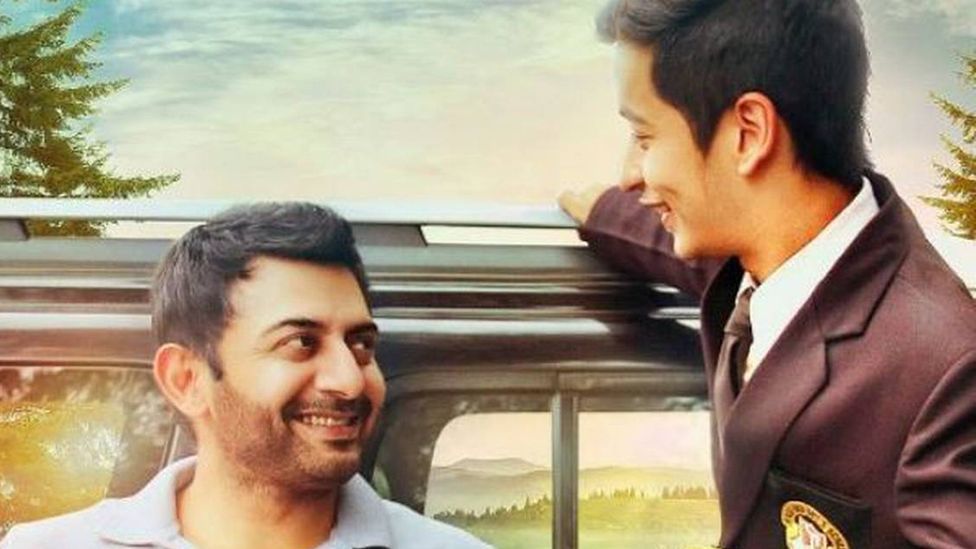 The film Dear Dad stars Arvind Swamy, and indicates the progress being made towards inclusivity

Author Parmesh Shahani agrees that there is progress being made. "Dear Dad [2016] was interesting," says Shahani, "in that Arvind Swamy plays a father who happens to be gay; it was a reversal of acceptance, since usually it is the other way round. Similarly, Super Deluxe is about a trans person whose child accepts her." Does he believe that Bollywood is finally changing its stripes? "Well," he says, "yes broadly, I am happy, but am I satisfied? No. As my friend [writer and public speaker] Mona Eltahawy says in the context of feminism, 'We're tired of crumbs. We want the whole cake!'"

Shubh Mangal Zyada Saavdhan is released in India and the UK on 21 February.

If you would like to comment on this story or anything else you have seen on BBC Culture, head over to our Facebook page or message us on Twitter.

And if you liked this story, sign up for the weekly bbc.com features newsletter, called The Essential List. A handpicked selection of stories from BBC Future, Culture, Worklife and Travel, delivered to your inbox every Friday.

;