The whimsical homes featured in the book Faded Glamour are full of personal mementos, unique art and quirky antiques. Lindsay Baker explores how opulent, eclectic interiors echo the stories of their occupants, and talks to the book's author, Pearl Lowe.
'Eclectic' is a word people often use to describe the home of British designer and stylist Pearl Lowe. "Even if they don't mean that as a wholehearted compliment, that's fine by me because I don't believe there should be any rules," says the designer. "Unless you want your house to look like a hotel. It's about the mix, the alchemy you create when you play around with styles. Yes, I want to live in an environment that is aesthetically beautiful and artistic, but where I live is also my home, and I want it to look and feel like that."
More like this:
-        The radical heroine of design
The designer's new book Faded Glamour is the quintessential guide to eclectic interiors, and features Lowe's own home, along with other stylish interiors full of character, among them the homes of fashion doyenne Alice Temperley and fine-jewellery designer Solange Azagury-Partridge. The one thing all the houses featured in the book share is that they feel full of character, and seem – in an effortless way – to echo the tastes and personal histories of their owners. They are all, as Lowe puts it, "houses with a story to tell beneath their patina."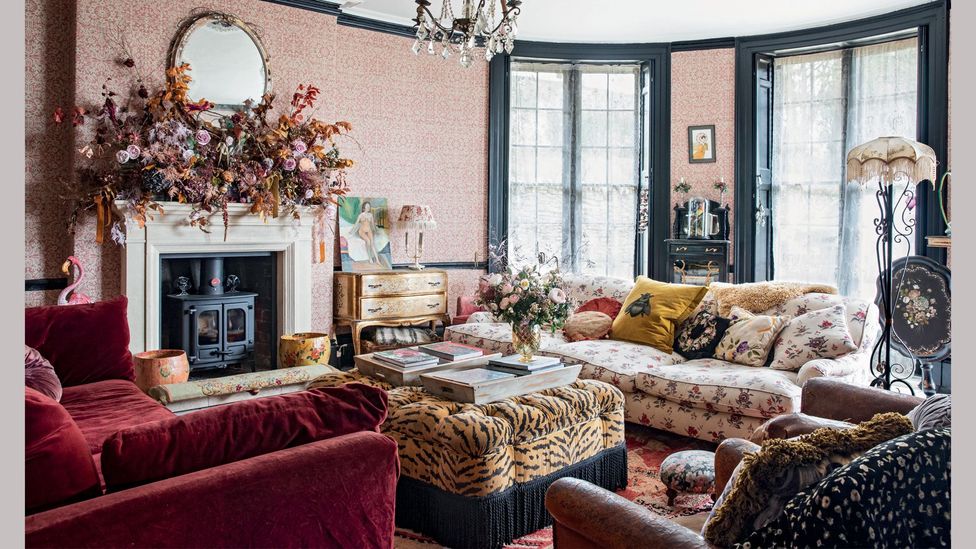 The drawing room of Pearl Lowe's Somerset home reflects her love of 'faded glamour'
The aesthetic in Faded Glamour is a million miles from the pristine, pared-back world envisaged by Marie Kondo in her popular book The Life-Changing Magic of Tidying Up – and its accompanying Netflix series. In contrast, the homes in Lowe's book are anything but minimalist – yet nor are they quite 'maximalist' either. So how would Lowe define 'faded glamour'? "I'd say it's a gloriously decadent yet well lived-in decorating style. I think of rooms that are elegant yet whimsical at the same time."
In these homes, antiques that are "slightly battered over the decades" are playfully set alongside contemporary pieces or a colourful flea-market find. "It's the point where 18th-Century mahogany wood meets 1950s plastic retro; where chintz sits alongside animal print and sultry velvets; Rococo suddenly goes a little rock 'n' roll; and a freestanding Anglepoise lamp sets it all alight. It is about rooms that are opulent and grand, yet loved and lived-in."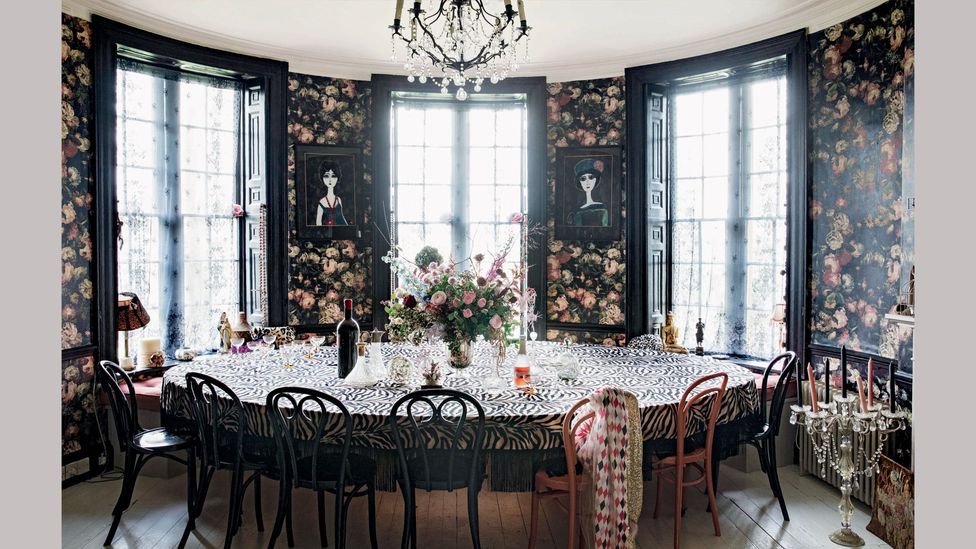 With its dark woodwork and wallpaper, Lowe's dining room has a romantic but edgy feel
The décor of Lowe's own family home – a Georgian house of warm-yellow Bath stone in Somerset, in the west of England – embodies this aesthetic perfectly. The home is also very much a reflection of Lowe's clothing design. "I use a lot of florals in both my interiors and fashion lines," she tells BBC Designed. "If I see antique furniture with painted flowers on it, I usually buy it. I'm the same with floral fabrics."
Lowe's drawing room has a sense of country-house grandeur about it, but is also relaxed in mood. Vast sofas, leather club chairs and a large Ottoman lend a laid-back feel, with some Rococo furniture and vintage mirrors adding a touch of flounce and elegance. The woodwork in the dining room, meanwhile, is painted black, with dark floral wallpaper. There are rock 'n' roll touches throughout the house, too, with contemporary artworks and animal-print textiles – including tiger and zebra – which makes sense, since Lowe's husband Danny Goffey is a musician in the British band Supergrass. There's certainly a bohemian feel about the house, or "hippy with an edge," as Lowe phrases it.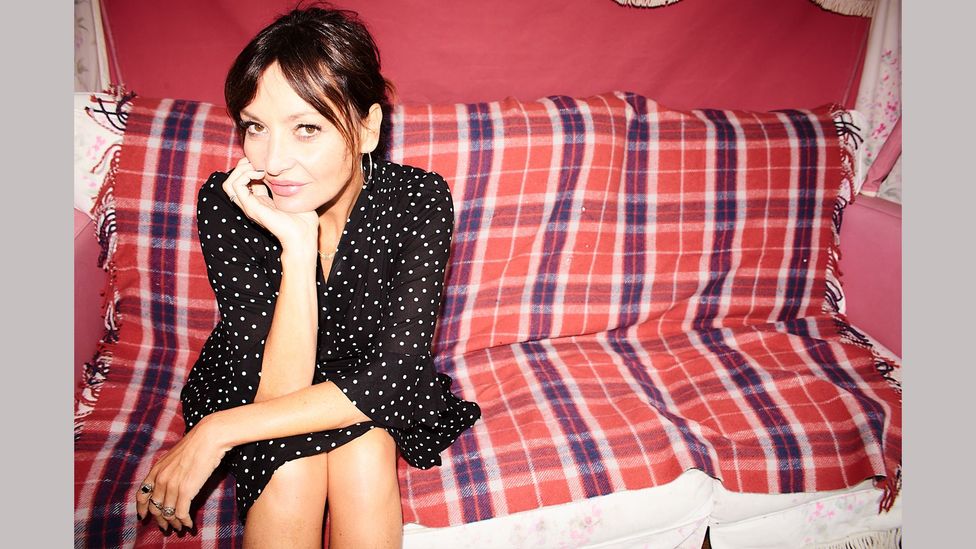 Pearl Lowe is a British designer and stylist, and author of the book Faded Glamour
Lowe's passion for the 1920s is evident in her personal style and her dress designs, as well as her home – among her style heroes is photographer and designer Cecil Beaton. "I love feathers, velvet fan sofas, Venetian mirrors, Art Deco furniture – I used to keep rooms white with white floorboards and then add colour using colourful curtains and furniture. But over the years, I have wanted the rooms to be more lived in and cosy, so I have used wallpaper a lot more, and added Moroccan rugs and throws."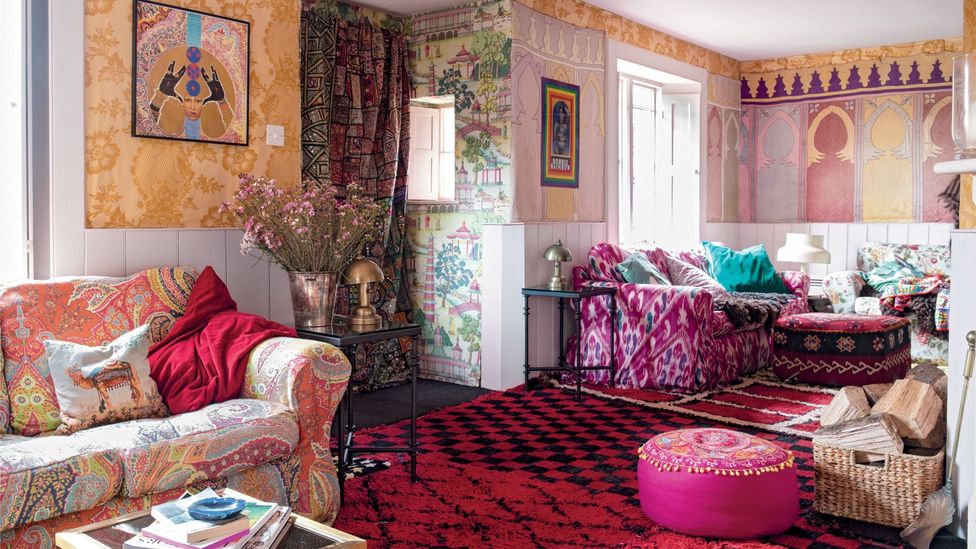 The home of jewellery designer Solange Azagury-Partridge is, like her work, full of vibrant colour
Also featured in the book is the home of acclaimed jewellery designer Solange Azagury-Partridge – whose jewellery is displayed at London's V&A and the Musée des Arts Décoratifs in Paris. And much like Azagury-Partrdige's jewellery designs, the house is full of rich, vibrant colour. There are sumptuous textiles and bold prints everywhere, alongside a Moroccan wall hanging paired with traditional English chintz from Sanderson. The retro enamel lamp was a find at London's Portobello Road market. There is a huge diversity of style, and a riot of colour.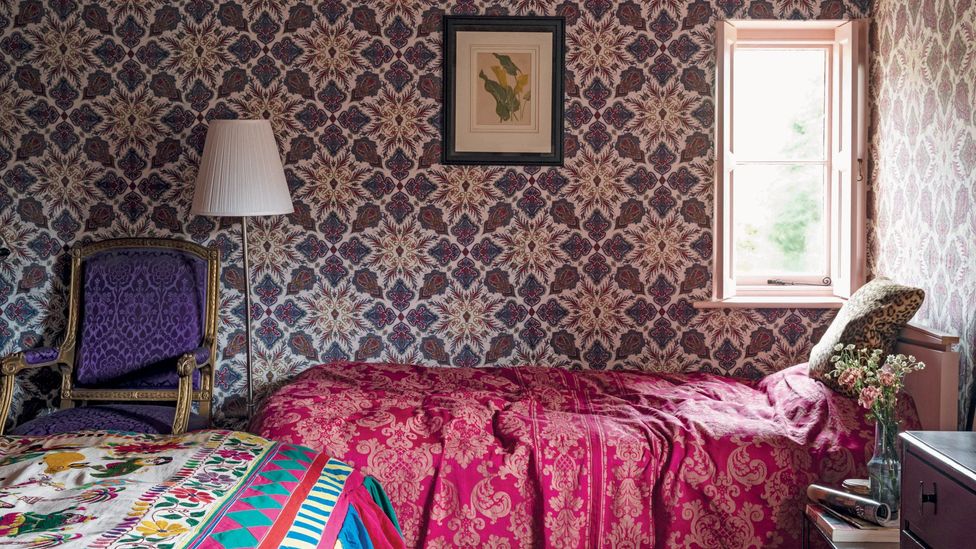 Sumptuous textiles and patterned wallpapers are in every room of the jewellery designer's house
"Some people throwing things together the way she has would fail miserably," says Lowe. "But Solange will do it so effortlessly, she will find a way to match it, so it goes perfectly. Her sofas are all exactly the same, bought from Ikea. She has cleverly reupholstered them in silk florals that she has bought on her travels or on eBay." Fabrics from William Morris and Liberty are featured throughout the house, and in the bedrooms contrasting textiles and wallpaper make for a cosy feel.
It's a whimsical, enchanted world – this is a house you walk into and never want to leave – Pearl Lowe
The family home of British fashion designer Alice Temperley also has an eclectic, romantic look. In the eight-bedroom Regency mansion in Somerset, also featured in the Faded Glamour book, the décor playfully mixes the old with the new – fittingly, since the Temperley's womenswear designs combine modern with edgy, and are worn by figures as diverse as Beyoncé and the Duchess of Cambridge.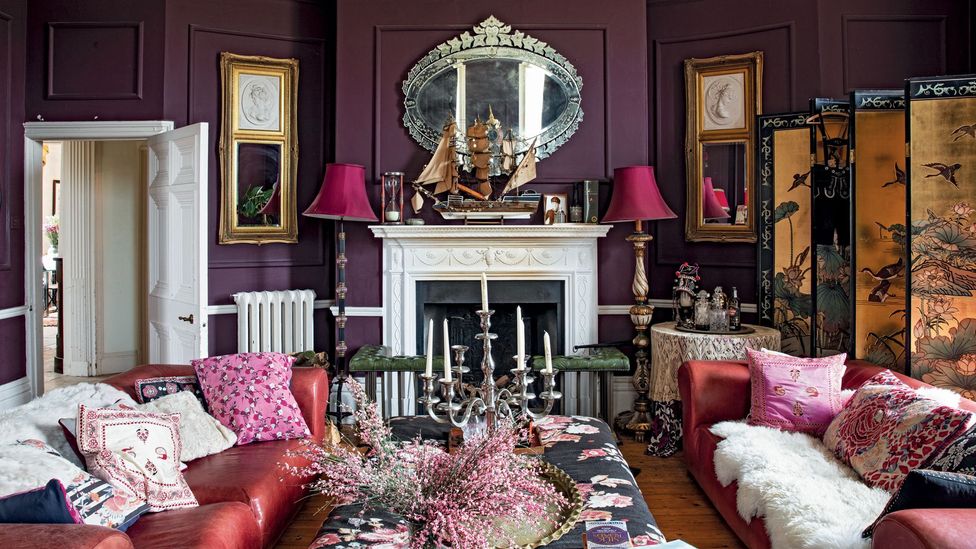 The living room of fashion designer Alice Temperley's home reflects her playful aesthetic
The look reflects Templerley's diverse tastes, and the family's passions and travels – the living room is painted in a contemporary aubergine shade, and the screen was purchased in Hong Kong, where the designer used to live. The model ship on the mantelpiece was a gift to her son. The dining room doubles as a studio, and adorning the wall is a mural by contemporary artist Frederick Wimsett. The pendant light was bought on a trip to Paris.
"It's a whimsical, enchanted world," is how Lowe describes Temperley's house. "It's palatial but at the same time, it's very much a home. You would feel equally at home arriving for lunch in your Wellington boots, or wafting into the dining room on a warm summer's evening in a sequinned dress, with a glass of something cold and sparkling in hand. This is a house you walk into and never want to leave."
Loved and lived-in
According to David Macdonald, a senior director and specialist at international auction house Sotheby's, it is the homes that resonate with the stories of their owners – echoing their lives, personalities and passions – which are the most memorable, and also the ones that result in the best sales. He should know. After all, he has visited many homes all over the world in his career, in order to appraise their contents for auction.
There's an eclecticism, a layering of objects, often over a number of generations – David Macdonald
"Sometimes you walk into a house, and you really feel it. Everything sings," Macdonald tells BBC Designed. The most captivating homes are the ones that are "deeply personal" he says. "It's the houses full of personal things, not trophies. The ones that work most are not necessarily intentionally put together – there's an eclecticism about them, they feel organic. There's a layering of objects, often over a number of generations."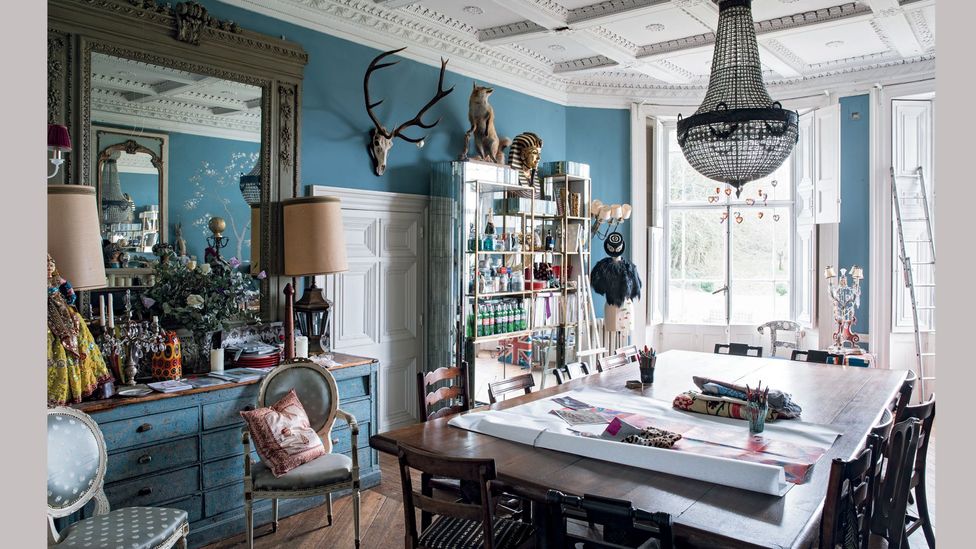 Temperley's dining room doubles as a studio, and is full of quirky finds
Designers' houses are often the most intriguing, he says. "Some of the greatest sales have been those of fashion designers," says Macdonald. "The homes where the feel of the place transcends fashion. Coco Chanel's house was completely reflective of her taste. The Yves Saint Laurent's sale in Paris was another, and the sale of Gianni Versace's collection. They're like giant mood boards."
The objects within the house are imbued with stories about who owned them – David Macdonald
One of Macdonad's most memorable houses is Spetchley Park, a Regency house in Worcestershire, England. Sotheby's put a treasure trove of 750 items from the house up for sale last year – surprising finds included an Egyptian mummified cat and the family harpsichord, both of which had been locked away for more than a century. "It's so rare to go into a house and make those sorts of discoveries, because more often than not people know what they've got. So going through the attic, catching a glimmer of gold from a harp. It was very special."
The attic of Spetchley Park turned out to be a treasure trove, full of surprising art, furniture and objects
The house was first owned in 1811 by Robert Berkeley, who decided to make it a temple to the Regency period. "Having seen wonderful antiquities of the ancient world on his travels, he wanted to do that for himself in a small corner of Worcestershire." For several generations the Berkeley family, who still live at Spetchley Park, collected rare and significant pieces not only from the UK but also from their travels across Europe, North America and India. "It's great because it's a repository of wonderful things, and those objects within the house are imbued with stories about who owned them, why they were bought, the travels the family made, their interests and their passions."
During World War Two, the estate was requisitioned by the Royal Air Force and used as a convalescent home for its pilots wounded in war. In preparation for this, much of the house's eclectic contents had been packed up and put away in the cellar and attic for safe-keeping, and to make room. Many of the objects remained there for decades to come, and as a result were beautifully preserved, away from daylight, air and general wear and tear.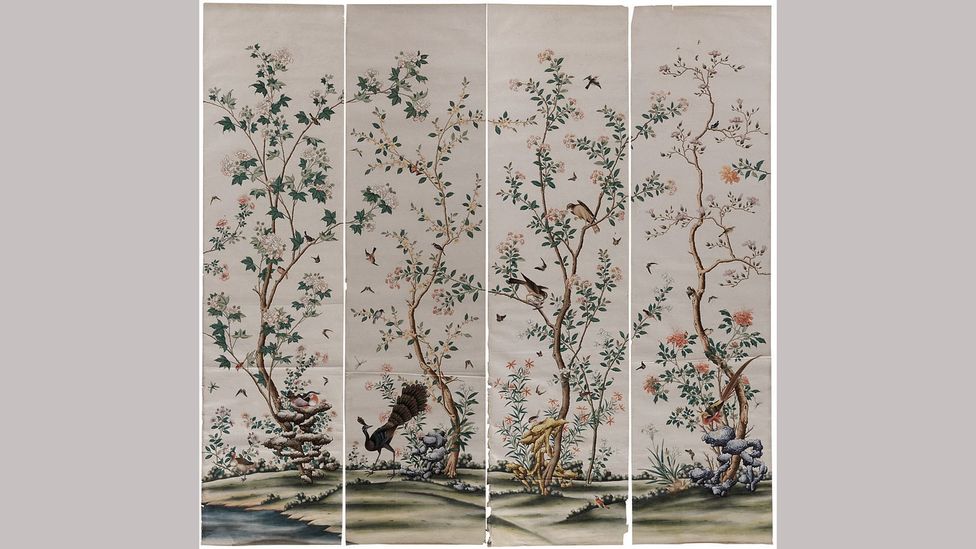 Perfectly preserved Chinese exported wallpaper was found in the attic at Spetchley, reflecting previous generations' tastes and passions
The furniture, artworks and objects found made up a truly fascinating mix. Along with the mummified cat, there were trunks full of rich silks and embroidered textiles, a full suit of armour from 1540, a charm-stone pendant from the 7th or 8th Century, and a 15th-Century ring.  There was also an Edwardian silver mechanical table bell in the shape of a pig, and some "exquisite" scrolls of Chinese exported wallpaper, dating from around 1710-1810. "The colours were completely preserved," says Macdonald. "The very nature of a sale like this, the fact that there are so many different things… it was a cavalcade of wonder."
There is something about a home that has been loved and lived in that makes it compelling, says Macdonald, pointing to an upcoming sale of the collection of the late Patrick Kelly. The owner lovingly restored his Georgian townhouse in Dublin, filled it with Georgian and Regency furniture and an array of stunning Irish art dating from the 18th to the 20th Century. "Truly exciting," he says.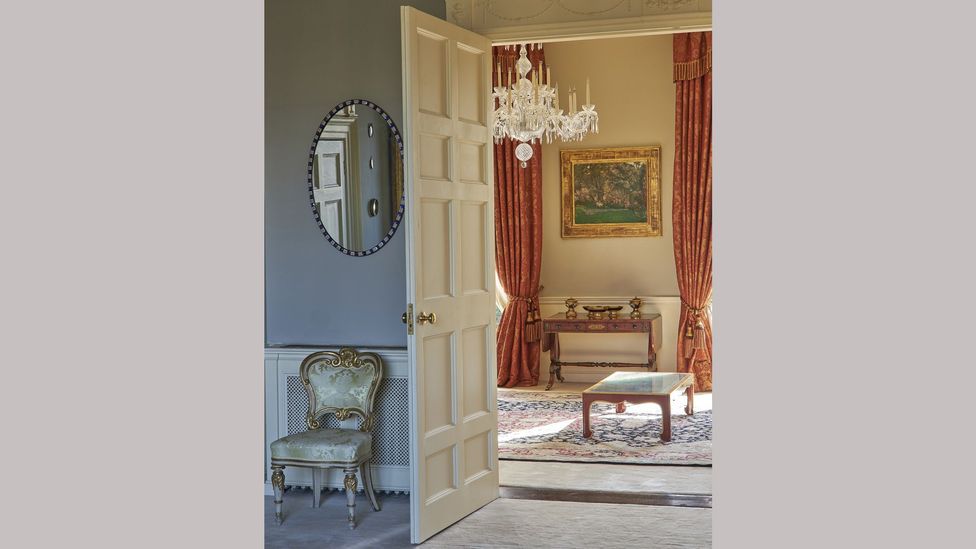 The Dublin home of the late Patrick Kelly is full of 20th-Century art, alongside Regency furniture
The home of Stanley J Seeger was similarly intriguing for Macdonald. The art collector Seeger acquired Sutton Place, Surrey, formerly owned by J Paul Getty, in 1980. The house was full of quirky, diverse treasures, ranging from a four-poster Tibetan bed to the Francis Bacon triptych, Study of the Human Body, which Seeger and his partner hung in the great hall of the grade one Tudor mansion – at the time causing a few raised eyebrows. The pair's audacity, and the confidence in their unconventional aesthetic, made for an extraordinary home. "These were high-value works, but they were more than that," says Macdonald.
Seeger assembled art works and miscellaneous objects that interested him, then dispensed with them when he felt the collection was complete, and started again. He sold all of his 88 Picasso works in 1993. Then in 2001, in another clear out, he sold his Bacon triptych Study of the Human Body, along with many other masterpieces by Jasper Johns, Joan Miro and more Picassos. In another auction, titled One Thousand Ways of Seeing, the range was even more diverse, including a shooting script for Citizen Kane that belonged to Orson Welles, Winston Churchill's armchair, Rudolf Nureyev's coat-rack, a silver jug owned by Al Capone, and a small teapot that had belonged to Lord Nelson.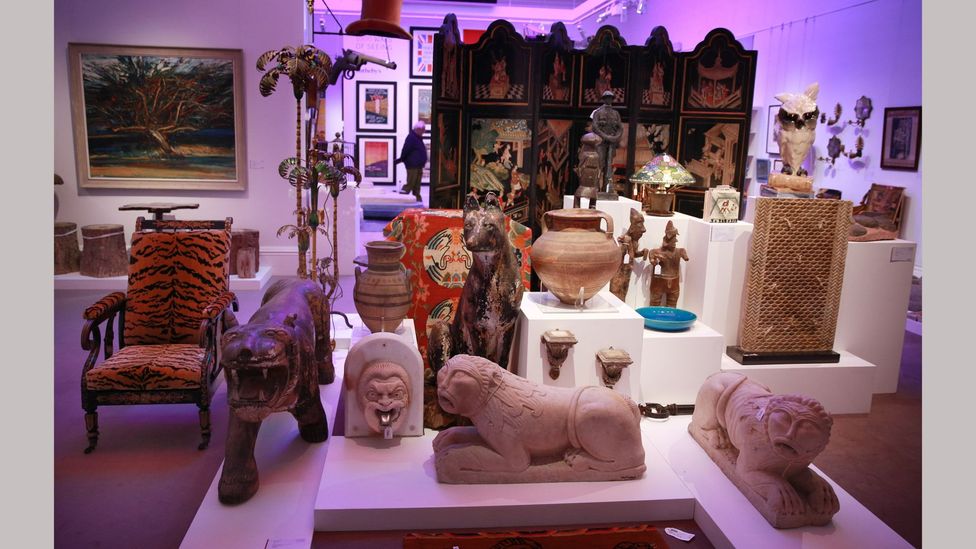 Items from the collection of Stanley J Seeger were auctioned by Sotheby's
And let's not forget the deeply personal and eclectic Chatsworth House in Derbyshire, which has housed 16 generations of one family. The objects collected by each generation were always – at the time they were added to the home – deemed contemporary. "It was constantly changing," Macdonald explains. Hence the eclectic mix, from precious minerals and stuffed animals to art objects; when they were acquired these objects were on the cutting edge of modern fashion. "It has the most layering of any home I've seen. It feels like an organic thing."
Faded Glamour by Pearl Lowe is published by CICO Books
If you would like to comment on this story or anything else you have seen on BBC Culture, head over to our Facebook page or message us on Twitter.
And if you liked this story, sign up for the weekly bbc.com features newsletter, called The Essential List. A handpicked selection of stories from BBC Future, Culture, Worklife and Travel, delivered to your inbox every Friday.