From Sudan to Iran to Saudi Arabia, directors continue to battle repressive regimes to make and exhibit cinema – and flourish in spite of the obstacles, writes Kaleem Aftab.
I
In 1989 the blooming cinema industry in Sudan came crashing down like the Berlin Wall. On 1 July of that year, a coup saw Omar al-Bashir take power, and until he was deposed in 2019, he pursued a hardline Islamist agenda. Cinema suffered. Support for the production of Sudanese films collapsed, and government-owned cinemas were sold off. Operating cinemas became an unprofitable business, with draconian censorship laws, high taxes and import customs. Sudanese filmmakers were arrested, jailed and tortured, seen as liberal threats to the new government and asked to denounce each other; many of them went into exile. The Sudanese film industry was dead. Or was it?
More like this:
-       Parasite's groundbreaking Oscars win
-       Is the all-white period drama dead?
-       The mystery of the men who disappeared
The delightful documentary, Talking About Trees, details the extraordinary efforts made to keep cinema alive in Sudan. Sudanese documentarian Suhaib Gasmelbari focuses on a group of the country's unsupported filmmakers, Ibrahim Shaddad, Suleiman Mohamed Ibrahim, Altayeb Mahdi, and Manar Al-Hilo Hana, who, though they found it impossible to make films, decided to set up the Sudanese Film Group (The SFG) to exhibit them instead.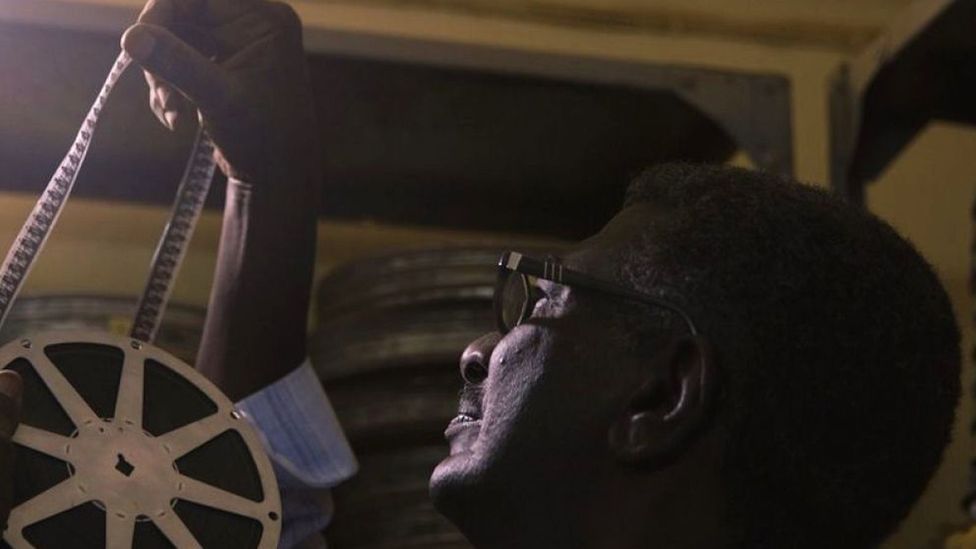 Talking about Trees focuses on the efforts of four embattled Sudanese filmmakers to open a full-blown cinema in the country (Credit: New Wave Films)
Founded in 1989, the SFG put on screenings in makeshift cinemas, projecting onto walls if they had to, of films beyond the standard 'acceptable' Hollywood and Bollywood fare. Talking About Trees concentrates on their 2018 efforts to open a full-blown cinema to be a regular home for Sudanese cinephiles. They even conducted a poll on what to screen first, with Quentin Tarantino's Django Unchained coming top – but before the lights can go on, they have to deal with bureaucratic hurdles, financial barriers and the call to prayer. 
Rebels with a cinematic cause
The four ageing filmmakers have a strong bond. They made celebrated political movies influenced by Soviet montage and the French New Wave. Ibrahim, the leader of the SFG, studied at the VGIK Institute of Cinematography in Moscow from 1973–79 at a time when the school was a world-renowned incubator for African and Middle East filmmakers. During the reign of al-Bashir, they found that funding for films stopped, while the official Sudanese Film Commission closed in 1995. The regime didn't ban filmmaking outright, but just made it incredibly difficult to get permits, and asked to read all scripts.
First-time director Gasmelbari captures the men talking about their experiences. They discuss their persecution, torture and, for some, exile. Shadad went to Egypt, while Ibrahim stayed in Sudan, trying to make a stand. The filmmakers read letters that they wrote to each other in the 90s. Ibrahim recalls being called in for questioning, slapped if he didn't answer and put into a stinking jail for refusing to denounce his contemporaries.
This trip to a village not far from Khartoum granted me one of the most important existential lessons about resistance and determination – Suhaib Gasmelbari
Director Gasmelbari was at one of the Sudan Film Group's screenings when he decided to make Talking About Trees. "I felt like this trip to a village not far from Khartoum granted me one of the most important existential lessons about resistance and determination."
Shooting the film before the fall of al-Bashir in April 2019, Gasmelbari had to be clandestine. But his efforts were certainly worth it: Talking About Trees played at last year's Berlin Film Festival in the Panorama sidebar, where it won the best documentary award, and has since played many festivals and won many further awards – a fantastic achievement for a Sudanese film.
In fact, against the odds, Sudanese cinema as a whole is having a bit of a moment. Another new release is the documentary Khartoum Offside, by director Marwa Zein, born to Sudanese parents in Saudi Arabia, about  a group of Sudanese women determined to play professional football despite it being illegal for women to do so. Khartoum Offside begins with the text: 'Under the current political Islamic military rule, women are not allowed to play football in Sudan – and we are not allowed to make films – but…'
The documentary took four years to make, and during that time Zein was stopped multiple times. No violence was inflicted on her, except verbal threats to ruin the camera and material, but, she managed to persuade the authorities that she was not shooting news stories or trying to expose anything. The difficulties that come with making a film in Sudan would force her to take breaks in Cairo where she was living, while during this time she developed depression and her marriage ended. Yet she carried on: "What drove me was resistance, the pain that fear couldn't control my life. Even if I got depressed or sad or weak sometimes there was always this feeling that I would find a way."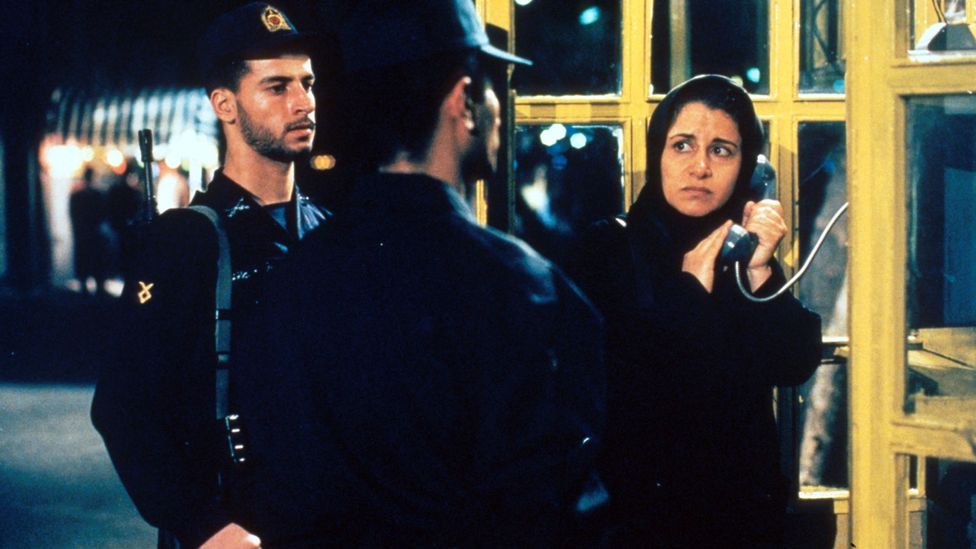 The Circle (2000) is among the many masterpieces to have emerged from Iranian cinema, despite the restrictions there (Credit: Alamy)
Meanwhile, at last year's Venice Film Festival, Sudanese filmmaker Amjad Abu Alala won the Lion of the Future award, given to the best debut film. His work You Will Die at Twenty tells the story of a 19-year-old boy living under the cloud of a religious prophecy that says he will die when he turns 20-year-old. The film is an allegory of life under the rule of al–Bashir, when logic and reason were trumped by indoctrination and blind faith.
Unlike his documentarian peers, Abu Alala, who secured European funding, had to employ actors and bring in equipment: the fiction simply couldn't be made under the radar with phone cameras et al. But while the production was able to secure permits to shoot the film, they then discovered that their equipment was being held in customs, awaiting official clearance. "At the last minute, we had to change our production schedule," says Alala. "All our lights were in customs so we couldn't shoot scenes inside. For one important moment, I waited for the full moon to be in the sky to shoot and have lights."
There were other problems. Sudanese banks cannot accept international transfers. The producers took to carrying money in bags on planes so that they could pay people for the film, which cost $700,000 (£536,455) to make. To make films under the watchful eye of a restrictive regime takes adaptability, guile, and lots of determination.
How censorship can lead to great art
But should the fact that these new films from Sudan are winning festival gongs come as a surprise? For cinematic history is littered with examples of filmmakers in repressive regimes overcoming obstacles to make bold, perceptive work.
Nowhere has the cunning of filmmakers been more apparent than in Iran. After the 1979 Islamic Revolution, a group of directors emerged, led by Abbas Kiarostami, Mohsen Makhmalbaf, Jafar Panahi and more recently Asghar Farhadi, who have gone on to make internationally-acclaimed masterpieces, winning prizes at all the major film festivals and even the Oscars. 
For a couple of decades in Iran, filmmakers felt forced to create a more poetic kind of cinema
Filmmaker, critic and programmer, Mark Cousins, has called Iranian cinema "one of the great artistic movements of our times." He has suggested the success is partly down, counter-intuitively, to the censorship in the country that followed the 1979 revolution, which saw the banning of two of the things most depicted in western cinema – sex and violence. Filmmakers also couldn't make work that overtly attacked the regime. Well, not directly anyway. What this meant, though, was that for a couple of decades, filmmakers felt forced to create a more poetic kind of cinema, without the standard thrills and featuring implied, rather than direct political criticisms. It proved a fruitful direction for these directors, and as the prizes came in, most seemed to be happy.
But inevitably, perhaps, this way of working hit a brick wall. The conditions for filmmaking became yet more restrictive at the time of the Iranian Green Movement, when following the disputed 2009 election, protestors demanded the removal of Mahmoud Ahmadinejad from office. Filmmakers such as Moshen Makhmalbaf and his daughter Samira went into exile. Another of his daughters Hana made documentary Green Days about the movement, while the acclaimed filmmaker Abolfazl Jalili stopped making films altogether. The showdown between the authorities and artists came to a head in 2010 with the detainment of Panahi, who was subsequently sentenced to a six-year jail term and a 20-year ban on making movies.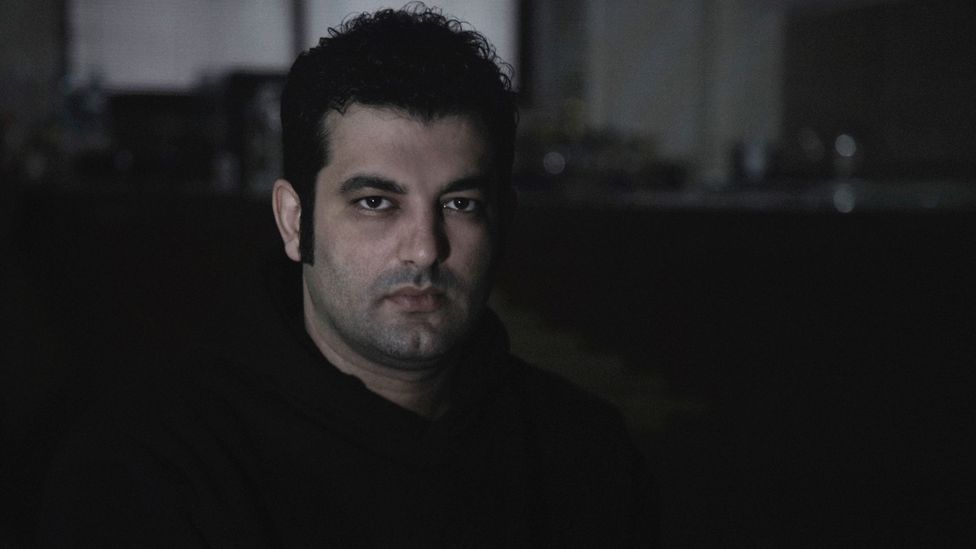 Director Hossein Rajabian is releasing his new film Creation Between Two Surfaces online as part of an effort to combat censorship (Credit: Hossein Rajabian)
Panahi has made a series of award-winning films, including 1997's The Mirror, which won the Golden Leopard at Locarno; 2000's The Circle, a Venice Film Festival Golden Lion; and 2006's Offside, which won Berlin's Silver Bear, about girls trying to watch an Iranian World Cup qualifier in the stands. After his imprisonment, Panahi became an international cause célèbre, with many film festivals leaving an honorary seat for him free at film screenings.
Incredibly, the filmmaker was undeterred. In 2011, he made a video diary on his phone while awaiting trial, ironically titled This is Not a Film: it was snuck out of Iran on a flash drive inside a cake, and played at the Cannes Film Festival. Now serving his sentence under house arrest, he continues to make films, including Taxi, which won the Golden Bear in Berlin in 2015, and most recently 3 Faces, which won Best Screenplay at Cannes. There is a Mexican stand-off between the Iranian government and Panahi and other directors such as Mohammad Rasoulof with international standing; they are not automatically given further punishment for making films, but they are certainly not helped to do so, and can be easily thrown behind bars again for filming what are deemed 'problematic' movies. (Rasoulof has a new film, There is No Evil,  in this month's Berlin Film Festival despite having been sentenced to a year in prison last July.)
A director undaunted
In 2013, Hossein Rajabian started making a film, The Upside-down Triangle, about women's divorce rights. "I was arrested, and the material for my first feature film was seized," says the director. "I was interrogated for more than 100 days in a dark solitary prison. Finally, I was released on bail until trial."
That hearing took place in 2016. "In a three-minute trial, I was sentenced to six years in prison. After serving three years in prison, I'm am now on bail. Unfortunately, I do not have citizen rights now."
I have been in prison for years, so I can't just give up filmmaking because I paid a heavy price for it – Hossein Rajabian
Upon release, Rajabian returned to doing what he knows best: he has now made a new film, Creation Between Two Surfaces, which will soon be released online. Rajabian says that with limited opportunity to screen or distribute films in Iran that aren't sanctioned by the government, he has to look at other ways to disseminate it as part of an effort to combat censorship.
Creation Between Two Surfaces is about a married couple who make money by signing up to psychological testing experiments. The husband, convinced that mental illness is a genetic disposition in his family, refuses to have children; indeed one of the conditions of him marrying his wife is that they don't. She has had two abortions, in any case, and is now not sure she can go through with a third.  It's a film about state control, mental trauma, and the impossibility of feeling freedom.
"It is a reflection of the life of the society I live in now," says Rajabian. "The despair of its people. The future is not only dark but also wholly unpredictable and ambiguous. The danger of war on the one hand, and the pressure of the international community with sanctions, on the other hand, has completely isolated Iran in the world, and it has exerted tremendous psychological pressure on the population."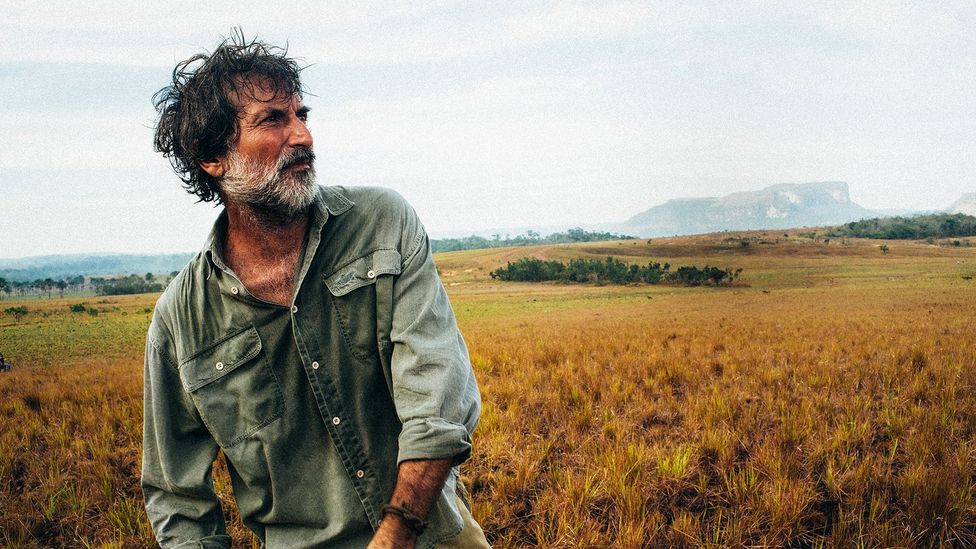 Last month saw the premiere of La Fortaleza, a rare film from Venezuela, where filmmakers are under pressure not to displease the government (Credit: Jorge Thielen–Armand)
Given all the trouble Rajabian has gone through, it may seem surprising that he still wants to make films. "I feel I can express myself with cinema and have something new to say about the freedom of art and the fight against censorship. I have been in prison for years, so I can't just give up filmmaking because I paid a heavy price for it. Cinema gives me the experience of unlived lives, untravelled travels and my imaginary world, and that is my biggest motivation for filmmaking."
A new age of filming undercover
New technologies, such as 4K cameras on phones and stills cameras, have also helped filmmakers such as Panahi and Rajabian, who are forced to make films clandestinely. Long gone are the days when making a movie to a sufficient quality for public screening required huge cameras and reels of film. Also, with everyone recording videos on their phone all the time these days, filming now looks like a deceptively ordinary, everyday activity. Consequently, it's harder for the authorities to control.
It's not just the Middle East where filmmakers face problems of course. Last month's Rotterdam International Film Festival saw the premiere of La Fortaleza, a rare film made in Venezuela, where the hard-left government of President Nicolás Maduro has been undermined by the opposition Juan Guaidó declaring himself the rightful president following the disputed election of 23 January 2019, though Maduro is still in power.
Directed by Jorge Thielen–Armand, La Fortaleza premiered at last month's International Film Festival Rotterdam. The drama briefly references the current crisis with an image of the late former President Hugo Chávez graffitied on a Caracas wall. While making a film is not banned, pressure is put on those that displease the government. "CNAC (National Center for 'autonomous' cinema) or the film board is supposed to be non-partisan," says Thielen–Armand. "But for a few years now they are outspokenly supporting the government. You can see that on their Twitter for example."
Many governments are becoming very sophisticated with using misinformation to keep their people unclear about the threats against their speaking their mind – Mo Scarpelli
Many of the crew working on La Fortaleza were scared of repercussions. "Making the film in Venezuela was a risk for everyone involved," says Amand. "So we kept things under the radar as much as possible. We had people from Conatel, that exercises the regulation, supervision and control over telecommunications in Venezuela, show up at the house of the producer asking questions. I'm not sure if it was genuine or a form of intimidation, but it was frightening nonetheless."
Amand's partner Mo Scarpelli, who has previously made films in the similarly tough political climates of Afghanistan (Frame by Frame) and Ethiopia (Anbessa), has made an accompanying documentary about filming La Fortaleza in Venezuela that will debut later this year. However she says that her "previous films were dicier in terms of protecting the subjects' security or determining when my presence could put them at risk. Venezuelans are not hiding their pain - they are speaking out about the crisis."
When Scarpelli shot Anbessa, the country was in a State of Emergency and the director didn't bother to get a permit, knowing it was better to operate under the radar. She says "Many governments are becoming very sophisticated with using misinformation to keep their people, and artists or filmmakers, on edge or unclear about the threats against their speaking their mind. You worry about ruining the lives of the crew, by making your art, so that threat has a bearing on your artistic process."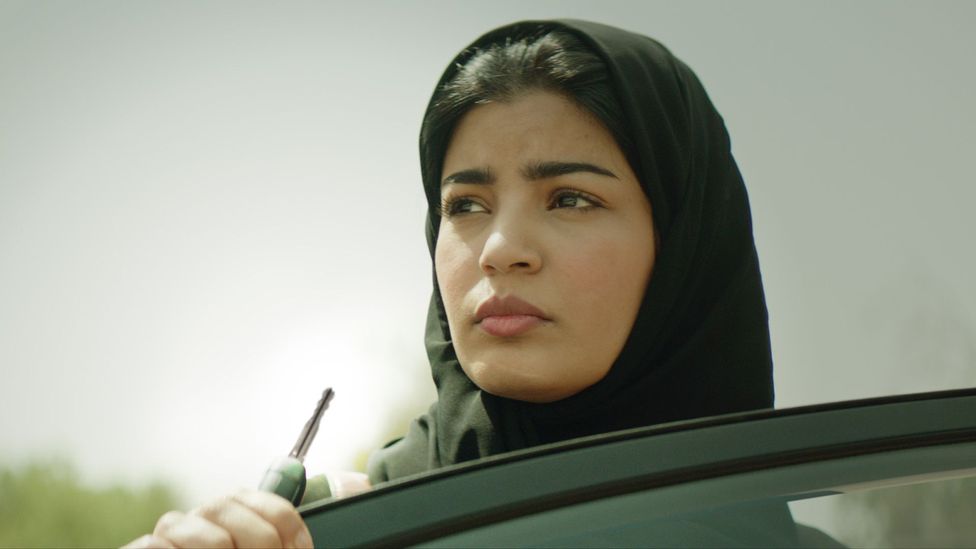 The Perfect Candidate has become the first Saudi Arabian film to receive government funding (Credit: Modern Films)
The power of cinema as a communication tool to the outside world is such that more and more filmmakers from repressive and authoritarian regimes are embracing the medium – even as some of those regimes are showing chinks of light. When Haifaa al-Mansour made her debut film Wadjda in Saudi Arabia in 2012, it was at a time when the country had no cinemas, and making films was illegal: so she hid her camera equipment in a van.
Now eight years on her latest film The Perfect Candidate has been the first film to receive government funding, while cinemas have opened in the Kingdom. "There is a public fund now for Saudi films, and they financed a lot of short films and documentaries, and this is one of the first features, and it's like any public fund that is common in Europe. You go and apply. You need government support for making films about women's rights and things like that. It's important to have public funds for films."
The Perfect Candidate, about a female doctor standing for election as a councillor against the odds, doesn't hide its criticisms of the regime, and with Saudi Arabia launching their first film festival, The Red Sea Film Festival, in March, the country seems to be opening up. It remains to be seen how this will translate into the type of films made.
Filmmakers v governments
Throughout cinema history, there has always been a dance between filmmakers and government authorities. During the first century of cinema, when films were more expensive and cumbersome to make, there were many examples of filmmakers having to tread carefully, at risk of seeing their careers curtailed.
Last month's Tromso International Film Festival put on two classics of Russian silent cinema from the 1920s: Jakov Protazanov, 1924 sci-fi epic, Aelita, Queen of Mars and Lev Kuleshov's 1926 effort By The Law. Both received financing on the basis that they promoted the goals of the Bolshevik Revolution. However Protazanov managed to slip in some criticisms of the communist ideology, which after the initial fanfare of release, became apparent to the Soviet authorities, who made the film difficult to see until after the end of the cold war. Kuleshov, by contrast, adapted a Jack London story to prove to the Soviets that he could make films that fit their agenda.
If cinema has proven anything time and time again, it's that filmmaking can flourish, no matter the restrictions
The Nazi Party in Germany were masters of using films for propaganda. It was an oppressive regime, that rather than ban films, embraced the artform, as long as the films were supportive of its cause, of course. Leni Riefenstahl flourished, creating films with innovative techniques and building on the strong standing of German cinema at the time. However, many other of the country's great filmmakers who made Germany the centre of the film world in the Weimar Republic-era 1920s, opted to remove themselves from the orbit of the regime. Following the rise of Hitler, big names such as Fritz Lang and Billy Wilder moved to Hollywood, where they flourished.
US filmmakers  have had to deal with their own repressive rules, too, of course. The Hays Code in 1934 brought in restrictions to Hollywood based on sex, violence and moral decency. However, as time went on, filmmakers found increasingly novel ways to get around the rules, pulling public opinion with them, one transgression at a time.
If cinema has proven anything time and time again, it's that filmmaking can survive, no matter the restrictions. And as countries like Sudan and Saudi Arabia change to embrace cinema, It's also usually the case that the filmmakers have more stamina than the rulemakers.
Love film? Join BBC Culture Film Club on Facebook, a community for film fanatics all over the world.
If you would like to comment on this story or anything else you have seen on BBC Culture, head over to our Facebook page or message us on Twitter.
And if you liked this story, sign up for the weekly bbc.com features newsletter, called The Essential List. A handpicked selection of stories from BBC Future, Culture, Worklife and Travel, delivered to your inbox every Friday.