It originated in India, and came to dominate Western interiors and fashion. Joobin Bekhrad traces the fascinating – and turbulent – history of all things 'chintzy'.
I
In a letter to her sister penned in 1851, the novelist George Eliot gave her opinion on some muslin fabrics. "The quality of the spotted one is best," she said, "but the effect is chintzy". Eliot, to whom the first use of the term 'chintzy' is attributed, was most likely slighting not bona fide chintz but rather an inferior copy of it. The real thing was vivid and luxuriant. Its production is something that "modern science still cannot explain," says Sarah Fee, the curator of a future exhibition about chintz at the Royal Ontario Museum. "By that time, Britain's factories had flooded world markets with cheap imitations of chintz, industrial imitation [which made] it widely available to the masses, disassociating any original connotation of luxury."
More like this:
-        The story of a classic bohemian print
-        The clothes that shook the world
-        How colours can bring happiness
Chintz — although it might today be largely associated with twee or cutesy armchairs and wallpaper — is, in its true form, a fabric that was not only once highly prized the world over, and helped revolutionise fashion and design, but also changed the course of history — in many cases, unfortunately, for the worse. "[Chintz tells] a story that is much larger, and often much less pleasant", according to Harvard historian Dr Sven Beckert. "A tale of armed trade, colonialism, slavery, and the dispossession of native peoples."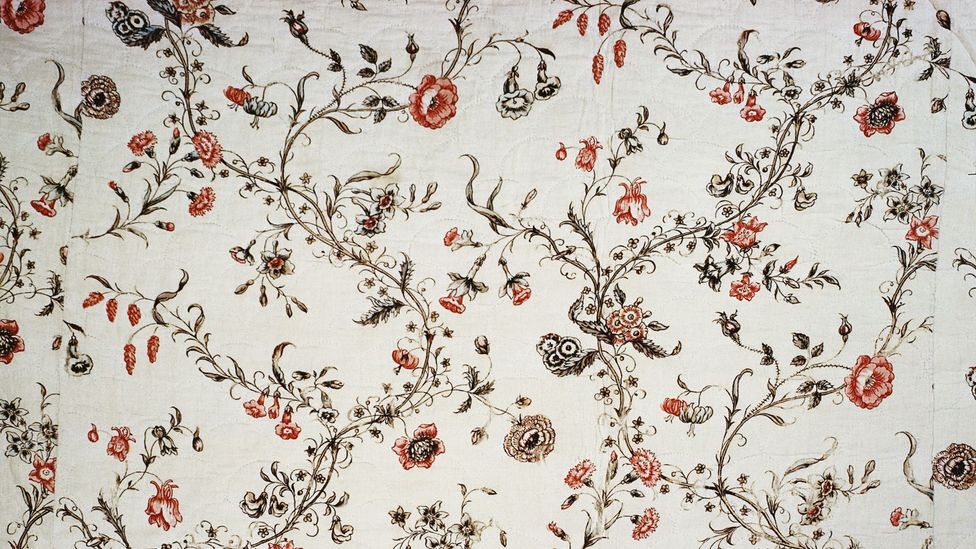 A coverlet of typical English chintz – the floral fabric in fact originated in India
The story Beckert is referring to begins, for the most part, in the late 15th Century; but the history of chintz extends far beyond that. Chintz — which comes from the Hindi word chint, meaning "'spotted', 'variegated', 'speckled', or 'sprayed'", as Fee writes in the book Cloth That Changed the World — originated in modern-day India and Pakistan thousands of years ago. Contrary to what many think, chintz does not necessarily have anything to do with glazed fabric, or even floral prints. Simply put, chintz is cotton to which substances called 'mordants' and 'resists' — used to help dyes adhere to it — have been applied.
Thanks to the catch-all term 'chintzy' for gaudy floral designs, it has come to evoke images of 'your grandmother's curtains'
Over time, the word 'chintz' came to be used to refer to a variety of fabrics. "The term was appropriated in [the] English-speaking world in the 18th Century to reference industrially printed cottons," says Fee. "In popular imagination, over the 19th Century, the term became associated with floral designs and heavy glazing". As Alexandra Palmer, another curator at the ROM, explains, "More costly Indian chintz had a glazed finish… which added a stiff, luxurious hand". Whether glazed or not, the use of mordants, resists, and dyes originally defined chintz, the intricate patterns of which were painstakingly produced by hand in two main ways: either with wooden blocks or through the more complex process of kalamkari (from the Persian "ghalamkari", meaning "pen-work").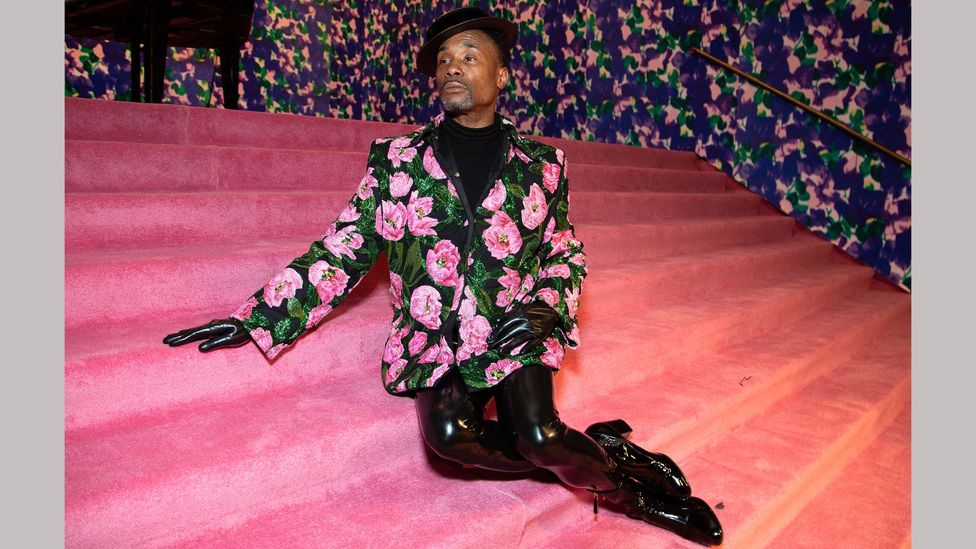 Richard Quinn – worn here by Billy Porter at London Fashion Week, February 2020 – is among the current designers who favour chintz
India has been producing and exporting chintz for millennia, but it wasn't until the Portuguese explorer Vasco da Gama successfully reached Calicut in India in 1498 that Indian chintz really started to create a stir around the globe. Unlike Christopher Columbus, who several years earlier had tried in vain to find India, as Beckert puts it: "[da Gama] returned to Portugal not just with highly desired spices, but also some of India's fabulous cottons. This was the beginning of a trade that was often violent… and that climaxed a hundred years later with the establishment of various European East India Companies".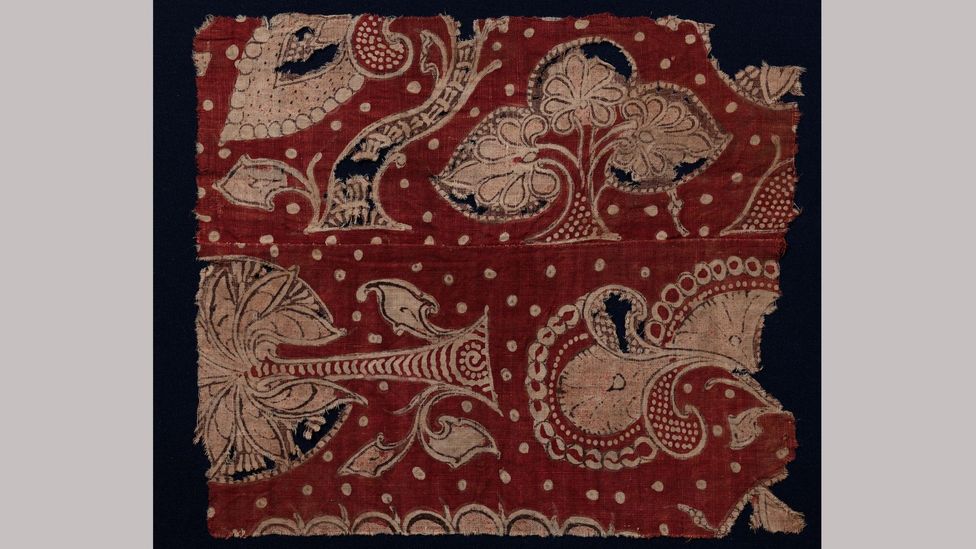 Flowering trees are depicted in this early textile, created in western India for the Egyptian market in the late 13th or early 14th Century
After da Gama returned to Portugal, European traders began exporting textiles to markets in the Indian Ocean region. They were quick to find out, however, that their wools and linens weren't appreciated there, and so they turned to Indian chintz instead. At first, they traded in Indian chintz in markets in the same region, but they later set their sights on Europe itself, realising the profits they could make at home.
Wool manufacturers protested and even rioted against 'the tawdry, bespotted' cottons made by 'Heathens and Pagans'
While they were at first dependent on Arab and Turkish merchants for much of their trade in textiles, they later, as Beckert states, "[grew] tired of … [these] middlemen" and discovered sea-routes that afforded them direct access to and from India. Their efforts more than paid off, for the chintzes they started bringing back with them in the 1500s resulted in the 'calico craze', which peaked in the late 17th Century.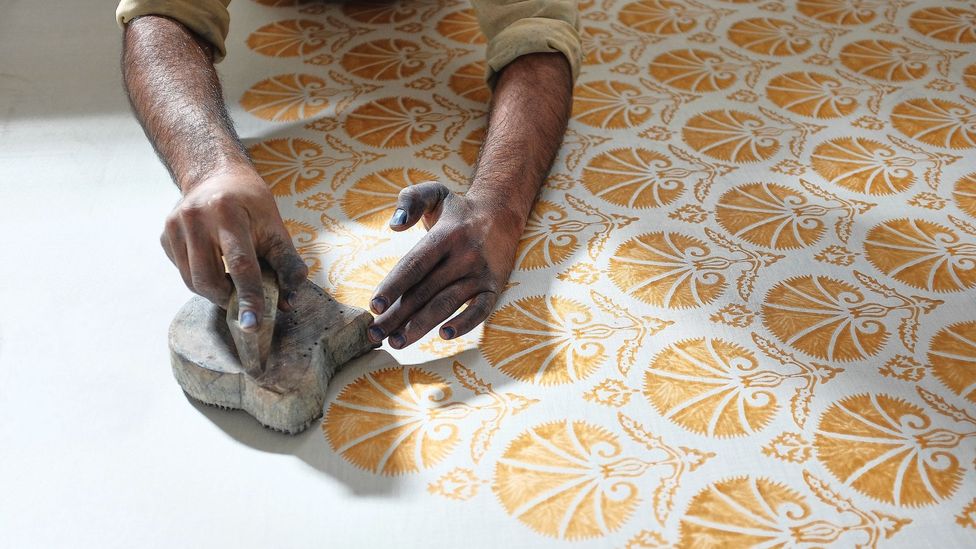 Carved wooden blocks are used to apply the dyes and the mordant to textiles
Before it appeared in fashion, chintz was big in interior design. Indian chintzes in Europe, Fee says, "were coveted as elite home furnishings, particularly to beautify small antechambers and bedrooms with colourful carpets, wallcoverings, and bedcovers". In 1663, for example, Samuel Pepys bought chintz wallpaper for his wife's study. According to Dr Rosemary Crill, a senior curator at the V&A Museum, chintz was used in such settings as it "was mainly seen as a feminine, informal fabric".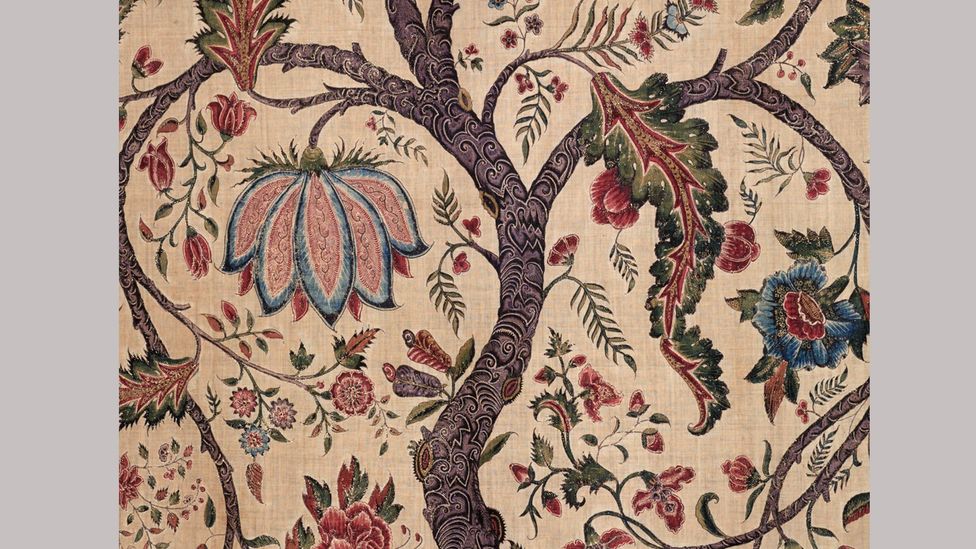 A palampore (wall or bed hanging) made in southeast India for the western market, around 1720-1740
Until 1625, the chintzes brought to Europe largely featured exotic designs. Most prominent amongst the images featured in these was the Iranian and Chinese-inspired 'flowering tree', which, writes Crill "has come to epitomise India's textile trade with Europe". The chintzes made for consumption in India and nearby featured coloured backgrounds, but the ones sent to Europe mostly had white ones, as Chinese porcelain was popular at the time. Crill writes that white also "reflected new sociocultural attitudes about health, cleanliness, and purity: all clear signifiers of luxury".
'Purposefully exotic'
Things changed in the middle of the 17th Century, when chintz began to be used to make clothes. While there was still demand for Indian designs, from 1625 onwards, European traders began sending Indian artisans instructions to make ones more in line with European aesthetics. The way in which chintz was adopted as a dress fabric, however, differed across the continent. In France, it was first sought after by the aristocracy; but in England and Spain, the elites only began wearing chintz "from the 1670s [onwards]," says Fee, "decades after working women had already adopted the fabric.  Working women [in these countries] would use cast-offs [of furnishing fabrics] for clothing". As it was worn by all classes and both women and men throughout Europe — "there were rules against the masses wearing silk, but not cotton", she notes — Indian chintz "is recognised as the first mass fashion".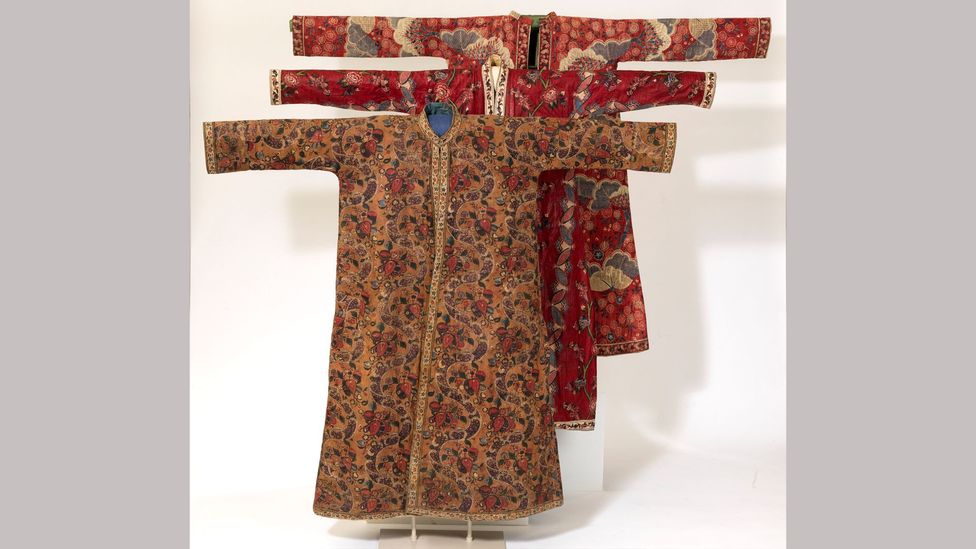 These men's banyans made of Indian chintz are glazed brown, and were created around 1765
While European importers of chintz were profiting immensely from the calico craze, local European textile merchants were far from happy. "Long-established silk, linen, hemp, and wool manufacturers," Fee writes, "rose up in protest and even rioted against 'the tawdry, bespotted' cottons made by 'Heathens and Pagans'". Accordingly, in order to protect domestic businesses, chintz was fully banned in France between 1686 and 1759, and partially banned in Britain between 1700 and 1774. There were also various edicts issued in Spain, Venice, Prussia, and the Ottoman Empire pertaining to the import and use of chintz and other Asian textiles. However, despite traders facing even the threat of execution, they continued to smuggle chintz into Europe, and it was still extensively worn.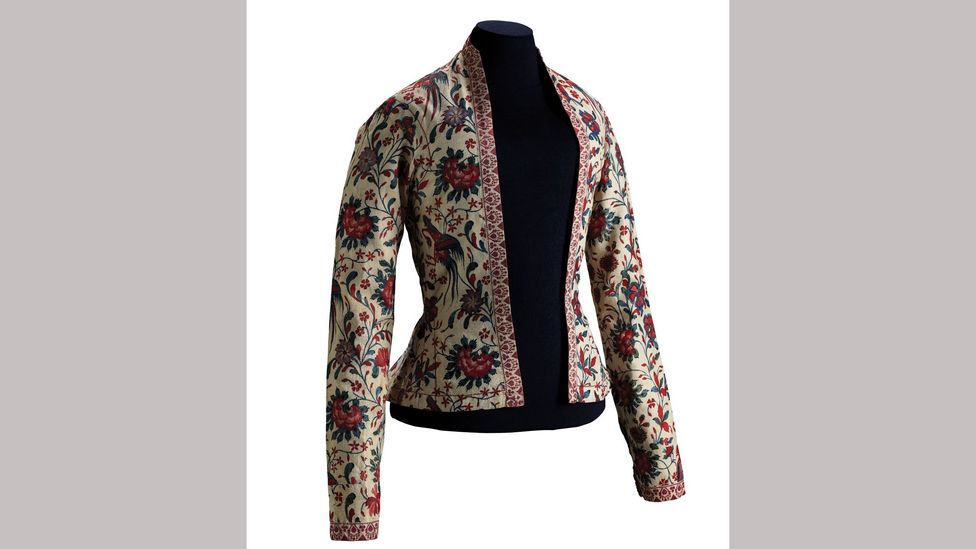 The textile for this jacket was hand-drawn and dyed in southeast India in the 18th Century, then tailored in Europe
In the 1700s, a European manufacturer began to imitate chintz at home, sparking a series of technological innovations. This resulted in the emergence of Britain as Europe's main printer of textiles. At the same time, though, Britain had to remain largely dependent on Indian manufacturers for its supply of cotton base cloth.
Despite traders facing even the threat of execution, they continued to smuggle chintz into Europe
As with the Arab and Turkish middlemen, British traders did not want anyone else taking away from their profits. Unfortunately, their solution to this problem was to lead to devastating consequences. The US developed varieties of cotton that could withstand frost and were well suited to machinery. There was a double tragedy enacted: slavery and the removal of indigneous Americans. To cultivate this cotton, British (and other European) planters used slaves from West Africa, whom they obtained in exchange for European and Indian cottons. Fee writes that this was concomitant with "the tragic state-sponsored removal of indigenous American populations".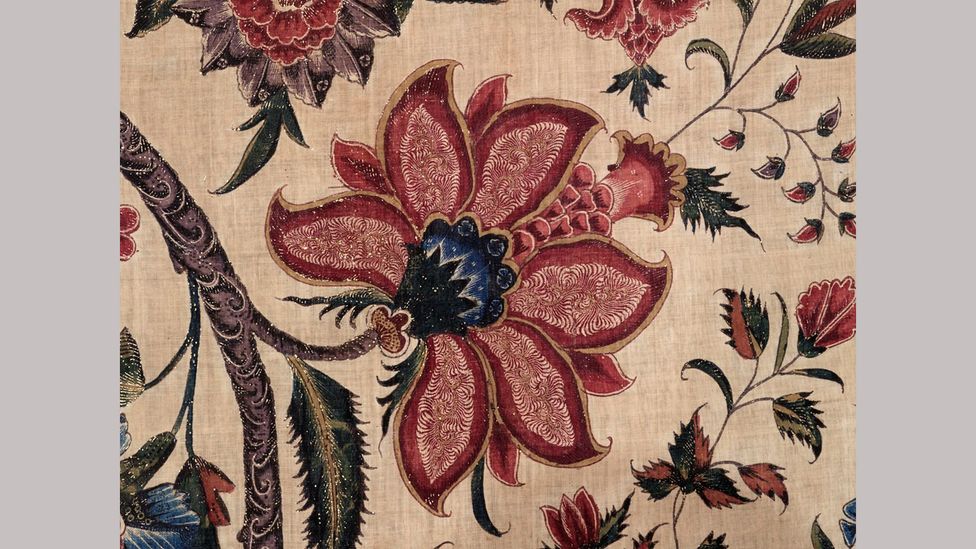 The detailed work on this palampore features gold leaf, suggesting it would have been used in a wealthy household (Credit: Harry Wearne Collection)
Through such unethical means, these British traders brought about a "burst of technological innovations from circa 1770 to 1830… leading to the first massive factories and mill towns" in Fee's words – or, as Beckert writes in his book Empire of Cotton, "the launching pad for the broader Industrial Revolution".
Following the US Declaration of Independence in 1776, chintz's fortunes in the West started to wane. For one, Britain had lost the US as a market for its machine-manufactured chintz. Also, minimalist ideals in 19th-Century European fashion meant that the multicoloured fabric had more or less gone out of style. In addition, Britain's Arts and Crafts movement of the mid-1800s was influential in rejecting "industrial production and [promoting] instead handcrafts and Eastern designs, including those of India", according to Fee. In interior design, however, as well in chinaware, chintz was still in demand, both in Britain and  amongst British ex-pats in colonial India, and there was actually a growing desire for chintz clothing in countries like Iran, one of India's major markets.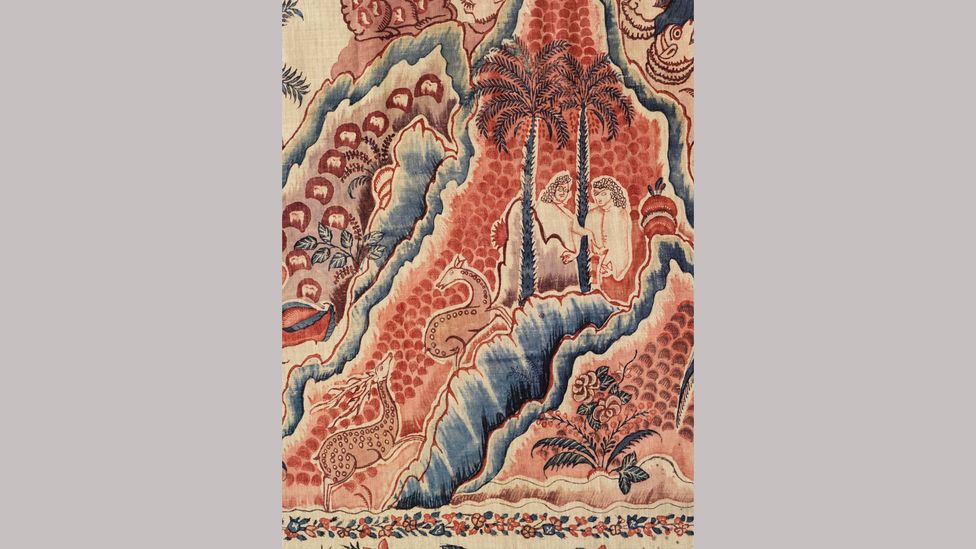 Created in coastal southeast India in around 1740-50, this highly detailed textile is typical of the era
Although chintz largely fell out of style in Western fashion in the 19th Century, it has made various comebacks since then, most notably in the hippiedom of the 1960s, when Marc Bolan sang about a man "upon the seas of Abyssinia… [whose] robes of chintz were melting in the snows". In the 1980s, it was used extensively and again popularised by interior decorators like the late Mario Buatta ('The Prince of Chintz') and home furnishing brands like Laura Ashley; but Ikea put an end to this resurgence with its influential 1996 'Chuck Out Your Chintz' ad campaign.
Thanks to George Eliot's coinage of the term 'chintzy' in reference to the cheap British imitations of real chintz, as well as its use as a catch-all term for gaudy floral designs, it has come to evoke images of "your grandmother's curtains", among other such "dowdy" things, to quote Fee. There are those, however, who would beg to differ. In India, for instance, chintz and other indigenous textiles are being used by contemporary designers like Sufiyan Khatri and Rajesh Pratap Singh, according to senior V&A curator Divia Patel. Likewise, Eiluned Edwards of Nottingham Trent University says that varieties of Indian chintz like ajrakh "[are] seen on the catwalk at India Fashion Week, as well as on the rails of retailers… in the malls of metropolitan India".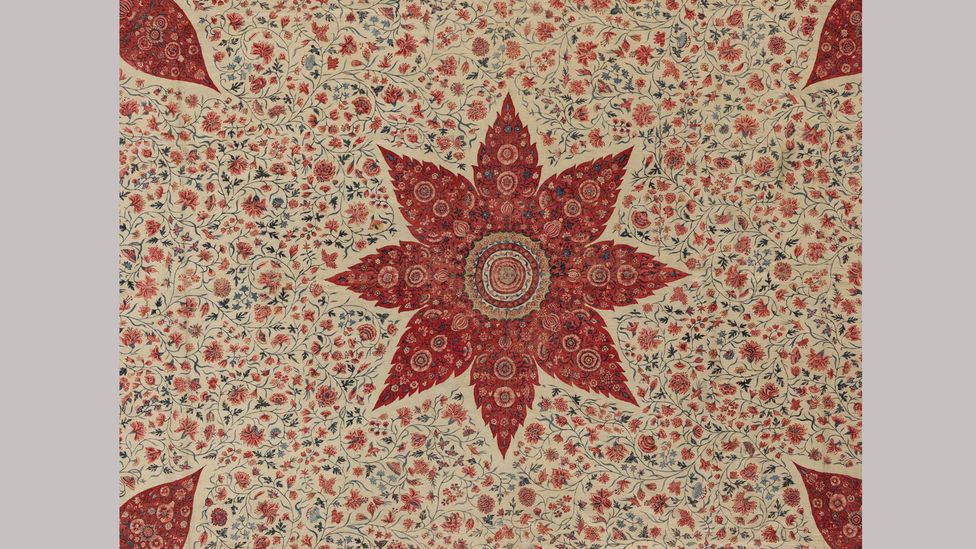 Intricate small-scale floral patterns are used in this 18th-Century textile
Not that the fabric is only appreciated in its place of origin today. Since the 2010s, chintz (in the Western sense of the term) has been used by designers such as Alexander McQueen's Sarah Burton, Richard Quinn, Erdem Moralıoğlu, and Mulberry's Johnny Coca. And designers like Cath Kidston and Betsey Johnson have used and been inspired by chintz for decades. "I have always been fascinated by chintz," says Kidston, whose new book A Place Called Home more than bears its mark. "It's the ultimate fabric in terms of printing and drawing and so versatile." Similarly, Johnson tells BBC Designed that "chintz patterns and the whole look of chintz have been my mainstay in all my work over the last 35 years. I've always loved the feeling of being in a garden that chintz gives you. It's beautiful and floral, like Scarlett O'Hara and Southern belles."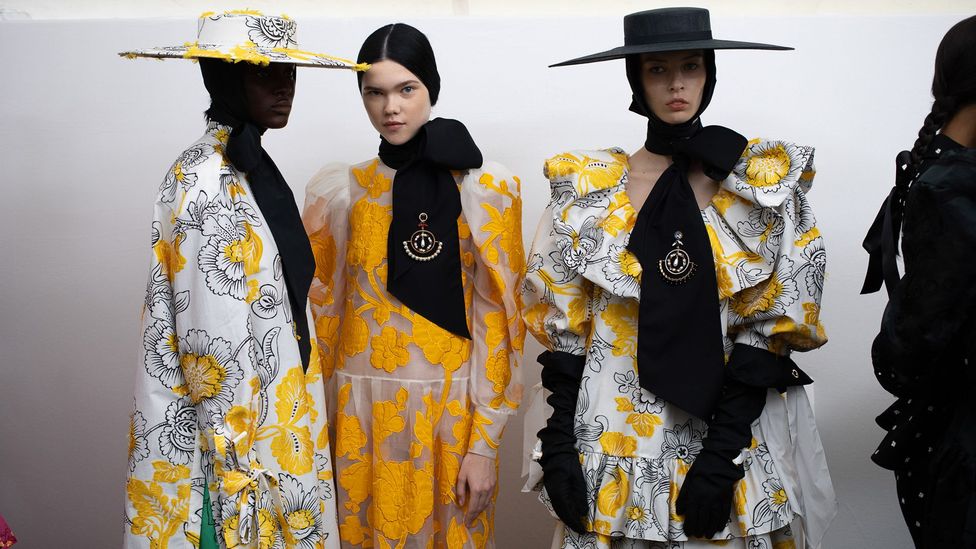 Models backstage at the Erdem show at London Fashion Week, September 2019

In the 2010s, numerous publications wrote about the chintz comeback, including Vogue, which in 2018 called it "the print that's back in a big way". This remains to be seen; but, if history is any guide, it can be said that chintz won't, at least, go the way of powdered wigs in fashion. "It will always come in and out of home decor and fashion," says Betsey Johnson, "because it's so damn good".

For more information on The Cloth that Changed the World: India's Painted and Printed Cottons, visit the Royal Ontario Museum website.

If you would like to comment on this story or anything else you have seen on BBC Culture, head over to our Facebook page or message us on Twitter.

And if you liked this story, sign up for the weekly bbc.com features newsletter, called The Essential List, a handpicked selection of stories from BBC Future, Culture, Worklife and Travel, delivered to your inbox every Friday.

;