A flop when it was released in 1975, The Rocky Horror Picture Show has since gained a fervent global fan following. Larushka Ivan-Zadeh explores its unique appeal.
E
Every Saturday night since 1977, cross-gendered disciples in corsets and ripped fishnets have congregated to chant and sing along to The Rocky Horror Picture Show as if attending some gloriously kinky midnight mass.
It's the ultimate cult movie. The first. The biggest. The one cult movie to rule them all. For more than 40 years, The Rocky Horror Picture Show has defined what we mean by a 'cult' movie, though few can ever hope to match its phenomenal level of ritualised worship. A box office flop so ker-splatty it was pulled from the few screens showing it back in 1975, only to be lovingly resurrected by a devout fanbase. It has since grossed over $170 million worldwide and holds the record for the longest continually running movie release of all time.
More like this:
- The film the US is finally ready for
- What makes a cult film?
- Is this the ultimate cult film?
Yet Rocky's cult supremacy is now in jeopardy. With Covid-19 shutting cinemas, how can acolytes keep the faith? Enter Larry Viezel, president of The Rocky Horror Picture Show Official Fan Club – a responsibility he takes very seriously. For him, this is about more than a fun, cheeky night out in your underwear. "For a lot of people, Rocky Horror is like their home, it's their connection to everybody – all their friends," Viezel tells me via Zoom from New York. "I know of a lot of people whose lives were saved by this movie. Especially for those in the LGBT community, it's a place where they could be themselves and find people who were their family. I don't want to give that up. I want people to still have a place to be."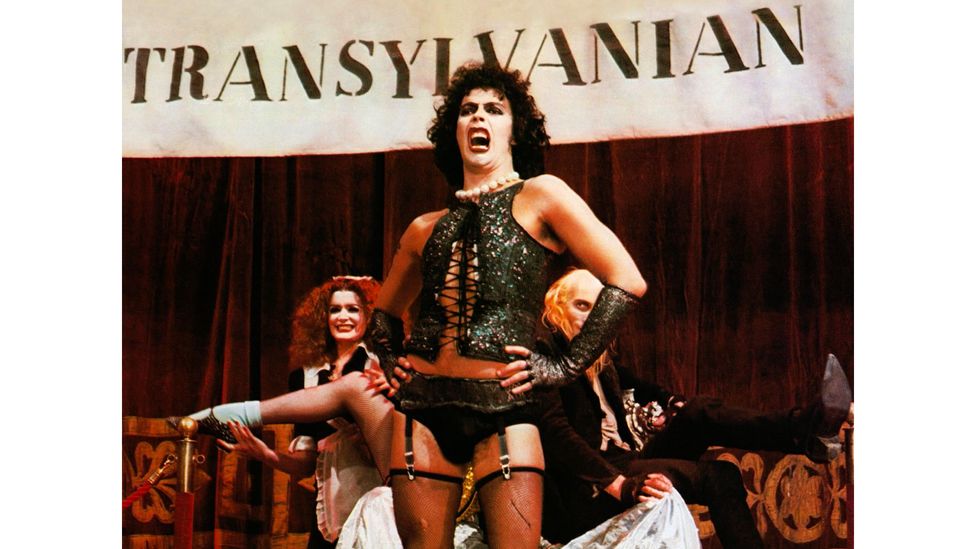 Based on a 1973 stage musical, Rocky Horror was initially panned; but has since been added to the US National Film Registry by the Library of Congress (Credit: Alamy)
His Facebook fansite has already hosted 'The Rocky Horror Experience – the Live Lockdown Edition!' and is packed with fan-created content such as a weekly 'Zoomy Horror Quarantine Show' where participants dress up and re-enact the entire movie over Zoom, a living room Time Warp dance-off, and 'Don't-cha Touch-a, Touch-a Touch Me', a hymn to isolation frustration sung by a drag queen barbershop quartet.
Plans are optimistically proceeding for the film's 45th birthday party in St Louis later this year. "I can't wait til we can all do the Time Warp together again," says Viezel.
It's this off-the-scale level of audience partici…("Say it!")…pation, that first led to Rocky Horror being dubbed a cult. And what makes it endure. The seeds were right there from the start.
Staging a hit
A camp twist on sci-fi B-movies, The Rocky Horror Picture Show first sprang to life in 1973 as a musical play in the tiny capacity studio above London's Royal Court Theatre. Tis there, so mythology has it, that David Bowie's first wife, Angie, gave the first audience participation 'call-back' when she yelled "No, don't do it!" as creator Richard O'Brien's Riff-Raff threatened to zap Tim Curry's Dr Frank-N-Furter with a laser gun.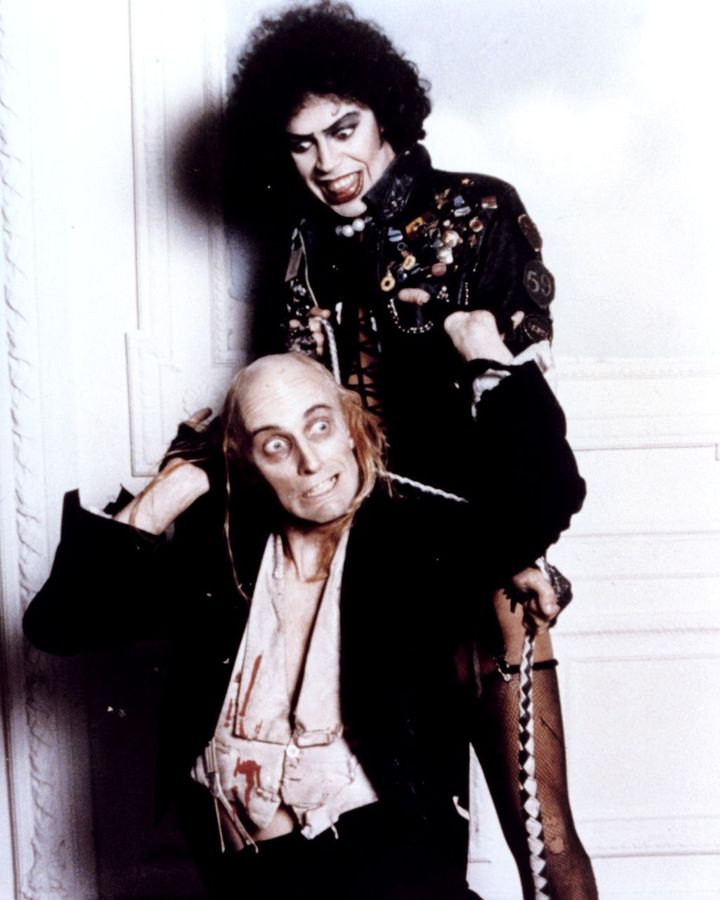 Richard O'Brien (writer of the original stage musical, and co-writer of the film) stars as a servant to Tim Curry's Dr Frank-N-Furter (Credit: Alamy)
An instant hit, the play transferred first to the West End and then to Los Angeles. A movie spin-off was a no-brainer. That critics hated it is not, it seems, entirely true. As the US film critic Roger Ebert astutely pointed out in his original, 2 ½ star rated 1976 review: "The Rocky Horror Picture Show would be more fun, I suspect, if it weren't a picture show. It belongs on a stage, with the performers and audience joining in a collective send-up."
And so it came to pass. Midnight showings of the movie began at the Waverly Theatre in New York City on 1 April, 1976. In a time and place where gay rights was just finding a voice in the wake of the Stonewall riots, the Waverly attracted a congregation of groovy outcasts, weirdoes and rejects. An audience hungry to celebrate a story of sexual awakening where gender fluidity and pan-sexualism are joyfully celebrated; where a straight, white, conventionally attractive young couple called Brad and Janet (Barry Bostwick and Susan Sarandon), both virgins until their wedding night, are considered the freaks; and where a 'sweet transvestite from Transylvania' (a thrillingly charismatic Tim Curry) dressed in stack heels, suspenders, full make-up and little else, waltzes off with the movie.
The Rocky Horror Picture Show's challenge to 'don't dream it, be it' was taken to heart by audiences
Above all, The Rocky Horror Picture Show's challenge to 'don't dream it, be it' was taken to heart by audiences. Decades before Secret Cinema was even a twinkle, Rocky Horror fans created an immersive movie-going experience by returning, week after week, in costume as their favourite characters, armed with props such as water pistols to effect 'rain', rice to throw in the church scene, toast to throw when Frank proposes 'a toast' etc. At one New Orleans cinema, a fan dressed as 'Eddie' (played by Meatloaf in the movie) would drive his motorbike down the aisle during Eddie's intro 'Hot Patootie'. Cinemas tried to ban the food throwing – it was a nightmare to hoover up, particularly the hurled hotdogs – but it was all intended to merge viewer reality with the on-screen action.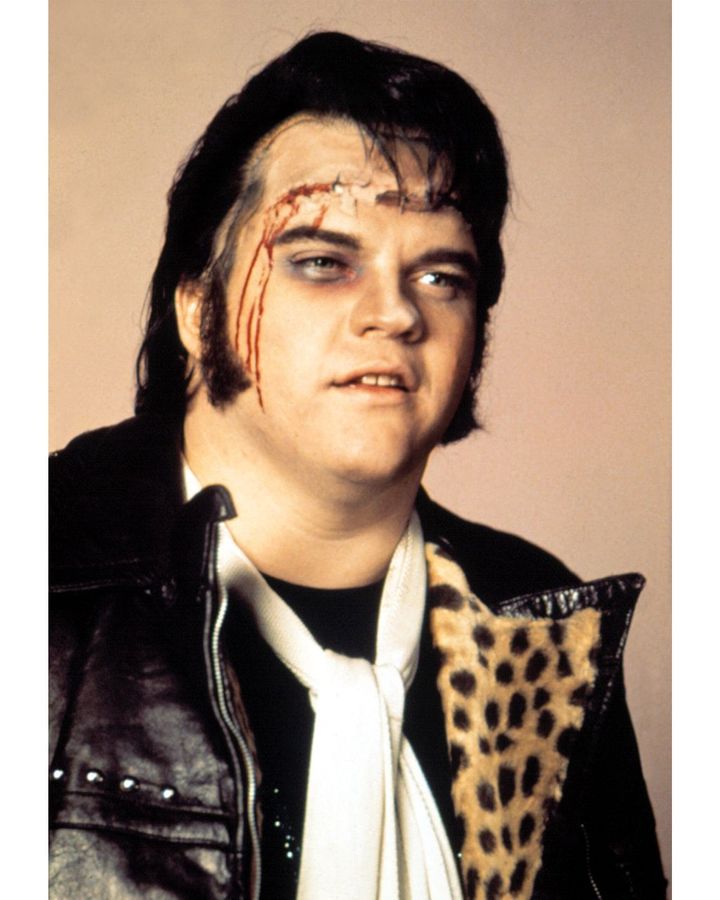 Meatloaf plays a delivery boy called Eddie, who donates part of his brain to Frank's creation Rocky (Credit: Alamy)
What makes it all the more remarkable is that this started in a pre-internet era. Today it takes just seconds to click on 'The Virgin's Guide To Rocky Horror' on the timewarp.org website and find the requirements of dress, etiquette, dance moves and chant-along script; back then, the participation grew almost mystically. The high priest of Rocky Horror fandom is Sal Piro, a former schoolteacher. He's related how, in the late 70s, he'd make a quip at a New York screening one weekend, then fly to LA the next and hear it shouted back at the screen there.
As a teenager, my own Rocky Horror hymn sheet was Say It! The Rocky Horror Picture Show Audience Participation Album. Recorded live on Halloween 1983, it contains the entire audio of the film along with the callbacks MC-ed by Piro and performed by New York's 8th Street Players. Sat alone in my 90s London bedroom, I wore out my double cassette by obsessively rewinding to learn each callback – and watching the movie again now, more than 20 years on, I still hear these ghostly ripostes in my head.
Shout-outs
Let's be honest, they're far from Wildean. 'Buy an umbrella, you cheap bitch' was reportedly the original enshrined line still hollered as Sarandon's character puts a newspaper over her head during a thunderstorm. People shout 'where's your neck?' to Charles Gray's narrator. The script, however, is not prescriptive. Anyone's allowed to call out anything, and if it goes down well with the crowd, it gets incorporated the next week.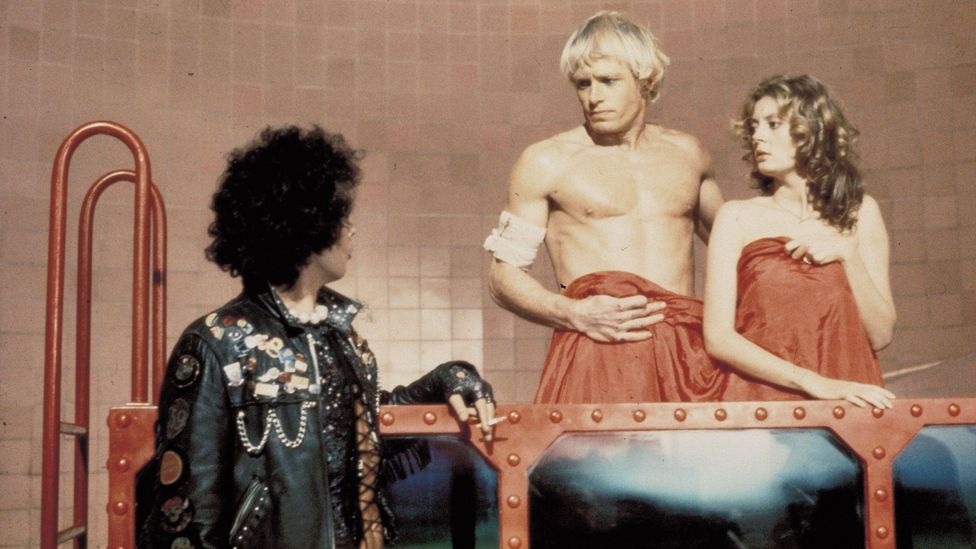 Susan Sarandon stars as cleancut fiancé Janet; later in the film she falls for Rocky (Credit: Alamy)
Responses are, as you'll have noted, often rude. I ask Viezel if, given modern sensitivities around 'slut-shaming', people still yell out 'slut' whenever Susan Sarandon's Janet appears on screen? "People do, though I've seen response to that," he says. "It's a little of its time." Other attitudes have shifted too. What viewers once found liberating, can now, ironically, be found the opposite by a new generation. For example, Frank's rousing anthem of self-realisation ('I'm a sweet transvestite – from Transsexual Transylvania') is currently considered offensive by some transgender viewers. But when was Rocky Horror meant to be PC?
"People are like ultimately what Frank did with Brad and Janet was rape," says Viezel, referring to the bedroom raid sequence where a disguised Frank takes both Janet then Brad's virginities. "But let's put that into perspective. Before that, Frank murders and cannibalises Eddie. In fact he not only eats someone, he then forces other people to eat people." Frank's flip from antagonist to vulnerable hero is in fact the movie's most compelling element. As Viezel puts it, "For years everyone's idolised Frank-N-Furter, but he's not meant to be this perfect role model."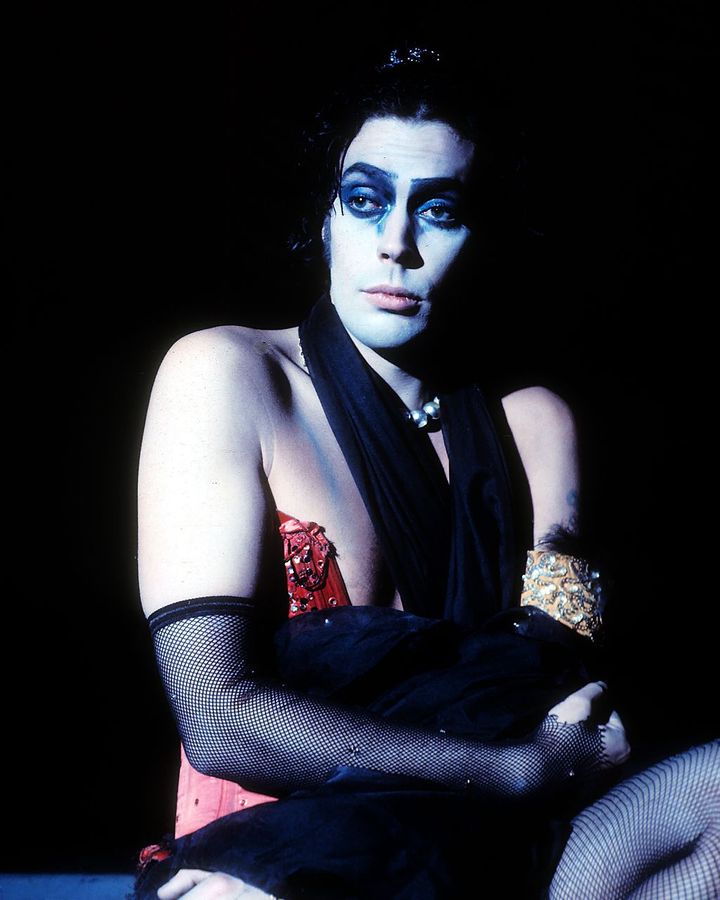 Frank's switch to a more vulnerable character is a part of the film that resonates for many (Credit: Alamy)
For all the murder and sexual carry-on, Rocky Horror actually feels pretty tame by today's standards. I've heard of 9-year-olds enjoying it. Has Rocky lost that subversive, cult, punk edge? You would certainly conclude that after watching The Rocky Horror Picture Show: Let's Do the Time Warp Again, a 2016 made-for-TV remake from High School Musical director Kenny Ortega starring Laverne Cox as Frank-N-Furter and Nickelodeon starlet Victoria Justice as Janet. It feels safe, glossy, and politically correct. Duncan James, formerly of the boy band Blue, led the UK stage cast in Rocky Horror's most recent staging. You can buy a huge variety of Rocky Horror costumes online and in high street party shops. It all seems too mainstream to be the stuff of 'cult' at all.
The final nail in that cult coffin arguably slammed down in March 2019, when Disney finalised their takeover of 20th Century Fox and thus now own Rocky Horror. "Does this make Tim Curry's Frank a Disney princess?!" joked fans. But Viezel was more concerned. For him it was existential. "Every few years, there's always a worry that Rocky Horror will be taken away," he says. "First it was the sequel, then VHS, then DVD, then Blu-Ray, then the TV remake. But when the Disney thing happened, that's the first time I was really worried. But Disney's been really supportive."
Where Disney removed other cult Fox titles, such as Fight Club, from fan circulation, public screenings of Rocky Horror have been allowed to continue, and home-made merchandise has continued to flourish (within reason). There are also tributes in which a 'shadow cast' mime the actions and lip-synch the lines of their characters while the film is projected on a screen behind them. "To reference the movie, Rocky Horror is the Frankenstein story: Frank couldn't control Rocky – he did what he wanted. This is the same thing," concludes Viezel. "Yes, Disney's out there, but Rocky Horror is its own living breathing monster and he's wreaking havoc. Like the fans do. And that spirit will keep The Rocky Horror Picture Show living forever." Amen to that.
Love film and TV? Join BBC Culture Film and TV Club on Facebook, a community for cinephiles all over the world.
If you would like to comment on this story or anything else you have seen on BBC Culture, head over to our Facebook page or message us on Twitter.
And if you liked this story, sign up for the weekly bbc.com features newsletter, called The Essential List. A handpicked selection of stories from BBC Future, Culture, Worklife and Travel, delivered to your inbox every Friday.