What is the key to living in harmony with several generations of a family under one roof? Andrea Marechal Watson explores the flexible, inventive designs that are emerging.
M
Multi-generational living has been the norm throughout history, but with the growth of cities, age segregation in housing has crept in through the back door. Over time, this trend has begun to define the type of housing we build to a larger and larger extent – hence the rise in numbers of studio and one-bedroom apartments on the one hand, and retirement villages and care homes on the other.
More like this:
-        A new spin on the dream country house
-        Five stunning outdoor spaces for all
-        Design's new stone age is here
Now for a range of reasons, multi-generational co-habitation is back in fashion. But in the UK and elsewhere we are finding that the homes we are building are far from suited to this mode of living: inflexible in design and too small, they hardly contain room for one family, let alone two or three.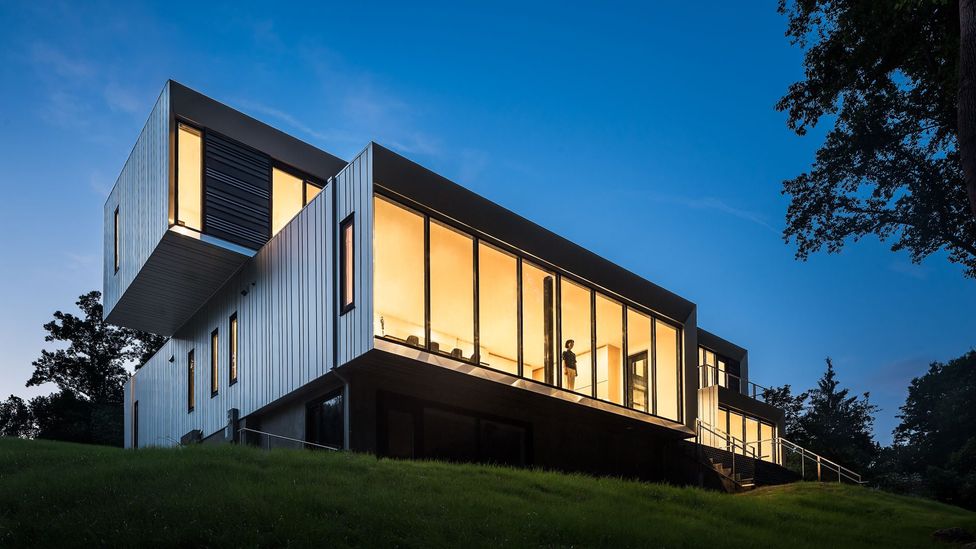 Höweler + Yoon Architecture's design accommodates multiple generations, and is part of a growing trend (Credit: Jeff Wolfram)
The problem is particularly acute in the UK where escalating house prices have resulted in the rise of the boomerang generation – kids who come back to the family nest for economic reasons. In addition to the boomerangs – many of them graduates paying off student loans – we have the stickarounds, children living at home well into their 30s because it is the only chance of scraping together a deposit to buy a home of their own. And on top of this lot are separated or divorced families, as well as a rising tide of grannies and grandads. New research from investment broker Charles Stanley finds the desire to avoid escalating retirement or care-home costs is driving this trend.
There is however only so much space below stairs and under rooves that the typical home can make available to all these extra residents, so it comes as little surprise that a survey by Propertyheads.com found that interest in the 'granny annexe' has increased. According to the site: "After analysing the results of over 3,000 searches conducted during March and April 2020, some interesting patterns emerged which show how buyer behaviour has already started to change ahead of the easing of lockdown restrictions. The results revealed that searches for granny annexes were up by 16%, suggesting that the forced separation from older parents has made many realise that having them close by and ideally in a building attached to the same property is now a key factor in future property purchases."
But what is really needed are not annexes but a fundamental rethink of housing and planning, and it is already happening across Europe and the US. In Germany, projects include the Mehrgenerationhaus (multi-generation house) programme, while Holland's government has set a goal of creating 500,000 multi-generational homes by 2040. Initiatives in the UK include the Don't Move Improve scheme and Superbia, a strategy to increase housing by using overlooked small sites such as gardens and rooftops in London's suburban areas. There are an estimated four million gap sites (existing spaces between terraces or large gardens) in London alone.
Bridge House in Virginia, USA, consists of three stacked, separate living spaces in one home (Credit: Jeff Wolfram/ HYA)
Recently, UK Prime Minister Boris Johnson pledged that the country will build its way out of the recession brought on by the pandemic. He has announced several ways in which the planning system will be overhauled to make it easier to convert, add space and build upwards. But will these new homes meet the needs of today?
Planning to be together is better than being forced to be together – Caroline Dove
A new book by Caroline Dove, a partner at HTA Design, Radical Housing: Designing Multi-generational and Co-living Housing for All, suggests not.
"In the UK... housing is provided by developers as a commodity not as homes where the customers have control," says Dove. That said, she agrees with the urgent need to regenerate the economy. In the book she argues that adopting multi-generational living in our cities, with proper space standards, could solve many of the problems posed by the housing crisis and an ageing population.
Radical housing 
Radical Housing, published by RIBA (the Royal Institute of British Architects), gives a tantalising glimpse of a world where corporate housebuilders are not alone in determining our housing typographies. Instead, the featured homes and communities, whether private or shared ownership, are architect-led developments skillfully and sensitively designed to respond to challenges we face in the 21st Century. "Planning to be together is better than being forced to be together," says Dove.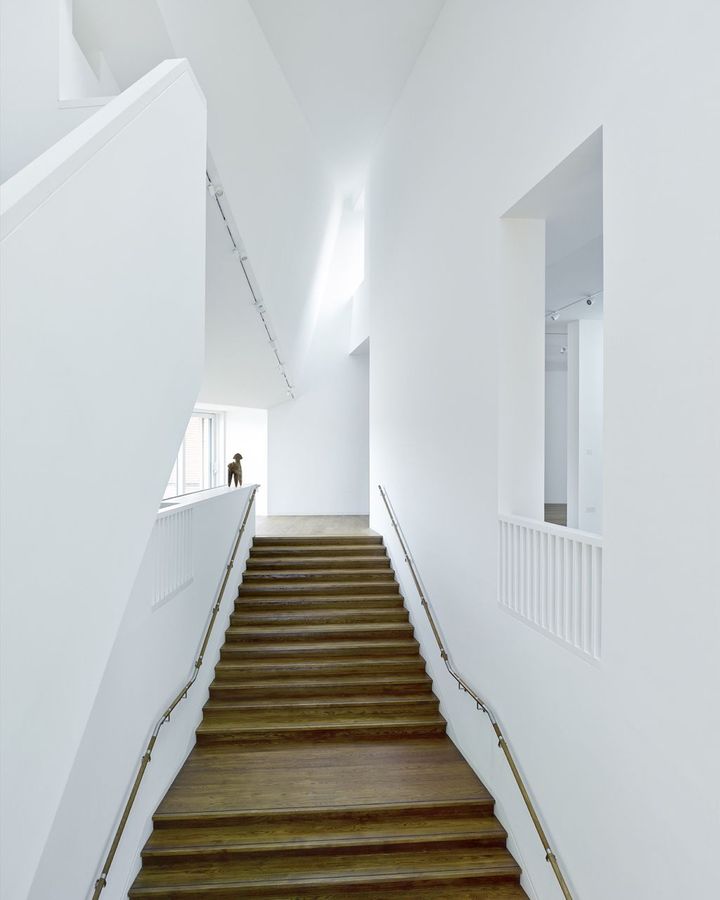 The award-winning Caring Wood in Kent, UK, is composed of four spacious blocks (Credit: James Morris)
Radical Housing explores how good design can address the need for homes that support sociability and allow communities to flourish; how architects and designers can add value; how design can address problems of privacy and noise, and provide flexibility; and how designers can engage with residents and other groups in the community.
An outstanding example in the book of multi-generational family living is Caring Wood in Kent, RIBA's 2017 House of the Year, inspired by Kentish Coast houses and Italian cloisters. This collaboration between James Macdonald Wright and Niall Maxwell is a carbon-neutral and sustainable family home composed of four connected blocks with an open courtyard at the heart. Everything including acoustics has been considered so that several families can live in comfort and harmony with each other. Set in 20 acres, with orchards and vines, Caring Wood is a one-off project, beautiful but of course beyond the reach of the vast majority.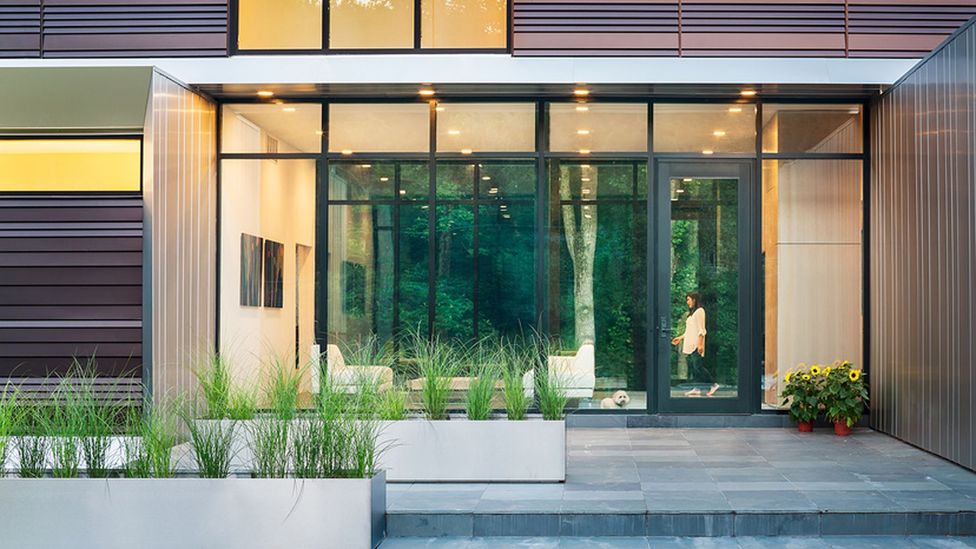 Höweler + Yoon Architecture's design for extended-family living (Credit: Jeff Wolfram)
Bridge House, in Virginia USA by Höweler + Yoon Architecture is something of the same with a very different aesthetic. Located between a suburban area and a protected wooded ravine, the house, which from the front looks like a single family home, was designed to accommodate three generations of a family with each having some private living spaces.
It is a trio of blocks, two of which are at ground level due to the sloping site. A third block sits on top of these units, which act as a podium. Large amounts of glazing allow dramatic views of the wooded area throughout the building.
The smaller, ground-floor block is a private suite for the grandparents of the family, while the larger is used as a communal living area with kitchen, lounge, dining room and garage. A glazed gap between the two ground-floor blocks frames a view of the woodland, and is bracketed by two patios providing more family space. The upper block has four en suite bedrooms for the second and third generations.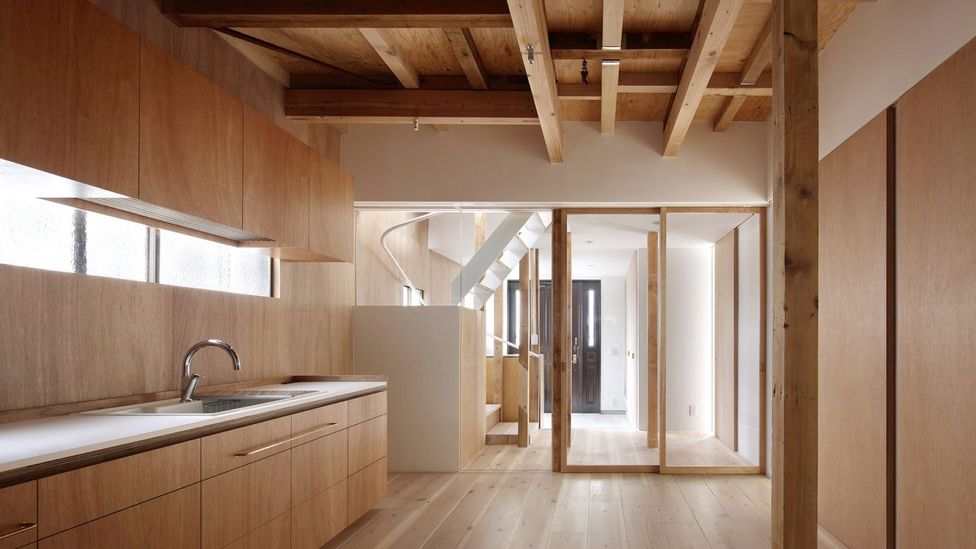 Tomomi Kito Architects reconfigured a space in Tokyo to create a home for four generations (Credit: Satoshi Shigeta/ Tomomi Kito Architects)
A different set of requirements was at the heart of the redesign of A House for Four Generations in Tokyo by Tomomi Kito Architects. This inner-city property was reconfigured to accommodate a young couple, their son, the wife's parents and a grandmother who had moved back from the countryside. Despite the fact that the house was just 40 years old and only two storeys, the clever redesign created private spaces for each person while keeping a sense of communality. 
As many as four in 10 homebuyers want room for a parent or adult child
Not everyone can afford such architect-designed buildings and conversions but what the book Radical Housing teaches us is that design solutions for multigen homes share certain common themes, almost regardless of cost. Repeatedly running through the architect's language are references to 'clever use of space and lighting'. "It's not always about spending lots of money," says Dove. 
She cites the Hundred House, HTA's submission to a competition to find a flexible, adaptable, affordable and offsite production house, as an example. The Hundred House is designed to cost less than £100,000, be built in less than 100 hours and last a hundred years. Taking the best features of Georgian and Victorian terraces, it enhances these classic designs. Among the improvements are twice as much light. Modular units can also be added thanks to the unique design of each property.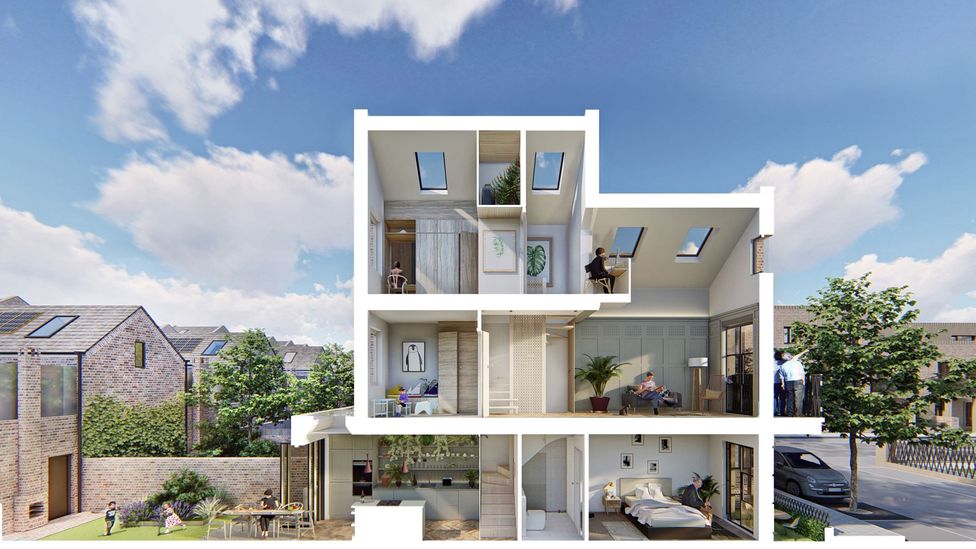 A CGI image of the Hundred House, a design by HTA of an affordable multi-generation living space (Credit: CGI image/ HTA)

Space is of course at the heart of the problem. Multi-generation homes are growing more rapidly in popularity in countries where land is abundant and relatively cheap. In the US, where nuclear-family homes have been the norm for the past 50 years, as many as four in 10 homebuyers want room for a parent or adult child, according to a survey by John Burns Real Estate, while Canada has seen a 40% rise in 'multigen' households.

Even in the UK, despite the space constraints, the number of multigenerational households is expected to triple by 2040. And this could be an underestimate. The pandemic has boosted the market for multigen homes according to most estate agents, including Yopa who surveyed 2,000 British buyers.

"[The pandemic] has accelerated the trend for communal living," says Stephanie McMahon at Strutt & Parker. "Some young urbanites fled the city before lockdown and moved in with relatives. Reduced costs, more space to live and childcare on tap means some may not want to go back to their old existence in a hurry."

Let's hope the tide of data pointing to the rise of multi-generational living will be considered in any housing legislation reforms. As Jonathan Manns of Rockwell Property puts it: "If the recent lockdown has taught us anything, it's about the importance of well-designed and adaptable space."

If you would like to comment on this story or anything else you have seen on BBC Culture, head over to our Facebook page or message us on Twitter.

And if you liked this story, sign up for the weekly bbc.com features newsletter, called The Essential List, a handpicked selection of stories from BBC Future, Culture, Worklife and Travel, delivered to your inbox every Friday.

;