Cremona has long been known for its fine stringed instruments. But now, after the Italian city became a virus hotspot, its craftsmen face tough times. Sergio Colombo reports.
I
In Pablo Farias' workshop, the air smells of wood. Sitting at the workbench, Pablo is varnishing his latest violin. The brush caresses the glossy maple of the instrument, slowly sliding back and forth. Next to the window overlooking the historic centre of Cremona, two small blue armchairs are still packed in transparent plastic. "I've just moved into this workshop," he says without looking away from the violin. "I was ready to open it in March, but then the pandemic broke out and the lockdown imposed by the government forced me to cancel my plans." Pablo seems to smile bitterly under the face mask.
More like this:
-       The Picassos of modern music
-       History's most enduring tune
-       The hardest place to be a pop star
 
Cremona, a city with 73,000 inhabitants, is situated on the southern border of the northern Italian region of Lombardy, which became the epicentre of the virus back in February, when it was the site of the first European outbreak. According to official data, Covid-19 has caused more than 1,000 deaths and 6,600 confirmed cases of infection in the province of Cremona (the city of Cremona and surrounding towns), and it is now putting a strain on its economy. In particular, it is threatening the violin making craftsmanship that has been the historical engine of Cremona's industry and made its botteghe (Italian for 'workshops') famous throughout the world, turning the city into a microcosmic reflection of how the pandemic is jeopardizing the culture and arts sector globally.
Here seen varnishing a violin, Argentinian-born craftsman Pablo Farias is among more than 160 luthiers who currently live and work in Cremona (Credit: Michela Vado)
Bowed string instruments have been handmade since the 16th Century in Cremona, which is also the hometown of Antonio Stradivari, perhaps the greatest violin maker in history. While the workshop where Stradivari used to craft his instruments was demolished in 1934, every corner of the city speaks of him. Schools, bed and breakfasts, sports centres, restaurants and cafes are named after this man, who, throughout his life, is estimated to have produced 960 violins. Now though, his legacy is struggling to survive.
Cremonese violin making is also on Unesco's cultural heritage list, and the city's craftsmen are internationally renowned for the unique process they use to create violins, violas, cellos and double basses, which sees them assemble more than 70 pieces of wood around an inner mould by hand, without using any industrial materials. The city's unparalleled tradition has long been attracting violin makers – also known as luthiers – from all over the world to come and ply their trade there.
The epicentre of an industry
Argentinian-born Pablo Farias is among more than 160 luthiers – mostly graduated from the International School of Violin Making in Cremona – who currently live and work in the cobbled alleys of the city. In the shade of their workshops, they shape raw boards of maple and spruce into musical instruments worth thousands of euros. "Prices vary depending on the name of the luthier and the market they are sold on," says Stefano Trabucchi, who opened his workshop in 1992. "The average is about 10,000 euros (£9,150)," he explains, pointing to a row of violins hanging from a steel cable that runs across the workshop, "but some go as high as 20,000 euros (£18,300)."
An order being cancelled basically means working two or three months without being paid – Pablo Farias
According to the latest World Bank data, Italy's annual export of bowed string instruments is worth $6.6m (£5.4m), mainly to Japan (£2.2m), the United States (£709,600), Hong Kong (£645,000) and China (£286,800). Cremona alone contributes about 80%, or more than £5m a year, to this total. Cremonese violin makers rely on orders from two categories of customers: private individuals and dealers, who usually resell them in their shops at twice the price to conservatories and musicians all over the world. A violin crafted in Cremona can either be a 'Stradivarius', inspired by the design of Stradivari, or a 'Guarneri del Gesù', based on the model of the 18th-Century luthier – and rival to Stradivari – Giuseppe Guarneri. "To the untrained eye, these two models look similar," Trabucchi says, "but they have slightly different shapes." In both cases, the process of creating the instrument takes at least six weeks. As a result, most individual craftsmen usually make no more than 10 violins in a year.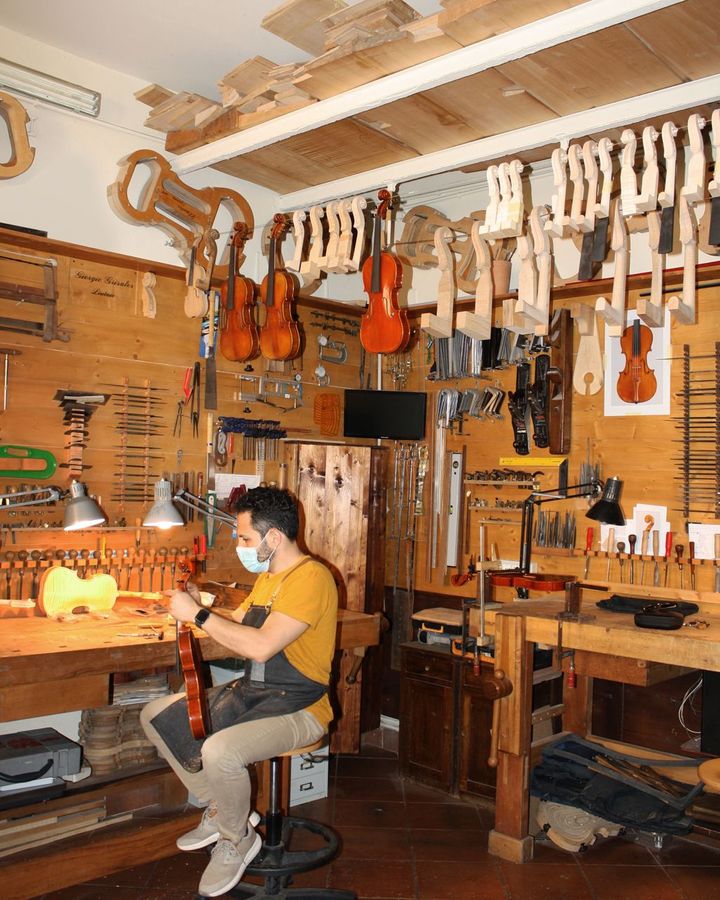 One of three young craftsmen at work in the bottega of Giorgio Grisales, the president of the city's 'Antonio Stradivari' Consortium of violin makers (Credit: Michela Vado)
Patrick Orippi, a 50-year-old luthier with a background as a cabinetmaker and carver, works alone in his small workshop on the gates of the old town. Filtering through the window, a beam of light reflects on the chisels lying on the workbench. "Normally, I make six or seven instruments a year. I shipped the last violin in January, so yes, my business has been suffering since the lockdown," says Orippi, turning an empty cardboard box in his hands. Since the lockdown forced non-essential shops to close, many dealers have frozen or even cancelled their orders. "The Coronavirus forced me to put on hold the orders I had," says Orippi. And if an order is not completed, the luthier is not paid for the violin he has made. Like Orippi, Farias has no employees. "I usually work at an instrument between two and three months," he says. "[An order being cancelled] basically means working two or three months without being paid." During the lockdown, luthiers weren't even allowed to visit their botteghe and work behind closed shutters: "I saw this as an injustice," Farias says. "Rules are rules, I know, but this one didn't really make sense."
Life after lockdown
Outside Orippi's workshop, in late June, the street is muted. Nearly two months since the lockdown in the region was eased, and there are still no tourists roaming the narrow lanes of the old town. The steps of a child echo through its stony walls. "During the lockdown, the atmosphere was almost unbearable," Farias says. "All I could hear were the sirens of the ambulances, over and over. Reassuring my brother and friends in Argentina over the phone was not an easy task. They were worried." Being forced to stay at home with his girlfriend, Farias stopped making violins and started making bread: "Just like a real Italian," he says smiling just for a moment. "It was a tough time for Cremona." "I have friends and colleagues who got infected, and luckily recovered," says Trabucchi, who left Cremona with his family before lockdown and stayed in his house in the mountains for the duration. "When I came back, the air was filled with sadness, the city was deserted. Even now it's struggling to get back on its feet." And so are its violin makers.
A violin lasts over 200 years, sometimes longer, [so] market saturation is reached very quickly – Giorgio Grisales
Cremonese luthiers are trying to find their feet again in an industry that was already under pressure before the Coronavirus outbreak. "Working as a luthier in this city is a unique experience," says Trabucchi. "You have the opportunity to exchange ideas with outstanding colleagues, and the competition forces you to improve day after day, but the market is now saturated." At the dawn of the 1990s, when Trabucchi made his first steps in Cremonese lutherie, there were about 60 violin makers in the city. Now they are almost three times as many. "A violin lasts over 200 years, sometimes longer, [so] market saturation is reached very quickly," says Giorgio Grisales, Colombian-born luthier and president of the city's 'Antonio Stradivari' Consortium of violin makers.
At the same time, the Cremonese industry has to deal with growing competition from outside the city walls. Due to the saturation of the market, many foreign luthiers who graduate in Cremona decide to return to their countries, bringing their expertise with them. Consequently, the art of violin making is sprouting beyond historical centres of excellence such as Cremona, Mirecourt in France, and Mittenwald, Germany. In China, more and more luthiers are following in the footsteps of Gao Tong Tong, a former student and apprentice in Cremona who returned to Beijing to open his own workshop. "Gao Tong Tong is a fine violin maker," Trabucchi says. "However, in China there are also factories where every year thousands of violins are handmade using semi-industrial materials, and sold at low prices." This kind of high-volume production has especially harmed the Cremonese industry. "Those instruments all look alike. They have the same shape and the same varnish: there's no uniqueness. Here we make something else," Trabucchi says with a touch of pride in his voice.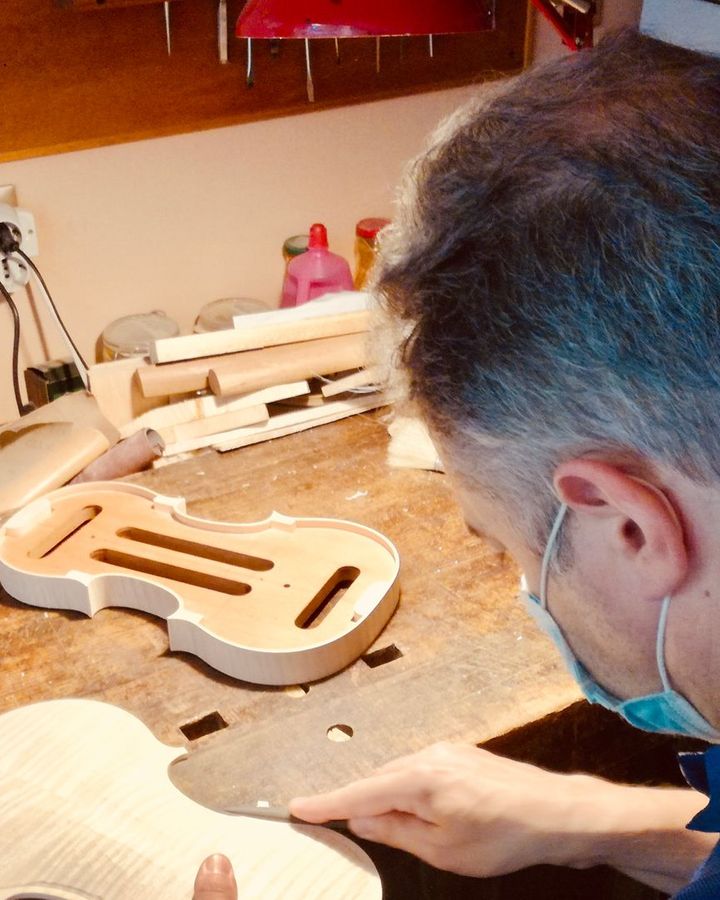 Patrick Orippi working on the back of a violin; he normally makes six or seven instruments a year (Credit: Michela Vado)
As we speak, he takes a Stradivariuswaiting to be shipped to Malaysia, and caressingly passes his slender hand across the back of the instrument made by Mario, his only employee."It was never an easy market to enter, but it used to work. Now, the Coronavirus-induced crisis is set to change this business as we knew it."
 A blow for classical music
The classical music industry has been among the hardest-hit by Covid-19. Across the world, orchestras are being financially crippled, as they are forced to cancel concerts, and, in some cases, lay off their musicians due to the sudden drop in revenues. "Musicians are our end-users, and at the moment they are in deep water," says Simeone Morassi, owner of one of the oldest workshops in the city and vice-president of the Associazione Liutai Italiani (Association of Italian Luthiers). "Over the past few years I sold four of my instruments to the musicians of the NHK Symphony Orchestra, a major orchestra in Japan: today it is struggling, it's losing millions of yen."
Another Japanese orchestra, the Tokyo-based TSO, lost about 50 million yen (£378,000) between the end of February and the beginning of April due to coronavirus-related cancellations. While in the US, another crucial market for Cremonese violin makers, "many musical instrument shops have been forced to shut down in recent weeks," adds Trabucchi. The financial strains of musicians and dealers are resulting in stagnation in the instrument industry, affecting violin makers as well as other major players in the market. "Musical-instrument string makers are also in trouble," says Morassi. "A musician usually replaces strings after 30 to 90 days, but now everything is on hold, and the Austrian and German giants who make these strings are suffering. It's an extremely delicate situation."
Luthiers were further affected by the cancellation of two of the most important international trade fairs in the first half of 2020, in Frankfurt and Beijing. During these fairs, violin makers from all over the world usually jostle to carve out their own niche, strengthening existing relationships with some dealers and trying to create new ones. "The cancellation of such events is an issue for us," says Grisales. "In October there will be another important fair in Shanghai, which should be confirmed." However, Grisales fears that people arriving from Italy may be subject to more stringent quarantine measures than people from countries that had lower infection rates: "If this happened, we Cremonese violin makers, unlike our competitors, would not be able to attend the fair."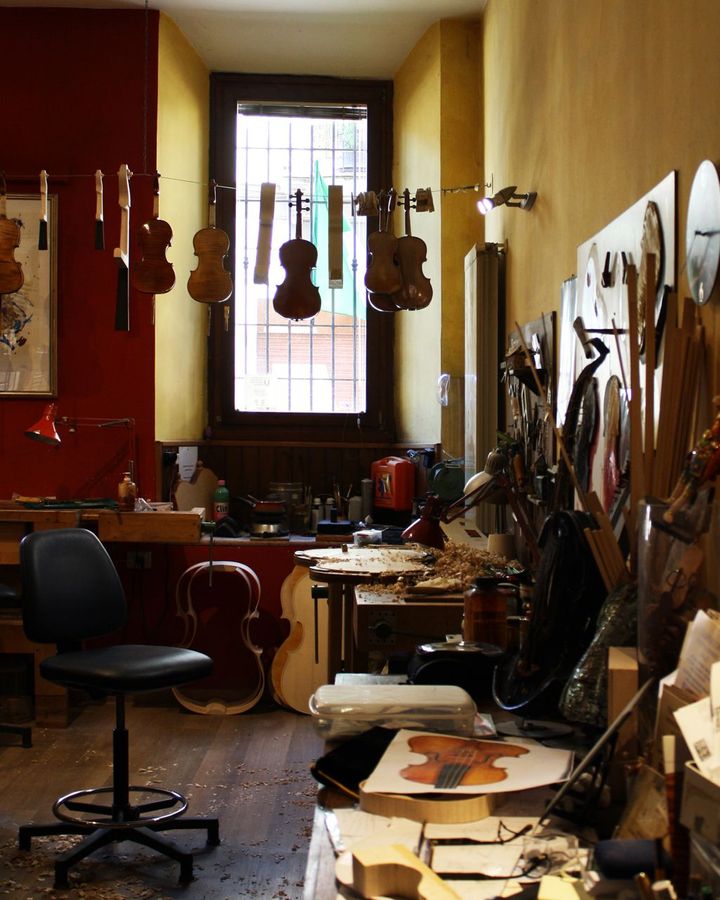 The workshop of Stefano Trabucchi, who says "the Coronavirus will be a watershed" moment for the city's violin makers (Credit: Michela Vado)
According to Grisales, the effects of this crisis on Cremonese violin making will be dramatic. "In the Consortium, which includes around 60 of the 160 luthiers in the city, one workshop out of two is struggling," he says. Some already had difficulties in standing out from competition and placing orders before the pandemic. The Coronavirus-induced economic crisis further exacerbated their troubles. "I know luthiers who have not sold instruments since November," Grisales says. "We're talking about people who have children and a rent to pay, and can't make the ends meet. Two craftsmen of the Consortium have not yet received the 600 euros (£550) that the government promised to the freelancers, and they had to borrow this money."
Grisales looks to his left, towards the back of the shop, where his three young craftsmen are shaping, carving and varnishing precious pieces of wood. "I am in a privileged situation, all in all, I'm keeping afloat, and so do other colleagues. But try to think of a smaller workshop where there is a single craftsman, who was forced to stop his activities for three months."
In this context, if the demand for violins drops – as it's set to do due to the ongoing crisis – in Cremona there may not be room for everyone. "The Coronavirus will be a watershed for us," says Trabucchi. Sitting on a stool, his craftsman Mario continues to work, impassive at the Maestro's words. "The market seemed to have infinite potential," Trabucchi says, "but it will no longer expand. Here in the city, dozens of workshops may have to shut down."
At the same time, those who want to open their own workshop will have to wait, at least for now. "There couldn't be a worse time to start," says Trabucchi. Behind him, Mario is adjusting the strings of a violin. He gazes at his Maestro, as if he were asking tacit permission to speak. "I'm 37, I've been working here for 16 years and I've always enjoyed being part of this," says Mario, putting the instrument down for a moment. "Of course, I dream of starting my own business. But then you have to face the reality. At the moment opening a workshop is simply unthinkable, and in the future the risks will be very high as well." Mario looks back at the violin, gently turning the instrument in his hands. One day it will play, but not today. Today, there's no music playing in the alleys of Cremona.
If you would like to comment on this story or anything else you have seen on BBC Culture, head over to our Facebook page or message us on Twitter.
And if you liked this story, sign up for the weekly bbc.com features newsletter, called The Essential List. A handpicked selection of stories from BBC Future, Culture, Worklife and Travel, delivered to your inbox every Friday.