It's bold, beautiful – and is adorning tables all around the world. Dominic Lutyens speaks to the designers, brands and craftspeople behind the global glass resurgence.
"Glass is often the poor relation to ceramics," says Mark Hill, glass collector, author of several books on 20th-Century glass and a specialist on the BBC's Antiques Roadshow. But, asked why this is the case, Hill is mystified: "I can't think of an explanation. Somehow glass is secondary to ceramics in terms of the volume of books and articles written and its value in broad-brush terms. An antique porcelain bowl is often worth more than a contemporaneous glass piece."
More like this:
-        The global story of a Dutch icon
-        The quirky charm of Norwegian design
-        Beautiful homes for extended families
Yet the popularity of glassware endures. Particularly sought-after is experimental, modernist glass produced from the 1930s to the 1970s in Murano just north of Venice, along with glassware from Sweden, Finland, Denmark, the UK, the US and Czechoslovakia. Its appeal has persisted thanks to the broad spectrum of styles produced during the postwar era. There's a world of difference between Murano's flamboyant confections that harnessed ancient decorative techniques such as murrine (coloured patterns visible in glass canes cut in cross-section) to create wildly kaleidoscopic, abstract patterns, and the more restrained work of Finnish designers. The Finns favoured modernist simplicity – bold, pared-down forms – and muted, nature-inspired colours.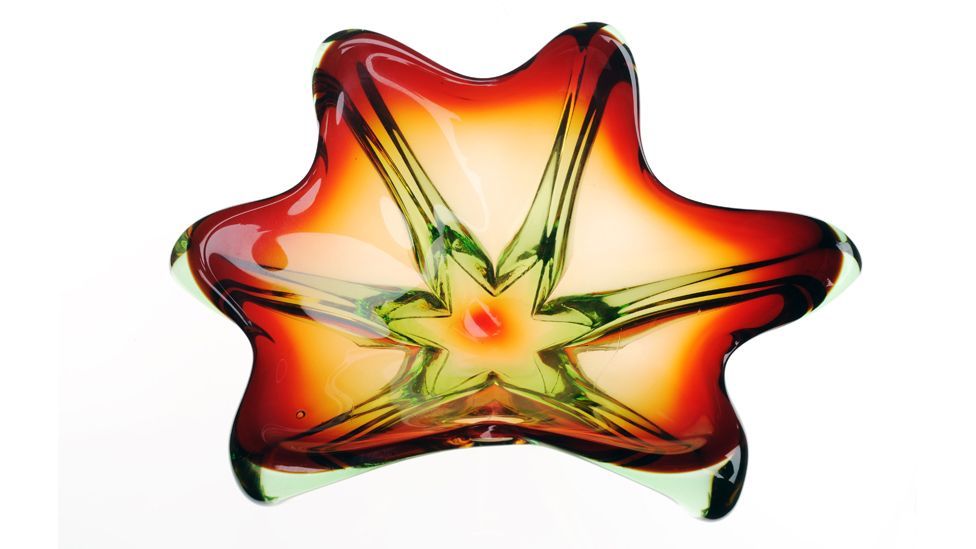 Mid-century glassware made in Murano, Italy – such as this 1960s piece – is especially sought-after (Credit: Alamy)
A classic example of modernist Finnish glass is the ever-popular Savoy vase of 1936, a collaboration between husband and wife Alvar and Aino Aalto, whose approach to glassmaking was unorthodox. The prototype for this was created by blowing molten glass into an irregularly contoured hollow in the ground, which would ultimately determine the vase's wavy, organic outline. It was later manufactured by Finnish glassworks Iittala in wooden moulds that were slowly burned away, and the finished, polished product graced Helsinki's glamorous new restaurant, Savoy, whose interior was designed by the Aaltos in 1937. It has recently been refurbished by interior designer Ilse Crawford in conjunction, appropriately, with Artek, the Finnish homeware brand founded by the Finnish couple in the 1930s. In contrast to the Savoy vase's smooth surface are the rugged textures of fellow Finn Timo Sarpaneva's equally iconic Finlandia glassware of 1964 for Iittala. This is created by pouring molten glass into moulds with bark-like textures.
Some mid-century designers encouraged the cross-pollination of ideas between countries. In the UK, Geoffrey Baxter, who worked for British, forward-looking handmade glass manufacturer Whitefriars Glass from 1954 to 1980, was heavily inspired by Scandinavian design. His late 1960s pieces, such as his wobbly-looking Drunken Bricklayer vase, available in a multitude of colours, featured roughly textured surfaces that recall Sarpaneva's creations. Baxter played with tree bark, gouged wood, copper wire and tin tacks to achieve their appealingly knobbly surfaces.
Glassmaking in the 20th Century was further enriched by the international studio-glass movement, pioneered in the early 1960s by US glass artists Harvey Littleton, Dominick Labino and others. Their goal was to enable designers to produce glass pieces in a small furnace independently; previously most art glass was made in factories by teams of workers or individual glassblowers operating in large, shared buildings. The immediacy of this new approach resulted in highly expressive pieces.
Jewel-bright pieces line my windowsills. When the sun shines through them, they look fantastic – Mark Hill
Today, many homeware companies channel the mid-century vibe. Hip Danish homeware brand Hay, for example, sells an exuberant, milky white glass vase called Splash. Each vase features different patterns and colours – random air bubbles, swirling striations and tutti-frutti-like dots – created by rolling molten glass over coloured glass fragments, which is then handblown into a mould.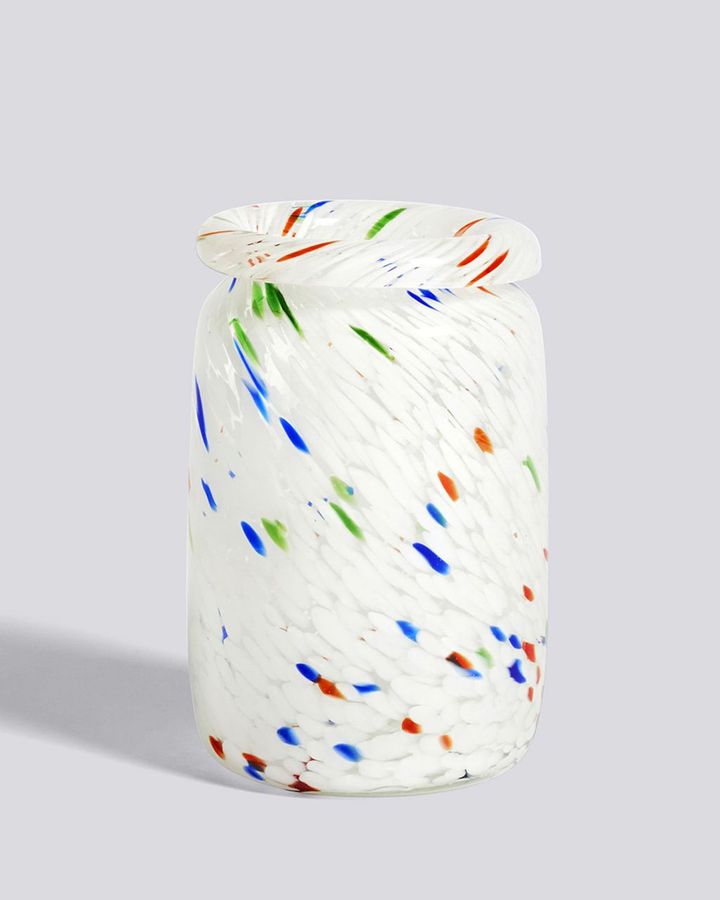 The Splash vase by Danish homeware brand Hay is influenced by mid-century designs (Credit: Hay)
Rich heritage aside, for Hill the impact of mid-century glass is primarily visual: "Glass has eye appeal, not just historic importance. Jewel-bright pieces line my windowsills. When the sun shines through them, they look fantastic. They're a joy." However, he laments the fact that many high-street stores sell watered-down versions of mid-century pieces, woefully stripped of their ingenious craftsmanship: "It's to do with economics and fashion. Simplifying designs makes them less costly to produce. These new versions are sold to people who want to buy into the mid-century style without having to trawl through antiques shops and fairs."
Blown away
The interest in creative glassmaking has recently boomed, and a surprise hit on Netflix ­– Blown Away – has put it firmly in the spotlight. This Canadian reality TV show, which aired in 2019, presented a glassblowing competition featuring 10 contestants. Perhaps viewers were transfixed by the immense skill and physical strength that glassblowing demands. It's all too easy for laboriously crafted glass pieces to shatter and the accompanying spectacle, drama and suspense made good TV. The series has been compared to reality TV shows The Great British Bake Off and The Great Pottery Throw Down, both symptomatic of a yearning for the hand-made and tangible as an antidote to the digital overload in our lives.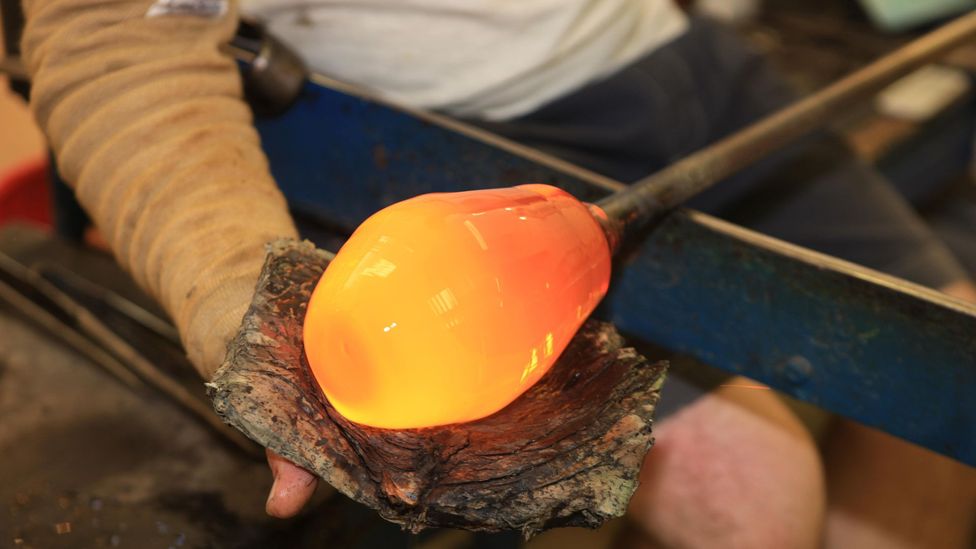 Glassblowing has become an increasingly popular craft in recent years (Credit: Alamy)
The series also highlighted a major development in glassblowing: the growing number of women entering this formerly male-dominated field. What's more, glassmakers today often look beyond formal concerns, taking a more conceptual, politicised approach, addressing such issues as feminism and environmentalism.
The winner of Blown Away, Deborah Czeresko, a glass-blower with 30 years of experience, filled a gallery with an installation of pieces in the form of various types of food – strings of sausages and fried eggs ­– that for her symbolised patriarchy, and referred to a stage in the contest when she was the only woman competing against three men. She exhibited a similar piece, called Meat Chandelier, at New Glass Now, a recent, major survey of contemporary glass at the Corning Museum of Glass in Corning, New York, which supported the Netflix series. This showcased work by 100 artists from 32 countries, and incorporated photographs, videos, architectural maquettes and scientific experiments.
It included work by prominent French designers, brothers Erwan and Ronan Bouroullec, who frequently experiment with glass. For example, their idiosyncratic Alcova collection, created in 2018 for London-based cast-glass specialist WonderGlass, comprises thick-walled vases positioned inside alcoves, all in green, grey, amber or clear glass. Each piece is fabricated by Italian glassmakers: to make the alcoves, they pour molten glass on to a flat surface, roll it to give it an even thickness, then drape the malleable slab over a wooden mould and trim its edges.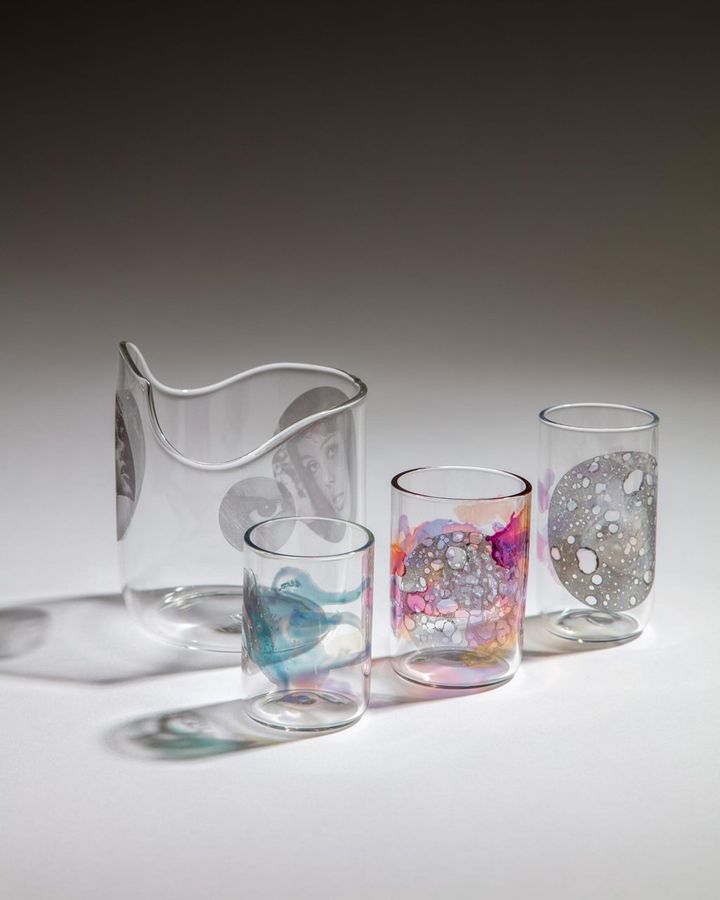 German-born glass artist Jochen Holz uses a technique called 'lamp-working' (Credit: Jochen Holz)
Another exhibitor at New Glass Now was German-born, London-based glass artist Jochen Holz, who has also shown his work at gallery Hauser & Wirth Somerset and at London gallery Seeds during the exhibition, Collect 2020, held at Somerset House, London. He recently collaborated with artist Linder to produce carafes and glasses, commissioned by South London gallery Studio Voltaire, and is currently creating a homeware line for London boutique Browns.
In Germany, Holz trained in the highly technical and scientific lamp-working method, commonly used to make laboratory equipment. He later studied glassmaking at the Royal College of Art, then decided to focus on lamp-working, which entails heating ready-made, highly heat-resistant borosilicate glass tubes using a torch, then blowing into them. "My approach jumps over the more traditional glassblowing stage of gathering molten glass from a furnace," he tells BBC Designed.
Most tubes used for lamp-working are made of clear glass but Holz was keen to make colourful pieces. He now sources coloured glass rods from Oregon-based company Glass Alchemy, which, he notes wryly, cater to "a subculture of glassblowers that is quite Dungeons and Dragons in terms of the motifs they like – things like goblins".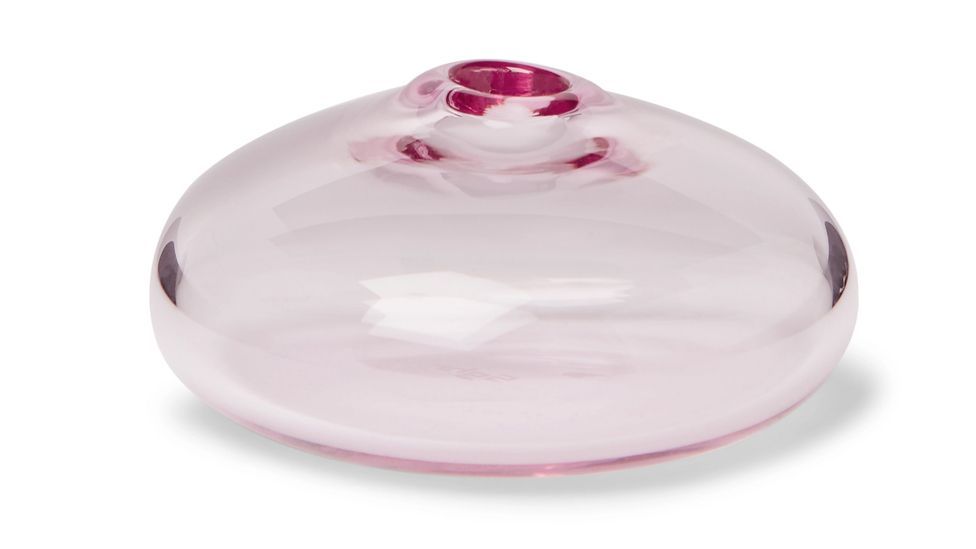 Delicate vases and vessels in pale hues are a speciality of Japanese glassware makers Sugahara (Credit: Sugahara)
Lamp-working allows for spontaneous shaping, and Holz is known for his asymmetric glassware in ethereal hues such as lilac and pale green, combined with smoky greys and fiery oranges. "Jochen's technique is pretty unique in that he has subverted traditional, scientific lamp-working into a free-form crafting of glass objects," says Nathalie Assi, founder of Seeds. He also makes quirky, wiggly neon lighting and vases with partially iridescent surfaces ­– a nod to Art Nouveau glass – achieved by loosely painting metal oxides on to the molten glass.
When I visited Holz in his east London studio, he showed me a number of books about maverick mid-century designers he admires, such as Aalto, Sarpaneva and Mexican-born Sam Herman, credited with importing the studio glass philosophy to the UK. Holz is also a fan of Italian designer Ettore Sottsass, who sometimes irreverently incorporated string and wire into his glass pieces, a rebellious act that Murano-based traditionalists frowned upon. "I don't mix with others in the glassmaking community," says Holz. "Many people in Italy wouldn't consider me a proper glassblower as I don't use a traditional furnace. In the UK, people are more accepting of a conceptual approach."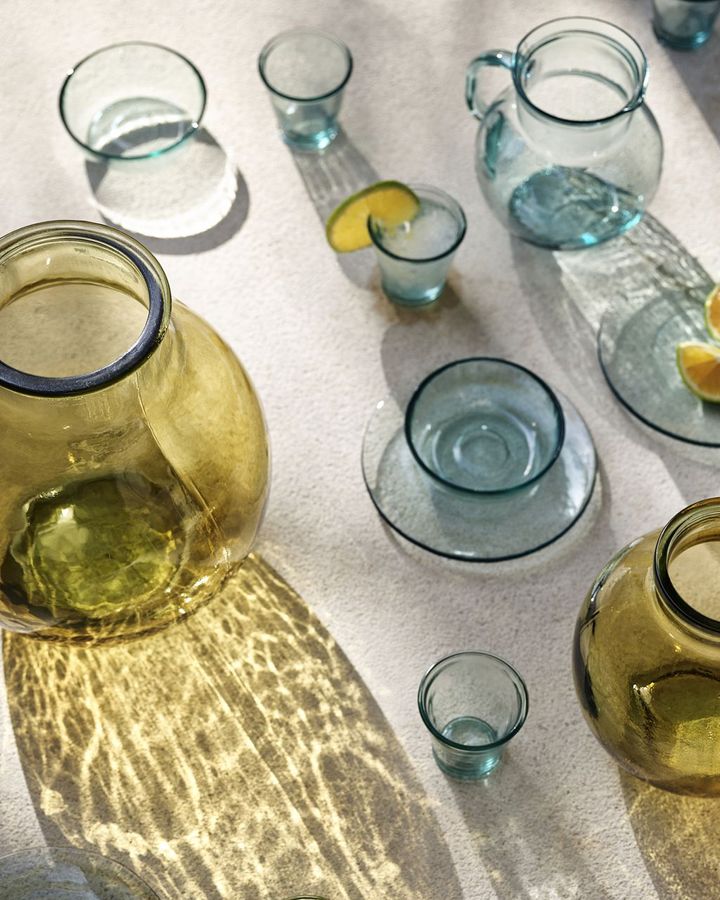 A growing number of brands, including H&M Home pictured here, are using recycled glass in their pieces (Credit: H and M Home)
Nowadays, mixing media in glassware is less controversial. It is championed by Gallery Sklo in Seoul, which also participated in Collect 2020, for aesthetic and commercial reasons: "I encourage artists to mix media like concrete with glass or to paint on to glass," says Hyujong Kim, its director. "To survive as a gallery, we have to find a fresh generation of artists to secure a new generation of clients."
Glass artists and brands are increasingly introducing environmentally-friendly manufacturing methods
Providing further evidence of the growing appetite for glass is the Crafts Council's recent 'market for craft' report, its first publication quantifying the demand for British crafts, based on surveys conducted with UK and US consumers. This states that, from 2006 to 2020, the overall value of sales of individual glass pieces made by glass artists in England rose by 548%; by comparison, the value of ceramic pieces increased by 33%.
One downside of the glass-making sector – both mass-produced glass sold on the high street and high-end art glass ­– is that it's highly polluting, as Hill points out: "Furnaces have to be kept on all the time, which is also expensive." Yet glass artists and brands are increasingly introducing environmentally-friendly manufacturing methods. "We've been researching making our designs with recycled glass, and aim to have zero glass waste by the end of this year," says Yusuke Sugahara, president of Japanese glass brand Sugahara, which produces hand-crafted glassware. Its 2020 collection includes the streamlined, multi-functional Asperites Decor, a colourful, party-friendly set of stackable vessels used as glasses, vases, tealight holders and containers for snacks and dips.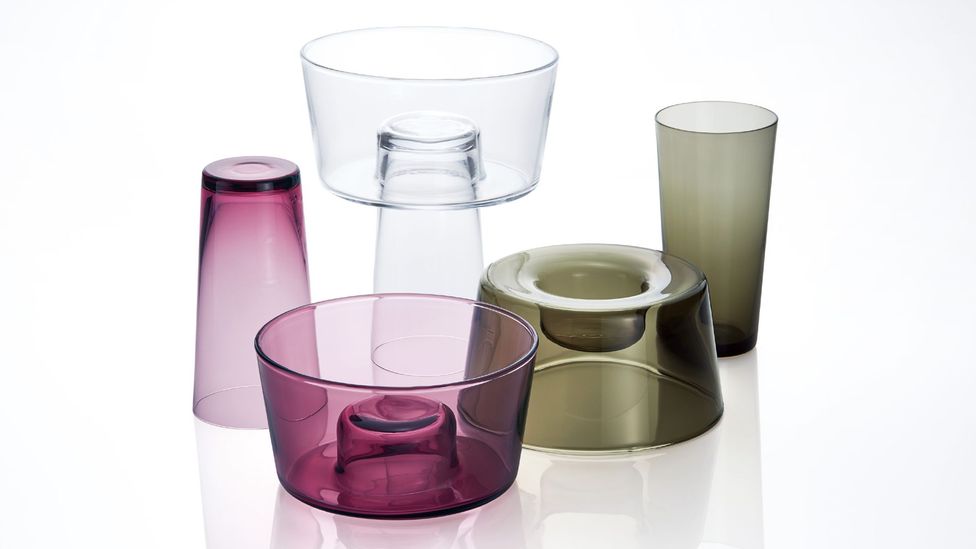 Japanese glass brand Sugahara creates vases as well as stackable vessels (Credit: Sugahara)
And H&M Home recently launched a glassware range made from 100% recycled glass. "We are constantly looking into materials and fabrication processes that reduce our impact on the environment," says Guillaume Valliant, the brand's concept designer. "With our new range, we collaborated with a glassmaking factory in Spain known for its recycling expertise. The materials used are melted again without any additives – and at a lower temperature than that used for conventional glassware, which saves a lot of energy."
Meanwhile, glass artist Allister Malcolm, who is based in Stourbridge in the UK, uses waste lead crystal provided by Dartington Crystal's factory in Devon. His hand-blown Bubblewrap vase, sold at London gallery Vessel, is a comment, he says, on "our throwaway society". In 2012, Malcolm started using a smaller furnace that consumed less gas. He also reuses offcuts from his own glass manufacturing, while his studio is heated by solar panels.
What other trends are emerging in glassware? "We've noted a rise in popularity for coloured glass in the past year," says Emre Bozbeyli, design director at directional Turkish brand Nude, which over the years has commissioned pieces by Ron Arad and Slovakian designer Tomas Kral. Nude has just brought out a collection of cocktail glassware with elongated stems, co-created with Remy Savage, head bartender at the Artesian bar at London's Langham hotel. "In tableware now there's a movement towards unmatched sets, which allows for more freedom – less perfect shapes and more variation in colour," says Sheridan Coakley, owner of London furniture store SCP, which stocks Holz's glassware.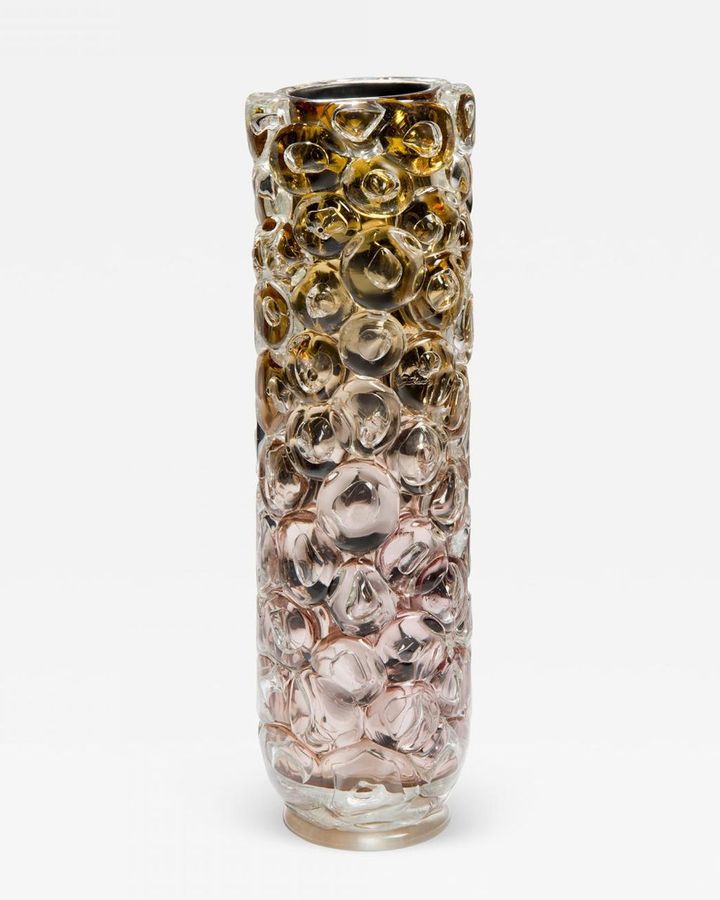 Allister Malcolm uses waste lead crystal in his hand-blown Bubblewrap vase (Credit: Vessel)
Technology is also influencing glass manufacturing. "The advent of 3D-printing is allowing for beautiful and intricate models that couldn't have been realised before, while improvements in glue and laminating are opening up more possibilities for glass art," says Angela Jarman, a glass artist whose work is also sold by Vessel. Even so, she insists that handcrafting is still "vital". Her piece, Small Topaz Murini Agate jar, "a gem-like vessel", is made using a labour-intensive, ancient process called lost-wax casting: it takes her four to six weeks to complete each design this way. As the jar's name suggests, it references craftsmanship practised in Murano – peer inside and you see decorative patterns redolent of the technique of murrine, beloved of mid-Century Italian glass artists.
If you would like to comment on this story or anything else you have seen on BBC Culture, head over to our Facebook page or message us on Twitter.
And if you liked this story, sign up for the weekly bbc.com features newsletter, called The Essential List, a handpicked selection of stories from BBC Future, Culture, Worklife and Travel, delivered to your inbox every Friday.