The Notting Hill Carnival is one of the world's biggest, and most electrifying, outdoor events. As it goes digital for 2020, Lou Mensah reflects on its historical and political impact.
A
After a series of racially motivated attacks on the West Indian residents of West London's Notting Hill area in August 1958, Trinidadian human rights activist Claudia Jones decided to create a special gathering in an attempt to unify the community.
More like this:
- The Picassos of modern music
- The subversive power of calypso
- Why are statues so powerful?
Called the 'Caribbean Carnival',  and broadcast on the BBC, it was held the following January, in St Pancras town hall. Little could Jones have then imagined that, more than 60 years on, this expression of community solidarity would have grown to become the largest street party in Europe, held every August bank holiday weekend – and an event that has become a cornerstone of British culture.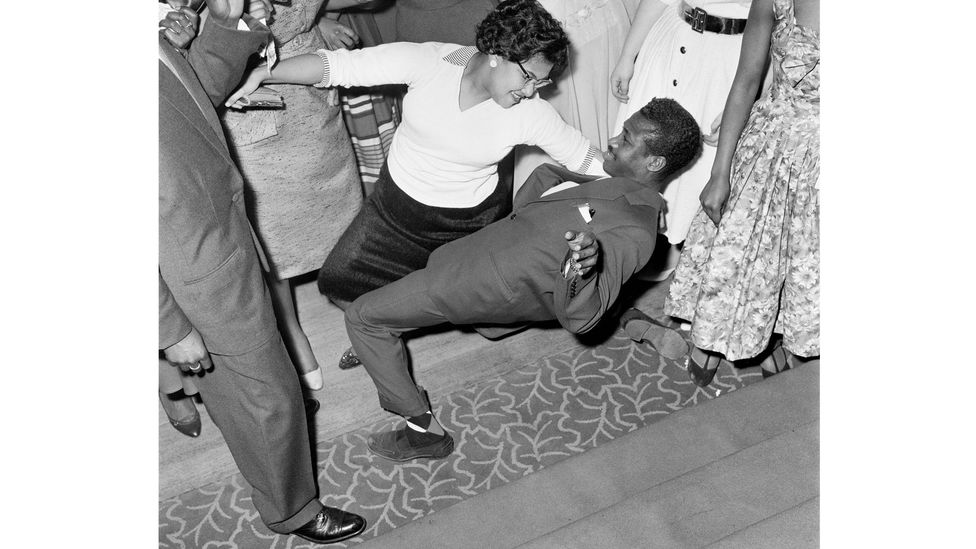 Held in St Pancras town hall in January 1959, the Caribbean Carnival sowed the seeds for the street party now known as the Notting Hill Carnival (Credit: Getty Images)
This year, to keep people protected from the pandemic, the Notting Hill Carnival (NHC) will be streamed online as a series of events celebrating its origins and driving spirit. And, even if people can't gather face to face, it feels more vital than ever to channel that spirit.
This has been a challenging year, with the pandemic punctuated by street protests following the murder of George Floyd in America. How are we as black Britons to process these troubles and heal? In part, perhaps, by appreciating the strength of our community – which is where Carnival comes in. We have six decades of shared memories, that resonate from St Pancras town hall to the present day.
The meaning of Carnival
Carnival has always reflected the energy and activism of the times, while being many things to many people. My journey with it started in the 1980s, when my Ghanaian father would drive me from our home in the London suburbs into the heart of the street festival. Dad was a taxi driver, whose raison d'etre was conversation: he revelled at the chance to chat with more than one person at a time, and exchanged a ceremonial 'hello!' with every passer-by, which left little time for dancing.
However, my experience of Carnival changed when I attended with my extended Trinidadian family. This was the early 1990s, by which time the crowds seemed to have doubled. I remember holding our cans of Red Stripe above our heads to avoid spillages, bodies pushing heavily behind us, as we navigated our way towards the sound systems. Our traditions of jerk food and dancing continue today, but the experience is now enriched by taking my daughter to enjoy the painted revellers and costumes along the parade.
To historian and NHC ambassador Fiona Compton, the origins of Carnival are revolutionary. They go back to the 17th Century when, as European colonisers held Lent masquerade balls, enslaved Africans staged their own festivities. But as Compton points out, these were a form of rebellion.
Within Carnival, there's a mission of spirituality, a celebration of freedom. The procession is the representation of the freedom of movement that we didn't have before – Fiona Compton
"They would observe, mimic and incorporate their own African masteries, music, costume making and so on; a ridicule of their oppressors," she says. "Within Carnival, there's a mission of spirituality, a celebration of freedom. The procession is the representation of the freedom of movement that we didn't have before. Even the steel pan [drum]. There were laws that you couldn't use this skin or whatever to make drums, so the steel pan is an improvisation. 'We can't use a skin drum? Okay, well, we could use oil drums.' Everything in Carnival is revolutionary action."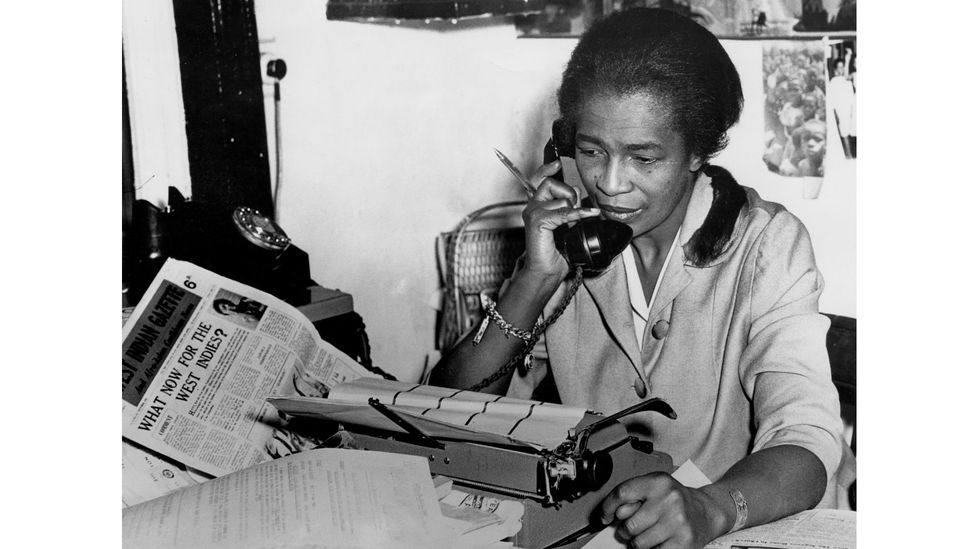 The founder of the Notting Hill Carnival Claudia Jones was a Trinidadian human rights activist who settled in the UK in the 1950s (Credit: Getty Images)
Compton was born in St Lucia. She moved to London 20 years ago to take her place on a photography course at the London College of Printing, one of the UK's most respected creative institutions. However she was disappointed at the lack of Caribbean representation within the work she studied there. "I felt like, even within the active Black British photographers that they brought up during the course, I didn't find it relatable because a lot of [Caribbean] history has a Jamaican focus. If you're going to speak about the Caribbean, you're put this under this one umbrella. And I felt frustrated."

Compton left university with her degree, but wanted to improve on the education that she had received and teach others about the Caribbean's rich history. "What about people from St Vincent? The people of Asian heritage from Guyana, the Chinese Jamaicans, Guadeloupe and the Francophone Caribbean? They have very little voice within the Caribbean narrative. In many ways [in college] we were oppressed by the narratives that were being put forward about my own people. So that became one of my main focuses." Today she holds education workshops through her online platform Know Your Caribbean.
Carnival is growing and growing, but a lot of the foundation is shrinking as it grows. It's getting stifled by big money brands – Fiona Compton
As a Carnival ambassador, it is important to Compton that its historical roots are preserved in the current narrative. "Carnival is very important to me. It would be so wonderful if we all collectively had this understanding of the spiritual practice regarding it." In tandem with that, Compton says its social and political origins need to be properly understood too. "I remember there was a story with Claudia [Jones]. The police said 'Listen, if you come out it's gonna be a huge problem.' We still went ahead with it, and I think it's a really beautiful thing for people to contextualise. Carnival is a protest."
Its musical impact
Artistically, Carnival's influence on British music cannot be underestimated, via the calypso and reggae tunes that have been at its core. "When you look back, it's [music] filled with bravado, and political and social commentary," explains Compton. "Kids who are second and third generation Caribbean see how their parents would respond to the music, or just pick up some of the lyrics; that has a lot of influence, maybe as much as American rap music.
"It is that kind of showmanship as well, you know… when you are battling," she adds, referring to the influence of the sound system culture of Caribbean music, where members of different crews of musicians pit their skills against each other. "All of this develops into what we see in the UK music scene now."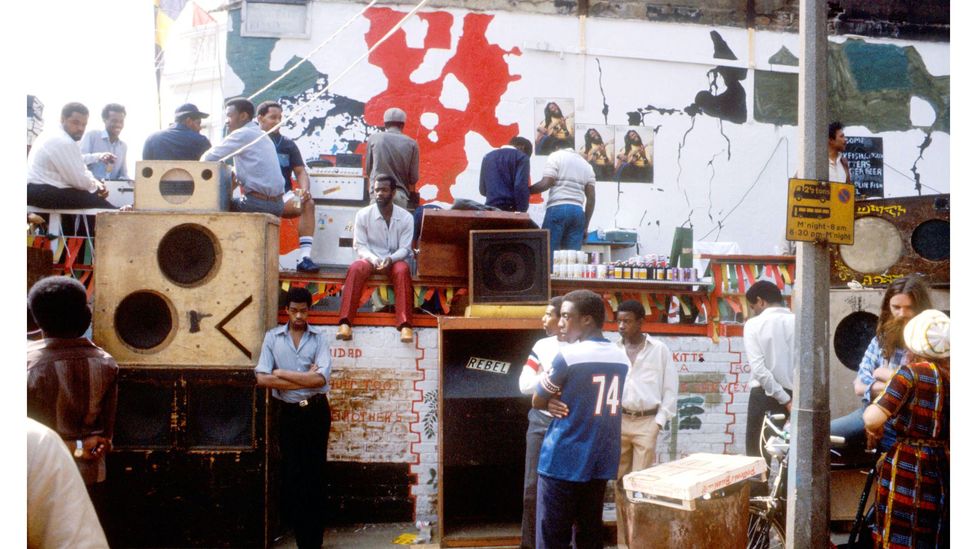 Sound systems – with crews of musicians creating their own tunes – have always been at the core of Carnival culture (Credit: BBC)
Meanwhile, as a measure of the importance of Carnival to global music culture, it's worth mentioning that in 1997 hip-hop artists Jay Z, Busta Rhymes and Lil' Kim took to the NHC stage. Later, in 1999, Beyonce Knowles and her then-band Destiny's Child performed at Carnival following the release of their album, The Writing's on the Wall.
As Carnival has evolved, however, it has grappled with different issues. I, for one, miss the days of Carnival during my childhood: the streets were freer, the curfews were more relaxed.
Over the decades there have been complaints about its increasing commercialisation, which is an element Compton also takes issue with. "It is growing and growing, but I feel like a lot of the foundation is shrinking as it grows. I feel it's getting stifled by big money brands, profiteering, without having the context [of its origins]."
Even though we cannot physically be on the road this year, it's a great opportunity to bring in the historical, cultural and spiritual context to Carnival – Fiona Compton
What's more, the gentrification of Notting Hill has gone hand in hand with criticisms over excessive policing of the event. Many wealthy local residents now leave their homes for the weekend, their absence representative of a gap in inter-community relations. 
At the same time, a recurring focus on crime at Carnival is at odds with what the numbers tell us. A Huffington Post investigation last year revealed that, for every 10,000 people, Manchester's Creamfields festival has more than 23 arrests, and Glastonbury – perceived to be unproblematic in terms of crime – has just over three arrests. Yet while NHC also has just over 3 arrests per 10,000 attendees, many have contested that it receives much greater scrutiny when it comes to violence at the event as a result of racial bias.
Despite this, NHC is what it is today thanks to the talent and dedication of a team and community. Carnival is about spiritual healing and the celebration of important ancestral traditions.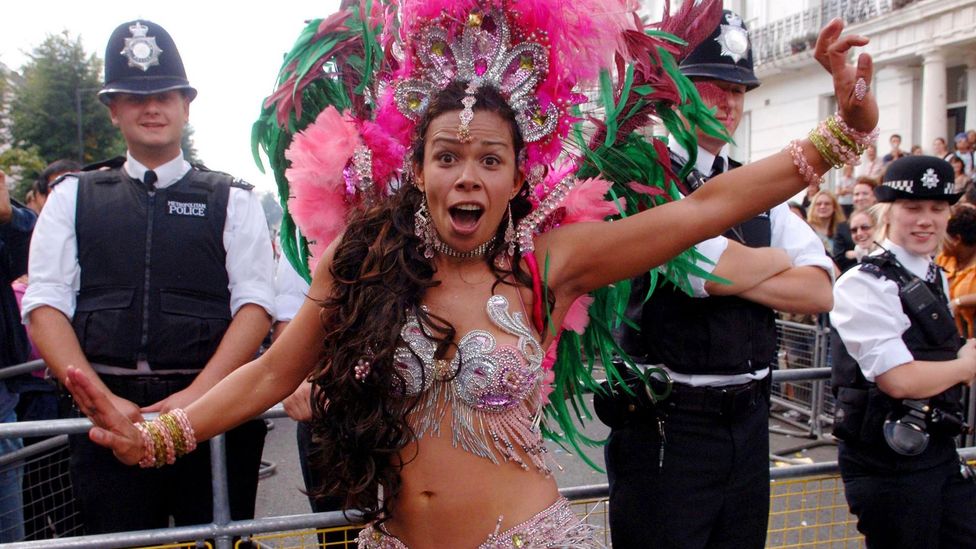 Over the years, there have been criticisms about excessive policing of the event (Credit: PA)

One treasured member of the NHC creative community was award-winning wire-bender Lincoln Rahamut. His work literally held together carnival costumes not just in Notting Hill, but all over the world, and he was one of the few remaining wire-bending craftsmen. Sadly, he passed away this year.

Compton was commissioned by NHC to create a short film on Rahamut's work in 2018. Remembering the time she spent with him, she says he exemplified the real spirit of Carnival. "When you speak to the people who started all of these things or continued these legacies, if you sit and have a conversation with them, they will give so much and so openly, because they really want people to continue this. They know that they're not going to be around forever. It's not just magic that they create, but it's their willingness to give, to share, to teach, and to continue.

"Even though we cannot physically be on the road this year, it's a great opportunity to bring in the historical, cultural and spiritual context to Carnival," she says. "It's not going to take away from your experience, it's just going to add to the experience."

For information on this year's virtual event, visit www.nhcarnival.org.

To listen to the full interview with Fiona Compton on the origins of NHC Carnival, go to www.shadepodcast.co.uk.

 If you would like to comment on this story or anything else you have seen on BBC Culture, head over to our Facebook page or message us on Twitter.

And if you liked this story, sign up for the weekly bbc.com features newsletter, called The Essential List. A handpicked selection of stories from BBC Future, Culture, Worklife and Travel, delivered to your inbox every Friday.

 

;