What we wear has always revealed our values and aspirations, particularly in times of turbulence and upheaval. And now, writes Bel Jacobs, it's a time for change.
2020 has unarguably been one of the most challenging years in living memory, with countless experts and commentators dedicating themselves to analysing our current upheaval. And yet, there are still few better places to examine cultural change than fashion. "Fashion is a potent visual marker of our times," says Caroline Stevenson, head of cultural and historical studies at London College of Fashion. "Trend analysis of any given era will reveal society's values and aspirations." 
More like this:
-        The story of the 'queen of flowers'
-        The ultimate power adornment?
-        The birth of Black is Beautiful
It will be interesting to see what trend analysis will make of this time. The world has been in trouble before; both World Wars, for example, led to a flurry of measures designed to make clothing as practical – and as thrifty – as possible. In efforts to conserve precious materials for the war effort, single-breasted suits replaced double-breasted; trouser turn-ups were abolished – much to the annoyance of their male wearers. After World War One, zip fasteners and elastic were frowned upon, except in women's knickers. Similar trends of thought ran through the Great Depression of the 1930s, when Americans turned their backs on flippy flapper dresses towards more reserved silhouettes. Utility clothing, as it was called, was streamlined and efficient – and sometimes gently embellished. One of the Imperial War Museum's civilian siren suits boasts puffed shoulders, bell-bottom cuffs, piping decoration and a natty hood. The urge to creative expression runs deep.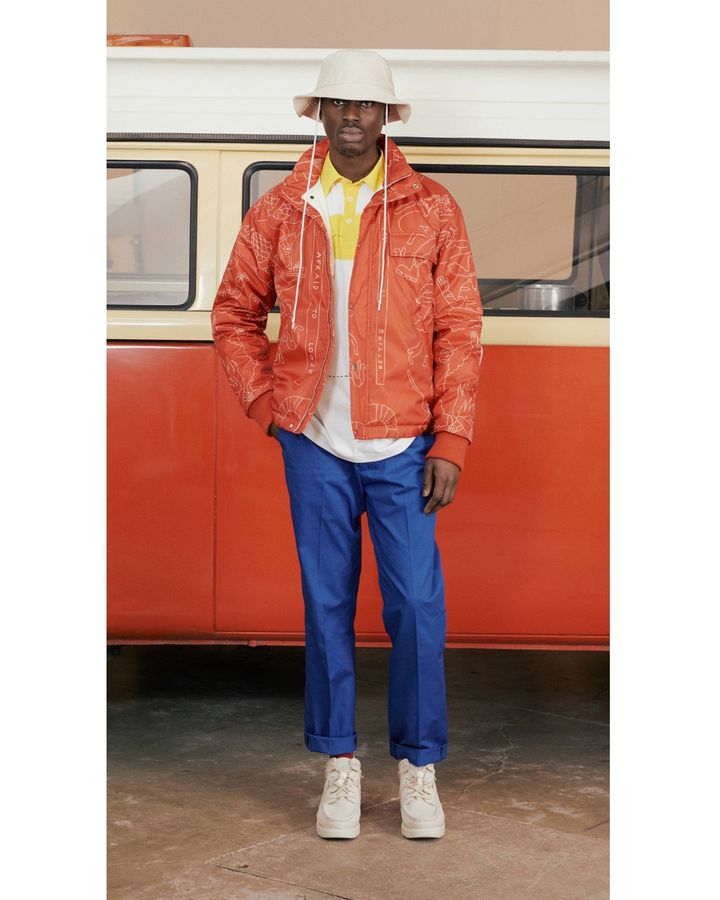 With their casual, comfy designs, menswear brand Band of Outsiders appeal to current nesting instincts (Credit: Band of Outsiders)
Meanwhile, handmade and hand-repaired clothing became de rigueur, with the introduction of the government-backed 'Make do and mend' scheme, created to encourage people to revive and repair worn-out clothes. When the world moved out of World War Two in the 1950s, a new silhouette emerged, as embodied by Christian Dior's New Look: "Fitted jackets, padded hips, wasp-like waist and A-line skirts," says Stevenson. "The New Look represented a new image of prosperity."
Pared-down lines characterise design in times of trouble; few cultures are going to start embracing extravagance when the chips are down – except, apparently, during the 1960s, a tumultuous decade marked by the civil-rights movement, anti-war protests, political assassinations and the emerging 'generation gap'. After centuries in which everyone pretty much dressed the same, young people finally got wardrobes of their own – and mined all the revolutionary potential of Eastern influences, of prints and patterns and of army-and-navy surplus clothing stores. The cover of The Beatles' 1967 album Sgt Pepper's Lonely Hearts Club Bandremains iconic.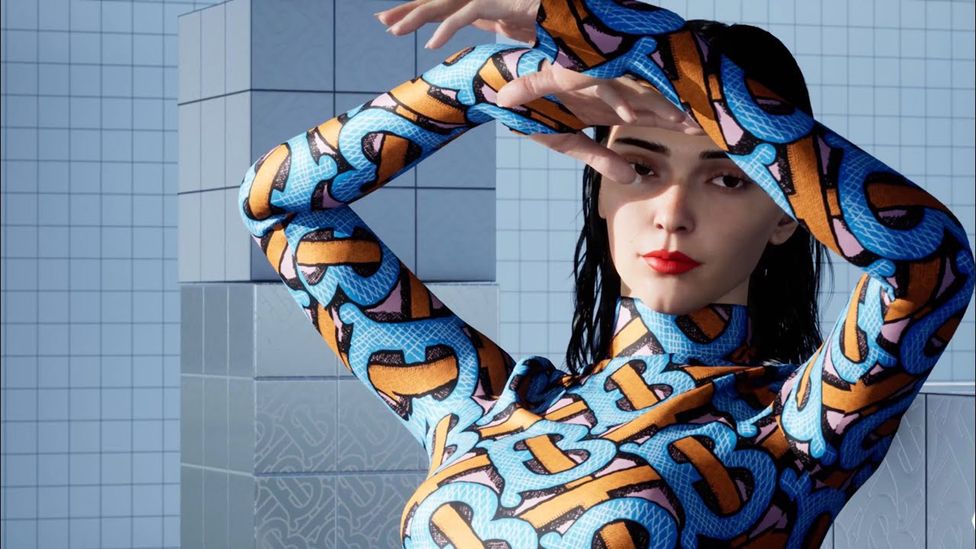 Digital campaigns such as this one, featuring a CGI version of Kendall Jenner, are on the rise (Credit: Kendall Jenner/ Burberry)
But what of this new decade? How can fashion reflect the drifts and swings that the world's population has endured over the past few months? Can it survive the store and factory closures, the reputational damage, and an audience of economically stricken and fearful consumers? And if it does survive, what form will it take? In trying to answer these questions, fashion futurists have had a busy, if somewhat frantic, six months. Top of the agenda for many brands is health, says Abi Buller, of strategic foresight consultancy, The Future Laboratory. "Already, we're seeing garments that reflect these heightened concerns. Diesel's Upfreshing collection, for example, features an 'antibacterial' coating."
Clothes will become more an extension of our homes, offering comfort and reliability amidst global turbulence – Caroline Stevenson
And just as there is space for puffed shoulders while the bombs drop, there's also space for humour. Dumbgood's face masks featuring phrases such as "I know too much about life to have any optimism" speak directly to the streetwear brand's Gen Z followers. Defiance is rife in this new world. Forecasters have seen an upswing in survivalist clothing; modular designs that can adapt to different climates and protect their wearer. "Living conditions in cities are expected to get harder," says futurist Geraldine Wharry. She cites Nike's ISPA as an example of imaginative response: "Improvise. Scavenge. Protect. Adapt" is a "four dimensional design logic inspired by and geared towards the built environment".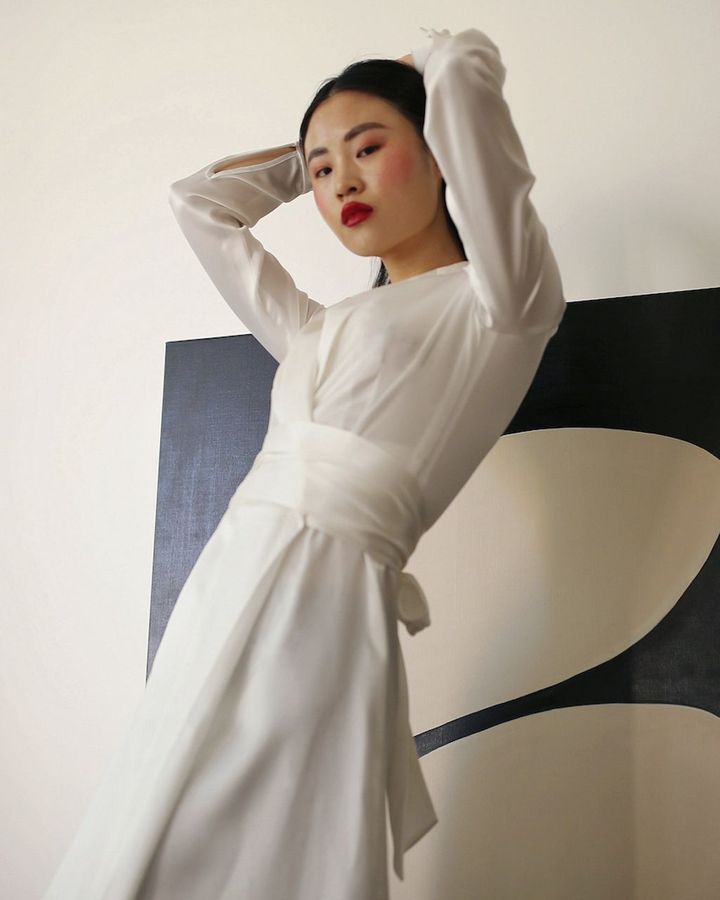 There is a growing awareness around conscious consumption and sustainability (Credit: Farfetch)
There is also the urge to nest. "As we navigate an uncertain future, clothing will become less a tool for shaping outward identities and more an extension of our homes, offering comfort and reliability amidst global turbulence," says Stevenson. "We are no longer dressing to be seen. Our priorities have shifted to demand maximum comfort. We are now more likely to value 'well-loved,' 'cosy' and 'worn-in' garments that allow us to move with ease. [They represent] the antithesis of fast fashion and an entirely new understanding of style beyond visual representations of identity," she adds. On one day in March, menswear brand Band of Outsiders sold more than a 1,000 sweatshirts. 
We are regrouping, reconsidering and refocusing – Abi Buller
Meanwhile, the need for social distancing has found an unusual ally: digitisation. "Digital Fashion Weeks are already emerging, welcoming larger audiences and virtual participation," says Buller. "People will continue to be creative with clothing that prioritises protection in physical settings – and with digital garments and filters in digital spaces." Wharry is also fascinated by digital's possibilities: "Initiatives such as the latest Burberry campaign with Kendall Jenner [the model shot a series of 360 degree photographs of herself before they were rendered, via CGI technology and motion capture, into a digital replica of herself] indicate a greater adoption of how digital fashion could allow us to express ourselves through digital skins."
Deep change
But the change goes deeper. Ideas of exponential growth, of personal success and of gratification and identity through consumerism – much-lauded through the 1980s and 1990s – have been revealed as pipe dreams, and quite destructive ones at that. "After decades of expansionism, we are contracting, regrouping, reconsidering and refocusing," says Buller. "There's definitely been an increased awareness around conscious consumption," agrees Tom Berry, director of sustainability for online luxury platform Farfetch. "It's very encouraging. And this, in turn, will fuel further change." People are buying less but they're buying better.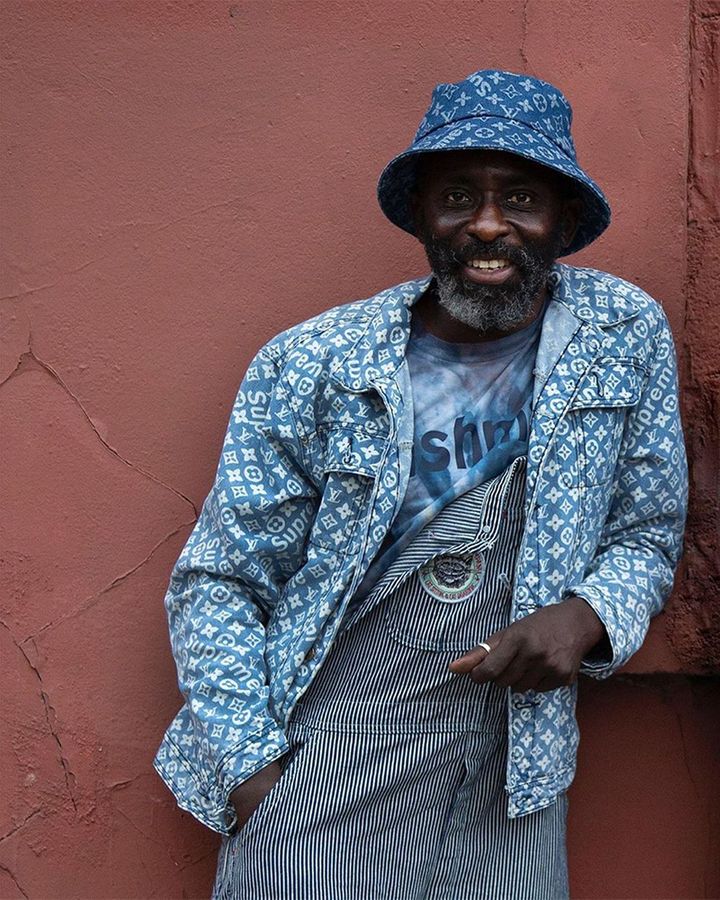 Stylist and stall-holder Frank Akinsete has collaborated with Connolly to upcycle vintage pieces (Credit: Connolly)
"People seem willing to invest in higher quality items at a higher price point," says Berry. "Unconscious consumption is falling out of fashion. It's incredibly important that this thought trickles down through all levels of the market." And, if spending more on a single item when incomes are low seems counter-intuitive, think again: "Less disposable income means less money to throw away on clothing each season. Priority will go to clothes that will be fashionable longer than a couple of months," fashion historian Allison Pfingst told Instyle Magazine, earlier this year. Fashion trends, the most potent driver of speed in the industry, look set to come under some serious scrutiny.
This, along with the understanding that we might actually have enough out there already to keep ourselves decked out for decades, has led to a resurgence of interest in making and mending; the wartime cabinets seem to have got it spot on. Designers are also working on this. British menswear brand Connolly invited Portobello Market vintage-clothing stall owner and stylist, Frank Akinsete, to upcycle pieces from previous collections, highlighting the creativity of Akinsete and his fellow market-stall holders, in a moving photo series. Christopher Raeburn, of design studio Raeburn, recently launched Raefound, an evolving, non-seasonal range of unworn military clothing and accessories.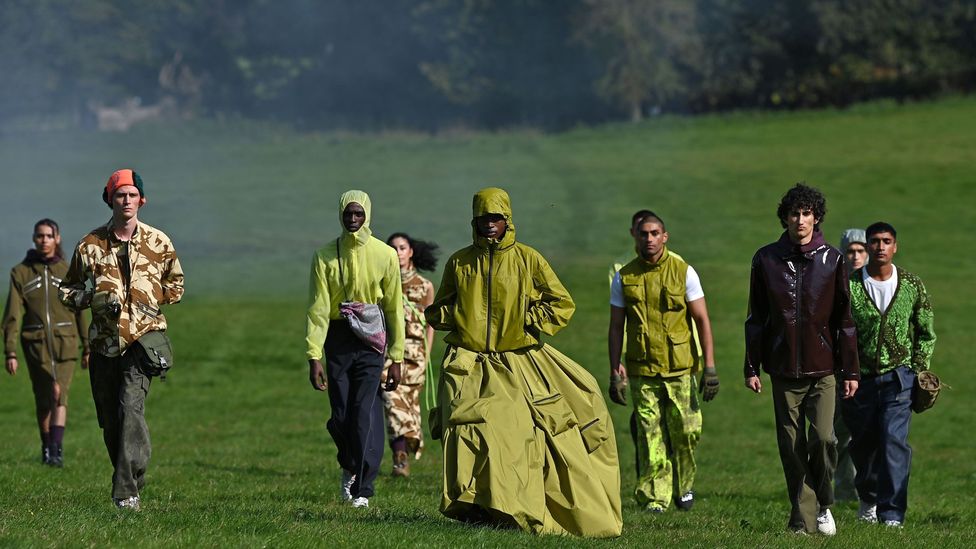 Paria Farzeneh's recent spring/ summer 2021 presentation for London Fashion Week took place in a field outside the city (Credit: Getty Images)

"What we're trying to design here is system change, not new clothes," Raeburn told Vogue on its launch. "It's responsible design." He'd be delighted with youngsters Kevin Germanier and Maddie Williams, and of initiatives such as the Redress Design Award, all developing new business models that repurpose and reuse old clothing. At the same time, but linked in spirit, resale and second-hand markets look set to soar to a chunky $51bn (£40bn) by 2023, according to GlobalData. "We've also seen significant interest in the pre-owned market, both in terms of consumers wanting to buy pre-owned products but also using services that help them sell unused items," agrees Berry.

"Fashion still plays a key role in society, both functionally and culturally," he continues. "At an individual level, the ability to express yourself – or at a collective level the ability to enable connection and belonging – is enabled by fashion. This won't go away, but the industry does need to live up to its responsibilities, and be part of creating a more positive future." Buller's hopes are high. "Fashion in 2030?" she says. "Everyday garments will become more utilitarian, making space for creative digital collections that allow people to continuously reinvent their looks in ways that are less wasteful and harmful to the environment. And retail models will be reinvented with a greater focus on made-to-garment and circular design." It's all to play for.

If you would like to comment on this story or anything else you have seen on BBC Culture, head over to our Facebook page or message us on Twitter.

And if you liked this story, sign up for the weekly bbc.com features newsletter, called The Essential List. A handpicked selection of stories from BBC Future, Culture, Worklife and Travel, delivered to your inbox every Friday.

;