A lesser-known artist created the image that summed up an era, writes Kelly Grovier.
S
Say the phrase 'Great American Novel' and a crush of worthy titles come to mind – from Herman Melville's Moby Dick to Mark Twain's The Adventures of Huckleberry Finn, from Harper Lee's To Kill a Mockingbird to Toni Morrison's Beloved. But what about 'The Great American Painting'? Surely the ability to capture the complex spirit of a nation – the tension between its loftier aspirations and tawdrier flaws – is not limited to works composed of words. Any credible shortlist of canvases deserving of that armchair accolade would have to include Grant Wood's brace of inscrutable stares, American Gothic (1930), and Edward Hopper's menacing meditation on urban loneliness, Nighthawks (1942); Georgia O'Keeffe's patriotic skull-scape Red, White and Blue (1930) – and Michael West's explosive, epoch-defining study of creative fission, Blinding Light (1947-48).
More like this:
- The song that unites a divided US
- How an American classic defined its era
- A detail hidden in a masterpiece
If that last proposed contender for the 'Great American Painting' is drawing a blank on the easel of your mind, you're not alone. Neither the female artist who painted it (she was born Corinne Michelle West in Chicago, Illinois in 1908) nor the work itself are widely known, even to the most attentive devotees of 20th-Century image-making. But remove West's Blinding Light – one of the most daring, uncompromising and innovative paintings to emerge in the past century – and the story of modern art in America, with its vigorous search for a fresh new language of boundless expressiveness, would lose one of its most intriguing plot points.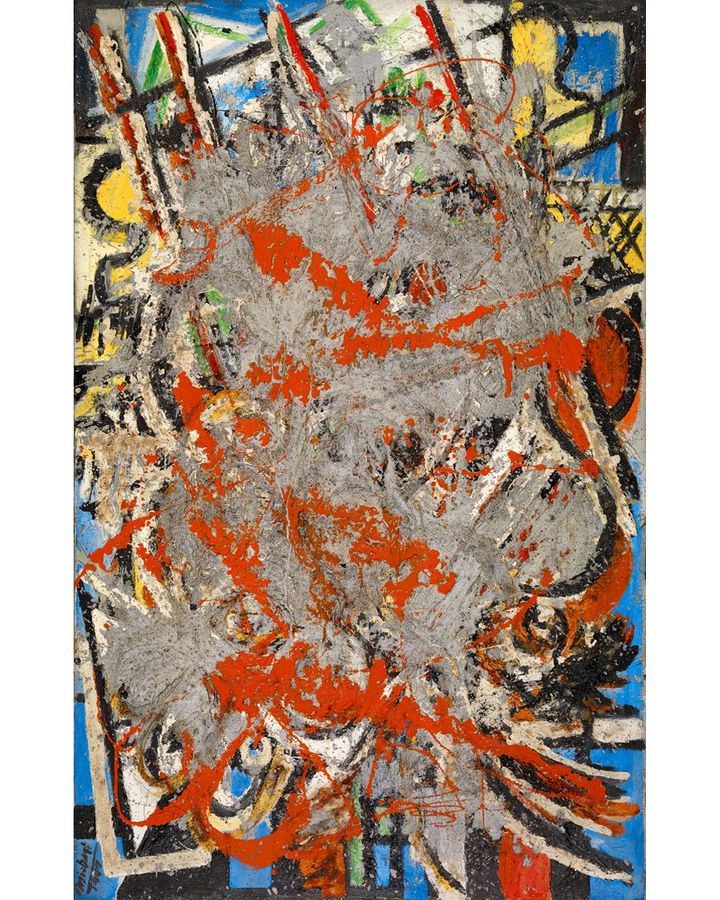 West overlayed marks on an earlier painting, Harlequin, to create Blinding Light (Credit: Gerard Vuilleumier /Hollis Taggart)
On its face, Blinding Light is a discordant wreck of a painting. Dominating its surface is a crime scene of cement greys cut with angry lacerations of red that appear less the product of calculated brushwork than the jagged wounds of a knife fight. Adding to the unsettling sense of aggression that pulses from the work is the still discernible whimper of an almost obliterated underpainting, whose careful geometry of measured lines, calibrated angles and considered colours – convivial blues and greens and yellows – bleeds out incongruously around the edges: the apparent victim of the aesthetic assault.
Hofmann's notions of the 'push and pull' of colour would help shape the emerging movement of Abstract Expressionism – arguably America's greatest contribution to art history
To understand the significance of this chaotic painting, it is necessary to retrace its inception and the remarkable journey of the extraordinary female artist who created it. After stints studying music and art as a teenager in Cincinnati, Ohio, West moved to New York in her early 20s. She soon found herself studying painting with the influential German-US artist Hans Hofmann, the legendary guru of 20th-Century avant-garde art whose notions of the 'push and pull' of colour would help shape the emerging movement of Abstract Expressionism – arguably the US's greatest contribution to art history. Hofmann's ideas about the nature of colour and light in painting (he once said that his 'aim in painting is to create pulsating, luminous, and open surfaces that emanate a mystic light') would leave a lasting impression on West's imagination. His intensity as an instructor, however, and the hero-worship it elicited from his enraptured disciples, was off-putting to West, who later said she wasn't interested in joining a 'cult'.
Splendid isolation
To flourish, she knew she needed space, and abandoned Hofmann's classes after six months. Her fierce independence, and her inclination to withdraw from relationships that threatened to consume her energies and imagination, would become defining features of her life and development, and may or may not have contributed to the obscurity in which her legacy languished long before her death in 1991. When a mutual acquaintance proposed introducing West to the Armenian-born artist Arshile Gorky, whose edgy experimentation with amorphous form and unconventional painterly technique (he used to take his canvases into the bath with him to scrub their surfaces down with a loofah) would help define American abstraction, West refused. After her experience with Hofmann, she promised herself "no more geniuses".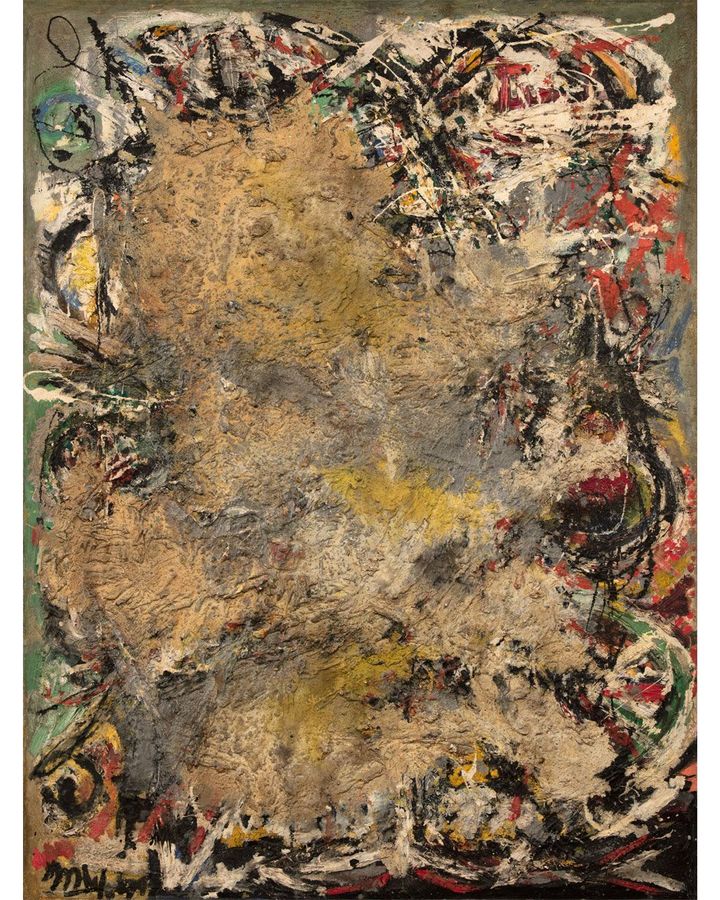 Arshile Gorky has been praised as one of the most influential 20th-Century painters in the US – but West (pictured: Nihilism, 1949) has largely been overlooked
West and Gorky would eventually meet in 1935, and embark on a relationship whose precise nature remains more than a little misty. His half a dozen rebuffed proposals of marriage implies a fraught intimacy that rivals the complicated magnetism of William Butler Yeats and Maud Gonne – a frustrated energy that found itself redirected into the making of great art. The years of their closeness, which extended to the end of the decade, would see a remarkable transformation in both artists. Gorky's full metamorphosis – from clumsy plagiarist of cubist strategies in the early 1930s, to an agile dabbler in Surrealism by the middle of the decade, to a fully-fledged innovator of lyrical abstraction – would finally reveal itself.
West's own transfiguration during this period was at least as radical. At Gorky's urging, she shed the feminine branding of her birth certificate (he told her that the name 'Corinne' had the whiff of a "debutante's daughter") and began adopting 'Mikael' in 1939 before settling on 'Michael' in 1941. Art was a man's game and if she wanted to be dealt a hand she would have to smuggle herself into the masculine parlour in which it was played – a realisation with which her better-known female contemporary, Lee Krasner (born 'Lena Krassner', also in 1908), was likewise contending. With West unprepared to give Gorky "two children and manage his career", as she believed marrying him would entail, the two drifted apart.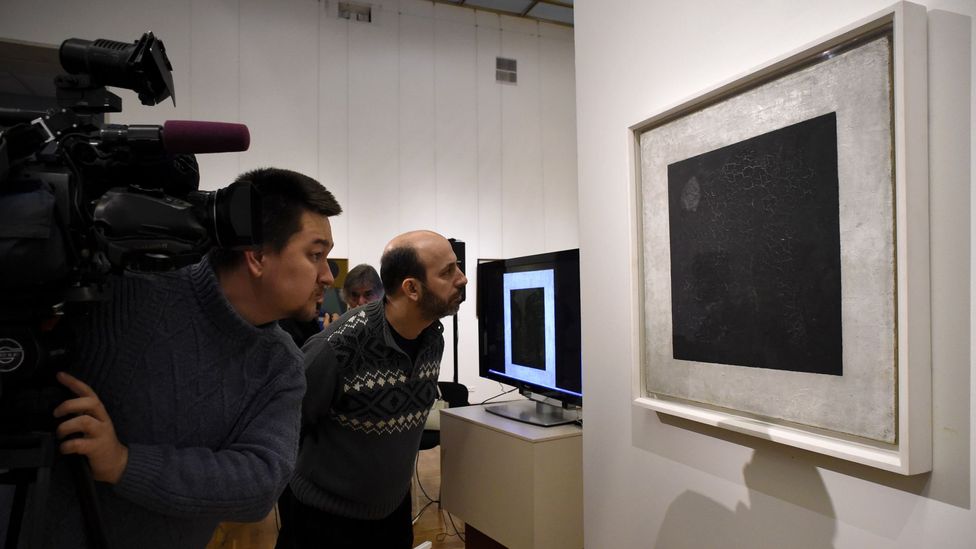 Kazimir Malevich painted his Black Square in 1915 – in 2015 microscopic examination revealed a racist joke within (Credit: Alamy)
By the time West came to create Blinding Light (which emerged in two distinct stages between 1947 and 1948), US abstract art was itself in a formative phase of development – on the verge of bursting into cultural consciousness as a formidable aesthetic force. An infectious enthusiasm for the potentiality of early experiments with non-figurative painting – which had begun in Europe in the 1910s and 20s with Kazimir Malevich's notorious Black Square (1915), Wassily Kandinsky's organic geometries, and the spare spiritual music of Piet Mondrian's austere grids – spread from the Old World to the New by modernists fleeing fascism in the late 1930s and early 40s.
The modern painter cannot express his age, the airplane, the atom bomb, the radio, in the old forms of the Renaissance or any other past culture – Jackson Pollock
A loose cohort of young artists – that came to be known as the New York School – were already experimenting with the implications of European abstraction when the world's vision was suddenly blinded by the new reality of nuclear annihilation, ushered in at the end of World War Two. New realities require new languages, and a nascent lexicon of abstraction was fortuitously at hand. "It seems to me," Jackson Pollock, one of the leading proponents of the emerging movement, famously reflected, "that the modern painter cannot express his age, the airplane, the atom bomb, the radio, in the old forms of the Renaissance or any other past culture. Each age finds its own technique."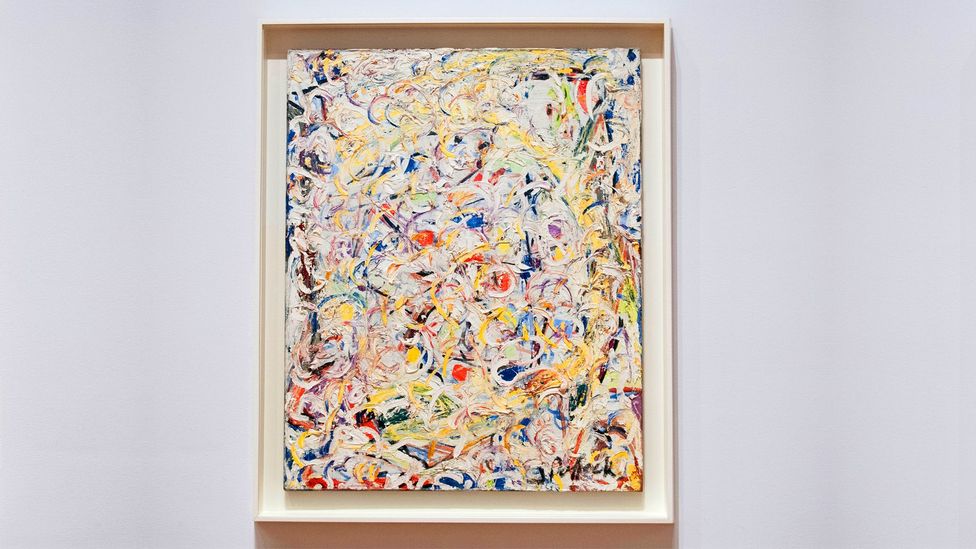 Pollock (pictured: Shimmering Substance, 1946) argued that new forms of art were needed for a new age (Credit: Alamy)
In the immediate aftermath of World War Two and the dawning of the atomic age, the members of this new school (which also included Gorky, Richard Pousette-Dart, and Mark Rothko) shared a determination to advance the unfolding narrative of Western art that had, in the past half-century, been moving at a dizzying clip. Since the 1880s and Impressionism's radical efforts to shift aesthetic focus from substance to light, Fauvism had further succeeded in untethering colour from form; Cubism had exploded the myth of perspective; and Surrealism had endeavoured to dredge the subconscious mind. The implosive trajectory of art was leading in a direction that only a vocabulary of non-figurative forms could take it: the raw and unpredictable subatomic energy of life itself.
There is a brutal authenticity to West's painting that makes works by her male counterparts from the same time appear artificially orchestrated and restrained, if not prim and dainty
This is where West's Blinding Light looms so powerfully in the story of 20th-Century art – how it succeeds more radically and unflinchingly than more celebrated works created around the same time. Unlike works by her better-known male contemporaries such as Richard Pousette-Dart's Comprehension of the Atom, Crucifixion (1944) or Pollock's Shimmering Substance (1946), West's complex canvas is not content merely to represent symbolically the spiritual implications of nuclear physics. Her painting seeks literally to embrace and embody uncontainable destruction. Look again at the aggressive blast zone that ripples from the centre of Blinding Light, and it's apparent that the artist is not attempting to distil from detonation a lyricism of rhythm or harsh harmonies from explosive chaos. These are actual abrasions. Real violence. There is a brutal authenticity to West's painting that makes works by her male counterparts from the same time appear artificially orchestrated and restrained, if not prim and dainty.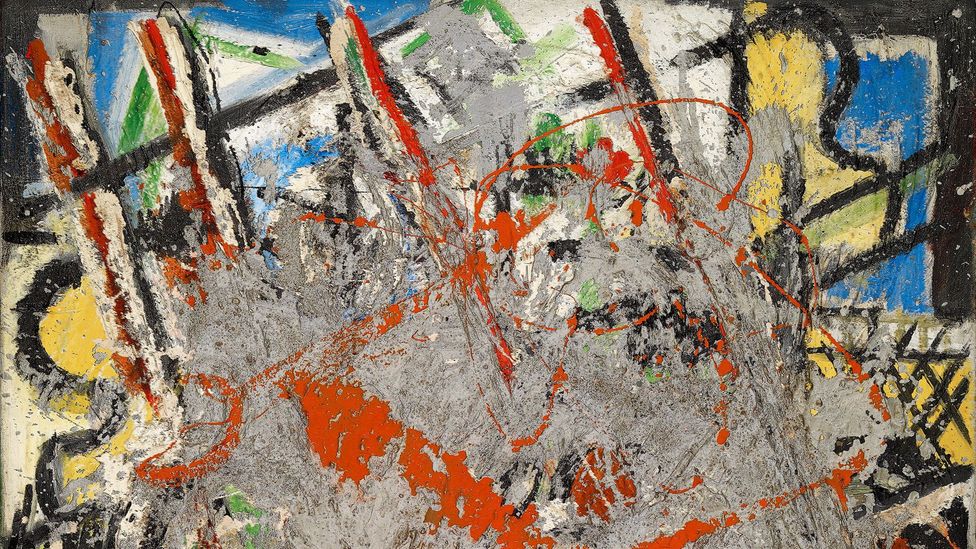 In Blinding Light, West mirrored the violent smashing of nuclear fusion (Credit: Gerard Vuilleumier/Hollis Taggart)
Blinding Light began life in 1947 as an absorbing, if far from revolutionary, painting entitled Harlequin, that showed West working in an avant-garde vein remarkably similar to that being mined by Pollock (who, together with the art dealer Peggy Guggenheim, had paid a visit to West's studio the previous year). Like Pollock, whose recent work West had intently followed and deeply admired, she was busy melting the angularities of an extreme cubism into sinuously interlocking shapes. The whirling lines and shuddering colours that dominate paintings such as Harlequin and Mystic Energy, created a year earlier, appear elemental, as if taking us below the surface level of perception and experience to an undiscovered plane of atomic splitting and smashing. Placed side-by-side with a Pollock canvas from around the same time, as the art historian Ellen G Landau does in her excellent essay Space Poetry: The Action Paintings of Michael West (accompanying an online exhibition of West's work earlier this year, curated by the Hollis Taggart Gallery), one can see the congruences between the two artists' instincts and achievements.
Then something happens. For Pollock, that something is the discovery of an audacious technique that involved the flinging of paint in a reverie of rhythmic motion, as he shuffles and squats around a canvas stretched across the floor. For his efforts, Pollock would earn himself the outrageous distinction "Jack the Dripper" by Time Magazine a decade later and would be credited (and attacked) for bringing an end to the history of image-making as a skilful, studied, and carefully executed ambition. With a flick of his wrist, Pollock, so the myth goes, had collapsed the distinction between the gestures of creation and those of destruction. Only he hadn't. West had.
West proceeded to ravage Harlequin with a brutal onslaught of aggressive swipes, the likes of which art history had scarcely witnessed
At almost the same moment that Pollock had begun conducting his deceptively symphonious splatters that disguised discipline and order in a camouflage of chaos, West began taking things to another level of creative carnage altogether. Rather than reaching for a blank canvas to absorb the blows of her visionary assault, she chose her previously finished painting, Harlequin, whose surface she proceeded to ravage with a brutal onslaught of aggressive swipes, the likes of which art history had scarcely witnessed. With her attack, West wasn't merely defacing a fossil of her earlier self and imagination. She was, in effect, erasing centuries of artistic evolution that had brought the story of art to this moment in time – a moment when nothing more or less than the possibility of mankind's imminent destruction was deserving of our contemplation. West's painting is not interested in moving the conversation of art forward. She wants to annihilate it and start from scratch. "West had already equated," Landau observes, "creation with explosion… she tagged this phenomenon 'atomic penetration', but clearly with a purpose of fusion rather than fission." Or perhaps both.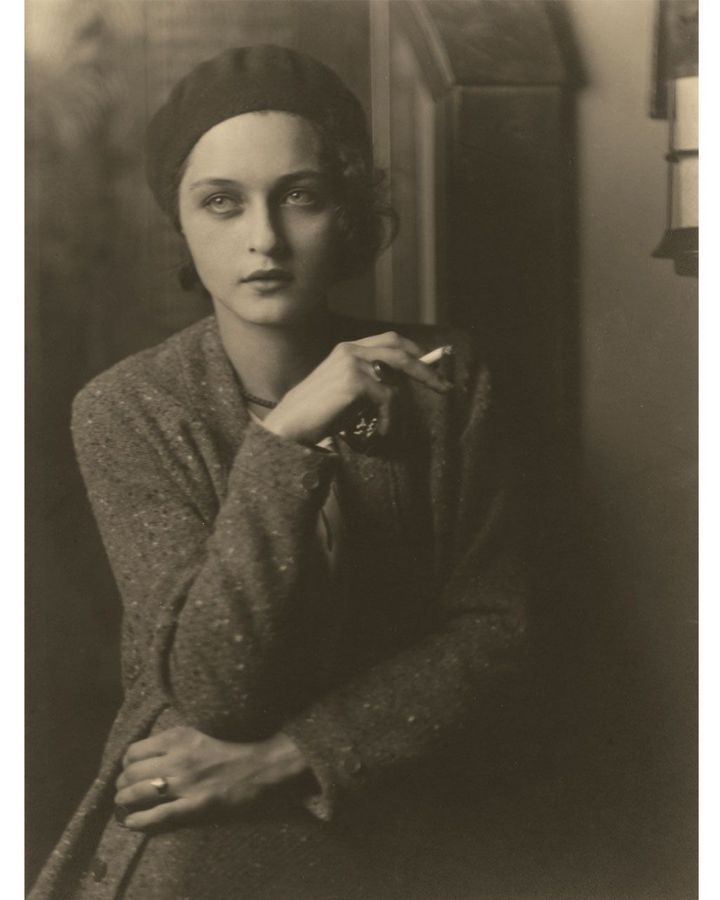 One of the few female members of the New York School, West was inspired by the writer Henri Bergson's theory of 'living energy' (Credit: Boris Binder/Hollis Taggart)
"The more violent and complex an imagination," West asserts in a brief essay of fragmentary thoughts on the nature of powerful art that she composed in the same year she created/destroyed Blinding Light, the greater its capacity for "pure expression". In the final sentence of the same document, she attempts to capture the unique quality of her new technique's explosive temperament by proposing a pair of freshly minted labels – 'All Edges' and 'Neo-Continuous'. To my mind, 'all edges painting' matches the violent verve of West's work that transforms a canvas's two-dimensional plane into a deeper and rounder realm of explosive energy.
A gifted poet as well as pioneering exponent of US abstraction, West dedicated her life to pushing the boundaries of creative expression and to illustrating how, as she wrote in an unpublished poem entitled The New Art, "in beauty multiplied / We come alive and dream". Though West strove strenuously to break through into wider recognition with some of the most arresting and uncompromising drawings and paintings of the post-war years, she was never dealt a full hand at the big boys' table of influence or acclaim. When she died, impoverished and in obscurity in New York in 1991, her oeuvre nearly disappeared with her. A single, last-minute bid for the contents of her estate at a municipal sale rescued it from demolition. Hers is the classic, tragic tale of unheralded genius that deserves a fuller retelling. Who knows, in the right hands it might even inspire the Great American Novel.
If you would like to comment on this story or anything else you have seen on BBC Culture, head over to our Facebook page or message us on Twitter.
And if you liked this story, sign up for the weekly bbc.com features newsletter, called The Essential List. A handpicked selection of stories from BBC Future, Culture, Worklife and Travel, delivered to your inbox every Friday.