Languages have very different rules when it comes to gender – but does that have an impact on how we see the world? Nayantara Dutta takes a look.
E
Every Wednesday evening for the last year, I have been relearning Hindi, my third language after Bengali and English. Although it's been wonderful to feel more connected to my culture, I've been surprised and somewhat disappointed to discover the gendered structure of my mother tongue. English has always been my default, which doesn't have as many gender-based distinctions, so with Hindi, I have had to learn how to think and speak in a new way, one where I am constantly aware of gender.
More like this:
-       Seven Japanese words that help us to be calm
-       The language rules we know but don't know we know
-       Why 'they' is the ultimate 21st-Century word
The world has historically prescribed the male gender as default, a construct that is reinforced through language. As humans, our collective identity is understood as masculine – we use 'man' to describe our species and 'mankind' as a way to unify us. In her book Invisible Women: Data Bias in a World Designed for Men, Caroline Criado Perez writes that: "Seeing men as the human default is fundamental to the structure of human society." Our culture and language follow a generic masculine framework where, she explains, "male bias is so firmly embedded in our psyche that even genuinely gender-neutral words [like doctor or actor] are read as male". In some cases, the masculine form speaks for all genders: for example, in India's legal system, documents are written in the masculine, which is considered to include women unless otherwise specified. In many ways, language both reflects and creates the gender inequalities that exist in society. How we speak affects how we think and how we interpret the world around us. So, as we are working to reimagine our defaults around gender and build a more socially-conscious and inclusive culture, we also need to reckon with language.
Spanish is one of the four most-spoken gendered languages – along with French, Arabic and Hindi (Credit: Javier Hirschfeld / Getty Images)
Global languages fall into three categories with respect to gender: gendered languages like Spanish (where nouns and pronouns have a gender), genderless languages such as Mandarin (where nouns and pronouns don't have a marked gender), and natural gender languages like English (with gendered pronouns and genderless nouns). The gender structure of the language we're speaking will have the effect of making us more or less aware of gender. With gendered languages, we have to think of gender while conjugating a verb or using a noun, so is it possible that gender-based stereotypes and gendered power structures are more likely to influence our thoughts and opinions about the sexes?
While learning Hindi, a gendered language, I realised that I was expected to show respect to men, sometimes more than women. I wasn't allowed to speak to my male and female classmates in the same way: With men, I was taught to use the honorific plural (Aap kya kar rahe hain? over Tu kya kar raha hai? to ask 'What are you doing?'), but could only show respect to women using feminine endings (Aap kya kar rahin hain? over Tu kya kar rahi hai?). Although we can respectfully address both genders, we can't use the same language structure, which calls attention to the gender of the person we're speaking to.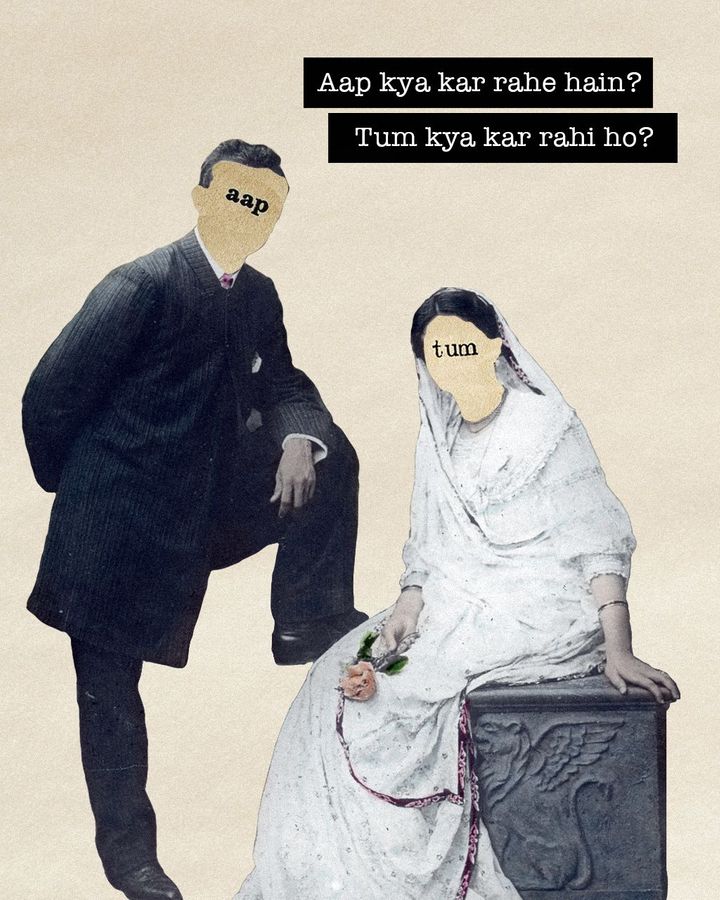 In Hindi, some wives use aap (formal) to refer to their husbands, while husbands use tum, the informal 'you', for their wives (Credit: Javier Hirschfeld / Getty Images)
Depending on where we're from and how we learned the language, we may be taught to show equal respect to men and women, or to treat them differently. Although formal language can be linked to respect, informal language can also be used to express intimacy or affection. With Hindi, some wives use aap, the respectful way of saying 'you', to refer to their husbands, while husbands use tum, the informal 'you' for their wives, and other couples use the same pronoun for each other.
The male default
The world's four most spoken gendered languages are Hindi, Spanish, French and Arabic. They share many of the same gender patterns: masculine as the default grammatical gender, mixed-gender groups using masculine endings, and feminine nouns derived from masculine versions. Through their structure, they emphasise Criado Perez's observation of the male default.
For example, Spanish follows a generic masculine when it's unclear if a subject is male or female; a male friend is amigo and a female friend is amiga, but a group of friends is amigos. The male default also applies to mixed-gender groups, like amigos, which use masculine endings. The same goes for adjectives: a group of good female friends are buenas amigas, but as soon as there is one male in the group they'll be buenos amigos. It's also clear that masculine is the standard gender in Spanish, since it's the default form used in dictionaries.
Not everybody agrees on what that language should be – Jennifer Prewitt-Freilino
In Arabic, the origin of all words is their masculine version. When referring to women, the feminine ending taa marbuta (ة), which sounds like an 'ah', is added to words. Words like katib 'writer' don't require a distinction when describing men, but if we're talking about a female writer, we have to add the feminine ending taa marbuta ( ة) katibah 'female writer'. So, when we're speaking to or about women, we're more aware of their gender identity because we can't use the male default and have to change the way we speak. Furthermore, the masculine conjugation of words is also used when referring to any group that has a single male, regardless of the gender of the majority of the group. So, when referring to a group of one male writer and 100 female writers, it is 'male writers' (kottab), not 'female writers' (katibat).
The languages we speak influence how we construct society, and can even set the precedent for gender equality in our social systems. In a 2011 study, Jennifer Prewitt-Freilino, associate professor at the Rhode Island school of design, along with colleagues, found that countries with gendered languages experienced higher average gender inequality. The study also revealed that natural gender languages like English experienced the most equality, although one might expect that genderless languages would be the most equal.
"Historically, genderless language can cause people's minds to jump to the masculine, without calling it out specifically [like assuming the term 'congressperson' is referring to a man]," Prewitt-Freilino tells BBC Culture. "This is why we found that natural gender languages seem to be better at this, because when they create reformed language, they're building new gender-neutral words in gendered language, which calls attention to the correction of the gendered system [and makes it easier to recognise bias]."
Towards a more inclusive language
There has been some advocacy around language reform in the last few years, especially with regards to French and Spanish, which are heavily gendered languages with no neutral forms. In several Spanish-speaking countries, people have created gender-neutral options to make their Spanish more inclusive, through endings like -e, -@ and -x, which provide flexibility beyond the gender binary. In Spain, a grassroots movement to rewrite the constitution using gender-neutral language (instead of the existing masculine form) has reached the government. In France, activists have introduced a mixed gender style called écriture inclusive, which adds both gendered endings to a word to make it gender-neutral (ami·e·s). Institutions are also showing support, with the European Union creating an autonomous body called the European Institute for Gender Equality, which works to enforce policy-based gender equality and even funds research around language reform.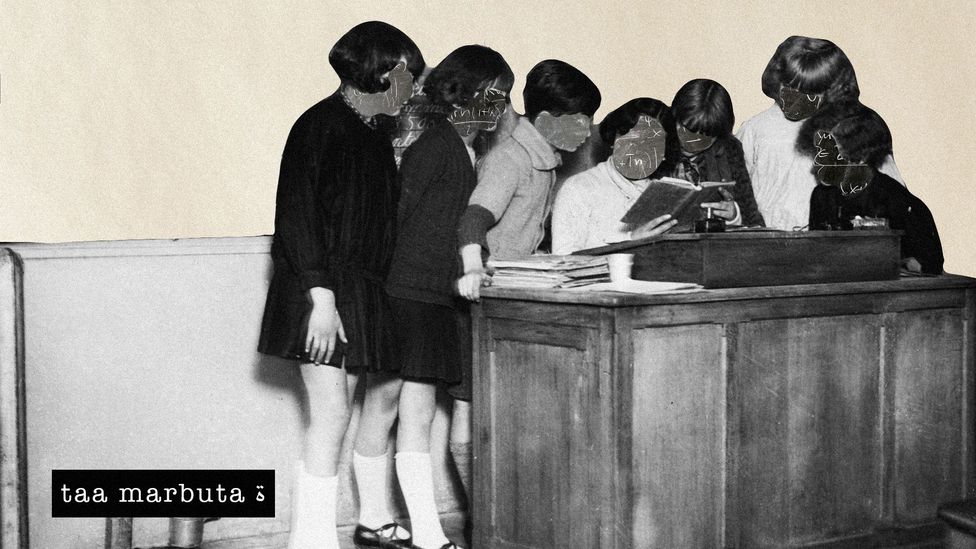 In Arabic, the origin of all words is masculine. When referring to women, the feminine ending taa marbuta (ة), is added to words (Credit: Javier Hirschfeld/Getty Images)
"Language is a constantly evolving process, but people have a sense that there is a right and a wrong. The problem is that not everybody agrees on what that language should be. The conventions are moving so fast that it's hard for anyone to stay on board," adds Prewitt-Freilino. "It can also be used as a gatekeeping mechanism of 'Are you in or are you out?' without recognising the discussion of why different people value different terms around identity and that it should always be a conversation."
There has been an important interplay between conversations around gender and identity, and how they are represented in language. For years, the Latin American community in the US has discussed different identity terms – first pushing back against 'Hispanic' which was seen as a colonial word promoting Spanish heritage, then using 'Latino/a' as a way to meaningfully bring together different ethnic groups, and now working to reform the gendered terms through the label 'Latinx'. But although 'Latinx' is being used by some young people in the US, many people of Latin-American descent in other countries don't identify with it.
"Even if it's not fully endorsed, it's part of the conversation now," political psychologist Efrén O Pérez tells BBC Culture. "It's entertaining to see it unfold as a social scientist. You can talk about how you don't like the word or not, but once you use it, it's actually influencing how you think about politics."
Why gender-neutral terms matter
People may dismiss gender-neutral language, seeing it as unnecessary or purely ideological, but Pérez's research shows that it actually impacts public opinion. His 2019 study with Margit Tavits revealed that using gender-neutral pronouns increases positive attitudes towards women and LGBTQ+ people, through reducing the prominence of male identity and subsequently causing less gender-based bias.
If I speak English, I'm less likely to make male/female distinctions than if I speak Spanish – Efrén O Pérez
"Our language essentially directs our attention to some aspects of reality and away from other aspects of reality. If I speak English, I'm less likely to make male/female distinctions than if I speak Spanish," explains Pérez. "You can't change culture, but as some of these gender-neutral terms reveal, you can adjust the terms that you use. Maybe we can't change entire vocabularies, but once you introduce certain gender-neutral options to the extent that people employ them or subscribe to them, it does matter."
People have also found ways to create gender-neutral options within existing language structures. Shweta Vaidya, a transgender writer based in Mumbai, uses the plural hum (we) form of Hindi as a gender-neutral alternative.
"I avoid gendering myself by using a passive voice, and if I want to assert my female pronouns I will, but sometimes it's easier to just be gender-neutral and get away with it," Vaidya tells BBC Culture. "When I use hum, I don't have to use gendered endings, and it's not weird in Hindi, because people speak like this in places like Kanpur, Chhattisgarh and Madhya Pradesh in Central India."
In Spain, there is a grassroots movement to rewrite the constitution using gender-neutral language (Credit: Javier Hirschfeld / Getty Images)
Gender identity and expression are unique in every culture, but the language around them is still limited. Western definitions of gender variance tend to overshadow how we view gender identity, even in other parts of the world. "Being transgender in a Western vocabulary is a system that we are following right now, which has certain limitations to what people perceive to be the norm. Gender has been colonised – gender minorities like the Faʻafafine community in Samoa have been represented as gay men, when they have their own understanding of gender identity," adds Vaidya. "We know that there has been a whitewashing of language, where cultural nuances around gender have been lost in translation, but we haven't corrected our mistakes. Translation is not easy, especially when you try to translate cultural experiences into identities."
But even if cultures have language for gender variance, that doesn't guarantee understanding or acceptance. Hijras, a sociocultural group of trans women and intersex people described as the 'third gender', have a long history in South Asian culture. But for centuries, hijra and 'transgender' have been used interchangeably, which has led to India's trans community being misunderstood and undervalued. When the Transgender Persons Bill was passed last year, the Hindi translation used the term ubhaylingi (hermaphrodite) to represent trans people, so the law doesn't protect or recognise the whole community. "As many trans people have repeatedly asked, 'If we are supposed to be the third gender, who gets to be the first?'" explains Vaidya. In this way, language has an undeniable impact on who can access equal rights.
Language reform is possible, but it takes time. This doesn't necessarily mean dismantling existing systems, but rather making space for more inclusive options. Instead of allowing language to construct how we view the world, we could push in the other direction, questioning how we can reflect our world through our choice of language.
"It's hard to think about systems of language without thinking about the more globalised context in which we're existing," says Prewitt-Freilino. "I think it's a give and take – what terms get created; how language shifts and gets used in different ways. What's really interesting to me is the back and forth between the language and the culture."
If you would like to comment on this story or anything else you have seen on BBC Culture, head over to our Facebook page or message us on Twitter.
And if you liked this story, sign up for the weekly bbc.com features newsletter, called The Essential List. A handpicked selection of stories from BBC Future, Culture, Worklife and Travel, delivered to your inbox every Friday.