From its chance 1920s invention in Russia, the theremin beguiled Hollywood and sparked a musical revolution, writes Norman Miller.
T
The theremin sometimes seems like an instrument from Earth's future or another world. Its music seems conjured from nothing, notes and tones teased and manipulated by hypnotic movements of hand and fingers through air. Meet the only musical instrument controlled entirely without physical contact.
More like this:
- The near-death experience of a genius
- Dark days for Italy's violin makers
- History's most enduring tune?
Invented 100 years ago, the world's first electronic instrument inspired a surge in sound technology that led to Robert Moog's creation of the modern synthesiser, transforming the musical landscape ever since. And now the theremin is inspiring a new wave of artists, its modern renaissance aided by documentaries like 1993's Theremin: An Electronic Odyssey.
"I think it just has so much unexplored potential – and it is also mesmerising visually," says Icelandic musician Hekla (full name Hekla Magnúsdóttir), who combines theremin and voice on her albums, most recently 2020's Sprungur. "Coming from a classical background, learning cello, the theremin just seemed otherworldly to me."
You are part of the instrument, conducting the air – Carolina Eyck
Carolina Eyck is another theremin maestra raising awareness of this unique instrument – and expanding its all-too-sparse repertoire with new compositions, such as her 2019 piece Ocean. Her 2014 concert recording of Kalevi Aho's Theremin Concerto Eight Seasons, meanwhile, received a recording of the year award in her native Germany.
"When you play the theremin, it looks kind of magical. Maybe even as if you could cast spells," Eyck tells BBC Culture. "No other instrument is played without physical contact. You are part of the instrument, conducting the air."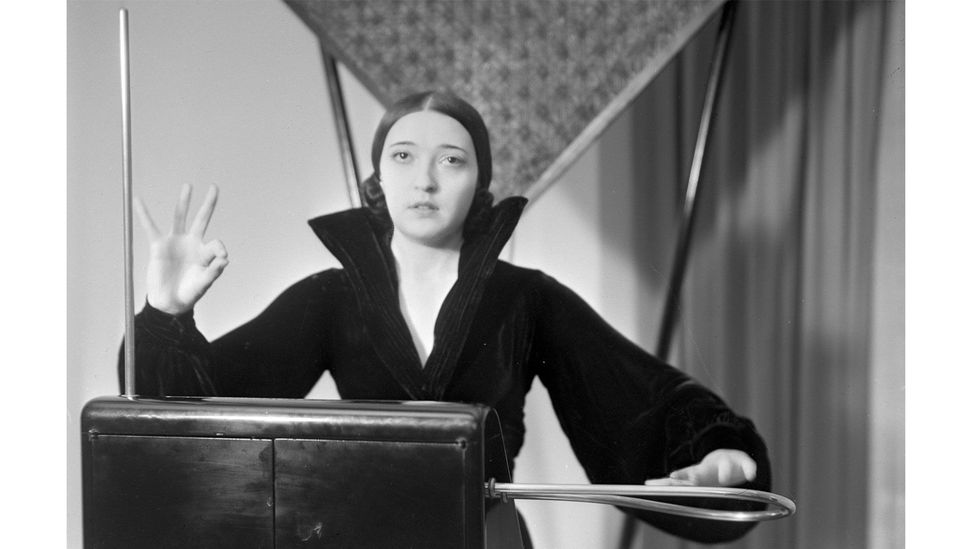 Clara Rockmore was a theremin virtuosa; the instrument's inventor Léon Theremin proposed to her, but she turned him down and married another man instead (Credit: Getty Images)
Theremins involve the manipulation of electromagnetic fields around two antennae that make the instrument look rather like a weird lectern. Players control sounds by moving hands and fingers around a vertical antenna to raise or lower the tone, and up or down over a looped antenna to control volume.
Eerie inspiration
The theremin's ability to produce vast gradations of pitch and volume led to it being hailed "the most perfect tonal instrument" by maverick composer Percy Grainger, who counterpointed his famed arrangement of the traditional air Country Gardens with pioneering showcases of the theremin, such as his 1930s Free Music compositions which replaced a string quartet with four theremins. Other classical composers who wrote for the strange new instrument at the time included Edgard Varèse and Bohuslav Martinů. Dmitri Shostakovich used it to evoke a snowstorm in his score for the 1931 Soviet film Odna.
I mutate it into all these different shapes – sometimes it can sound like a giant beast and at other times a fragile bird – Magnúsdóttir
That link to snowy vistas ties with the resonance Magnúsdóttir finds between the theremin and the eerie, ever-changing volcanic and glacial vistas of Iceland. "I like to focus on where I can take the theremin and transform it," she says. "I mutate it into all these different shapes – sometimes it can sound like a giant beast and at other times a fragile bird."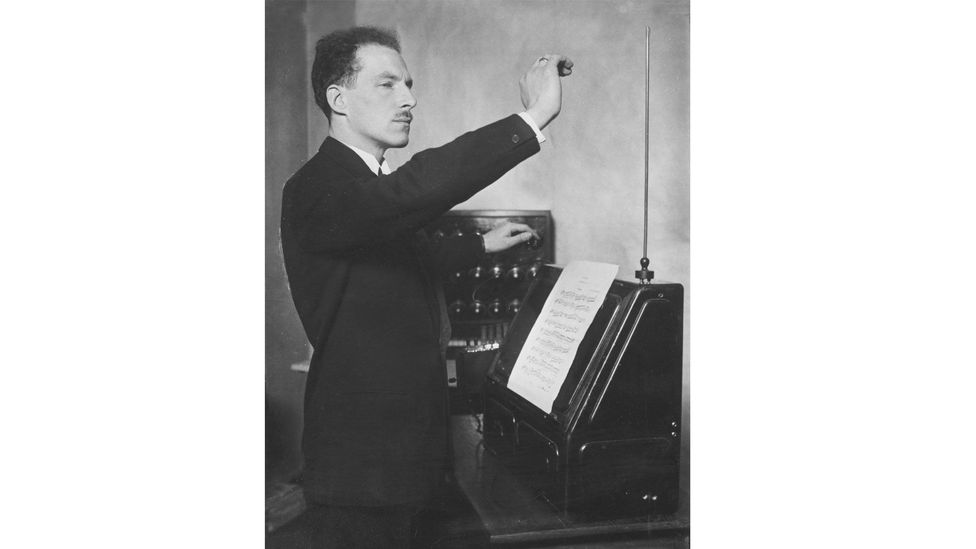 In 1919, when a White Army commander intended to capture the Petrograd radio station to announce victory, Léon Theremin removed its equipment and blew up the radio antennae mast
The theremin was invented around 1920 by Russian physicist Lev Sergeyevich Termen – commonly known later as Léon Theremin. Born in 1896 in St Petersburg, he showed precocious ability as a child engineer, reputedly dismantling and reassembling watches and other mechanical items by the age of seven, and constructing an astronomical observatory by 15.
In 1920, he invented a machine that aimed to use the new-fangled technology of radio waves to measure some properties of gas. But he found his apparatus emitted a strange warbling tone, which he could shape by moving his hands around the equipment. A trained cellist, Theremin recognised the potential of his discovery, and intended to create an entirely new instrument.
In a 1989 interview with musicologist Olivia Mattis, he said: "I was not satisfied with the mechanical instruments in existence, of which there were many. They were all built using elementary principles and were not physically well done. I was interested in making a different kind of instrument… Therefore I transformed electronic [equipment] into a musical instrument that would provide greater resources." Theremin demonstrated his instrument at the Kremlin for Vladimir Lenin in 1922 and in Berlin for Albert Einstein in 1927, before dazzling audiences worldwide in the late 1920s.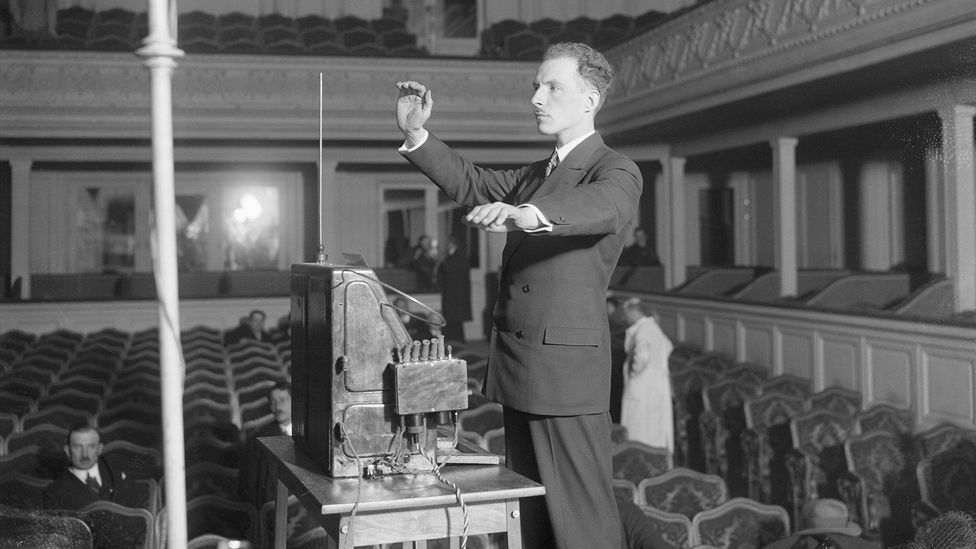 Léon performed on the theremin with the New York Philharmonic in 1928, patenting his invention in the US and granting commercial production rights to RCA (Credit: Getty Images)
After a 1927 London performance at the Royal Albert Hall that put a theremin spin on pieces by Schubert and Glinka, the periodical Musical Standard wrote: "The human voice, the violin, viola, cello, bass and double-bass, the cornet, horn, trombone, saxophone, organ, and almost every instrument you can think of, are all beaten at their own game by this one simple little apparatus".
Soon after, Theremin sailed across the Atlantic, getting a studio on West 54th Street in New York City. It was a magnet for composers and scientists alike; Einstein, a keen violinist, used a room at the house Theremin rented for exploring the connection between music and geometry. "I gave him a study, not very big. I found him an assistant, one of my co-workers who was a painter, to help him draw these sketches, and he would come and do his work. I saw him many times, very often," Theremin told Mattis in the 1989 interview.
Beyond scientific discoveries, the inventor was also planning how to get rich. "People will learn to play it without too much difficulty," he predicted of his instrument. He dreamed of putting a theremin in every home – "sold and produced at the price of a three-valve radio set".
Things didn't quite go to plan over the next decade, however. Although his US concerts were a sensation, and he was offered vast sums for the rights to mass-produce his new instrument, his dream foundered on one simple fact – the theremin is actually very hard to play well. 
Music from thin air
No other instrument requires such control of the body by a performer. There is no keyboard or fret board for reference in playing notes. As well as fine spatial perception, a player needs a brilliant ear to hit specific notes. They need to combine relaxed body movements with intense mental focus.
Theremin players draw on techniques of physical and emotional expression more like an actor taking to the stage to play a complex character
Rather than a traditional musician, theremin players draw on techniques of physical and emotional expression more like an actor taking to the stage to play a complex character. This explains why there are so few theremin virtuosi in the world, as well as why each has their own style of engagement – just as there are many ways an actor can play Hamlet or Hedda Gabler.
"Everyone brings their own style and technique," Magnúsdóttir tells BBC Culture. "Since there isn't a structured schooling on how to play this instrument, it invites a much more varied approach, which is one of the main things that drew me." That freedom includes how to write scores for the theremin – Magnúsdóttir has developed her own graphic notation, but other players create scores that can look more like science diagrams or abstract art.
"Every player brings their own distinctive personality to the theremin, and these differences can be quite fundamental, almost like a sonic signature," says Charlie Draper, a leading British theremin player who performs both solo and with his orchestral collective Retrophonica. "It's possible to identify individual players based purely on features like phrasing and vibrato."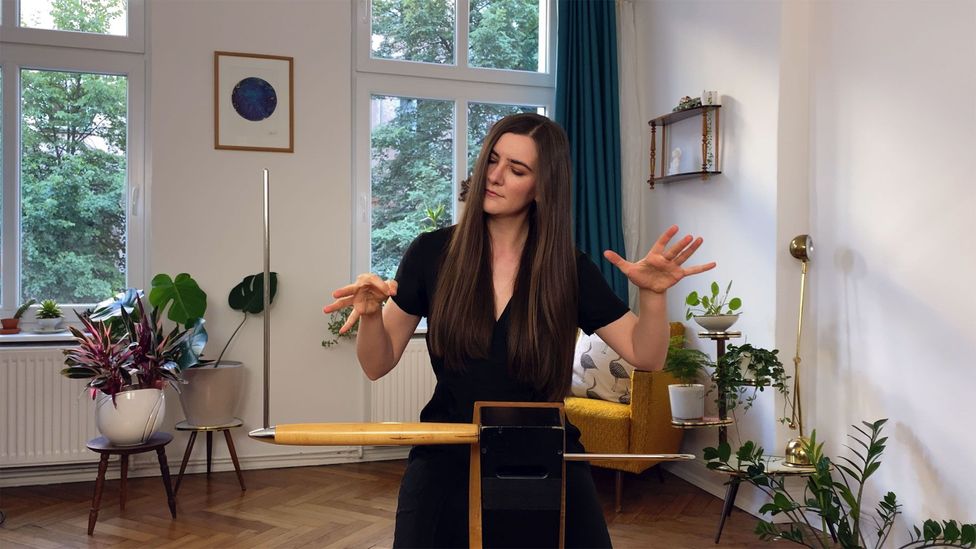 In August 2020, Eyck performed a theremin version of the Doctor Who theme tune (Credit: Getty Images)
Eyck, meanwhile, has created her own new playing technique, which she set out in her 2006 book The Art of Playing the Theremin. Other performers have brought individual methods to the theremin table too, such as Pamelia Kurstin's "walking bass".
Though the difficulty of playing his instrument stymied Theremin's plans to earn a fortune, this remarkable man continued his inventive streak through the 1930s, from building early drum machines to creating new sensing instruments for US aircraft. But as the storm clouds of war gathered, Theremin was suddenly called back to Russia, spirited away by Soviet agents in September 1938.
According to his biographer Albert Glinsky, Theremin's stay in the US had been encouraged by the Kremlin: ostensibly as a showcase of Soviet technology, but in fact to allow him to engage in industrial espionage.
Arriving home, rather than being feted as a genius, Theremin became a victim of Stalin's political purges. Banished to a special prison for scientists in Siberia, his creations included one of the Cold War's most famous bugging devices, seen as a precursor to radio-frequency identification (RFID) technology. Nicknamed simply 'The Thing', one was hidden in a wooden plaque that hung in the office of the US ambassador to the Soviet Union for seven years until its discovery in 1952.
Released in 1947, Theremin continued to work for the state security system before developing electronic musical instruments at the Moscow Conservatory. He returned to the US on a visit in 1991, just before the collapse of the Soviet Union, only then learning how his instrument had affected popular culture.
Spooky soundtracks
Though conceived as a concert hall instrument or home performance novelty, the theremin's unique sound conjured bizarre, otherworldly sounds for a host of mystery, horror and science-fiction films throughout the 1940s and '50s. It became the go-to noise for an alien encounter, most famously in the classic 1951 movie The Day the Earth Stood Still (scored by Bernard Herrmann). Other high-profile credits, alongside lots of B-Movies, include The Lost Weekend and the Biblical blockbuster The Ten Commandments.
Miklós Rózsa's Oscar-winning score for the 1945 Alfred Hitchcock film Spellbound is another celebrated example of theremin atmospherics – and one that made a particular impact on Eyck. "I loved to watch it as a kid, and always got goosebumps when I heard the theremin play its part," she reveals.
Magnúsdóttir is keen to highlight those who played on Hollywood soundtracks, as well as composers. "I love the playing by Samuel J Hoffman in The Day the Earth Stood Still. It just has such a presence." She also picks out a more modern example of Lydia Kavina (Theremin's grand-niece) on 2004's The Machinist.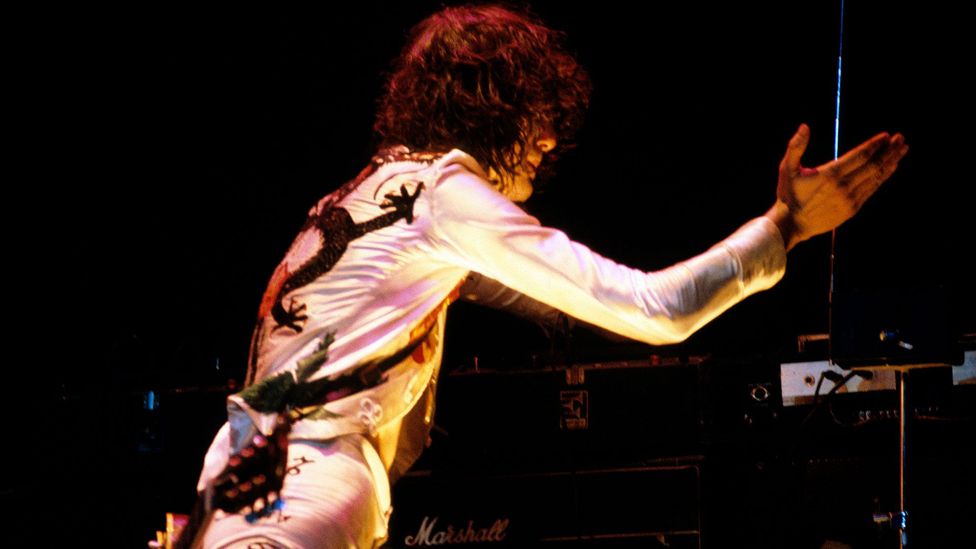 Jimmy Page of Led Zeppelin has used a variation of the theremin during performances of Whole Lotta Love and No Quarter (Credit: Getty Images)

Rock music has also had moments of theremin passion. Led Zeppelin's Jimmy Page has regularly used a version of the theremin (pitch antenna only) during performances of Whole Lotta Love and No Quarter, while The Rolling Stone's Brian Jones played it on the unusual 1967 album Their Satanic Majesties Request. And it's filtered into other areas of popular culture: Keanu Reeves learnt to play the instrument for Bill & Ted Face the Music, the recent third instalment of the trilogy.

Contrary to urban myth, however, the theremin doesn't appear on The Beach Boys' Good Vibrations, nor anywhere on the soundtrack of sci-fi franchises like Star Wars or Doctor Who. That said, earlier this year Eyck treated listeners of BBC Radio 3's In Tune to a striking theremin rendition of the Doctor Who theme music.

And its influence throughout electronic music was profound. Theremin – who died in 1993, at the age of 97 – said in 1989: "When I made the first instrument… the character of the sound it could create surpassed all the abilities of all the instruments then in existence. So that's why I considered that composers should write new music for this new timbre… in this respect, I thought that there would be progress in the world of instruments, as well as the world of composition."

If you would like to comment on this story or anything else you have seen on BBC Culture, head over to our Facebook page or message us on Twitter.

And if you liked this story, sign up for the weekly bbc.com features newsletter, called The Essential List. A handpicked selection of stories from BBC Future, Culture, Worklife and Travel, delivered to your inbox every Friday.

;