'Everyday exuberance' is the surprise trend for 2021 – in fact it's already here. Bel Jacobs explores the joy of fantastical fashion and its cathartic power.
O
Of all the trends you'd expect to emerge on spring 2021 catwalks, exuberance isn't the first to jump to mind. 2020 has been a challenging year, to say the least; surely dressing up now is just downright rude? And yet, out they trotted: vivid silk shirts by Dries van Noten; Molly Goddard's signature ruffles; acid-bright florals; embroidered frock coats – all in a parade of extravagance seemingly more luxurious than ever. 'Everyday exuberance', as Vogue describes it, is here: "This spring, retire the medium-wash jeans and beige for something a little more fun". But if fashion is meant to be a cultural signifier of its times, isn't this all a bit of a fail? Apparently not. 
More like this:
-          Why vintage is 'the new luxury'
-          Fashion photography's reluctant star
-          How ballet has inspired fashion
As any quick swipe up social feeds will tell you, dressing up when you're locked down is, frankly, the new 'in'. Yes, there was an initial flood of jogging pants and loungewear: Hailey Bieber – in sweat top and pants – curled up in front of the fire or dancing with Justin in sweat top and pants; Indian actor Hrithik Roshan in a tracksuit, learning piano. It was as if celebrities intuitively understood that this was really not the time to roll out your latest luxury purchase. But by the time the should-have-been Met Gala rolled around in May, everyone was sick to the back teeth of clothes you can fix the sink in.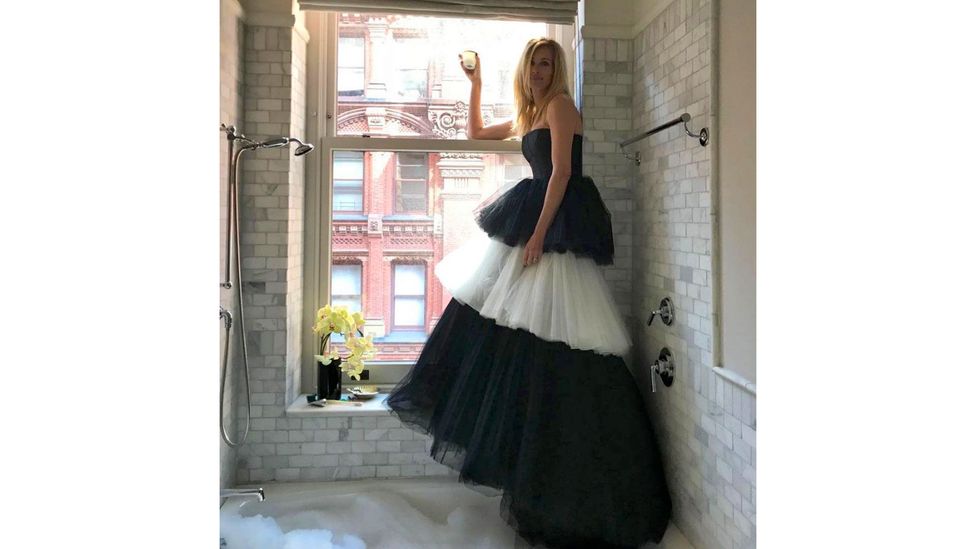 Julia Roberts was among the film stars who dressed up at home when the Met Gala was cancelled (Credit: Julia Roberts/ Instagram)
While Anna Wintour hosted the online 'A Moment with the Met', Julia Roberts uploaded a portrait of herself in her bathroom, wearing a black-and-white tiered ballgown with the caption: "Here's me... not going to the Met Ball tonight. #stayhome" Actress Amanda Seyfried snapped a picture of herself outdoors, in a gorgeous floral bell skirt. 
Getting dressed up may help people to reinforce their sense of self – Rose Turner
Priyanka Kapadia Badani, Vogue India's fashion director, has been styling and directing shoots through her computer screen since the lockdown – and US influencer Leandra Medine Cohen, aka Man Repeller, continued to upload a series of shockingly stylish outfits, albeit from her bedroom. Meanwhile, back in the UK, a slew of fashion lovers are reclaiming the right to wear beautiful things, whether stuck at home, locked on to Zoom calls or nipping to the corner shop. Dressed to the nines, multi-platinum selling artist Sophie Ellis-Bextor hosted a series of determinedly lo-fi online kitchen discos – complete with dazed-looking children– during lockdown. Stylist Trinny Woodall kept us going with dozens of relentlessly upbeat make-up and how-to-wear-sequins videos.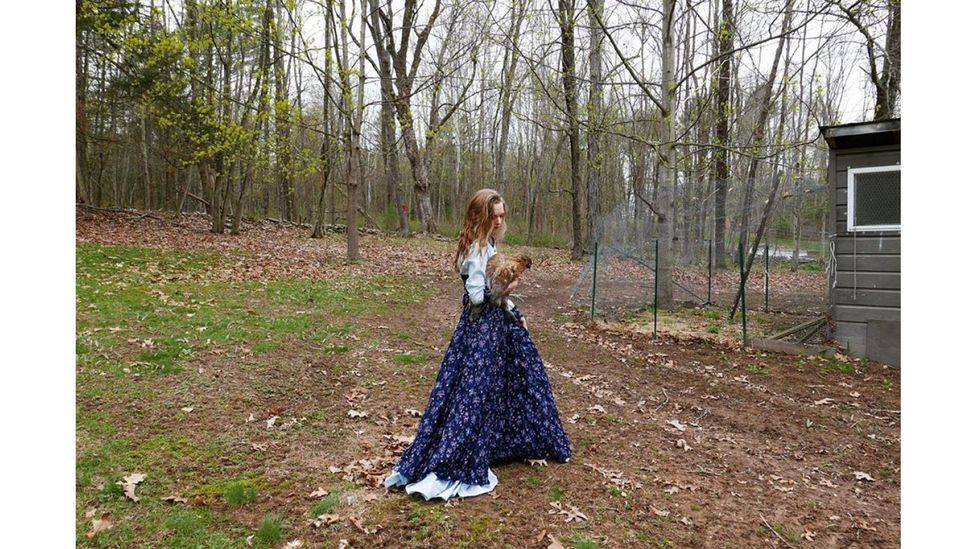 Amanda Seyfried photographed at home on what would have been Met Gala night (Credit: Amanda Seyfried/ Instagram)
UK actor Amanda Holden donned a ballgown to take out the rubbish, sparking a nationwide fiesta of dressing up to do chores: in silver-and-peacock-feather fascinators to iron clothes – in the garden; in formal dinner jacket to mow the lawn. At the other end of the scale, homeworkers attended online team meetings in fancy dress. Whether you can stick to an agenda when your colleague is dressed as a penguin is one thing, but something else is clear: if dressing up for a party is exciting, dressing up when you've nowhere to go is taking on a new resonance. 
"When other activities that help us to feel 'like us' – such as hobbies, seeing friends and going to work – are unavailable, getting dressed up may help people to reinforce their sense of self," says Rose Turner, fashion psychologist at the London College of Fashion. "Clothing impacts how people think and behave. Putting on a 'work' outfit might help with motivation and concentration, and wearing something special might help to break the monotony of lockdown, and lift people's mood."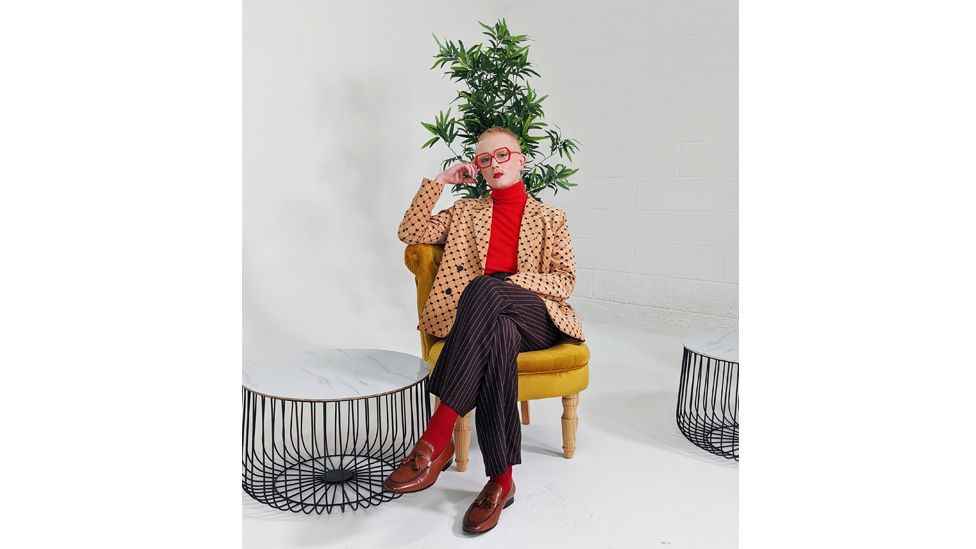 Writer Jamie Windust dresses up even when staying in or popping out to the local shop (Credit: Jamie Windust)
Too true, agrees LGBTQ+ writer and editor Jamie Windust. "I feel like I'm actually doing something with the day if I'm throwing on an outfit," they say – and they don't mean a suit. "If I'm staying in, I'll dress as if I'm going out. Or if I'm just going to the shops, I'll dress as if I'm going out proper. I've always loved doing that with fashion so I don't see why we should stop, even if our trips have become more menial."
Dancing queens
Sadie Clayton agrees – wholeheartedly. The artist and fashion-course director at the London College of Contemporary Arts keeps students engaged with her kaleidoscopic Afro, fire-engine red lips and trademark dots painted beneath her eyes. "For me, it's such a big part of who I am," she laughs. "Without that, there's no Sadie Clayton." She's taken up a new hobby: roller dancing. "A lot of the time, I'll put on a funky pair of leggings and some tunes – and feel like I'm in the 1980s!" What's especially thrilling is the spirit of defiance underlying all these costume choices
Of course, fashion has mileage here. At the tail end of World War One and the flu pandemic of 1918, fashion responded with flapper dresses and a lot of make-up. The wide skirts of Dior's New Look in 1947 were precisely-aimed kickbacks against the privations of the Depression. Disco followed the social and economic turmoil of the mid 1970s. Perhaps it's not surprising that it's back: in new work by disco queen Kylie Minogue; in the Disco collection of shoemaker Terry de Havilland and, of course, in Ellis-Bextor's kitchen, from where her soirées have birthed an album.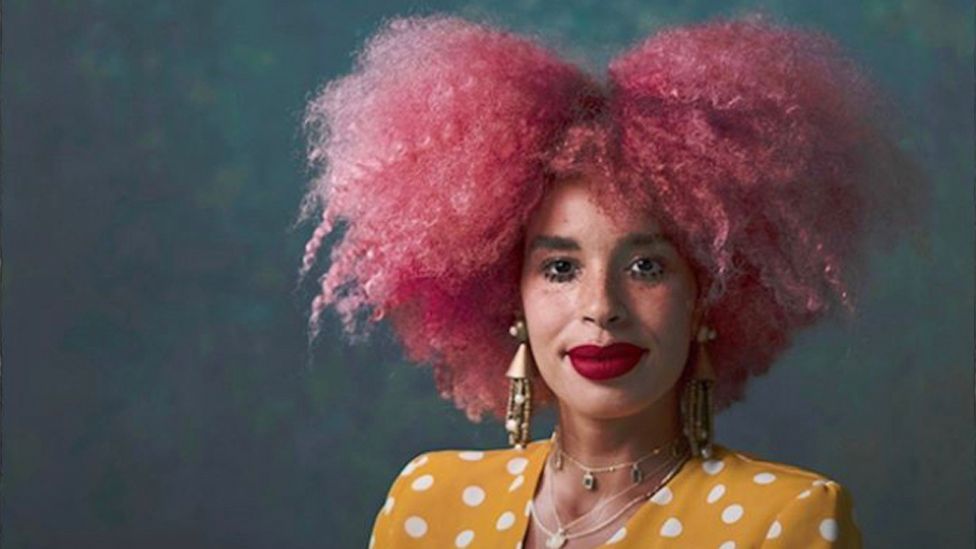 Artist Sadie Clayton has maintained her signature look during lockdown – and she has taken up roller dancing (Credit: Sadie Clayton)
"For me, it's about the fundamental need to provide catharsis and escapism from the weight of the news," Ellis-Bextor told the Guardian. And yet the pandemic is changing our relationships to fashion in other ways, too. While some of us turned with relief to sweatpants, others have re-embraced old favourites, taking joy in what they already own. "The biggest shift for me was my understanding of how much I consume," admits Michela Vinton, director of affiliate partnerships at new vintage platform Display Copy. "Now, I'm spending more time wearing my clothes in different ways."
Dressing up is a way of reclaiming happiness regardless of outside factors – Geraldine Wharry
Others took the time at home to rummage through closets and seek out hidden treasures. "I have one of my mum's vintage bags," reflects Danielle Franca Swift, Display Copy's executive producer. "It's about 30 years old and I just found myself gravitating towards pieces like that – that had sentimental value, that felt comforting. In normal times, I might not have gone for it. Seeking emotional attachment in my clothes, that's happening more and more." Quietly, the planet is thanking us.
"Dressing up is a way of reclaiming happiness regardless of outside factors," reflects fashion futurist Geraldine Wharry. "It's realising that you, as a person, even if no one else sees you, are the most important thing. People are getting creative with the clothes in their closets and having fun. They're asking themselves, what really brings me joy? They've come through the first [UK] lockdown and realised it's just not viable to live in sweatpants." Or, as the late Karl Lagerfeld once put it: "Sweatpants are a sign of defeat. You lost control of your life, so you bought some sweatpants."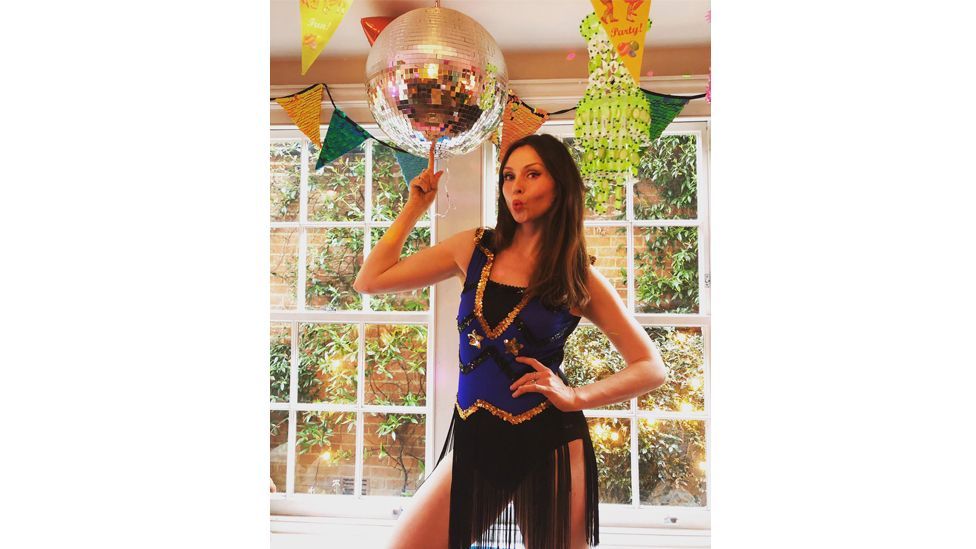 The musical artist Sophie Ellis-Bextor dresses in her most glamorous outfits for her 'kitchen discos' (Credit: Sophie Ellis-Bextor/ Instagram)

Many commentators believe the pandemic could offer a blank canvas for a fresh start. "We will come out of this, like we come out of a war," said forecaster Li Edelkoort, in conversation with the New York Times' Vanessa Friedman. "The buildings are still there, but everything is in ruins. We will want two things: security and to dance." Happily, it feels like we're already practising.

If you would like to comment on this story or anything else you have seen on BBC Culture, head over to our Facebook page or message us on Twitter.

And if you liked this story, sign up for the weekly bbc.com features newsletter, called The Essential List. A handpicked selection of stories from BBC Future, Culture, Worklife and Travel, delivered to your inbox every Friday.

;