Kelly Grovier picks 14 of the most startling photos from this year – including a breaching shark, lightning above a volcanic eruption and wildfires – and compares them with iconic artworks.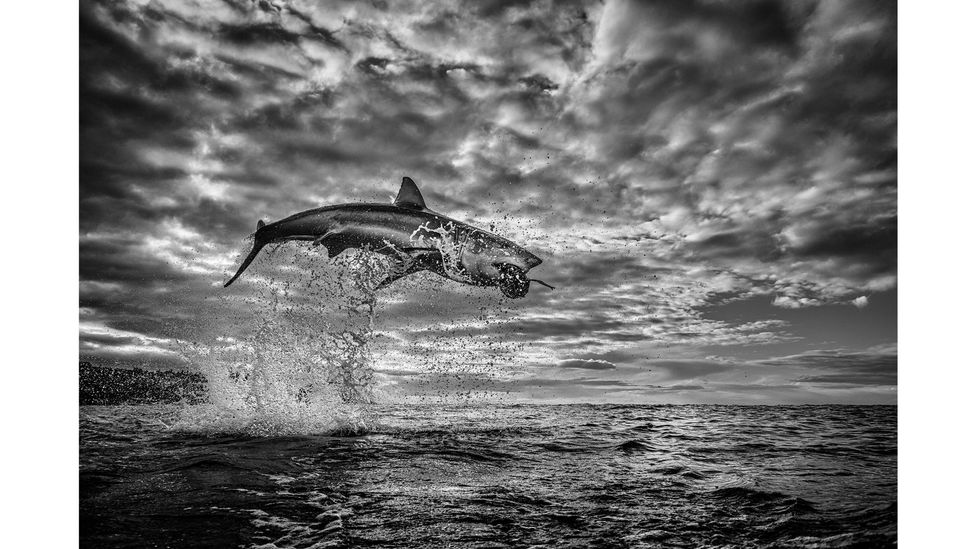 An image of a breaching shark by photographer Chris Fallows, called The Pearl, went viral after it was taken in August 2020 (Credit: Chrisfallows.com)
Breaching great white shark, South Africa, August 2020
'Breach' is the preferred word for the leap that whales and sharks make from the surface of water. Related to 'break', 'breach' captures not only the gravity defiance of the act itself, but the shattering of the liquid plane that once restrained the creature as it begins ascending through the air. No wonder Chris Fallow's photograph of a great white shark, suspended 4.5m (15ft) above the waves near Seal Island, South Africa, in August 2020 – the highest shark breach thought to have ever been recorded – immediately went viral. Preserved forever by the blink of Fallow's lens, the breath-taking levitation of the hulking creature brought to mind British artist Damien Hirst's career-defining installation of a toothy tiger shark floating in a vitrine of formaldehyde, to which Hirst attached the quizzical title The Physical Impossibility of Death in the Mind of Someone Living (1991). Hirst's controversial work breached the norms of contemporary sculpture by blurring the line between a mere metaphor for breaking the barrier between being and death and a physical embodiment of that ultimate transition –  slowed down by chemicals, like Fallows' snap, to an eternal millisecond.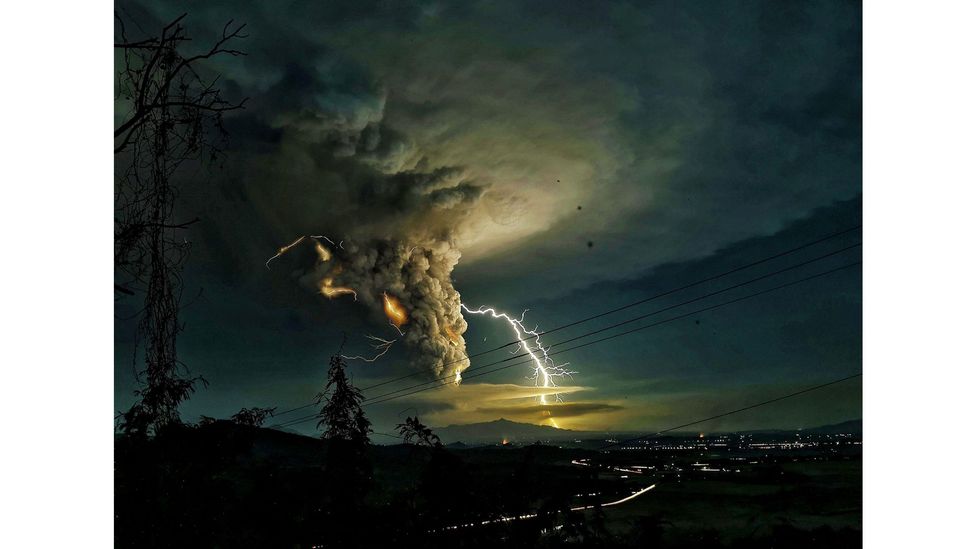 A lightning strike over the province of Batangas during the eruption of the Taal volcano in Philippines, January 2020 (Credit: Domcar C Lagto/Pacific Press via Alamy)
Eruption of Taal Volcano in Philippines, January 2020
Volcanic lightning occurs when fragments of propelled ash (including glass, ice, and rock) spark against each other in the violent plume that rises above an erupting volcano. The First-Century Roman writer Pliny the Younger is credited with recording the earliest-extant account of a so-called 'dirty thunderstorm' after witnessing the eruption of Mount Vesuvius in 79 AD. "A dreadful black cloud," Pliny observed in a letter to Tacitus, "was torn by gushing flames and great tongues of fire like much-magnified lightning." Photos taken in January 2020 of a similar display near Manila, Philippines when Taal Volcano erupted captured the world's attention. The intense gnashing of darkness and light preserved by the images recalls the cataclysmic beauty of The Destruction of Pompei and Herculaneum, the Romantic artist John Martin's 1822 painterly recreation  of the ancient dirty thunderstorm that Pliny the Younger saw with his own eyes.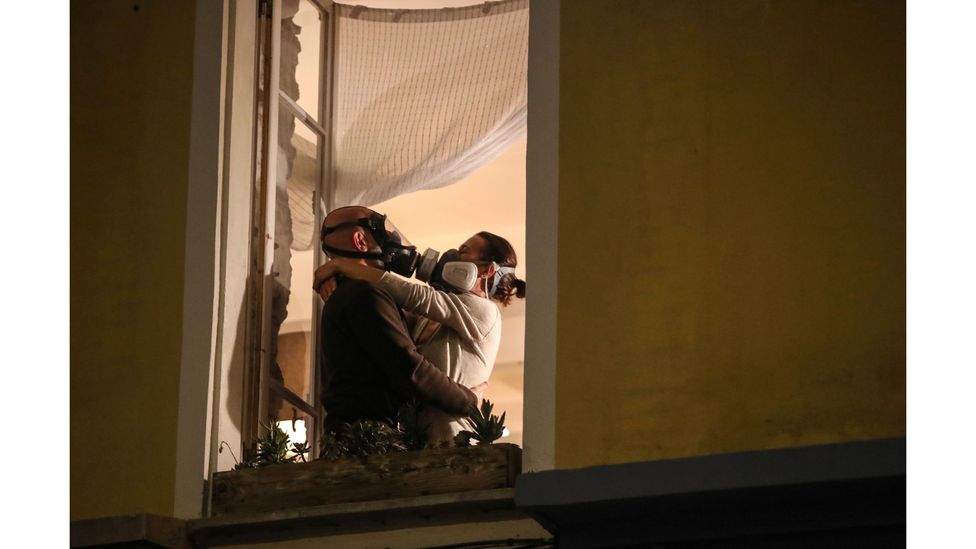 A couple wearing masks embrace during a daily round of applause for health workers in Nice, March 2020 (Credit: Valery Hache/AFP via Getty Images)
A couple embrace during applause in support of French medical workers, France, March 2020
The seemingly carefree embrace of a couple wearing bulky gas masks, glimpsed through a lamplit window in the French Riviera city of Nice during the early weeks of global lockdowns in March 2020, captured the world's collective resolve to carry on with life. The absurd mechanics of their curious clinch recalls any number of strange Surrealist snuggles. There's the mechanised canoodle of a pair of mannequins in Giorgio de Chirico's unexpectedly affecting Hector and Andromache (1912), which poignantly imagines a final embrace before parting. And then of course there's the veiled kiss of Rene Magritte's The Lovers II (1928), which refuses to let a little PPE fabric get in the way of a nice nuzzle.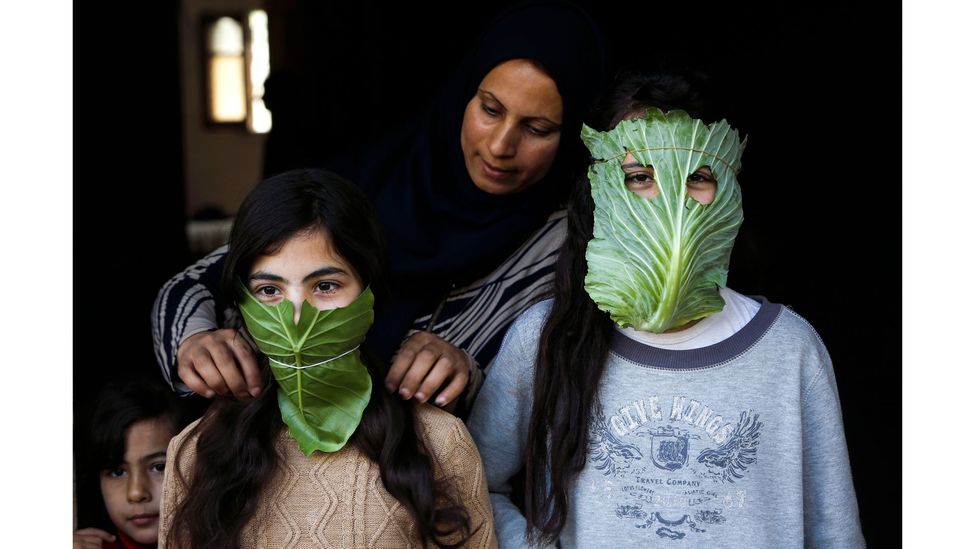 A Palestinian mother entertains her children with makeshift masks made of cabbage as she cooks in Beit Lahia in April 2020 (Credit: Mohammed Abed/AFP via Getty Images)
Makeshift masks made of cabbage, Gaza, April 2020
Among the many lessons the global pandemic has taught us is just how resourceful people can be. When confronted in the early weeks and months of lockdown with the short supply of personal protective equipment, creativity became an essential commodity. Entertaining her children while preparing food, a mother in Beit Lahia, Gaza, fashioned from heads of cabbage makeshift face masks that had an organic flair all their own. Striking images of two children disguised by the fanning veins of the vegetable's broad green leaves struck a timeless note, as if the pair were mythically merging with the ancient legend of the Green Man – a pagan symbol heralding the arrival of Spring – rather than cloaking themselves against a modern-day menace.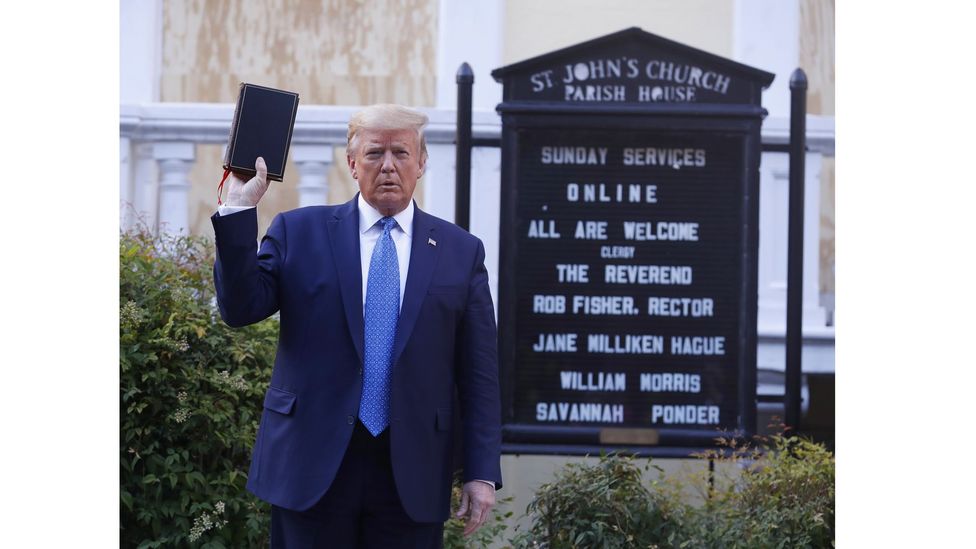 US President Donald Trump poses with a Bible outside St Johns Church in Washington DC (Credit: Shawn Thew/EPA)
President Trump holds a Bible outside a boarded-up church, Washington DC, 1 June 2020
Few photos captured this year, or excited more divisive reactions than the image of US President Donald Trump raising a Bible while standing in front of a boarded-up St John's Church, opposite the White House in Washington DC. Shortly before the photo was taken, the surrounding streets had been forcibly cleared of peaceful demonstrators who had gathered to protest the death of George Floyd (a black man killed in police custody a month earlier). The tension between Trump's carefully choreographed outward appearance – his unrumpled suit and controlled expression – and the chaos known to be raging around him was transfixing. That clash between surface calm and repressed turmoil calls to mind one of our age's most memorable works of contemporary art, a photograph by the British artist Gillian Wearing of a seemingly cool and collected businessman whom she had stopped on the street. Asked by the artist to write on a blank card what is on his mind and to hold it in front of him, the stranger lifted a sign that read simply, "I'm desperate".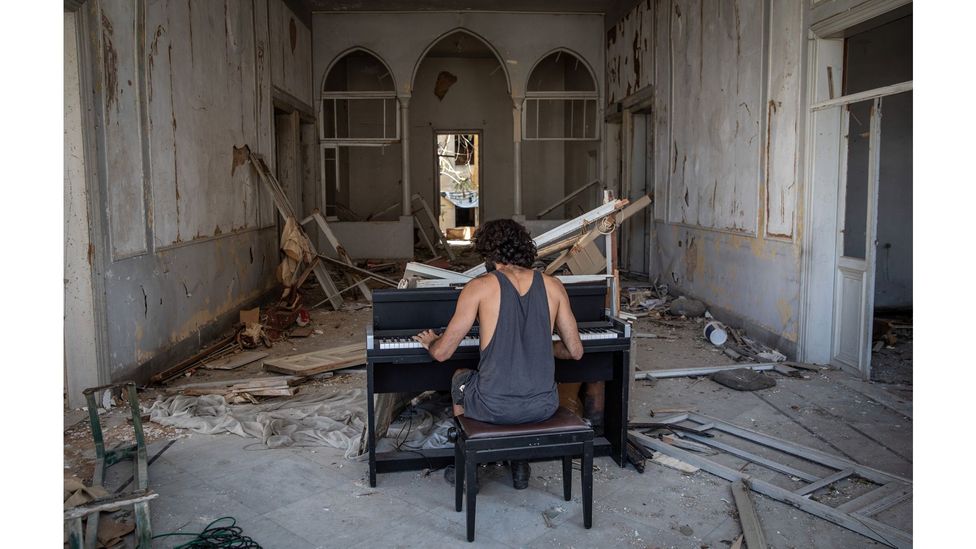 Raymond Essayan plays a piano in a destroyed building on 14 August, 2020 after the port explosion in Beirut, Lebanon (Credit: Chris McGrath/Getty Images)
Musician Raymond Essayan plays a piano in a destroyed building after the port explosion in Beirut, Lebanon, August 2020
It's one thing to dream of sculpting symphonic beauty from the chaos of life. It's another thing to achieve it. After a devastating explosion at Beirut's port on 4 August killed hundreds of people and wounded thousands more, artist and musician Raymond Essayan, who suffered a concussion by the blast and was left homeless, resolved to construct from the rubble an enduring symbol of human resilience. Images of Essayan sitting in a shattered building after the explosion, at a piano that appears to have stitched itself together from shrapnel, went viral. The dishevelled components that comprise Essayan's instrument – which he constructed for the set of a music video dedicated to Beirut – call to mind the abrasive acoustics of contemporary artist Rebecca Horn's 1991 work Concert for Anarchy. The German visual artist's work consists of a battered piano hung upside with wires – its keys and strings spilling out at timed intervals. A grating cacophony of discordant notes vibrate from the weary instrument as if it were attempting to retune itself to a bedraggled world.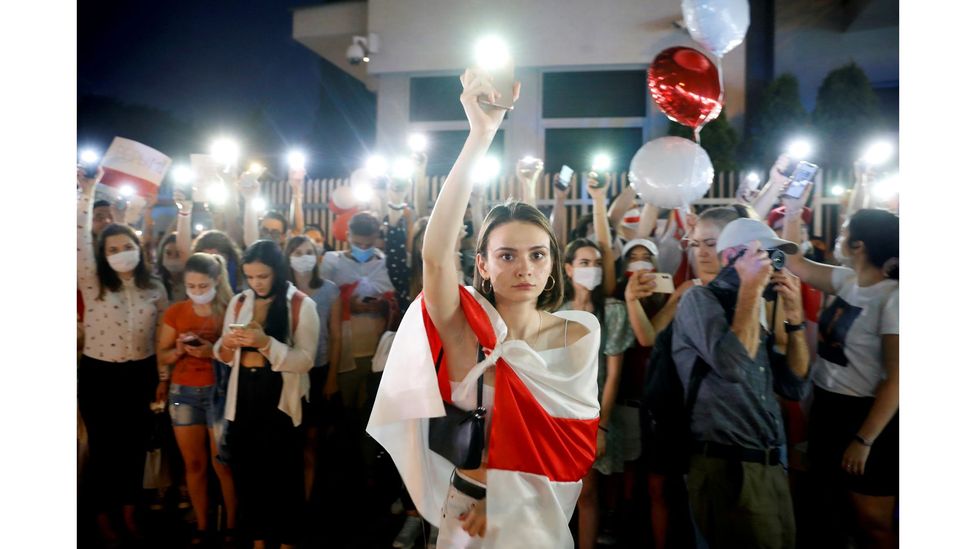 A demonstrator holds up her phone during a march after the disputed presidential election in Belarus, August 2020 (Credit: Kacper Pempel/Reuters)
A demonstrator at a march outside the Belarusian Embassy in Warsaw, Poland, August 2020
It would be simplest to suggest that the viral image of the young woman, who holds aloft a light in darkness outside the Belarusian Embassy in Warsaw, Poland in August 2020, finds its closest cultural resemblance in the raised torch of French sculptor Frédéric Auguste Bartholdi's Statue of Liberty, gifted to the United States by France in 1886. In truth, the familiar pose struck by the girl, who showed solidarity with those in Belarus questioning the legitimacy of a recent election by raising her smartphone torch, goes back much further. The archetypal posture can be traced back thousands of years, and may initially have been associated with the Sumerian goddess of love, justice, and political power Inanna (known by the Assyrians as Ishtar). An early 2nd-millennium terracotta relief of Inanna, striking the iconic pose from which countless inspiring postures in the history of art and protest would follow, now sits in the Louvre.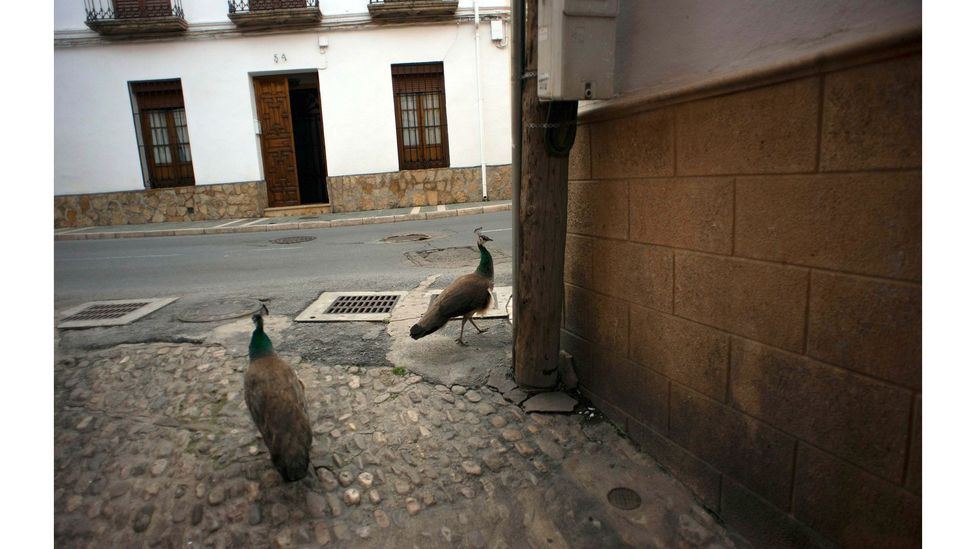 Two peacocks walk down a street in Ronda, Spain, during the national lockdown in April 2020 (Credit: Jorge Guerrero/Getty Images)
Peacocks walk down a street in Ronda, Spain, April 2020
Among the more intriguing consequences of global lockdowns this year, introduced by governments in an effort to control the transmission of coronavirus, was the rapid reclamation of municipal spaces by curious creatures. A pair of peacocks photographed strolling down the abandoned lanes of the Spanish city of Ronda in early April was indicative of the temporary replacement of humans by animals whose presence is otherwise impossible when the world's hustle is in full bustle. Such dislocating images brought to mind the vibrant vision of the 17th- and 18th-Century French painter Alexandre-François Desportes, who spent his life painting the contest between man and animal to occupy the same plane. Though many of Desportes's works depict royal hunts and the upper hand of man in controlling the balance, his 1714 painting Still Life with Peacock imagines a world – or at least a small corner of a world – in which man's presence is briefly supplanted by a regal court of feather and fur.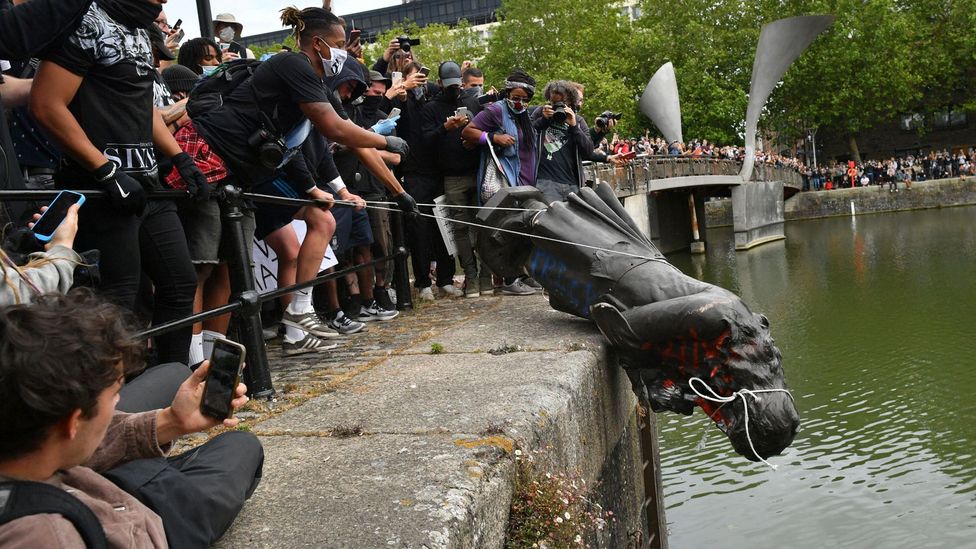 Protesters tore down a statue of Edward Colston and threw it into Bristol harbour during a Black Lives Matter rally (Credit: PA Wire)
Statue of Edward Colston vandalised by protestors demonstrating support for Black Lives Matter, June 2020

What is a society to do when the statues it has erected are no longer a source of pride but cause pain instead? To keep them up is to rub salt into open wounds. To tear them down is to deny one's past, daring its repressed ghosts to re-emerge unconfronted somewhere down the road. Such was the conundrum countries across the world found themselves in this summer when, in the wake of protests against the killing in the US of an African-American man by white police officers, Black Lives Matter demonstrators demanded the removal of effigies honouring slave traders and colonialists. When a statue honouring the 17th-Century English merchant and slave dealer Edward Colston was targeted for toppling in Bristol (it was roughly rolled into the nearby harbour), the street artist Banksy took to Instagram to propose a possible solution to the growing crisis. With characteristic wit, Banksy suggested "we drag him out the water, put him back on the plinth, tie cable round his neck and commission some life-size bronze statues of protestors in the act of pulling him down. Everyone happy." His pitch was accompanied by a droll doodle of the eternal ousting he imagined.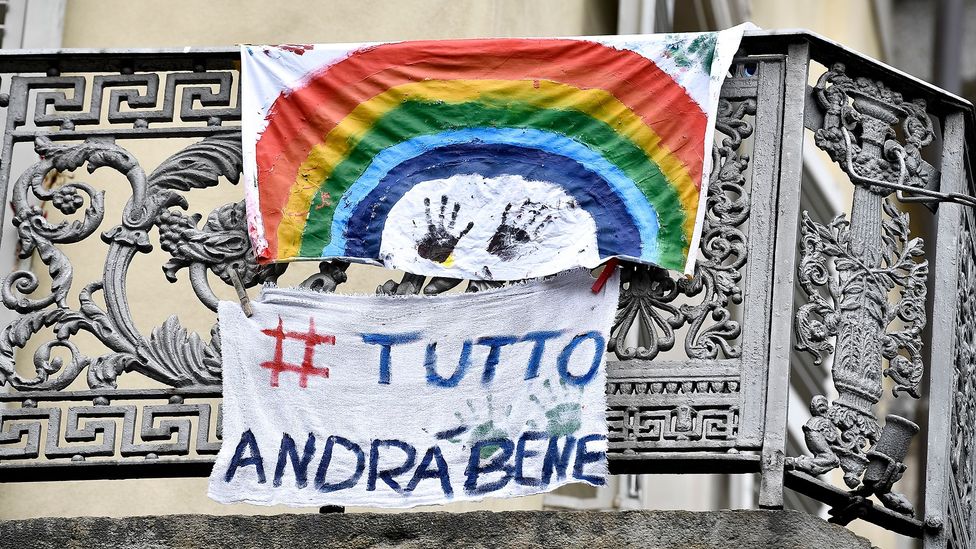 A banner reading 'everything will be fine' hangs on a balcony in Turin (Credit: Nicolò Campo/LightRocket via Getty Images)
Homemade rainbow sign, Turin, Italy, March 2020
Suddenly, they were everywhere. Scribbled in colourful crayon and scrawled in effulgent felt-tip, an endless prism of wondrously wonky rainbows began beaming from the bedroom windows of children from Italy to Canada, Britain to the US in March 2020. Intended to interject a cheerful note on to stressed streets at a time of intense anxiety in the early weeks of the global pandemic, the resplendent rash of rainbows across the world symbolised the resilience of hope over despair. Many artists, from Hans Memling in the 15th Century to Wassily Kandinsky in the 20th, have accepted the steep challenge of translating on to canvas the elusive luminosity of a rainbow. Though the English landscape artist John Constable may have succeeded best in magicking from oil and pigment a rainbow's diaphanous shimmer, it was the Swiss-born German modernist Paul Klee who most enchantingly captured a child's wonder in his awkwardly angular and playfully lustrous painting With the Rainbow, created the year before the 1918 flu pandemic called the world inside.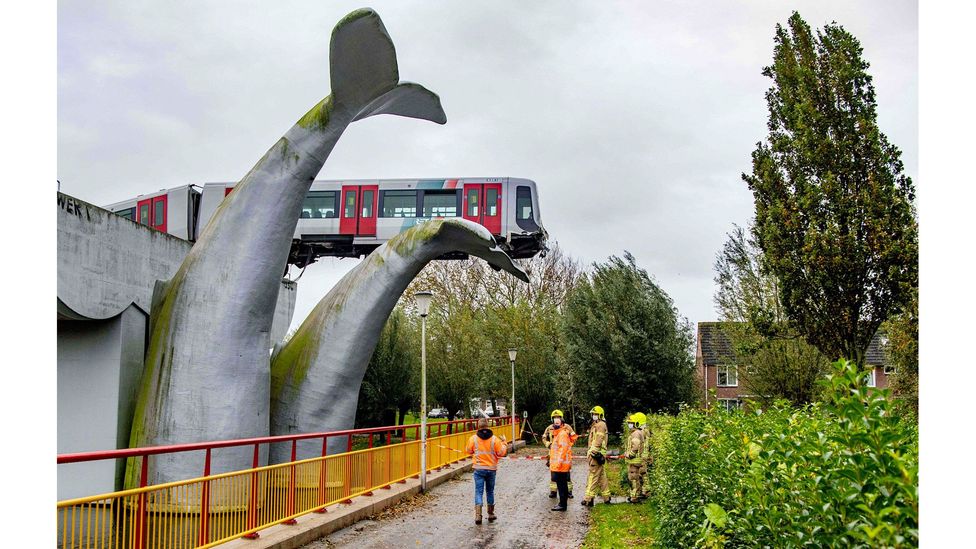 A crashed train rests on a sculpture called Saved by the Whale's Tail in the Netherlands, November 2020 (Credit: Robin Utrecht/ANP/AFP via Getty Images)
A whale sculpture catches a crashed train, the Netherlands, November 2020
It's an extraordinary tail. In November 2020, a metro train slammed through stop-blocks at the De Akkers station in Spijkenisse, near Rotterdam, but was miraculously saved from plummeting 10m (30ft) by the protruding tail of a fortuitously positioned plastic whale sculpture. Had Dutch architect Maarten Struijs's 2002 work depicting a pair of whale tails, forever flapping from the water, not been there to catch it, the front carriages of the train would likely have collapsed. Photos of the near catastrophe, which captured the train's absurd suspension in air, went viral and brought to mind Belgian artist Rene Magritte's surreal vision of a locomotive smashing through a fireplace – its jutting engine levitating bizarrely in the domestic space of someone's dining room. Though the artist entitled the work La Durée poignardée (or, literally, Ongoing Time Stabbed By a Dagger), the 1938 painting, which seemed a meditation on the mysteries of life's elapse, quickly became known as Time Transfixed – a feeling, no doubt, with which the driver of the Dutch metro train can intimately relate.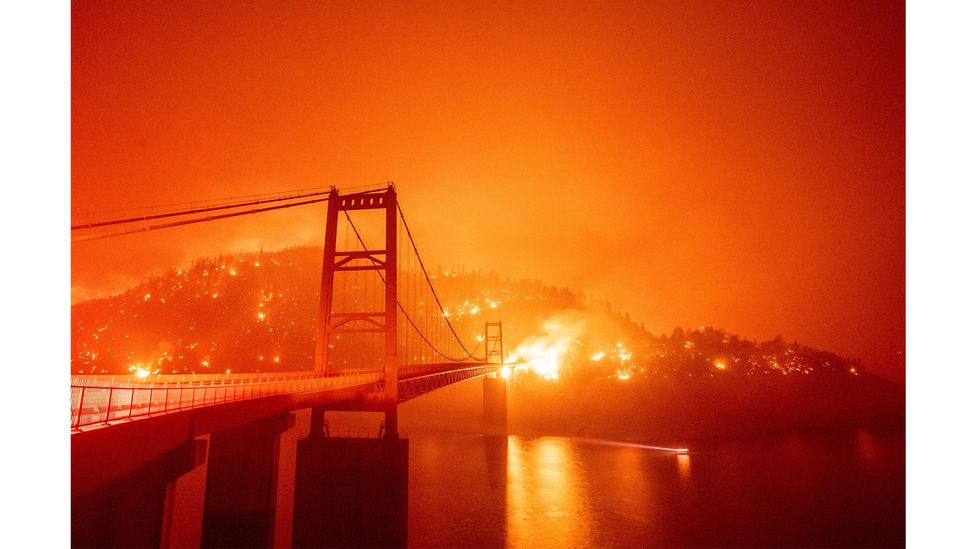 The Bidwell Bar Bridge is surrounded by fire in Lake Oroville, California, September 2020 (Credit: Josh Edelson/AFP via Getty Images)
Wildfires in Oroville, California, 9 September 2020
Photos taken in late August and early September 2020 of some of the most devastating fires in California's history revealed an otherworldly landscape of choking sunlight and smouldering air. One such image, which showed the foreshortened slant of the Bidwell Bar Bridge over Lake Oroville in Butte County, Northern California, conveyed our eyes directly into the alien inferno. The embering mist above water seemed to refract the flicker of flames in the distance to create a diaphanous fug of fire.  It enveloped the imagination and called to mind the shrouding power of Olafur Eliasson's celebrated installation The Weather Project, which the Danish-Icelandic contemporary artist unveiled in Tate Modern's Turbine Hall in 2003. Using sugar, water, mirrors and monochromatic lamps, Eliasson alchemised an enveloping veil of amber light in which visitors lost themselves. Subliminally, Eliasson's project seemed intended to draw attention to the annihilating effects of climate change, which many insist is accelerating California's recent epidemic of fires.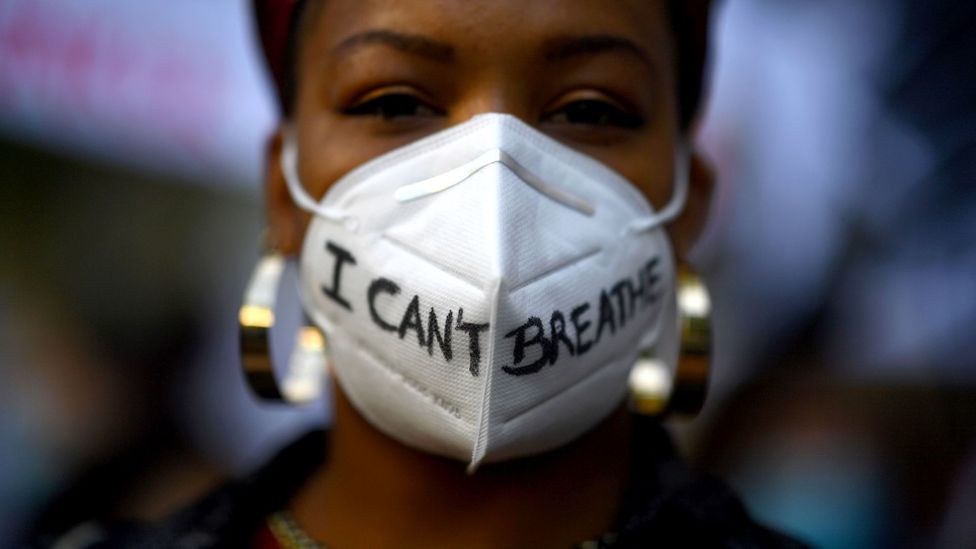 A woman wears a mask reading "I can't breathe" in Madrid, on 7 June, 2020, during a demonstration against racism and in solidarity with the Black Lives Matter movement
A woman wears a mask reading "I can't breathe" in Madrid, June 2020
The most enduring images are tight tangles of intertwined meaning. The photo of a woman wearing a white face mask on which has been written the words "I can't breathe" is one such image. Those three desperate syllables are surely destined to epitomise 2020. On a tragic literal level, they are among the last words that George Floyd uttered as a white police officer choked Floyd to death by kneeling on his neck. More elastically, the phrase has come to symbolise the asphyxiating frustration that many in society feel after centuries of oppressive treatment of people of colour. The woman's face covering seems less a defence against transmission of the coronavirus than a material manifestation of the disempowerment that countless generations have been forced to suffer. Hers isn't a mask so much as a muzzle, one that echoes portrayals of the barbaric treatment of the venerated informal saint, Escrava Anastacia – a Brazilian slave who was cruelly fitted with a stifling mask.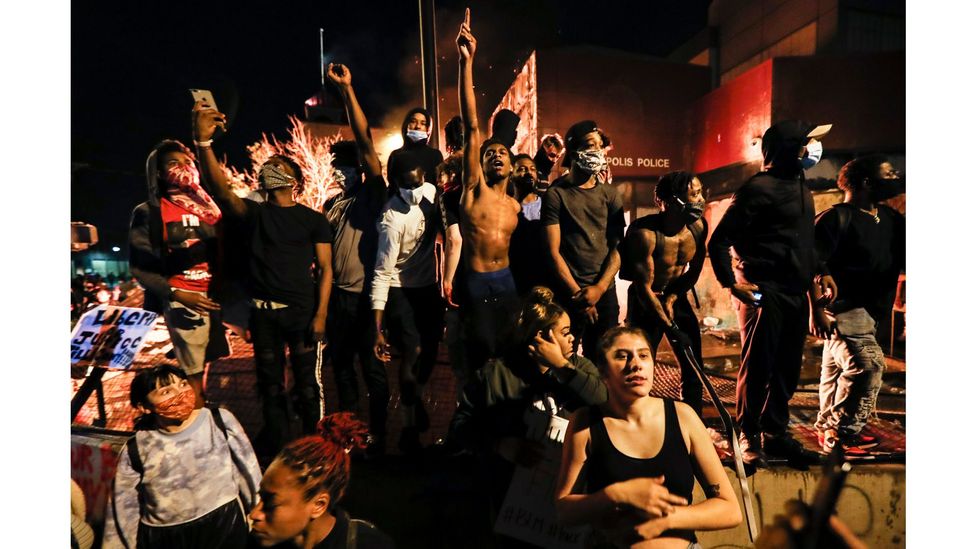 Protesters demonstrate beside a police station in Minneapolis, Minnesota on 28 May, 2020, after the death of George Floyd in police custody (Credit: John Minchillo/AP)
A protest after the death of George Floyd in Minneapolis, Minnesota, May 2020
Some works of art are so paradigmatic they grind the lens through which we perceive the unrehearsed dramas of the world that unfold around us. Take, for example, Eugène Delacroix's 1830 masterpiece Liberty Leading the People, which depicts a personified notion of Liberty with arm raised, commanding a posse of revolutionaries fighting for freedom. There was an element of that iconic choreography in in the pose struck by protesters decrying the murder of George Floyd by police, in a stirring photo taken outside a police station in Minneapolis, Minnesota on 28 May, 2020.
If you would like to comment on this story or anything else you have seen on BBC Culture, head over to our Facebook page or message us on Twitter.
And if you liked this story, sign up for the weekly bbc.com features newsletter, called The Essential List. A handpicked selection of stories from BBC Future, Culture, Worklife and Travel, delivered to your inbox every Friday.