How did a bucolic dreamland became the perfect escape from real life? Anita Rao Kashi explores a whimsical world of nostalgia, tranquillity and folksy mysticism.
A
A few weeks into lockdowns everywhere, a curious thing happened on Instagram feeds. More and more, they filled with images of pretty cottages adorned with climbers and flower-laden trellises, soft-focus sunbeams streaming through dense foliage, dappled wooded pathways and earthy mushrooms growing in abandon, tea tables and picnics in shaded gardens near gurgling streams laden with homemade sourdough bread and scones, soft cotton dresses with smocking and embroidered with strawberries and butterflies... part surreal, part escapist fantasy from the horrors around, and partly about taking control. The phenomenon had a hashtag – #cottagecore. It's a trend that has slowly become the standout aesthetic of the year 2020. Much like Scandinavian concepts hygge and friluftsliv, the pastoral aesthetic of cottagecore is striking a chord.
More like this:
-         How dressing up can make us happy
-         When real life meets film fantasy
-         Why buying vintage is 'the new luxury'
Of course, nothing trends like a concept that is embraced by a high-profile celebrity. A few months ago, Taylor Swift released her album Folklore. The promotional pictures showed her in a woodsy setting, de-glamourised and in a cosy overcoat. The album had a raw, earthy, nostalgic energy, which toggled between simplicity, cosiness, and escapism. The perfect word salad to describe cottagecore. In one fell swoop, a fringe aesthetic catapulted into the mainstream.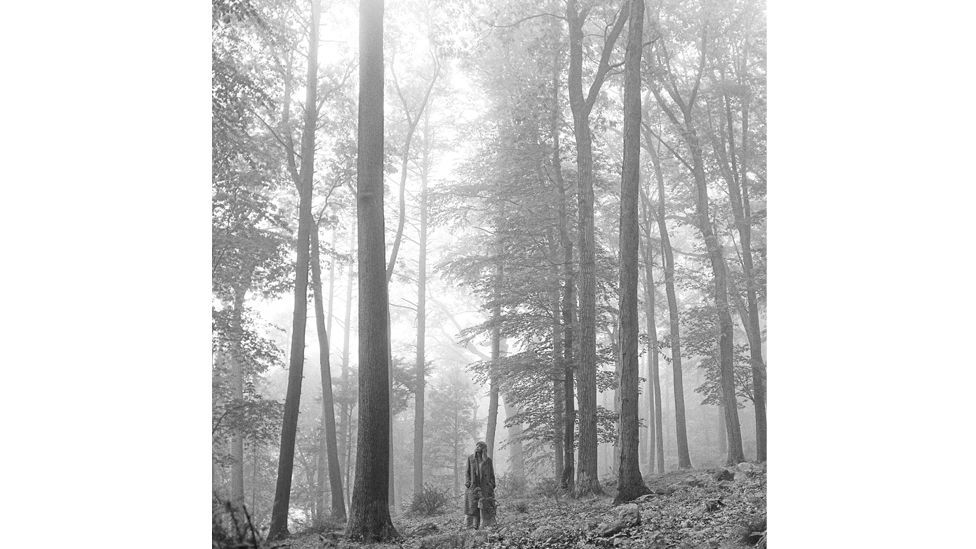 Taylor Swift's latest album Folklore helped bring the cottagecore aesthetic into the mainstream (Credit: Universal Music)
As an aesthetic that romanticises the return to traditional bucolic attributes, cottagecore lays heavy emphasis on a mix of rural self-sufficiency and delicate décor, with a heavy dose of nostalgia. Ironically, for all its emphasis on the rural idyll and anti-modernity, it is largely played out on the internet – on Tumblr, Pinterest, Instagram and Facebook. The latter has at least a dozen pages dedicated to its various aspects. 
Cottagecore is all about the outdoors and slow living – think Anne of Green Gables meets The Secret Garden – Lucy Blackall
At its heart, cottagecore hinges heavily on modern escapist fantasies, and posts are full of foraged mushrooms, long billowy dresses, gingham tablecloths, baskets of wildflowers, sourdough bread and mossy terrariums. There are babbling brooks surrounded by woodland, snails, beeswax candle-making, delicate doilies, farm animals, forest bathing and rustic simplicity.
"Cottagecore is all about the outdoors, slow living and often includes country houses. It's a warm, cosy community full of nature, growing your own foods, spending time with pets, picnicking in the garden. Think Anne of Green Gables meets The Secret Garden," says cottagecore practitioner Lucy Blackall, whose surroundings in Oxfordshire in the UK encompass the ideals of countryside living, and tie in perfectly with the cottagecore aesthetic.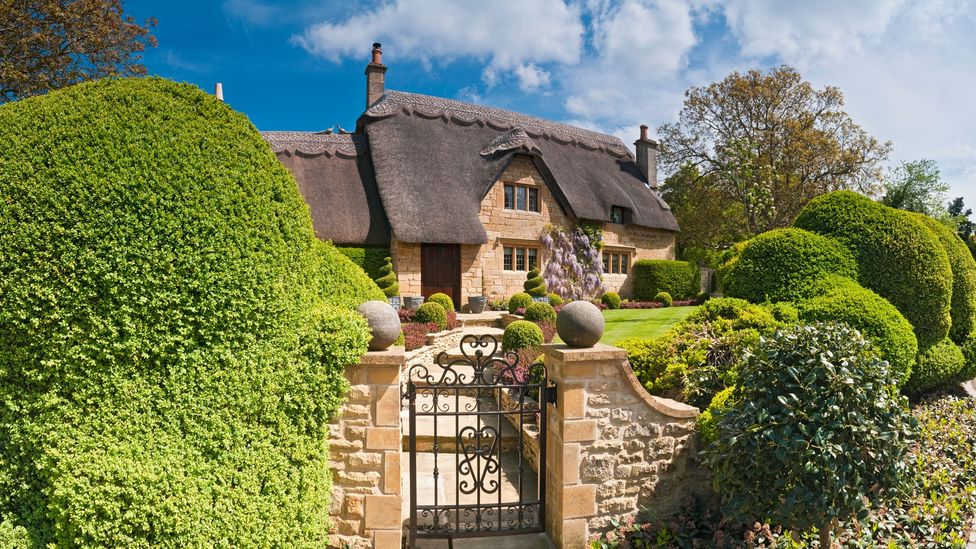 The sensibility is dominated by nostalgia, mysticism and whimsicality – all in a rural setting (Credit: Getty Images)
Blackall has been posting pictures of the English countryside for more than a year on her Instagram page @hercountryliving, and joined the cottagecore community at the beginning of lockdown. She says she has thrived among like-minded people who "love to craft, grow their own and share tips on fashion, home styling, gardening and all things cosy". Cottagecore, which is related to other nostalgia-driven aesthetics like 'faeriecore', 'farmcore' and 'grandmacore', has been around since 2018. However, in 2020, its popularity soared. Take Tumblr, where the hashtag #cottagecore saw a 153% jump in use while the number of likes for cottagecore posts rose by a staggering 500%.
By presenting isolation and staying home as romantic and even aspirational, does the cottagecore trend help make lockdown a less scary prospect? Singapore-based artificial-intelligence company Quilt.AI – which uses AI to glean insights into human behaviour – recently analysed more than 300 Instagram posts with the hashtag cottagecore, and concluded that the top emotion was creativity (28%) followed by affection (19%) and solitude (10%). It also studied 1.5 million unique searches across platforms of 2019 and 2020, and discovered nearly a 30% increase in search interest for gingham clothes and 'milkmaid' style.
"As countries opened to a post-Covid-19 situation, we found a general increase in attraction towards positivity and joy. We saw individuals returning to less urban ways of life," says anthropologist and Quilt.AI co-founder Angad Chowdhry. "What interests me is that the disconnection is almost a stepping away from conventional urban modernity."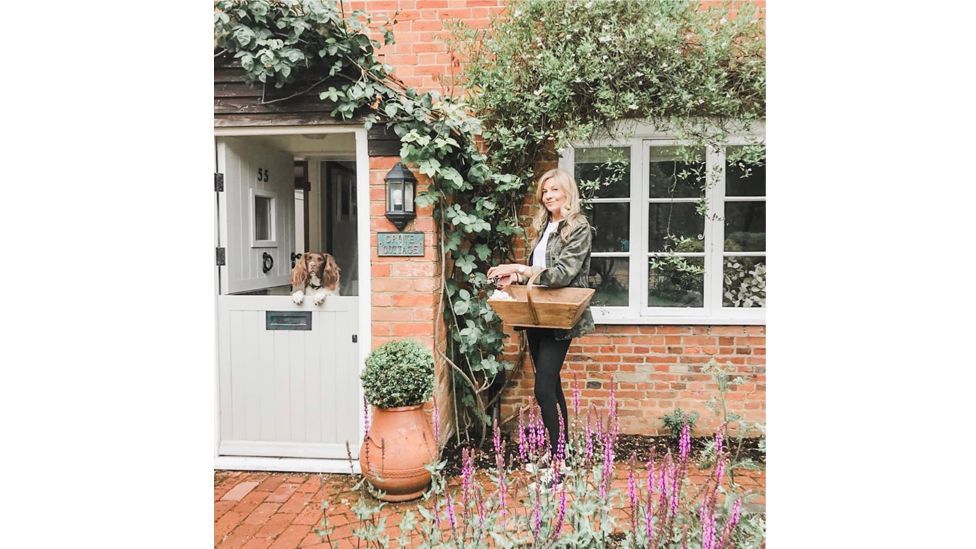 Naomi Stuart is among the many cottagecore 'practitioners' on social media (Credit: @grove_cottage_/ Instagram)
Chowdhry says cottagecore is indicative of a desire for  simplicity and anti-modernity. "It is the equal and opposite reaction to the contamination, helplessness and incoherence of our contemporary mise en scène." Quilt.AI's analysis also revealed that while a slew of wholesome, earthy symbols such as flowers, leaves, bees, mushrooms and bees were generously used, the top emoji was that of sparkles signifying magic and wonder, and hinting that cottagecore holds a lot of meaning as a fantastical paradise.
Rural tranquillity
Practitioners themselves agree. "I started using the trending hashtag #cottagecore on my Instagram account @grove_cottage_ during the first  lockdown. At the time, my interpretation of the hashtag was a cosy, romanticised life of living in the country in an idyllic Victorian cottage," says Naomi Stuart. "I hoped that my pretty squares of rural tranquillity would give people who live in the city or don't have a garden a sense of pleasure and calmness amongst the madness that was, and still is."
While cottagecore might have increased on social-media platforms, it has a more rooted sibling in homesteading, a lifestyle based on self-sufficiency and subsistence agriculture. The concept saw a resurgence in the 1960s and 70s but subsequently went below the radar – only to re-emerge in recent years, with hipster undertones, as proponents advocated adapting renewable energy technologies and growing heirloom vegetables, even if they didn't necessarily live in rural locations.
Now is a great time to think about some of the old, traditional skills that previous generations would have had – Lauren Molloy
Earlier this year, a new book, The Women's Heritage Sourcebook was published, describing homesteading as "a lifestyle of self-reliance and sustainability, characterised by home gardening… and even the small-scale production of textiles, clothing, and craftwork."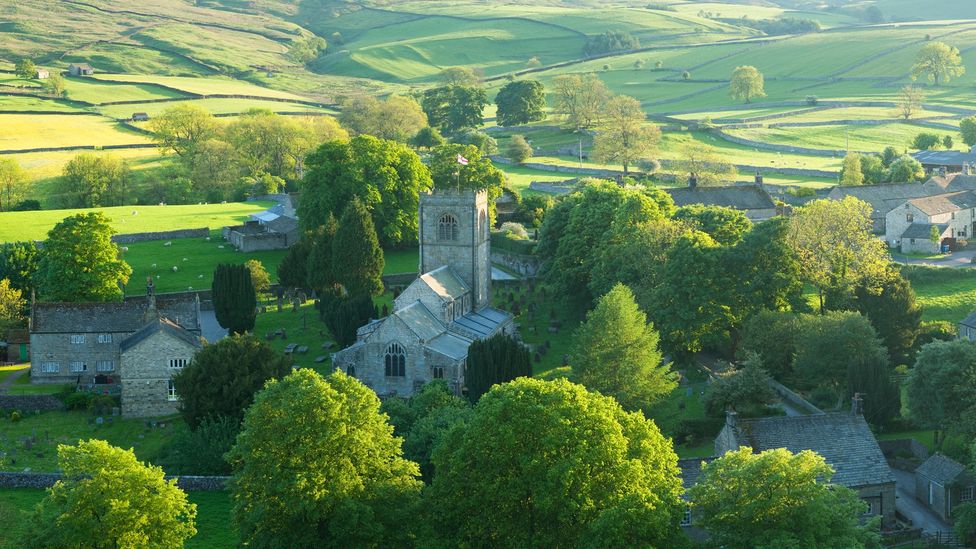 The volume of blissful, bucolic images shared on social media has increased steeply in 2020 (Credit: Getty Images)
"It seems the pandemic has made some people consider the value of making their own goods [which] they maybe hadn't thought about previously," says Lauren Malloy, co-author of the book. "Maybe [it was] the disrupted supply chain or maybe it was slowing down and more time at home to explore homesteading or maybe both. Now is a great time to think about self reliance and some of the old, traditional skills that previous generations would have had." 
A big part of cottagecore and a return to traditional ways is about making clothes and sewing, as evidenced by the profusion of prairie-style dresses and aprons embroidered with natural motifs such as mushrooms, sprigs of flowers and butterflies posted on many of the social media platforms. In fact, practitioners not only design and sew their own whimsical dresses but also model and retail from their accounts. And then there are adjacent activities that could range from home-embroidered berets and bags to eco-printing and designing shawls, quilting patchwork blankets, and sharing knitting and crochet patterns. Malloy's Heritage Goods and Supply store also retails weaving, macramé and tapestry kits to get people started on these activities.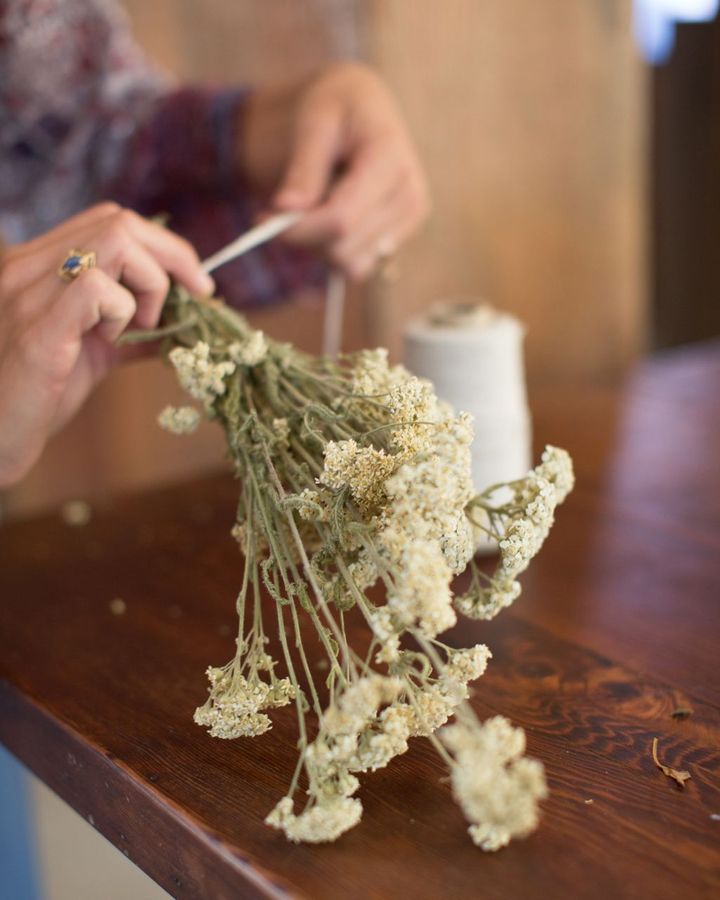 The Women's Heritage Sourcebook depicts a rural idyll of sewing and self-sufficiency (Credit: The Women's Heritage Sourcebook)

And underlying the aesthetic is also a strong affinity to environmentalism, which ties in with attributes like self-care and thriftiness. "In our fast-paced society," says Lauren Molloy, "the process of making, doing, feeling connected, has virtually been eliminated. We love the thought of slowing down, feeling connected and having the experience be meaningful".

If you would like to comment on this story or anything else you have seen on BBC Culture, head over to our Facebook page or message us on Twitter.

And if you liked this story, sign up for the weekly bbc.com features newsletter, called The Essential List. A handpicked selection of stories from BBC Future, Culture, Worklife and Travel, delivered to your inbox every Friday.

;