In August, the world gasped with grief when the star, best known for his game-changing role as Black Panther, died from cancer. But he left an awe-inspiring legacy, says Hanna Flint.
T
There's a scene in Ma Rainey's Black Bottom, the final silver screen appearance of actor Chadwick Boseman, that stands out in the mind of his co-star Colman Domingo. The film, an adaptation of African-American playwright August Wilson's 1984 play of the same name, centres on Viola Davis's eponymous blues singer and the tumultuous events that take place during an imagined recording session in 1920s Chicago. Boseman plays Levee, a confident yet quick-tempered trumpeter who wants to branch out on his own but finds himself at constant odds with both Ma and his bandmates.
More like this:
–      Ma Rainey's Black Bottom review: five stars
–      Why Hollywood gets the Irish so wrong
The scene in question details an argument about the will of God between Levee and Domingo's  band leader character Cutler witnessed by bandmates Toledo (Glynn Turman) and Slow Drag (Michael Potts). During one particular take, as Domingo remembers it, everyone on set could see that there was something happening to Boseman. The actor had stopped midway through a speech and turned away from his co-star. Domingo, thinking he was about to stop the scene, improvised and yelled at him, "Tell Me!" repeatedly, in character. Then, fraught with emotion, Boseman turned and exploded with an all-consuming rage and fury to deliver Levee's damning indictment of God. When director George C Wolfe called cut, the four actors fell into each other's arms, embraced and sobbed.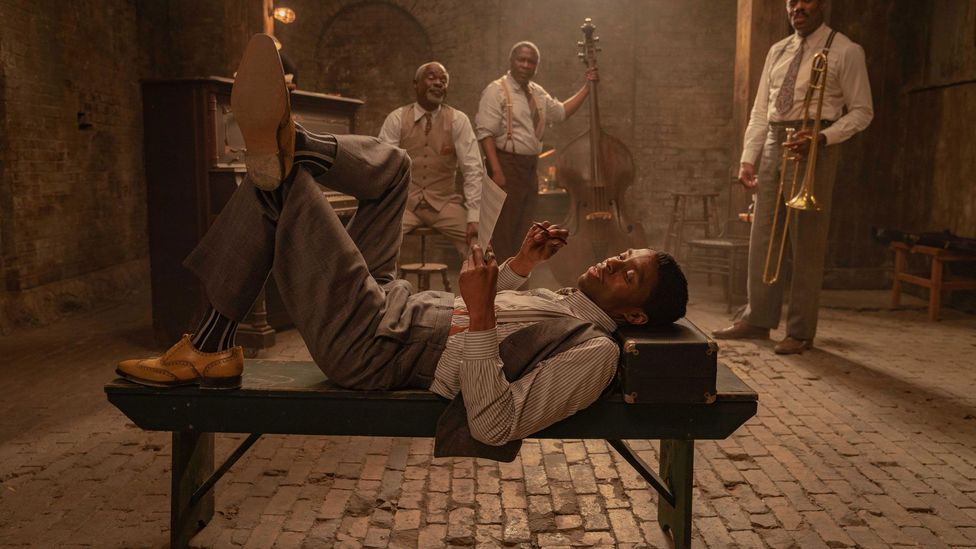 Boseman's final screen appearance is in the film adaptation of August Wilson play Ma Rainey's Black Bottom, playing charismatic trumpeter Levee (Credit: Alamy)
"We were all trying to collect ourselves and we didn't know what actually was in the room, what we were really dealing with [or] what [were] the underpinnings of that scene," Domingo recalled during a Netflix Q&A event for the film last month. "That emotion was a whisper at first, then it was a roar. That man had this fight in him to the very end."
On 28 August 2020, Chadwick Boseman passed away having been diagnosed with colon cancer four years earlier, and the world gasped with grief; he had never revealed his diagnosis publicly, or even to his work colleagues. Boseman was a symbol of black excellence and of cinematic excellence, and at just 43 years old he was robbed of a future in which he was primed for even more professional success and personal fulfilment. He was a virtuoso and heroic figure, not just because of his iconic turn as Marvel's Black Panther but for how he raised the bar for racial equality and representation on screen. He was committed to this creative and cultural endeavour throughout his career and it's what makes his cinematic legacy awe-inspiring.
A hero from the beginning
From his earliest roles on screen, the South Carolina native wanted to combat the pejorative stereotyping of black people in popular culture. Aged 26, Boseman was fired by the producers of soap opera All My Children for raising concerns about his character Reggie being written as little more than a teen thug. As he told The Wrap in 2019, it was not part of his "manifesto" to play these types of damaging stereotypes – especially as a graduate of Howard University, a historically black institution that had "instilled in [him] a certain amount of pride," as he made clear during a speech at its commencement ceremony in 2018. The role "didn't live up to those standards" so he shared his opinion with the producers and they recast him with a then-16-year-old Michael B Jordan. "They said, 'You are too much trouble, ' but they took my suggestions, or some of them," Boseman told The Wrap. "And for me, honestly, that's what this is about."
Through his acting, he wrote, rewrote, and reclaimed black history – Robert Daniels
Boseman wasn't ever motivated about taking roles for the pay-cheque; rather, through his work, he always looked to challenge the negative perceptions and showcase the complexities of black communities. "Very often, the humanity for black characters is not there," he told Rolling Stone in 2018, and he strove to do his bit to change that. Before he became a star, his regular roles in both the TV series Lincoln Heights and the short-lived Persons Unknown saw him shine a light on the troubling experiences of black soldiers returning from active duty and dealing with issues concerning their faith, family ties and PTSD. He was then able to use those performances as a basis for his first lead film role in the 2013 thriller The Kill Hole, playing a troubled Iraq War vet.
"What really stood out about Chadwick is that he was committed in a way that's rare," that film's writer-director Mishca Webley told me in an interview for Empire magazine earlier this year. "He will completely absorb the character; everything from how they talk, to their background to a lot of subtext that you'll never actually see, from that all the way up to the physical training."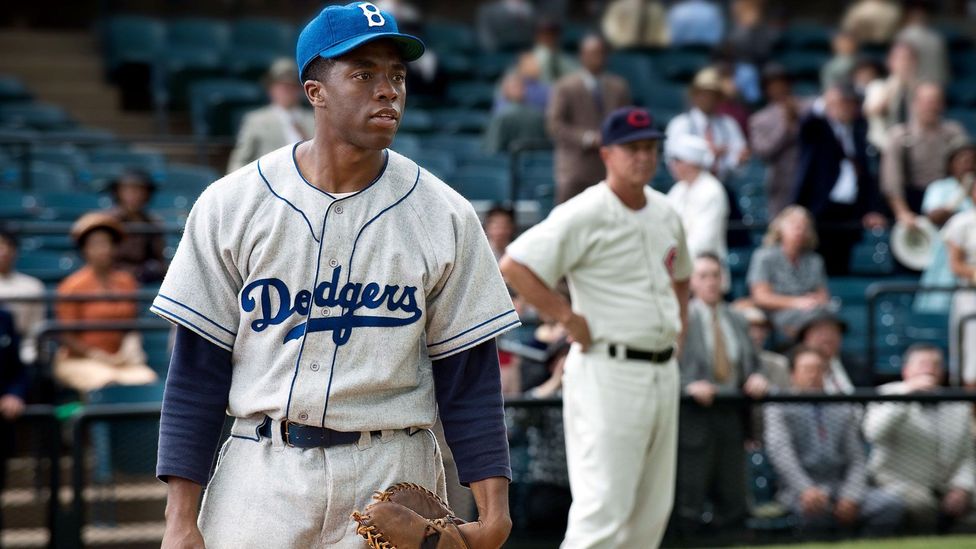 Boseman's breakthrough role came in the 2013 film 42, in which he starred as baseball legend Jackie Robinson (Credit: Alamy)
His ability and discipline to so intensely embody a character is why he became a frequent casting choice to play icons of black history. Boseman's biographical roles started with NFL player Floyd Little in The Express: The Ernie Davis Story (2008) before his breakthrough role in the 2013 film 42 as Jackie Robinson, the first black player in Major League Baseball, knocked audiences out of the park. He transformed into singer James Brown a year later for Get on Up and then became the civil rights lawyer Thurgood Marshall for the 2017 courtroom drama Marshall.
"Through his acting, he wrote, rewrote, and reclaimed black history, " critic Robert Daniels tells BBC Culture. "His million-watt smile spoke of Jackie Robinson, James Brown, and Thurgood Marshall's harsh lives in comforting terms."
The only actor we ever discussed to play T'Challa was Chadwick Boseman – Kevin Feige
Heavy preparation and research was an essential part of the actor's process. He would devour as much source material as possible, from history books and biographies to watching hours of footage and speaking with the people who knew these icons best, including Brown's daughter and Robinson's 90-year-old widow Rachel. "I didn't know if a young actor who was getting into a major production for the first time could convey him," she told Time. "I was thrilled by Chad's depiction of Jack. I was moved to tears by the performance. I felt the warmth and passion that Jack and I felt for each other. It's quietly portrayed. I cherished it so much."
But Boseman was just as committed to the cultural representation of Africans as he was to black Americans. It's why 2016 swords-and-sandals epic Gods of Egypt is one of the few black marks on his filmography. The film was criticised for casting predominantly white actors but he told GQ that he accepted a role so audiences "would see someone of African descent playing Thoth, the father of mathematics, astronomy, the god of wisdom."
His star-making moment
Boseman traced his own lineage on his father's side back to the Yoruba of Nigeria, Limba and Mende of Sierra Leone, and Jola of Guinea-Bissau which he discovered after landing the role of a lifetime as Marvel superhero Black Panther. "Chadwick was a great man bringing real life characters to the screen with such amazing nobility and humour and humanity," Marvel Studios head Kevin Feige said during US television channel ABC's tribute to the star broadcast shortly after his death. "That's why he was the only choice. The only actor we ever discussed to play T'Challa was Chadwick Boseman."
Even before Boseman got to command his own film, he was stealing thunder from established Marvel heroes in Captain America: Civil War and from that first appearance, he imbued his performance with influences from across the African continent. He learned Dambe boxing and Zulu stick fighting, watched speeches delivered by Nelson Mandela and pushed for T'Challa to have the Xhosa accent and dialect of John Kani, the South African actor playing his father. Through the story of the regal superhero, Boseman saw an opportunity to connect African-American audiences with their African heritage.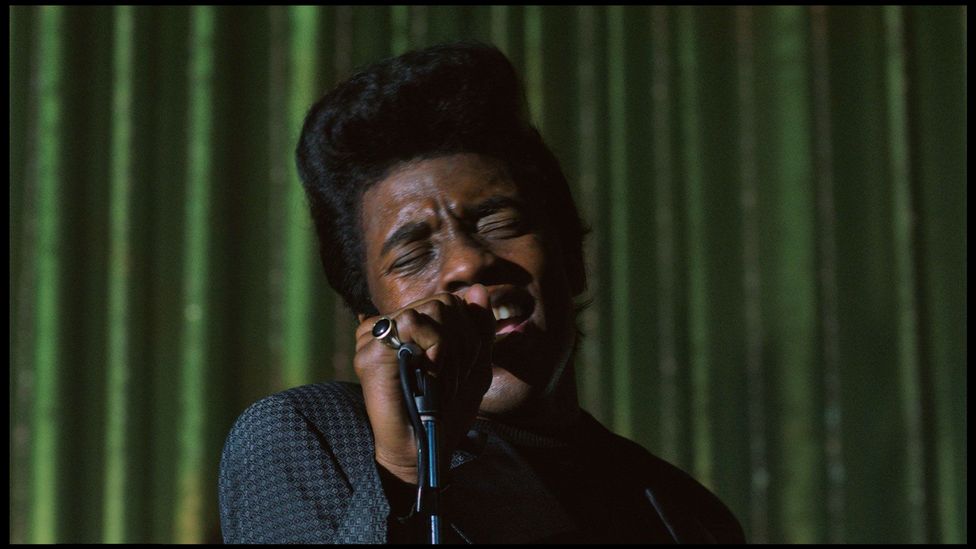 Among the icons of black history Boseman played was musician James Brown in 2014 biopic Get on Up (Credit: Alamy)
Black Panther wasn't the first superhero movie to be led by a black actor, but it was the first to surround him with a black cast, and position an African nation, albeit fictional, as a superpower rather than the centre of the so-called third world. He and writer-director Ryan Coogler reimagined what a superhero looked like, sounded like and came from to produce a groundbreaking, box office megahit that gave the black community iconic figures to look up to while also having a universal appeal. "He was communicating black humanity through black heroism and he was fearless in his ability to do it in his chosen field," author and Black Panther comic writer Ta-Nehisi Coates said of his Howard contemporary in ABC's tribute.
Boseman's characters were often notable for their stoicism but in playing them, he also displayed a keen sense of humour which ensured the Wakandan King, as well as his other roles, were immensely charismatic. "His expressive face invited hilarious sight gags," says Daniels. "Think about how funny Boseman's interactions are with Letitia Wright in Black Panther or his band-room antics in Ma Rainey's Black Bottom. He could have easily become a great comedic actor on top of being an action star and a dancing-singing-acting triple threat.
Chadwick didn't seem like a superstar, much less a superhero, but a man whose ordinariness was extraordinary – Candice Frederick
It's a testament to his talent and conviction that Boseman was able to do his finest work while his mind and body was going through traumatic treatment and ill-health. That he was able to keep it a secret while finding the energy to play a powerful superhero, a Vietnam soldier and a hot-headed musician shows how much he had in common with the resilient figures that he played. His private life was his own but in public he maintained a presence of positivity and compassion through fan and charitable endeavours as well as the art that he was creating. Above all, Boseman was a man who clearly wanted his work to speak for him rather than his fame.
"Chadwick didn't seem like a superstar, much less a superhero [but] a man whose ordinariness was extraordinary," critic Candice Frederick tells BBC Culture. "His natural curiosity for mankind, his compassion for not only the souls he'd fearlessly embody on screen but the people he met in real life, reminded us how simple it is to be kind, thoughtful and present. He is a symbol of what our own humanity can look like."
His final screen outings
For Daniels, it was fitting that Da 5 Bloods, Spike Lee's Vietnam war movie, which was released on Netflix in June, was one of Boseman's final screen outings, given his character "Stormin" Norman Earl Holloway also died during his prime. "It made him into an emblem, a memorial to what could've been, and to the black heroes who were never granted the gift of old age."
But it was in Ma Rainey's Black Bottom that Boseman left all of himself on the table knowing, most likely, that this would be the very last performance he would be able to give to the world. "His wife Simone told Glenn and I at his memorial this is truly what he believes is part of his legacy," Domingo said in the Netflix Q&A. "He couldn't be more proud that this was his final film. He wasn't given to us for that long, but he made such an indelible impression."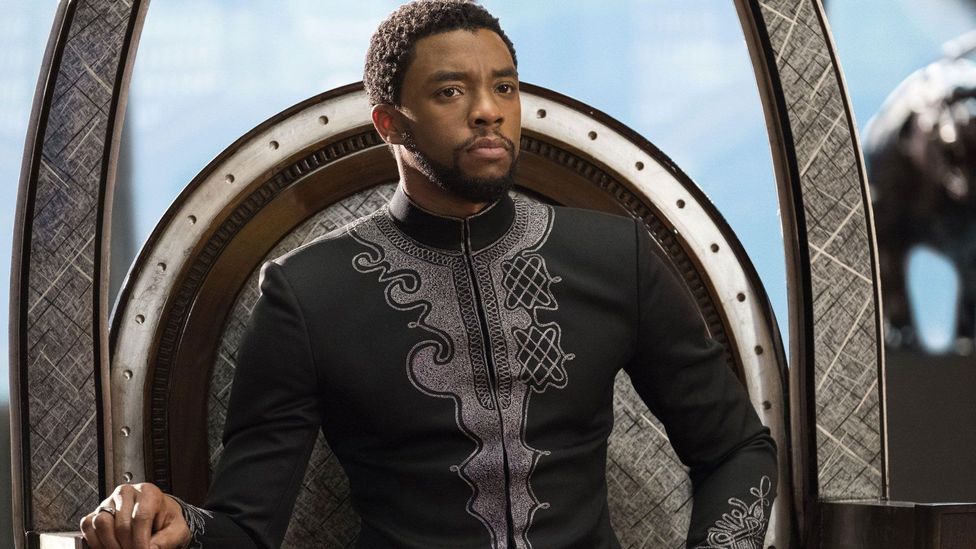 In his role as Marvel's Black Panther, Boseman helped to connect African-American audiences with their African heritage (Credit: Alamy)
"We have real people coming out of nowhere, taking the bus from wherever, having never done anything, and they want to be Meryl Streep in two seconds," Viola Davis added during the same event. "And this is a man who was an artist, meaning, you have to let go of your ego, your vanity. You have to tap into a wellspring of pain, trauma, joy, all of that and use that as fuel for your work.
"He was just one of those and they're a diamond in the rough in this business."
Boseman's voice will be heard for the final time on screen in the upcoming Marvel anthology animated series What If..? which imagines what would happen if major moments from the films of the Marvel Cinematic Universe occurred differently. What if T'Challa became Star-Lord – the Guardians of the Galaxy space outlaw hero played in the MCU by Chris Pratt – is the conceit for his episode and another example of how Boseman's career always saw him challenging the established norms: space exploration could certainly do with a few more black adventurers, in fiction and reality. But the question, "What if?" is one that many have pondered since his tragic death.
You can have a 50-60 year career and never work with a Chadwick Boseman – Viola Davis
What if he had got sick five or 10 years later? What if he had never fallen ill at all? No doubt he would have continued on his path of cinematic excellence and served up many more critically acclaimed performances worthy of gold statues. It's hard to not mourn the roles we will never see Boseman play.

But then one remembers, what if?

What if he had lived out his childhood dream of becoming an architect? What if he had played college ball and become a basketball player? What if he had never taken acting classes with Cosby Show star Phylicia Rashād while at Howard? There are so many "what if?" scenarios that could have prevented Chadwick Boseman from giving the brilliant performances that he did. So even though his legacy is far shorter than we ever imagined, he still delivered a finer career in 17 years than most actors do in a lifetime. And audiences around the world will be eternally grateful not just for his individual performances but his contribution to cinema as a whole, defined by a commitment to compassion and excellence, as well as the film and black communities who were so proud to count him as one of their own.

"You can have a 50-60 year career and never work with a Chadwick Boseman," Davis said. "He lived right. He lived in the moment. All of his choices had to deal with legacy because if there's one thing that we have taken away from this time with Covid is all we have is the now... that's all we have."

Love film and TV? Join BBC Culture Film and TV Club on Facebook, a community for cinephiles all over the world.

If you would like to comment on this story or anything else you have seen on BBC Culture, head over to our Facebook page or message us on Twitter.

And if you liked this story, sign up for the weekly bbc.com features newsletter, called The Essential List. A handpicked selection of stories from BBC Future, Culture, Worklife and Travel, delivered to your inbox every Friday.

;