How comfort and freedom became chic in France a century go – and still are today. Vivian Song explores the progressive work of Coco Chanel.
I
In fashion folklore, Gabrielle Chanel is famously credited as the designer who popularised trousers, making them a key piece in women's wardrobes, and also for helping to liberate women from the tyranny of the corset. Instead of caging them in stuffy, superfluous designs, her clothes prioritised freedom of movement, mobility and comfort. She broke down sartorial codes by borrowing elements of men's fashion, such as pockets and tweed, and erased waistlines and bustlines to create androgynous silhouettes. Like any good trailblazer, Chanel's defiance of societal and gender norms early in her career befuddled some, and inspired others.  
More like this:
-        The bags that are both fashion and art
-        Fashion photography's reluctant star
It's easy see why some view her as a feminist icon. But an exhibition about the designer at the Palais Galliera in Paris (which is temporarily closed but can be viewed online), stops short of calling Gabrielle, better known as Coco, a feminist. While words like "feminine" and "femininity" appear often to describe her creations, nowhere in the 16,145-sq-ft exhibition is feminism mentioned. That was a deliberate choice, says Miren Arzalluz, museum director and co-curator of Gabrielle Chanel: Fashion Manifesto. Of course, a century ago, when Coco Chanel was at the height of her influence, the word feminism was not widely known.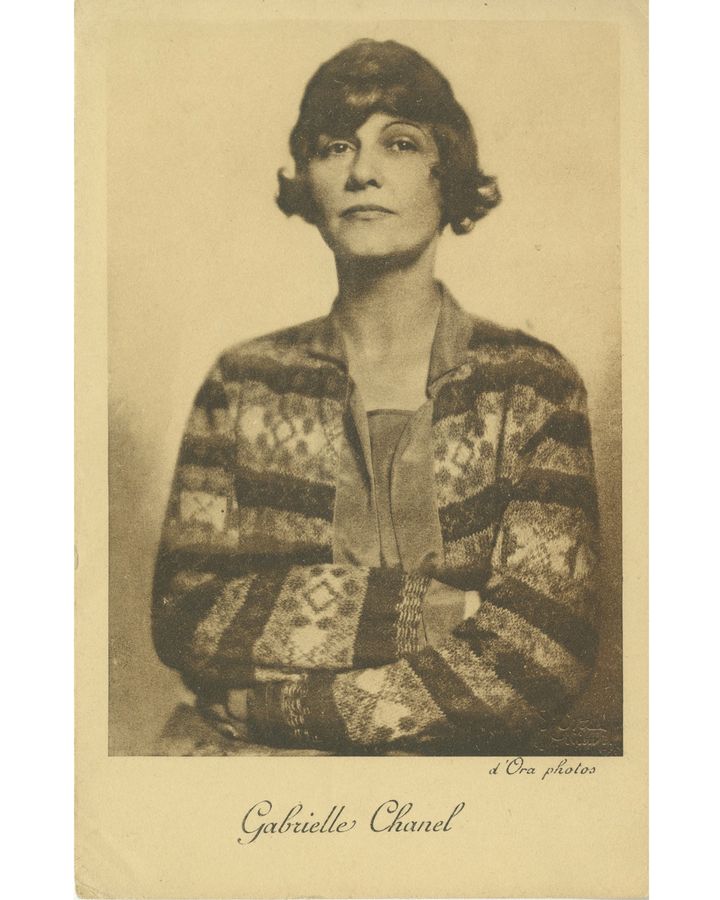 Gabrielle Coco Chanel helped bring ease and comfort to 1920s womenswear (Credit: RMN-Grand Palais/ Musée Nationale Picasso, Paris)
"She never talked in these terms," Arzalluz tells BBC Culture. "But what is really obvious is that she placed women at the centre of her creations. She dedicated her life to imagining a new way for women to experience fashion." 
Following a two-year closure of Palais Galliera that saw the doubling of the museum's exhibition space, its reopening was supposed to be a grand, glittery affair, scheduled to coincide with Paris fashion week in early October 2020. The exhibition was publicised heavily as the first ever retrospective of Chanel's prolific career in the French capital.
While the life of the legendary couturière – from her traumatic childhood as an abandoned orphan and her string of affluent lovers to claims she was a spy for German intelligence – has been scrutinised in film, books, and documentaries since her death in 1971, according to Arzalluz, the body of her work and her contribution to women's fashion is far less understood.
An exhibition about the designer features work by, among others, photographer William Klein (Credit: William Klein)
"The problem with confronting a legend like Chanel is that there are more than a hundred biographies about her, which talk mostly about her private life," says the curator. "We thought we knew her. But what we realised was that we have a very superficial knowledge of her work. As curators, we rediscovered Chanel." Take the iconic tweed suit, for example. The two-piece ensemble, instantly recognisable as signature Chanel, remains a staple in the modern woman's luxury wardrobe nearly 70 years after it was first introduced to the world, and is plagiarised frequently in cheap versions by high-street brands.
But beyond its aesthetic, there are definitive reasons that the suit has become an enduring classic. Wearers may not be able to put a finger on it, but the secret lies in the details: the jacket was designed to be soft and light, and to feel more like a cardigan than a structural blazer. Instead of cinching in at the waist, the skirt is designed to rest comfortably on top of the hips and angles slightly backwards to hang below the knee – details that offer the wearer freedom of movement.
Fashion is something that makes changes visible and contributes to change – Emilie Hammen
Likewise, Chanel's signature two-toned sling-back shoe is a "perfect marriage of function and form". The beige leather was chosen to lengthen the look of the leg, and the black toe to protect the shoe from wear and tear, while at the same time giving the illusion of a smaller foot. The moderate height of the heel and asymmetrical strap were also deliberately thought out to ensure maximum comfort.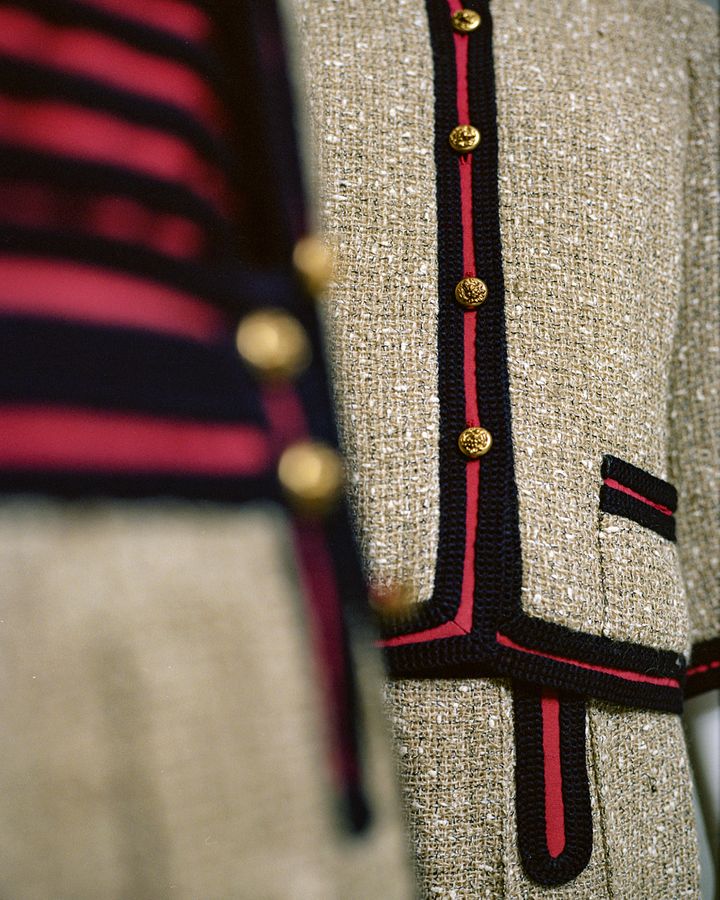 Tweed – previously used in menswear – was a favourite with Coco Chanel (Credit: Julien T Hamon)
And the little black dress, which appeared on the cover of US Vogue in 1926, has likewise become a basic staple in contemporary women's fashion, nearly a century later. The arbiters of taste at Vogue declared – quite correctly – that the simple, shapeless, black sheath dress would become the fashion equivalent of the mass-produced Ford Model T car: a versatile, classic, accessible piece with universal appeal.
But while the designer was undisputedly influential in charting a fresh course in women's fashion, Emilie Hammen, a fashion historian who teaches at the Institut Français de la Mode in Paris, cautions against giving any one designer – Chanel or otherwise – too much credit. "In the commercial mythology of fashion we tend to associate one designer with a very strong turning point in history.
"But what I try to emphasise to my students is that fashion is something that makes changes visible and contributes to change. It doesn't necessarily start there," she says. "Brands often want us to believe that one designer freed women. But in fact they were just designers who were probably extremely intelligent in capturing the intangible, and accelerating change."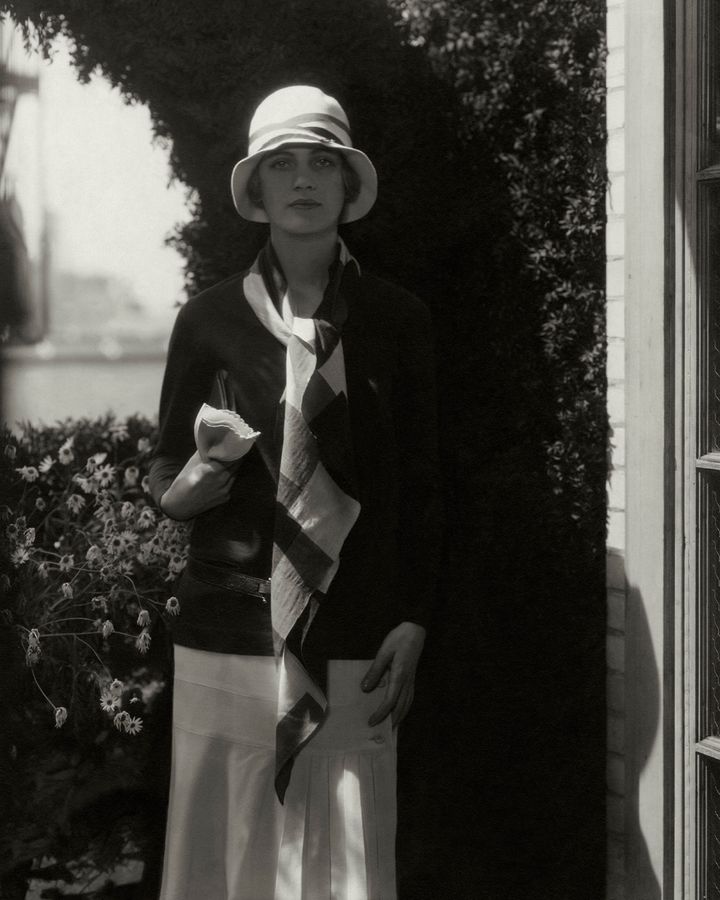 Lee Miller wearing Chanel – the loose silhouette was created with active, independent women in mind (Credit: Edward Steichen, Vogue/ Condé Nast)
In other words, Hammen points out that rather than birthing new movements themselves, fashion designers – the most entrepreneurial ones among them, that is – are simply tapping into the social consciousness of the time. 
Années folles
Indeed, a look back at Chanel's earlier career places her within the Années folles, or the Roaring 20s, a time of riotous exuberance driven by economic prosperity and post-war recovery. Les garçonnes, the French equivalent of flappers in the US, exerted their independence and their new-found freedoms by chopping off their hair, dancing to imported American jazz music all night, drinking and smoking, and engaging in freewheeling sexual liaisons.
The notion of comfort and ease and liberty of movement was unheard of in fashion – Miren Arzalluz
Chanel was responding to the mood of the decade, designing clothes for women like Lee Miller who, before becoming a photojournalist and war correspondent, was a young, beautiful, independent US model, who became one of the poster girls for Chanel's garçonne looks in the world of high fashion. 
Following the lead of designer Paul Poiret – the great couturier of the time who eliminated the corset in his designs – Chanel did the same, and created clothes for the "active and independent woman". She chose jersey, a low-cost material traditionally used for men's undergarments, to create dresses with loose, flowing silhouettes. Instead of accentuating the female form with cinched waistlines and bustiers, she erased them altogether in sleeveless, free-flowing dresses with higher hemlines that allowed women to move comfortably – and dance freely.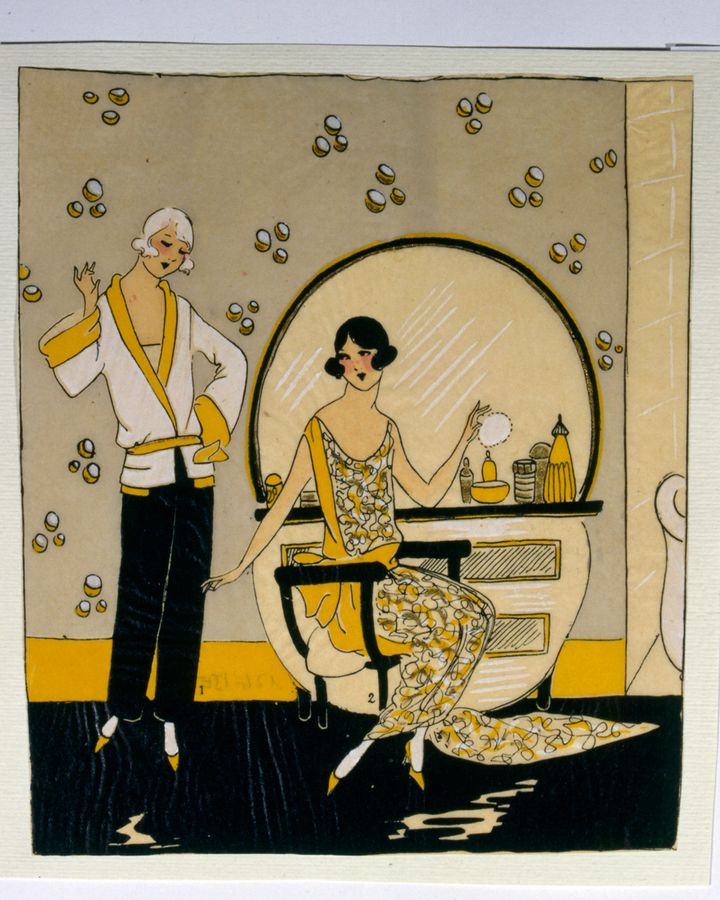 In the 1920s trousers for women became fashionable for the first time (Credit: Getty)
It's the guiding principle that would dominate Chanel's life's work, says Arzalluz. "The notion of comfort and ease and liberty of movement was unheard of in fashion until then, and especially in a world of haute couture which she inscribed herself in," Arzalluz says. Which is why, when Christian Dior swept the fashion world in 1947 with his New Look collection, bringing back narrowed waists, corsets, full voluminous skirts and accentuated busts, Chanel, at the age of 71, devised a comeback. "Dior doesn't dress women, he upholsters them," she famously said of the designer who had become her rival.
The tweed suit that would launch her comeback collection elicited a lukewarm reception at best. It wasn't novel enough for the Parisian fashion press, and she was criticised for being frozen in time. But Chanel knew her audience. Nearly 70 years later, the suit remains an enduring classic in womenswear, and an indelible image of the couturière herself, who wore her own designs and was her own brand ambassador – the original influencer, you could say.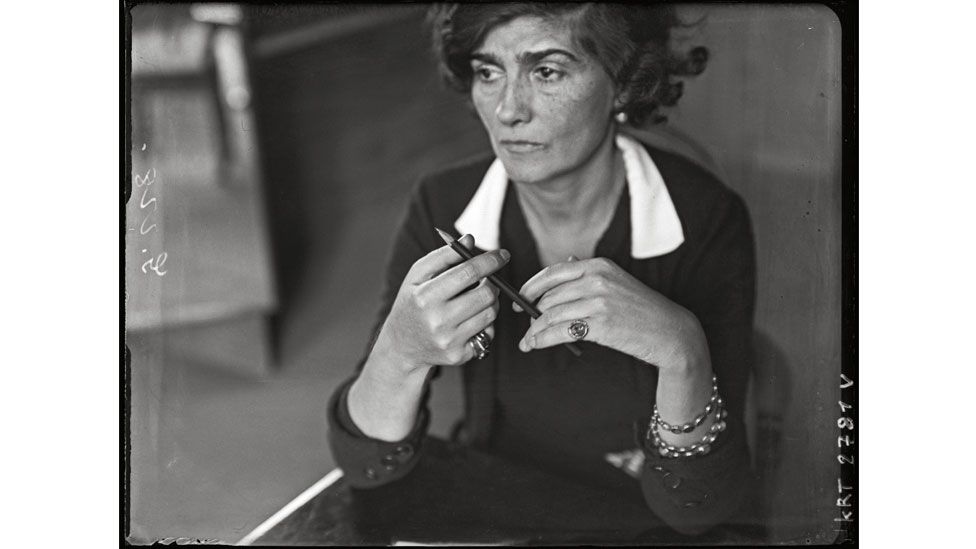 Coco Chanel wore her own designs and was her own ambassador (Credit: Médiathèque de l'Architecture et du Patrimoine/ RMN-Grand Palais / André Kertész)

"Here is a woman who created her own company in the early 20th Century, was a super-successful businesswoman, who never married, and fought for her own economic freedom," Arzalluz says. "She may not have called herself a feminist, but she made huge contributions to women's history in the 20th Century."

If you would like to comment on this story or anything else you have seen on BBC Culture, head over to our Facebook page or message us on Twitter.

And if you liked this story, sign up for the weekly bbc.com features newsletter, called The Essential List. A handpicked selection of stories from BBC Future, Culture, Worklife and Travel, delivered to your inbox every Friday.

;