Fashion's most controversial haircut, the mullet, has made a comeback during the pandemic. Cassidy George tracks the rollercoaster history of this divisive trim.
S
Style can be – among other things – a way for individuals to express the influence of the external world. It makes perfect sense, then, that the definitive beauty trend of the previous year – one of the most chaotic and traumatic years in global memory – is the resurgence of one of the most reviled and lampooned haircuts in modern history: the mullet. The long in the back, short on the top-and-sides look has made a powerful and poetic comeback during the coronavirus pandemic, that (like the virus itself) shows no signs of leaving us soon. 
More like this:
-       The prairie look that keeps coming back
-       How dressing up can make us happy
-       Why buying vintage clothes is 'the new luxury'
We can largely thank the mullet-donning stars Joe Exotic (Tiger King) and Crystal Methyd (Ru Paul's Drag Race) for planting the seeds of this flourishing trend in spring 2020, which has since become a widespread cultural phenomenon. "It's completely true what they say," pop star Troye Sivan told Vogue.com when asked about the hair he debuted in his recent music video, which opens with a dramatic shot of him cutting his own mullet. "It's terrible and amazing at the same time." Sivan is just one of countless celebrities to join the mullet ranks in the previous year, alongside Miley Cyrus, Rihanna (whose Savage X Fenty show was littered with models sporting the same style), Cara Delevingne, Barbie Ferreira, Jacob Elordi, Halsey, Debby Ryan, Irina Shayk, Maisie Williams, Keke Palmer and more.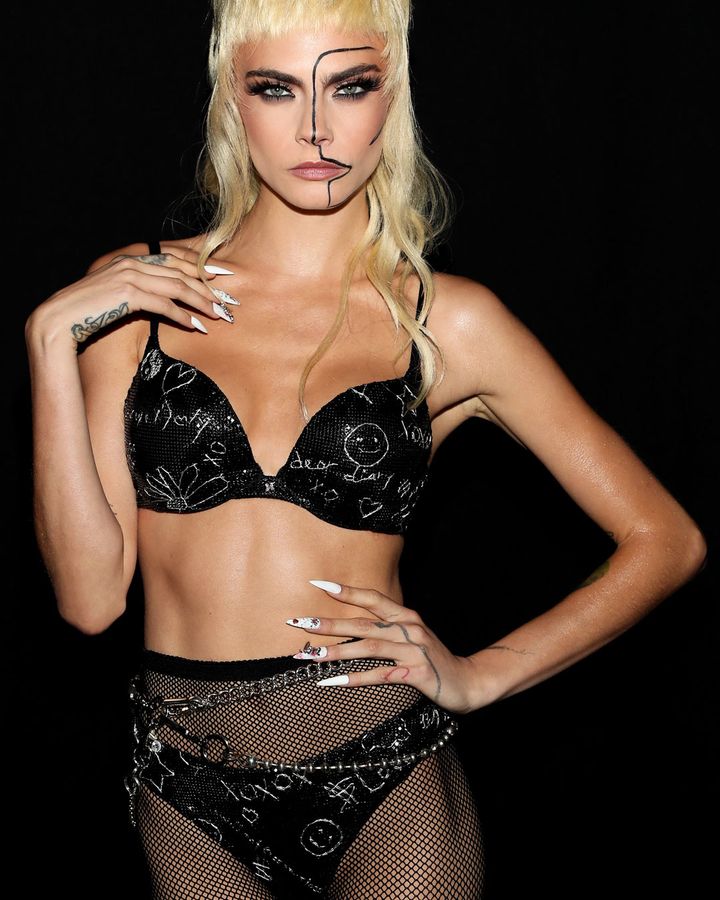 Cara Delevingne was one of the models featured in Rihanna's Savage X Fenty show sporting a mullet (Credit: Getty Images)
The trickle-down effect is already in full force in mainstream style. At the time of writing, a search for #mullet on Instagram summons more than 750,000 images; the same hashtag on TikTok has accrued 1.6 billion views. "Mullets used to be a negative term that people used to describe a haircut that had 'gone wrong'. Now it's my number one request," says London hairstylist, Lulu Richards. "Clients from all backgrounds, ages, jobs and lifestyles are after one."
Ancient roots
Although it's largely agreed that the mullet's first surge of popularity in the 20th Century was thanks to Paul McCartney (who debuted the look as early as 1972) and glam rock icon David Bowie – or as he was better known in his red mullet, Ziggy Stardust – there has been speculation that the mullet has a more ancient history. The first mention of a similar style is in the Iliad, when Homer describes a group of spearman as having "their forelocks cropped, hair grown long at the backs." In his Secret History, the 6th-Century Byzantine scholar Procopius wrote about chariot race hooligans in Ancient Rome: "The hair of their heads they cut off in front back to the temples, leaving the part behind to hang down to a very great length in a senseless fashion."
The mullet as we know it didn't become a popular style until the 1980s
In his much-cited book Mullet Madness, author Alan Henderson claims: "Evidence of the mullet's existence in evolved civilisations can be found in statues and artworks from Greece dating back from the 6th Century BC." Although the silhouettes of certain hairstyles in Greek or Roman art (for example in Kouros or certain depictions of Apollo) do mimic the mullet's L-shaped silhouette, art historians and ancient hair experts Katherine Schwab and Marice Rose dismiss Henderson's suggestion. "Careful and close looking of archaeological material from ancient Mediterranean cultures can challenge the claim of the mullet as a prevailing or frequent hairstyle," they shared in a group statement. "Ancient hairstyles were socially controlled and closely tied to identity, which is the opposite of what the contemporary mullet seems to express: individuality and rebellion."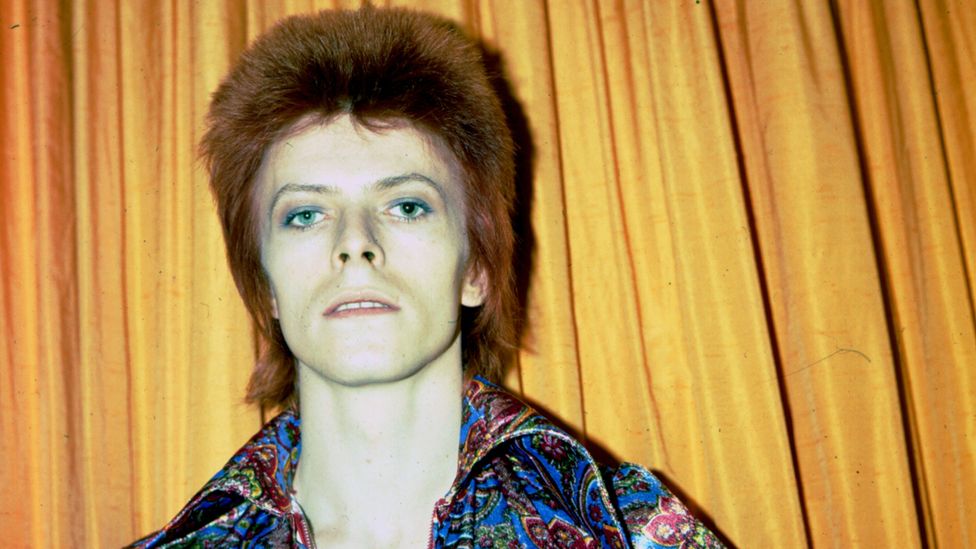 One of David Bowie's most recognisable personas – Ziggy Stardust – sported a glorious scarlet mullet (Credit: Getty Images)
Though there are some honourable proto-mullets in the 18th and 19th Centuries (Benjamin Franklin, James K Polk), the mullet as we know it didn't become a popular style until the 1980s. Stylist, salon owner and UAL associate lecturer John Vial remembers the haircut rising to prominence in correlation with more gender-fluid styles and New Romanticism. "The mullet has a very special place in our lives, because it really started to change the boundaries of what was accepted for men and women." With its eye-catching and dramatic shape, the mullet – which fuses traditionally masculine and feminine styles into one – was especially attractive to the queer community, for whom the style became a nonverbal cue of their sexuality. "From an LGBTQ point of view, it was an incredibly safe place to be. If you were a lesbian who wanted to feel slightly more boyish, you could wear your hair shorter around the frame and have the safety of the length in the back. The same applied to boys who wanted a bit more hair," Vial said.
Under the guidance of rock stars, actors, athletes and other pop cultural figures, the mullet entered a golden age of popularity, adopted by people across age ranges, races, classes, gender expressions and nationalities. The most famous mullets of the era are the more extreme strain, belonging to stars like Billy Ray Cyrus, John Stamos, Rod Stewart and Andre Agassi - but let's not forget that heartthrobs like Brad Pitt, Patrick Swayze and George Clooney had mullet moments too. Black celebrities including Michael Jackson, Lionel Richie and James Brown donned the edgy cut, as did female performers, like Cher, Joan Jett, Jane Fonda and Ellen DeGeneres. Henderson describes the haircut's zenith in Mullet Madness: "Whether you were metal, country, yuppie, or punk, jock or biker, it was your style."
Rising from the ashes
Saying the mullet fell out of style in the mid-90s is a dramatic understatement; it was condemned as perhaps the most tragic fashion faux pas of the decade. In this period, the cut (which is known by countless other monikers, like hockey hair, the bi-level, the Kentucky waterfall and so on) finally earned the name by which we know it today, thanks to the musical group, Beastie Boys. In their now defunct magazine Grand Royal, they attacked the style in a six-page feature. The story reads: "There's nothing quite as bad as a bad haircut. And perhaps the worst haircut of all is the cut we call The Mullet."
This haircut's ability to incite such dramatic reactions of disapproval eventually gave it a "cult-like" appeal
This mildly pejorative term nods back to an insult used in the 19th Century (for example, by Mark Twain) to describe someone of limited intelligence. The Beastie Boys echoed their disdain for the haircut in their 1994 song Mullethead, which further popularised the term. Once the majestic hair of rock stars and sex symbols, in the mid- to late-90s the mullet became a punchline, satirised in comedies like Joe Dirt, in which David Spade stars as a mullet-sporting janitor. This haircut's ability to incite such dramatic reactions of disapproval eventually gave it a "cult-like" appeal. Those who boldly retained the polarising look began to describe it as "not only a haircut, but a way of life".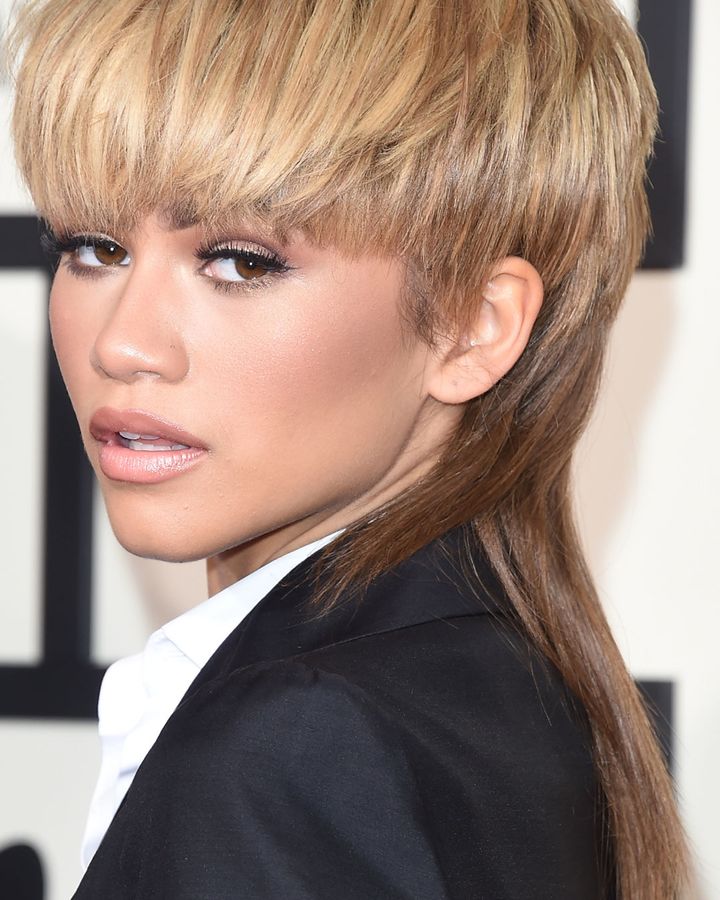 Zendaya's 2016 red carpet mullet incited a vicious wave of online criticism (Credit: Getty Images)
Throughout the 2000s, the mullet remained the butt of many jokes, but its status as the "ultimate bad haircut" instilled it with a unique power that enticed progressives in the fashion industry. When placed on a runway or red carpet, the mullet demanded attention, sparked outrage and served as a reliable conversation starter. Capitalising on its controversial aura, stylist Guido Palau shocked the world with a slew of mullets at Marc Jacobs' FW13 show. Three years later, Zendaya's sandy mullet at the Grammys incited a vicious wave of online criticism. But as more mullets made appearances on the catwalks of brands like Off-White or Celine and in campaigns by Yves Saint Laurent and Gucci, the hatred for the look has become less virulent. "Things do translate from runway to reality, but I think it takes around three or four years," Vial, who regularly styles hair for designers at London Fashion Week, tells BBC Culture. "It just takes time for people's eyes to adjust."
Lockdown looks

The process of adjustment was expedited during the 2020 pandemic. Lack of access to salons required many people to take their hair into their own hands; shaggier, looser styles have become a matter of practicality. Extensive periods of social isolation are also ideal conditions for beauty experiments. With nowhere to go and no one to please, the stakes in trying out something drastic like a mullet have never been lower. "I have been cutting mullets for years, but what has changed... is the attitude," Richards said. "When it comes to my clients' relationship with their hair, everyone's braver and willing for a change."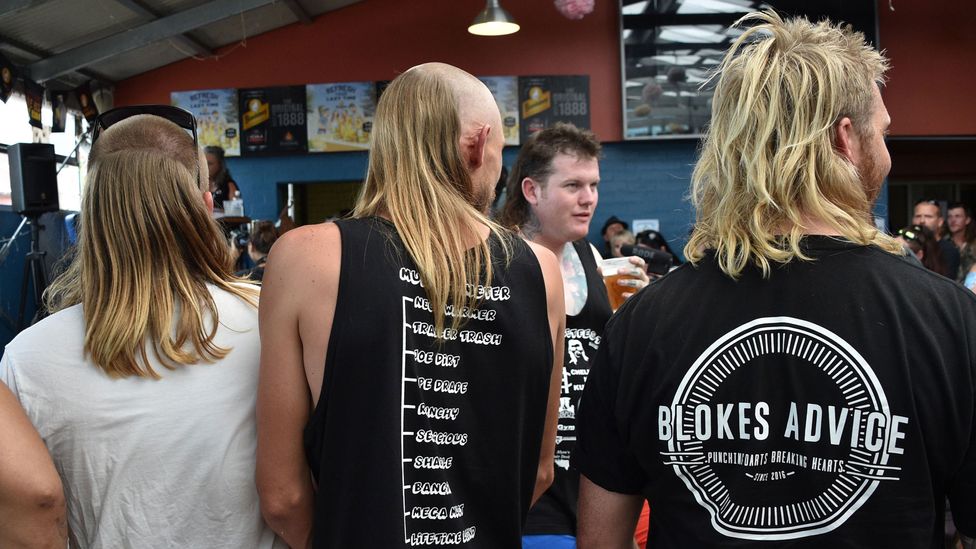 In Australia, mullet devotees gather annually to celebrate their locks (Credit: Getty Images)
While its connotations with queerness and androgyny are still very potent, the mullet's associations with a rejection of mainstream beauty are fading, as it grows in popularity. "It used to be a real Marmite thing," Vial explains. "You either found it repugnant or you loved it. But now we don't think twice when we see a mullet." Early adopter Rob Ayton, who got a mullet back in 2017, said he intended for his haircut to be a "middle finger to social norms". As the reigning champion of Australia's Mulletfest, Ayton says the style he used to be incessantly ridiculed for is now cause for global celebration. And though the mullet may no longer be shocking per-se, it has certainly retained its ironic humour. When asked if he supports the growth of the trend, Ayton replies: "We need more smiling faces [in] 2021!"

If you would like to comment on this story or anything else you have seen on BBC Culture, head over to our Facebook page or message us on Twitter.
And if you liked this story, sign up for the weekly bbc.com features newsletter, called The Essential List. A handpicked selection of stories from BBC Future, Culture, Worklife and Travel, delivered to your inbox every Friday.