Fifty years ago this week, a film about serial killer John Christie was released starring Richard Attenborough. It still sets the standard for true-crime drama, writes Adam Scovell.
B
Browse through the content of the latest streaming services and the chances are you will be quickly recommended something related to true crime. Though true crime as a genre has spanned a range of media for many years, it has never been in such high demand as it is today. Trawling the variety of options, from big budget, fictionalised features to the gaudiest documentaries, it's clear no magnitude of crime or murder is off the table as a subject for today's filmmakers.
More like this:
– Ten films to watch in February
– The troubling obsession with the sexy psychopath
– How we got hooked on grisly true crime
With a noticeable trend for cheap, exploitative documentaries in particular, it's easy to forget that a number of films do treat such material with a temperament of care and truth. The measure and standard of this temperament, in Britain at least, was set back in 1971 when US director Richard Fleischer brought the crimes of British serial killer John Christie to the big screen in the stunning 10 Rillington Place. Fifty years to the week since it was first released, it is arguably still the most accomplished British true-crime film ever made.
10 Rillington Place focused in particular on John Christie's killing of his upstairs neighbour Beryl Evans (Credit: Alamy)
Starring Richard Attenborough as Christie, the film portrays his crimes during the 1940s and early 1950s, when he is estimated to have murdered at least eight women by strangulation, including his wife Ethel. Born in Yorkshire, Christie fought in World War One and survived with injuries, including damage to his throat, which accounted for his noted whisper of a voice. After marrying Ethel in 1920, he then separated from her and moved to London in 1924, where he served a series of short prison sentences for crimes including theft and grievous bodily harm. However, in 1934, the couple were reunited – and then in 1938, moved into the downstairs flat at the now-infamous address in West London that became the scene of his crimes. The majority of Fleischer's film centres on Christie's murder of his upstairs neighbour Beryl Evans (played by Judy Geeson) and her baby in 1949, for which Beryl's husband Timothy (played by John Hurt) was wrongly convicted and executed in March 1950.
It was in March 1953, after Christie had moved out of the property, that a new tenant, trying to put a bracket on the wall, first discovered a number of bodies, hidden in a small alcove and covered over with wallpaper. The police were soon alerted to the truth of Christie's deeds. Several more bodies were found at the property, including Ethel's, and it is unclear whether Christie murdered more than the figure we have today. Christie was caught at the end of March 1953, tried in June and executed in July. The wrongful conviction of Timothy Evans is considered one of the great failings of British justice and a factor in the subsequent abolition of the death penalty for murder in the UK, achieved through MP Sydney Silverman's private member's bill in 1965 and made permanent in 1969.
Director Richard Fleischer achieved an incredibly difficult balance between the macabre and the moral
The film was initially conceived in the 1960s by British producer Leslie Linder, who approached Fleischer to adapt Ludovic Kennedy's book about Christie's crimes, also called 10 Rillington Place (1961). As it turned out, the director had already read it. Thanks to a push back against the death penalty's then recent abolition, the project gained urgency. With the help of screenwriter Clive Exton, Fleischer achieved an incredibly difficult balance between the macabre and the moral, one that is still astonishing 50 years on.
Horrifying authenticity
Little in the way of gratuity is needed when dealing with a story such as John Christie's; the sheer horror of what he did speaks for itself. The truth of the situation is the primary tool used by Fleischer, just as it was when he dramatised the life of the Boston Strangler, Albert DeSalvo, a few years earlier in a film starring Tony Curtis. The first thing we see in 10 Rillington Place is a caption that tells the viewer of the story's veracity.
One thing that marked out the film was its Britishness. When looking at true crime from the period of 10 Rillington Place, it has a mostly US flavour. Across the Atlantic, the genre had gained creative recognition in a number of different fields around this time, in particular via Truman Capote's 1966 book In Cold Blood (and its subsequent 1967 film adaptation by Richard Brooks) and the work of Fleischer himself. 10 Rillington Place was his fourth use of real crime as subject matter, coming after The Girl in the Red Velvet Swing (1955), Compulsion (1959), and The Boston Strangler (1968), all based on US cases. In Christie, Fleischer had finally found a British subject dark enough to match his home-grown ones.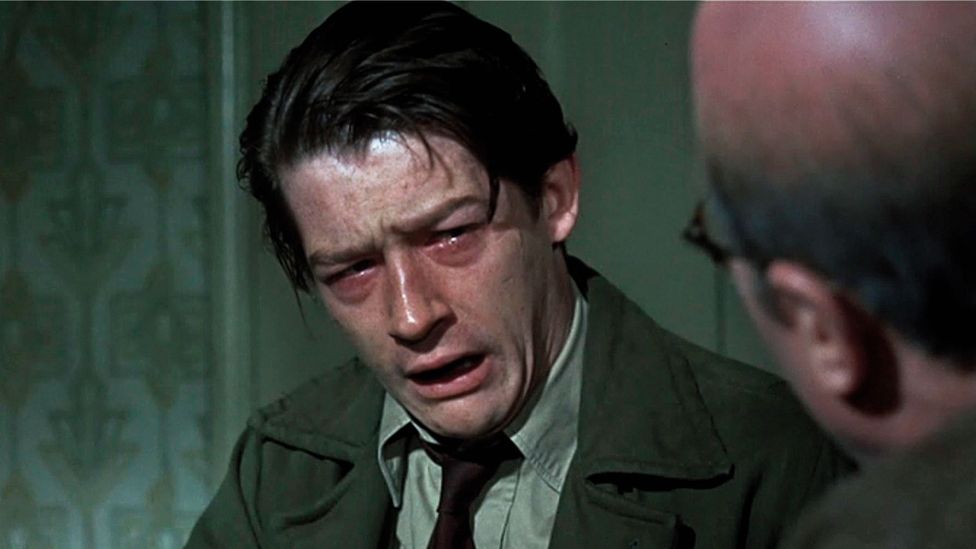 John Hurt gives a formidable performance as Timothy Evans, who was wrongly hanged for his wife's murder (Credit: Alamy)
In Britain, nevertheless, examples of true-crime fiction had cropped up pretty consistently from the time of Jack the Ripper's murder spree in the late 19th Century onwards, ranging from the penny dreadfuls of the Victorian age to films such as David Lean's Madeleine (1950) and John Gilling's The Flesh and the Fiends (1960). In the decade before 10 Rillington Place, the "Hammersmith nude murders", committed by the so-called "Jack the Stripper" in 1964 and 1965, influenced a range of work pretty much straight away, from Arthur La Bern's novel Goodbye Piccadilly, Farewell Leicester Square (1966) – subsequently adapted by Alfred Hitchcock as Frenzy (1972) – to Robert Hartford-Davis' horror film The Fiend (1972). Yet 10 Rillington Place stood apart from these works, because Fleischer was being totally honest about the nature of murder: killing was far from pulp or escapist melodrama.
The film, however, is as much about the era as it is about murder. Above and beyond Christie, Fleischer avoids nostalgia and creates a damning portrait of the times. Beginning in the Blitz, 10 Rillington Place dares to show the era's hardship, turning London into a grim, barren realm where figures like Christie prey on vulnerable people, shaken of their senses by the bombs raining down. It's the same world captured in Henry Moore's drawings of the times and the dark novels and plays of Patrick Hamilton. A muted palette shows a desperate city drained of colour and hope.
Authenticity was vital to Fleischer, so he went full tilt in his production. The real Rillington Place features, the street's demolition postponed while filming took place. The actual interiors of the flat Christie lived in were not used, except for a few shots of Christie looking out of the window, due to fears of the occupants not being allowed back in again before the building was knocked down. But Number 7 was instead used for the majority of the filming. This choice of location in itself is unnerving, showing how little elaboration was necessary on the part of the director. The decrepit nature of the street feels like a time capsule, one containing the traumas of the post-war years in its darkened bricks and mortar.
A provocative recreation
Fleischer's attention to detail didn't stop at the locations. At the time of filming, very little was known about the exact set-up of a state execution by hanging. It was difficult to research as it was a subject deliberately kept out of the public eye. In order to recreate Evans' execution as accurately as possible, Fleischer did something that seems both provocative and morbid: he sought advice from the real hangman.
I find 10 Rillington Place far scarier than any so-called horror film I've ever seen – Andrew Male
Albert Pierrepoint had been a state hangman like his father and grandfather before him, claiming to have been Britain's most prolific. He was not only in charge of the miscarriage of justice that was Evans' hanging but also hanged Christie. He gave technical advice and details for the recreation of Evans' execution. The accuracy that this gives the scene, helped by Hurt's formidable performance, makes it as difficult to watch as the scenes recreating Christie's crimes.
The film becomes as much a warning against the failings of capital punishment as a story about Christie. Attenborough himself was acutely aware that this was more than just a crime film, though one he had mixed feelings about. "I do not like playing the part," he told The Times in 1970, "but I accepted it at once without seeing the script. I have never felt so totally involved in any part as this. It is a most devastating statement on capital punishment." Whether the deaths on screen are caused by an individual or the state, Fleischer makes certain that their unbearable reality is unavoidable.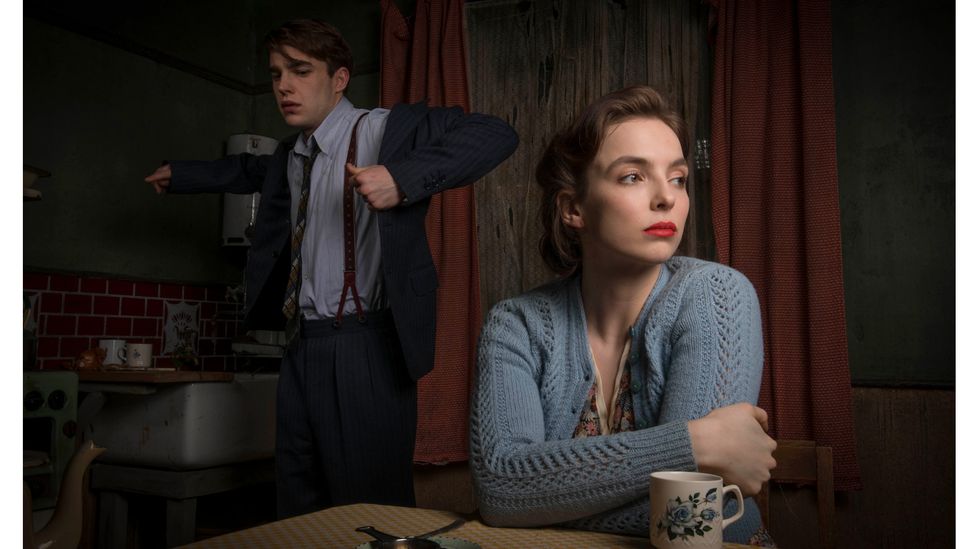 In 2016, the BBC retold the story in a three-part TV drama starring Jodie Comer as Beryl Evans (Credit: BBC)
10 Rillington Place is different to other films about murderers of the era. In particular, the characterisation of Christie makes him less of a typical movie monster, à la Norman Bates, and something more banal. Attenborough's Christie is someone who uses a busybody, old-fashioned respectability to manipulate people and hide his true malice: to lure victims home, he pretends to be someone who can help them with their various medical ailments.
The result is a film that is quiet yet undeniably horrific. Music and film critic Andrew Male knows this only too well. "Much like Joseph Heller's Something Happened," he tells BBC Culture, "I think 10 Rillington Place is a masterpiece that I have no desire to ever revisit. I think it's so effective in conjuring up an atmosphere of evil and malaise that I find it far scarier than any so-called horror film I've ever seen." The effectiveness of Fleischer's film is its subversion of horror, taking a subject common in the genre, serial murder, but letting its grim world stain slowly, rather than relying on shocks. "I seek out great horror films," Male concludes, "I like being scared, but I don't like whatever 10 Rillington Place is doing to me. It has something miasmic about it, like the very film-stock is blighted. It infects the room that it's screened in."
The same banal horror disturbed the cast too, especially Attenborough. A gruelling daily make-up routine to give him Christie's balding look likely didn't help. Yet, when discussing the film years later, the actor revealed the more psychological strains of the role. "I never spoke to anybody broadly when we were shooting," he told Henderson's Film Industries. "During lunchtime, I went to my room and sat alone. One of the strange feelings I had was that I couldn't rid myself of the picture for quite a long time." Male attests to the shape-shifting mastery of Attenborough's performance. "In Attenborough," he suggests, "I recognise nothing of that actor. I see only a version of Christie, one that I believe totally and one I am utterly terrified of." His intense working methods, amplified by the real locations, certainly paid off.
With interest in true crime never greater, it's unsurprising to find the story of 10 Rillington Place still drawing curiosity. In 2016, Craig Viveiros directed another accomplished telling of the story for the BBC starring Tim Roth as Christie and Jodie Comer as Beryl Evans. Despite the obvious qualities of the series, it was at a distinct disadvantage: the earlier film was touched with the electricity of the debate around capital punishment, and boasts a unique authenticity enabled by its relative proximity to the time of the murders.
Indeed, Fleischer's drama is still the ultimate in British true crime drama: a disturbing parable that eschews the sensationalism of many equivalent projects in favour of a commitment to the truth behind the headlines, making it all the more chilling.
Love film and TV? Join BBC Culture Film and TV Club on Facebook, a community for cinephiles all over the world.
If you would like to comment on this story or anything else you have seen on BBC Culture, head over to our Facebook page or message us on Twitter.
And if you liked this story, sign up for the weekly bbc.com features newsletter, called The Essential List. A handpicked selection of stories from BBC Future, Culture, Worklife and Travel, delivered to your inbox every Friday.