New Anthony Hopkins film The Father is a big step forward for the on-screen depiction of the condition. Can it help shift the conversation around it more broadly, asks Hannah Strong.
M
My family realised my great-grandmother had dementia after she accused my mother of stealing her Christmas presents. Incandescent, Great Grandma May called my grandma and claimed my mother – her granddaughter – had broken into her house and stolen several large bags full of gifts intended for the family. Needless to say, this wasn't true (not least because it was the height of summer), and my grandma became increasingly concerned about her mother's health. Although my Great Grandma May was famously belligerent, these accusations became more outlandish as her dementia developed. When she eventually went into a care home, two years before she died, she told all the residents her eldest daughter – my grandmother, who visited every few weeks – had stolen all her money and run away to Australia, which was why she had to live in the home.
More like this:
– Ten films to watch in February
­– How cinema stigmatises mental illness
– Remarkable photos of older people in nature
Dementia is defined as a syndrome associated with the decline of brain function; Alzheimer's disease and vascular dementia are the most common types, but there are others, including Lewy Body Dementia and Frontotemporal dementia. Despite statistics from the World Health Organisation stating that more than 5% of the global population over the age of 60 have some form of dementia, making it a fairly common disease, it is a condition that has a considerable stigma attached. And it often feels as though – perhaps out of our fear around the disease – we still don't quite know how to centre patients in the conversations around, and depictions of, dementia. Florian Zeller's The Father, a film about a father and daughter navigating their difficult relationship as he lives with dementia, aims to change this by giving us a real insight into what it's like to live with the illness, as well as how difficult it is to care for someone with it. 
The Father centres on the relationship between Anthony (Anthony Hopkins), who is grappling with dementia symptoms, and his daughter Anne (Olivia Colman) (Credit: Alamy)
Adapted from Zeller's stage play of the same name, The Father focuses on Anthony (Anthony Hopkins), who is grappling with symptoms of dementia, and his contentious relationship with his daughter Anne (Olivia Colman), who visits him at his west London flat, and is trying to arrange home help for him. Anthony, a spirited, retired engineer who loves listening to opera arias and dancing as he did in his glory days, thinks Anne is worrying unduly, and does his best to stop her "interfering". From the beginning it's clear Anthony is perhaps not the easiest man in the world to get along with, but over the course of the story, we come to understand his tumultuous worldview, and how irritated, disorientated and frightened he is as a result of becoming increasingly unable to differentiate reality from his memories. Watching The Father, I recognised so much of my family's personal experience in the film – particularly the way in which dementia patients can become increasingly fearful and combative as they struggle to make sense of their own thoughts.
The omissions and myths
There have been no shortage of attempts to reckon with dementia on-screen, and indeed many have been well-received, from Richard Eyre's 2001 biopic Iris, about novelist Iris Murdoch's Alzheimer's diagnosis and Richard Glatzer's 2014 Still Alice (both of which won their lead actresses an Academy Award) to 2004 romantic weepy The Notebook and 2007 drama Away From Her. Yet there has been a tendency in the past for films to mainly portray women with dementia, and to focus on the memory loss element of dementia at the expense of other symptoms.
Perhaps this omission occurs because memory loss is the most widely-known element of the condition, or because it is the most dramatic from a storytelling perspective. The plot of The Notebook revolves around Ali, who has Alzheimer's, being able to remember her lost memories after her husband reads their love story to her (which she wrote down herself, aware she would forget). But while it is possible for photos, music and video to help dementia patients recall memories, it is a progressive disease, and a simple memory jog cannot always help people with dementia remember what they have lost.
It's difficult to represent dementia on screen because it's hard to get a true user perspective of what it's like. We have to assume or interpret – Dr Karen Harrison Dening
Meanwhile, Still Alice, while considered a fairly accurate portrayal of early-onset dementia, shows Alice's complete decline in less than a year, when the reality is that most patients see their condition develop over a period of years, often as long as a decade. With so much misinformation out there, it's vital that films and television work to reframe dementia, for both patients and their families, so we can all better understand it.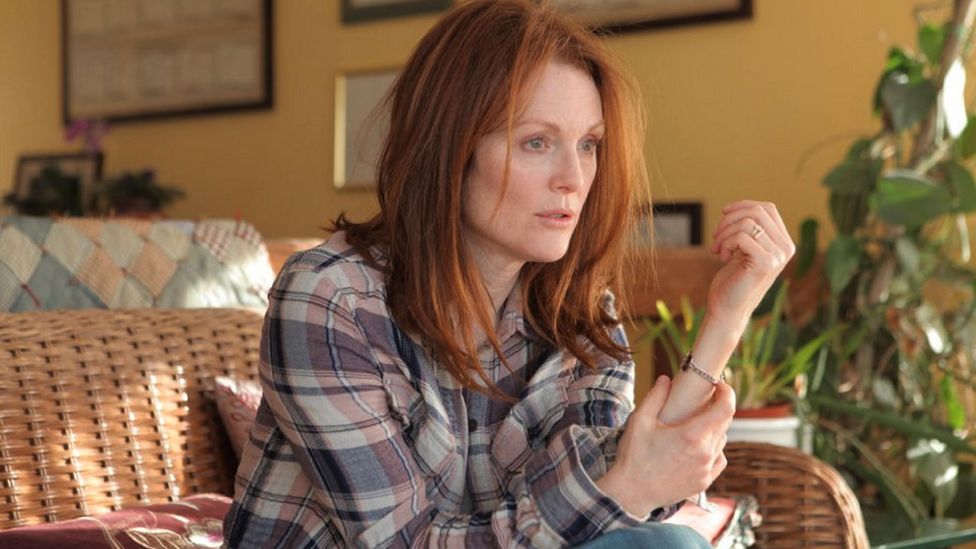 The 2014 film Still Alice saw Julianne Moore win an Oscar for her portrayal of a woman with early-onset dementia (Credit: Alamy)
In the recent TV movie of Emma Healey's bestselling novel Elizabeth is Missing, which screened on PBS in the US in January, Glenda Jackson plays Maud, a woman with dementia trying to uncover the mystery behind her best friend's sudden disappearance. It's an issue close to Jackson's heart, as she came to understand the hardship faced by dementia patients and their families during her time in politics as a British Member of Parliament. Dr Karen Harrison Dening, head of research and publications at Dementia UK, advised on the production, and has plenty of insight into what makes – or breaks – portrayals of dementia on-screen. "I think it's really important if we're going to try and represent dementia, either through the person with the disease or the carer's eyes, we need to be as truthful as we possibly can," she explains. "But dementia is still a very stigmatised and feared disease, because you lose capacity, and there's a sense that people take over on your behalf. It's difficult to represent dementia on screen because it's hard to get a true user perspective of what it's like. We have to assume or interpret."
In Zeller's film, Anthony is presented as someone having difficulty understanding their diagnosis, and accepting help. He tells Anne that his nurse stole his watch, only for it to turn up in another room. As the film progresses, he has trouble understanding when it's day or night, and even what his daughter looks like. He turns from jovial to irritated without a moment's notice, and is casually cruel to those around him, but Zeller's great success in storytelling is that the audience are completely with Anthony the entire way, rather than looking in from an outside perspective. As a chamber piece, it takes place mostly in one location, and utilises only a small cast, but uses devices (retained from the original play) to replicate Anthony's feelings of disorientation. Anne and her partner are played by two sets of actors to illustrate the sensation of being unable to recognise your loved ones, while the flat in which the film takes place takes on the role of Anthony's home, then Anne's, as there's a sense of time passing without the protagonist realising it.
It helps that Anthony Hopkins and Olivia Colman, two incredibly talented actors, lead the film, but an added strength of The Father is that it gives them a chance to play characters quite outside their normal work; Anthony's vulnerability and confusion is a far cry from Hopkins' most famous roles, while Colman's softly-spoken, beleaguered daughter couldn't be more different from her 2019 Oscar-winning performance in The Favourite. It's a film that understands the banality of dementia, and how cruel the disease is, rather than presenting it as something beyond our understanding, and othering those who live with it.
It's not that working-class and BIPOC individuals don't develop dementia, or care for family members with it, but their stories aren't seen on screen.
A similarly sensitive portrayal occurs in Elizabeth Chomko's What They Had (2018), which was recommended to me by Elena, a friend I spoke to whose family supported both her maternal grandparents with dementia; she found it incisive in its portrayal of how a dementia diagnosis can impact a whole family.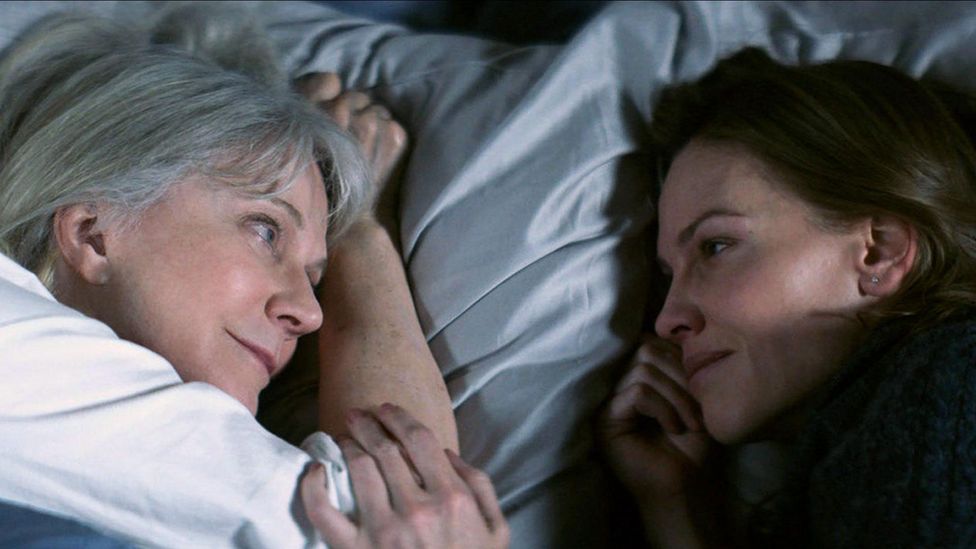 What They Had (2018) looks skilfully at the responsibility that falls to families in caring for dementia patients (Credit: Alamy)
In the film Hilary Swank and Michael Shannon play siblings who try to convince their father it might be time to find a nursing home for their mother, Ruth, who has Alzheimer's. Blythe Danner plays the latter character sensitively, and Chomko highlights the familial discord that dementia can exacerbate: tensions flare between the siblings and their father, as they try to make a decision about Ruth's care. For Elena, the film's sense of humour was what made it impactful: "The illness is certainly something where at times you have to laugh or else you'll scream or cry. I think you have to have a sense of humour about it, even if it's a very dark or warped sense of humour, and there's moments where What They Had showed that."
The issue of care
What They Had also touches on an element that is often overlooked in conversation around the portrayal of dementia: the responsibility which falls to families, due to a lack of social infrastructure for dementia patients. Having watched my mother and grandmother care for Great Grandma May, I know how frustrating and upsetting this experience can be. When my family applied for help from the local healthcare authority, they claimed May was not a priority, despite the fact she was a 90-year-old woman whose primary carer was her son, who had schizophrenia and was in his 60s. They would only provide assistance when the situation reached a crisis point, as when May fell in her bathroom, blocking the door, and had to be rescued by the fire service. Following this, my grandparents had to self-fund for the 18 months May lived in a nursing home receiving round-the-clock care. This is often a last resort for families, as there is a great deal of stigma around nursing homes, and they often feel like they have "failed" a relative by having to rely on this more permanent form of care.
In Michele Haneke's devastating Amour (2012), Emmanuelle Riva's Anne begins to experience dementia symptoms and makes her husband Georges (Jean-Louis Trintignant) promise he won't put her in a care home. Despite his own frailty, he cares for her until the end. This is a situation which is all too common, according to Dening: "Over the years I've seen that so many times, where you have two older people in a spousal relationship, [and one of them] physically and psychologically having to support their partner with dementia. One of them may then have to go into hospital or die, and only then do we become aware of the degree of disability they've been coping with. We see those stories on a daily basis."
A question of whose dementia experience is "worthy" of representing also lingers. Kristen Johnson's wonderfully thoughtful documentary Dick Johnson is Dead (2020) shows her father living with dementia – and acting out various elaborate death scenes, as well as his own funeral – but their financial security means they can provide care in their own home. Similarly, The Father depicts an affluent family, while another new film about dementia, Supernova, starring Colin Firth and Stanley Tucci, is a superbly acted, heartbreaking story of a relationship tested by the impact of Alzheimer's that again focuses on those with quite a comfortable financial situation.
With Covid, the rug has been pulled from the majority of dementia-based services, because of all of a sudden, it's not seen as a priority anymore – Dr Karen Harrison Dening
Additionally, all these films – as good as they may be – centre the experience of white dementia patients and their families. It's not that working class and BIPOC individuals don't develop dementia, or care for family members with it, but their stories aren't seen on screen. This is likely due to more general inequalities within the film industry and who gets to tell their story, but until these barriers are broken down, it's difficult to see how film can come close to capturing what families and individuals with dementia experience. "Is it because [depicting these types of cases] would make it too granular, too hard-hitting, too scary?" Dening wonders. "Because really that's what it's like for the majority of people with dementia – poor access to care, [supported by] minimal funding and resources – [and] with Covid, the rug has been pulled from the majority of dementia-based services, because of all of a sudden, it's not seen as a priority anymore."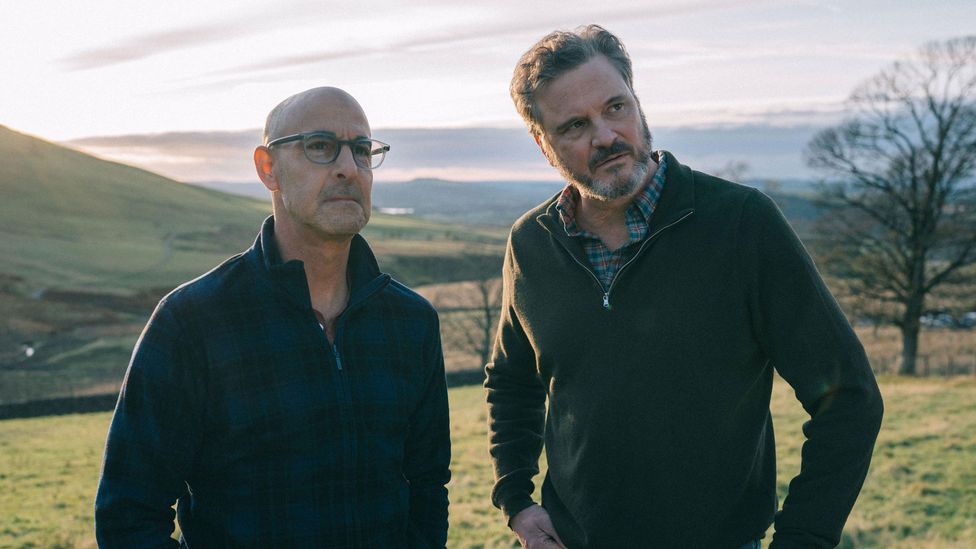 Another superb new drama, Supernova tells the story of a relationship tested by the impact of Alzheimer's disease (Credit: Alamy)
The Father is a massive achievement in authentic, sympathetic dementia representation on screen, which simultaneously manages to bring depth to a character with dementia, while also providing an insight into what it can be like to watch someone you love develop the disease. Certainly when I rewatched the film with my mum, she recognised the on-screen behaviour of Anthony from her own experience caring for Great Grandma May. But while film is a useful tool in helping us understand dementia and process its emotional toll on both patients and carers, it's obviously no replacement for effective, comprehensive care. The global population is ageing, which means dementia cases are increasing as more of us live longer; the total number of people with dementia around the world is projected to rise from around 50 million cases now to 82 million in 2030, and 152 in 2050. Given these ever-spiralling numbers, it can only be hoped that a film like The Father, which is so impactful at a personal level, can help initiate more meaningful conversations at a policy-making one.
The Father is in select cinemas in the US from 26 February, and will be released in the UK on 11 June.
Love film and TV? Join BBC Culture Film and TV Club on Facebook, a community for cinephiles all over the world.