Looking ahead, how will we live? Some of the most imaginative ways that architecture and design are bringing hope are explored in a new book. George Kafka speaks to its author.
W
What comes to mind when you imagine the future of architecture? Towering glass skyscrapers in wacky shapes? Floating cities of clustered buildings overflowing with greenery? How about a recycled brick? Or a diagram explaining how an AI system works? You might be surprised to find these two in Radical Architecture of the Future, a new book by curator and editor Beatrice Galilee, that showcases 79 projects by architects, artists, film-makers, game designers, researchers and many others. These projects point to a "possible direction for the future of architecture", explains Galilee via video call. She describes the book as a "lighthouse", a signal of hope amidst the darkness of the climate crisis and social inequalities felt across the planet.
More like this:
-          The key to working happily from home
-          How the bathroom became a sanctuary
-          The Nordic homes surrounded by nature
Yet far from a list of utopian dreams, each of the projects featured in Radical Architecture  has been completed. They are already existing case studies which demonstrate that the future is already being constructed by inspiring architects and designers around the world. "We need good ideas and we need imagination, and I think architectural design is a good place to look for it,"  Galilee tells BBC Culture. Here we present 10 key ideas explored in Galilee's book and the projects bringing them to life.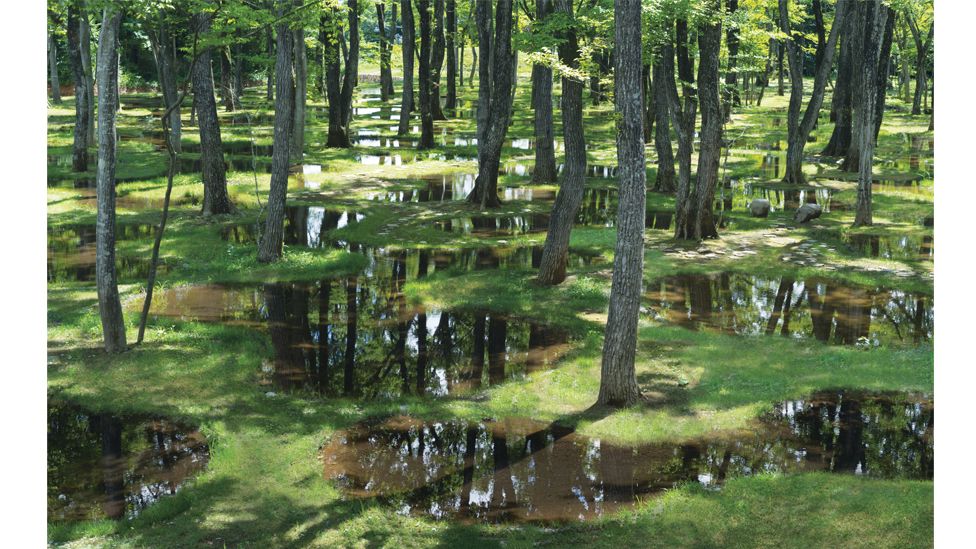 The dreamlike Art Biotop water garden in Nasu Japan provides miniature habitats for wildlife (Credit: junya.ishigami + associates)
Design with, not against, nature
One of the most influential figures in architecture today isn't an architect at all. Donna Haraway is a feminist philosopher whose ideas about how we interact more equitably with the natural world are changing the way we design buildings. Galilee sees her influence in the work of architects such as Junya Ishigami, whose dreamlike Art Biotop Water Garden in Nasu, Japan, was constructed by moving 318 trees from a neighbouring meadow in order to prevent their destruction. Similarly, Bangladeshi architect Marina Tabaassum's Bait Ur Rouf Mosque in Dhaka is designed to draw in the sunlight and create stunning patterns inside the sacred space.
Reduce, Reuse, Recycle
We're used to recycling at home, but how do we do it at the scale of a building? Architecture practices such as Rotor, based in Brussels, and Lacaton & Vassal, based in Paris, have been developing ways to reduce material waste while producing beautiful buildings – something of great importance when the building sector accounts for nearly 40% of CO2 emissions globally. Lacaton & Vassal were recently awarded the Pritzker Prize, architecture's most prestigious award, in recognition of their projects which renovate, rather than demolish, social housing buildings in France. Rotor, meanwhile, set up their own building material recycling business. "It's a very sensible, practical, kind of mini revolution in itself," says Galilee.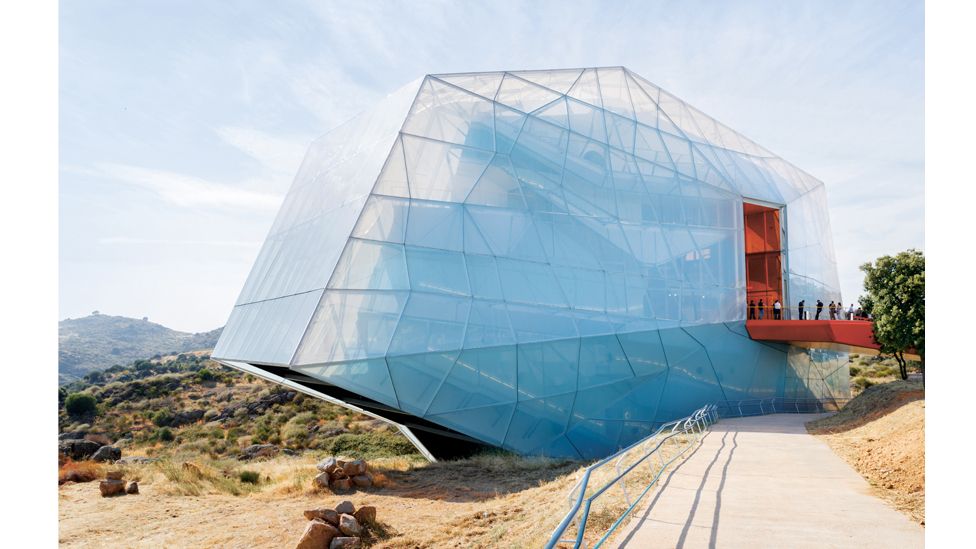 The Plasencia auditorium in Spain is made of innovative, lightweight material (Credit: Iwan Baan)
Material innovation
Using innovative materials can help reduce the environmental impact of building. For example, ethylene tetrafluoroethylene (ETFE) is a type of lightweight plastic which can be used to cool down buildings, such as the Plasencia Auditorium and Congress Centre in Spain by SelgasCano. That said, sometimes the most suitable materials are those locally available. Atelier Masōmī and Studio Chahar's Religious and Secular Complex in Dandaji, Niger, makes use of compressed-earth bricks and other materials gathered from within a three-mile radius of the site. Atelier Masōmī is a "champion of upholding the earthen architecture traditions of the region, reducing or eliminating imported synthetic or Western-standard building materials," writes Galilee.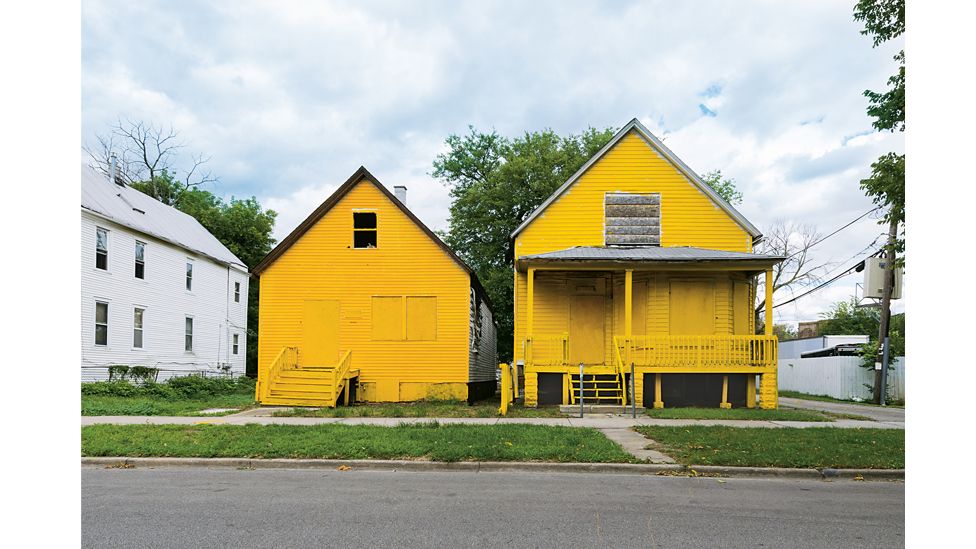 The Color(ed) Theory project features a series of brightly painted houses in South Chicago (Credit: Amanda Williams)
Confronting injustice
Readers of Radical Architecture might be surprised to find a photography project about the water crisis in Flint, Michigan, in a book about architecture. "You can't differentiate the cities we live in from the values that designed them," explains Galilee, referring to the racism and segregation inherent in the urban planning of many cities in the US, where she lives. LaToya Ruby Frazier's Flint Is Family Part I photography series highlights the impact of the built environments on the flourishing or destruction of livelihoods, while Amanda Williams' Color(ed) Theory is a series of distinctively painted houses in South Chicago, each of which is slated for demolition, and which makes visible the racially charged dynamics of development in her neighbourhood.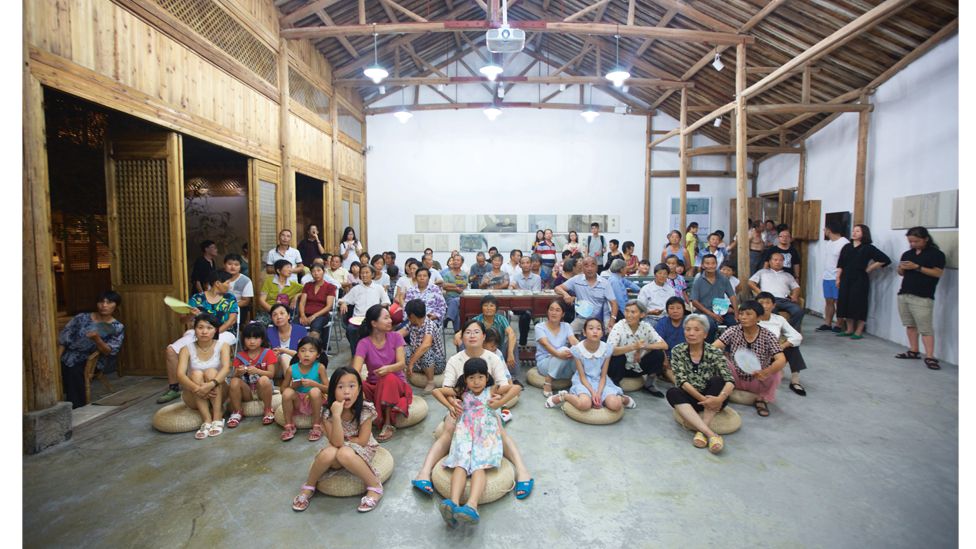 Artist Ou Ning worked with the Bishan commune in Anhui Province (Credit: Zhu Rui)
Living together
As well as highlighting injustices, projects featured in the book demonstrate how architects can influence how we live together and build more equitable communities. Granby Four Streets is a project in Liverpool, UK, by Assemble which restored derelict housing stock and created workshop spaces and a shared garden in collaboration with a community land trust. Elsewhere, projects in China explore how architect-and-artist-led tourism can produce new focal points for residents: Xu Tiantian's new buildings in Songyang include a village hall, tea house and tofu factory, while artist Ou Ning worked with the Bishan commune in Anhui Province to produce their currency and passports as well as a learning centre and art gallery. "I love this idea of architects as agents of change, and people with visions and ideas beyond just responding to clients," says Galilee.
Public luxury
Great places should be accessible to everyone, and Radical Architecture highlights projects by architects bringing luxurious quality to public spaces. For example, in Port-au-Prince, Haiti, Emergent Vernacular Architecture designed an amphitheatre in collaboration with local residents following the 2010 earthquake. The resulting space is a series of concentric circles with spaces for sitting, planted gardens and exercise equipment. According to Galilee, "it's not a commerce-driven approach to public space, it's a community-driven approach to public space". Meanwhile in Japan, the Seibu Railway company invited Kazuyo Sejima – "one of the most important living architects" – to design a train carriage. The train has huge windows to bring passengers closer to passing landscapes and was designed to "convey the coming of the digital age in transport".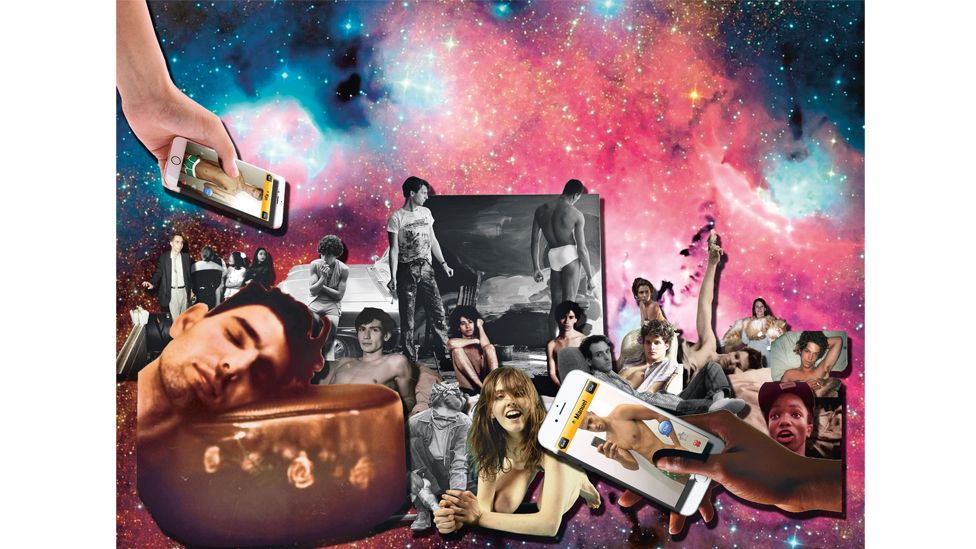 The Intimate Strangers multimedia installation by Andrés Jaque explores dating and urbanism (Credit: Andrés Jaque/ Office for Political Innovation)
Data shapes how we live
Just as roads and railways once defined the landscapes of the future, today data systems have dramatically altered our lives: how we move, communicate, even how we switch on our lights. Artists, architects and researchers such as James Bridle, Kate Crawford, Vladan Joler and Andrés Jaque look carefully at these systems so we can better understand how they work, how they are shaping our societies and at what cost. Bridle, for example, has researched the carbon footprint of our apparently cloud-like internet services, and Jaque's Intimate Strangers project compellingly recasts the dating app Grindr as a form of urbanism. Anatomy of an AI System by Kate Crawford and Vladan Joler is a microscopic study of how an Amazon Alexa is produced, making visible the human labour that goes into producing that disembodied voice in your living room.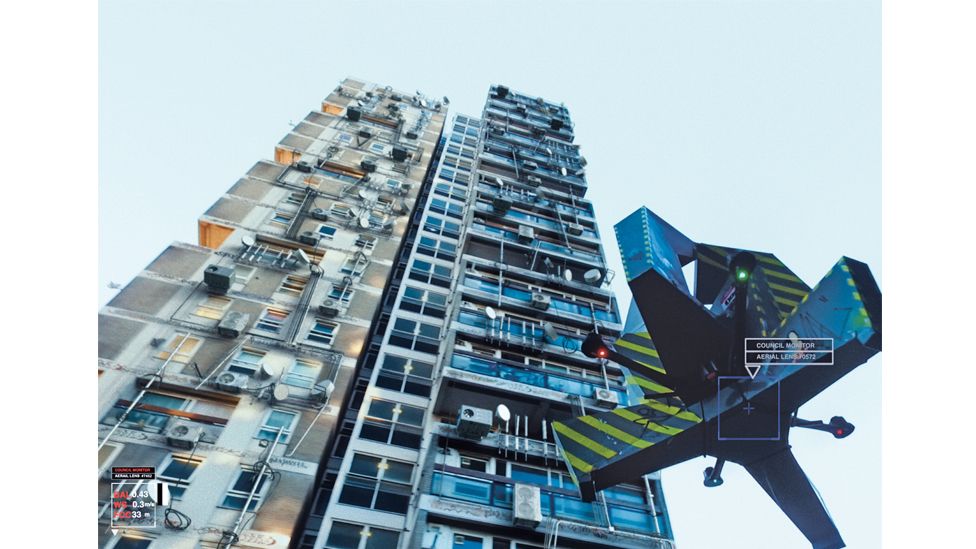 Filmmaker Liam Young's work In the Robot Skies explores AI and the city (Credit: Liam Young)
Finding the human in the post-human
Increasingly intelligent data systems mean that some buildings are designed and even occupied without humans in mind. The creative works of artist Cao Fei and designer/filmmaker Liam Young provoke audiences to consider how these changes will affect our lives: how we live and work and even spend time with one another. Cao Fei's Asia One film depicts the inside of a fully automated distribution centre run by AI technology in Shanghai, where humans seem out of place amidst the machinery, and Liam Young's In the Robot Skies is a near-future London love story told with and about drones. For Galilee, "the fictionalisation of these things is a gentle way to access very problematic issues".
Our bodies are designed too
"We're not just changing our environment, our environment is changing us," says Galilee, explaining the inclusion of works by New York-based architects SO-IL and the "body architect" Lucy McRae in the book. McRae's film The Institute of Isolation imagines how we might train our bodies to survive in otherworldly environments, while SO-IL's L'air pour l'air sees performers wearing lightweight structures as extensions to their own bodies. Projects by these practitioners prompt us to think about how our bodies interact with our environments, a timely topic in the age of the pandemic.
Lucy McRae's film The Institute of Isolation imagines how we might live in otherworldy environments (Credit: Daniel Gower)

New imaginaries

Part of designing a better future is designing new ways of seeing the world. Creative fiction and fantasy can produce worlds we wish to see and provide inspiration for how to arrive at them. For example, Hannah Beachler's designs for Wakanda in the film Black Panther imagine how countries such as Senegal and Uganda might have developed if they had never been colonised, and Wanuri Kahiu's "afrobubblegum" films aim to alter how contemporary African cities are depicted and understood worldwide. Everything, a video game by designer David O'Reilly, stretches the limits of the imagination by allowing players to assume the role of almost anything in the universe – from bacteria to a bear to a galaxy – in an attempt to change our perceptions of other forms of life. "How do you understand yourself as the product of everything?" asks Galilee. "You can't disconnect yourself from the pavement, the trees, insects. We're all working together, and that's the ecosystem that we're living in. All the projects in the book are trying to draw attention to that. Architecture is one thing amongst others, one thing that's interconnected." 

Radical Architecture of the Future by Beatrice Galilee is published by Phaidon

If you would like to comment on this story or anything else you have seen on BBC Culture, head over to our Facebook page or message us on Twitter.

And if you liked this story, sign up for the weekly bbc.com features newsletter, called The Essential List. A handpicked selection of stories from BBC Future, Culture, Worklife and Travel, delivered to your inbox every Friday.

;