While a catchy tune can grab our attention, subliminal subversive ideas are often what really connect with us, writes Arwa Haider.
W
When multi-award-winning 19-year-old singer-songwriter Billie Eilish announced her upcoming second album release, many fans on social media were abuzz about a possible "hidden message" linking her various record titles: My Future [is] Everything I Wanted; [Therefore I Am] Happier Than Ever. This might be a selective shuffle from Eilish's catalogue, but the idea of a "secret note" to listeners expressing her happiness is also persuasive, particularly as her material has addressed mental health and personal vulnerability. Pop music is both universal and intensely subliminal; a catchy tune grabs our attention, but it is the coded elements (lyrically and visually) that really connect with us – and at their most powerful, they are positively transformative.
More like this:
- The most iconic 21st-Century dance anthem
- American's first black superstars
- How pop stars can be truly provocative
US musician and author Ted Gioia argues in his excellent book Music: A Subversive History (2019): "At every stage in human history, music has been a catalyst for change, challenging conventions and conveying coded messages – or, not infrequently, delivering blunt, unambiguous ones. It has given voice to individuals and groups denied access to other platforms for expression." Pop music has often been dismissed as "lightweight" given its young audience, simple snappiness and mainstream status, but those elements are really where its strength is concealed. Pop songs don't originate themes of mental wellbeing, equality, liberty, activism – but they do transmit them to the broadest platforms possible.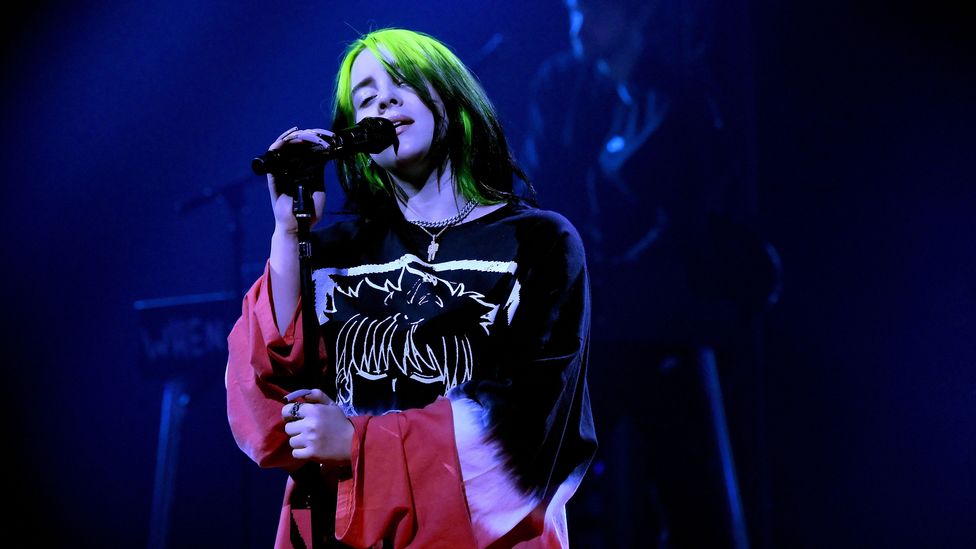 Some fans of Billie Eilish claimed to have found a hidden code in the tracklist for her upcoming second album Happier Than Ever (Credit: Kevin Mazur/Getty Images for iHeartMedia)
In the digital age, music megastars can make followers feel like confidants, with the likes of Taylor Swift dropping hints about new releases or song subtexts. Social posts might not have been a formative bonding experience for older generations of pop devotees (like myself), but at least we could read between the lines of a rich array of music magazines – including UK pop fortnightly Smash Hits, which ran from 1978 to 2006. Its former features editor, Alex Kadis, tells BBC Culture: "Growing up, listening to pop music helped me create a whole second world that I could fit into… At Smash Hits, the writing had to be incisive and humorous enough to keep the older readers engaged, but it also had to be emotional and direct enough for the younger crowd."
Even the frothiest lyrics and poses can evoke a coded power – including early-'90s boy band, New Kids on the Block
As with song lyrics, this immersion in pop music operated on more than one level at once – although the underlying message was a sense of camaraderie; pop is essentially a unifying force. Kadis insists that even the frothiest lyrics and poses can evoke a coded power – including early-'90s boy band, New Kids on the Block.
"NKOTB brought a kind of expansiveness that we hadn't had in British pop for a while," argues Kadis, who is now a music manager and industry consultant. "Their music was very formulaic, repetitive, kind of like a mantra. They had a swagger, and when you watched them perform, you imbibed something of that; the idea was: 'you could be part of this gang'. I saw it again, years later, working on the initial marketing for One Direction. Now, BTS also embody so much of that gang mentality, and the connection with their fans is so powerful. A lot of pop music is really important because it invites you to become part of a movement, no matter what that is. It's a bit like a support network."
As a child/teenager, I didn't grasp the concept of resistance or representation via news bulletins; I learned everything through pop. The 1980s Western mainstream felt both rampantly materialistic and weirdly puritanical; stylistic excess abounded, from fashion to music productions, yet a heavily judgemental tone also presided across conservative governments in the UK and US, as well as media coverage, particularly when it came to social and sexual expression. This tension proved a hotbed for coded pop, from the gender politics of Eurythmics and Culture Club, to Bruce Springsteen's punchy blue-collar protests (Born in the USA went over the heads of the Reagan administration, who attempted to spin it as a gung-ho anthem). Smash Hits would run features on slickly catchy pop band The Blow Monkeys, whose coolly smooth tunes conveyed allyship with LGBTQ communities (1986's Digging Your Scene) and opposition to Margaret Thatcher's right-wing UK government (in numerous sharp details, including their 1987 duet with Curtis Mayfield, (Celebrate) the Day After You).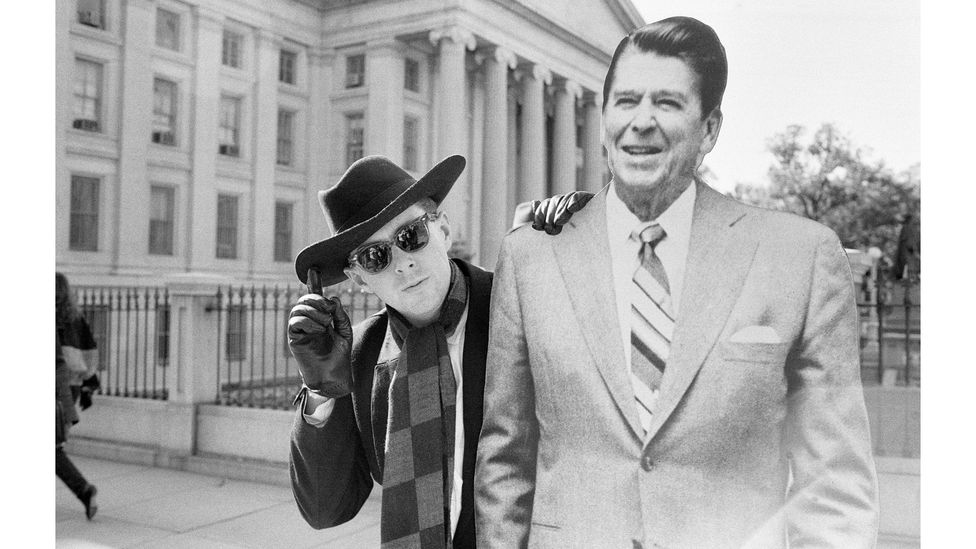 Frankie Goes to Hollywood frontman Holly Johnson posing outside the White House with a full-size cut-out of Ronald Reagan in 1984 (Credit: Mike Maloney/Mirrorpix/Getty Images)
Meanwhile, Liverpool outfit Frankie Goes to Hollywood were brilliantly insouciant rebels, infamous for their "banned" 1984 smash hit Relax (in the liner notes for their debut album, band bassist Mark O'Toole admitted: "when it first came out we used to pretend it was about motivation, and really it was about shagging"), but also sneaking references to the Cold War, avant-garde art and philosophy onto their subsequent prime-time singles (Two Tribes was packed with visual and audio nods to Soviet and Western leaders, including Lenin, Reagan and Thatcher, as well as clips from nuclear war public information films; Welcome To The Pleasuredome treated impressionable pop fans to the influence of Samuel Taylor Coleridge's opium-laced 1797 poem Kubla Khan). FGTH frontman Holly Johnson retains a way with coded pop; his 2015 solo single Dancing with No Fear captures the instant exhilaration of the dancefloor, but also an underlying hope; that of living without the toxic constraints of homophobia and other prejudice.
Generations of musicians have employed innuendo and ambiguous lyrics to subversive effect
Generations of musicians have employed innuendo and ambiguous lyrics to subversive effect. The 1990s yielded rave pop tunes that toyed with an establishment keen to clamp down on club culture and drugs references – take The Shamen's 1992 chart-topper Ebeneezer Goode (with its "Eezer Goode! Eezer Goode!" chant seizing the mainstream) or Madonna's intoxicating 1995 single Bedtime Story (co-written with Bjork). In the 21st Century, coded lyrics also still convey sexual identity and liberation, whether or not the mainstream immediately picks up the message. When Lil Nas X faced criticism for the "inappropriate" content of his gay serenade Montero (Call Me by Your Name) earlier this year, he called out conservative hypocrisy via his Twitter account, with a nod to his 2019 breakthrough hit, Old Town Road: "I literally sing about lean and adultery in old town road. u decided to let your child listen. blame yourself."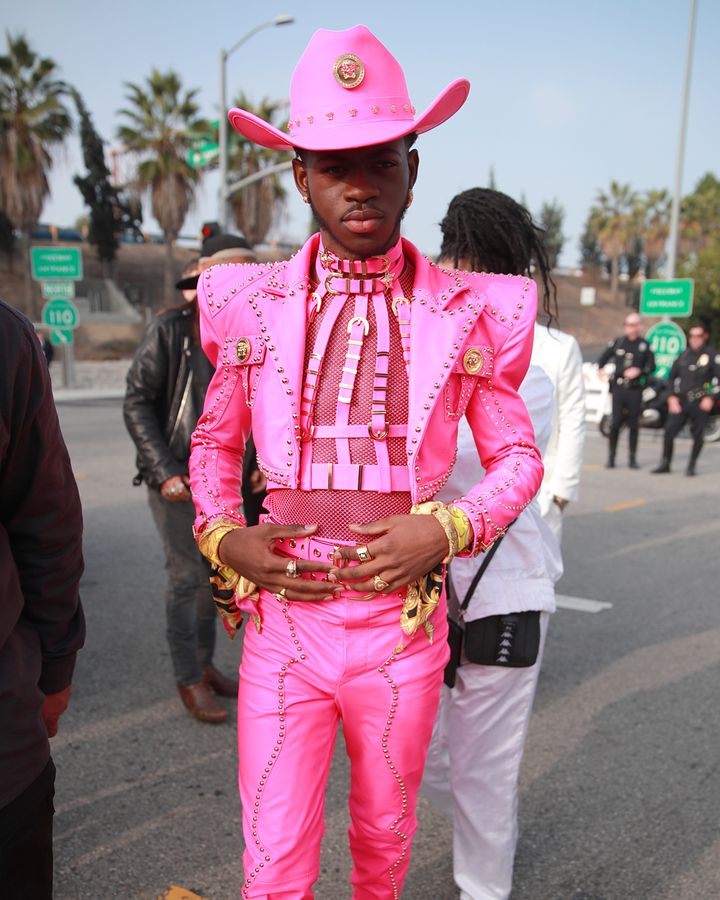 After a backlash against a controversial 2021 music video, Lil Nas X clarified that his 2019 hit Old Town Road wasn't exactly PG (Credit: Getty Images)
Some pop artists become increasingly fearless with mega-fame; others have demonstrated a forte for coded messages that linger beyond their final notes. David Bowie's glorious Blackstar album (2016) has continued to reveal its secrets ever since its release (on Bowie's 69th birthday, and a couple of days before his death); in addition to the record's references to mortality, there's a magical quality to its abstract artwork – with one fan discovering that when the monochrome sleeve was exposed to direct sunlight, a Starman's vast galaxy emerged. Meanwhile, Beyoncé's earlier solo shows would include archive visuals of inspiring leaders including Martin Luther King, but it has been thrilling to watch her progressively use her platform to embody themes of black power, African heritage and equality: paying homage to the Black Panthers via the choreography and accessories of her Super Bowl 50 performance (2016), before releasing her pop opus Lemonade, which offered masses of detail for hot debate (on the track Sorry, the much-discussed reference to "Becky with the good hair" was not merely Bey raging against her faithless lover – it arguably calls out the historic objectification and side-lining of black females). Coded this way, it's an intuitive progression to releasing her 2020 film/soundtrack Black Is King, and celebrating "all of the beautiful Black kings and queens that continue to inspire me and inspire the whole world" in her 2021 Grammys speech.
A contemporary artist should be writing about what's going on the world, because that's a marker of history; you can't erase a song that people love – Poppy Ajudha
Credit is also due to the emerging music talents who incorporate coded themes in their catchy works. Young London singer-songwriter Poppy Ajudha creates immediate, alluring melodies that communicate deeper themes and possibilities, from the mellow yet resilient spirit of 2020 single Black Joy. Black Peace. Black Justice to her version of Herbie Hancock's Watermelon Man (in the warm neighbourhood scenes of the accompanying video, we spot background details including protest placards – "END SYSTEMIC RACISM" – in Poppy's room).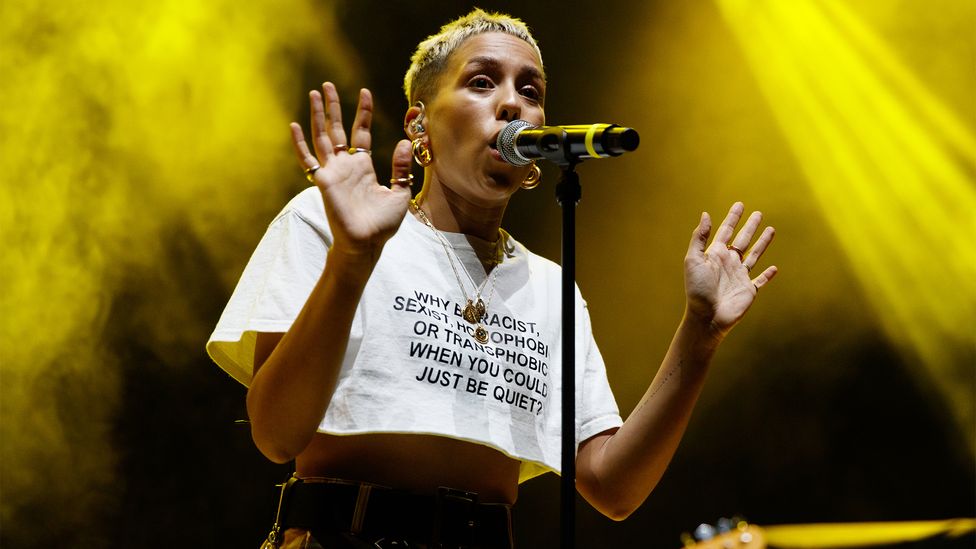 Poppy Ajudha (performing in 2019) relishes the transformative power of pop music (Credit: Burak Cingi/Redferns/Getty Images)
"Music should speak of the times. My music does talk to what's happening now," Ajudha tells BBC Culture. "A contemporary artist should be writing about what's going on the world, because that's a marker of history; you can't erase a song that people love. So much of history is erased, but pop music is subversive; it does bring people together to create change.
"When I went to university, and I studied gender, anthropology and contemporary trends in society, being emboldened by the knowledge of incredible writers and thinkers made me realise what I wanted to write about and sing about: that was about feminism, social issues, my mixed-race heritage. It was about identity, because it plays such a big role in how we see ourselves and how society sees us. I think that just grew, the more I wrote songs, and I saw how people were reacting to them. It felt like it was making people feel less alone. I realised, 'this is why I wanna do this; this is what music is about' – we're supposed to be connecting, sharing experiences, and getting through shit together. I don't want my music to just comment on how difficult things are, I want them to feel empowered to do something, regardless of what the world tells them, to change the difficulties that they face."
In tracks such as Strong Woman, Ajudha also argues that there is a coded strength in expressing personal challenges: "Artists carry a lot of emotion; we allow people to be vulnerable through our vulnerability. It's kind of a blessing and a curse; it means that we're very dramatic, but it also means that we get to feel the fullness of life, which can be overwhelming at times, but also very beautiful."
As contemporary pop becomes increasingly globalised, its coded messages and connections feel more expansive than ever, beyond a Western worldview. Where English has traditionally been the lingua franca of mainstream pop culture, the meaning of pop has broader possibilities than ever for contemporary fans – whether they're learning new vocab and social perspectives while following their favourite K-pop, Afrobeats or Latin stars, or posting responses to Billie Eilish's "hidden message" in a multiplicity of scripts.
"Pop taps into the idealism of youth; it raises awareness of gender, race, emotion, with elements you can interpret as you want," says Kadis. "The fact that it translates across the world, across different languages and cultures – that's the power of pop music." 
If you would like to comment on this story or anything else you have seen on BBC Culture, head over to our Facebook page or message us on Twitter.
And if you liked this story, sign up for the weekly bbc.com features newsletter, called The Essential List. A handpicked selection of stories from BBC Future, Culture, Worklife and Travel, delivered to your inbox every Friday.