New research shows that soundscapes of forests, rivers and meadows aid wellbeing, even when purely digital. Arwa Haider explores how birdsong and other noises from nature – combined with music – can soothe us.
N
Nearly a century ago, acclaimed British cellist Beatrice Harrison performed one of the BBC's first live outside broadcasts, from her own garden in Oxted, Surrey. It was May 1924, and Harrison played familiar melodies including Londonderry Air (Danny Boy) and Dvořák's Songs My Mother Taught Me, while nightingale birds responded and sang sweetly from the surrounding trees. The broadcast proved a public hit, with annual performances for the following 12 years and a record release. Listening back in 2021, these ensemble pieces sound elegant, wistful and serene, and somehow suspended in time.
More like this:
- How images of nature bring us joy
- How nature helps us overcome trauma
- Can trees make you happy?
The rapport between nature sounds and music taps into an age-old sensation of human wellbeing, yet it continually yields new shoots. Generations of international composers have created nature-inspired work, including Beethoven's 6th Symphony (1808) aka "Pastoral Symphony, or Recollections of Country Life". As recording technologies developed, artists have increasingly sampled the natural world; Finnish composer Einojuhani Rautavaara's Cantus Arcticus (1972) incorporated birdlife sounds from the Arctic Circle. US musician and soundscape ecologist Bernie Krause has spent decades recording and archiving natural world sounds, and collaborated on diverse projects including The Great Animal Orchestra, Symphony for Orchestra and Wild Soundscapes (2014, with British composer Richard Blackford). Nature's ingenuity and unpredictability has also been explored in experiments, such as French artist Céleste Boursier-Mougenot's 2010 exhibition, which brought live zebra finches and Les Paul electric guitars to London's Barbican Curve Gallery.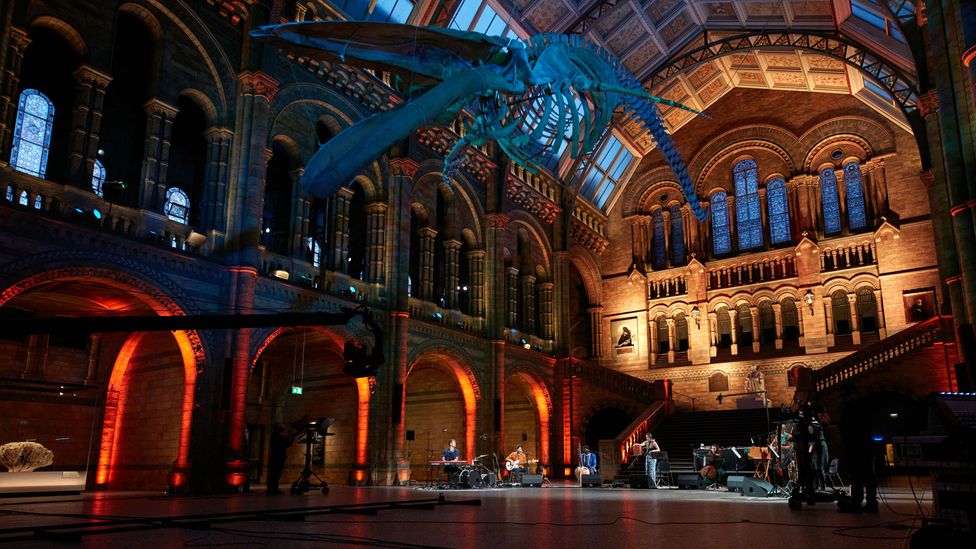 A Spell Songs performance raised £105k to help the Natural History Museum launch a UK movement linking communities with urban nature (Credit: Trustees of Natural History Museum)
In our modern world, it does also feel like there has been a reawakening to the depth and diversity of nature sounds, heightened by environmental concerns, and additionally, the impact of pandemic life, making us conscious of everyday riches that we may have taken for granted. In the wake of the first Covid lockdowns, one of the most prevalent (and much parodied) internet memes was: "nature is healing". Now, an increasingly resonant message is that nature revives us. The 2021 US research article "A synthesis of health benefits of natural sounds and their distribution in national parks" (authored by Rachel T Buxton, Amber L Pearson, Claudia Allou, Kurt Fristrup and George Wittemeyer for US scientific journal PNAS) considered the impact of sounds including water and birdsong in urban green spaces: "Our review showed that natural sounds alone can confer health benefits… Natural acoustic environments provide indications of safety or an ordered world without danger, allowing control over mind states, reduction in stress-related behaviour, and mental recuperation."
Such realisations have also given rise to excitingly multi-stranded arts, culture and science projects. At the beginning of this year, the BBC launched its Soundscapes for Wellbeing project, with programming across radio channels, access to its nature sounds digital archive, and a Virtual Nature Experiment commissioned with the University of Exeter, assessing listeners' responses to digital nature content. Connected to this is the excitingly immersive podcast/radio series Forest 404: comprising an eco-sci-fi-thriller (set in the post-apocalyptic 24th Century, where forests have been erased from existence), interactive nature/environmental discussions, and lush soundscapes.
The scary thing for me was that I could perfectly well imagine a future in which people might play a sound file of a blackbird singing, and think it some kind of electronic dial-up modem sound – Tim X Atack
Forest 404 writer Tim X Atack explains his response to producer Becky Ripley's brief: to create a story about what it felt like to listen to recordings of the natural world: "My twisted dramatist's mind immediately wondered what it would be like for someone to listen to such recordings if the natural world itself had completely vanished," says Atack. "That moved the story into science fiction territory, many years in Earth's future – what would those sounds seem like to a listener who didn't have any frame of reference for birdsong, trees in the wind, ocean waves? The logical and emotional implications of this idea took hold and the storyworld just naturally unfolded from that one, big, unanswerable question. Or rather I should say it's currently an unanswerable question... but the scary thing for me was that I could perfectly well imagine a future in which people might play, for instance, a sound file of a blackbird singing, and think it some kind of electronic dial-up modem sound.
"Historically, composers have very often put birdsong to music, to different effect – but I feel works like that are now, increasingly, the sound of a world under threat. As the climate crisis continues unabated these melodies, to my ears, are sounding less like joyful celebrations of nature and more like threnodies – songs for the dead. So I felt I had to meet that feeling, that change in the music of the world, in Forest 404."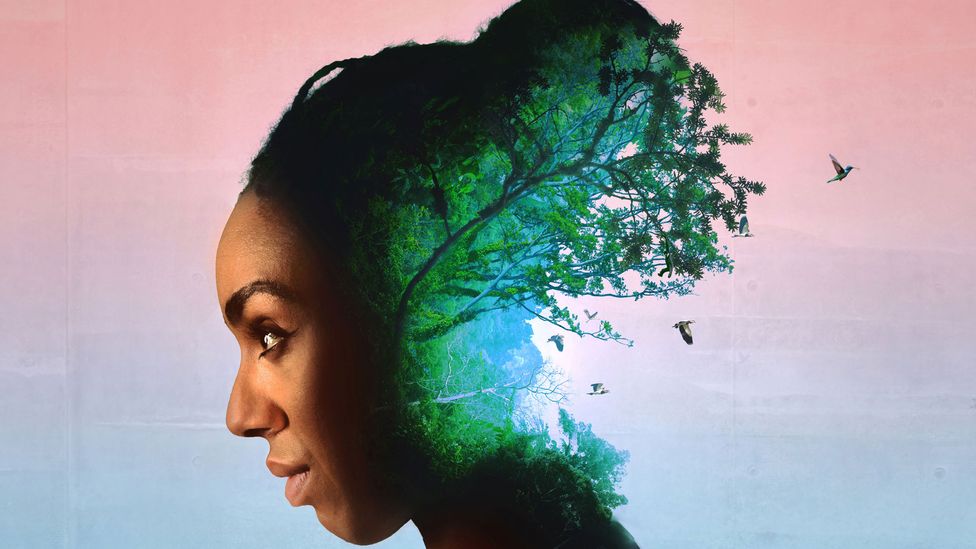 BBC Radio 4's Forest 404 podcast is an immersive sci-fi thriller featuring original music by Bonobo as well as natural soundscapes (Credit: BBC)
In Forest 404, the 20-something protagonist Pan (Pearl Mackie) is breezily efficient at her job deleting "ancient" data (recordings of the Moon landings; pop anthems etc), yet she becomes transfixed when she stumbles across a mysterious recording of tropical rainforest sounds. The effects seem to unlock something innate and unsettling in Pan; they also have real-life nostalgic power for Atack, who grew up in Brazil ("they're the sounds of childhood; they're deeply comforting but they also come with difficult-to-unpick feelings of the uncontrollable and the dangerous").
PhD researcher Alex Smalley, who has been working on the Forest 404 virtual nature experiment, notes that the public responses have been strongly connected to emotion and personal memory. "I was astonished by the level of engagement we could achieve through Forest 404," he says. "We worked with 7,600 responses; the format means we can bring these experiences to all kinds of people, and put together a very compelling conversation that can also generate incredible data sets."
One woman in Australia played the soundscapes while walking through forest destroyed in the 2020 wildfires – Atack
"The collaboration I'm ultimately most interested in, is with the listeners," says Atack. "The four-part invitation of Forest 404 gave us some amazing moments. One woman in Australia played the soundscapes while walking through forest destroyed in the 2020 wildfires, and posted it on social media. That was a profoundly emotional moment for me. She even rescued a koala and played the forest sounds to it out loud in her car, while driving it to a sanctuary..."
Forest 404's wonderfully evocative soundscapes feature music by Ninja Tune artist Bonobo, along with award-winning sound designer Graham Wild (whose extensive nature documentary work has included the Blue Planet series). The idea of restorative/expansive nature music also has some roots in late-80s/early-90s club culture, both in the rural settings of early raves (birdsong and breakbeats at dawn), and the "chill-out" rooms offering respite from feverish dancefloors. A new generation of electronic artists, such as Japanese producer Yosi Horikawa, incorporate nature field recordings into their experimental grooves.
Casting a spell
Nature sounds have also been at the heart of imaginative events, live and online. Folk ensemble Spell Songs recently streamed a fundraising concert for the Natural History Museum's Urban Nature Project, from beneath the museum's iconic blue whale skeleton, with music inspired by Robert MacFarlane and Jackie Morris's poetic odes to nature, The Lost Words and The Lost Spells. Other major institutions celebrating these sounds include the British Library, which has drawn from its nature audio archives to create arts programming such as Faint Signals (with Yorkshire-based interactive arts studio Invisible Flock) and a series of Digital Nature talks.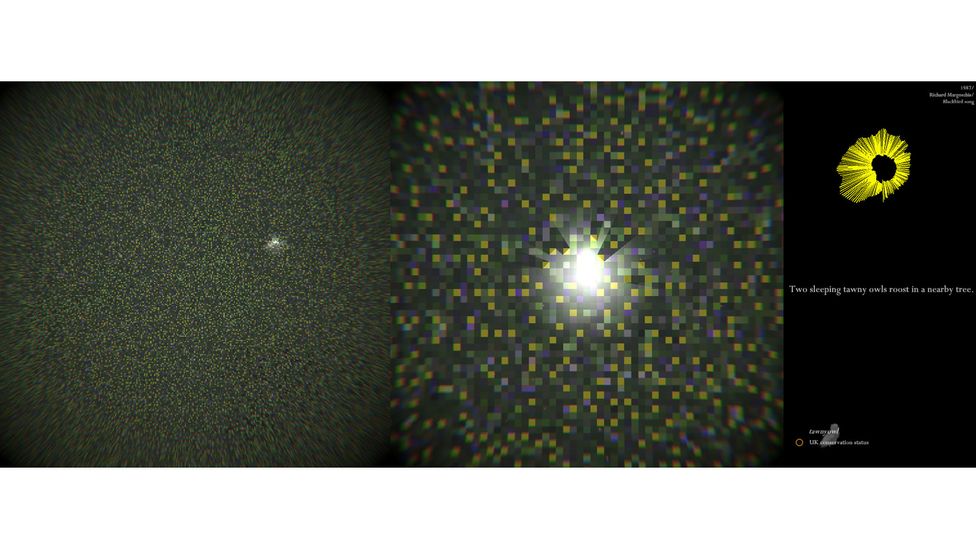 Faint Signals, by interactive arts studio Invisible Flock, allows visitors to scroll over pixels representing woodland and unlock sounds corresponding to the real-life landscape
"[The sound archive] is a real source of inspiration, for both artists and for audiences," says Kenn Taylor, the British Library's Cultural Producer North. "From the sounds of seed pods popping to different water courses, wildlife and weather. The sounds can take people into different spaces and places without leaving home, which I think has been really important at the moment. The more we can make the collection accessible, the better, and artists working with it to create new things that can connect with people in different ways is a great route to doing that."
Each spring, musician, singer-songwriter and environmentalist Sam Lee transports music and nature lovers into the woods for his Singing with Nightingales live dates (he is also touring in October with a new album). It continues Lee's lifelong passion for nature, including his Nest Collective's beautiful outdoors projects/online broadcasts, and his first book, The Nightingale.
Music is this amazing powerful tool to kind of re-enchant ourselves back into a connection with nature – Sam Lee
"What's happened right now is this lovely coalescing of all these journeys that I've made: ecology, plant foraging, medicine, indigenous cultures, with some incredible teachers, on a very intimate and romantic level," says Lee. "And also, how song and culture connects with nature, how they've become separated – and suddenly, there's this pull for them to come back towards each other. I've realised that this separation on a wider societal level has been deeply impactful; it's the root cause of why we're in a situation of ecological collapse and climate catastrophe.
"Music is this amazing powerful tool to kind of re-enchant ourselves back into a connection with nature. It's an old relationship, and a relationship in a contemporary context that might restore us as human beings, and help us become aware of what we've got to fight for."
A wake-up call
Lee has been up all night listening to birdsong in Dorset; he combines mellow enthusiasm with a pleasingly rock'n'roll attitude: "I'll sleep when I'm dead!" he says, cheerfully. His songs with nightingales are a gorgeous testimony to a bird that has proved to be an exceptional muse, across cultures and genres; at the same time, they're a necessary wake-up call to the depletion of wildlife (including nightingales) and natural environments.
"I'm always astounded at how many people have such little idea of what's going on in the environment," says Lee. "We've got a faster rate of nature depletion in the UK than anywhere else in Europe, and a higher rate of deforestation than in South East Asia and Brazil relative to what we have left, so we are getting rid of our natural capital and heritage with such wanton destruction. The idea that it's all fine outside, it's green and pretty, when actually these species are going extinct.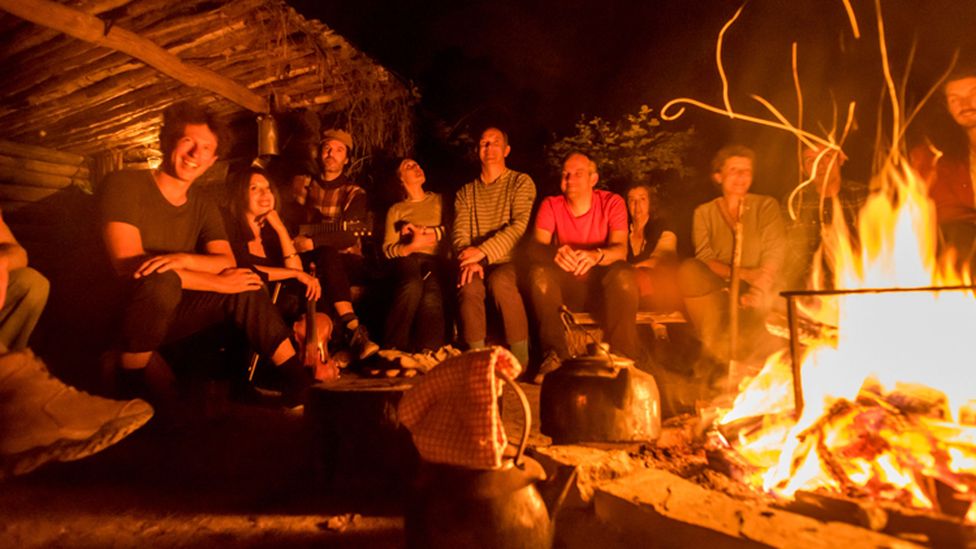 Lee runs his musical events in woodlands every year during April and May, when the nightingale visits the UK from Africa (Credit: Sam Lee)
"I feel like we're losing our identity, because by the time we've gone to look for it, it'll all have gone. The idea of what that would sound like, without nightingales or cuckoos in the air in the places where they should be, is a bit like all the radios in the land being silenced. It's not just being denied a really exquisite sound experience; it's the health of the land itself."
For Lee, the collaborative spirit of these woodland shows represent joy, as well as hope: "We're in this amazing shifting time, connecting with community and all the things that we need to do to bring about change are actually things that make our lives happier, and feel that sense of security and being collegiate. Environmentalism has been going on for decades and decades, but it's also the biggest social movement of our time."
He credits social media for giving these issues a broader platform, but also essentially celebrates nature as an irrepressible, unpredictable force: "I would say that working with human musicians is so much more uncertain and capricious," he laughs. "The first week we had with audiences, the nightingales were initially reserved; it was so cold and dry. You just have to let go and release yourself to that, which feels like a really healthy place to be, as an artist, that initiates such creative freedom. Actually, nature is so forgiving."
There is something humbling, and exhilarating, about human unity with nature sounds; we are no longer would-be conquerors, but innately connected to the life around us. Lee recalls witnessing a particularly memorable performance, between virtuoso cellist Abel Selaocoe and surrounding nightingales: "Abel started playing, and the birds went nuts, chirping and tweeting so hard and in key and the same rhythm. The audience had their jaws on the floor, it was too good to be true."
While I've been chatting to Lee, I can hear the nature sounds around him: a morning breeze; the sounds of birdlife including cawing crows. I've assumed he's still in the countryside, so am surprised that he's actually just outside his house in East London – but it makes sense when he points out: "There is treasure on your doorstep."
If you would like to comment on this story or anything else you have seen on BBC Culture, head over to our Facebook page or message us on Twitter.
And if you liked this story, sign up for the weekly bbc.com features newsletter, called The Essential List. A handpicked selection of stories from BBC Future, Culture, Worklife and Travel, delivered to your inbox every Friday.