Her art is provocative, violent, magical – and finally in the spotlight. Beverley D'Silva speaks to the taboo-busting artist about rebellion, rage, pain – and her extraordinary life and work.
A
A woman crouches on all fours, snarling like a dog. A bride reclines on a bed, with her white dress raised provocatively; her expression is more agony than ecstasy. Figures with toy rabbit-heads stumble, bloodied and injured, through a surreal battlefield. Welcome to the fabulous, imaginative world of Portuguese fine artist Paula Rego –  a heady and hypnotic place of symbolism and secrets, drama and comedy, fantasy and magic. In Rego's realm you might meet cartoon-like people, but there's no sweet fairytale ending, more a sting in the tale.
More like this:
-          How the 'New Woman' blazed a trail
-          Unsettling images twisted from Disney
-          A tragic tale of unheralded genius
Rego's radical art bristles with unsettling imagery, a sense of the "beautiful grotesque",  as she has put it. Charming, superbly accomplished, sometimes even decorative, or apparently so – her artworks may appear innocent on the surface, but look closer and you'll likely find some underlying horror, a vicious twist to the story, as fingers are snipped off or a tail is garrotted.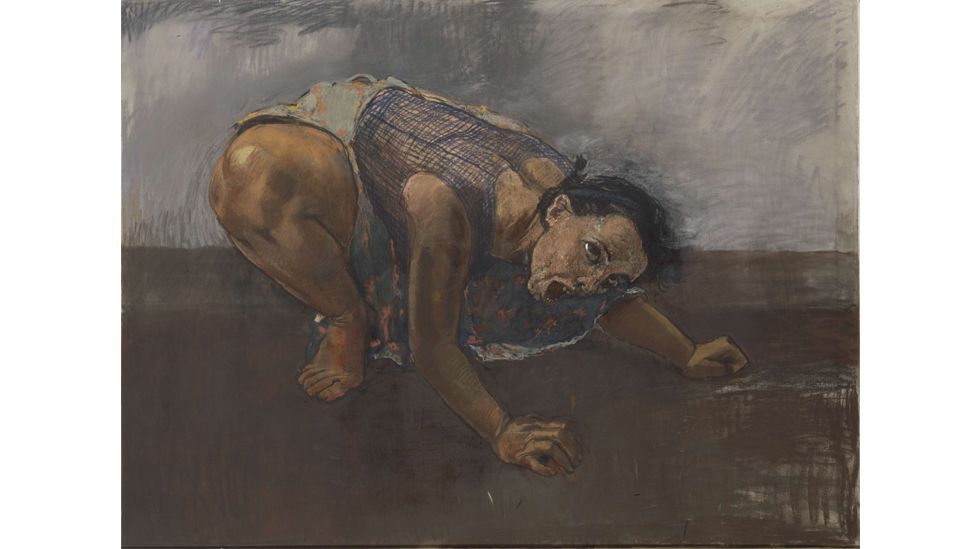 The unsettling 1984 series Dog Woman is among the works displayed at the Tate's major retrospective (Credit: Paula Rego/private collection)
"Paula Rego is a great artist, and an underrated artist," art historian and curator Catherine Lampert tells BBC Culture. She notes how topical and prescient her work has always been. "Whether she's tackling war, or 'honour' killing, nothing escapes her awareness of the challenges of life… She's shocking sometimes, and exciting – but that's one of the roles of art."
A spate of recent exhibitions, including Paula Rego, Obedience and Defiance, curated by Lampert, which toured Edinburgh, Milton Keynes and Dublin, have given space to this colossal talent.
Hard on their heels is Tate Britain's major Paula Rego retrospective, just opened. It is the biggest, most comprehensive display of her work ever – 100 artworks spanning her entire career, from the mid-1950s to recent years. Doing justice to her range, it includes collage, her celebrated pastels, acrylics, watercolours, etching, prints and some sculpture.
I wanted to be in the big boys' club, with the great painters I admired – Paula Rego
Dame Rego turned 86 in January, and is now quite frail, so it's her son Nick Willing – maker of the 2017 BBC documentary about her life Secrets and Stories – who assumes the role of relaying questions from BBC Culture to the artist, and recording her replies.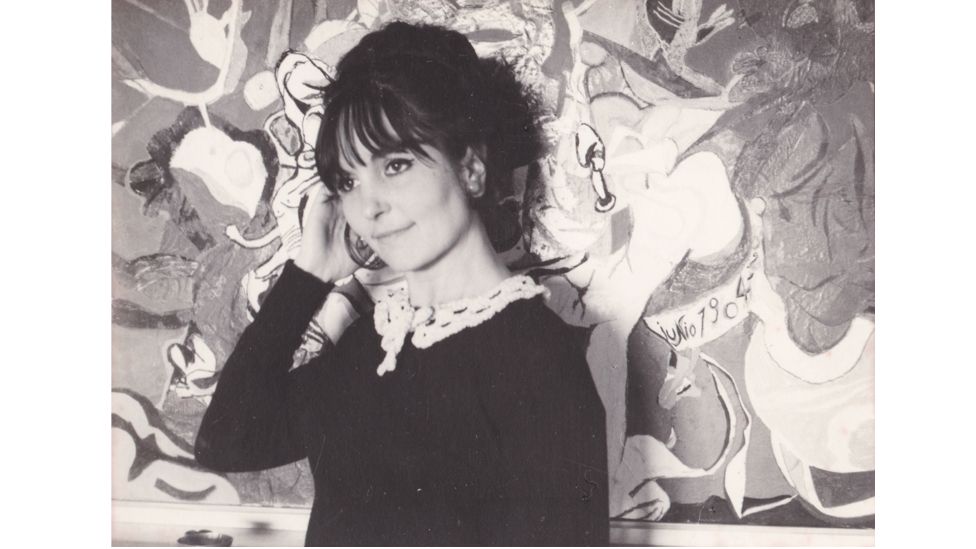 The artist Paula Rego pictured in 1965 with artwork Stray Dogs (Credit: Manuela Morais)
Rego once described the painter in her as her "masculine side". So how does she see her female side? "In the 1950s, the consensus was that women couldn't be artists – the pram in the hallway and all that," she replies. "Women were there to be partners and supporters for their artist husbands. I wasn't one of those. I wanted to be in the big boys' club, with the great painters I admired. Just as I'd wanted to be Robin Hood and not Maid Marion. In fact, I had a Robin Hood outfit," she jokes. About her "feminine" side, she adds: "I had children and I love them and all that. Luckily I had nice people to look after them."
Elena Crippa, who curated the Tate retrospective with Rego and others, recounts how the artist fell in with the "big boys" – including David Hockney and Frank Auerbach – when she exhibited with the London Group in the 1960s. "Paula lived for her work," Crippa tells BBC Culture. "She belongs to a category of artists who are fully and consistently producing work, incredibly rare for a female artist [of her generation]."
Crippa, who is curator of modern and contemporary British art at Tate Britain, believes Rego's influence has been wider and cuts deeper than is often acknowledged. "I see [her influence] in the work of most female painters – particularly in artists who engage with the body – and with women's position in the world," she says. "In fact, I would struggle to think of a significant painter, particularly in Britain, where I can't see a connection to Paula."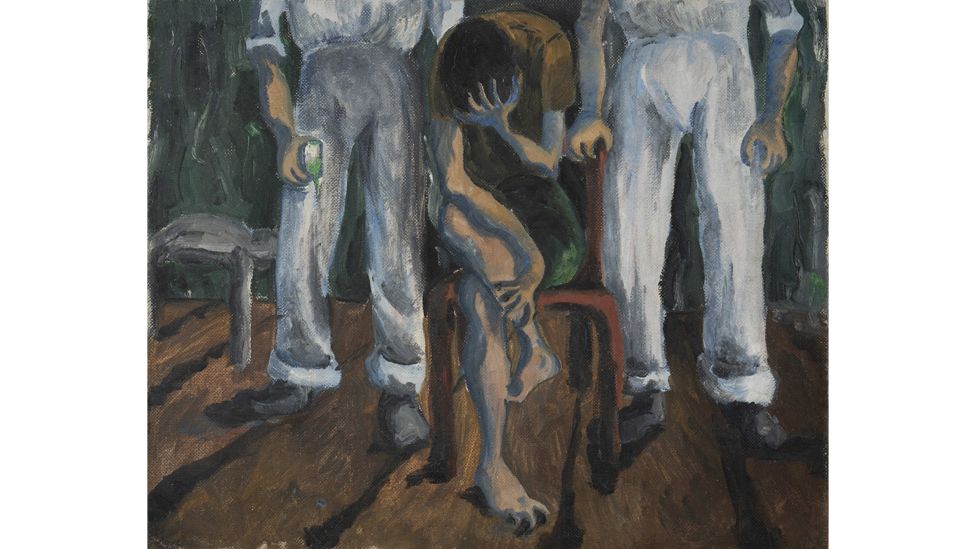 Rego's vision of torture, The Interrogation (1950), was painted when she was just 15 years old (Credit: Paula Rego)
Many clues to Rego's work can be seen in her biography. She was born in Lisbon, Portugal, in 1935, three years after the dictator António de Oliveira Salazar seized power. She was an adored only child, but her parents had to leave her so that her father could complete engineering training in England. Returning, his anti-regime stance impressed Paula; she developed early on a political consciousness and awareness of injustice and violence, particularly against women. Salazar's regime –  its systematic torture, secret police, and detentions without trial – is said to have created an anxiety and anger in her that she expressed through her art.
Every picture takes courage. All artists are brave – Paula Rego
At the age of 15, she painted The Interrogation (1950), her vision of torture. She painted Salazar Vomiting His Homeland in 1960, while still living in Portugal. Didn't she fear punishment by the authorities? "No, I didn't. I don't know why, but I didn't," she replies. She rejects the idea that she was especially brave: "Every picture takes courage. All artists are brave," she says.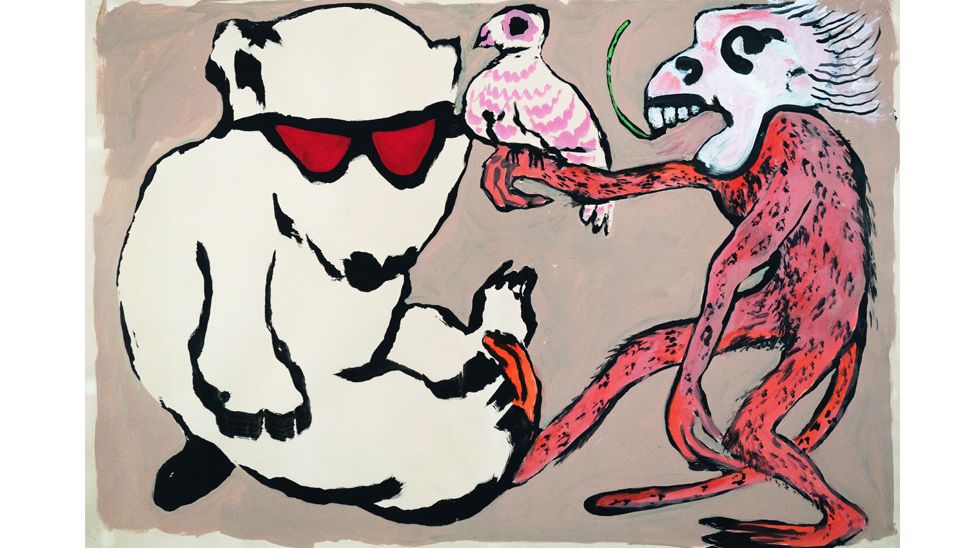 In her 1981 work Red Monkey Offers Bear a Poisoned Dove, Rego expresses the complexity of a love triangle (Credit: Paula Rego/private collection)
At 19, while studying at the Slade in London, she met Victor Willing, and began an affair with the "handsome and charismatic" artist. He was married, and when Rego became pregnant he was reluctant to leave his wife. Her father drove all the way to London and took her back to Lisbon, stopping in Paris to buy clothes – Rego's sense of style was inherited from her glamorous mother. Eventually, she and Willing married and had three children, living in Ericeira on Portugal's west coast, before settling permanently in London. Their relationship was stormy and complex, with infidelities on both sides. A love triangle between Rego, Victor and her lover is depicted in her 1981 painting Red Monkey Offers Bear a Poisoned Dove. 
Love and cruelty
Rego's feminist sensibilities had been ignited since her teens, when she read Simone de Beauvoir's The Second Sex, among other texts. Women, their pleasures and pain, triumphs and trials, have been always been her focus. "Rego has revolutionised the way in which women's lives and stories are given visual form," notes Alex Farquharson, director of Tate Britain, in the Foreward to the exhibition catalogue.
Paula takes you to uncomfortable places – Jung called it the Shadow. They are taboo areas, where love and cruelty touch each other – Elena Crippa
She has said: "I try and get justice for women… at least in the pictures… Revenge too…" When a referendum to legalise abortion in Portugal failed, she made a series of pastels, Untitled 1998. She did so to highlight the "fear and pain and danger of an illegal abortion, which is what desperate women have always resorted to. It's very wrong to criminalise women on top of everything else".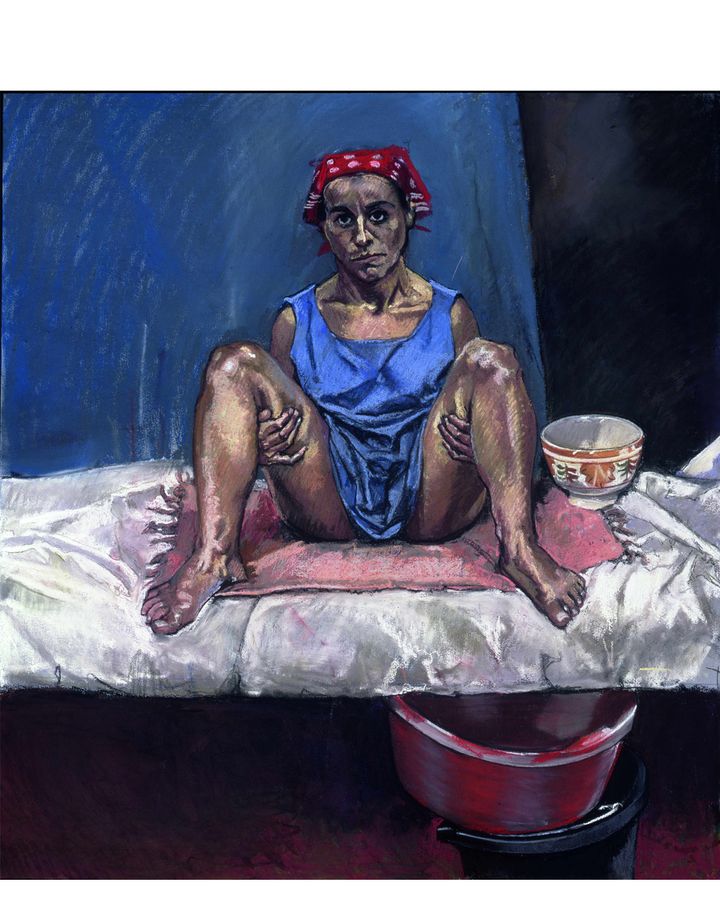 The 1998 series of untitled pastels depicting women in the aftermath of illegal abortions had a huge impact in Rego's homeland of Portugal (Credit: Paula Rego/private collection)
The abortion series, which depicts women in the aftermath of illegal abortions, was so powerful it's been credited with influencing the public to campaign for a second referendum, in 2007, after which abortion was finally legalised in Portugal. Crippa says prior to this time, "there were no images for these experiences of women". The same could be said of Rego's human trafficking pictures, the triptych Human Cargo, 2007–8, or her etchings made in 2009, on female genital mutilation.
Her imagery can be confrontational, dazzlingly so: "Paula takes you to uncomfortable places – Jung called it the Shadow. They are taboo areas, where love and cruelty touch each other, and our drives and fears live," says Crippa. These unclear boundaries are "exactly where she likes to put us… Yet they're drawn with infinite compassion. She takes us on that journey of empathy."
She's renowned for her use of stories and fables to inspire her work, including Peter Pan and Jane Eyre. You might recognise narratives by Jonathan Swift, Jean Genet, Angela Carter and the Brothers Grimm as much as the influence of Francisco Goya, Diego Velázquez or James Ensor (one of her favourite artists).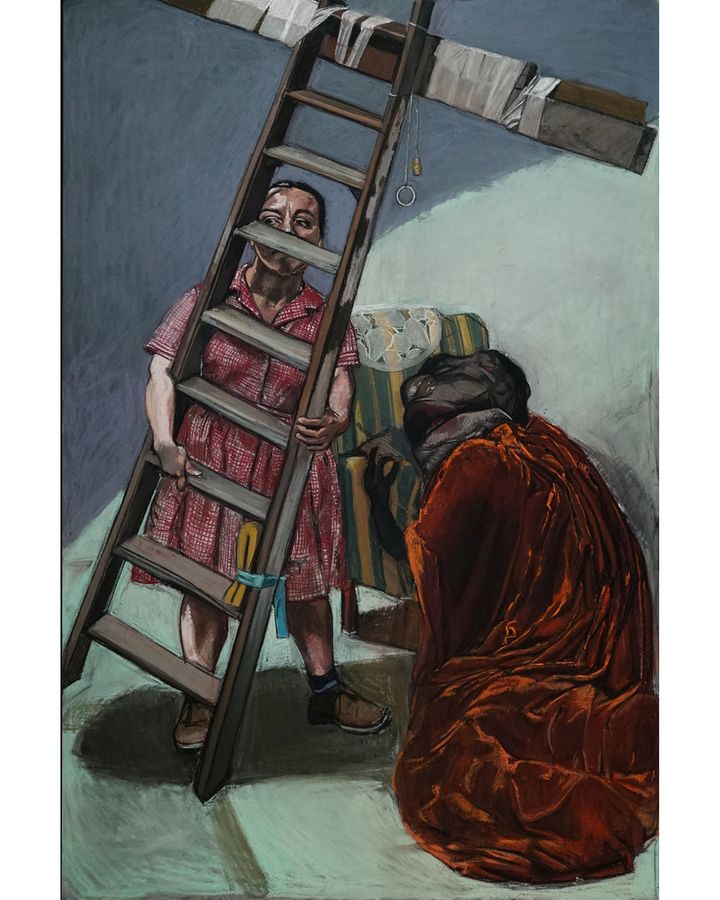 The Pillowman of 2004 is an interpretation of the play by Martin McDonagh (Credit: Collection Ostrich Arts Limited, courtesy of Victoria Miro, London/Venice/Paula Rego)
"I've always taken great pleasure from things that aren't supposed to be art," Rego tells BBC Culture. "There's a snobbishness that acts as a censor. I've always liked cartoons for instance, and Disney films and many illustrators."
"Paula's like a magpie, she takes everything in. There's no [distinction between] high culture and popular culture," says Crippa. "She's an extraordinary, brilliant visual thinker." The curator has been at pains to include work from every decade in the Tate show, including some that haven't been seen for decades, and to focus on the 1960s to the 1980s, the latter decade being "so ambitious and incredible in terms of scale and vision". Crippa namechecks The Raft, The Vivian Girls, The Dance and The Maids (1987), inspired by Jean Genet's 1947 play of the same name, about the true story of two sisters who murder family members they work for.
The mining of Rego's life story and interior landscape is never as moving as in The Family, in which a girls and a woman struggle to dress a suited man. It is provocative and sad too, painted in 1988, the year her husband Victor died of multiple sclerosis, a disease he –  and his family – had lived with for more than 20 years.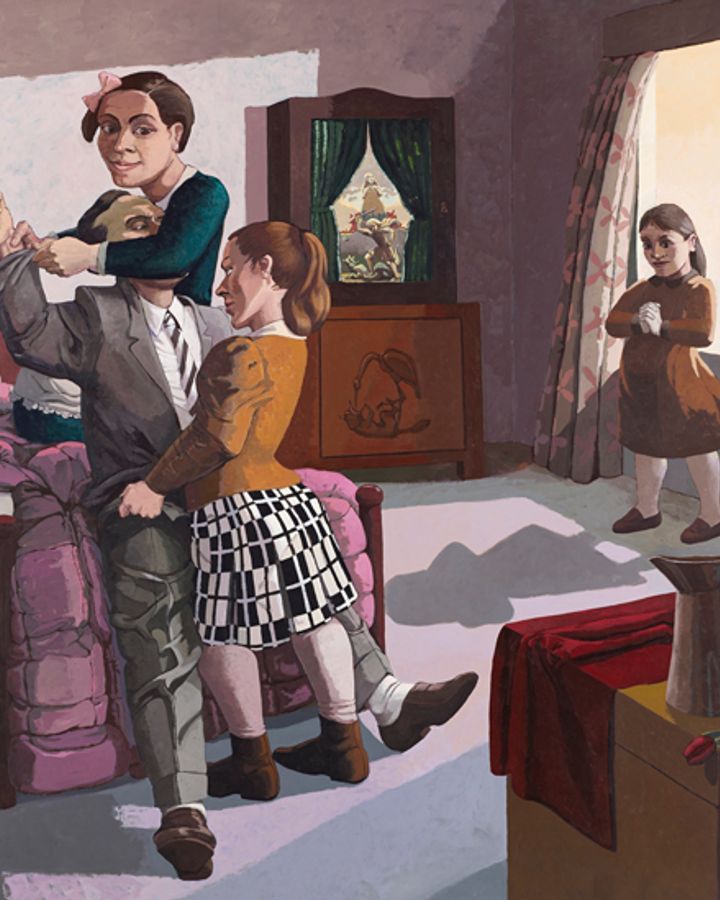 In The Family (1988), Rego mines her life story – her husband Victor struggled with multiple sclerosis for many years (Credit: Paula Rego/Courtesy Marlborough Fine Art)
Rego made the Dog Woman series, perhaps her best-known work, six years later. "I realised a lot of them had to do with Vic, like being in touch with him again," she says. Asked about her past, she says: "I don't think much about my life but I think of him a lot. I miss him." She adds: "Since his death, grief is always there".
Art history was always written by white men – Elena Crippa
She has not seriously contemplated another relationship since, she says: "I had offers, but I never wanted to marry again. What's the point? I have my work, friends and family. I love Vic." She has faced down struggles and hard times – in her early and middle career when selling her work wasn't so easy, and she experienced depression that was at times life-threatening. However, the pastels she made in 2007 of a woman stricken by bleak moods were cathartic and, with Jungian therapy, helped her through. She says that, thankfully, she hasn't had a bad depression since then.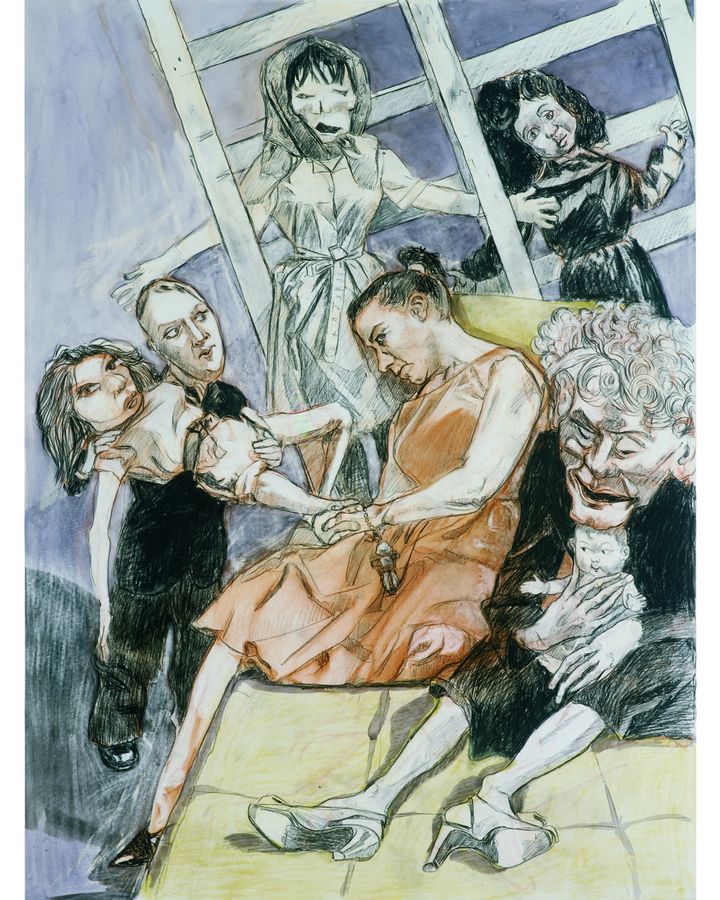 Detail of The Human Cargo triptych (2007-8), a powerful vision of people trafficking (Credit: Collection Ostrich Arts Limited, courtesy of Victoria Miro, London/Venice/Paula Rego)
These days, she gets her greatest pleasure from "films, cakes, poetry, and seeing the great grandchildren". And making art, naturally: "My working day isn't so different. I go to the studio with Lila [Nunes, her model and friend of more than 30 years]. We discuss what we'll do over a cup of tea. I work to opera in the morning, and Fado after lunch and a nap." At the end of the day she and Lila always have a glass of champagne, because "it makes me tipsy, in a happy way".
For now she has put away the folk tales that informed her work, and finds herself  "drawing the Virgin Mary over and over", a theme she explored at length for Life Cycle of the Virgin Mary, including Descent from the Cross, another work said to have been inspired by Vic's death. Which of her works is she proudest of?
"When a painting works, it brings enormous relief, as it can be a struggle to get there. I was very proud of Under Milk Wood when I did it," she says of her three strong women gossiping in a Portuguese kitchen, which won the Slade summer prize in 1954. She rates The Pillowman (2004) "because it captured what I identified with in Martin McDonagh's play". But her greatest legacy will, she feels, be the abortion series, because "they were important to do, and necessary". And she feels it's far from over: "I still have a lot to do". 
In the surreal collage Self-Portrait in Red (1966), Rego plays with distortion (Credit: Paula Rego/Museu Nacional de Arte Contemporanea do Chiado)
As Elena Crippa puts it: "Art history was always written by white men".  Francis Bacon was aged 53 when he had a Tate Britain retrospective in 1962 – a time when Rego was still toiling for respect, not to mention gallery space. Rego's son Nick Willing says that his mother has always been aware of how male artists have been feted over women artists.
What sweet justice then that Rego is having the last laugh, literally, with her phenomenal retrospective. Willing accompanied her to Tate Britain once the work was up. "Her reaction as we went from room to room was, well, delight and laughter," he tells BBC Culture. "She laughed so much, she was so happy to see her works all together there."
The show is set out chronologically and thematically, beginning with her earliest political paintings, such as The Interrogation, made when she was just 15, of a woman being tortured by faceless men; Under Milk Wood and The Exile (1963). Her surreal collages of Fragmented Reality, such as Self-Portrait in Red (1966), play with distortion, while the riotous cartoon capers of The Vivian Girls as Windmills (1984) see Rego begin to work on an immense scale.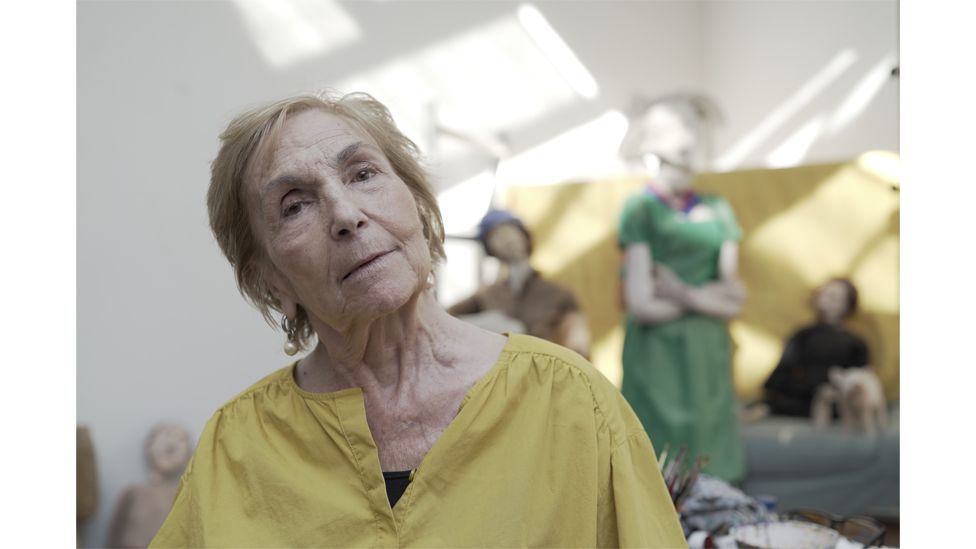 The artist Paula Rego pictured in her London studio in 2019 (Credit: Nick Willing)
Then taking the visitor into a darker, more pensive place are The Dance (1988) and The Family (1988), which she made in the year her beloved husband died; followed by the 1994 Dog Women series, the abortion pictures, and her takes on human trafficking and female genital mutilation.
It's all here – gutsy paintings full of rage, rebellion and pain – especially of women. And much more besides. Rego's vision of life can be red in tooth and claw to the point of being agonising to look at. The wonderful surprise here is to remember how lyrical, as well as mischievous, playful and so very human it can also be.
Paula Rego is at Tate Britain, London until 24 October 2021.
If you would like to comment on this story or anything else you have seen on BBC Culture, head over to our Facebook page or message us on Twitter.
And if you liked this story, sign up for the weekly bbc.com features newsletter, called The Essential List. A handpicked selection of stories from BBC Future, Culture, Worklife and Travel, delivered to your inbox every Friday.