Twenty years ago, cult coming-of-age movie Ghost World capped a run of films that channelled Gen X despair, and radically changed how teenagers were seen on screen, writes Beth Webb.
T
To look at America face on around the turn of the millennium was to see a nation brimming with prosperity and promise. By the close of the 1990s, household income had grown by 15% from the previous decade. The poverty rate had fallen from a high of 15.1% in 1993 to 11.3% in 2000 (the record low was 11.1% in 1973). The economy was up, and unemployment was way, way down.
Yet on the cinema screen, something radically off-message was happening. In US indie cinema, a new wave of young, frustrated and aimless youths was populating the screen, who refused to be salvaged or redeemed by the society operating in apparent prosperity around them. What emerged was a new breed of subversive teen "misfits" of a kind that hadn't been seen before, and hasn't been matched since.
More like this:
–      How Clueless transformed the movie makeover
–      The teen films hooked on classic literature
When it comes to films centred on adolescence, it was an era in cinema that brought with it the clammy social panic of Larry Clark's Kids (1995), the tragic romance of Gregg Araki's The Doom Generation (1995) and the apocalyptic angst in Donnie Darko (2001) ­– and finally culminated with Thora Birch's combustible rebel, Enid, in Ghost World (2001).
Adapted from Daniel Clowes' 1997 graphic novel, Terry Zwigoff's film spotlighted a young woman's disdain and rejection of mainstream culture. Her bond with best friend Rebecca, played by a 16-year-old Scarlett Johansson fresh out of her child acting phase, is fortified by their hate of everything from their high school peers to chart music. They seek solace in irony, old records and the promise that one day they'll escape. For Enid, the idea of conforming to societal standards, even temporarily, in order to get ahead, feels impossible.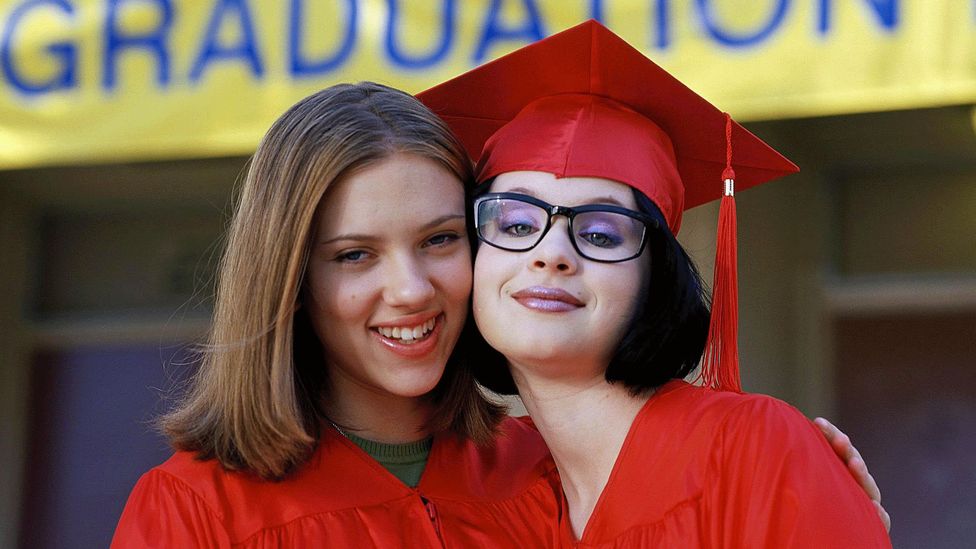 Ghost World centred on two high-school graduates, played by Thora Birch and Scarlett Johansson, and their disdain for mainstream culture (Credit: Alamy)
Twenty years to the week after its US release, it has endured as a generational totem – because of how Enid symbolised so many disenfranchised young people of the time, who had grown up in a country that didn't feel built with them in mind. No one realised this more than Birch herself, who was 18 when she starred in the film.
"I felt like my generation was being told outright to grow up, sell out, and join the corporate world, because playtime was over," Birch tells BBC Culture. "I felt a little lost, like, 'where should we go from here?' We were at the turn of the century, and it was either going to bring with it a wonderful opportunity or it was all going to blow up in our face."
Ghost World was a counterpoint to other scripts that I was reading, which were just those standard teen comedies where the girls wore midriff shirts and long blonde hair – Thora Birch
As a story of high-school girls, it was the antithesis of another iconic teen movie from a few years previously, 1995's Clueless, which better reflected the country's shiny capitalist ideals with its privileged, assertive protagonist Cher Horowitz. Interestingly, though, as the Ghost World script was passed around different studios, Clueless star Alicia Silverstone was among the actresses considered for the role of Enid in a bid to make it more accessible. It would take Zwigoff and Clowes, who co-wrote the script, nearly five years to get their authentic version of the film made.
"Unfortunately, most people who are successful in Hollywood or any other business are not oddballs at all," Zwigoff said in a 2001 interview with Salon. "They don't get the type of characters we have in the film: the misfits and the alienated."
For Birch, Ghost World offered an opportunity to show the real frustrations of her generation first-hand. Enid comes under scrutiny for not contributing to the world that she so readily despises. Her well-meaning father (Bob Balaban) tries to set her up with a computer sales job; she's fired from the concessions stand at a giant multiplex after a day. Even her relationship with Rebecca begins to fracture when Enid won't commit to their original plans of moving in together. Yet at each point she's portrayed with empathy and integrity.
"I really related to [Enid], she was saying a lot of things that I wanted to say," she says. "It was a counterpoint to some of the other scripts that I was reading, which were just those standard teen comedies where the girls wore midriff shirts and long blonde hair. That was very normalised at the time, and I just had no connection to it."
The history of the teen 'misfit'
Of course, the teen 'misfit' , 'outsider', or 'rebel' – the young person who rejects or is shut out from the society around them – has been a stock type in the expansive teen-movie canon for at least the past 70 years. The character really came of age in the post-war era of the 1950s, which brought with it vast social change and a fresh wave of moral panic around the rise of the affluent and liberated teenager, who strayed from the path that their parents had laid down for them, and was feared by older generations for doing so.
It was this moral panic that led to game-changing youth film The Wild One (1953) being banned in the UK for 14 years. The film starred Marlon Brando as a louche and misunderstood gang leader in California, and stoked concerns for its alleged promotion of gang violence and juvenile delinquency, which, it was thought, could influence a malleable teenage audience into committing crime themselves.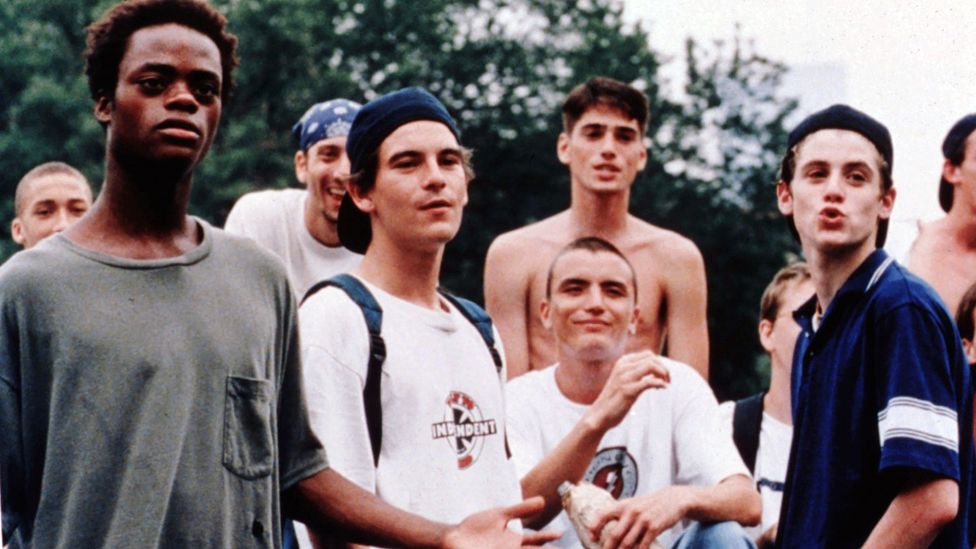 The bracing 1995 teen drama Kids follows a group of apathetic, cast out New York teens who indulge in unprotected sex, violence and skateboarding (Credit: Alamy)
In 1955 Hollywood classroom drama Blackboard Jungle was also banned, this time in Australia, for worry that it would corrupt children watching the on-screen high schoolers terrorise their army-veteran teacher. Meanwhile that same year, Rebel Without A Cause made an icon of James Dean's despairing delinquent anti-hero, who eschews the stable lifestyle of his peers in favour of petty crime and intoxication.
Yet in spite of their pioneering depiction of young outsiders, and their shock appeal at the time of release, these films, and their protagonists, are more conventional than they initially purport to be, invariably concluding that this against-the-grain generation was salvageable by the society that they had strayed from. The two main trouble-makers in Blackboard Jungle are finally ostracised by their own classmates. Under all the angst, it transpires, Dean's protagonist really craves an idealistic family unit, and the film ends with him introducing his girlfriend to his approving parents. Even Brando's gang leader shows a streak of romantic vulnerability in the right company while his bad name is  cleared by the local law.
You've been given examples by your parents that idealism is pointless. That's how you end up with this group of filmmakers who seem to embrace nihilism – Peter Hanson
Indeed, as time passed, on-screen misfits seemingly existed only to be "corrected" by the film's end. Ally Sheedy's compulsively lying goth Allison in The Breakfast Club (1985) abandons her outsider status by accepting a makeover from her wealthy, popular peer, complete with Alice band, and wins the attention of Emilio Estevez's more socially accepted athlete by way of a happy ending. In She's All That (1999), bespectacled activist and art student Laney also conforms to the glossy ideals of her mainstream classmates in order to feel more fulfilled. Her goal to attend art school remains unchanged, but her glasses and overalls remain firmly in the past. "I feel like Julia Roberts in Pretty Woman," she says in a chic floor-length ball gown, before kissing her jock classmate in the film's closing moments.
A backdrop of disaffection
However it was in the teen films that ran parallel to their more commercial counterparts in the late 90s and early Noughties, that a truly uncompromising new variation on the teen misfit was born: characters who, rather than being made to conform, tapped into the collective feeling of despair and disenchantment, of which Birch speaks, among a demographic of youth at the most disaffected tail end of Generation X. 
"[Generation X] was coming out of what for them was an exceedingly cynical period," explains Peter Hanson, author of The Cinema of Generation X: A Critical Study of Films and Directors, referring to a time when the US transitioned out of Ronald Regan's presidency, via George HW Bush's brief tenure, into a Democratic administration littered with indiscretions and "warmongering" (as Hanson puts it) at the hands of Bill Clinton. This generation's cynicism was compounded, as Hanson sees it, by the fact that the generation who preceded them, the baby boomers, had intended to replace the US establishment with "a utopian dream", only to then betray their mission.
I wanted to speak for people who are not spoken for by a larger society. My place was in the fringes as part of this subculture. I felt comfortable there – Gregg Araki
"The message that [boomers] communicated to their kids was that there's no point in trying to change the system," he says. "The only reasonable motivation is self-interest, and the dominating political force in American life is materialism. You've been given examples by your parents that idealism is pointless. That's how you end up with this group of filmmakers who seem to embrace nihilism as an overriding philosophy."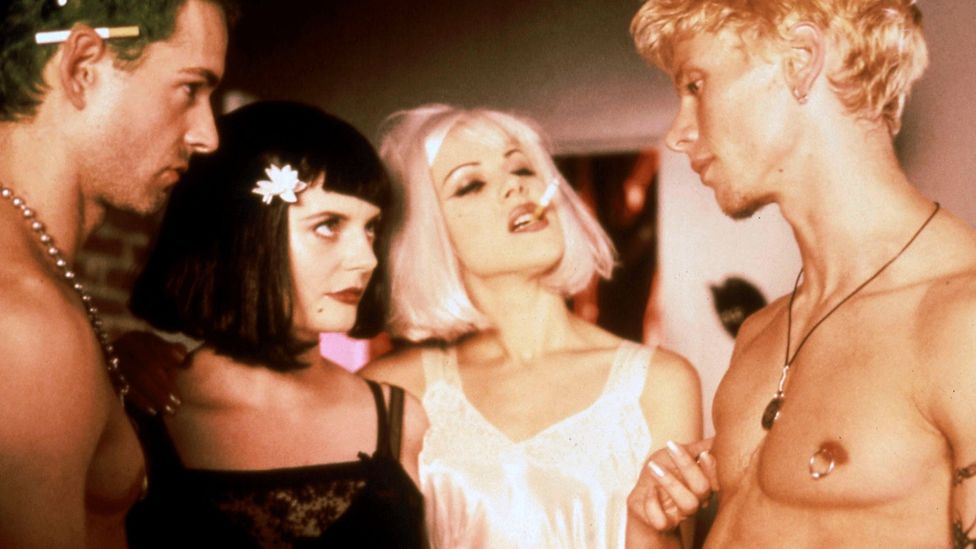 With his 1990s Teenage Apocalypse trilogy, Gregg Araki made his name with films that centred on aimless and agitated young people who formed their own subcultures (Credit: Alamy)
Hanson makes reference to director Todd Solondz here, whose film Welcome to the Dollhouse took the hostility and cynicism of young people at the time and used it to grind down a mere 11-year-old, an outcast middle-school student called Dawn Weiner (Heather Matarazzo). Dawn's misguided loyalty towards her peers and unfulfilled need for validation are shown through a subdued, satirical lens that only makes her experiences more painful to watch.
Nihilism also runs through the spine of the bracing Kids, which – while directed by a fiftysomething, the photographer-turned-filmmaker Clark – was written in the early 1990s by a defining Gen X-er, the then 19-year-old Harmony Korine. It follows a group of apathetic, cast-out New York teens who indulge in unprotected sex, violence and skateboarding, against the backdrop of the Aids crisis still ravaging the city. There is no redemptive arc built into the narrative, but Clark's naturalistic approach to shooting doesn't vilify the teens even at their most challenging.
Yet there is one filmmaker on Hanson's list who doesn't believe that nihilism is present in his work. With his Teenage Apocalypse trilogy, Araki made his name with films that centred aimless and agitated young people who formed their own subcultures. Araki's interest in teen misfits sprung from his wider motivations as a filmmaker, which lie in wanting "to speak for people who are not spoken for by a larger society", he tells BBC Culture. This is also something he links to his queerness: "my place was in the fringes as part of this subculture. I felt comfortable there," he says. But in fact these young characters were often idealists at heart, clumsily pursuing love and meaning within a world of crime (The Doom Generation) or beset by an alien apocalypse (1997's Nowhere). "I've always thought that my films have a romantic core," Araki says. "[The characters] are always looking for a soulmate or hoping for a better day. They're clinging to something as opposed to just saying that everything's fucked, and why even bother?"
The rise of the 'chosen family'
Through the work of the likes of Araki and Korine, and later films like Ghost World and Macaulay Culkin-fronted Party Monster (2003), teen outsiders not only took centre stage, but were shown in the plural, forming their own communities. Until then, teen misfits had tended to be portrayed within mainstream filmmaking as singular odd-ones-out. "We were people who were alienated from a bigger culture, so we formed a chosen family," says Araki of his own experiences of the time. The concept of a chosen or "found" family was on the rise among 1990s youth in tandem with Generation X's rejection of the nuclear family unit. Hanson sees the central relationship in Ghost World between Enid and Rebecca as drawing on this. "Here we see young persons who are gravitating towards their found families because the dissonance between their worldview and the worldview of the generation that precedes them is so great that they can barely communicate with 'conventional' people."
If you do stray from the norm, you're not going to feel alienated and isolated in the same way that you might have 20 years ago – Charlie Shackleton
Another notable cultural marker towards the tail-end of this era was Richard Kelly's 2001 debut Donnie Darko. The film is set in 1988, at the time when the US was on the edge of this "exceedingly cynical period" that Hanson had described. The upcoming presidential election between Bush and Michael Dukakis underscored Kelly's time-travel teen movie, which saw Jake Gyllenhaal's outcast meet a sinister rabbit called Frank (played, in fact, by Araki's muse James Duval). In a 2017 interview with Quartz, Kelly confirmed that the film's climax, the end of the world as forewarned by Frank, takes place on the night of the election, at a time where "a new sort of liberalism" was emerging in teenagers.
Arguably, this era of US teen indies really did change cinema, opening the door for a whole host of teen films that have empathetically focused on the kinds of awkward "misfit" protagonists who were previously marginalised by Hollywood – recent high-profile examples include Greta Gerwig's Oscar-nominated Lady Bird (2017), Bo Burnham's Eighth Grade (2018) and Olivia Wilde's directorial debut Booksmart (2019).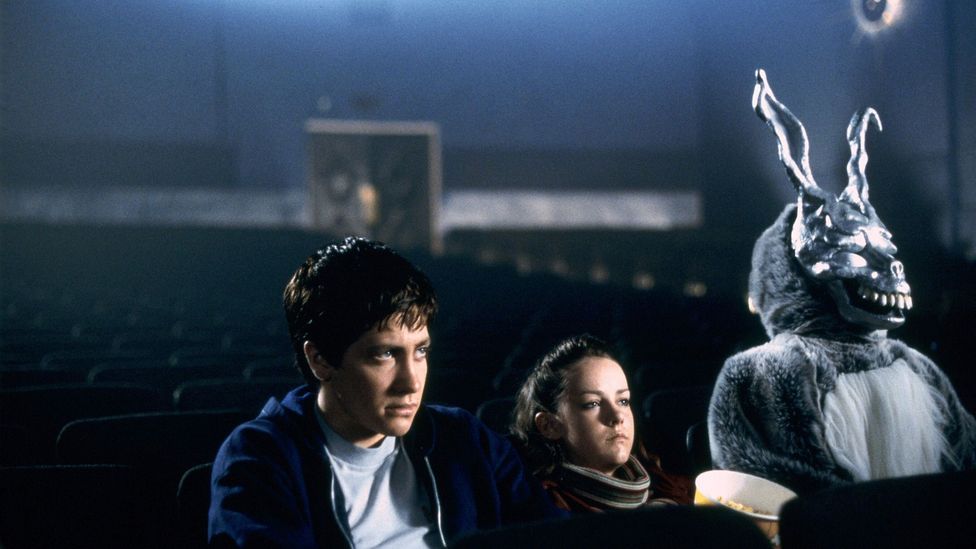 The apocalyptic Donnie Darko was set on a night in 1988, at a time when "a new sort of liberalism" was emerging in teenagers, according to its director (Credit: Alamy)
However Charlie Shackleton, director of teen-film documentary Beyond Clueless, believes that the proliferation of social media has diluted the whole notion of what constitutes a teen "outsider" nowadays, in any case. With sub-communities on TikTok et al catering for everyone from teenage witches to punk and goth-inspired "E-girls", if you do stray from the norm, "you're not going to feel alienated and isolated in the same way that you might have 20 years ago". In accordance with that, today's tales of teen misfits tend to have a softer, less alienated vibe than their 90s and early noughties equivalents.
Indeed, in spite of the steady stream of teen films since, Birch believes that Ghost World and its peers continue to speak to young generations in a particular way 20 years later. "There's always Enids out there," she says. "They know her predicament, her internal world, how she views things. It's universal for an unspecified group of people. If you go anywhere where there's a lot of people, you'll always find an Enid in the corner."
Love film and TV? Join BBC Culture Film and TV Club on Facebook, a community for cinephiles all over the world.
If you would like to comment on this story or anything else you have seen on BBC Culture, head over to our Facebook page or message us on Twitter.
And if you liked this story, sign up for the weekly bbc.com features newsletter, called The Essential List. A handpicked selection of stories from BBC Future, Culture, Worklife and Travel, delivered to your inbox every Friday.