Forty years ago, Stevie Nicks struck out from Fleetwood Mac, launched a solo career – and created a truly iconic song in the process. Nick Levine explores its power and influence.
F
For even the greatest rock and pop stars, striking out from the band that made their name can be a major challenge – just witness Mick Jagger's solo career. But one musical legend who had no trouble asserting her independence is Stevie Nicks. When she went solo in earnest 40 years ago, the woman who had been integral to Fleetwood Mac's transformation into the world's biggest band carved out an identity as a star in her own right. She didn't just make a chart-topping album, Bella Donna, but came up with a stunning anthem that only seems to grow more popular with age.
More like this:
–      The world's most misunderstood love song?
–      The coded messages in hit songs
–      A dance anthem that defines the 21st Century
Edge of Seventeen wasn't the first or highest-charting single from Nicks' debut record Bella Donna. It was preceded by Stop Draggin' My Heart Around, a melodramatic collaboration with Tom Petty and the Heartbreakers, and Leather and Lace, a more delicate duet with the Eagles' Don Henley, both of which cracked the US top ten. But more than any other Stevie Nicks solo moment, Edge of Seventeen has entranced subsequent generations and helped to define the singer's standing as a rock icon: not just as member of Fleetwood Mac, but as an artist in her own right. It's a song that operates on several levels – at once an instant hit of rock drama and a heady meditation on death – and seems to yield something new every time you play it. Its distinctive 16th-note guitar riff – played by Waddy Wachtel, a legendary session musician who also worked with Cher and The Rolling Stones – remains electrifying every time you hear it.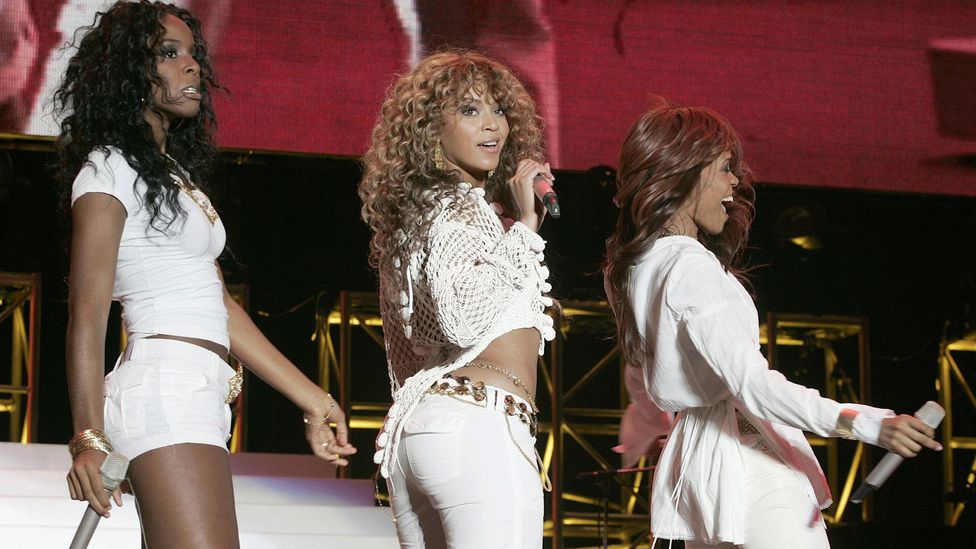 Destiny's Child used Edge of Seventeen's famous riff on their 2001 hit Bootylicious – and featured Nicks in the video (Credit: Getty Images)
"This song is 40 years old and yet generation after generation refer back to it," says music journalist Leonie Cooper. "It never sounds dated, always fresh and exciting. Is it disco? Is it rock? Does it even matter?" Edge of Seventeen's genre-spanning appeal was underlined in 2001 when R&B girl-group Destiny's Child repurposed its riff for their single Bootylicious, which became a US number one hit. Nicks endorsed the sample by making an elegant appearance in the music video. As band members Beyoncé Knowles, Kelly Rowland and Michelle Williams come into view at the start, Nicks can also be seen strumming a guitar.
Nearly two decades later, Miley Cyrus trailed her 2020 album Plastic Hearts with Midnight Sky, a shimmering pop-rock stomper that subtly interpolated Edge of Seventeen. "I actually had this song blessed by Stevie Nicks, because there is a kind of a nod to Edge of Seventeen in this song," Cyrus said on the Zach Sang Show shortly after Midnight Sky's release. Nicks later gave Cyrus another blessing by singing on Edge of Midnight, a mashup of Midnight Sky and Edge of Seventeen that made Cyrus' nod to the Nicks song more obvious.
We use it for a sacred Stevie ritual called the Battle of 1,000 Stevies [that's essentially] an enormous group lip-sync/Stevie pose-off – Chi Chi Valenti
Edge of Seventeen has also been covered by artists as varied as actress-turned-singer Lindsay Lohan, who recorded it for her 2005 album A Little More Personal (Raw), and cult dark-pop band Muna, who performed it while supporting Harry Styles on tour in 2017. Styles, incidentally, is another contemporary artist who hails Nicks as a major influence. When he inducted her into the Rock and Roll Hall of Fame in 2019, he said appreciatively: "Her songs made you ache, feel on top of the world, make you want to dance, and usually all three at the same time. She's responsible for more running mascara, including my own, than all the bad dates in history combined."
Edge of Seventeen is also deeply revered within Nicks' devoted fanbase. Night of 1,000 Stevies, an annual drag event in New York celebrating the singer's impact, has chosen the song for its finale every year since it launched 30 years ago. "We use it for a sacred Stevie ritual called the Battle of 1,000 Stevies [that's essentially] an enormous group lip-sync/Stevie pose-off," says the event's founder and co-producer Chi Chi Valenti. According to Valenti, the song deserves to take pride of place at every Night of 1,000 Stevies because "it contains so much of the Stevie Nicks lexicon – from the 'white-winged dove' to the 'nightbird' – over that driving, twirl-launching beat".
Speaking her own language
To say that Nicks has established her own songwriting lexicon is no exaggeration. Whether performing solo or with Fleetwood Mac, her music is sprinkled with witchy imagery from "rooms on fire" to "sisters of the moon" and "silver springs" that only she could come up with. When she and then-boyfriend Lindsey Buckingham joined Fleetwood Mac in 1975, two years after releasing a flop album called Buckingham Nicks that has since become a cult favourite, their songs instantly helped to revive the blues band's commercial fortunes. During the group's late-1970s imperial phase, Buckingham wrote Fleetwood Mac staples including the driving rock classic Go Your Own Way and cleverly experimental Tusk, while Nicks demonstrated her flair for indelible imagery on poetic gems such as Rhiannon, Landslide and Sara. She also wrote the band's biggest hit of all, the 1977 chart-topper Dreams, on which she helped to cement the band's status as a kind of rock soap opera by elegantly documenting her breakup with Buckingham. "When the rain washes you clean, you'll know," Nicks sings hauntingly on the chorus.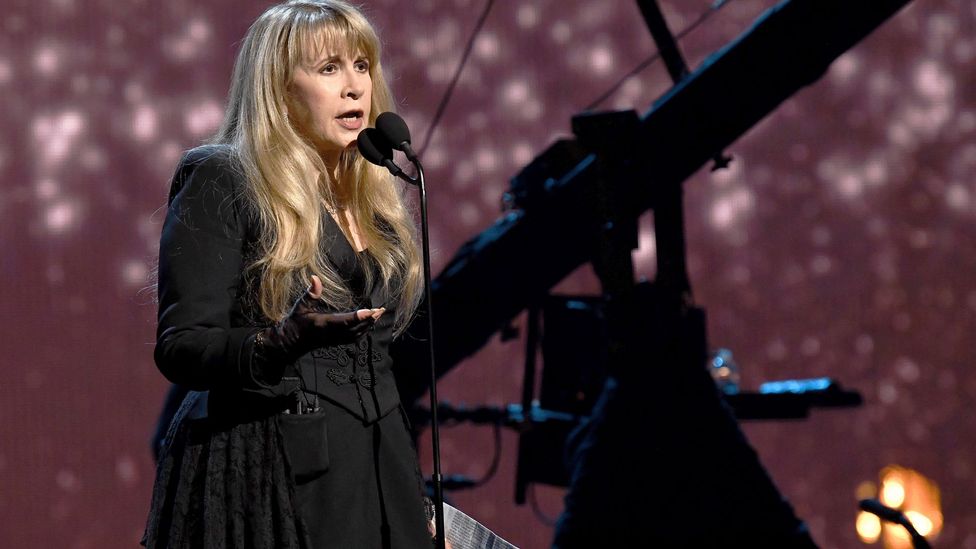 In 2019, Nicks became the first woman to be inducted twice into the Rock and Roll Hall of Fame (Credit: Getty Images)
When she came to launch her solo career with 1981's Bella Donna album, a huge hit that spent nearly three years on the Billboard 200 chart, Edge of Seventeen in particular proved Nicks could be just as bewitching without her bandmates. She wrote this perpetually fascinating song while processing two tragic deaths: the assassination of John Lennon in December 1980, and the passing of her uncle shortly afterwards, mere weeks after he had been diagnosed with cancer. Nicks has said the repeated refrain "just like the white winged dove/sings a song, sounds like she's singing" refers to a person's spirit leaving their body when they die – an indelible metaphor of her own invention. Recalling how the song began to take shape right after the Beatle's assassination, Nicks told Entertainment Weekly in 2019: "That was a very scary and sad moment for all of us in the rock 'n' roll business – it scared us all to death that some idiot could be so deranged that he would wait outside your apartment building, never having known you, and shoot you dead." Explaining that Lennon's death felt "unacceptable" to the rock community, Nicks added: "So the white dove was John Lennon, and peace."
Nicks has said other lyrics were directly inspired by watching her uncle slowly slip away. "The line 'and the days go by like a strand in the wind', that's how fast those days were going by during my uncle's illness," she told Rolling Stone in 1981. When she sings "well, the music there, well, it was hauntingly familiar," it's another desperately poignant recollection. "He was home and my aunt had some music softly playing," Nicks told Rolling Stone in the same interview, "and it was a perfect place for the spirit to go away."
Edge of Seventeen is a perfect combination of tough rock 'n' roll grit, raw emotion and full-beam, strut-about-in-platform-boots rock queen glamour – Zoe Howe
Though Nicks wrote the song in the throes of grief, she infused it with a gritty spirit and inspiring defiance that makes it even more compelling. Zoë Howe, author of the book Stevie Nicks – Visions, Dreams and Rumours, calls the song "a kind of transmutation of the darkness and sadness" of loss. For Howe, Edge of Seventeen is about "transforming and elevating the feelings of grief and soaring above them with strength". Darren Hayes, former frontman of Australian group Savage Garden, has vivid memories of watching Nicks perform the song live in Brisbane in 1986, when Wachtel's extended version of his riff amplified the on-stage drama. "The burgeoning young gay man within me was obsessed with the rituals, mysticism and sorcery surrounding Stevie," he recalls. "I was immersed in the guitar amps, the percussion and the anticipation of her return from a costume change. Suddenly those backing vocals [came in] and [I sensed] Stevie's silhouette, a tambourine and that voice. Stevie had returned to the stage and the song exploded." 
A crucial misunderstanding
As Hayes sensed at that gig, Edge of Seventeen has an ineffable mystical quality baked into its music and lyrics, but its evocative title actually came from a simple misunderstanding. When Tom Petty's wife Jane told Nicks that she and her husband met "at the age of 17", Nicks misheard her Southern accent and thought she'd said "at the edge of 17". In that instant, she realised that she had a brilliant song title: one that has since been borrowed for two different coming-of-age films.
For Hayes, the song's "on the edge of 17" refrain adds another dimension to its lyrics. He says that many years after he saw Nicks perform it live, he "realised she was a gay icon and the song was, in and of itself, about that very precipice and transition from innocence into adulthood upon which I stood as I listened to it as a confused and wondrous teenager". Like many of the most popular songs, Edge of Seventeen means different things to different people. For some, its slow-building drama makes it a karaoke staple; for others, its otherworldly quality provides an almost transcendent listening experience.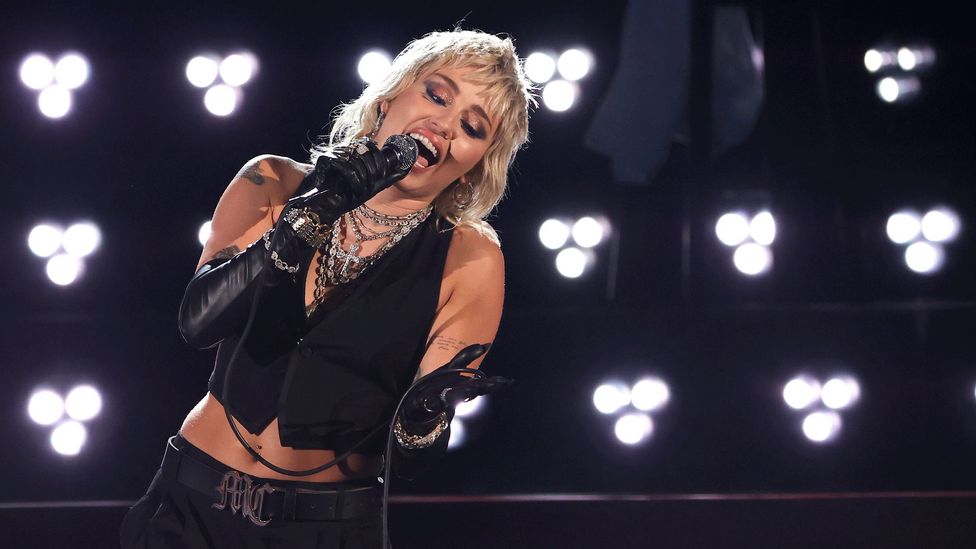 Miley Cyrus is among the artists who have been influenced by Nicks, subtly interpolating Edge of Seventeen on her single Midnight Sky (Credit: Getty Images)
According to Howe, the song also encapsulates Nicks' place in the musical pantheon. "It's a perfect combination of tough rock 'n' roll grit, raw emotion and full-beam, strut-about-in-platform-boots rock queen glamour," she says. Indeed, Nicks' ability to filter the traditionally male rock star myth through a female prism was a key tenet of her appeal back then, and continues to be so now. She succeeded in the male-dominated world of 1970s and 1980s rock not by sublimating her femininity, but by using it as both weapon and shield. Recalling an early conversation with Christine McVie, her sole female bandmate in Fleetwood Mac, Nicks told NPR in 2013: "I said to Chris, you know, we can never be treated like second class citizens here. So when we walk into the room, we have to walk in with a big attitude. Which does not mean a snotty conceited attitude. But it means like we have to float in like Goddesses, because that is how we want to be treated. And we will never not be invited to the party because we are women."
At this point in Nicks' career, with eight solo albums under her belt plus seven with Fleetwood Mac, Goddess isn't too strong a word. In 2019, she became the first woman to be inducted twice into the Rock and Roll Hall of Fame: first as a member of Fleetwood Mac, then as a solo artist. She's also been hailed as an influence not only by Cyrus and Styles, but also by artists including Lorde, Courtney Love and Florence and the Machine's Florence Welch. When Taylor Swift performed with Nicks at the Grammy Awards in 2010, she told the audience it was "a fairy tale and an honour" to share the stage with her.
Stevie Nicks is and always has been a true and uncompromising artist who puts creativity, music and writing first – Leonie Cooper
For Leonie Cooper, Nicks remains pre-eminent because she demonstrates "a commitment to a visual as well as a sonic aesthetic". Cooper says her signature scarves and floaty fabrics, unapologetically dramatic performing style, and "flirtation with the spookier side of things" helps to "build a vision that's truly hers". This in turn "lets the songs live in this world of her own making". Howe adds that Nicks "is and always has been a true and uncompromising artist" who invariably "puts creativity, music and writing first".

In a characteristically single-minded way, Nicks has underscored her commitment to long-lasting rock stardom by cancelling all of her 2021 tour dates due to ongoing fears over Covid-19. "Because singing and performing have been my whole life, my primary goal is to keep healthy so I can continue singing for the next decade or longer," she said in a statement in early August. Whenever Nicks does return to the stage, there's no doubt she will be ecstatically received by long-time fans from the Bella Donna days, and by others who have embraced her musical world more recently. There's also no doubt that Edge of Seventeen will form a cornerstone of her live set: according to setlist.fm, it's the song Nicks has performed most frequently at solo shows over the years. Whenever Nicks sings "Just like the white winged dove / Sings a song / Sounds like she's singin'," it casts a spell that few musicians can ever hope to match.

If you would like to comment on this story or anything else you have seen on BBC Culture, head over to our Facebook page or message us on Twitter.

And if you liked this story, sign up for the weekly bbc.com features newsletter, called The Essential List. A handpicked selection of stories from BBC Future, Culture, Worklife and Travel, delivered to your inbox every Friday.

;