As a new exhibition shows, doodles can be a powerful form of creative expression, writes Clare Thorp.
F
For Queen Victoria, it was donkeys. For Winston Churchill, it was airplanes. For Leonardo da Vinci, it was everything from crude drawings to the first workings of his groundbreaking laws of frictions. Throughout history, humans – whether royalty or a bored office worker – have doodled.
Usually relegated to the margins of notebooks or the back of envelopes, the doodle is often considered something messy, throwaway and unconsidered. If life is what happens when you're making other plans, then doodles are the result of your mind being somewhere else – a phone call, a meeting, a daydream. Yet in those scrawls – be it shapes, animals, lines, names – can be something powerful, with what they reveal and how they allow us to express our creativity. Hence why a new art project is taking doodles out of the margins and placing them centre-stage.
More like this:
- The mystery of the 'lost Leonardo'
- Why Disneyland is an art masterpiece
- Will there be a new 'Roaring 20s'?
Frequencies, by Turner Prize-winning artist Oscar Murillo, collects together 40,000 canvases that have been marked, scribbled and drawn on by more than 100,000 children from around the world. Since 2013 Murillo has sent blank canvases to over 300 schools in more than 30 countries. The aim is to capture "the conscious and unconscious energy of young minds at their most absorbent, optimistic and conflicted" and the results are currently on show for the first time in their entirety in Murillo's former school in Hackney, east London. "The blank canvas is like a recording device," he tells BBC Culture. "You leave it there for six months at a minimum and then you simply allow for an individual to interact with that, however they wish. ​​They are my collaborators, these almost 100,000 children."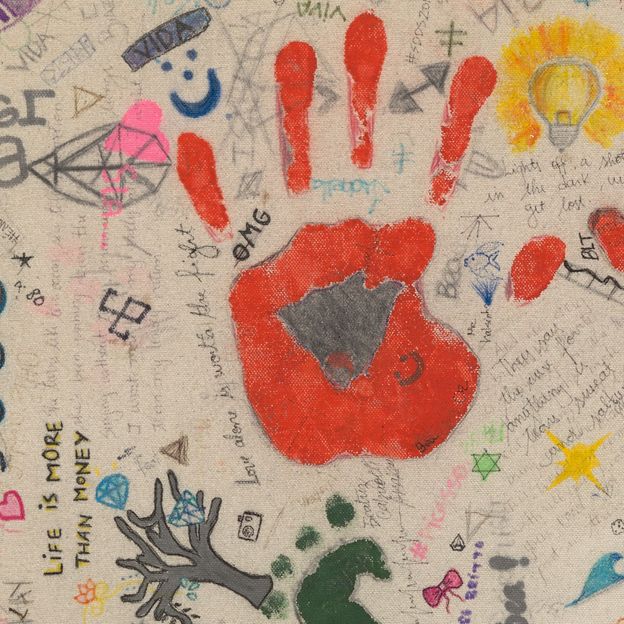 A detail from a canvas in Frequencies doodled on by students in Toyohashi, Japan, 2016 (Credit: Oscar Murillo and Frequencies Foundation/ Photo: Tim Bowditch & Reinis Lismanis)
In the dictionary, a doodle is defined as an "aimless or casual scribble, design or sketch" or a "minor work". Yet these "casual scribbles" are something humans have been doing for thousands of years – at least 73,000, in fact, with the first human drawing believed to be a Stone Age crayon doodle in a South African cave. Dutch scholar Erik Kwakkel has studied some of the oldest doodles on paper, finding comical faces, caricatures and geometrical shapes in the margins of Medieval manuscripts. "Doodled squiggly lines and mini drawings are encountered frequently in Medieval books, mostly in the margins or on flyleaves," he writes, highlighting one sketch found in the lower margin of a manuscript of Juvenal's Satires that resembles our stick figures today.
"Anything that humans have been doing from antiquity onwards, there's something powerful going on," says Sunni Brown, author of The Doodle Revolution. "This behaviour is universal, it's across cultures and across economic groups. It's like breathing or singing or dancing and is natural to human beings."
Everyone has a signature doodle – the drawing that leaks out of us when we're not noticing
Doodling has been shown to reduce stress, improve short term memory and feel rewarding. "Doodling has this liberating quality for many people," says Brown. "It's a spontaneous act of just letting yourself be who you are." But perhaps one of its biggest functions is as a way to unlock unconscious creativity. "You're not prescribing the outcome and you're not striving for a goal, you're just allowing and inviting the mind to shift into a different modality and that is a very sweet spot for getting unconscious information to become available."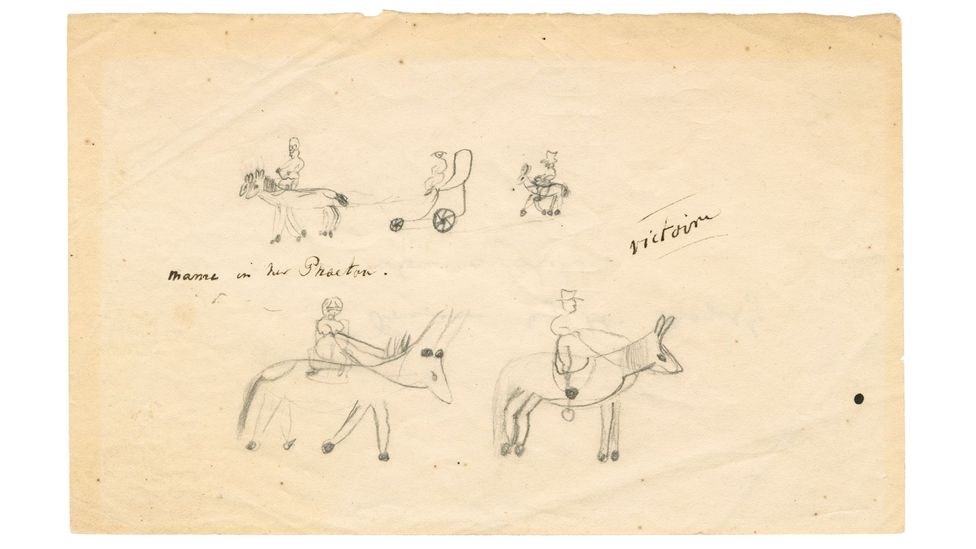 Queen Victoria's drawings of donkeys, as seen in the 2019 book Scrawl: An A to Z of Famous Doodles (Credit: Rizzoli)
She says everyone has a signature doodle – the drawing that leaks out of us when we're not noticing. But doodling isn't always accidental. Some artists use it as a way of forming ideas, like architect Frank Gehry, whose scratchy mark-making forms the beginnings of ideas for his buildings.
Doodling can allow thoughts and daydreams to slip through from our subconscious into our hand through the pen, which can surprise us and reveal stuff about us to ourselves – Jon Burgerman
British-born, New York-based artist Jon Burgerman has built a successful career from doodling, with his work appearing everywhere from phone cases to walls to inside the White House. "I'm unashamedly a doodler," he says, arguing that doodling can be an antidote to the pervasive idea of perfectionism. "We get to an age when we're studying art and creating art where we feel the thing we're drawing has to resemble something, that there's a right and wrong to the output that we're creating," he says. "And doodling really celebrates the process. It doesn't matter so much what the end result is. A lot of doodles are messy and loose and shambolic and that's okay, because the process of creating it is perhaps more important than the outcome."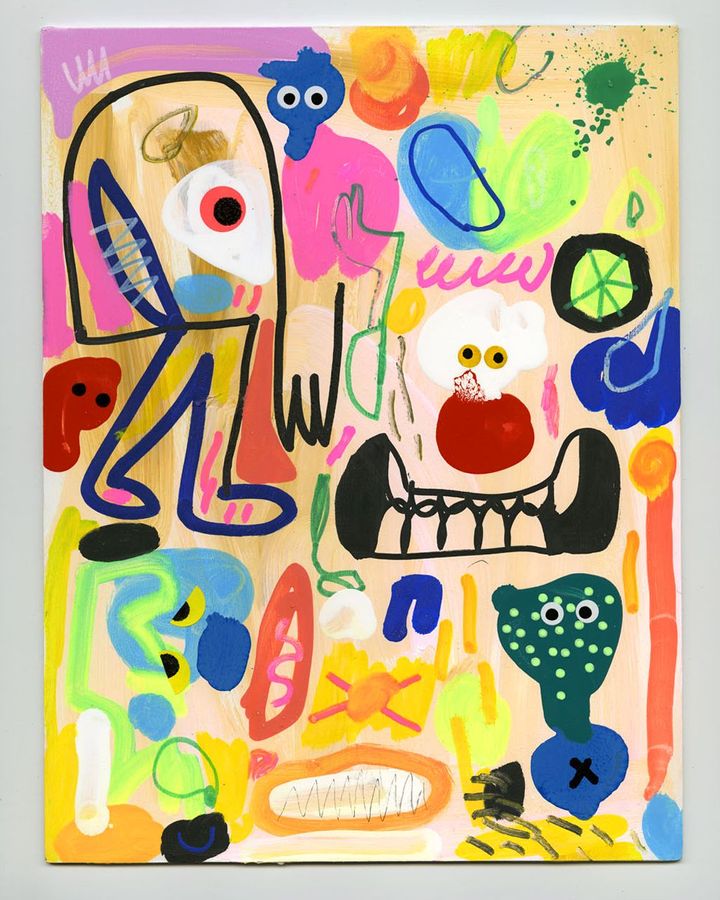 British artist Jon Burgerman celebrates doodling in his work (Credit: Jon Burgerman)
He also sees doodling as a way of bypassing our brain's tendency to self-edit, releasing thoughts we might otherwise be too self-conscious to reveal. "Doodling can allow thoughts and daydreams to slip through from our subconscious, down our arm, into our hand through the pen onto the paper, which can surprise us and delight us and reveal stuff about us to ourselves. There are lots of hidden mysteries and secrets within doodles."
Private thoughts on the page
These hidden mysteries were one reason the late autograph and artefact dealer David Schulson collected the doodles of famous figures, amassing an impressive private collection over several decades. "He thought that they were too unique and too special to sell," says his son Todd Strauss-Schulson. "For him they were profound, like a window into a person's soul."
His collection – which includes scribbles by presidents, artists, inventors, writers and royalty – remained private for years before his wife and two children published a selection of their favourites in a book, Scrawl: An A-Z of Famous Doodles, in 2019. "It was nice to elevate doodles," says Strauss-Schulson.
In entertainer Josephine Baker's doodle, even a stick figure has a flourish (Credit: Rizzoli)
Never intended for an audience, these private scribbles allow a rare glimpse at the passions, preoccupations and distractions of the people behind them. Pictures in the book include a sketch of a Spitfire by Winston Churchill, drawings of donkeys by a young Queen Victoria, erotic doodles by Federico Fellini and Tennessee Williams, scribbled self-portraits by John Le Carre and Charlie Chaplin and intimate etchings of body parts by Marlon Brando.
You have these kids in this very feverish desire to download information, no matter how trivial – Oscar Murillo
Some drawings reveal the early creative spark or inspiration behind later projects, like a letter sent by Edward Hopper from Cape Cod with a lighthouse scrawled on the bottom, the first rough sketch of the Red Cross logo by its founder Clara Barton and an early iteration of Pippi Longstocking by Astrid Lindgren. Others show a lighter, sillier side to well-known figures. "You see these people that you think are so serious, like Winston Churchill, and then you look at the doodles, the unconscious scribblings, and they're quite childlike and playful," says Strauss-Schulson. "There's something a little bit more human and tender about it." While the book showcases the scribbles of well-known figures, he says it's meant to show that there is no artistic hierarchy. "It presupposes that everyone has this impulse to create. You see the most important names of the 20th-Century drawing just like you would."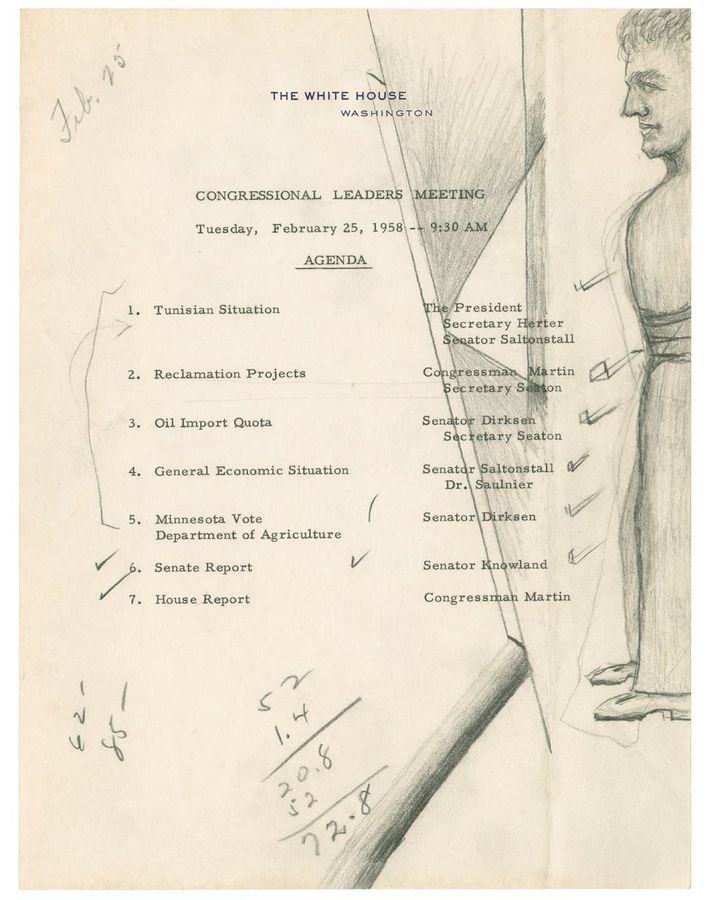 US president Dwight Eisenhower doodled on meeting notes from 1958 (Credit: Rizzoli)
This "purity of drawing" was something Oscar Murillo wanted to capture in Frequencies. He first began the project back in 2013, in collaboration with sociologist Clara Dublanc. Since then, children aged 10-16 in countries including the UK, US, Brazil, China, India, Italy, Japan, Kenya, Lebanon, Nepal, South Africa, Sweden and Turkey have drawn and doodled on canvases while at school. The results are canvasses that are densely layered with slogans, motifs, names, shapes and drawings, reflecting both the conscious and the unconscious minds of the children that created them. "They are so rich and full of vitality," says Murillo. "You have these kids in this very feverish desire to download information, no matter how trivial."
Though the children were aware they were participating in a project, by keeping the canvas there for a long period of time, Murillo believes it became familiar enough to capture their unconscious minds, too. "They're touching this thing on daily basis, it's a [piece of] furniture, you know," he says.
The name of the project, Frequencies, refers to the many diversities it reveals, whether geographical, socio-economic, political – and through his thousands of collaborators, he hopes to capture things he would never be able to himself. "As an artist, one of the things that has been fundamental to me is travel and geographical research but I know my limits. I know that it doesn't matter how much I want to connect to a place I'm doing it through a very specific filter." The canvasses contain local cultural symbols and differences but there are many commonalities, too. Certain names – Ronaldo, Beyoncé, One Direction – appear again and again, and there are familiar recurring motifs – hearts, skulls, flowers.
"This mark-making that one sees is truly a reflection of the last decade in a way, and what's interesting with that is that you can see a tremendous amount of culture being homogenised," says Murillo. "You see how social media and technology has been able to seep through and just create this kind of homogeny, which is frightening."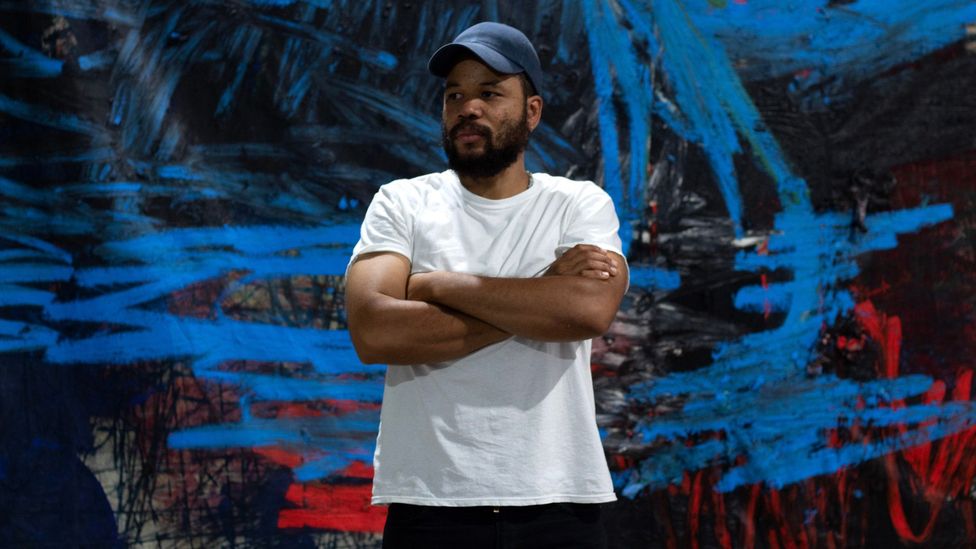 Murillo won the Turner Prize in 2019 for work that explored issues of migration, community, and trade (Credit: Oscar Murillo and David Zwirner/Photo: Julian Valderrama)
Murillo didn't spend his childhood drawing on desks – the Catholic school he attended would never have allowed it, he says. But, after moving to the UK from Colombia aged 10, drawing was, he says "an act of therapy". Hours spent at home sketching still lives grounded him to a new way of life in the UK – one spent mainly indoors instead of in the streets, the rivers and the mountains of Columbia. "I'd just spend the entire afternoon and evening listening to pirate radio and doing these drawings," he says. "I'm sad I don't have those drawings because I think they were very important – the act of it was very, very important."
To Murillo, the idea of doodling "alludes to freedom, it alludes to simplicity, it alludes to radicality". This freedom, he says, becomes that much harder once we leave childhood. "This idea of 'my child can do that', you know, that's actually an amazing compliment because it is particularly us as adults that have lost the ability to have that freedom and to just let go and draw."
The Frequencies project is ongoing, creating an immense catalogue that records the lives and experiences of young people all over the world. "I want the archive to be useful," he says. Even in the digital age, it seems the humble doodle will continue to play its part in helping us record and understand human behaviour. Not bad for an aimless scribble.
Frequencies runs until 30 August at Cardinal Pole Catholic School in London.
If you would like to comment on this story or anything else you have seen on BBC Culture, head over to our Facebook page or message us on Twitter.
And if you liked this story, sign up for the weekly bbc.com features newsletter, called The Essential List. A handpicked selection of stories from BBC Future, Culture, Worklife and Travel, delivered to your inbox every Friday.