As the update of the classic 1990s film becomes the latest black horror hit at the box office, David Jesudason looks at how the genre has reflected black trauma, for better or worse.
O
Occasionally a film arrives that is so compelling, so utterly thrilling, that its impact alters the future of cinema. Get Out was one such film. Jordan Peele's 2017 directorial debut masterfully skewered racism in US society by satirising the prejudice a young black man faces in modern America, among white people of all political persuasions – but it was also a watershed moment for horror.
More like this:
– The X-rated masterpiece still being censored
– The shocking films making a comeback
– The horror that was 2020's most timely hit
An Oscar winner and massive box-office hit, it both subverted the genre's long record of offensive racial tropes, and showed there was a will for Western horror to correct its overriding whiteness.
Four years on, its legacy can be seen across film and TV. Suddenly, the horror genre has become an artistic space where black people have become a lot more prominent both in front of and behind the camera. On film, the spectrum of black-led or black-starring horror projects has ranged from Peele's smash hit Get Out follow-up, Us, to indie horrors like Remi Weekes's powerful immigration-themed British chiller His House and Justin Simien's satire Bad Hair to more mainstream, popcorn movies like Octavia Spencer vehicle Ma, Gerard McMurray's The Last Purge and Spiral, the latest instalment in the Saw franchise, which was led by two of Hollywood's biggest black stars, Chris Rock and Samuel L Jackson. Meanwhile on TV, both HBO's Lovecraft Country, produced by Peele, and Amazon's Them, have featured black-led casts and explored racism through a horror prism.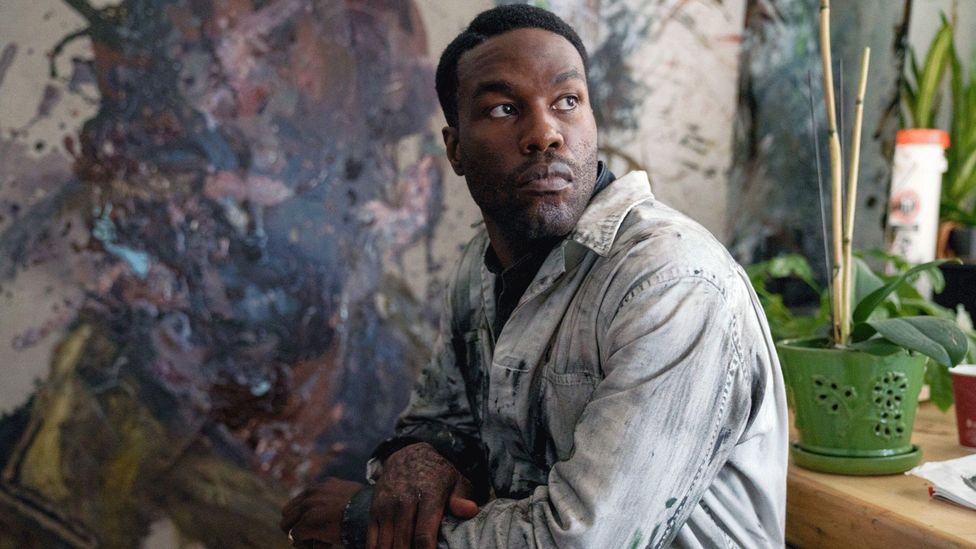 The new Candyman refocuses on a black protagonist, played by Yahya Abdul-Mateen II, who comes upon the Candyman legend as he searches for artistic inspiration (Credit: Alamy)
Now things have come full circle with a new Candyman film. Released in cinemas around the world last week, it is a "spiritual sequel" to the cult 1990s horror of the same name, which, even though it was written and directed by a white man, is often talked about as a pioneering "black horror" for the way it dealt with anti-black violence at its core; Tony Todd starred as the titular hook-handed spirit who, it transpires, is a man from the 19th Century avenging his racialised murder by lynching. This new take, again produced by Peele and directed by rising star Nia DaCosta, sees Todd make a very brief reappearance as the eponymous bogeyman – but otherwise gives the franchise a significant overhaul. Where the first film's heroine was a white woman, this time there are black protagonists, artist Anthony McCoy (Yahya Abdul-Mateen II) and his girlfriend Brianna (Teyonah Parris). And conversely, while in the original, black people confusingly bore the brunt of the Candyman's violence, here it's white people who make up the majority of victims.
At a time when the cinema industry is still struggling to get back on its feet, the film has been a breakout success, based on its early box-office results at least. It debuted at number one at the North American box office, earning $22.4 million (£16.3 million) in its opening weekend, against a reported production budget of $25 million (£18.2 million), with DaCosta (not before time) becoming the first black female director to have a film debut at the top. And it is a deserved triumph: Candyman is a brilliant horror that also has a sophisticated way of addressing issues such as racial injustice, gentrification and black art.  What's more, it achieves this while avoiding lingering on scenes of racial violence, notably using animated shadow puppets to retell the dark history of how the Candyman was tortured and killed by racists. In doing so, it hearteningly avoids one of the much-discussed problems with this new wave of black representation in horror – the way the historical plight of black Americans has sometimes been played upon by directors for scares in a way that turns real suffering into "trauma porn".
A new kind of exploitation horror?
In a powerful review of the slavery-themed horror movie Antebellum last year, Vulture writer Angelica Jade Bastien said: "I am tired. I am tired of pop-cultural artifacts that render Black people as merely Black bodies onto which the sins of this ragged country are violently mapped". Meanwhile many critics, and especially black critics, expressed similar displeasure with Them, which told the story of a black family moving into a white suburban neighbourhood in the 1950s, and featured scenes of utterly grotesque violence, including a black woman being raped while her baby son was murdered. As Jason Okundaye suggested in the Guardian, it was a series that while superficially invoking Peele's game-changing horrors, had none of their nuance or sophistication. "One thing we're seeing is [an example of] a lot of studios misunderstanding what made a film successful," agrees Dan Hassler-Forest, popular cultural theorist and assistant professor of media studies at Utrecht University. "So after Get Out, we're seeing this whole sequence of films and series that are really about black suffering, like Antebellum and Them, that are kind of exploitative and are shoving the indignities and the physical suffering of slavery and anti-black racism in our face over and over again."
This is the moment I've been waiting my whole life for. What a thrill it is to have more than one movie a year that centres around black people in a horror story – Tananarive Due
For others, though, horror's new-found black representation has been in itself a good thing, and certainly an improvement on the kind of racial erasure and stereotyping that preceded it. "This is the moment I've been waiting my whole life for," says Tananarive Due, a writer and academic specialising in Black Horror and Afrofuturism at UCLA, who was the executive producer of 2019 documentary Horror Noire: A History of Black Horror. "What a thrill it is to have more than one movie a year that centres around black people in a horror story. As a black horror fan, it's been a long road to find the kind of representation that is empowering."
This long road, as Due notes, does include a few notable exceptions – but in the main horror films through the years have either excluded black characters or employed racist characterisation for cheap thrills. However, as Due, whose mother was the prominent African-American civil rights activist Patricia Stephens Due, points out, the genre has historically held a special appeal for black viewers, despite the way they have been represented on screen. "There is a lot of racial PTSD in the US," she says. "And horror is uniquely suited to give people, who have survived trauma or people who fear trauma, an outlet. My mother loved horror films, she watched all of them. If she had lived to see Get Out, that would have been her favourite."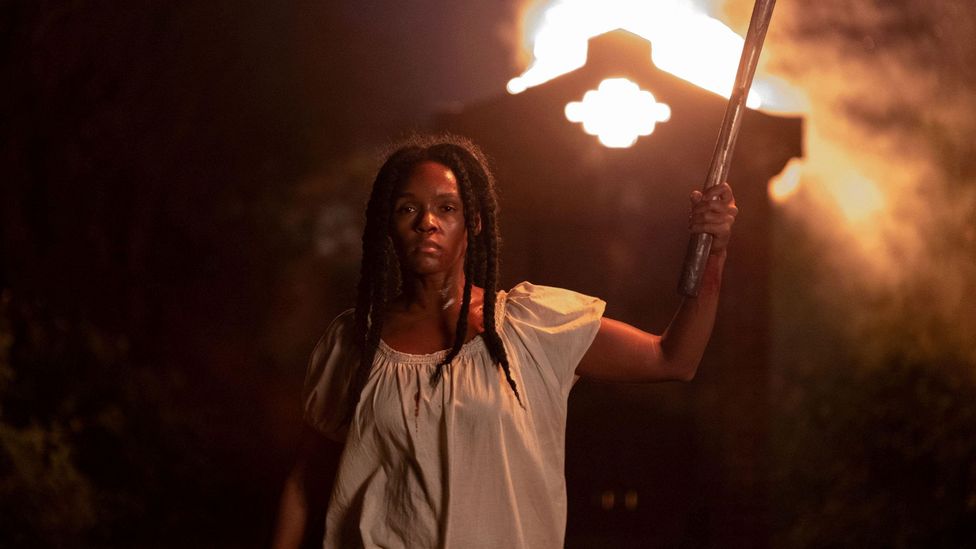 Slavery-themed horror movie Antebellum is one of the recent horror works singled out for exploiting black suffering (Credit: Alamy)
Horror Noire explores the history of racism within the horror genre, and argues that the 1915 silent drama The Birth of a Nation established the prejudiced traits that endured for many years in the genre, which told the story of the US during and after the civil war, and depicted black men as racist caricatures who are too savage to be trusted with power. Though not officially a horror, it was certainly horrifying – and, Horror Noire argues, it influenced the hateful way in which the genre subsequently depicted black men as monstrous or alien. Examples of this can be found both naturalistically in a slew of 1960s voodoo horror films, such as Curse of Simba, Naked Evil and The Witches, and allegorically in films like The Creature from the Black Lagoon and King Kong, where the monsters have noticeable stereotypical "black" features.
That's not to say that there aren't more positive examples of "black horror" to be found in the historical cinematic canon: early horrors to feature an all-black cast include 1926 silent film The Conjure Woman and 1940's Son of Ingagi, which was written by black screenwriter Spencer Williams based on his own short story. Then during the 1970s, the Blaxploitation cinema movement spawned its own Blaxpoitation horror sub-genre with films including Bill Gun's experimental vampire movie Ganja & Hess and William Marshall's Blacula, which led onto sequel Scream Blacula Scream, as well as another riff on a classic horror character, Blackenstein.
The genre's racist tropes
However these cult low-budget films could hardly mask the ongoing racism that has, until very recently, run through mainstream horror. Recurrent racist tropes have included the "sacrificial negro" where the token black character or characters get killed off (as in 1997's Scream 2, 2002's Ghost Ship or John Carpenter's 1983 adaptation of Stephen King's Christine), often after assisting the white characters; and the "magical negro", where a black character is deployed who exists solely to give advice or warning to the non-black protagonist, like Mother Abigail in Stephen King's The Stand, played by Ruby Dee and Whoopi Goldberg in the two different TV adaptations, or Patricia Belcher's psychic in 2001's Jeepers Creepers. Probably the most iconic example of both a sacrificial and magical negro character at once is chef Dick Hallorann (played by Scatman Crothers) in Stanley Kubrick's The Shining (1981); he assists the white protagonists but then is killed off – though tellingly he survived in the original Stephen King novel.
The key to all of this is that, whether demonising black characters, killing them off, or simply excluding them altogether, Western horror has until recently primarily been a white person's story – and that's not to mention the poor representation of Asian characters and their erasure in the various Hollywood remakes of Asian horror hits from The Ring to The Eye.
I found later that so many African-Americans were so happy and impressed that I survived [in Dawn of the Dead]. And they were proud of it; it was something of an accomplishment in their eyes – Ken Foree
Of the more enlightened exceptions, none have been more notable than 1978's Dawn of the Dead (DoD), a major release that put a black hero front and centre – and let him live. It was George A Romero's sequel to his seminal 1968 zombie film Night of the Living Dead, which was also notable for featuring a black lead (Duane Jones, who also starred in Ganja & Hess). However while Jones is lynched at the end of Night of the Living Dead, DoD allows its SWAT team officer protagonist Peter (Ken Foree) to break free from the sacrificial negro trope, and survive – a strong statement, even if Romero himself has denied that the he was ever intending to explicitly explore race issues.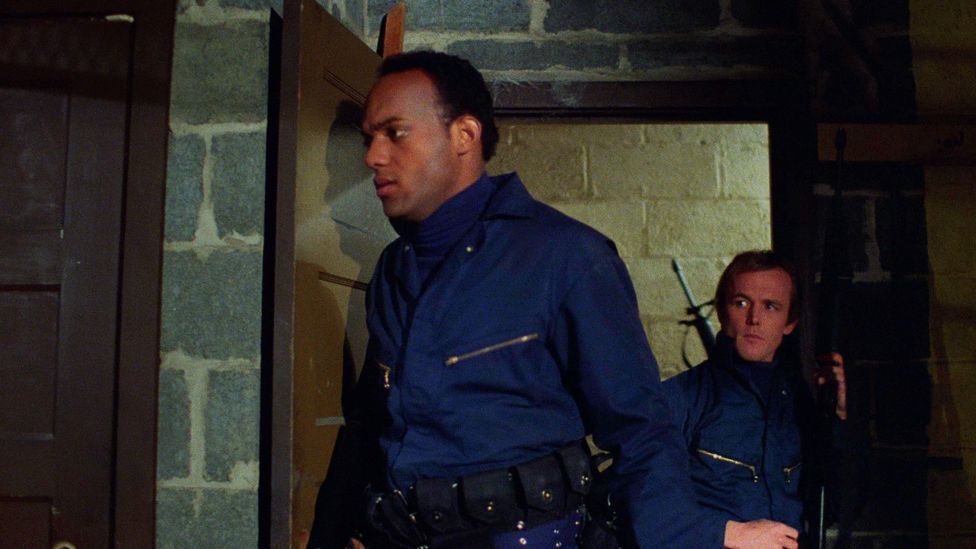 Dawn of the Dead (1978) was groundbreaking in putting a black hero front and centre – and letting him live (Credit: Alamy)
Foree, who was actually in the same civil rights activist and theatre group in Harlem as Jones, says he brought his indignation with racial inequality to his performance as Peter, who takes on the hordes of zombies with calm authority. "Any African-American in those years carried anger," he tells BBC Culture. "You couldn't help but carry anger in those years. It was a time for heroes and young men who wanted to get out there and change the world." When he was cast in the protagonist role in his mid-20s, he was keenly aware it was an unusual one for a black actor in the 1970s. "[In films] there'd be one black person here, the token black [person] there, and that was about it. So there wasn't that much work for everyone. People just weren't used to seeing black [actors] doing very much, or you were a curiosity more than anything else." Foree reveals he wasn't even expecting the film to be released in the US because of how violent it was but it turned out to be a massive hit and resonated long after with black audience members. "I found later that so many African-Americans were so happy and impressed that I survived. And they were proud of it; it was something of an accomplishment in their eyes… a lot of African-Americans approached me and said: 'Hey man, you lived through it. You're the first African American who lived through a horror film.'" 
But if Dawn of the Dead should have been a watershed moment for racially enlightened horror, it proved to be a false dawn – for years afterwards, black actors continued to be either invisible in the genre or playing disposable and stereotypical characters.
In the 1990s, a few more black actors did start to appear in US horror movies, among them the 1995 Spike Lee-produced anthology film Tales from the Hood, which comprised a quartet of scary stories all centred on African Americans, and highlighted issues such as police corruption, institutional racism and gang warfare. But perhaps the era's most prominent "black horror", though made by a white filmmaker, was the original Candyman. However while, in centring black trauma, it was doing something new with the genre, it was ultimately still very regressive, with its central plotline of a white woman being preyed on by an African-American antagonist. "It is a good example of a film that really wanted to have a sophisticated take on race," says Due. "It has moments where it accomplishes that, but at the same time falls victim to racial tropes. It's a story that presents visually almost as if it's a black story. But it really isn't a black story."
An actress sidelined
Another Hollywood horror from the 1990s to feature a black protagonist was The Craft (1996), the now-cult teen movie about a coven of high-school witches, including rising mixed-race star Rachel True. However, as True attests, the depiction of her character Rochelle was very problematic: the script didn't give her a proper backstory, or family, unlike her white peers, a sketchy characterisation that was emphasised by one particular scene, in which a male character introduces new girl Sarah to the coven, and gives a description of the other two witches to her, but doesn't even mention Rochelle. "At the time it was 1,000% the norm that my black character [would be treated this way]," True tells BBC Culture.
It was tricky at the time: I thought 'here I am, a black actor, and I'm defined in this movie by my ethnicity, which is a little uncomfortable' – Rachel True
On a more positive note, in terms of characterisation, Rochelle is at least shown contending with racism, and then given the agency to gain revenge by casting a spell on her abuser. Back then, it was a rare case of a mainstream horror acknowledging racial trauma. As it happened, Rochelle was originally a white character but when True was cast they changed her character's central struggle from bulimia to racism. "I remember thinking, is this good or bad?" True says. "It was tricky at the time: I thought 'here I am, a black actor, and I'm defined in this movie by my ethnicity, which is a little uncomfortable'. I just wanted to be a character. But all these years later, I'm glad that the storyline is in there, because it's just as relevant today in America, even more so with what we've just been through this last year."
However True's initial unease with the film's incorporation of racism within a horror narrative dovetails with today's conversation about whether so-called "race horror" is instructional and relevant – or exploitative. Black Bafta-award winning film director Leila Djansi believes that in general, while depictions of racial violence may be difficult to watch, they're urgent and necessary. "We have the cameras recording the racial violence right now [like in the murder of George Floyd]," she says. "So these films [and TV series] are art imitating life but adding layers. When it comes to understanding systemic racism, it took films and books for me to better understand them." Yet she also notes that "you have to know where to draw the line. With some of the [recent horror output] there's been broad strokes which are a little dangerous."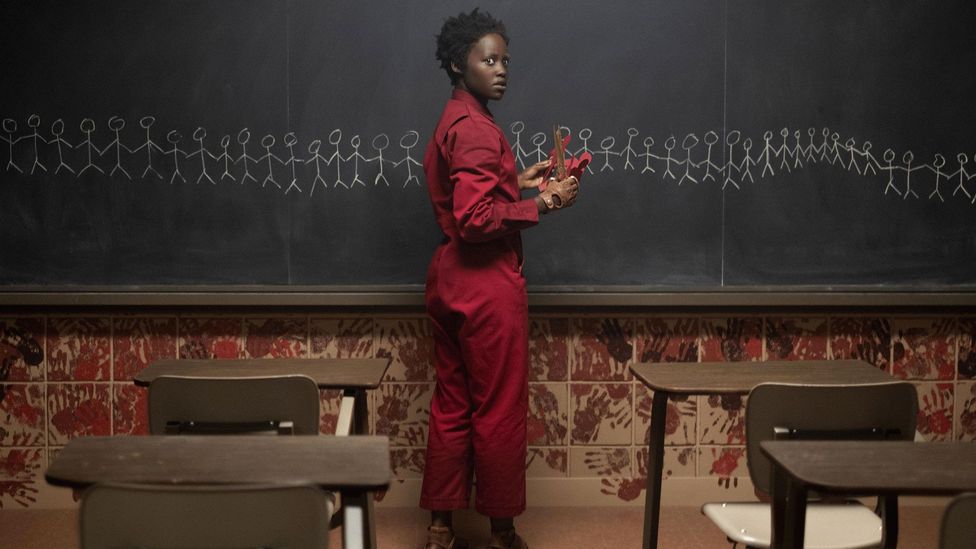 Us – Jordan Peele's follow-up to Get Out – was, as he suggested, an allegory about class, not race (Credit: Alamy)
The point, perhaps, as Djansi suggests, is that the subject of racism needs to be handled extremely judiciously within a horror context, and, what's more, not every horror film centring around black characters should feel obliged to address it. Jordan Peele's follow up to Get Out, the brilliant horror Us, for example, was, as Peele himself was keen to point out, not about race; instead it was an allegory about class. Equally Spiral was a horror film that just so happened to have black leads, and didn't address their race. This approach is more than fine, of course, says Due. "Whether or not a black horror movie centres race or racism, the very fact that there's a black cast is still ground-breaking."
Like Get Out before it, DaCosta and Peele's Candyman once again confirms (if any more confirmation was needed) the real appetite out there for more substantial black representation in horror, while also showing how the genre can explore race and racism with a deft touch. But, as with its predecessor, how market forces will conspire to interpret its success is another matter.
Horror Noire: A History of Black Horror is available on Shudder. Ken Foree is currently appearing in the film John Henry. David Jesudason is a freelance journalist who writes about culture and has a free weekly newsletter on Substack.
Love film and TV? Join BBC Culture Film and TV Club on Facebook, a community for cinephiles all over the world.
If you would like to comment on this story or anything else you have seen on BBC Culture, head over to our Facebook page or message us on Twitter.
And if you liked this story, sign up for the weekly bbc.com features newsletter, called The Essential List. A handpicked selection of stories from BBC Future, Culture, Worklife and Travel, delivered to your inbox every Friday.