Fleabag creator Phoebe Waller-Bridge's involvement in the latest Bond film has been a big talking point. But she isn't the franchise's first female writer, writes Beth Webb.
I
Imagine if in Dr No, the first James Bond film in a franchise that has spanned nearly 60 years, the title character had been the lead villain's pet monkey rather than the villain himself. Or everyone had talked in the style of Chicago hitmen instead of using the dialogue from Ian Fleming's seminal spy novels. Both these twists made it into iterations of the screenplay during Dr No's development, and had it not been for Johanna Harwood, a woman whose impact on Bond was vast and yet is seldom credited, 007's 1962 debut could have looked very different.
More like this:
–      What Bond's next era will look like
–      What Bond villains reveal about us
–      Ten films to watch this month
So underappreciated is Harwood that, if you Google her name today, the first picture that comes up is in fact that of Phoebe Waller-Bridge rather than Harwood herself. That's because the Fleabag and Killing Eve creator has now followed Harwood as only the second woman to contribute to a Bond screenplay, with the upcoming No Time To Die, which finally hits screens in the UK next week after a 17-month, Covid-induced delay.
Daniel Craig has said Waller-Bridge's "influence permeates a lot of" new Bond film No Time To Die (Credit: Alamy)
Waller-Bridge was nominated for the film by longstanding producer Barbara Broccoli and has been vouched for by star Daniel Craig as core to the new film's personality: "her influence permeates a lot of this film. She walked that fantastic line of keeping it as a thriller and being very funny," he said in an interview with Radio Times earlier this week. For her part, Waller-Bridge has said she was not brought on to radically change the Bond brand: "they were just looking for tweaks across a few of the characters and a few of the storylines," Waller-Bridge told the BBC.
Bond's great forgotten woman
Nevertheless it's great to see that Waller-Bridge's name has been front-and-centre of the pre-publicity. It contrasts with the case of Harwood, who was relegated by Hollywood to the sidelines in spite of her saving the franchise from catastrophe multiple times: as well as Dr No, she also worked on From Russia With Love and may have also had a hand in Goldfinger, uncredited.
"She is a key contributor whose work remains largely overlooked" says Dr Lisa Funnell, a specialist in the gender politics of Bond and author of For His Eyes Only: The Women of James Bond. "She fought to ensure that the inaugural Bond films reflected the essence of Ian Fleming's source novels, while helping to shape the cinematic identity of one of the most iconic figures in popular culture." In his memoir One Lucky Bastard, former Bond actor Roger Moore also made clear the significance of Harwood's legacy. "Her involvement has often been overlooked and her pivotal role clouded by the vagaries of film history and the egos of those within," he wrote.
Harwood, who originally hailed from County Wicklow in Ireland, worked as a script supervisor, or "continuity girl", as they were then known, during the 1950s, a rare production role deemed acceptable for women at the time. After a spell working for the talent agency Famous Artists, she was passed reluctantly over to theatre producer Harry Saltzman, who took over her former boss's office. She stayed on the condition that she could continue to write. "That was really her passion," says Mark Edlitz, author of several books on the Bond franchise including The Lost Adventures of James Bond. "She did those other jobs like script continuity and working as his assistant as a means to write films." It was during the early phase of her working relationship with Saltzman that the producer gained the rights to the bulk of Fleming's novels. From here, Harwood's tumultuous relationship with the franchise and the men behind them began.
Johanna Harwood's contributions to Bond have been largely ignored or significantly reduced by others in their personal accounts – Dr Lisa Funnell
Initially, Harwood wrote the first rough draft of Dr No. "That was the first script for the first James Bond film for Eon [Productions]. That can't be underscored enough," stresses Edlitz."She said that what was most important to her was being faithful to the Fleming novels, which was important when recognising what about them could make good films. Other writers might have had the impulse to abandon Fleming's stories and craft something a little bit more outrageous."
Other writers certainly tried. Unbeknownst to Harwood, Saltzman had signed a deal with producer Wolf Mankowitz on the condition that he would write the final draft of Dr No. It was Mankowitz who wrote in the monkey, among other things, leading the studio, United Artists, to bring in Harwood again to rescue the screenplay. Next, the studio hired Indian army general Berkely Mather to make the film's dialogue more masculine – which is how the characters briefly came to be talking like Chicago hitmen, according to Harwood. Once more, she was brought in to save the day, and with the help of director Terence Young, managed to wrestle the script into shape a mere eight days before shooting began.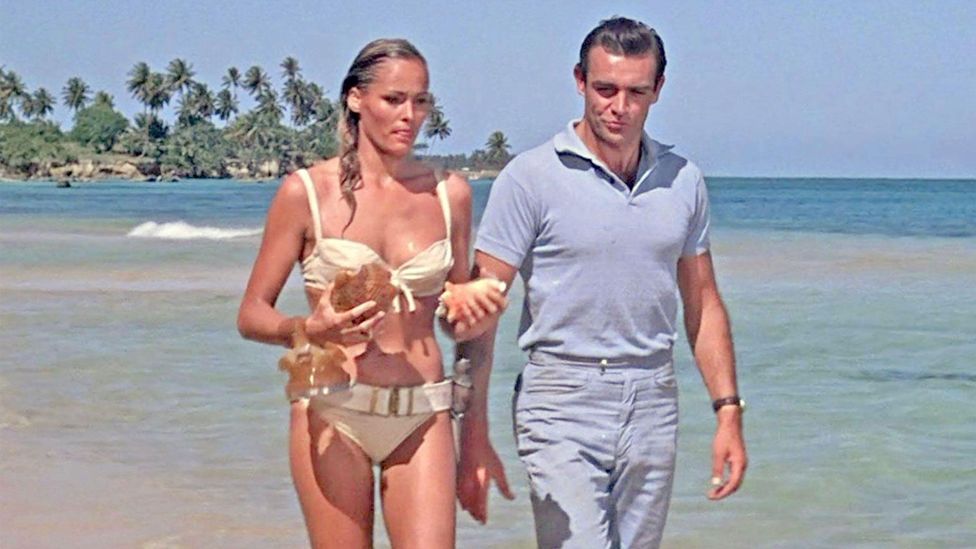 The first Bond film, Dr No, was repeatedly saved by female scriptwriter Johanna Harwood (Credit: Alamy)
The experience would prove extremely oppressive for the burgeoning writer. "She experienced sexism while working with Young, and her contributions have been largely ignored or significantly reduced by [Young and others] in their personal accounts," says Funnell. Harwood was hired to work on From Russia With Love, again directed by Young, but came to such creative blows with him that she left the film, and received only a credit for adaptation on the film rather than a full screenwriting one. "Her story was so representative of gender roles and what was happening to them," says Dr Monica Germana, scholar and author of Bond Girls: Body, Fashion and Gender. "She had ambition but she was belittled a lot."

Why female screenwriters deserve more credit
What's interesting – and depressing – is that Harwood is part of a historic lineage of women who have helped to shape some of the most lucrative and decorated films and franchises in male-dominated Hollywood, from Star Wars to Sister Act to The Lego Movie – yet rarely received proper credit.
One of these was the late, great Carrie Fisher who became known as one of Hollywood's great "script doctors": that is, an "invisible" screenwriter brought in to fix problematic screenplays, typically without their name appearing on the credits.
Fisher had been dabbling in script work since incorporating some of her own dialogue into her early Star Wars films, to the point where she was writing it into the script by Return of the Jedi. However it was her semi-autobiographical novel Postcards from the Edge that would pivot her more centrally into script work. The book caught the attention of Steven Spielberg, who consequently brought Fisher in to work on his Peter Pan spin-off Hook. "They told me they wanted me to rewrite Tinkerbell's part, but if Tinkerbell interacts, you're writing scenes," Fisher told the Phoenix New Times.
Her body of work from then on was vast and varied, and her special skillset ranged from improving female roles to managing difficult relationships behind the scenes. She reworked Rene Russo's character in Lethal Weapon 3 and wrote the part of Drew Barrymore's heroine in romantic comedy The Wedding Singer. While working on Sister Act, she called up Whoopi Goldberg and told her to smooth things over with producer Jeffrey Katzenberg after a series of heated creative spats. Fisher only held a handful of named writing credits, including one for her screenplay of the movie adaptation of Postcards from the Edge, but her talent for writing robust, funny women was used by some of the most prolific men in Hollywood.
We shouldn't just be pigeonholing women writers as women writers. We want them because they are very good writers, not because we need to tick a box – Dr Monica Germana
Another woman who has helped shape the Hollywood blockbuster, mostly invisibly, is Lindsay Doran, whose largely uncredited work has earned her the title of "The Script Whisperer" across the industry. Once an executive producer on films like This Is Spinal Tap and Ferris Bueller's Day Off, Doran now focuses on not rescuing, but more revolutionising screenwriting through her attitudes towards it.
In her Ted Talk Saving the World vs Kissing the Girl, Doran spoke about how reading the psychology book Flourish by Martin E P Seligman introduced her to positive storytelling, and the revelation that characters' personal relationships trump their personal achievements. Successful films such as Dirty Dancing, The Karate Kid and The King's Speech, she argued, all endure because the lead characters' triumphs are shared with the people that they love.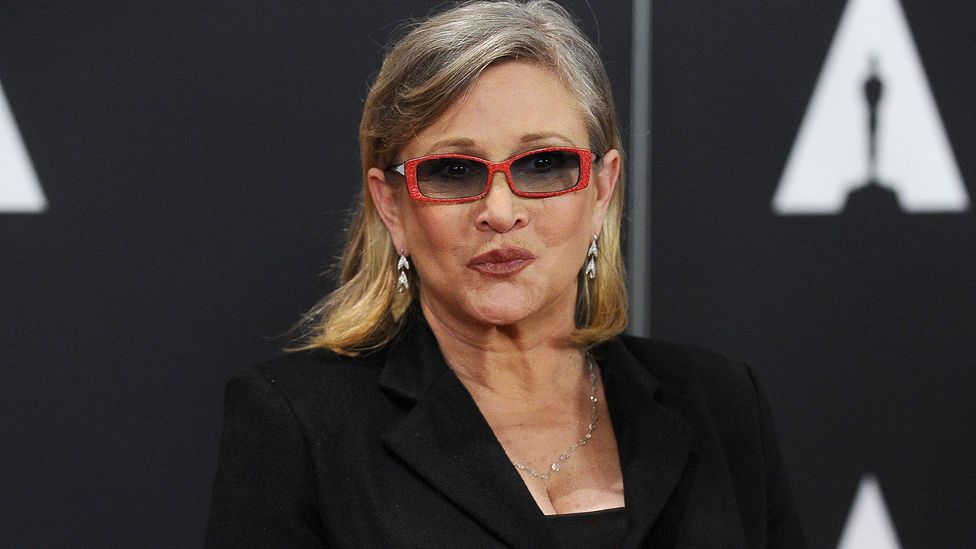 Carrie Fisher was one of the great "invisible" female screenwriters who have helped shape Hollywood blockbusters (Credit: Getty Images)
It's difficult to measure the impact of Doran's influence on Hollywood; her last official film credit was Nanny McPhee and the Big Bang in 2010, and her work extends to teaching alongside her consultancy work with studios and filmmakers. However Phil Lord and Christopher Miller, whose collective writing and directorial work ranges from 21 Jump Street (2012) to The Lego Movie and Spider-Man: Into the Spider-Verse, have worked with Doran extensively on perfecting their winning brand of silliness and sincerity. Meanwhile Terry Rossio, a writer for Shrek, Aladdin and the Pirates of the Caribbean film, described her to the New York Times as a "Pied Piper, leading all those ratty, bleak and violent screenplays in town over a cliff."
The landscape for credited female representation has begun to shift in the wake of movements such as #MeToo and Time's Up and a call for the hiring of more women writers, as well as directors and crew members, more generally.
Studios are now slowly making the changes to diversify, and credited female screenwriters are being brought in for larger projects, such as Nicole Holofcener, who was hired specifically to write the female perspective in Ridley Scott's upcoming period epic The Last Duel, while longstanding collaborators Matt Damon and Ben Affleck wrote the rest of the screenplay.
For some however, these changes are not enough. The move to bring Phoebe Waller-Bridge in at a later stage in the screenwriting process for No Time To Die for example, raises questions as to why she hadn't been included on the project from the start.
"While I am happy to see such a talented scriptwriter like Waller-Bridge join the team, I find it frustrating that she was brought in so late into the process to 'spot shot' and 'treat' various sections of the script that required development and enlivening," says Funnell. "Diversity in scriptwriting requires the full participation of creative personnel from the outset of the project including the conceptualisation and development of characters and storylines."
The gendered responsibilities bestowed upon female writers also can present restrictions on how they are able to contribute to films. "We shouldn't just be pigeonholing women writers as women writers," says Germana. "We want them because they are very good writers, not because we need to tick a box. Waller-Bridge deserves to be there because she's a brilliant writer." Gratifyingly, in that respect, Waller-Bridge has made clear her gender was not a factor in her hiring for the film. "The reality was I got a call from Barbara [Broccoli, the film's producer] and Daniel saying, 'We like your work, can you come in and help us?'. There wasn't ever really a conversation about can you come in and help us with 'the ladies'," she told the BBC.
Nevertheless, the significance of her involvement in Bond should not be underestimated; her role as one of the new faces of an inherently masculine franchise is both a boon and a reminder that there is still a lot of work in Hollywood to be done when it comes to giving female screenwriters the opportunities, and credit, that they deserve.
No Time To Die is released in the UK on 30 September and in the US on 8 October
Love film and TV? Join BBC Culture Film and TV Club on Facebook, a community for cinephiles all over the world.
If you would like to comment on this story or anything else you have seen on BBC Culture, head over to our Facebook page or message us on Twitter.
And if you liked this story, sign up for the weekly bbc.com features newsletter, called The Essential List. A handpicked selection of stories from BBC Future, Culture, Worklife and Travel, delivered to your inbox every Friday.