Jared Leto's transformation into the older, balding Paolo Gucci has inspired both ridicule and irritation. Are audiences tiring of actors' showy metamorphoses, asks Nicholas Barber.
R
Ridley Scott's lurid new true-crime drama, House of Gucci, chronicles the betrayal and murder that tore the Gucci fashion brand apart at the seams in the 1980s and 1990s. The film's social-climbing anti-heroine is Patrizia Reggiani (Lady Gaga), who pushes her diffident husband, Maurizio Gucci (Adam Driver), to take over the family business, even if that means ousting Maurizio's uncle Aldo (Al Pacino) and his cousin Paolo (Jared Leto). Gaga is sure to be Oscar-nominated for her fiery performance. Leto's performance, though, is another matter. His woozy clowning, his sing-song mewling, and his ripe Italian accent belong in a sketch set in a pizza parlour on an old episode of The Muppet Show. But, in his defence, his acting is no more eccentric than his hair and make-up.
More like this:
–  Is nostalgia killing cinema?
–  Why Hollywood is shunning sex
–  11 films to watch this November
Leto is probably better known for his sharp cheekbones, flowing flocks and all-round elfin prettiness than he is for his film roles, despite having won an Oscar. But in House of Gucci, the actor and rock star is disguised as a designer with a sagging double chin, a bulbous nose, straggly grey sideburns, and a gleaming bald pate. He is almost unrecognisable, so when images advertising the film went online in July, commentators were quick to praise him and the hair and make-up team for pulling off such an incredible feat.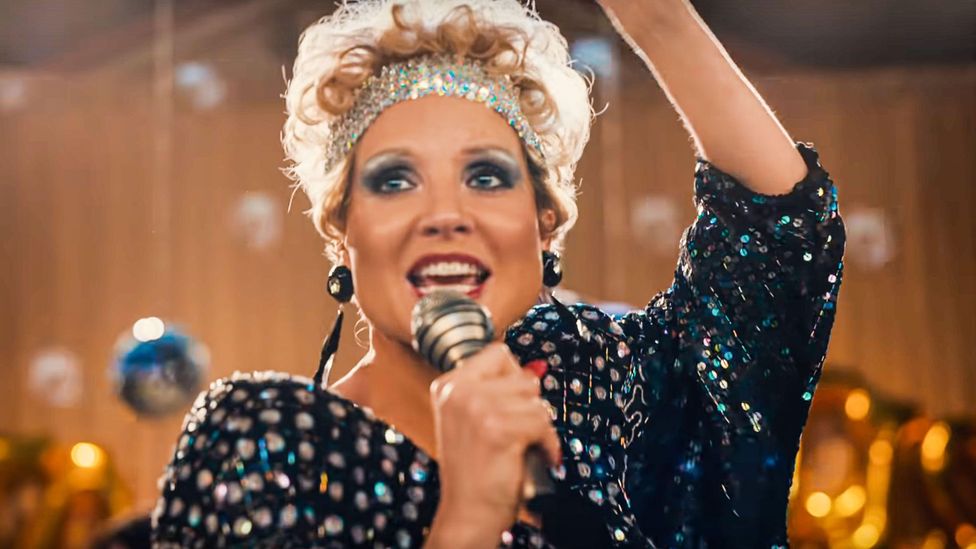 Jessica Chastain's recent turn as televangelist Tammy Faye Bakker involved the kind of prosthetics-laden transformation often loved by awards voters (Credit: Alamy)
Well, some commentators were, anyway. But just as many were quick to laugh, scream, splutter, and ask what on Earth was going on. "Dude looks like he got bit by a radioactive Jeffrey Tambor," wrote William Hughes at AV Club," [or] a high school senior who has started to apply old age make-up and somehow forgotten to ever stop." Elsewhere, the source of scorn wasn't the quality of the wig and the fake nose, but the fact that they had been used at all. "Why is Jared Leto in this role?" asked John Nugent in Empire Magazine. "Why didn't they cast someone who actually looked like the character?"
Is that a fair question? Should actors have to resemble the people they are playing? Or should we just marvel at the skill that goes into transforming them into someone entirely different? The issue has become a contentious one. When Jessica Chastain's jaw and cheeks were broadened to chipmunk-ish proportions for her recent role as Tammy Faye Bakker, the puppeteering televangelist, in The Eyes of Tammy Faye, one critic, Matt Zoller Seitz, tweeted: "I love her, but it bothers me that they didn't even think about casting somebody who was physically closer to that type." And when Sarah Paulson wore a fat suit to play Linda Tripp in Ryan Murphy's American Crime Story: Impeachment, her decision was condemned by... errr... Sarah Paulson. "There's a lot of controversy around actors and fat suits, and I think that controversy is a legitimate one," she told the Los Angeles Times in August ahead of the series' premiere. "I think fat phobia is real. I think to pretend otherwise causes further harm. And it is a very important conversation to be had... I wouldn't make the same choice going forward."
On the other hand, Paulson continued, she wouldn't want to condemn "the magic of hair and make-up departments and costumers and cinematographers that has been part of moviemaking, and suspension of belief, since the invention of cinema".
The history of actorly transformation
For that matter, most of this magic has been around since long before moviemaking and the invention of cinema. The wonder of theatre has always involved the use of costumes and make-up to change the actors' appearances. Casting "someone who actually looked like the character" was certainly never an option in Shakespeare's day, when every actor was male. But Paulson is right about the peculiarly cinematic magic of the most extreme transformations. Seeing someone in a strikingly unusual guise on stage may be impressive, but when we see them in close-up on a screen, and we can study every millimetre of their face, the change can seem miraculous. It's one reason why so many adaptations of Dr Jekyll and Mr Hyde were produced in cinema's formative years (there were three in 1920 alone): viewers could make an immediate before-and-after comparison as an actor switched from one persona to another.
The horror genre has kept on showcasing such magic. In 1925's The Phantom of The Opera, Lon Chaney terrified audiences with his skull-like visage. In 1931's Frankenstein, Boris Karloff was given the breezeblock-shaped head that has defined the monster ever since. It was Rick Baker's ground-breaking work on An American Werewolf in London that won the inaugural Make-up Oscar in 1982, and from then on the Academy has rarely honoured subtle applications of eyeshadow and blusher. The most radical metamorphosis tends to get the prize, whether the film in question is a fantasy (Bram Stoker's Dracula, Pan's Labyrinth), a comedy (Mrs Doubtfire, The Nutty Professor) or a celebrity biopic (The Iron Lady, Vice). A full-on transformation doesn't harm your chances of winning an acting Oscar, either. Gain or lose half your body weight, or sit in the make-up chair for four hours every morning, and Academy voters will notice: just ask Charlize Theron (Monster), Marion Cotillard (La Vie en Rose), Robert De Niro (Raging Bull) and Marlon Brando (The Godfather).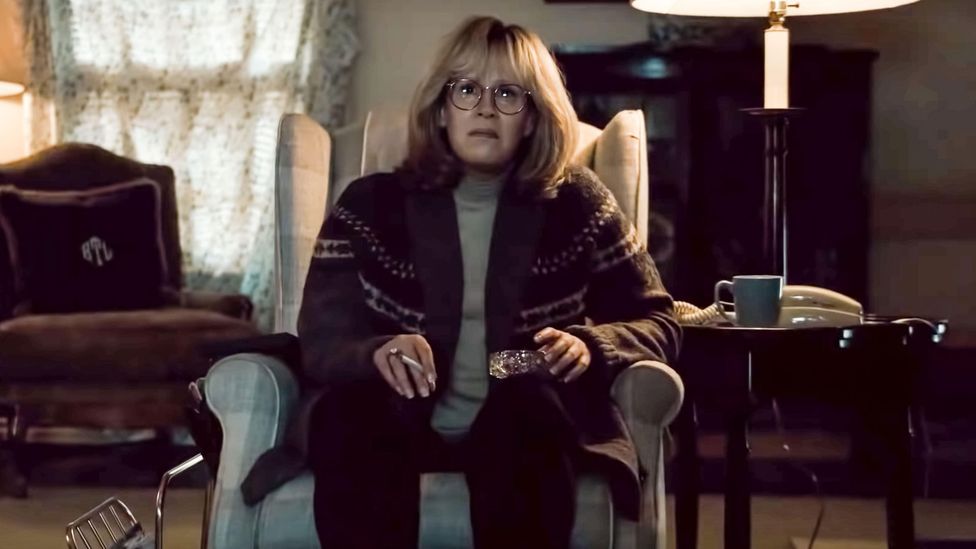 Sarah Paulson recently wore a fat suit in American Crime Story: Impeachment – but has said she wouldn't make the same choice again (Credit: Alamy)
The rule still holds today. Gary Oldman was buried in prosthetics for his performance as Winston Churchill in Darkest Hour, and both he and the make-up artist, Kazuhiro Tsuji, took home Academy Awards in 2018. Tsuji won again in 2020 for morphing Charlize Theron into Megyn Kelly for Bombshell. And after Viola Davis was encased in a fat suit for Ma Rainey's Black Bottom, the film bagged Oscars for Costume Design and Make-up and Hairstyling this very April.
The issue is less with the notion of an actor 'transforming' than with how that process has become so fetishised, often in ways that reveal our disdain for people who aren't traditionally considered attractive – Kayleigh Donaldson
Still, we could be coming to the end of an era. As the reactions to Leto, Chastain and Paulson's makeovers show, people are becoming more vocal about how wrongheaded extreme transformations can be. Kayleigh Donaldson, a pop culture writer and critic for Pajiba, is one pundit who has had enough of them. "For me, the issue is less with the notion of an actor 'transforming' and using the tools at their disposal," she tells BBC Culture, "than with how that process has become so fetishised, often in ways that reveal our disdain for people who aren't traditionally considered attractive. The promotional cycle lauds actors for being 'brave' in getting 'ugly', then sells that kind of laborious physical part of the job as the ideal means of acting. It's why actors gaining and losing lots of weight, wearing prosthetics, and wildly changing their looks are so adored at the Oscars: you can literally see the work of acting. But at what point does it go from being a useful item in an actor's toolbox to a distracting crutch?"
There's no doubt that these transformations can sometimes be more of a distraction than an asset. Would it have mattered if Paulson hadn't had the same waist measurement as Linda Tripp, or if Leto hadn't been able to pass for Paolo Gucci? Would it really have reduced our enjoyment of their respective films if Chastain wasn't the spitting image of Tammy Faye Bakker, or if Theron wasn't identical to Megyn Kelly? Maybe we could have concentrated more on the stories and less on how eerily unfamiliar the stars' jawlines were.
Are fat suits on their way out for good?
It's also undeniable that major prosthetics jobs can, in Donaldson's words, "reveal our disdain for people who aren't traditionally considered attractive". Take the "controversy around actors and fat suits" mentioned by Paulson. The late 1990s and early 2000s can be called the Golden Age of the Fat suit. Between Eddie Murphy in The Nutty Professor (1996), Courteney Cox in Friends (1998 and 2000), Mike Myers in Austin Powers: The Spy Who Shagged Me (1999), Martin Lawrence in Big Momma's House (2000), Gwyneth Paltrow in Shallow Hal (2001) and Julia Roberts in America's Sweethearts (also 2001), you couldn't move for actors playing their larger selves – and the joke was the same in each instance: "Can you imagine how weird it would be if someone as svelte and classically gorgeous as this was actually overweight?!"
As crass as it might seem, the joke was considered sufficiently hilarious to be repeated in film after film (and TV show after TV show). But times have changed. In Entertainment Weekly in 2019, Clarkisha Kent argued that "Fat Monica" was used by Friends "to garner cheap laughs in the laziest ways possible". And in Vogue in 2021, Emma Specter wrote an article about how the device had made her and other women feel, that was headlined "25 Years Later, Friends' Fat Monica Still Hurts My Feelings". Within the industry, it isn't just Paulson who has her doubts about the practice, either. Julianne Moore was cast as the author and fraudster Lee Israel in Can You Ever Forgive Me? before being fired and replaced by Melissa McCarthy. The reason, according to McCarthy's co-star, Richard E Grant? "Julianne Moore wanted to wear a fat suit and a false nose to play Lee Israel, and [director] Nicole Holofcener said, 'You're not going to do that'," he said, at a 2019 event.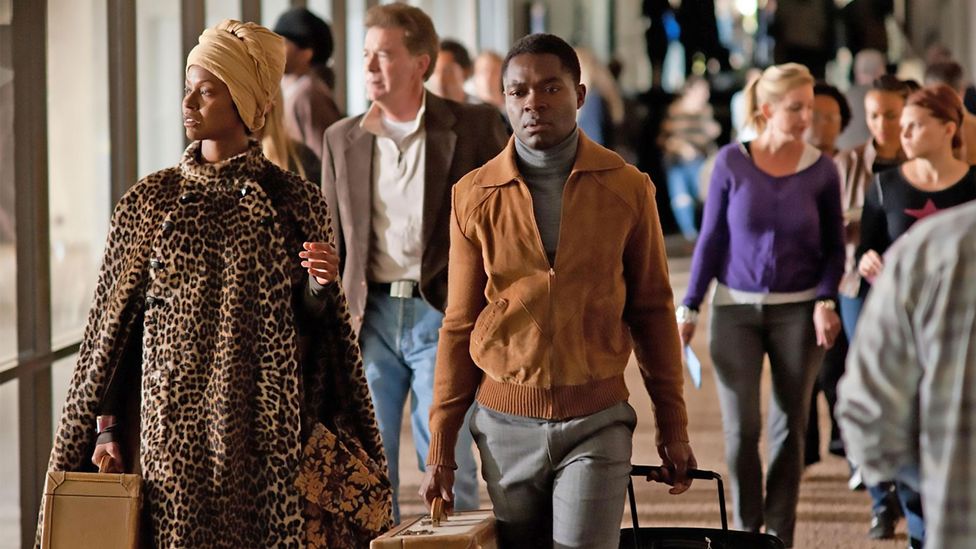 Zoe Saldana (left) was accused of perpetuating "blackface" when she changed her features to play Nina Simone in 2016's Nina (Credit: Alamy)
We're also more sensitive about the use of make-up to alter an actor's perceived ethnicity. In the 1960s alone, Mickey Rooney played a caricatured Japanese neighbour in Breakfast at Tiffany's, and Sean Connery's James Bond was painted yellow under the spurious pretext that Blofeld's minions might mistake him for a Japanese fisherman in You Only Live Twice. But when Zoe Saldana's skin was darkened and her nose widened to play Nina Simone in 2016's biopic, Nina, the singer's fans and family members complained that the filmmakers were perpetuating "blackface". In 2020, Saldana confessed on an live stream posted to her Instagram: "I should never have played Nina."
Judging by the backlash against so many extreme transformations, they could soon fall out of fashion altogether – and their magic might be dying, anyway
Similarly, there is the controversial custom of artificially damaging actors' faces to suggest some equivalent psychological damage, a custom which is common in James Bond movies, and was condemned by the Changing Faces charity when it turned out No Time To Die had two scarred villains, Safin and Blofeld. Ariel Henley, who describes herself as having a facial disfigurement, has written about how tired she is of this custom, not just in the Bond franchise, but in the cases of Darth Vader, Freddy Krueger, Voldemort, and countless more – all of them played by actors with naturally unblemished features. In 2017's Wonder Woman, the torn face of Dr Poison (Elena Anaya) is "supposedly the impetus of her taste for vengeance", Henley notes. "As someone with a facial difference, I know many people with facial disfigurements and scarring, and not one of them is, or has become, evil because of the appearance of their face."

A century on from the days when cinema-goers first gasped at Dr Jekyll and Mr Hyde and the Phantom of the Opera, certain questions have to be asked of every extreme transformation in a film. Is a physical abnormality being used to imply a moral defect? Is a particular body type being mocked? Is an ethnic minority being insulted? And, ultimately, does the actor look pretty silly? At the moment, the prevailing attitude towards these transformations seems to be comparable to the notions of "punching up" versus "punching down" in comedy. If you are straining to look like someone less conventionally attractive or less powerful than you, you may well come across as horribly condescending. But because the portrayals of Ma Rainey and Winston Churchill were essentially positive, the filmmakers got away with them.

All the same, judging by the backlash against so many extreme transformations, they could soon fall out of fashion altogether. And their magic might be dying, anyway. When Robert De Niro had to gain weight for 1980's Raging Bull, he shovelled in bucketfuls of pasta and ice cream, but when he had to be younger in a more recent Martin Scorsese film, The Irishman, CGI did the work for him. Special effects were also used when Mark Ruffalo became The Hulk in various Marvel blockbusters, Bill Nighy became the tentacle-bearded Davy Jones in the Pirates of the Caribbean series, and Andy Serkis became Gollum in The Lord of the Rings trilogy, to name but three of the most celebrated transformations in 21st-Century cinema. Whatever you think of those instances when make-up changes actors beyond recognition, it might be wise to enjoy them – or condemn them – while you still can.

House of Gucci is released in the US on 24 November and the UK on 26 November.

Love film and TV? Join BBC Culture Film and TV Club on Facebook, a community for cinephiles all over the world.

If you would like to comment on this story or anything else you have seen on BBC Culture, head over to our Facebook page or message us on Twitter.

And if you liked this story, sign up for the weekly bbc.com features newsletter, called The Essential List. A handpicked selection of stories from BBC Future, Culture, Worklife and Travel, delivered to your inbox every Friday.

;