The journeys of looted artworks have powerful stories that are being explored in a new exhibition, writes Diane Cole.
W
Within the long history of art resides the nearly-as-long history of looted art. We are dazzled by these treasures from faraway lands and ancient eras, even as we remain mostly blind to their provenance. Usually left unmentioned is their means of acquisition – all too often, brutally uprooted from their original homes and owners as the spoils of war, colonial conquest, or at the dictate of despots.
More like this:
- The art hidden from Nazi bombs
- The Nazi art hoard that shocked the world
- Recovering what the Nazis stole
Until now. We're reading more than ever about international disputes over ownership and restitution, including allegations this week that Switzerland's largest art museum might be displaying up to 90 works with problematic provenances. Also causing controversy recently are stories focusing on the origins – and the fate – of the Benin Bronzes, at least some of which are in the process of finding their way back to Nigeria and Democratic Republic of Congo from the many countries and museums to which their colonial rulers dispersed them, including Belgium, Germany, the British Museum and New York's Metropolitan Museum.
Such histories of theft and rescue are made more than real in a powerful new exhibition at New York's Jewish Museum, Afterlives: Recovering the Lost Stories of Looted Art. And they are presented through treasures both artistic and cultural.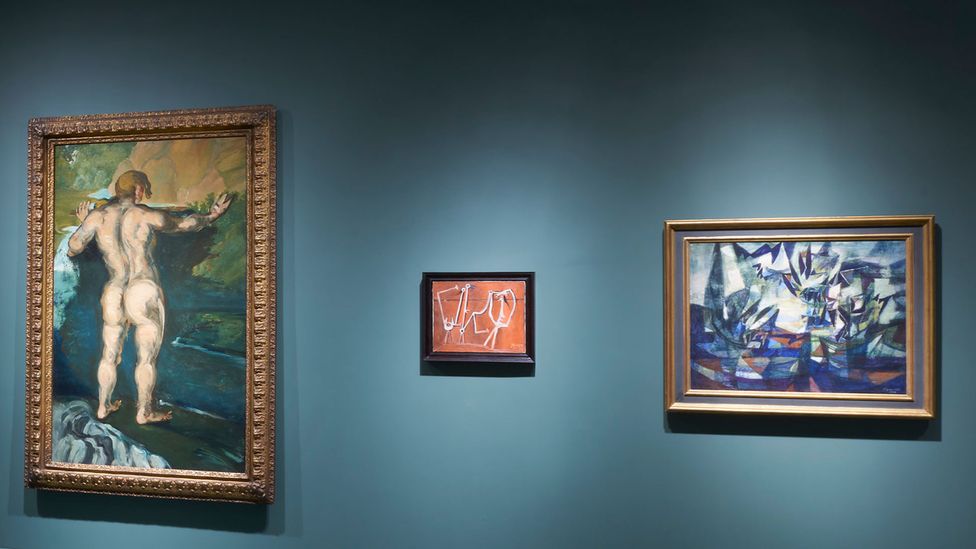 Löwenstein's 1939 Composition (right) appears near paintings by Paul Cézanne (Bather and Rocks, left) and Pablo Picasso (Group of Characters, centre) (Credit: Steven Paneccasio)
In the opening galleries, we view one extraordinary canvas after another by Pierre Bonnard, Marc Chagall, Paul Cézanne, Henri Matisse, Camille Pissarro and other great European modernist painters, each with a story to tell of pillage by the Nazi regime. Many of these works were seized from collectors and artists who happened to be Jewish; others the Nazis confiscated and slated for oblivion because they did not conform to Hitler's narrow definition of what Aryan art should be – that is, representational and wholesome in their subject matter, as opposed to the often abstract, expressionistic compositions that characterised so many modernist works, which they labelled as "degenerate".
These objects are the material survivors of the Jewish communities of Europe, each one with a distinct story, an "afterlife" of survival, to reveal
Then there are the beautiful arrays of delicately crafted ritual silver objects that once graced the homes and synagogues of the Jews of Europe. They can and should be admired for their craft. But in the context of this show, they also speak even more powerfully to their rough seizure from their original owners who once wielded them to welcome the Sabbath, celebrate the holidays, and observe the milestones of life and death, all according to Jewish tradition. You cannot walk through these galleries without thinking of the sense of despoliation experienced by so many people of other cultures throughout history. The emotional pull is visceral.
These objects are the material survivors of the Jewish communities of Europe, each one with a distinct story, an "afterlife" of survival, to reveal. Yet taken as a whole, these tales also adhere to what we might think of as a new kind of archetypal journey, one that follows the fate of each work, from the original uprooting of cultural theft to displacement to eventual rescue and restitution.
Franz Marc's The Large Blue Horses (1911) was the inspiration for US poet Mary Oliver's 2014 book Blue Horses (Credit: Collection Walker Art Center, Minneapolis)
The divergent roads to such an afterlife are evident from the moment you enter the exhibition. You're greeted, first, by the gorgeous canvas by the German Expressionist artist, Franz Marc. The Large Blue Horses, painted in 1911, depicts three vibrantly blue horses, clustered sensuously together in the foreground, with the hillside behind them washed in splashes of blue, red and green. Although Marc died fighting for Germany in World War One, Hitler banned his work.
But it escaped the Reich's reach because in 1938 its German owner sent it to London, to be included in an "anti-Hitler" show, and from there it travelled as part of another exhibition, 20th Century Banned German Art, to the United States, where an American buyer purchased it for a collection that is now part of the Walker Art Center in Minneapolis. It seems thematically fitting that the painting appears here, on loan once again.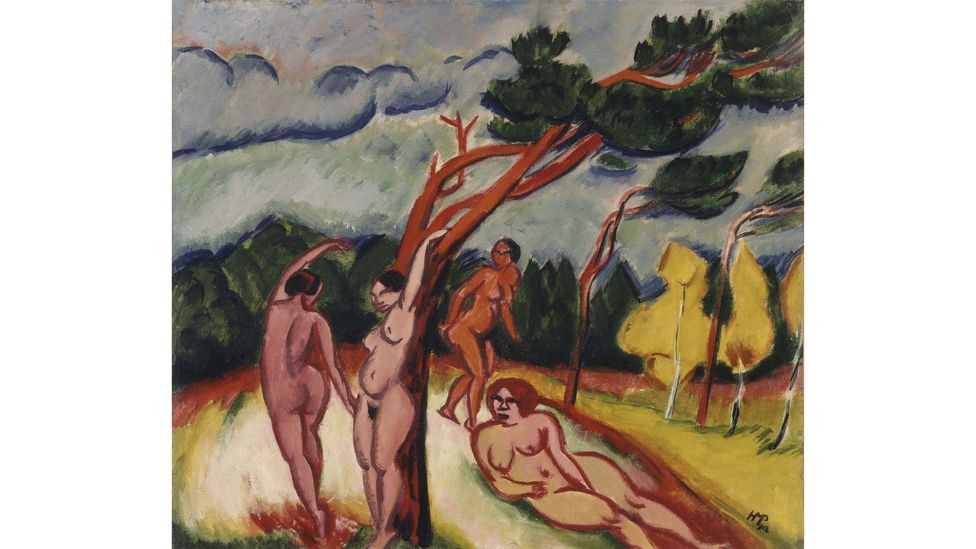 Max Pechstein's 1912 painting, Nudes in a Landscape, was restored to the heirs of its Jewish owner in 2021 (Credit: Estate of Hugo Simon)
Near that canvas is a lush, evocative Max Pechstein painting from 1912, Nudes in a Landscape, an exuberant canvas that just this summer was returned by the French government to the heirs of the German-born Jewish banker and art collector Hugo Simon. Its murky journey is emblematic of the often long and twisty road travelled by looted art to eventual restitution.
Simon's journey, too, was precarious. He fled Berlin for Paris when Hitler came to power in 1933, and after France fell to Germany in 1940, he escaped once more, this time to Brazil. But the painting was left behind in Paris and seized by the Nazis. It did not turn up again until 1966, found in storage at the Palais de Tokyo in Paris – yet how it landed there remains a mystery. From 1998 on, it was housed at the modern art museum in Nancy, France.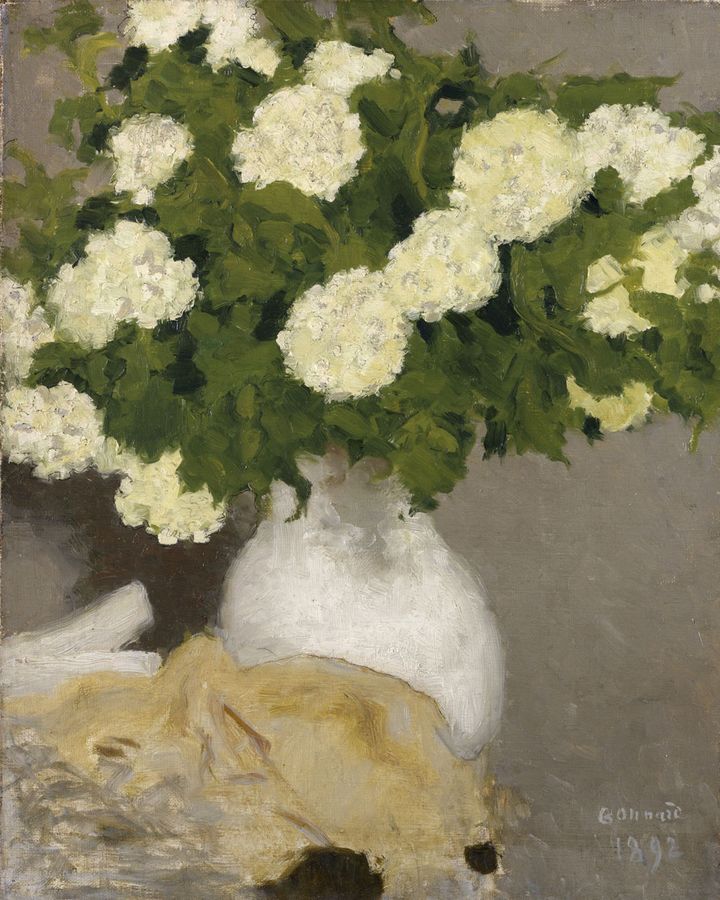 Still Life with Guelder Roses (1892) by Pierre Bonnard, who refused to paint a portrait of the French collaborationist leader during WW2 (Credit: The Nelson-Atkins Museum of Art)
Another route to restitution is exemplified in an adjacent canvas. The green, yellow, white Impressionist-style 1892 painting by Pierre Bonnard, Still Life with Guelder Roses, was one of 2,000 pieces stolen by the Nazis from a single collector, David David-Weill, the French-American philanthropist who had headed the banking house Lazard Frères. This canvas was returned to him in 1946, shortly after it was recovered by Allied forces among the many works hidden by the Nazis in an Austrian salt mine.
Difficult journeys
The relative smoothness of that recovery makes restitution sound easy, right? But take a few steps into the next room, and yet another work in the exhibition once again emphasises the ongoing, perhaps unending work of restitution, in the form of a 1939 Cubist geometric canvas by the German Jewish artist Fédor Löwenstein, that is only now in the process of being returned to heirs of its original owners by the French government.
Its story also brings home the randomness of both survival and restitution. After its seizure, the work had been relegated to a storage space at the Jeu de Paume Gallery in Paris that was known as "The Room of the Martyrs". Here, German officers could select and walk off with stolen masterpieces of their choice; those that remained were often deemed degenerate and slated for destruction. But this one slipped through the cracks and survived, possibly with the help of Rose Valland, the art historian who secretly kept track of the approximately 20,000 works brought there, records that played a key role, post-war, in recovering much of the stolen art.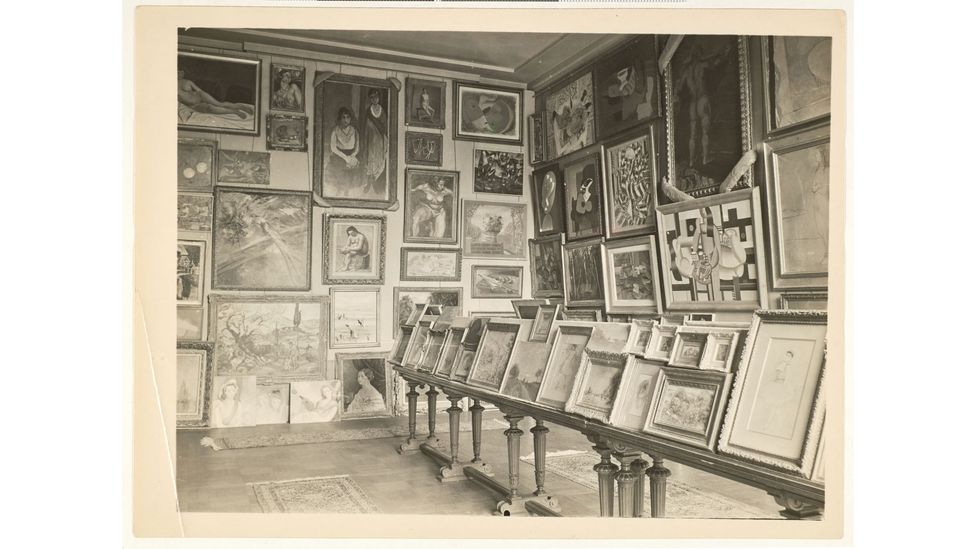 The Room of Martyrs, a storeroom for art banned by the Nazis, at the Jeu de Paume gallery in Paris (Credit: The Jewish Museum)
Yet despite her efforts, Valland could not save them all, alas. A black and white photo of the room, probably from 1942, shows paintings by André Derain and Claude Monet, among others, that did not turn up post-war and most likely were destroyed. It's impossible not to turn from this photo with a sense of gratitude for the presence of the glorious works on display here by Paul Cézanne, Pablo Picasso, Henri Matisse, and Marc Chagall, among others. 
Nor are viewers allowed to ignore the lives and fates of the families to whom all these material possessions at one time belonged. A series of old family photos is lined up on what seems like a living room mantlepiece, intimating what a normal middle-class Jewish family life looked like before the Nazis forced them out. And then, following the Nazi timeline of horror, comes a collection of portraits and drawings made in secret, then hidden, by artists interred in Nazi concentration camps.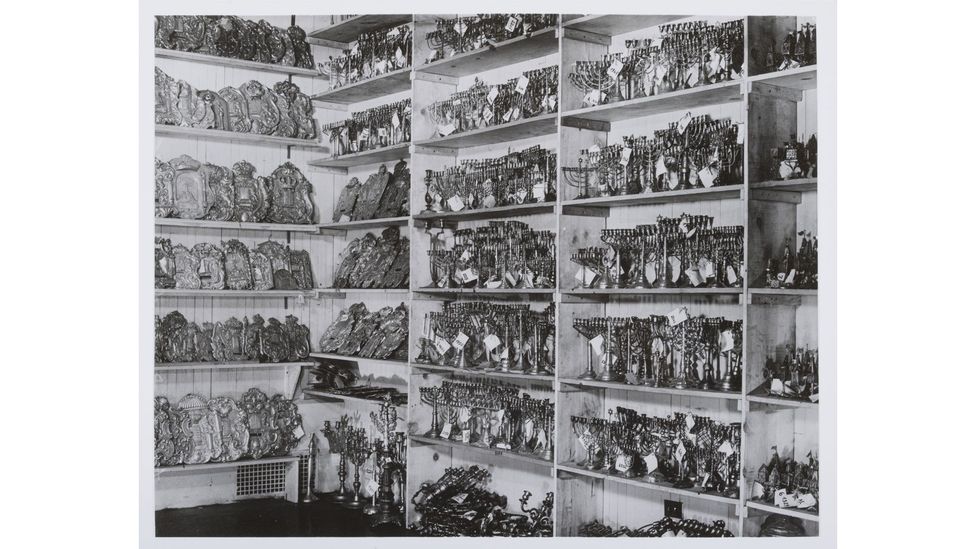 Ritual objects were rescued by Jewish communities as part of a wider salvage effort (Credit: The Jewish Museum)
Perhaps it's no wonder that walking through the galleries, I often felt immersed in a world turned topsy-turvy by theft, never more so than as I gazed at the vitrines of Jewish ritual objects – Kiddush cups, Sabbath candle sticks, Torah pointers, and other holy objects – lined up alongside each other as if for a massive warehouse sale, with no community, perhaps no person, alive to claim them. That is, until the surviving Jewish communities outside of Europe – including the Jewish Museum in New York – stepped in after the war to help rescue the many orphaned objects. All the ceremonial works on display in this exhibition found their own afterlives as part of the Museum's permanent collection, a part of that massive effort to salvage the remains of European Jewish culture.
Looking forward
That the legacy of stolen art and cultural objects also leaves ghostly afterlives in subsequent generations is the subject of the final section of the exhibition: new works commissioned by four young contemporary artists living in Israel, Berlin, and Brooklyn: Maria Eichhorn, Hadar Gad, Dor Guez, and Lisa Oppenheim.
Each of these artists approaches this history from a different perspective. Conceptual artist Eichhorn immerses us in the very work of recovering, locating, and returning looted objects. She does so by surrounding us with actual cases of archival papers, ledgers, reports, books, and on and on, all needed to verify, certify, analyse, authenticate each artifact, each item. Further intensifying the sense of being thrust into the work itself is the audio backdrop of an ongoing, non-stop recording of the voice of philosopher Hannah Arendt. She is reading various memos she wrote in her capacity as a director of the agency tasked with the sad but urgent goal of sorting through the massive crates of materials that were recovered.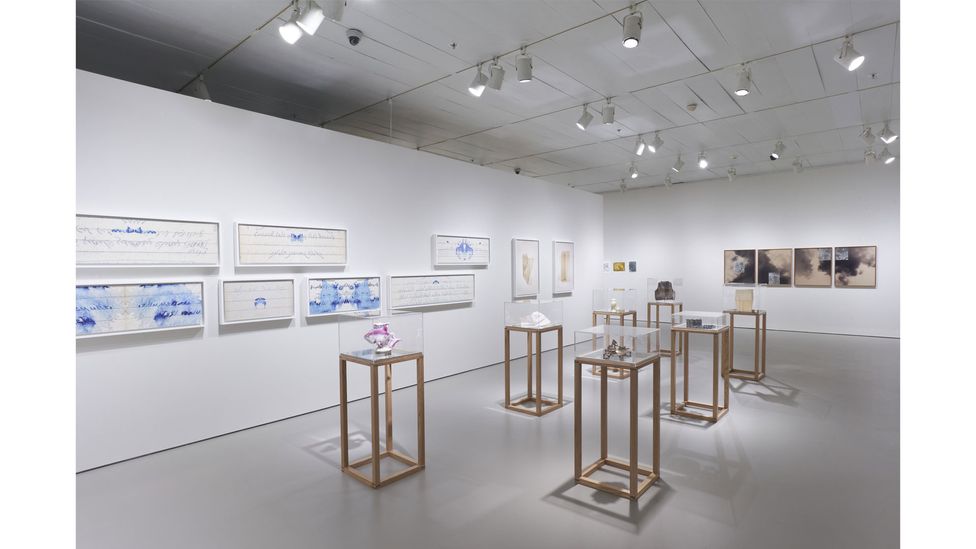 Dor Guez's installation is based on a manuscript from his family's archive that belonged to his paternal grandfather, a Holocaust survivor (Credit: Steven Paneccasio)

In his installation, Dor Guez, the son of a Palestinian mother and a North African Jewish father, creates a museum-style display of objects, documents and prints to bring to life again the multiplicity of losses of his family's Judeo, Tunisian, and Arabic languages and culture. Hadar Gad's powerful large-scale, dream-like collage paintings are based on historical photographs of the aftermath of the destruction of Jewish property by Nazi soldiers. Finally, Lisa Oppenheim bases her series of mysteriously clouded photo-collages on the only remaining image of a still-life painting – by the Franco-Flemish painter Jean-Baptiste Monnoyer – that disappeared after its confiscation by the Nazis from a Jewish household in Paris.

These, then, are the afterlives that remain. The emotional impact of the exhibition is overwhelming: joy and gratitude at the rescue of so many exquisite artworks; grief at the losses endured by the destroyed Jewish communities of Europe; and finally comfort in the knowledge that their stories do endure. There might even be a glimmer of hope that these narratives could also bring some perspective in resolving the many ongoing restitution cases around the world. In the meantime, the archetypal journeys of the world's looted artworks continue.

Afterlives: Recovering the Lost Stories of Looted Art is at New York's Jewish Museum until 9 January, 2022.

If you would like to comment on this story or anything else you have seen on BBC Culture, head over to our Facebook page or message us on Twitter.

And if you liked this story, sign up for the weekly bbc.com features newsletter, called The Essential List. A handpicked selection of stories from BBC Future, Culture, Worklife and Travel, delivered to your inbox every Friday.

;