The new series of the blockbuster Netflix show is a fun, albeit terrifying adventure – and features its scariest monster yet, writes Amy Charles.
T
Three years is a long time to wait in the world of television. But, as with the new series of Stranger Things, the show about supernatural goings-on in the small American town of Hawkins, Indiana, there are some things that are definitely worth waiting for. Creators the Duffer Brothers recently revealed that this fourth series – the show's penultimate – took almost two years of filming, and is nearly twice as long as any of the previous three. Netflix, which has recently been plagued with negative headlines about subscriber losses and stock prices, will be betting on the return of its flagship blockbuster series to briefly stem the bad press – and there is certainly no reason to doubt it won't be another huge hit with subscribers.
The series – which is being released in two batches – picks up six months after the dramatic Battle of Starcourt, the face-off between the  human heroes and the monstrous Mind Flayer at the new-fangled (but now destroyed) Hawkins shopping mall that ended series three. Tragedy hangs over Hawkins, which is now rumoured to be cursed, while the Satanic Panic – a moral panic about Satanism – rips through the US. Further afield, as revealed in a teaser, which delighted fans who feared he had died in the battle, David Harbour's Hopper is alive and living in a Soviet gulag.
More like this:
-       Is this the new Normal People?
-       A riveting tale of an unsolved mystery
-       The murders that shook US Mormons
Back in the US, meanwhile, the show's central group of youngsters are separated for the first time, as the Byers family and Eleven (Millie Bobby Brown) have moved to California, thousands of miles away from Hawkins, where they must deal with the familiar pressure of new schools, with their cliques and bullies. More than ever, Stranger Things masterfully balances the trauma of teenage years with the literal horrors of the parallel dimension the Upside Down: among the movies nodded to this time are The Exorcist and Nightmare on Elm Street, while the series throws up many petrifying moments and its scariest monster yet. Nicknamed Vecna by the kids, it is far from a one-dimensional horror ready to be slain; rather the writers have crafted a terrifying otherworldly being who has a unique way of tormenting his victims.
Sadie Sink's performance is singularly raw
In previous seasons, the writers told distinct stories that slowly converged as the plot progressed, in part due to its large cast of interesting characters. In the first season, the show grouped the characters by age, and they've slightly tweaked the combinations throughout. This series also attempts that separation, but with mixed results. The youngsters are separated between Dustin (Gaten Matarazzo), Lucas (Caleb McLaughlin), Max (Sadie Sink), Nancy (Natalia Dyer), Steve (Joe Keery) and Robin (Maya Hawke) in Hawkins, and Eleven (Millie Bobby Brown), Will (Noah Schnapp) and Jonathan (Charlie Heaton) in California, who are joined by Mike (Finn Wolfhard ) for spring break. While when it comes to the adults, now Joyce (Winona Ryder) and shambling private detective Murray (Brett Gelman) are off on an (important) side quest, conspicuously leaving the teenagers (who have a reputation for getting themselves into planet-threatening scrapes) totally unsupervised. It's a jarring and sudden change from the last series finale to suddenly have everyone apart again, but as the momentum of the adults' adventure picks up the pace – along with Hopper's dramatic and deeply entertaining personal storyline in the gulag – soon enough the series pulls back into shape, rocking along without us sweating the details of parental supervision. It is the 80s after all.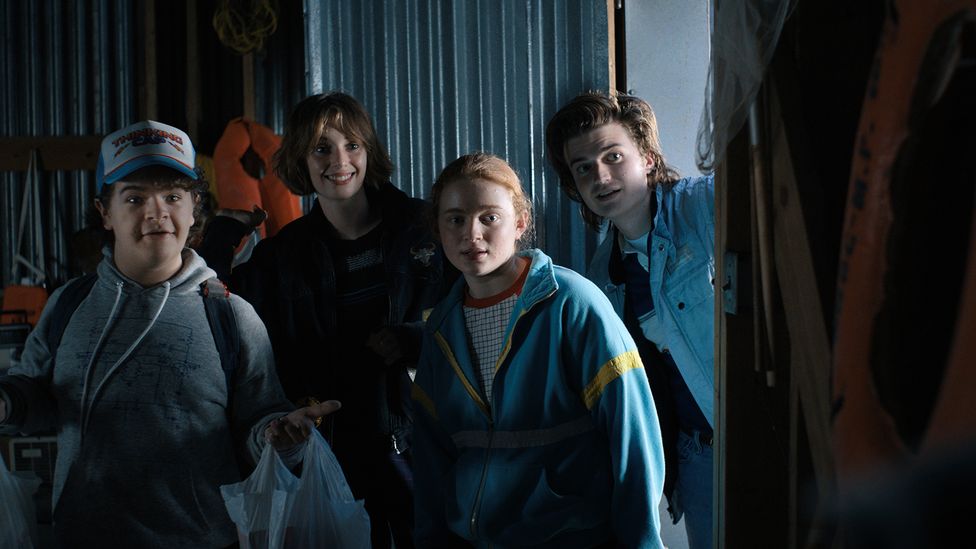 Stranger Things 4
Platform: Netflix
Starring: Winona Ryder, David Harbour, Millie Bobby Brown, Finn Wolfhard, Gaten Matarazzo, Caleb McLaughlin, Noah Schnapp, Sadie Sink
Creators: The Duffer Brothers
Number of episodes: Nine
Among the returning cast, Millie Bobby Brown's Eleven leads things with aplomb, continuing to convincingly convey complex emotions with limited dialogue, and rely instead on her facial expressions and body language – no mean feat for such a young actor. But the standout performance of this series is Sadie Sink as Max. While all the kids have been through unimaginable terror which has surely left its mark – Max's grief for her brother Billy (who died in the series 3 finale) is palpable, and her performance is singularly raw. Harbour also shines in his own storyline, depressed, cold and dishevelled as he is, as he builds railways in Russia.
Adding to the lead ensemble are a couple of new characters, the standout being Joseph Quinn as Eddie Munson, a drug-dealing slacker who runs the Hawkins high school Dungeons and Dragons club, and is quickly wrapped up in a more sinister plot. Eduardo Franco, who plays Jonathan's new Californian friend Argyle – a pizza-truck-driving stoner with Hollywood's best hair – is another addition to this gang of misfits, adding some much-needed comedic gems.
The effects are impressive, and the sets are beautiful, elaborate time capsules
One hard-to-ignore element is the fact that the younger protagonists are noticeably much older than they were in series three, despite it only being set months later, an issue that was compounded by delays in production due to the pandemic. TV shows involving child actors who are visibly ageing and growing, regardless of the show's own timeline, can quickly become imperilled by the implausibility of characters that look 13 going on 30. But in other respects, when it comes to its portrayal of its young characters' lives, Stranger Things 4 feels authentic, with clever writing that highlights the kids' naivety, and clothes you can actually imagine teenagers wearing (Euphoria, I'm looking at you).

Throughout these first six episodes given out for review, threads and storylines from previous series are coming together, finally giving fans some answers to long-asked questions about just what on Earth is going on. And with each episode in the series so far running between 62 and 77 minutes, and The Wrap reporting that the finale will be over two hours long, it could be a long slog – but thanks to zippy pacing, wild twists and great comic moments, it never drags. Each episode also reportedly cost an eye-watering $30 million to make, and it shows: the effects are impressive, and the sets are beautiful, elaborate time capsules.

Netflix has a habit of cancelling shows before they've had a chance to play out as they should, but given the phenomenal success of Stranger Things from the off, there was never any chance of that happening. But audience figures aside, could it also keep its quality and momentum going right up to the very end? Stranger things have happened.

★★★★★

Stranger Things 4 Vol 1 is released on 27 May, with Vol 2 coming on 1 July on Netflix

Love film and TV? Join BBC Culture Film and TV Club on Facebook, a community for cinephiles all over the world.

If you would like to comment on this story or anything else you have seen on BBC Culture, head over to our Facebook page or message us on Twitter.

And if you liked this story, sign up for the weekly bbc.com features newsletter, called The Essential List. A handpicked selection of stories from BBC Future, Culture, Worklife and Travel, delivered to your inbox every Friday.

;