Ancient myth, magic, history and sci-fi are inspiring an exhilarating, fantastical Afrofuturist realm in a new exhibition. Arwa Haider talks to the artists involved.
T
The cool interior of London's Hayward Gallery seems to unfurl into alternate worlds when you step inside: spiriting you from Nick Cave's technicoloured Soundsuits to Lina Iris Viktor's lushly textured images; Chris Ofili's hyper-real communions; Kara Walker's startling shadow-play histories; Cauleen Smith's head-spinning glimpses of hope and nostalgia; Sedrick Chisom's blazing landscapes, and way beyond. This is In the Black Fantastic, a new exhibition collating 11 international multi-disciplinary artists, whose far-ranging visions also present fresh perspectives on our reality.
More like this:
-          A chronicler of US turbulence
-          The mysterious ancient culture for now
-          The new generation redefining gender
"The Black Fantastic is about how artists from the African diaspora are embracing myth and speculative fiction as a way to grapple with the paradoxes, uncertainties and inequities of the racialised everyday," exhibition curator Ekow Eshun tells BBC Culture. "They're using art as a way to think about how race itself is a social construct – and to look beyond that fiction, and construct new ways of seeing and imagining black experience and black journeying through the everyday world."
The Black Fantastic to me is an invitation to jump straight into black power and black magic, and to share work from a space less tangible and more spiritual – Nick Cave
The premise is naturally vast, spanning past, present and future, and Eshun admits that this expansive collection could easily have been even larger. In the Black Fantastic whole-heartedly embraces this challenge; it's exhilarating to experience how its themes chime with each of these very different artists (each of whom occupies their own room), and the points of connection and direction that they offer to us. The exhibition's "entrance portal" is occupied by Chicago-based sculptor and performance artist Nick Cave, whose vibrant, imposing works seem to activate our journey into a different dimension.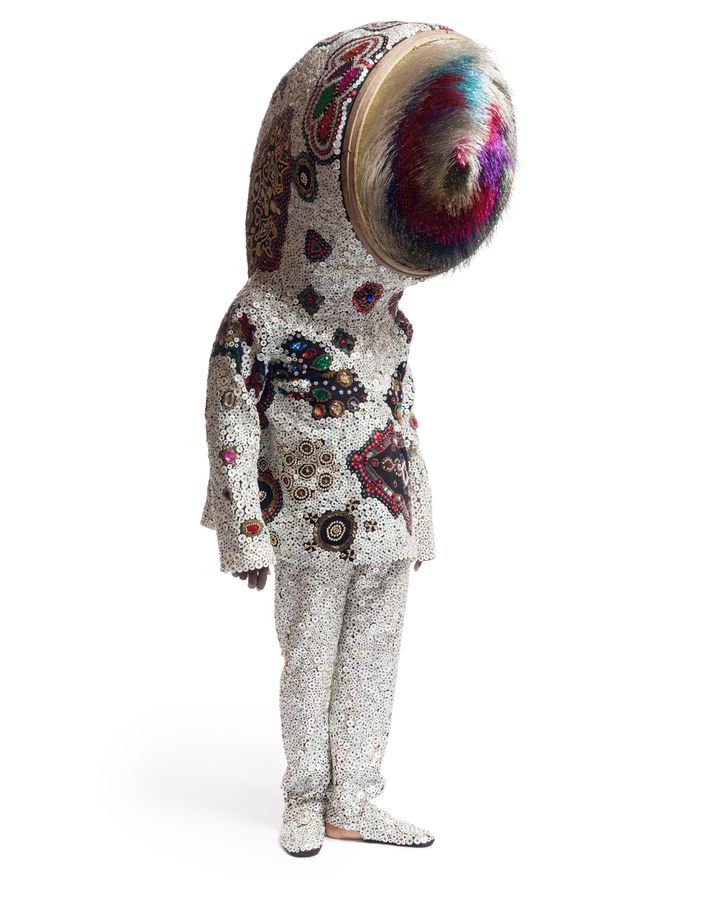 There's a shamanistic, larger-than-life presence in Soundsuit (2014) by US sculptor Nick Cave (Credit: Courtesy of artist/ Jack Shainman Gallery, NY/ Mandrake Hotel Collection)
"The Black Fantastic to me is an invitation to jump straight into black power and black magic, and to share work from a space less tangible and more spiritual," Cave tells BBC Culture. "It is a free space full of potential and possibility and light, fuelled by the past and all the challenges, struggles and hardships that have been set in place by others that instigated strength."
Cave has previously spoken about creating art with a sense of "civic responsibility". Here, his Chain Reaction sculpture features interlinked casts of the artist's own arm, each hand gripping the next, in an emphatic statement of support and survival. His brightly reflective wall work is a collaboration with his partner Bob Faust. Cave's Soundsuits have a larger-than-life presence of their own; this prolific series began in 1992, as his reaction to the camcorder footage of LAPD officers brutalising black civilian Rodney King – the officers' acquittal led to the LA riots. His later hand-crafted creations seem both shamanistic and space-age, such as the glitzy Soundsuit 2014, or his latest work, Soundsuit 9.29 (an allusion to the duration of the police killing of George Floyd).
"I never had an intent to make a wearable sculpture as a response; it was more of a reaction to me feeling the moment," says Cave. "It was only well into the making that I realised the [1992] twig sculpture could be worn and make sound via the movement of the body. It became a second skin to obscure race, gender and class and also create attention and act as armour. I wouldn't say that making this work feels more liberating with time; it is more urgent, and sometimes intense, as we have made progress in some ways and none in other ways. I realise I have to keep making work that is able to respond to the moment as needed; sometimes it is beautiful and ambiguous, and other times it is absolutely in your face."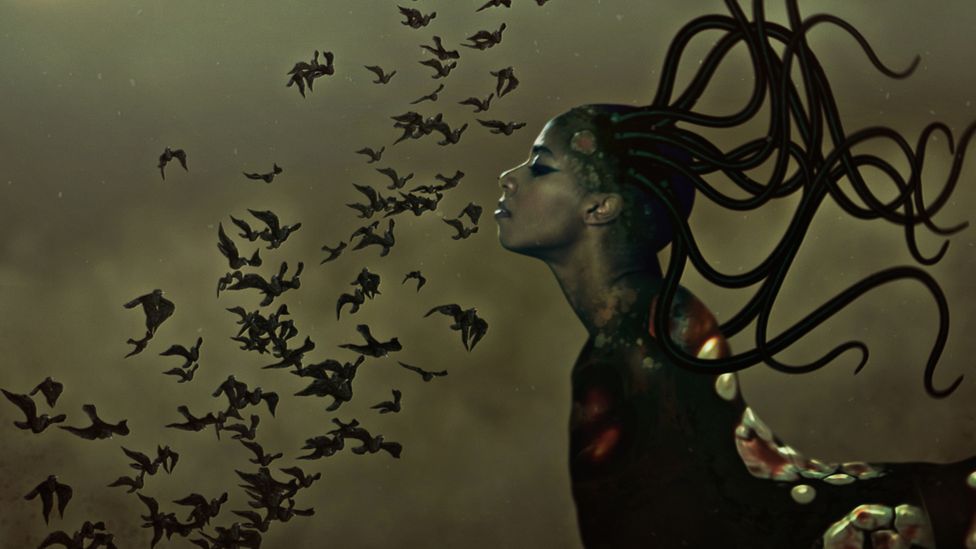 Wangechi Mutu's film installation The End of Eating Everything (2014) evokes a mythical dimension (Credit: Courtesy of the artist/ Gladstone Galley/ Victoria Miro)
The collision of materials and artforms sparks a mesmerising energy here. Kenyan-American artist Wangechi Mutu collaborates with the singer-songwriter Santigold for her splendidly ominous film installation The End of Eating Everything (2014). US artist Rashaad Newsome's digital and sculptural mashups highlight LGBTQ+ communities and ballroom culture; his Build or Destroyvideo (2020) feels like an incendiary kind of pop smash hit. Paris-born, Cayenne-based artist Tabita Rezaire's installations contrast modern social "norms" with a variety of pre-colonial identities. US painter Ellen Gallagher's vast shimmering canvases evoke devastating history and heart-soaring mythology: they depict a black Atlantis populated by the children of enslaved pregnant women thrown overboard during coloniser crossings from Africa to the Americas (the name of this underwater realm, Drexciya, was also conceived by a 1990s Detroit techno duo).
A fantastical realm
There is a free-flowing dialogue here, frequently scrutinising the strangeness of reality through idealised or science-fictional designs (yielding terms like Afrotopia or Afrofuturism), and increasingly influencing contemporary pop culture. The Hayward Gallery's corridors are interlinked with quotes from the likes of pioneering sci-fi novelist Octavia E Butler and psychiatrist/philosopher Frantz Fanon, while In the Black Fantastic extends into its neighbouring venues on London's South Bank, with cinema and live performance programmes, and an accompanying book also features the experimental imagery of global music artists, spanning Miles Davis to Sun Ra, Beyoncé, Janelle Monae and Baloji.
Often, these artists appear intensely present within the works – such as British-Liberian artist Lina Iris Viktor, whose confrontational, intricate and alluring self-portrait series (including a new triptych) and sculptures summon her own atmospheric realm In the Black Fantastic.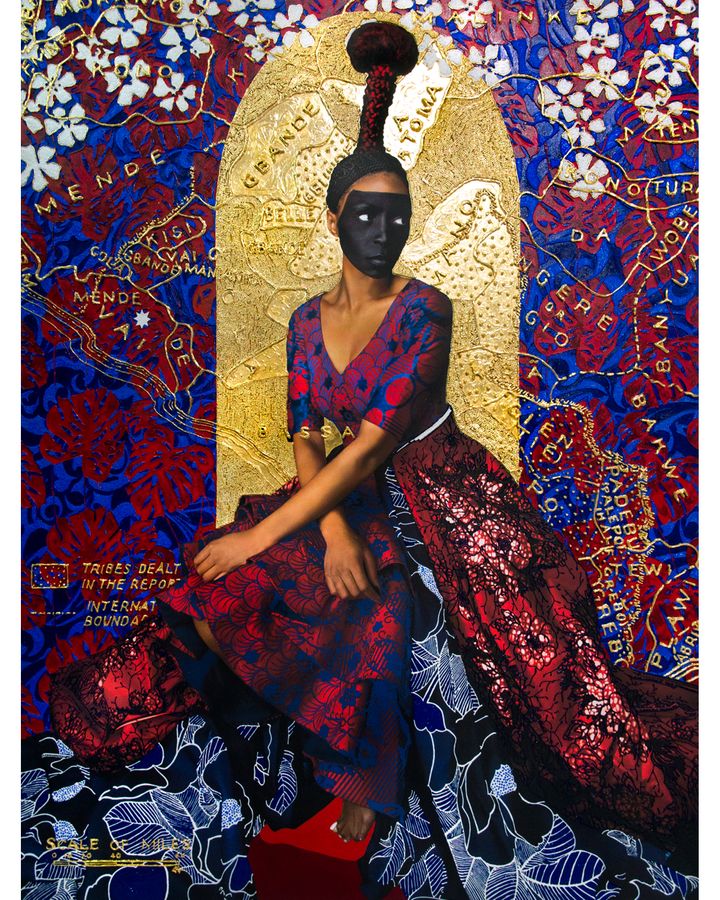 Eleventh (2018) by Lina Iris Viktor – her work "raises the idea of blackness to a fantastical realm" (Credit: Courtesy of the artist)
"I thought [The Black Fantastic] was a beautiful concept, both academically and personally," says Viktor. "For me, it's the raising of this idea of blackness to a fantastical realm, which doesn't have to be anathema to the everyday life of blackness. I like to juggle this idea of the 'micro-cosmic': the mundane things we grapple with in society, along with the much larger conversations."
Diaspora perspectives, emotional immediacy, and the creative range of "ordinary" materials are key elements throughout In the Black Fantastic. In Viktor's case, her worldview was also informed by her upbringing in Britain and the US, and her education at an international school: "To me, borders are confining – and that extends beyond our contemporary time, into ancient cultures and histories. When human beings communicate through symbols or pre-verbal modes, they kind of transcend this idea of locale."
Viktor's work projects the powerful frequencies of colour: deeply hypnotic "Klein Blue"; richly meditative reds; 24K gold embellishments. "I'm not a big fan of 'white wall' galleries and the idea that white is a blank pure canvas; I don't think it's true either," she says. "I like to always saturate the viewer in colour, and let that work in tandem with the space."
She has argued that to speak one's truth is the ultimate freedom; she reflects that mainstream recognition presents its own obstacles. "There was a naivete before; it felt very pure and sincere," she says. "Now, there's definitely more focus on your process, but at the same time, your job as an artist is to keep that communication clear. I love that quote by [20th-Century dance choreographer] Martha Graham: 'You have to keep yourself open and aware to the urges that motivate you. Keep the channel open.'"
My work is about layering, of history and meaning, literally and figuratively; you can peel it apart, bit by bit – Hew Locke
British Guyanese artist Hew Locke's creations unlock a bond between what he describes as "alternate histories, alternate possibilities, alternate worlds". Each of his works feels like a microcosm, revealing further details the closer you look – his equestrian sculptures, The Ambassadors, ride in formation, each bearing elaborate regalia: medals; headdresses; miniature portraits.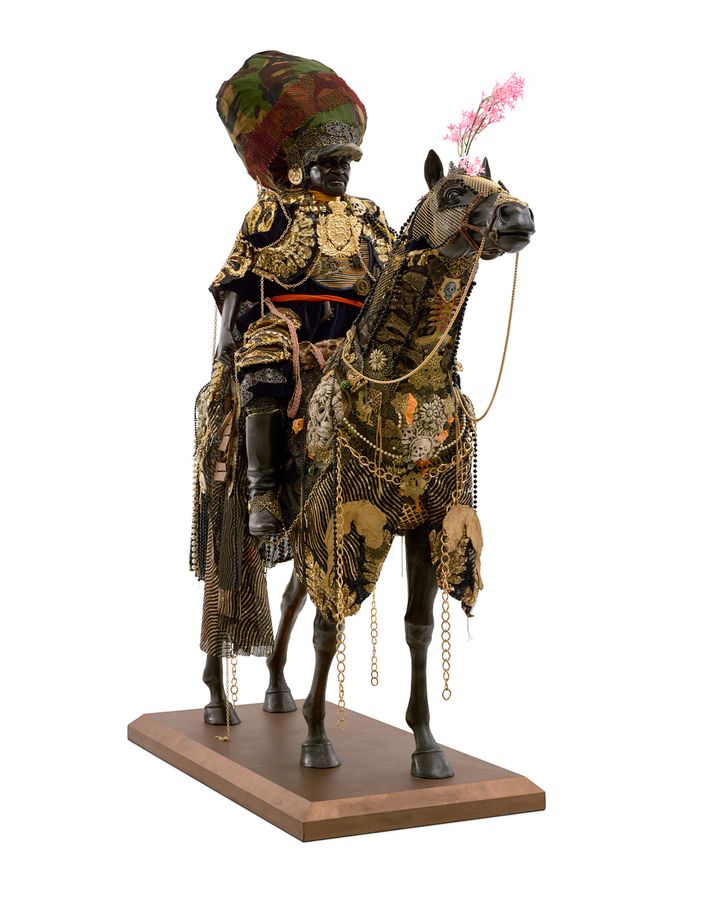 Hew Locke's The Ambassadors (2021) are, says the artist, "representatives of a lost world, carrying their histories with them" (Credit: Hew Locke/ Photo by Anna Arca)
"My work is about layering, of history and meaning, literally and figuratively; you can peel it apart, bit by bit," Locke tells BBC Culture. "It's using everyday cheap core materials, but trying to turn it into something much more, you know… The Ambassadors became sort of representatives of a lost world, carrying their histories with them."
Locke himself appears in various guises, for a series of vivid photographs entitled How Do You Want Me? (2007): "I'm in costume, embodying characters who are acting out their own mini-psychodramas; they're trying to become more powerful, within an imaginary world they've created." His art irresistibly draws us to the "complex and messy" breadth of human history and subjective narratives. "I'm making work that talks about the past, to reflect what's going on today."
In the Black Fantastic seems to evoke a creative reawakening, yet these artists are liberated from fleeting trends. Many of them, including Locke, have spent years independently realising their visions before bringing them to light in major institutions (another of Locke's lively installations, The Procession, is on display at Tate Britain until January 2023, and he will present his new work for NY's Met Museum Façade this September.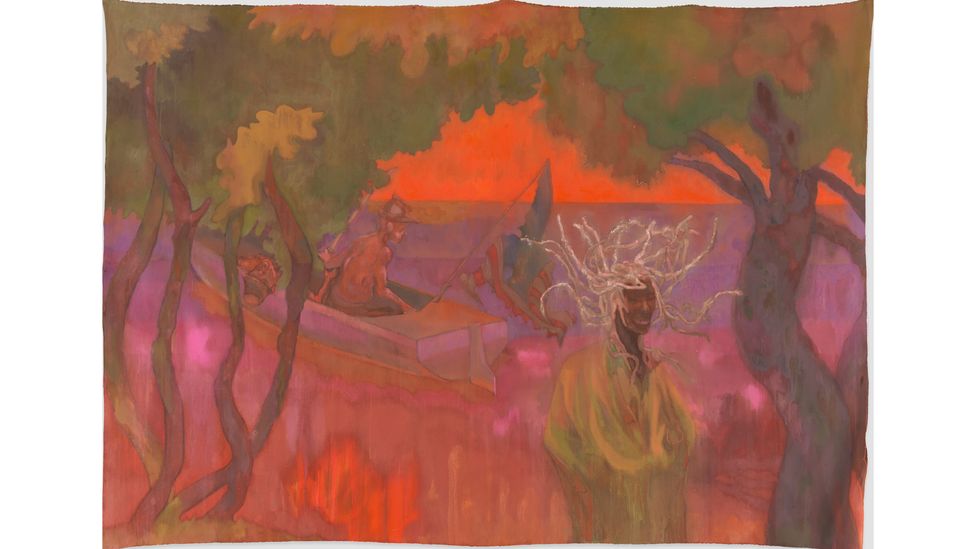 Sedrick Chisom's blazing, fantastical landscapes typify the strangeness and beauty of Afrofuturist art (Credit: Courtesy the artist/ Pilar Corrias, London/ Photo by Mark Blower)

The mainstream might have once construed such artworks as "ahead of their time" (too headstrong; too bold; too hard to pin down); in fact, they feel dynamically of their time – with the potential to lead us to new discoveries. "There's an argument that this embracing of myth or speculative fiction is a form of escapism," says Eshun. "I would suggest it's the opposite; the Black Fantastic is a territory within which artists can explore and express their ways of seeing the nuances, strangeness and possibilities that come simply with being black. It's a route into all sorts of collective histories and memories, experiences of pain and trauma – but it's also the route into extraordinary articulations of beauty and possibility."

In the Black Fantastic is at the Hayward Gallery, London, until 18 September, 2022. An accompanying book by Ekow Eshun is published by Thames & Hudson.

If you would like to comment on this story or anything else you have seen on BBC Culture, head over to our Facebook page or message us on Twitter.

And if you liked this story, sign up for the weekly bbc.com features newsletter, called The Essential List. A handpicked selection of stories from BBC Future, Culture, Worklife and Travel, delivered to your inbox every Friday.

 

;