This year marks the 50th anniversary of the release of Suavecito, by the band Malo, which became a mainstream hit at a time when Latino people were just a small percentage of the US population. The love song became a powerful symbol for Latino-Americans, writes Diane Bernard.
O
On Cinco de Mayo, 1980, Latino-American singer and songwriter Richard Bean joined Jorge Santana, Carlos Santana's younger brother, on stage at an outdoor concert in Los Angeles. Years before, Bean had written a song called Suavecito, and he never realised how iconic it had become until the two began playing it. As its slow groove flowed over the loudspeakers, the 20,000-person crowd in the city's Lincoln Park erupted in a roar.
More like this:
-        The US's first interracial love song
-        The black composer erased from history
-        Why J-Lo is Hollywood's most underestimated star
"As I was singing to the crowd, four huge Chicano (Mexican-American) guys marched behind the band on stage and unfurled a giant green, white and red Mexican flag," Bean tells BBC Culture. The flag was so large it took all four men to hold it, he explains. "Get them off the stage," the roadies began shouting, according to Bean. "Get them off." But the four stood proud. "No, not until the song is over," they said. "Not until Suavecito is done." When he looked behind him at the huge flag, and looked out at the all-Latino audience, Bean began to tear up. It wasn't until that moment, he said, that he knew Suavecito, informally called the "Chicano National Anthem" by some, lived up to that name as a true symbol of America's Mexican-Americans and Latino people.
This year marks the 50th anniversary of the release of Suavecito, by the band Malo, which became a mainstream hit at a time when Latinos were just a small percentage of the US population. Played for half a century at weddings, funerals, quinceañeras, and low-rider car events, Suavecito made history as one of the most enduring classics of the Chicano rock era, symbolising Latinx pride and progress at a time when Mexican-Americans and other Latino people were fighting for equal rights in the US.
Yet, despite the love song's widespread success, not many people know Bean, who wrote the song and sang lead vocals, but never gained national prominence and missed a chance at stardom. Bean wrote the song when he was in a high school algebra class at Mission High School in San Francisco. Influenced by 1960s R&B acts like Smokey Robinson, Sam and Dave, and Sam Cooke, he was striving for a soul classic. "That music had a huge influence on my life," he says. It was the late 1960s and he thought he was in love. "I actually flunked algebra class because I was writing poems to her," Bean says with a laugh.
Competition was fierce in Latino rock bands because they threw just bits and pieces for opportunity within the Latin rock world – Ruben Amaro
Things didn't work out with the girl, but his adoration spawned a hit song for Malo, reaching number 18 on the Billboard charts in 1972. Santana had opened the doors to the mainstream for Chicano musicians by appearing at Woodstock and having major hits like Oye Como Va and Everybody's Everything, which reached numbers 13 and 12 respectively in 1970 and 1971. With Suavecito, Malo was announcing Chicano rock was here to stay.
Over the past 20 years major Latino acts like Bad Bunny, Pitbull and before them, Gloria Estefan and Los Lobos, have packed arenas and sold enormous amounts of records. But back in 1972, Santana was the only Latino band to chart in the US, despite the large worldwide population of Spanish-speaking people. "It seemed like the industry could only handle one Latino act at the time," Los Angeles-based musician Ruben Amaro tells BBC Culture. "Competition was fierce in Latino rock bands because they threw just bits and pieces for opportunity within the Latin rock world."
Malo included Bean, who wrote, sang and played timbales, and singer Arcelio Garcia, who died in 2020, a few months after Jorge Santana, who later joined the group in 1971. The band also featured Abel Zarate on guitar, Pablo Tellez on bass, jazz trumpeter Luis Gasca and trombone player Roy Murray, who died in October 2022. Malo was an outgrowth of The Malibus, a late 1960s San Francisco Mission District band that included Bean, Garcia and Santana. Heavily focused on R&B and soul, Bean played saxophone and sang lead vocals for The Malibus with Garcia, while Santana licked out riffs on guitar.
'A modern bolero'
From the moment Suavecito starts, with its dreamy electric guitar chords easing into an ethereal trombone solo, you're propelled into a smooth, steady groove of congas, timbales and soul rhythms. "It's a delicious song," Latino rock king Carlos Santana tells BBC Culture. Carlos's younger brother, Jorge, shared guitar duty on the song with Abel Zarate, sprinkling it with airy, lilting notes. "Laaaah, aah-aah," Bean croons."Never, no, no, yeah, I never met a girl like you in my life." Bean's voice gives the single its romantic aura, with sentimental lyrics that actually add to its charm.
It's reminiscent of the Young Rascals' 1967 hit Groovin', which features an Afro-Cuban beat. But Suavecito has a particularly Chicano-American sound, mixing San Francisco rock with Mexican flourishes and intricate horn arrangements, according to Felix Contreras, co-host of NPR's Alt.Latino show, which celebrates Latin music and culture. "Suavecito is a modern bolero for our generation," Contreras tells BBC Culture, explaining that boleros are a kind of passionate love song that originated in Cuba in the 1800s and spread throughout Mexico and Latin America.
Suavecito is from the Mexican Mission district in San Francisco and is part and parcel of piñatas and low-riders and cruising – Carlos Santana
Carlos Santana, who played the song live with his brother on tour, appreciates that passion and the song's romantic story. "It's a certain moment between a lover and his beloved, kind of like Tony and Maria in West Side Story, but it's not Irish, it's not New York Puerto Rican," Santana says."It's from the Mexican Mission district in San Francisco and is part and parcel of piñatas and low-riders and cruising."
It's also a reflection of the Chicano movement, led by farmworker union organizer Cesar Chavez and Dolores Huertes in California at the time, according to another Suavecito fan, Louis Perez, singer and songwriter for renowned Latino rock band Los Lobos, which formed in Los Angeles just a year after Suavecito's release. "You didn't have to go on a picket line to absorb the impact of the Chicano Movement of the 60s and 70s," he tells BBC Culture.
"The Chicano crusade, from 1965 to 1975, fought to establish a union for farm workers not just for higher wages but also for a sense of dignity," says Mario Garcia, professor of Chicano Studies at the University of California at Santa Barbara and author of The Chicano Movement: Perspectives from the 21st Century. The farmworkers' struggle "had a very significant impact, especially on the younger generation in the cities," he says.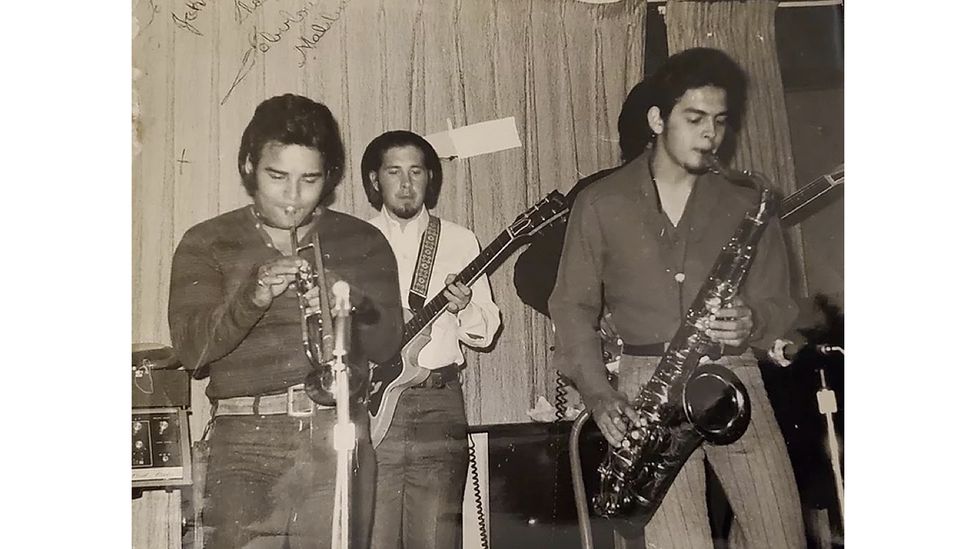 Singer-songwriter Richard Bean (pictured on saxophone) wrote Suavecito while at high school in San Francisco (Credit: Courtesy of Richard Bean)
In 1968, Chicano students in East Los Angeles followed the farm workers' lead and led a city-wide boycott of public schools to combat the misperception by teachers that Mexican-American kids were physically and mentally inferior to white children. In 1970, the Chicano movement even led the largest anti-Vietnam War protest by any US minority in the nation, including black Americans. About 25,000 Latinx people gathered in East Los Angeles to protest against the war and were viciously attacked by LA County deputies. These actions spawned a resurgence in Latino representation in art, music and literature, and Suavecito was the ultimate symbol of that growth. "We kind of climbed out of a melting pot and took pride in everything that was Mexican," Perez tells BBC Culture.
Suddenly, by 1970, West Coast bands like Malo, Tierra and Azteca looked back to their Mexican heritage for inspiration and began incorporating Latin-American instruments and style into their US rock music. After Suavecito rose in the charts to become a true classic, Malo toured across the nation, appearing on TV shows including American Bandstand, building up a following throughout 1972.
"The band was musically more sophisticated than some of the other Latino bands that were out there at the time," says Contreras. "The interplay between the rock and Afro-Caribbean music was more organic, less clumsy. And the horn arrangements reflected some of the music that was going on with bands like Chicago and Tower of Power, forming their own Latino funk sound."
'We're not a niche'
The song's success helped bring Chicano pride into the mainstream. But Richard Bean, who wrote the song and recorded it as the lead singer, never shared the limelight with Malo. The day after he recorded Suavecito, he was kicked out of the band by the manager. "I was shocked, totally shocked," Malo guitarist Abel Zarate tells BBC Culture."Because after we recorded the song, I said, 'This is really good'. And the next day, he was gone." Bean thinks he was axed because his percussion playing wasn't top notch. "They knew a better percussionist and I really only wanted to be a singer, that could have played a part", he says. "To get kicked out of the band, yeah, it hurt me," Bean continues. "It was hard but it didn't break me."
Malo didn't follow Suavecito with more hit songs, according to Alan Hernandez, retired Bay Area professor and co-author with Jim McCarthy of the book Voices of Latino Rock. He says the costs of a large band and a traveling crew made it almost impossible for Malo to stay on the road, plus a constant change of musicians didn't help. In addition, the rock music industry wasn't willing to promote many Latino bands outside of Santana, he points out. "I think if Bean had stayed in the group, they would have had more success," Hernandez tells BBC Culture. "He was a hitmaker." Bean went on to form the band Sapo with his brother, which gained popularity on the West Coast. When Jorge Santana left Malo, Bean worked on the guitarist's self-named 1978 solo album and toured with him from 1978 to the early 1980s. Then Bean continued with Sapo, which for a time in the 1980s also included Mike Judge of Beavis and Butthead fame on bass.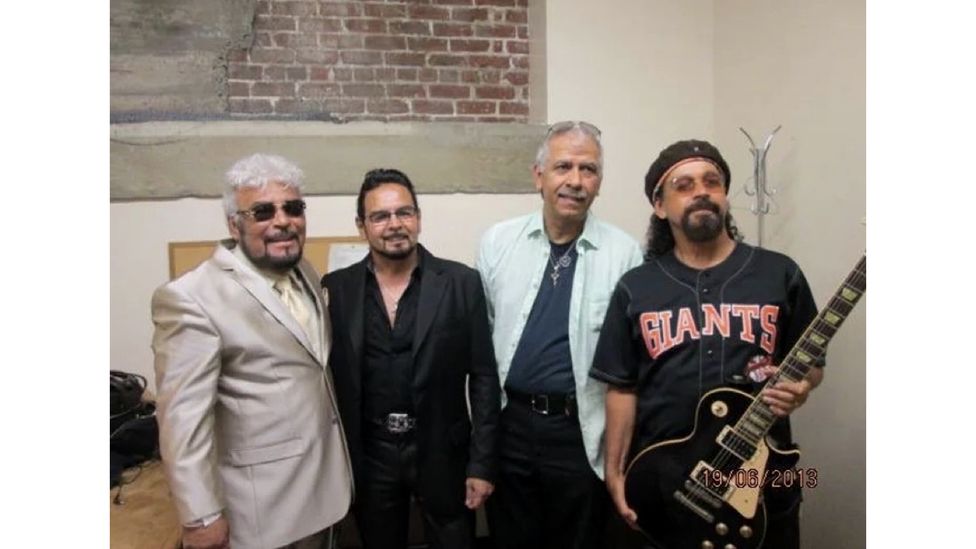 Richard Bean has been playing with Malo again since 1990; he still performs Suavecito live (Credit: Courtesy of Richard Bean)
In 1990, egos were put aside and Garcia reached out to Bean asking him to rejoin Malo, which still performed on the West Coast. "It was a nice gesture," Bean says. So he agreed and has been playing with Malo and Sapo for the past 30 years. Bean still sings Suavecito in most concerts he performs for both bands. He has never revealed the girl's name Suavecito was written for. "I'll carry it to my grave," he tells BBC Culture. Finally, in 1998 Bean got a glint of national recognition. The late-night TV talk show Vibe, hosted by comedian Sinbad and produced by music giant Quincy Jones, invited Bean to Los Angeles to appear on the show and sing Suavecito. Ruben Amaro accompanied the house band and harmonised with Bean on the song. He says Bean may have missed out on playing his national treasure on American Bandstand but finally had his moment 26 years later.
"The sound in the studio was incredible and when we harmonised on that beautiful song, it felt transcendent," Amaro says. For Contreras, the love song is important today because it reminds people about Latinos' place in mainstream society. "It shows that we've always been here," he tells BBC Culture. "We're not a sidebar, we're not a niche."
"What was really cool about Suavecito was, it wasn't a protest song," Perez says. "It was more about Chicano pride. It was a big, warm Mexican hug to all these young people, which made it a beautiful moment for us. It sounded like a song that had been around forever."
If you would like to comment on this story or anything else you have seen on BBC Culture, head over to our Facebook page or message us on Twitter.
And if you liked this story, sign up for the weekly bbc.com features newsletter, called The Essential List. A handpicked selection of stories from BBC Future, Culture, Worklife and Travel, delivered to your inbox every Friday.